A prominent constituent of the field of digital marketing strategies, email marketing refer to the act of using email as a means of promoting your business. Although email is a fairly old technology, it is still being widely used amongst businesses. In fact, it has become one of the most sought out marketing formats in current times. I have already written a blog on Email Marketing Trends in India that you can check by clicking on the link.
The increasing popularity of email marketing stems out from its ability to cultivate better relationships between businesses and their clients and potential customers. A lot of people ignorantly presume email marketing to be an outdated marketing tactic, and such people couldn't be more wrong. This is because email marketing strengthens customer loyalty by keeping them updated and informed regarding your brand including sales information, promotion, and such.
The Top 10 Email Marketing Services
If you have stumbled upon this page, chances are that you yourself are looking for an email marketing service to quench your marketing needs. Here are the 10 best email marketing services that can elevate the relationship between your business and clients.
Constant Contact
Drip
SendInBlue
ConvertKit
GetResponse
MailChimp
AutoPilot
Keap
MailerLite
ActiveCampaign
About – Constant Contact is one of the most popular email marketing service amongst businesses. The simple, user-friendly service that was founded in 1995 has grown to become the most popular service amongst small business. The main reason for this are the tons of templates that the service provides you with for a powerful headstart.
Features – A few of the most prominent features of Constant Contact include:
Easy Editing
Automatic Email Sending
Timely Welcome Email For New Customers
eCommerce Tools For Keeping Customers Engaged
Easy Contact Management
Pricing – There are two types of pricing plans available with Contant Contact. These include:
Email – provision for sending unlimited emails at ?1,289.
Email Plus – powerful features for effectively scaling the business at ?2,900.
About – Although it is a relatively new email marketing provider, Drip has become massively popular amongst eCommerce website owners, bloggers, and digital marketers. A powerful email marketing platform, Drip offers a various range of tools that ease your automation process and make personalization a breezy affair. Moreover, it is highly simplistic, making it is quite beginner-friendly.
Features – The various features provided by Drip include:
Easily store customer data.
Provide customers an unique experience.
Create multi-channel content.
Optimize data to see how your efforts are paying off.
Pricing – Drip's pricing plans include:
Basic – Unlimited email sending to 2500 people at $49/month.
Pro – Unlimited email sending to 5000 people at $122/month.
Enterprise – Email sending to 5001+ people at varied costs.
About – SendInBlue is one of the fastest growing email marketing platforms in Europe. Handling more than 30 million automated messages every day, the services has become a prominent SMS and email marketing software. Although it was earlier designed for sending transactional emails, the software has been further develop to combine the power of emails and SMS campaigns.
Features – The most prominent features of SendInBlue include:
Advanced communication capabilites with email, SMS, and chat.
Personalized relationships with CRM, Marketing Automation, Transaction Email and more.
Conversions with the help of landing pages, signup forms, Facebook ads, and retargeting.
Integrate the power of APIs and Plugins.
Pricing – The various plans at SendInBlue include:
Free – a free plan for beginners
Lite – a plan curated for new marketers at ?1,535.
Essential – an ideal plan for scaling businesses at ?2,343.
Premium – the best solution for large businesses at ?3,960.
Enterprise – custom-made plans for businesses who require more.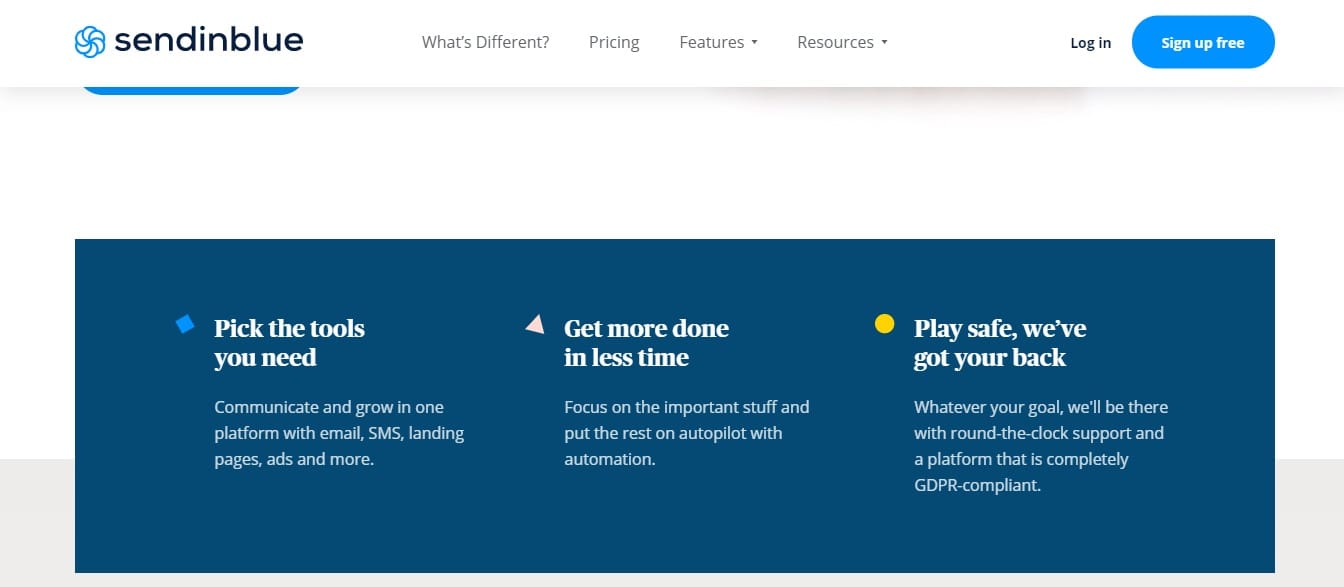 About – ConvertKit is another robust email marketing platform. This service is a particularly popular tool amongst bloggers, publishers, authors, and other marketers. With content upgrades, email signup forms, attractive forms, and custom-tailored emails, you will be able to send custom-tailored emails to your clients. Moreover, it also provides drip emails to manage auto-responders.
Features – The features associated with ConvertKit include:
Audience growth with forms and landing pages.
Email conversions with broadcasts and sequences.
Automations to send the right email to the person at the right time.
Easy understanding of audience with reporting and subscribers.
Pricing – The pricing rates for ConvertKit include:
A $29 plan – for sending unlimited emails upto 1000 subscribers.
A $49 plan – for sending unlimited emails upto 3000 subscribers.
A $79 plan – for sending unlimited emails upto 5000 subscribers.
A Customizable plan – for sending unlimited emails to people more than 5000 subscribers.
About – More than a simple email marketing service, GetResponse is a solution that combines email marketing with automation, CRM, landing pages, and a complete webinar solution. Owing to its unique features, the service has been responsible for managing over 350,000, including bloggers, podcasters, and even YouTubers. The popular service provides features for attractive forms and custom-tailored emails to individuals subscribers.
Features – The features associated with GetResponse include:
An all-in-one marketing solution for growing your business.
Beautifully designed email campaigns for increasing sales and clients.
Easy selling with a dedicated revenue-generating tool.
Driving sales and conversions with landing pages.
Housing stores and projects in a single location.
Social media tools for driving traffic.
Pricing – The pricing plans associated with GetResponse are:
Basic – a plan for managing emails and creating an engaged customer base starting at $15/month.
Plus – a plan curated for businesses to grow their profits starting at $49/month.
Professional – a plan for larger businesses starting at $99/month.
Enterprise – custom plans for extremely large businesses.
About – MailChimp became famous due to completely different reasons than other services. It was the first service to provide a forever free plan to beginners. Developed with features such as easy email builders, autoresponders, contact segmentation, and much more, MailChimp has been constantly evolving with time. The service has garnered millions of customers from all over the world owing to its simplicity and flexibility.
Features – The features associated with the service include:
Get to know your audience better-specialized audience tools.
Develop your brand with a content studio and templates.
Lead campaigns with social media, landing pages, digital ads, and much more.
Receive insights with reports, recommendations, and integrations.
Pricing – The pricing associated with MailChimp include:
Free – a basic plan required for businesses who are getting started.
Essentials – a plan with must-have features for email senders starting at $9/month.
Standard – curated for owners requiring better insights starting at $14/month.
Premium – advanced features for professionals starting at $299/month.
About – AutoPilot was created to stand out from the crowd and that's exactly what it did. Created with delightful visual tools and powered with simplicity, all that you need to guide through this tool is a drag-and-drop interface. Moreover, the service brings foward collaborative tools allowing your team to effectively work together.
Features – A few features associated with AutoPilot are:
Easy automation with a visual software that allows easy connection with customers.
Information organization by collecting leads and customers in one place.
Designing as simple as drawing on a canvas.
Seamless collaboration with team members.
Pricing – The pricing plans that come along with AutoPilot are:
Silver – unlimited mails to 2000 contacts at $49/month.
Gold – unlimited mails to 5000 contacts at $149/month.
Platinum – unlimited mails to 10000 contacts $249/month.
About – A robust email marketing service, Keap combines the powers of sales, marketing automation and CRM services within a single offering. Keap takes marketing to the next step as it provides elements for checking email campaigns, sales information, and customer financial history.
Features – The features that come along with Keap include:
Automation to respond to leads and clients immediately.
Repeatable sales processes for appointments, tracking leads, and quotes.
Sales and marketing automation
Pricing – There are three pricing plans available with Keap. These are:
Grow – the necessities for managing sales and impressing clients at $29/month.
Pro – the complete sales and marketing toolkit to win more business at $74/month.
Infusionsoft – an all-in-one CRM, marketing and sales automation platform at $99/month.
About – One of the youngest email marketing tools, MailerLite brings in a ton of features for its customers. Available in multiple languages, this tool is highly popular amongst freelancers, website owners, and small businesses. Developed with an intuitive interface, the service allows emails to be created in a quick manner. Moreover, the service also provides various basic and flexible templates.
Features – The features associated with MailerLite are:
Amazing campaigns with a rich editor.
Audience growth for business.
Personlized messages with advanced targeting features.
Result tracking with analytics.
Improved metrics with optimized campaigns.
Pricing – The pricing plans for MailerLite are:
Free – a basic plan which allows 12000 mails to be sent every month.
Paid – paid plans for sending unlimited emails starting at $10/month.
#10. ActiveCampaign
About – Created to form an all-in-one marketing tool, ActiveCampaign is a email marketing service which combines the powers of live chat and CRM services. The service can greatly help you in sales alike lead scoring. With a single email, the service ensures a wholly new experience depending on the segementation.
Features – The features associated with ActiveCampaign include:
Email marketing that sends personalized and reponsive emails in just a few clicks.
Automated marketing with emails based on customer actions.
Organized data gathering for driving deals forward.
Responding to customer behavior with messaging to boost traffic.
Pricing – The pricing plans associated with ActiveCampaign include:
Lite – a plan with necessary services starting at $9/month
Plus – basic plan starting at $49/month.
Professional – an intermediate plan starting at $129/month.
Enterprise – a plan curated specially for large businesses starting at $229/month.
The Need for Email Marketing Services
After all this, you might be certainly wondering why you might need email marketing services. There are three primary reasons as to why your business should mandatorily make use of email marketing services:
Personalization – The customer base of today is completely loaded with messages and mails that are completely irrelevant to them. With email marketing services, you are able to send personalized and relevant messages to your customer base, allowing you communication to execute at a more personal level.
Rapidity – Unlike other means of marketing, email marketing services are highly rapid in nature. By sending your customers information regarding offers and deals, you can directly get the word out and ensure that your customers rapidly start to visit your website for the deals.
Measurable – Isn't it frustrating when you are unable to find out whether your marketing efforts have had any efforts on your desired customer base. You will never face such a problem with email marketing services. With statistical and analytic tools, these services ensure that all your efforts are tracked.