The Rise of Email Marketing
The rise of digital marketing solutions facilitated us with a plethora of marketing options. One such solution that was discovered in this boom of digital marketing solutions was email marketing. Now, what is email marketing? And how does it affect our marketing efforts? For starters, email marketing is the act of promoting a business by means of emails. This solution enables you to keep your clients and potential customers informed regarding your business, such as a sale, discounts, new additions, etc.
Email marketing increases engagement thereby leading to an increase in customer loyalty. Moreover, it is a form of direct marketing which is quite environment-friendly. Owing to such features, email marketing has become a highly desired solution for businesses, leading to the rise of various email marketing services. One of the most prominent services amongst all of these is ConvertKit.
What is ConvertKit?
In simple terms, ConvertKit is an automated email marketing solutions which are designed for running advanced email marketing campaigns. The tool essentially helps businesses in increasing their conversion rates, thereby, leading to an increase in their sales. ConvertKit is marketed to a variety of businesses out there. However, it is particularly suited for the likes of bloggers, podcasters, and other such businesses which have been building an audience for themselves.
Getting Started With ConvertKit
Before you can start employing ConvertKit for your marketing needs, you will need an account with the service. This can be done simply by navigating to the Log In option present on their website and selecting the Sign-Up option on the next page.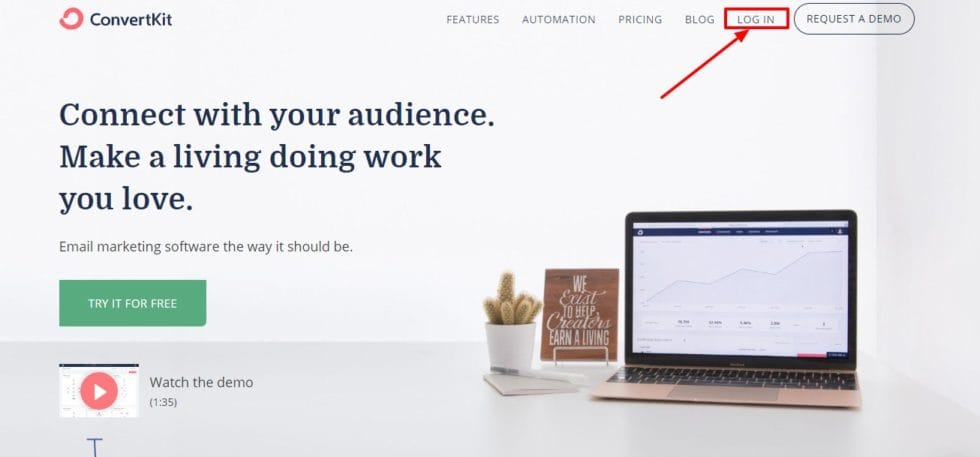 Following this, you will be prompted to answer 3-4 questions. These questions are just to optimize your experience with ConvertKit. Next, you will be facing the Register Page with the required details.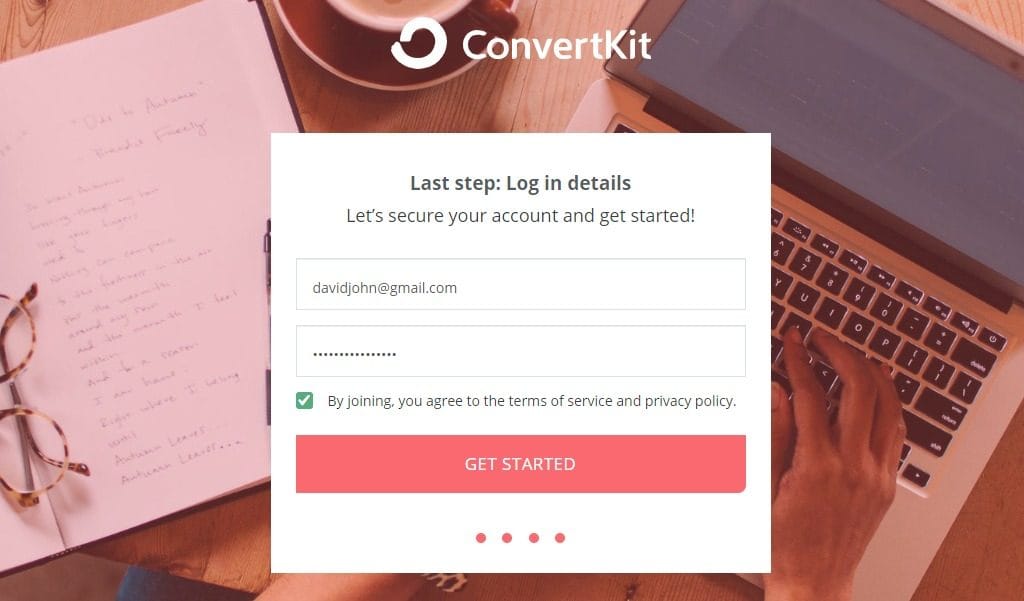 Alternatively, if you already own a ConvertKit account, you can simply select the Login page. Just fill in your username and password and you will be granted access to the page.
The Dashboard a.k.a the Subscribers page
Once you are logged in, you will find yourself on the Subscribers tab of the website. This tab is essentially the dashboard of your account which provides you all details concerning the Subscribers that have joined your service via the means of Convertkit.
The dashboard is a highly powerful tool. Not only does it provide you with various statistics regarding your subscribers, but it does so extensively. A few clicks of your mouse and your data is presented in the form of days, weeks, and months. Apart from this, the dashboard also provides a Filter option for viewing the subscriber count in a more detailed way.
The Automation Page
On the right side of the Subscriber's tab, you will notice the Automation tab. This is the first thing that you will need to get started. Automation in ConvertKit refers to Visual Automation, which formulates a map for your subscribers. And you are allowed to curate this map in whichever way you want to. With the automation tab, you can answer preliminary questions.
A few of these include:
When a new subscriber signs up, where should he/she start?
What type of emails should they be sent?
How should the email sending sequence be optimized on the basis of their interests?
Landing Pages & Forms
The third aspect which you will notice on the dashboard is the Landing Pages & Forms tab. Landing pages refer to those web pages towards which the email recipient is redirected towards, once they click on the link present in your email. In doing so, they convert the prospects into buyers. There are a lot of businesses who lack this page for their websites. ConvertKit helps such websites by providing them with this functionality which is hosted by the company itself. Moreover, this service can also be used for creating a form as well.
Sequences
Now, Sequences are the tools present within ConvertKit that actually put email automation in motion. These tools refer to the automatic emails that are sent to the subscribers according to their choice that varies from a form, tag, or a custom field. Sequences are used for a variety of reasons, that include welcoming new subscribers to the mailing list, thanking the new buyers, following up with interested buyers and such. In ConvertKit, creating a new sequence is as easy as clicking a button. More specifically, the New Sequence button.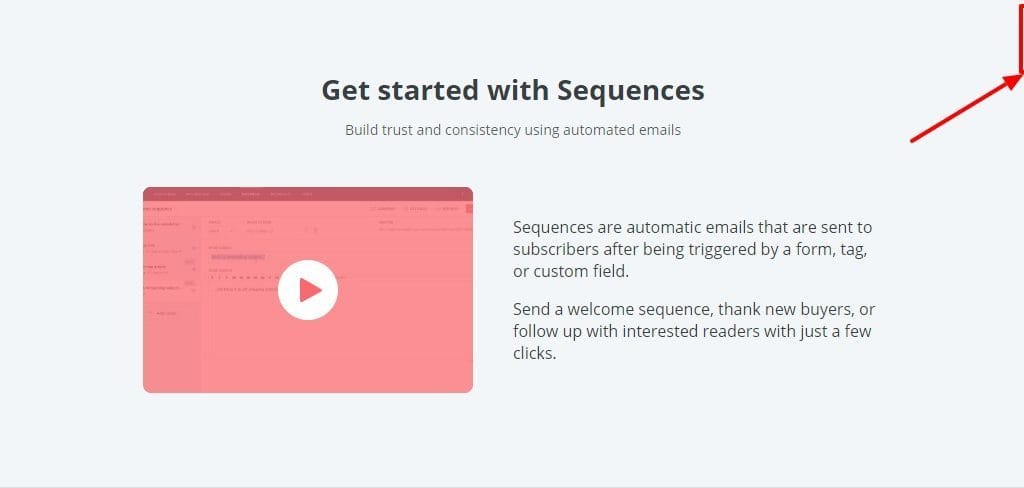 Broadcasts
Broadcasts are the final tool that you will see on the dashboard as you log in. The term broadcasts, here, is used to refer to such emails which are sent are sent to the vast majority of subscribers on a one-time basis. Depending on the preferences of your customer, custom fields, forms, tag, and more. Moreover, this Broadcasts tab also keeps a record of all the emails that you send. Once you start using this feature, it automatically keeps a track of the emails in chronological order.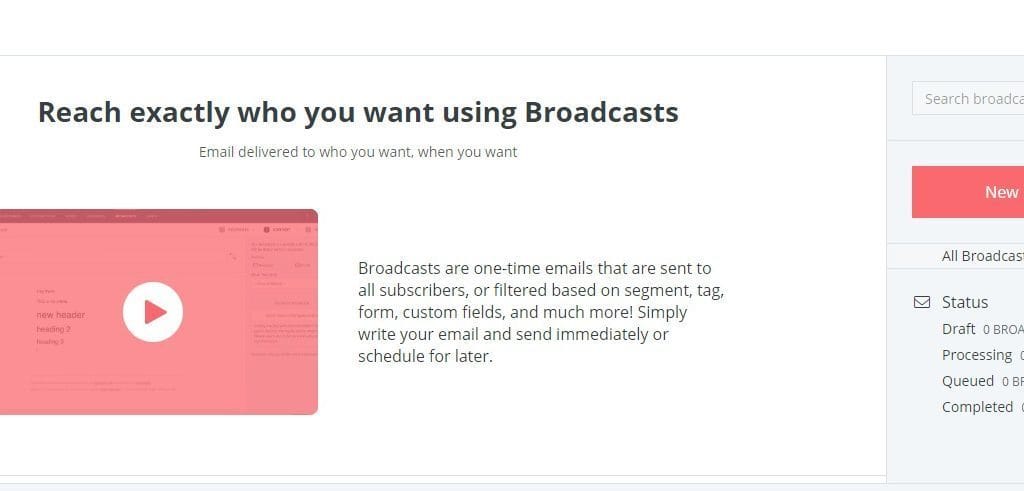 Features
As aforementioned, ConvertKit is a service which is created specifically for those people who require an audience to propagate their business. Therefore, it has been packed to the brim with features to ensure that they are effortlessly able to do the same. A few of the features include:
1. Evergreen Content – All the content which the service generates is completely evergreen. This basically refers to the fact that all mails, broadcasts, and sequences which send to your subscribers are always relevant without being restrained to a particular date or time. Even if a subscriber signs up at a later period of your career, he or she can still utilize the content present within those emails.
2. Ease of Use – Perhaps, the first aspect of ConvertKit that instantly catches your eye is the simplicity. From the moment you sign in to your account, you can start to use it without the need for any prior experience or knowledge. Moreover, the service ensures that operating an email marketing service doesn't get any easier than it.
3. Easy Segmentation – Adept segmentation is one of the most useful features present within ConvertKit. The tool allows you to easily split up the emails as per your needs and send them to your subscribers. For example, if you need to send certain emails to normal and VIP subscribers while exclusively showing certain content only to VIP members, you can easily do so.
4. Resend Unopened Broadcasts – It doesn't come as much of a surprise that a lot of users don't actually read the broadcasts that you send to them. There could be a plethora of reasons for this. The service ensures that you can recycle such messages and resend them to certain recipients after a stipulated period of time. Doing so, allows your mails to be read by more people who are present in your emailing list.
5. Constant Support – Owing to ConvertKit's simplistic interface, it is rare that you will run into any roadblocks while using the application. In spite of this, there are certain cases in which you may uneventfully find yourself. The service has got you covered in such events as well. With a rapid support system, they ensure that all your problems are solved as quickly as possible. Moreover, they have also built several avenues, including the popular community groups from where you can find assistance as well.
Pricing
In terms of pricing, ConvertKit isn't the most cost-efficient email marketing service out there. Although it is a tad bit expensive than its sibling services, it won't exactly burn a hole in your pocket. Depending on the number of subscribers, it facilitates you with four pricing modes. These are:
1. For 0-1k subscribers – For up to 1k subscribers, you will need to shell out $29 per month.
2. For 1k-3k subscribers – Once you reach 1k-3k subscribers, you will be set back by $49 per month.
3. For 3k-5k subscribers – For sending mails to 3k-5k, you will have to pay $79 per month.
4. Custom subscribers – There are certain businesses out there who have an insanely large subscriber count. To facilitate such users, the service provides a custom pack curated according to the needs of such users.
Pros and Cons
ConvertKit, undoubtedly, is one of the greatest tools for email marketing to be created. And there are various reasons that make it so.
A few of them include:
The service provides a subscriber system based on tags.
Dynamic emails can be created and merged by means of tags.
It can create various types of forms depending on the needs.
Provision of a rudimentary landing page for businesses that lack one.
It has a minimalist system which is highly effective.
The service provides great support systems to help their clients in times of their need.
In spite of all these features, ConvertKit does bring a few shortcomings along with itself as well. And while these shortcomings might not deter a business from accomplishing its goals, they still cause various problems from time to time.
These shortcomings include:
There is very little scope for A/B testing.
The aforementioned minimalist feature often brings a major shortcoming with itself. The service provides a very limited set of forms and email templates.
The reporting data generated by the service is quite limited in nature.