The humid month of April hasn't failed to impress with it's bout of updates. With the Facebook data leak, the digital front has been on the talk of the month. From the changes in privacy settings Facebook had incorporate to Snapchat rolling out augmented reality games, the month has been pretty eventful. Read on to know what the month of April has brought to the table.
#1 Facebook

 

Establishes

 New Privacy Tools and Several Platform Changes
Here is how Facebook plans to combat data theft and misuse in the future:
Facebook Temporarily Pauses Chatbot and App Reviews
There will be stricter policies and terms for B2B app development and more user control over what data those apps are permitted to access.
Facebook is also conducting a full audit of any app with suspicious activity and making it simpler for users to report any misuses of data they find.
Facebook promises to ban developers that misuse personally identifiable information and notify users if an app is removed for this reason.
#2 Pinterest Rolled Out New Following Tab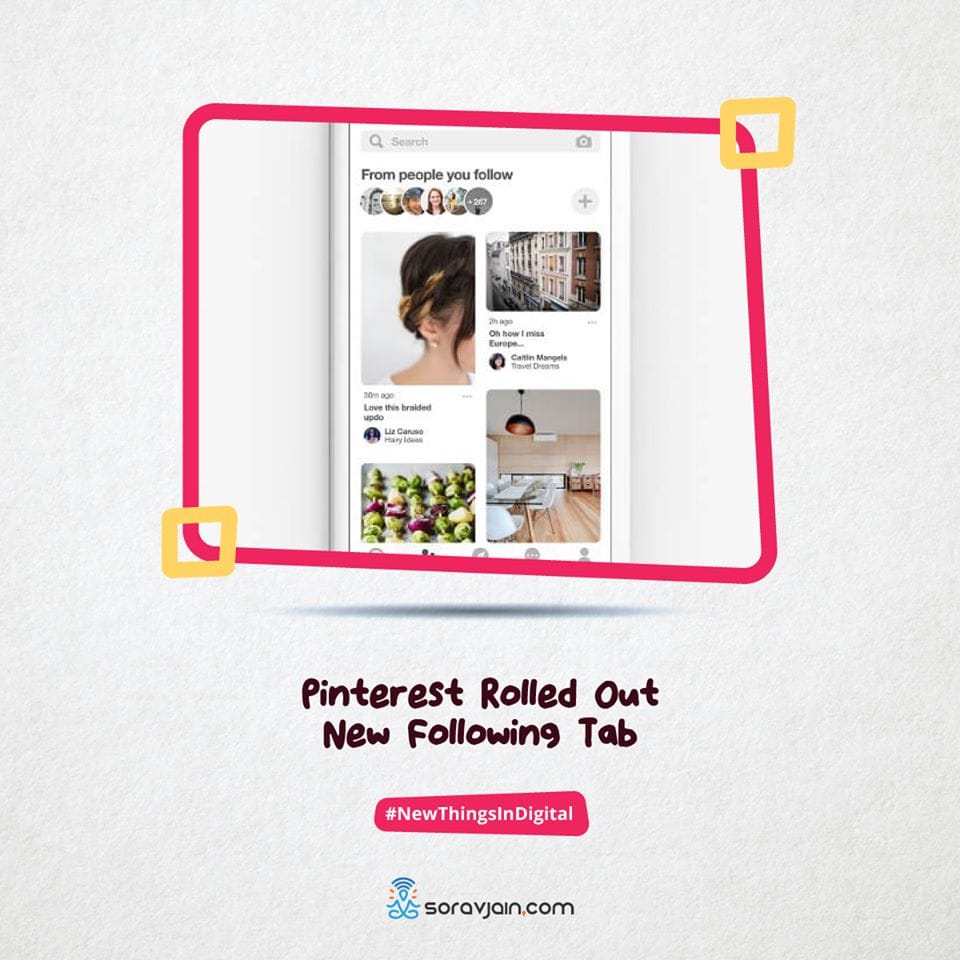 Pinterest announced it's rolling out a new way to discover ideas from the people and brands you already follow on the platform. The new Following tab makes it easy to see the latest Pins from all the people you follow, in the order they save them. This new feature is available on the web and on mobile for both iOS and Android.
#3  

Facebook

 Experiments with Expiring Friend Requests
Facebook is testing 14-day time limits on accepting friend requests with a small subset of users. This new feature is a way to assist people with managing unwanted friend requests by eventually deleting those requests that people see but don't accept.
#4 

Facebook

 Adds Video Cover Image Options for Profiles
Facebook now allows users to select a video for a profile cover image from the Cover Artwork library. Previously, Facebook only offered static images in this gallery.
#5 LinkedIn Rolls Out Native Video for Sponsored Content & Company Pages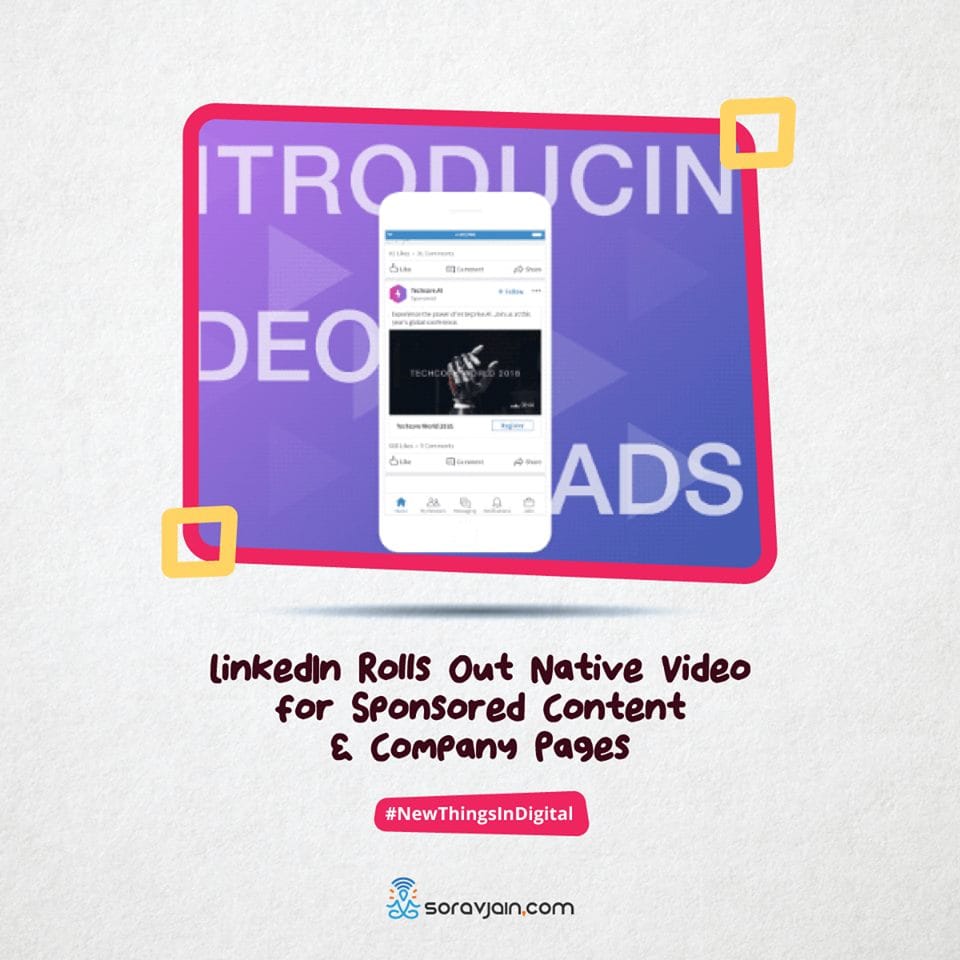 LinkedIn is rolling out auto-playing native video ads that will be featured as stand-alone posts in the LinkedIn news feed. LinkedIn is also introducing the ability for businesses and publishers to include native video on their company pages. Both of these capabilities are rolling out now and will be available to all businesses soon
#6 

Facebook

 Temporarily removes Audience Reach Estimates From Custom Ads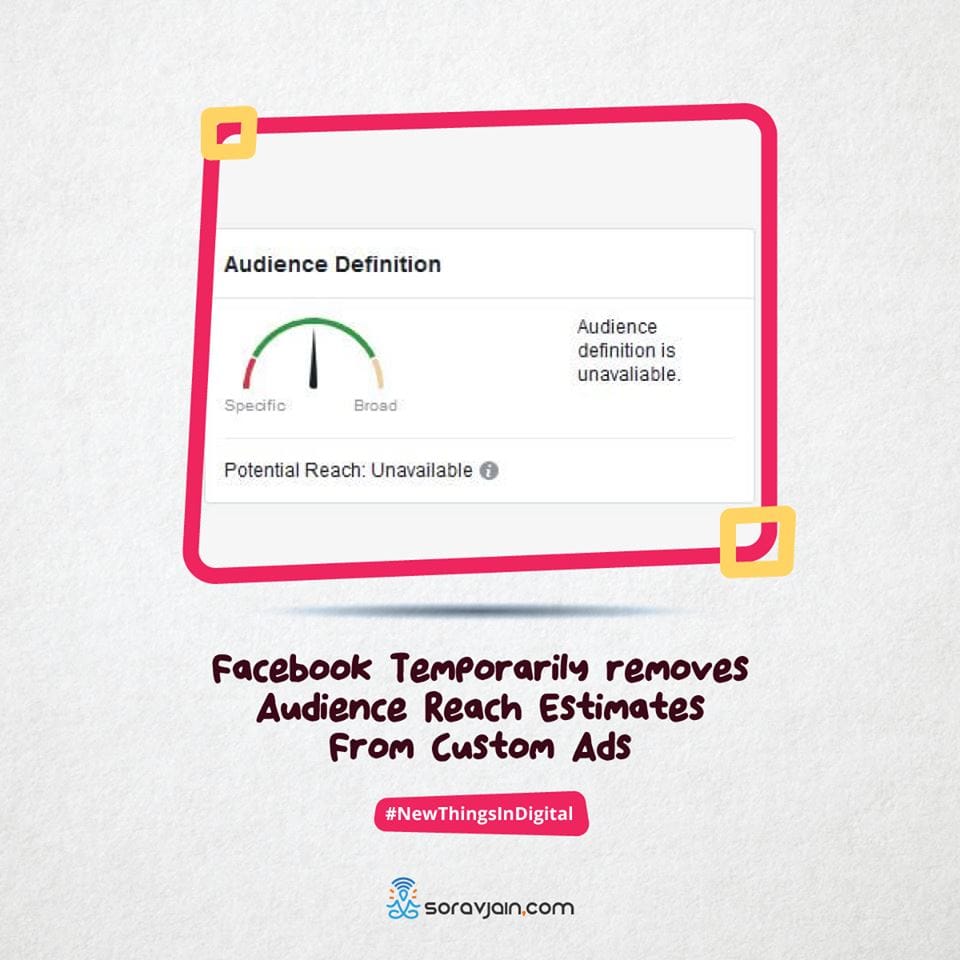 In an email to brands and advertisers, Facebook stated that after identifying a new technical issue with reach estimation for custom audiences that could "potentially allow misuse of the functionality," it's removing the ability to see reach estimates for all custom audiences across all of its interfaces until the issue can be resolved. Facebook will also limit how many custom audiences an advertiser can create during this time.
#7 

Facebook

 Plans to Shut Down Third-Party Ad Data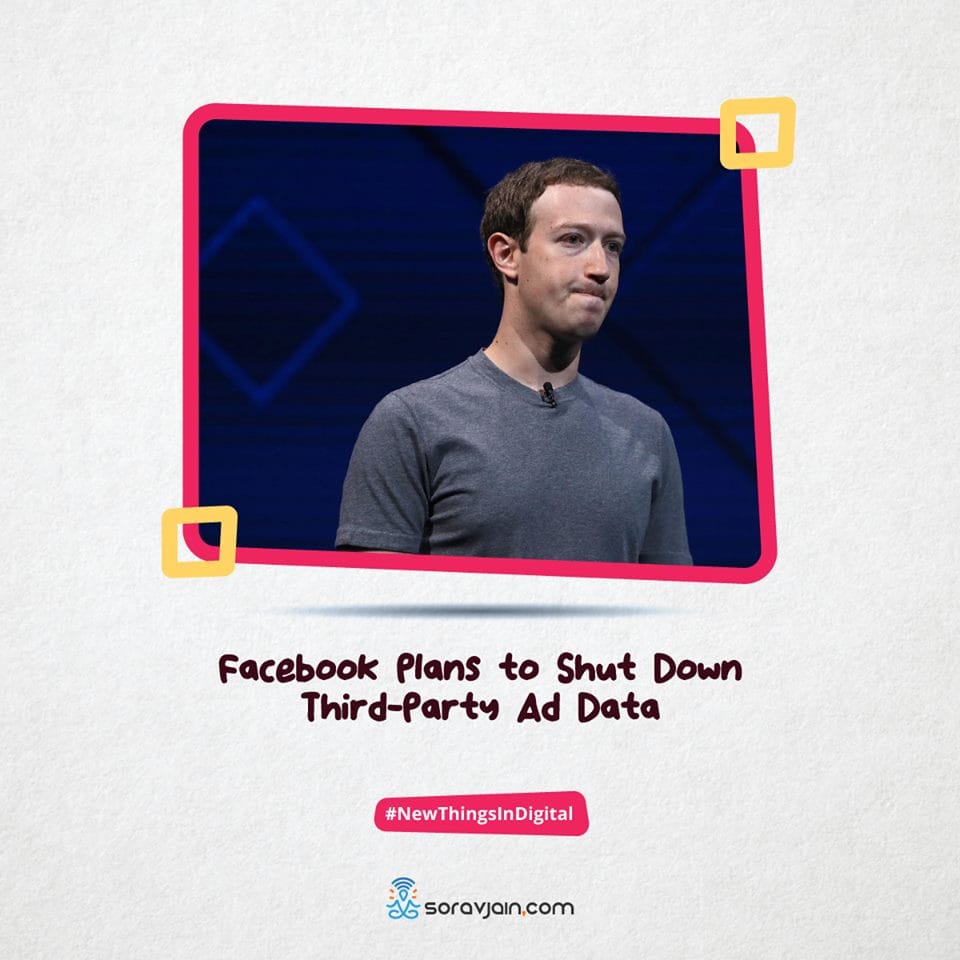 Facebook announced plans to shut down Partner Categories soon, a product that enables third-party data providers to offer ad targeting data directly on Facebook.Facebook will wind down the practice of including third-party ad data "over the next six months" in a continued effort to improve and protect privacy on Facebook.
#8 Twitter Enables Sharing Live Videos from Specific Playback Point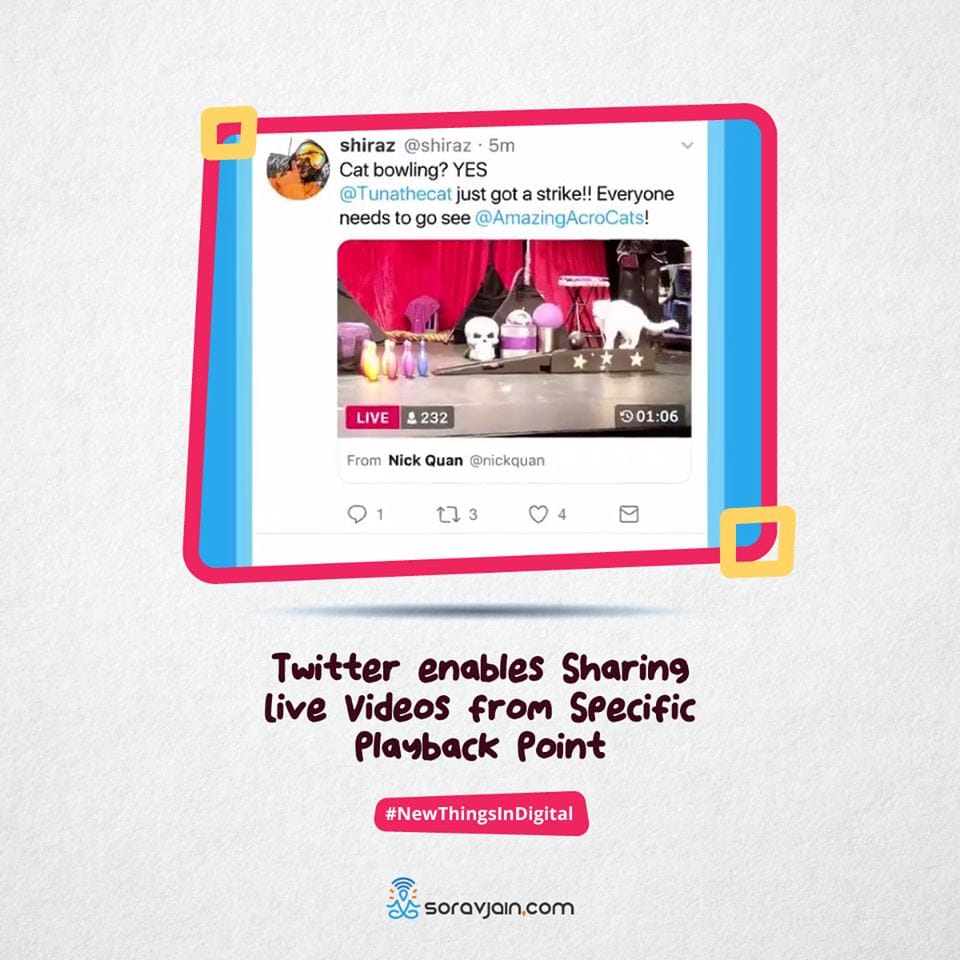 Twitter has announced a new update which will enable users to share live videos which will start playing at a specific point, as chosen by the sharer. Once you chose a starting point, the video will begin at that moment when you share it. Twitter's calling the option 'Timestamps', and you can use it on either completed broadcasts or live broadcasts still in progress.
#9 

Facebook

 Improves and Expands Ad Split Testing Capabilities
Facebook rolled out an update that allows split tests to be created easily in the Quick Creation flow. Previously, Facebook advertisers could only create split tests in Ads Manager's Guided Creation workflow. According to Facebook, this update makes it easier for advertisers who prefer the Quick Creation flow to create and manage ads in bulk to also test ads against one another. Facebook also added split testing support for the engagement marketing objective; added a new reporting dashboard that shows standard KPIs such as CPM, CPC, and CTR for the ads in a split test; and added a way to duplicate a split test while maintaining existing split test settings.
#10 Instagram Shuts Down Older Instagram API Platform & Limits Data Available to Developers
Instagram announced it will stop supporting the Instagram API platform over the next 2 years beginning on July 31, 2018. Due to recent updates to Facebook's privacy and data security policies, these capabilities have been shut down effective immediately. Instagram also massively reduced the amount of data and the rate at which developers may pull this data from the Instagram API. The limit rate for Instagram's API platform was previously 5,000 calls per hour. As of last Friday, this was noticeably reduced to 200 calls per hour.
#11 

Facebook

 Plans to Take Action on Ad Targeting by Email Without Consent
Facebook plans to launch a new custom audiences certification tool that requires marketers to guarantee email addresses and any other data used for ad targeting were properly and rightfully obtained with the user's consent. A spokesperson for Facebook said the platform will require advertisers and agencies representing them to pledge, "I certify that I have permission to use this data." Facebook will also prevent sharing custom audience data across business accounts.
#12 YouTube Expands Advertisers' Options With TrueView Ads
YouTube introduced a new way to buy TrueView ads that are optimized for reach. This new ad format, called TrueView for Reach, gives advertisers the option to build ads from 6 seconds up to 30 seconds long that can be skipped after 5 seconds and will run before or during videos.
#13 

Facebook

 Limits App Developer Access to User Data
This week, Facebook CEO Mark Zuckerberg faced some hard questions on how Facebook is protecting people's information and outlined several initiatives currently launching to prevent abuse, protect personal data and privacy, improve security, and take down fake accounts. As part of these initiatives, Facebook announced that "over the coming months," it will significantly limit developers' access to data from its Events, Groups, and Pages APIs.
#14 Snapchat Rolls Out Group Video Chat and Tagging to Stories: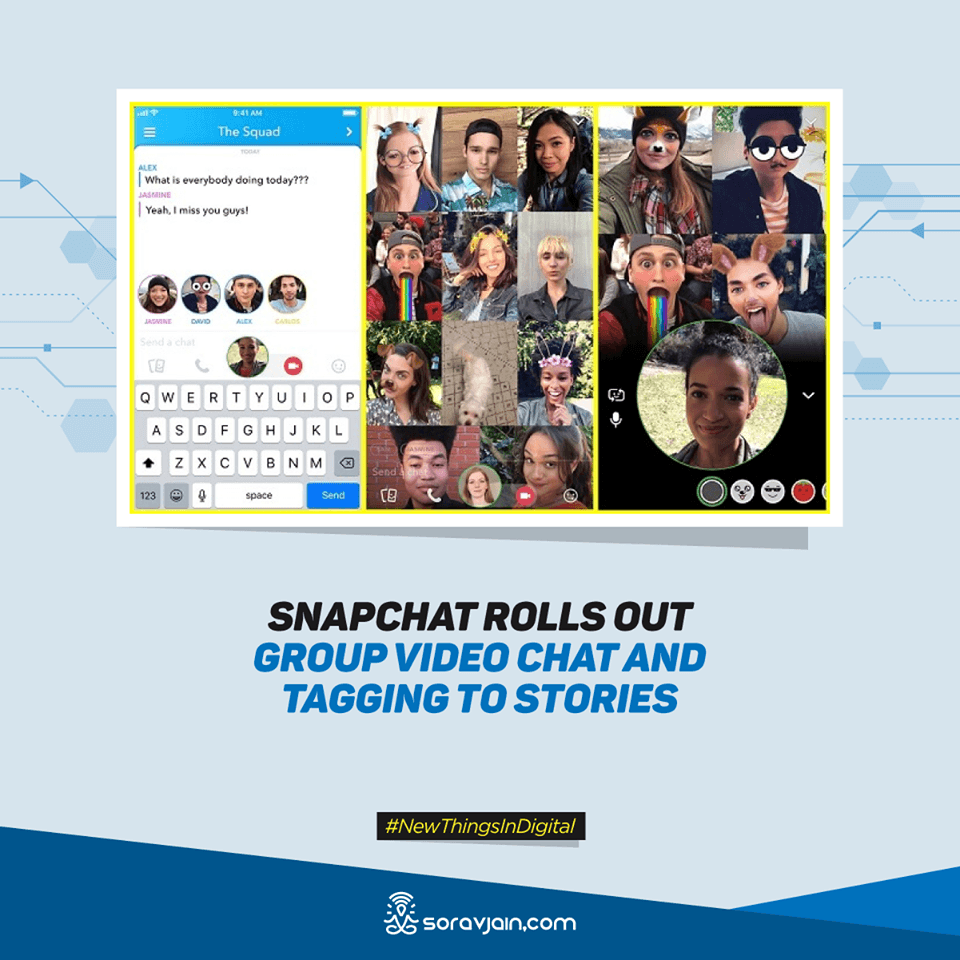 Snapchat introduced a new group video chat feature that allows up to 16 people to simultaneously conduct a video chat with each other. For larger chats, Snapchat now also offers group voice calls with up to 32 participants.
#15 Twitter and Periscope Add Timestamps for Videos
Twitter and Periscope launched a new feature called Timestamps that allows users to tweet a live video or replay and have it start from the exact moment they want to discuss. This update is rolling out on Twitter for Android and iOS, Twitter.com, and Periscope.
#16 

Facebook

 Updates Page Cover Images With Live Video Broadcasts
When going live from a linked Facebook page, the cover image on the page appears to play the broadcast while it's being recorded. Facebook hasn't provided any details nor officially released information on this possible new feature
#17 Snapchat Shows Chronological Stories Feed to Some Users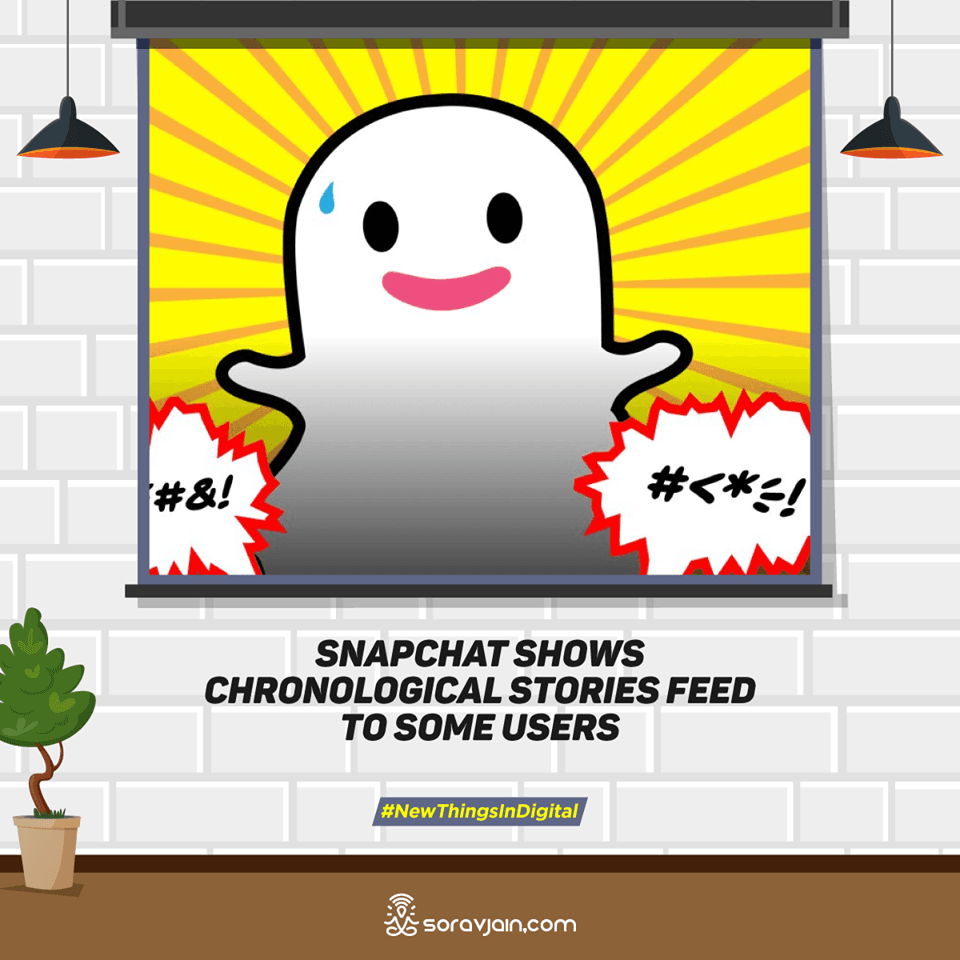 Some users are seeing their Snapchat Stories feed in reverse chronological order as a replacement for the algorithmically sorted feed. Users are seeing the reverse chronological feed in both the design that features just Stories and All tabs and in the design where there are separate "Stories" and "Chat" tabs. Snapchat hasn't confirmed if this update is a test or part of the app's full-scale redesign.
#18 

Facebook

 Disarms Ability to Search Using Emails & Phone Numbers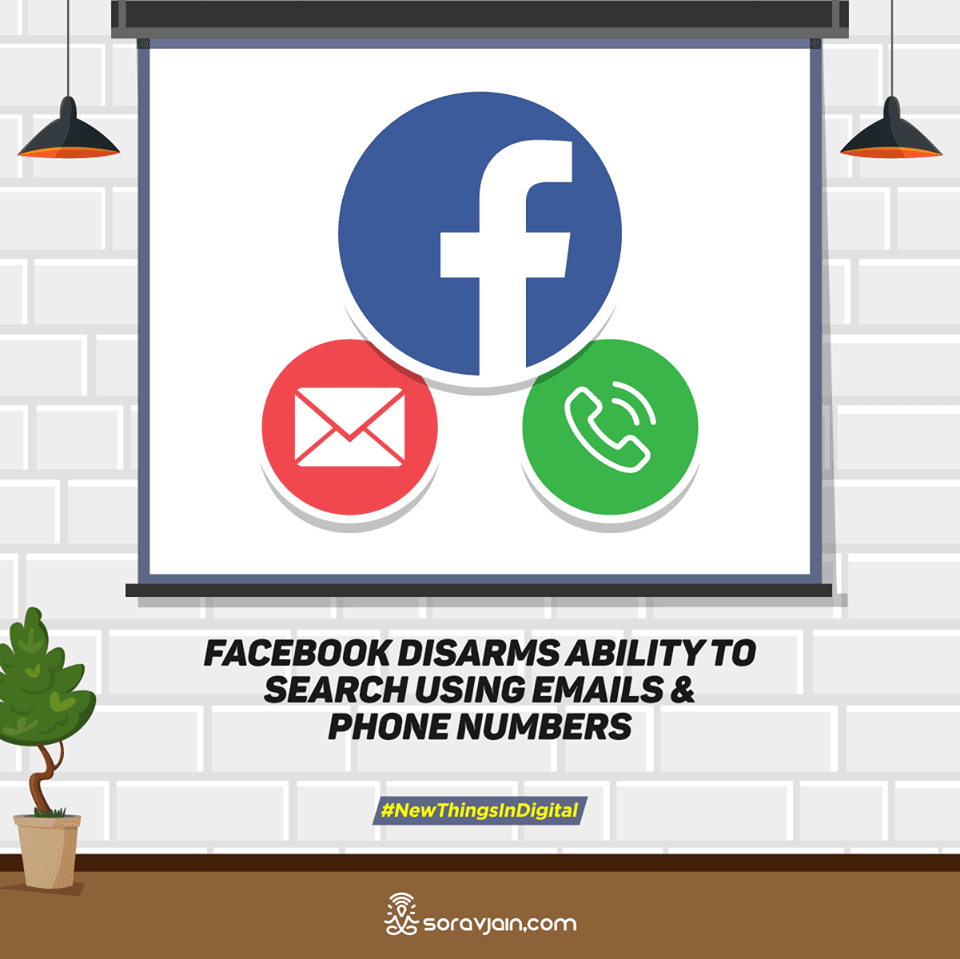 Facebook removed a feature that allowed users to enter phone numbers or email addresses into Facebook's search tool to find other people. The company claims that this tool was "being used by malicious actors to scrape public profile information" and states that it believes that "most people on Facebook could have had their public profile scraped in this way."
#19 Instagram Develops Data Portability Tool
Instagram is currently building a new data portability tool that will allow users to download a copy of what they've shared on Instagram including photos, videos, and messages. However, Instagram hasn't confirmed if users will be able to export their "following" and "follower" lists, likes, comments, stories, or captions.
#20 

Facebook

 Launches Data Abuse Bounty
Facebook launched a new program that rewards people who report and provide proof of any cases where a Facebook platform app collects and transfers people's data to another party to be sold, stolen, or used for scams or political influence. Like with Facebook's existing bug bounty program, the data abuse bounty will grant a financial reward based on the impact of each report of misuse of data by app developers and alert those it believes to be affected.
#21 Instagram to Launch Nametags
Instagram confirmed it's testing a new Nametag feature that allows users to create a scannable image. As previously reported, the upcoming Nametag feature appears to be similar to Snapchat's QR Snapcode capability, except it will include the ability to select a colorful background image, personalized pattern, and augmented reality face filters. Others can capture your personalized Nametag with the Instagram Stories camera to easily follow you.
#22 

Facebook

 Updates Product and Custom Audience Terms
In compliance with the EU's upcoming GDPR law, Facebook updated its product terms to make them easier to find and comprehend. Primarily, Facebook is introducing new terms for Facebook Business Tools, in reference to the APIs, Facebook pixel, and additional Facebook products that help website owners, publishers, developers, advertisers, business partners, and others integrate and share information with Facebook.
#23 Snapchat Rolls Out iPhone X-Exclusive AR Lens
Snapchat partnered with Apple to launch three new AR Lenses that show off the iPhone X's new depth-sensing cameras. These exclusive Lenses are realistic, thanks to the iPhone X's improved shading, motion tracking and bokeh (blurred background) effects." The lenses include a Mardi Gras mask, a Day of the Dead skull, and a pretty gold-plated eye cover.
#24 

Facebook

 Messenger Experiments With Unsend Feature
Facebook Messenger will release the ability to "unsend" messages "to all users in several months." This capability was discovered late last week when it was revealed that Facebook CEO Mark Zuckerberg and other executives had retracted messages from recipients' inboxes after they had been sent. The company is experimenting with a new secret message feature in which the messages will disappear after a specific amount of time but admits that it will "take some time" until a feature is ready for release.
#25 

Facebook

 Might be Rolling Out Upvote and Downvote Options for Comments
Back in February, reports surfaced that Facebook was testing out a new option which would give users the ability to downvote comments on posts, in order to drive out off-topic, offensive and inappropriate content.Facebook's now seems closer to rolling it out to all users and you might notice it on your devices soon!
#26 Periscope is Expanding its 'Super Broadcaster' Streamer Payments Program
Periscope has announced that their Super Broadcaster live-stream payments program is now being expanded to more regions, with Central American and South American regions now able to access the program, as well as those who broadcast in the Spanish language. Periscope introduced their Super Broadcaster program last June – the option enables viewers to purchase packages of 'Super Hearts' which they can use during streams by eligible creators.
#27 Pinterest might be adding New Cover Images and Presentation Options
Pinterest is testing out a new profile format, with the biggest change being the addition of cover images which are made up of a collage of your Pins.The background collage looks like a much better way to present an individual, engaging brand presence, and the fact that it's made up of your existing Pins will make it even easier to utilize.
#28 Instagram Adds New Profile to Showcase Design and Creativity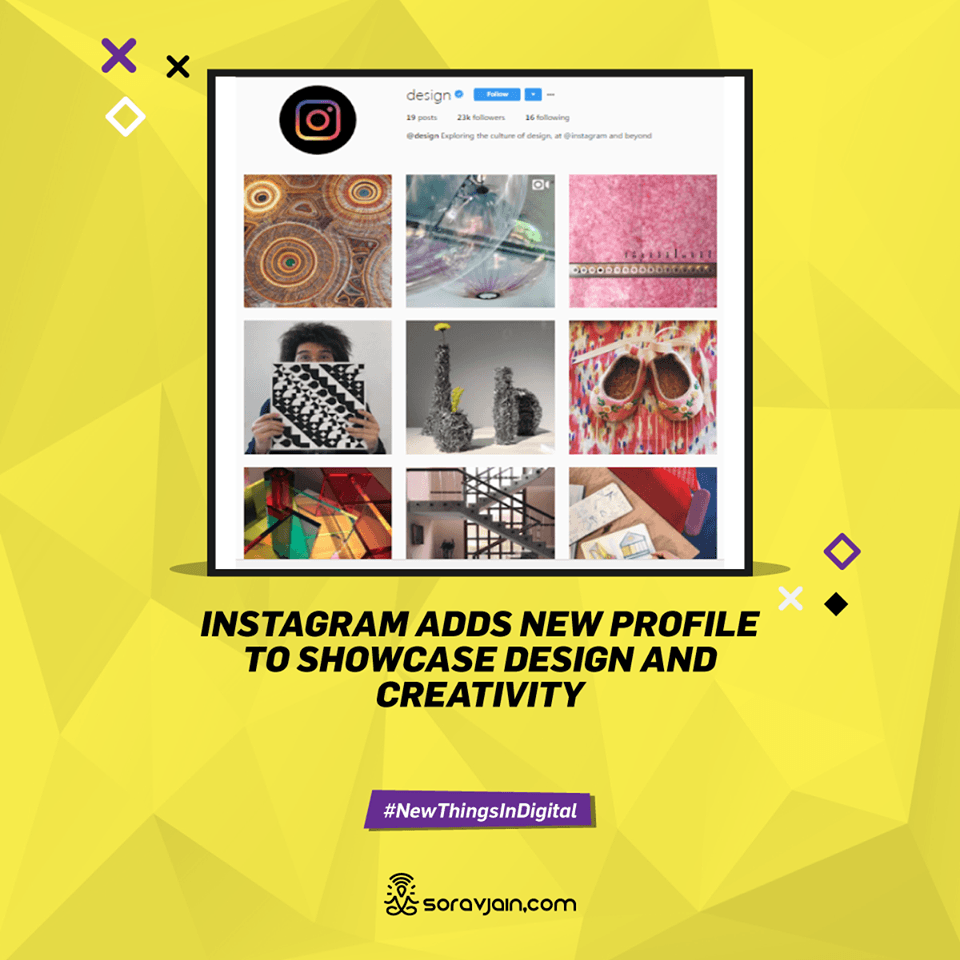 This week, the platform has launched a new profile called @design which will showcase the work of Instagram's design team, as well as that of emerging artists.The profile could help users get a better understanding of Instagram's internal design processes, while also showcasing new, creative ideas, which may help provide inspiration for your own work.
#29 

Facebook

 Tests New Video Format to Boost Communal Viewing & Engagement
Facebook's working on a new video option which aims to boost engagement by enabling creators and publishers to post pre-recorded video within the Facebook Live environment. Called 'Premieres', the new process would give approved publishers the opportunity to broadcast pre-recorded content through what's essentially Facebook Live, though the videos would clearly be tagged as 'Premiere' and not 'Liv
…
See More
#30 Snapchat Adds Advanced Lens Creation to Lens Studio
Snap Inc. will now enable creators to build their own, face-altering Lenses within its Lens Studio, the first time users have been able to create more complex video effects. This update will facilitate the development of more in-depth visual tools – now, you'll be able to build three-dimensional overlays which respond to facial movement.
#31 

Facebook

 Adds New QR Code Option for Pages
Facebook is offering a new QR code option for Pages, including posters you can use to promote your account. The new option enables Page managers to create a range of scannable QR images for their Page, presented in various formats. Know more
#32 Snapchat Rolls Out New Lens-Based Ad Type, Continues to Tweak New Design
Snapchat's rolling out a new ad type within Snap Lenses which will enable advertisers to prompt user action direct from the Lens itself. The new Lens type includes a call to action built in at the bottom of the display ('Install now' in this case), which redirects to a link of the advertisers' choice. It's the latest advance in Snap's direct response options, and the latest ad upgrade for the company, which is increasingly focused on evolving its revenue options.
#33 

Facebook

 Refines Ad Targeting Policies
Facebook halted ad targeting that discriminates against ethnic groups and other sensitive segments of the population. Facebook worked with privacy, data ethics, and civil rights experts, and charitable and advocacy organizations to develop an ad targeting policy that's both safe and civil. The company rolled out new prompts that remind advertisers about Facebook's anti-discrimination policies before they create an ad campaign. Facebook has also refined its exclusion tools by removing thousands of categories from exclusion targeting.
#34 Snapchat Releases Augmented Reality Games
Snapchat introduced Snappables, new Lenses that use touch, motion, and facial expressions to play augmented reality games within the app. Users can choose a game and either compete with or play along with friends. Snappables live alongside Snapchat's other Lenses and new ones will be released every week on both the iOS and Android versions of Snapchat
#35 Pinterest Rolls Out New Features to Assist Visually Impaired Users
Pinterest rolled out several new features that will make the app and website more assessable for pinners who are blind or visually impaired. These updates include better screen reader support, color contrast sensitivity improvements, and focus indicators.
#36 Snapchat Supports User-Generated Face Lenses
In addition to introducing Shoppable AR Lenses, Snapchat also enabled the ability to create customized Face Lenses in Lens Studio. Prior to this update, developers could only create a World Lens within in Lens Studio. Now developers can access seven new templates for creating AR masks, distorting facial features, adding stylized overlays and 2D and 3D objects, and more for Snapchat. In addition, Snapchat announced a new integration with Giphy that will give Lens Studio developers access to a massive library of animated GIF stickers that can also be added to Lenses.
#37 Instagram Enables Multiple Image Uploads on Android
Android users now have the ability to upload multiple photos and videos to their Instagram stories all at once. Instagram will also automatically suggest location stickers based on places around where an image or video was captured. These updates are currently available on Android and will be coming to iOS soon
#38 

Facebook

 Expands Pre-Roll Video Ads and Tests New Video Ad Tools
Facebook shared early best practices on how creators and publishers can create videos that "people seek out and return to regularly" and announced new video monetization opportunities. Facebook began testing pre-roll video ads on Facebook Watch videos earlier this year. With such positive results, Facebook is expanding this test to "places where people seek out videos" such as search results or on
…
See More