As the lockdown period is extended, online activity has increased.
Hence the biggest platforms are on their toes to get the best upgrades and updates to the users.
From Google's free version of Google Shopping, Twitter's new look to display Retweets, to Facebook's new 'Care Reaction' to WhatsApp's new update of increasing video calling limit to 8 people, people got a taste of something new on their favorite platforms.
List of the top 32 latest digital marketing updates in April 2020
1. Google Search Console COVID-19 Announcement Beta Tool
Google just released a COVID-19 Announcement Submission Tool. The tool is available in Google Search Console. The tool allows web publishers to create Coronavirus related announcements straight from the Google Search console without having to use structured data.
2. Twitter Updates Explore, Making its Listings More Location-Specific
Twitter has announced a new update for its Explore tab which will make all of the listed tweets in Explore more location-specific. That means that when you head to your Explore listing, all of the content – including Trends, 'What's Happening', and the topic listings – will all be more aligned with the location that you choose.
3. Twitter To Change Its 'Lists' Tab to 'Channels' in an Effort to Boost Content Exposure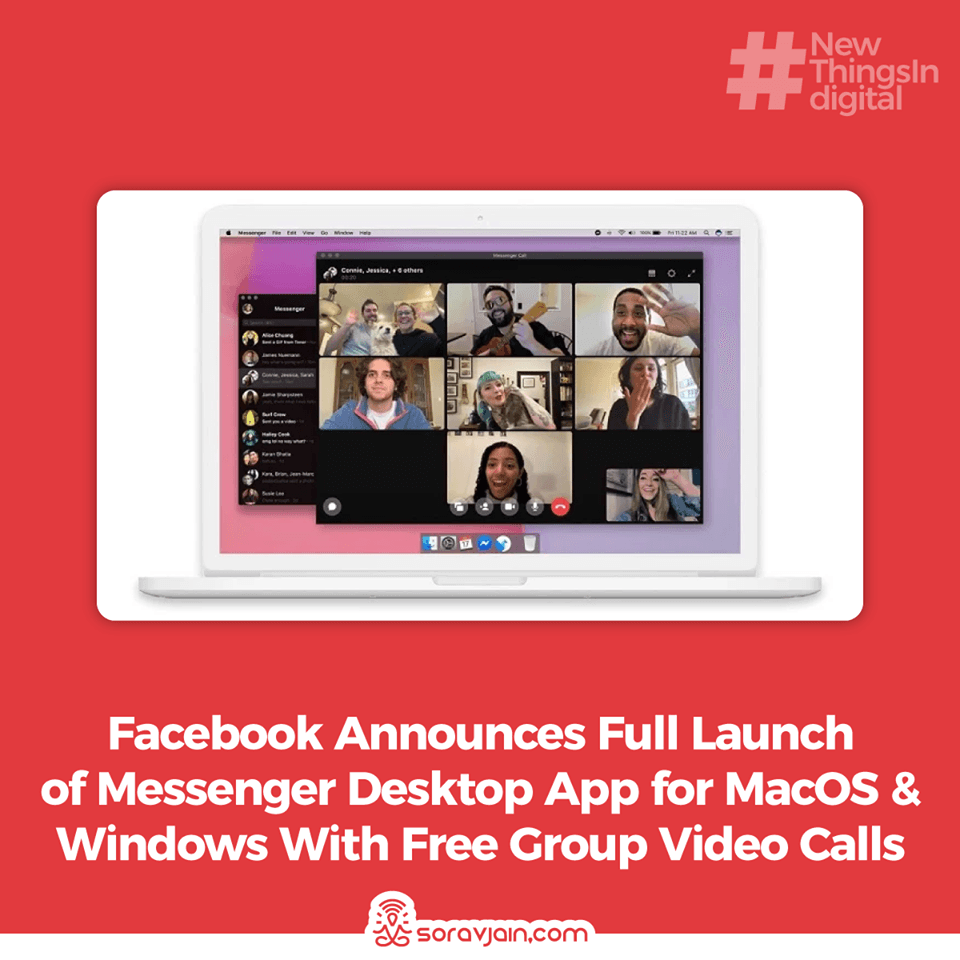 Twitter is considering changing the name of its 'Lists' tab in the app to 'Channels', which could help to encourage further content discovery and exposure. The functionality is the same, in that when we tap/click on it, we can see a collection of all the lists that you've created over time.
4. Facebook Announces Full Launch of Messenger Desktop App for macOS and Windows With Free Group Video Calls
Facebook has now announced the full rollout of the tool, which is available for both macOS and Windows, and for all users around the world.
5. Facebook Adds New Video Features Like Including 'Series'
Series allows you to organize your content into episodes, with the flexibility to show episodes in chronological order (to support a narrative story arc across multiple episodes), as well as add seasons, brand logos (show marks), and trailers."
Essentially, it's a juiced-up version of playlists, with additional branding and promotional elements to help maximize viewership
6. YouTube is Working on a TikTok-Like Tool to Fend Off Rising Video Competition
YouTube is working on a TikTok-like function called 'Shorts', which would essentially facilitate the same operations as TikTok within the YouTube app.
Shorts will include a feed of brief videos posted by users inside the Google-owned app and will take advantage of the video service's catalog of licensed music, songs from which will be available to use as soundtracks for the videos created by users
7. Facebook Adds Bulk Uploader Option To Upload 50 Videos At A Time
Facebook is rolling out an update to its bulk uploader for videos, which will now facilitate the upload of up to 50 videos to one page in a single action. It will also soon be adding new editing tools within bulk uploader which will enable users to implement actions on videos in bulk, including adding multiple videos to series and playlists, enabling rights protection, adding in ads, auto-captions, and more.
8. Amazon rolls out product targeting for Sponsored Display
Amazon has released product targeting for Sponsored Display ads. Merchants can now target similar or complementary products and categories via Seller Central. Product discovery targeting. With new options, for example, you could target running shoe ads to appear on category pages for running shorts, says Amazon.
9. Google Ads, Twitter Amend COVID Ad Policies and Resources
This week, Google Ads was the latest to swiftly address advertisers who may be trying to drive sales by preying on users' fears amid the pandemic.
10. Google Tests Moving Review Stars Lower & Changing Colors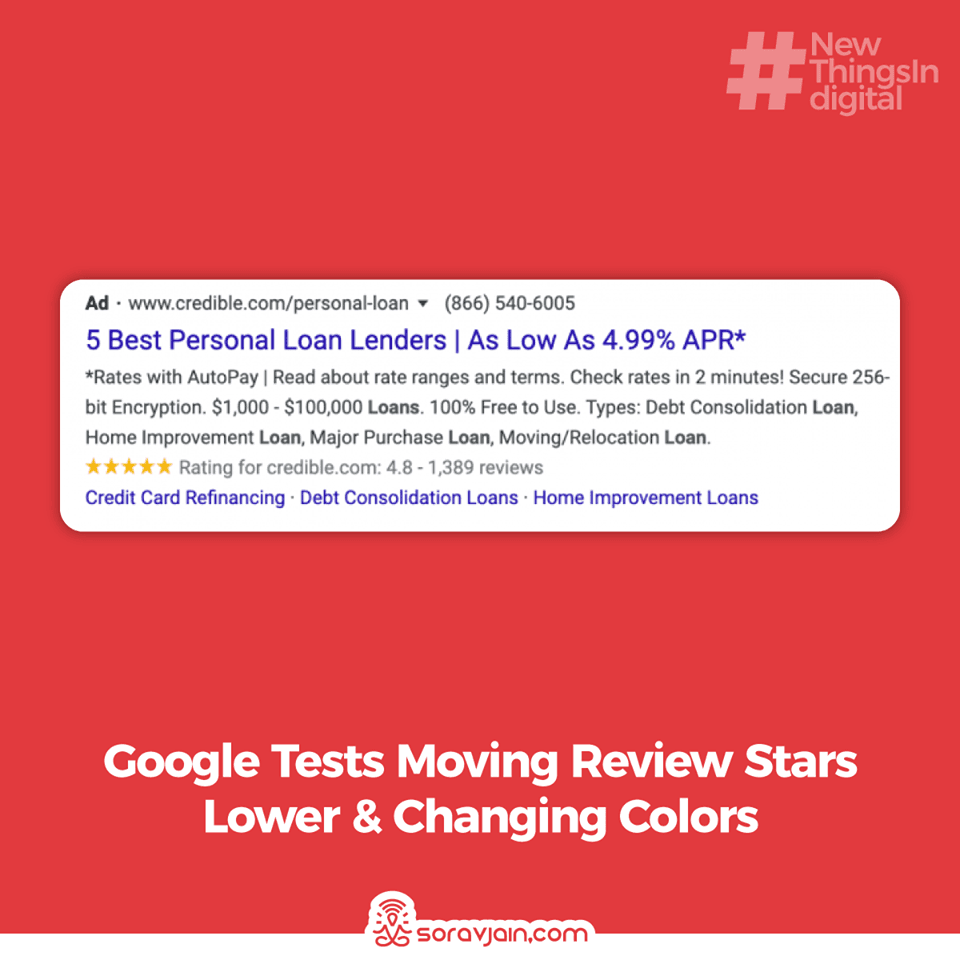 Google seems to be testing moving the review stars from just under the title to below the description portion of the snippet. Google is also testing changing the color from orange to yellow.
11. Google My Business Adds Telemedicine Links For Doctor Offices
Google has added the ability to add a "telehealth info link" to a Google My Business listing, if the listing is a medical/doctor related office. Those informational links probably are for the destination page on your web site that has more details about telemedicine at that practice.
12. Facebook Adds New 'Quiet Mode' to Help Manage Time Spent in the App
With people spending more time on social platforms amid the COVID-19 lockdowns, Facebook has added a new 'Quiet Mode' option to help better manage and control your Facebook usage, while it's also revamped its 'Your Time on Facebook' listings in order to provide users with more information as to how, exactly, they're spending their time in the app.
13. Instagram Launches 'Thank You Hour' & 'I Stay Home For' Stickers
Instagram has launched 2 new stickers – 'Thank You Hour' & 'I Stay Home For', the first one to showcase the various things that people are appreciative of amid the COVID-19 pandemic and the second one to promote COVID-19 containment efforts.
14. Instagram Adds DM Access to Desktop Version
Instagram has now expanded user access to Instagram Direct messages via the web version of the app, enabling users to interact with their Instagram DMs via desktop.
15. Facebook Provides New Templates to Help Brands Communicate Key Messages During COVID-19 Shutdowns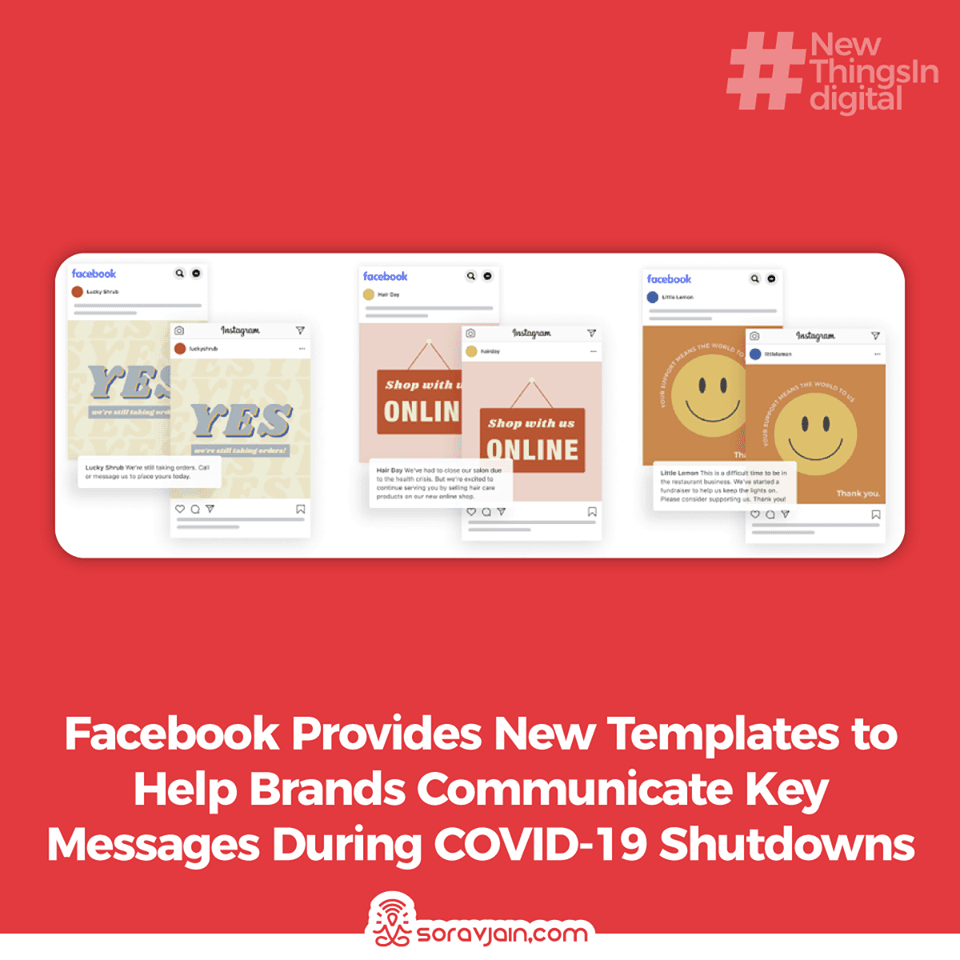 Facebook has provided a new set of templates to help businesses communicate key messages amid the COVID-19 shutdowns around the world. The templates provide simple, visual tools that you can use to help communicate key business changes, including directing people to online purchasing options, offering alternative support options, promoting gift cards to help support your business, and more.
16. Shutterstock Provides Free Images, Videos and Guides to Assist SMBs Impacted by COVID-19
Shutterstock, to play its part in providing assistance to businesses amid the COVID-19 shutdowns, has started providing limited sets of free images, videos, and music for SMBs, with a focus on content that may help to communicate key trending topics, including the shift to online trading and working from home, among others.
17. Facebook Is Testing a Large 'F' Button in the Middle of Its Lower Function Bar
Facebook has this week expanded its test of a prominent 'F' button right in the middle of the lower function bar in the app, which shrinks when tapped and links to the main menu options listing.
18. Google Ads Data Hub testing audience lists for display campaigns, adding new features
Google Ads Data Hub, the analytics and measurement platform for Google campaign data, announced upcoming enhancements, Thursday. It also confirmed it is beta testing audience activation for display campaigns.
19. Big Amazon affiliate commission rate cuts among the latest program changes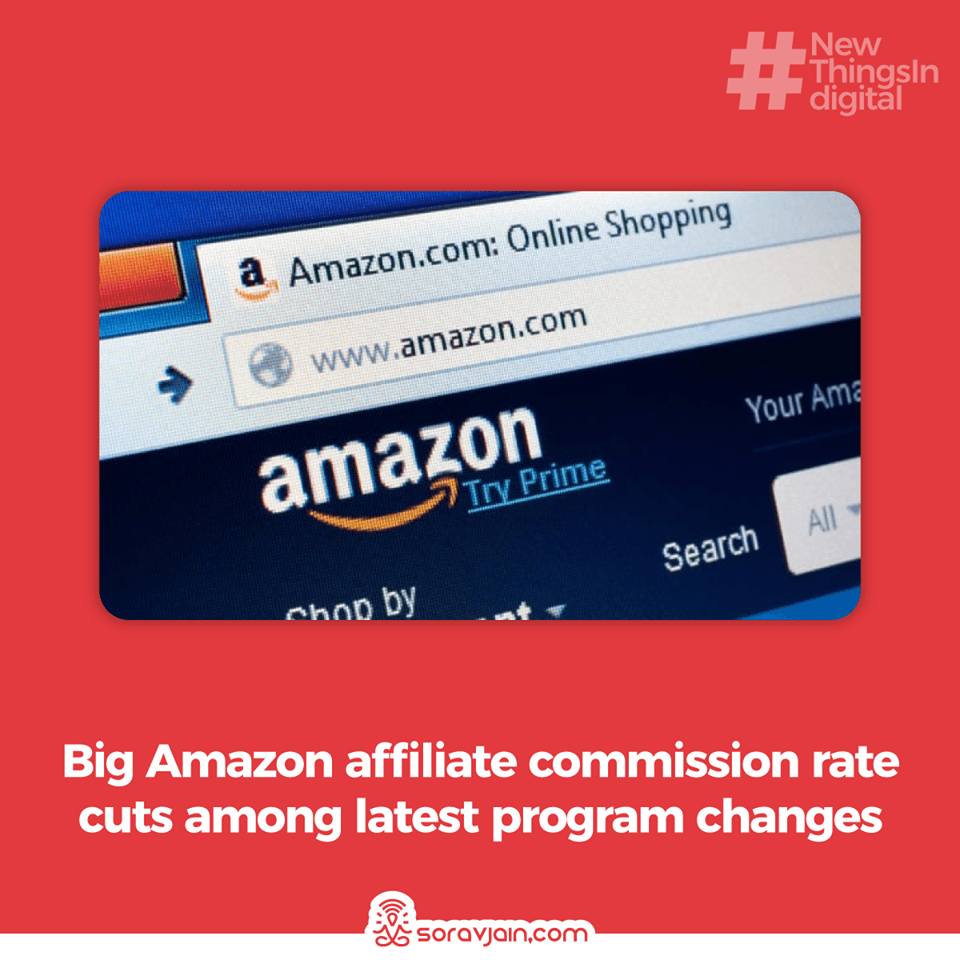 Starting April 21st, Amazon affiliates, which include publishers and influencers, will see lower commissions from their affiliate link sales across several product categories.
20. YouTube Starts Showing View Counts as Lakhs And Crores Instead of Millions in India
YouTube has changed the 'views' and 'subscribers' metrics to lakhs & crores as opposed to 'millions'. This change has been made only for a few viewers now in India. This is the channel's effort to make it more attuned to local tastes.
21. Instagram Live Streams Can Now Be Viewed on the Web
Instagram is now also giving users the option to view Instagram Live broadcasts on desktop PCs, which comes with a new, less intrusive format, and URLs to cross-promote your streams.
22. Facebook Testing Options To Keep Stories Active For 3 Days
Facebook is testing a new option that would enable users to keep their Facebook Stories active for up to three days, as opposed to the current 24-hour expiry.
23. YouTube Tests 'Video Chapters' to Skip Through to Relevant Sections in a Video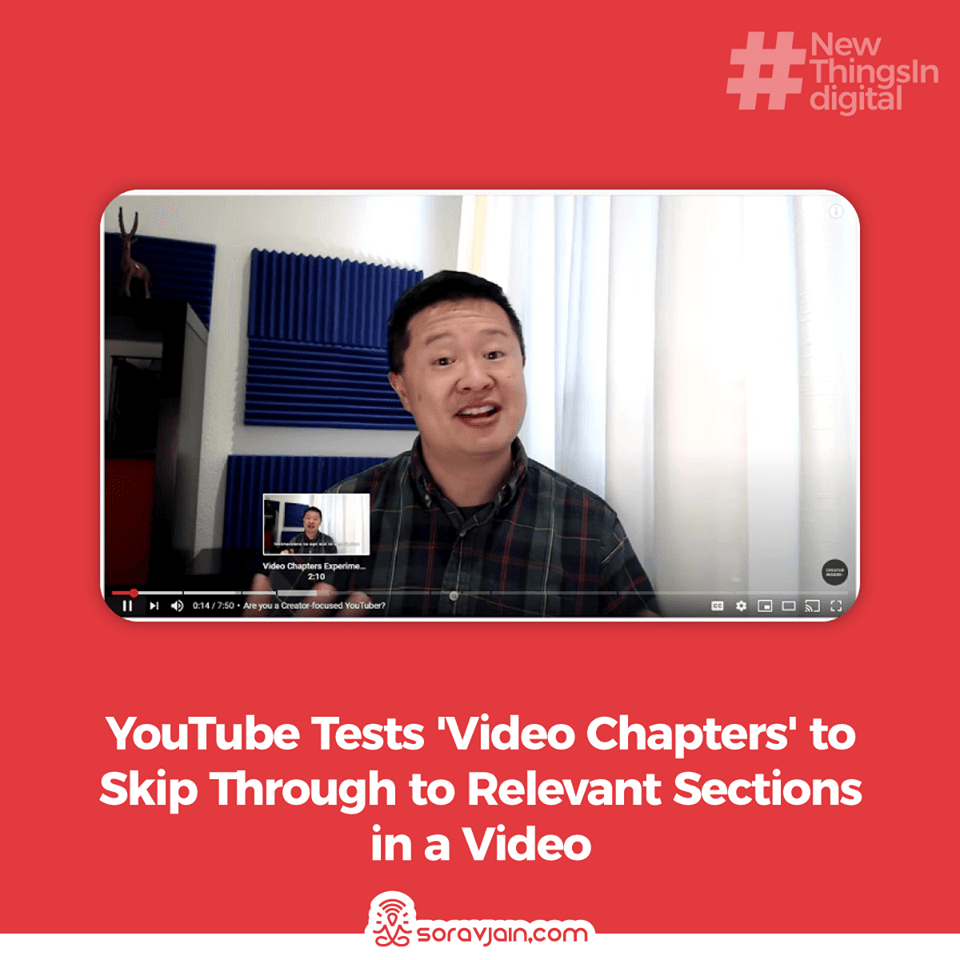 YouTube is testing a new 'Video Chapters' option that would display creator-submitted descriptions of relevant sections of their videos within the playback timeline along the bottom of the video post.
The playback timeline will be sectioned into variable chapter lengths, which, when highlighted, expand the specific timeline section and provide a description of what that segment is about.
24. Messenger Launches WHO 'Health Alert' Bot to Provide COVID-19 Information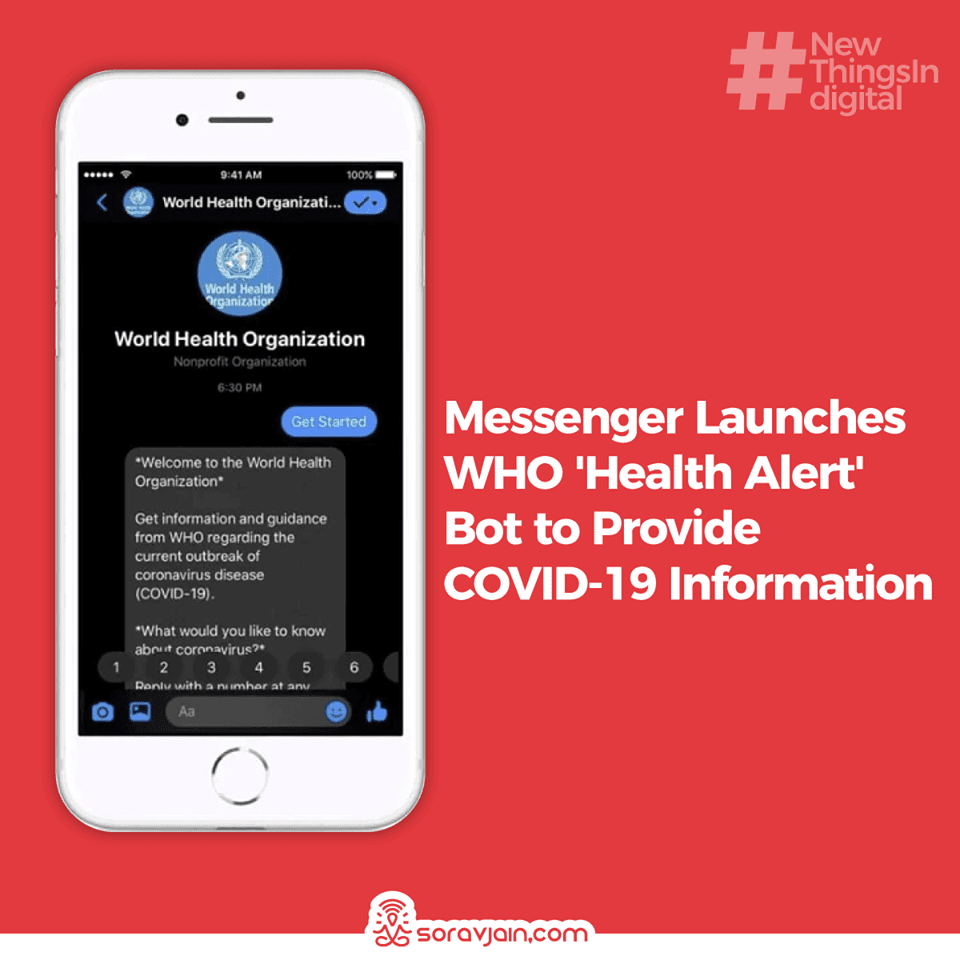 Facebook has partnered with the World Health Organization to launch a new chatbot on Messenger, which will provide users with accurate, timely info about the COVID-19 pandemic.
25. Instagram is Testing a New 'Challenge' Sticker to Prompt User Engagement
Instagram is testing a new 'Challenge' sticker for Stories which would enable users to call on their connections to participate in visual competitions, prompting more engagement.
26. The new free version of Google Shopping rolling out now
Google's new free version of Google Shopping is now rolling out. A Google spokesperson has confirmed with Search Engine Land that this has begun to roll out. This does not mean it is fully rolled out and all U.S. searchers will see it immediately, but by early next week, all U.S. searchers should see it.
27. Google adds website links to 'Call Ads'
Google announced that marketers can now add website links to Call Ads. The idea is to give consumers another way to contact and engage with the businesses during a time when call volumes are very high and wait times may be long — risking a bad customer experience.
28. Twitter is Testing a New Way to Display Retweets With Comments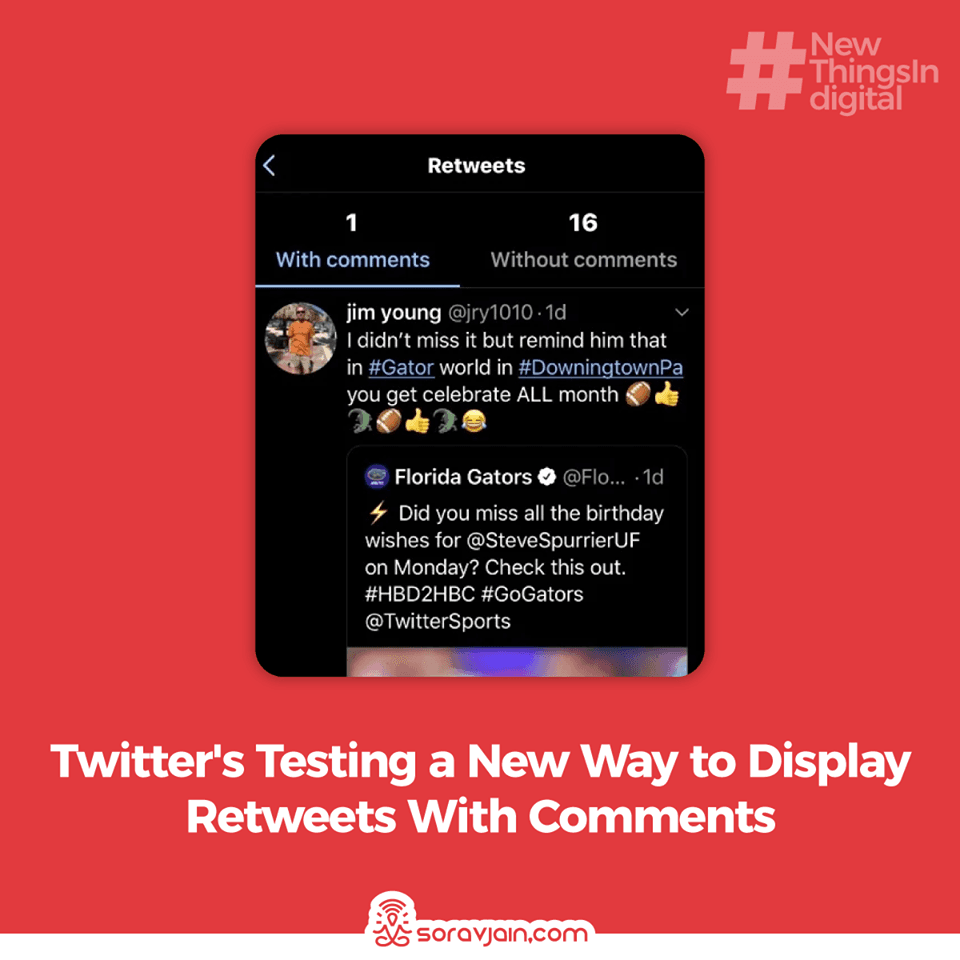 Twitter is also testing out a new way to display retweets with comments in your retweet listings, splitting the two different types of retweets into their own sub-tabs. This is a test on iOS, but it looks to be a positive change that could make it easier to understand your retweets.
29. Google Will Now Require All Advertisers to Confirm Their Identity Under Expansion of Verification Program
Google will now require that all advertisers provide official documentation confirming who they are and where they're based as part of a major expansion of its ad transparency requirements.
Once Google has verified an advertisers' identity, it will then use that info to generate a new disclosure panel on any ads they run, displaying the brand's name and country of origin.
30. Facebook Unveils New' Care' Reactions to Help Express Responses to COVID-19
Facebook has now officially unveiled its new 'Care' Reactions for both Facebook and Messenger, which will provide another quick response option for COVID-19 related updates. The 'Care' Reaction depicts a smiley face character hugging a heart, and will be the seventh Reaction added to the set.
On Messenger, you'll now have the option to change the existing 'Heart' response to a purple, beating animation of the same.
31. WhatsApp Upgrades Group Audio And Video Calls For 8 Participants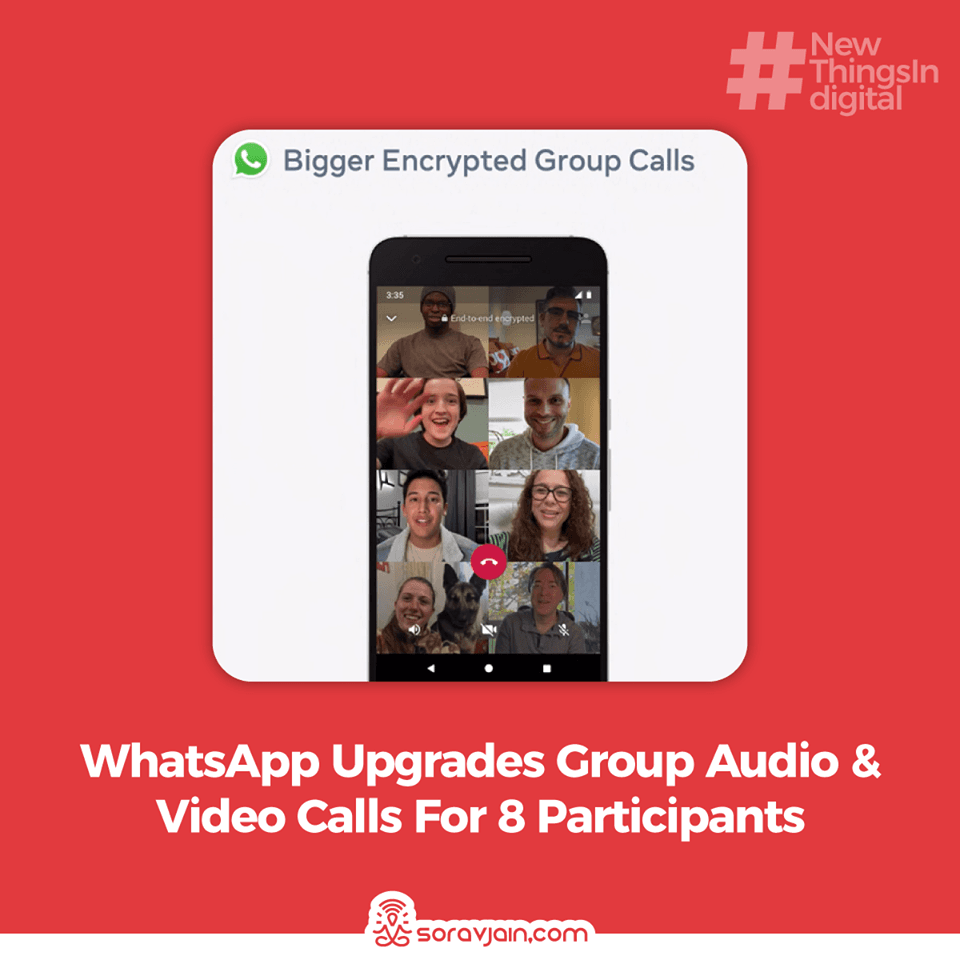 In order to meet demand and evolving use-cases during the COVID-19 lockdowns, Facebook will soon double the capacity of group video calls on WhatsApp from 4 to 8 participants.
32. Facebook is Adding New Location Transparency Listings on Posts from Pages with High Reach
Facebook is adding new location markers on individual business profile posts, on both Facebook and Instagram, which will highlight where the managers of that page or account are primarily located, helping to provide additional context.