The month of August had a whirlwind of updates that took us by surprise. From Google introducing some mind-boggling updates and features that wept our feet off, here is a laydown of what transpired in this month's Digital Marketing Trends arena. #NewThingsInDigital
1. Facebook Rolls Out Public Sharing for Stories Platform
Well, well! Facebook is not letting Snapchat just be, is it? When Facebook Stories launched globally in March, you could only share to all your friends or a subset of them. Now if you allow public followers, you can post your Story publicly so anyone can watch.
2. Pinterest Makes Search & Lens Camera Easier to Access on iOS
When you fire up your Pinterest app today, you may notice a small but very helpful new improvement.
Now, instead of having to open the Explore tab to search for ideas to try, you simply type what you're looking for into the new search bar at the top of your home feed. You also have the Lens camera right there at the ready, so when you spot something out in the world that looks interesting, you can quickly tap open Lens to snap a photo and find related ideas.
3. Facebook Will Soon Rank Web Page Links on Mobile Based on Loading Speed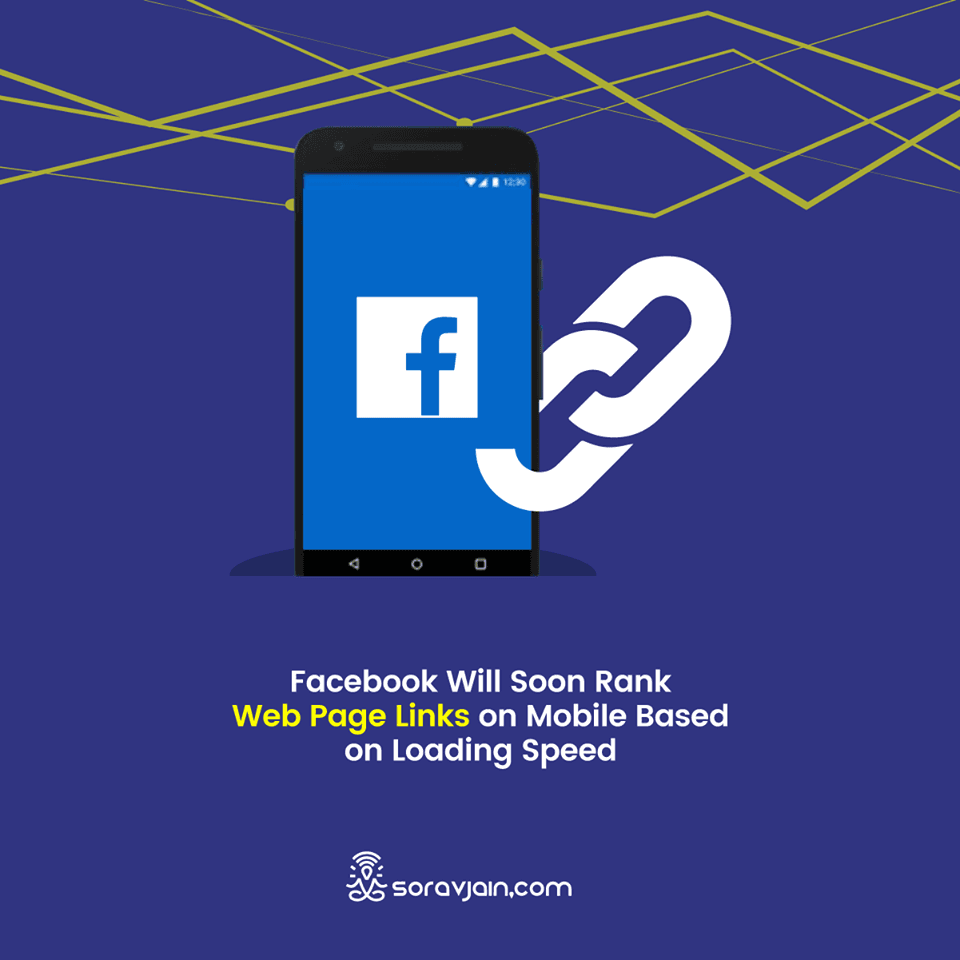 During the coming months Facebook is making an update to News Feed to show people more stories that will load quickly on mobile and fewer stories that might take longer to load, so they can spend more time reading the stories they find relevant. Beware web developers!
4. Google Updates Image Search Engines for Recipes, Products, and More
Google Image Search helps you surf shots of your favorite people, places and things as well as research products, destinations, dishes and styles. Now on the Google app for Android and mobile web, they are adding relevant badges to images indicating what else you can discover with a single tap. These badges will help you uncover images where next steps or more in-depth information is available—everything from bags to buy, to recipes to try.
5. Facebook Tests Custom Audience Based on Interactions with Page Events
Facebook appears to be testing the ability for page administrators to create custom audiences based on users' interactions with their pages' events. Brands will be able to choose custom audiences made up of users who responded to any event on their pages or to specific events, and they will also be able to include users who RSVPed as going, interested, or both.
6. Twitter Rolls Out Private Beta for Amplifying Brand Tweets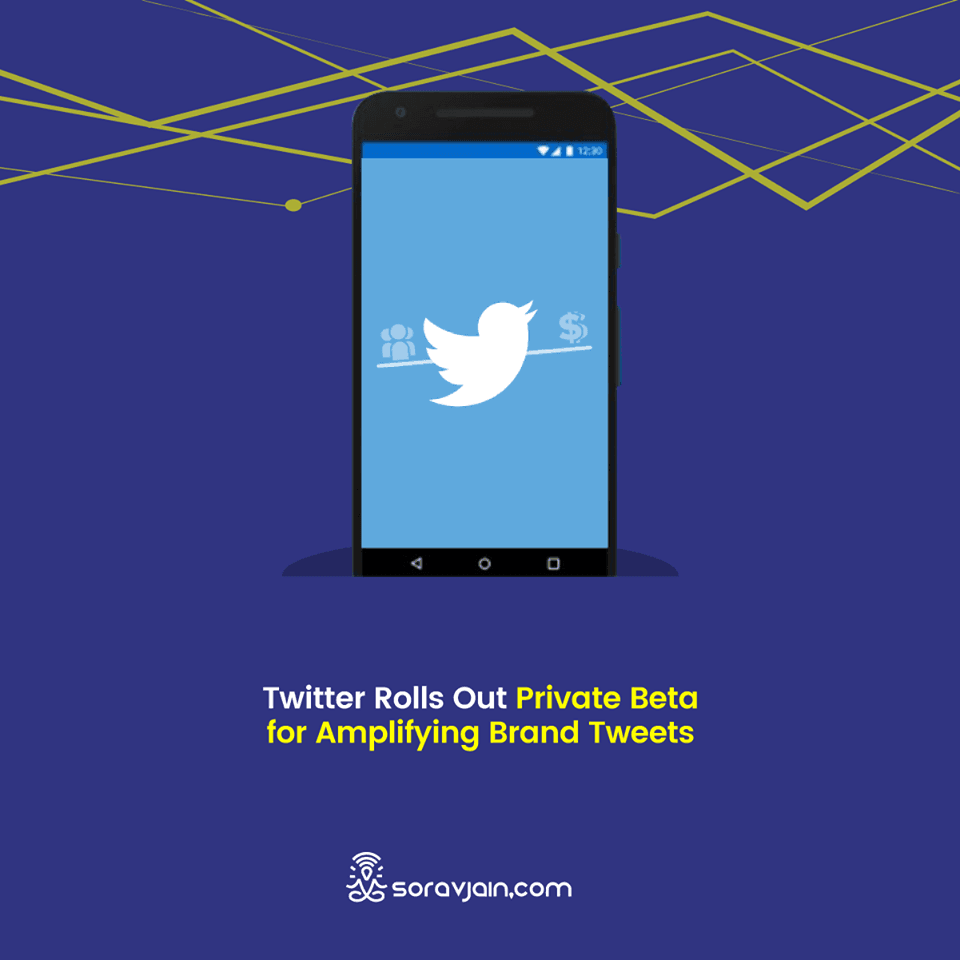 Twitter announced a private beta test for a program that enables brands to automatically promote their tweets for $99 per month. Twitter asks brands that are selected to participate to "tweet as they normally do" and Twitter will automatically amplify some of those tweets.How exciting!
7. Facebook Rolls Out Interactive Greetings for Posts and Comments
Facebook rolled out a new interactive feature in which greetings of "Congratulations" or "Congrats" in posts and comments are highlighted in red and will generate an animated confetti and balloon drop when clicked. Similarly, sending Xs and Os generates a burst of red hearts. This new feature appears to be available on the news feed, as well as in groups and pages. However, it doesn't appear to be available to all users.
8. Intagram Stories Daily Usage Exceeds Snapchat Usage
Looks like Mark Zuckerberg has made a point! Within a year of its debut, Instagram Stories now boasts "more than 250 million daily users," which surpasses Snapchat's reported 166 million daily users. Instagram also announced that Instagram Stories has "helped increase the amount of time people spend on Instagram,"
9. Facebook Audience Network Introduces New Ad Bidding Tools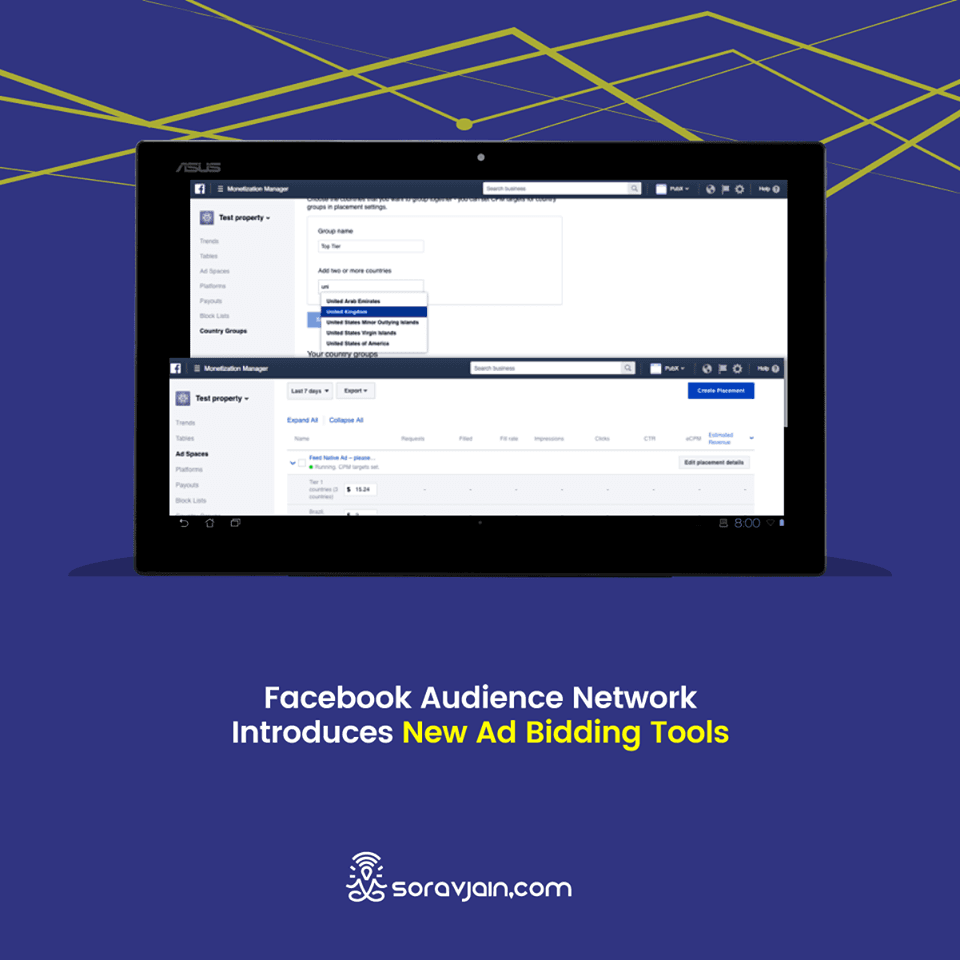 Every ad impression is an opportunity to increase your earning potential. Facebook is introducing CPM Targets which is a powerful tool that helps you maximize revenue by giving you greater control to set price targets for each ad placement. Unlike price floors, CPM Targets aim to deliver the target bid you want and not just the minimum you are willing to take. To know more www.facebook.com
10. Giphy Tests Sponsored GIF's
Marketers, take note! Giphy will begin testing sponsored GIFs within messaging experiences. According to TechCrunch, "this means that users who search for GIFs may be served a sponsored GIF within the messaging tab" and "sponsored content on Giphy would function in a way similar to Snapchat's sponsored face filters."
11. Facebook Now Tests Live Features for Its Stories
Facebook is now testing live option to its stories with AR selfie filters, giving the audience the platform to showcase, live, unadulterated, real time stories and audio on facebook. This feature is now in the testing phase and isn't currently available! I'm thrilled to try this new feature as soon as it rolls out.
12. "Watch" – A New Video Platform to be Launched by Facebook
Facebook is now working to add another feature for its users to view videos on its social network with a platform called Watch. A lot of original content would be formulated and be a part of Watch. Facebook plans to gain larger audience and serve as a competition for video streaming rivals like Amazon Primes, Netflix and YouTube.
13. Google Creating Stamp – A Snapchat Competitor
The upcoming Google product will echo this, with articles popping up in a magazine-like design. It is rumored to be called Stamp.It is similar to Snapchat discover where you can swipe through articles and stories, like a live magazine. Google proposed to buy Snapchat in 2013 but Snapchat declined the offer. Now, Google is working on Stamp, which would be a competitor of Snapchat.
14. Spot Fake Links on Facebook Even Before Clicking It
Fake news is an ongoing battle for Facebook, but the latest feature is designed to help users make their own informed decision from more than one source.
Facebook Related Articles have been popping up for a few years — but now the social media platform is loading related stories before the user clicks as an effort towards fighting fake news. This feature would enable users to access legit and more relevant articles according to their interests.
15. Pinterest Rolls Out M0bile Video Ads for Advertisers
Pinterest joins a growing number of companies including Facebook, YouTube, Twitter and Snapchat that are growing in the space of video marketing. Pinterest started testing Promoted Video last August with brands including General Mills, Kate Spade New York and Universal Pictures. Since then, it has moved to autoplay, a format brought into the mainstream by Facebook, and began placing video ads within search results and feeds.
16. Facebook Releasing Marketplace for Desktop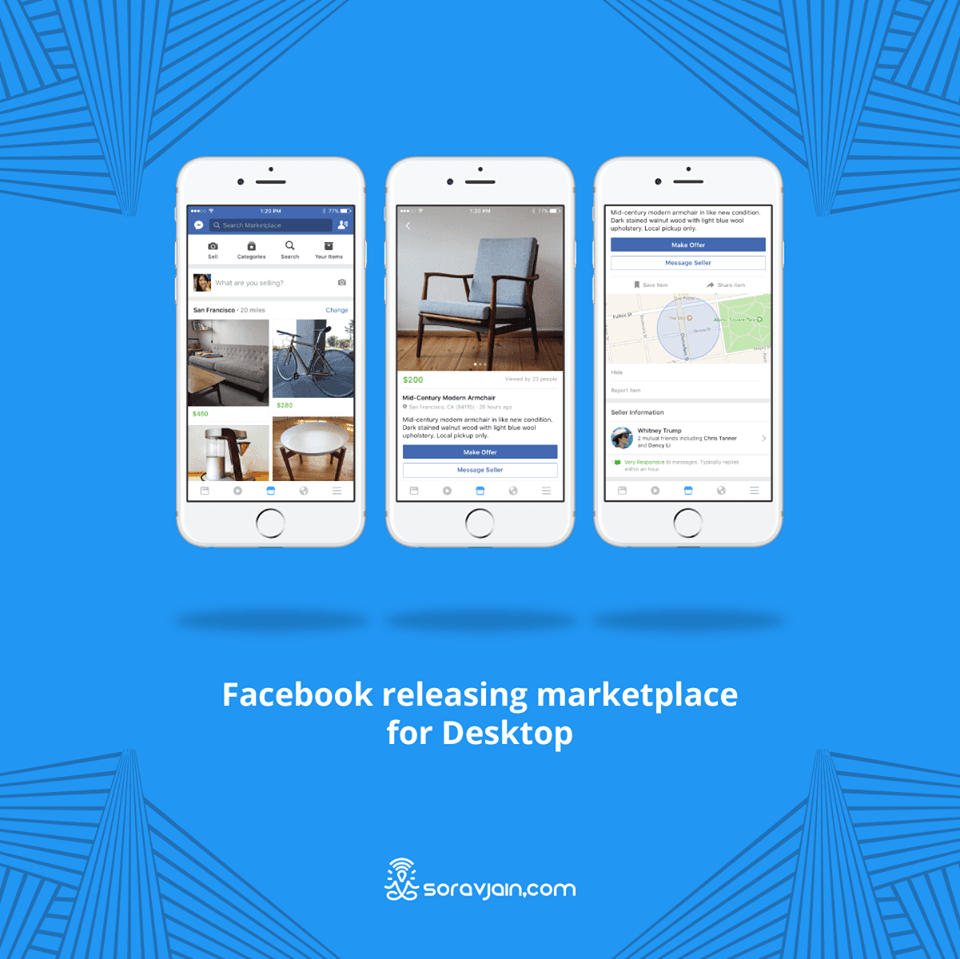 Facebook is a platform where people make connections and to help people achieve this, facebook has rolled out Marketplace, a convenient destination to discover, buy and sell items with people in the community. Marketplace makes it easy to find new things and find a new home for the things you are willing to sell. To visit Marketplace, just tap on the shop icon at the bottom of the Facebook app and start exploring.
17. Direct Message Videos on Youtube to Anyone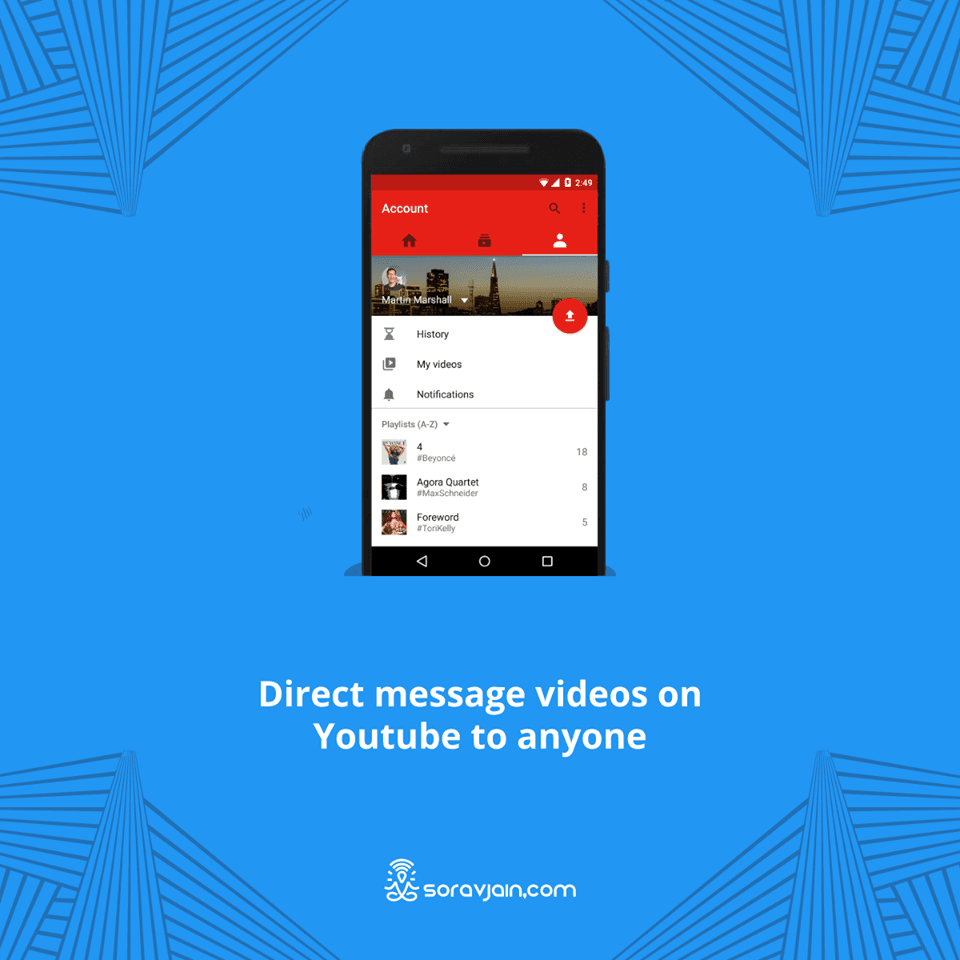 Now forget the cut, copy and paste attribute of sharing YouTube links to your friends and social media groups. With this new feature, you'd be able to send the links directly from YouTube to your friends in real time. All your existing conversations can be accessed in a new tab called "Shared" on the YouTube mobile app. To start using it, you'll have to invite your friends from your contacts via SMS or by sending an invitation link through a social network, email, or messaging app. This feature looks similar to the DM option of instagram.
18. Go Live on Instagram with your Friends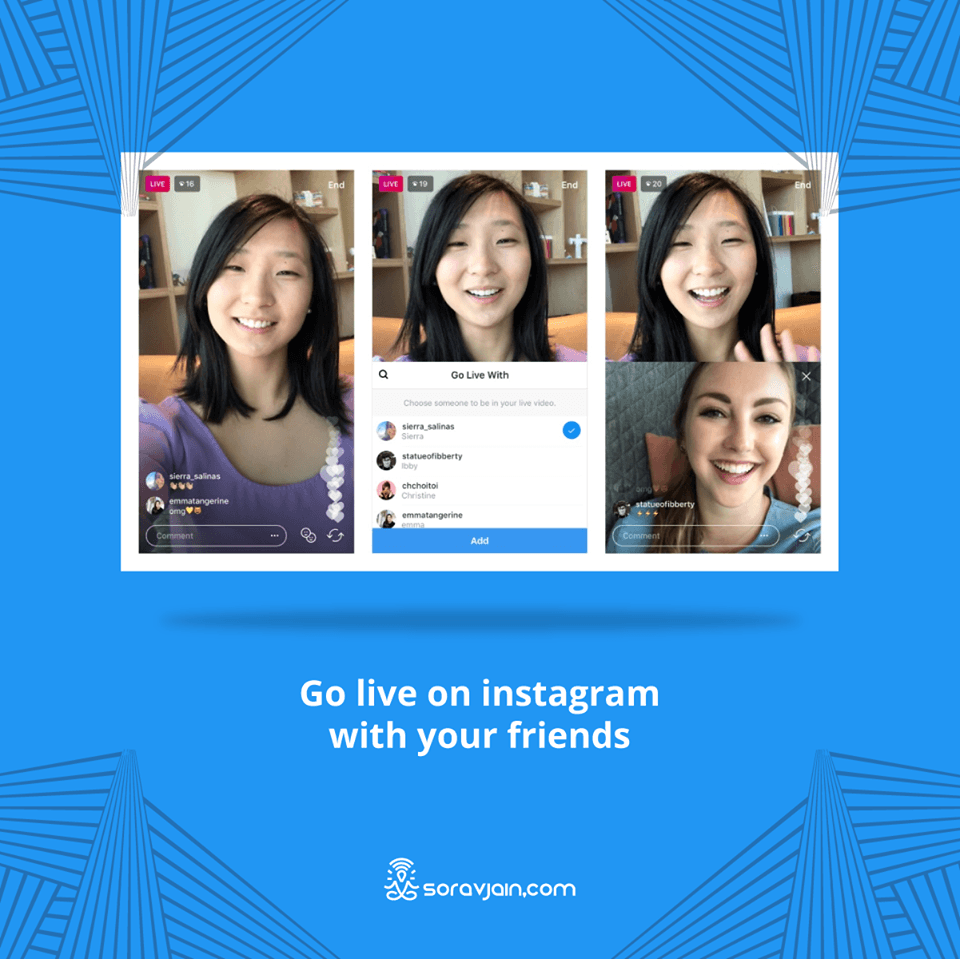 Instagram is stepping up the live update feature by adding this new element! Now, with this update you can go live on instagram with your friends from different places, at once. You can add a friend and choose to even leave a live instagram story at ease. This feature would benefit social media influencers and brands that connect directly to the people.
19. Night Mode for Desktops Now Live on Twitter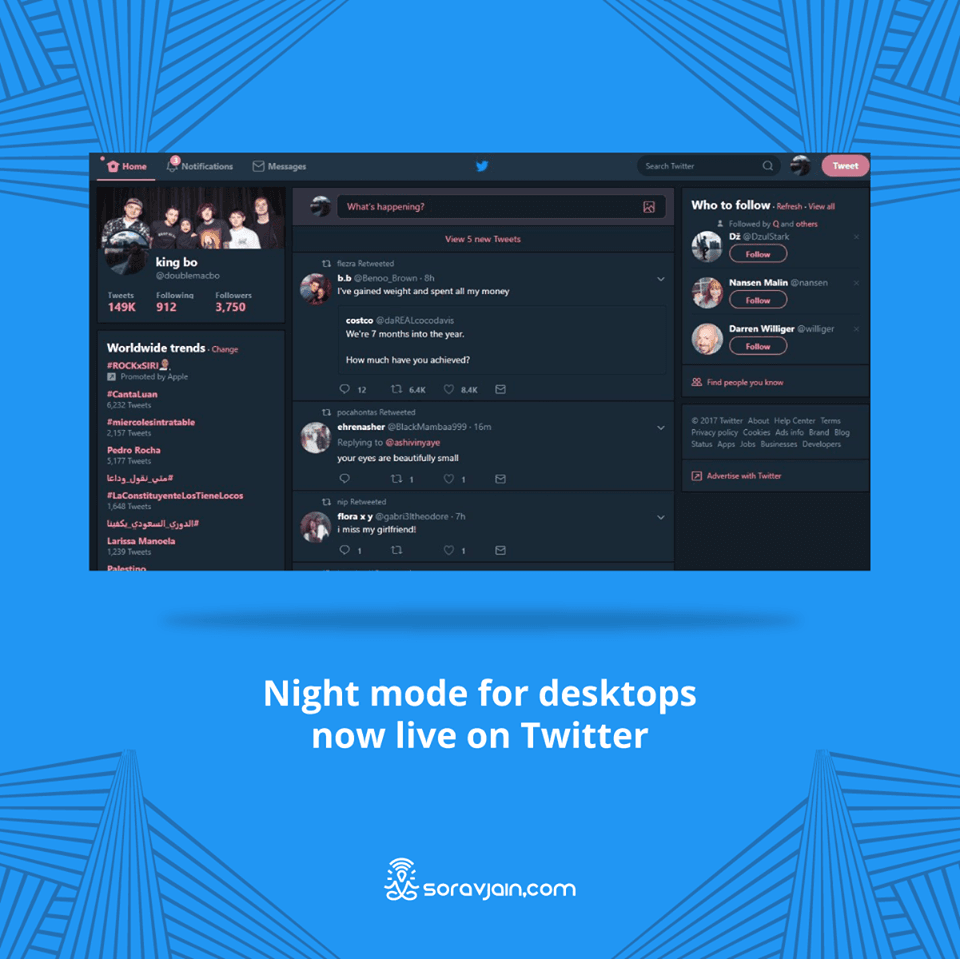 Twitter has now rolled out the option of night mode for the desktop users, as well. This feature was earlier tried and tested with the iOS and android applications of Twitter. It enables the user to work conveniently at night without straining their eyes with the bright light of the webpage. It is now available for a few users who are a part of the test group.
20. Google Introduces Hands-free Calling Capabilities to Google Home Hub
We all know that users can already use Google Assistant to help them place a hands-free call to anyone on their mobile phone. Google announced that people in the U.S. and Canada will soon be able to do the same on Google Home. This new AI service will be easy to use and free of charge. It will also feature voice recognition to support multiple users and give greater context around whom to call. Google also notes that calls can be made to the user's own personal contacts, as well as millions of businesses across the U.S. and Canada.
21. Facebook Allows Admins to Link Pages to Personal Profiles
Hear hear Marketers and businessmen! : Facebook page admins can now link the pages they manage to their personal profiles. When users add their page to their profile, they'll automatically be listed as a "team member" on that page.
22. Snapchat Rolls out New Crowd Surf Story Feature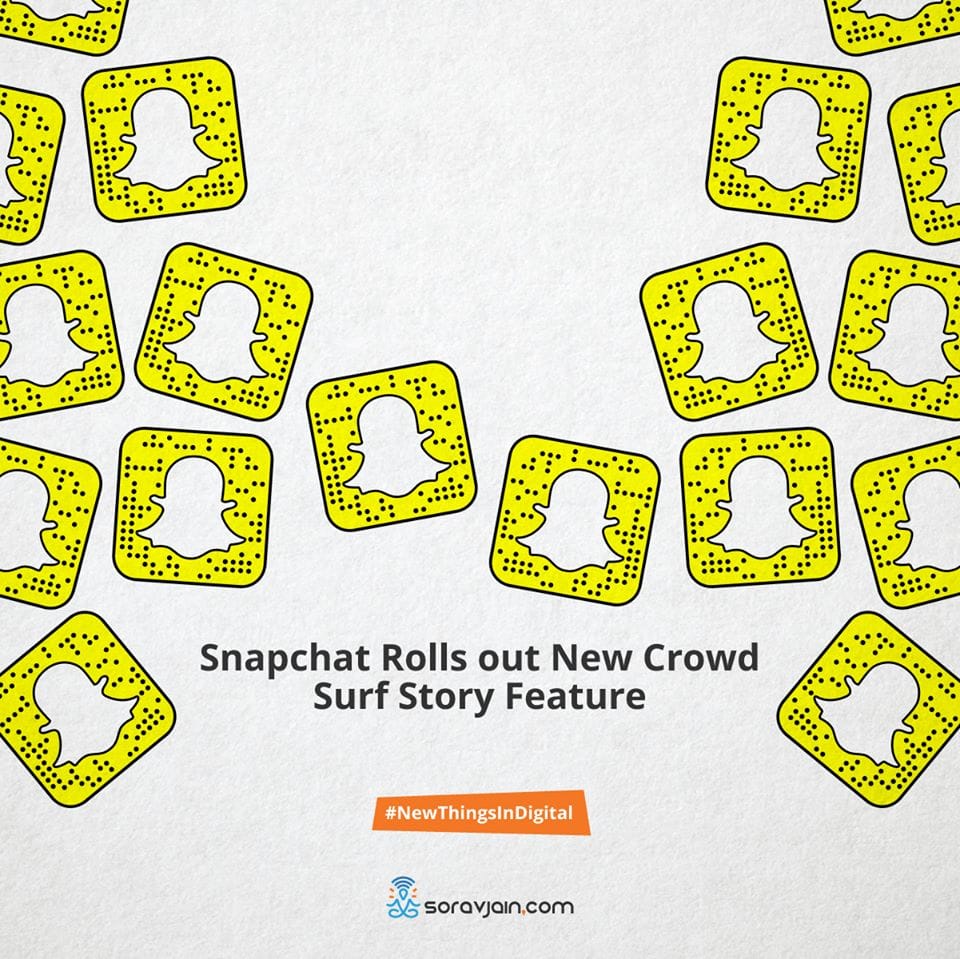 Well well! Snapchat is just not going to give up, is it? Snapchat's new Crowd Surf tool uses artificial intelligence machine learning technology to analyze snaps submitted to Our Story by multiple people recording the same musical performance at the same time. It then merges together the different angles to provide an effortless look at a live event from multiple perspectives. This exciting feature allows users to choose where to begin watching the stitched video and includes more than 10 seconds of footage in a row
23. Facebook Launches Dedicated Trending News Section on Mobile App
Facebook is renovating its Mobile App with this new feature. The new Trending News section can be found on both iOS and Android devices and features the latest stories with a focus on headlines and sources, not just topics. The news items will also be ranked based number of likes, comments, and shares each has received.
24. Pinterest Introduces Pinch to Zoom Feature to Pins & Refines Visual Search Tool
Pinterest recently brought search and Lens to your home feed! Now they are adding a couple more ways to find exactly what you're looking for, right from the Pin close-up.
Pinch to zoom in on a Pin: Lots of Pins have all kinds of good stuff in them, and sometimes you want to get a closer look at every inch. Starting today, you can zoom in on anything you see in a Pin. How exciting!
25. Facebook Takes Birthday Celebrations to Next Level
Facebook is amping up its user's birthday celebrations with these 2 amazing features! These include the opportunity to dedicate one's birthday to support for any of the 750,000 U.S.-based non-profits available through Facebook's Fundraisers tool and new auto-generated, shareable birthday videos that can be personalized with images of you and the birthday celebrant.
26. Google Launches Allo for the Web
Say Allo to the Web!
Google's AI-powered messaging app, Allo, is now available on the web. Digital Trends reports that Allo for web "requires an Android phone… [and] a registered Allo account to use it." Once approved, users can sign up and access the Allo web interface. At this time, Allo for the web can only be accessed through Google Chrome but Google states that it's "actively working to support more browsers in the future."
27. Facebook Adds New Controls & Capabilities For Branded Content Marketers
Attention Marketers! Facebook introduced more features and improved insights to "help marketers amplify branded content and control their campaigns with creators." With these changes, Facebook made it possible for marketers to directly boost a post as it appears on the creator's page and authorize which creators can tag them in a branded content post in their page settings.
28. Instagram Streamlines Conversations With Threaded Comments
Instagram will make conversations on posts "even easier" to track and respond to specific users by organizing comments in threads. Instagram will roll out this update worldwide to both iOS and Android in the following weeks.
29. LinkedIn Rolls Out Video Creation on Mobile App
LinkedIn announced that it's starting to roll out a video creation tool within its mobile app. Mashable reports that "the feature is only available for frequent contributors at the moment, but will be available to everyone else soon."
30. Youtube Feed Now has "Breaking News" Section Across all Platforms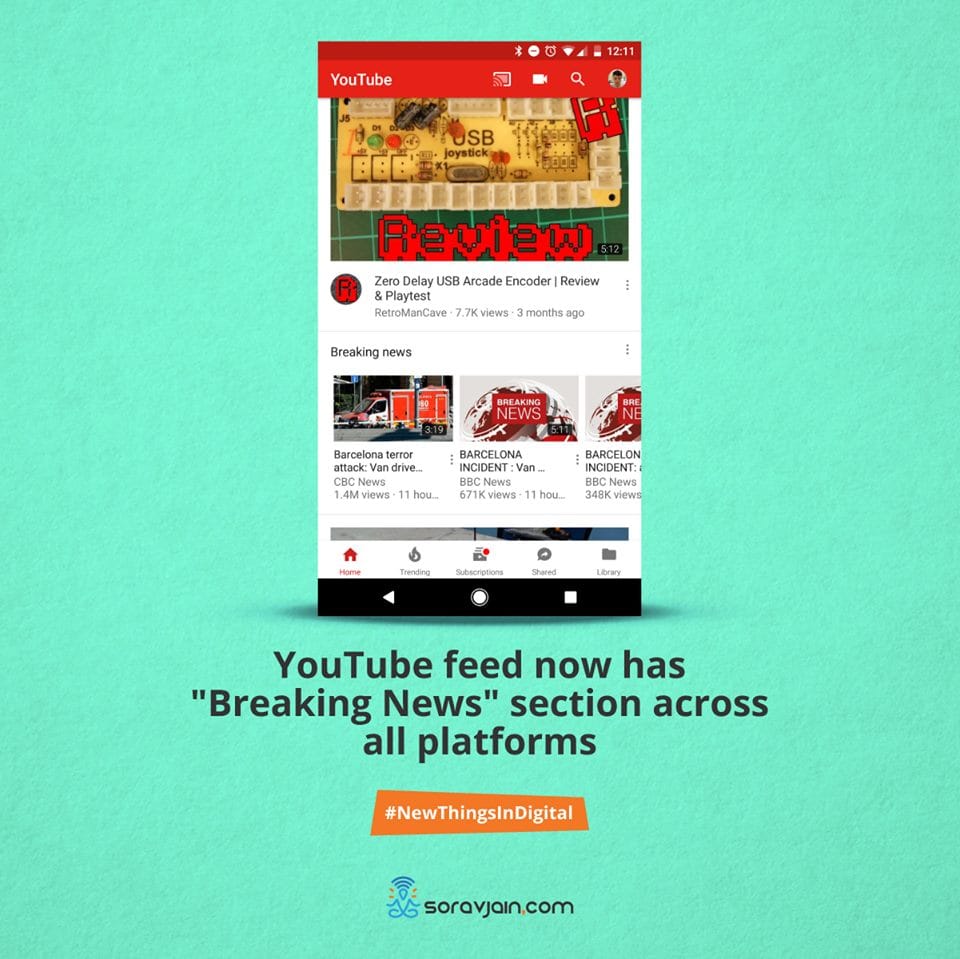 Most of YouTube's server-side rollouts are fairly limited, but this latest one seems to be pretty widespread.There's a new "Breaking News" section within the YouTube feed that has appeared for many, and it's exactly what you'd expect – a collection of videos pertaining to breaking news around the world.
31. Google Now has Six-Second Video Previews to Mobile Search
Google announced a major update to its mobile search results pages. Whenever your query brings up a video, Google will now show you a silent six-second clip to help you decide if it's actually a video you want to see.
32. Whatsapp Adds Colorful Text Status Updates, Just Like Facebook
WhatsApp began to roll out Status updates you can make by writing text on a colorful image background. While Status debuted as a text-only feature, it grew to include photos and videos.This update also lets you choose a font, background color, and even add links.
33. Facebook Clubs Stories Camera with Live, GIF & Text Sharing
Facebook added the ability to go Live, shoot two-second GIFs and share full-screen text posts on colored background from Facebook Camera, which lets you share to Facebook Stories, Direct messaging and the traditional News Feed.
34. Snapchat is Testing to Provide Official Stories
Both Snapchat and Amazon are moving to up their influencer marketing credentials – the former through the expansion of their verification program, and the latter by opening up their influencer option to more social stars.
35. Google Tests Dedicated Playback Buttons Now For Youtube Videos
YouTube might be getting a nifty facelift pretty soon. Google appears to be testing a new user interface for its video hosting platform that will make it much easier to browse for content while watching videos on your phone.
36. Facebook Now Bundles Memories into a Monthly or Seasonal Recap Story to Prompt Sharing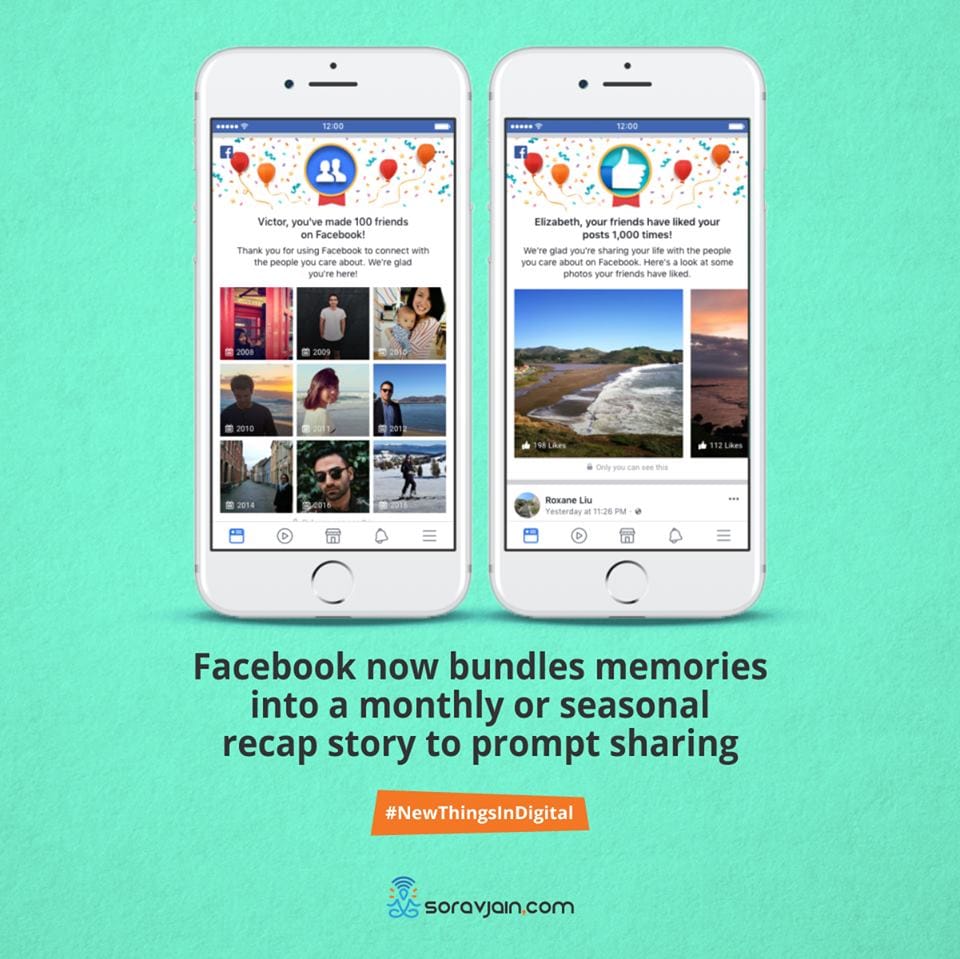 As explained by Facebook:

"We've launched a new experience that packages your recent memories in a delightful way for you to enjoy and share. For related recent memories, we will bundle them into a monthly or seasonal memory recap story. Like On This Day, these memory recap stories will show up in News Feed and are shareable."