December gave us a lot of amazing updates, ending the year on a perfect note. With Twitter  opening up real-time insights of video views and hashtags, Facebook bringing in new features & regulations for advertisers, Instagram adding new font styles to their stories and other updates that came along, the year-end updates were befitting. Read on to know what other features the month unveiled.
#1 Twitter Introduces Account Activity API For Powering Customer Service & Chatbots
Twitter launched a new enterprise-level API that will offer developers access to real-time activities such as tweets, @mentions, replies, and much more and help them power customer service tools, chatbots, and other brand engagement vehicles for Twitter. While the existing Twitter Account API also grants access to real-time Twitter activities, this new version is expanded to handle data from a larger number of accounts, multiple URLs, and support.
#2 Facebook Page Messages Found In Messenger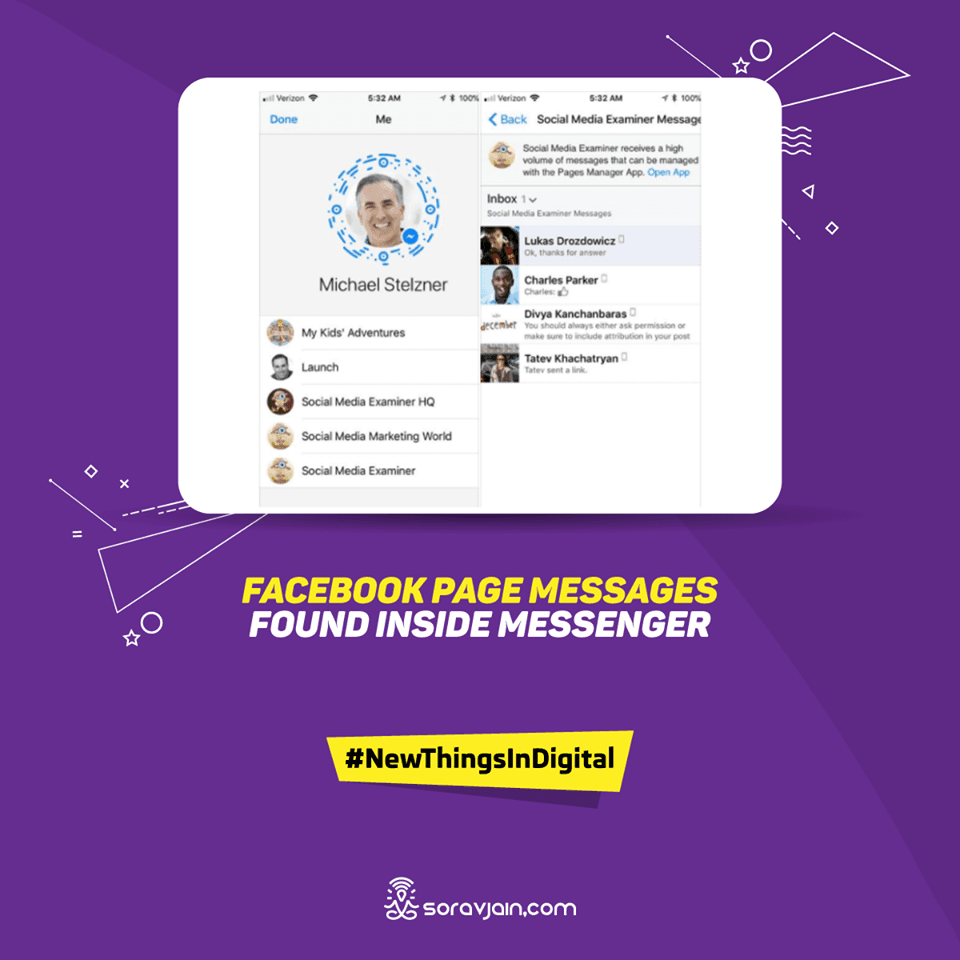 Facebook page messages can now be managed from inside the Messenger app, as well as the Page Manager app on mobile. The inbox can be accessed by clicking on your profile image. Messenger displays all of the pages you manage and you can click on each one to see its messages.
 #3 Twitter Displays Video Counts On All Video Tweets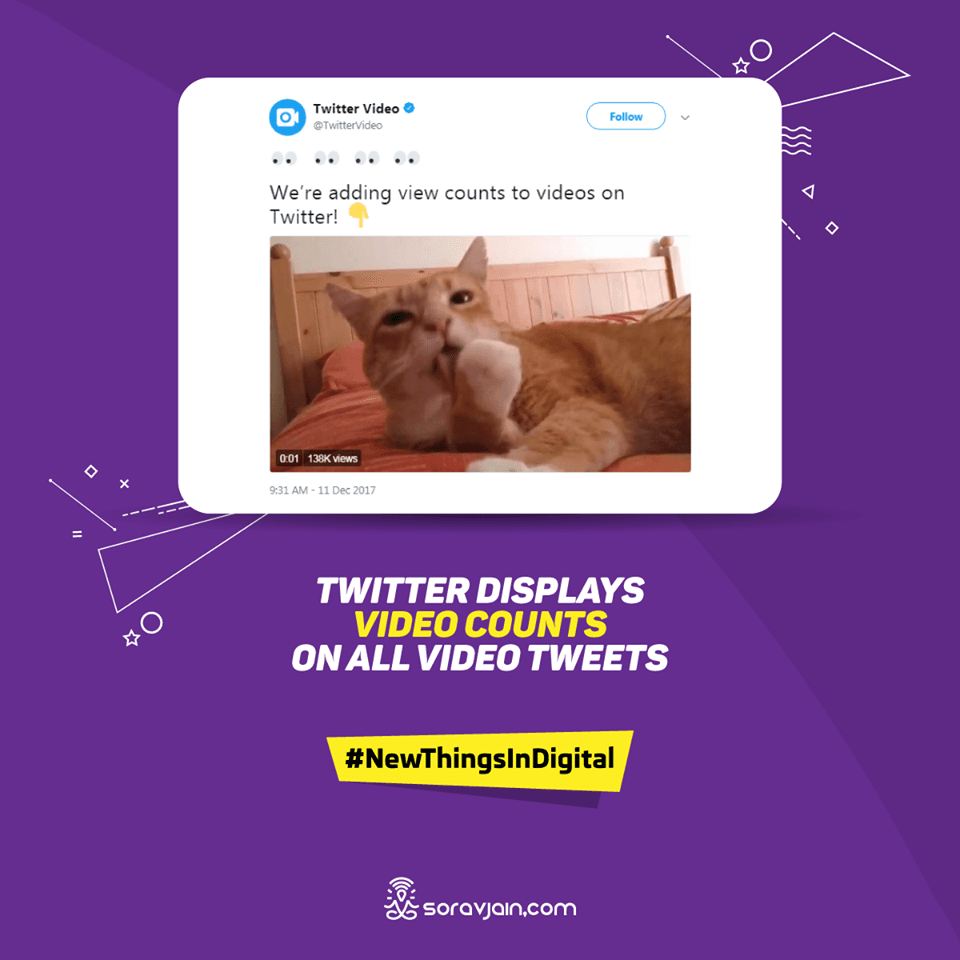 Twitter announced that video counts will now be publicly displayed on both organic videos and video ads in tweets, but not on pre-roll ads.Looks like Twitter counts a view once the video has played for at least 2 seconds while at least 50% is in view, in accordance with the Media Rating Council's video viewability standard and notes that Twitter will combine earned and paid views in the overall view count for brand videos that run both organically and as a promoted video ad.
 #4 Snapchat Introduces Branded Filters With Animated Graphics
The one feature that keeps Snapchat floating even amidst heavy competition from Instagram are the super cool filters!Snapchat is rolling out a new type of branded filter that features moving text and graphics that can be overlaid on photos and videos. These new animated filters were introduced to users earlier this month and are now available to all advertisers in the U.S., Canada, the U.K., Germany, France, and Australia for their sponsored snap ads.
#5 Facebook Allows Users To React To Individual Parts Of Videos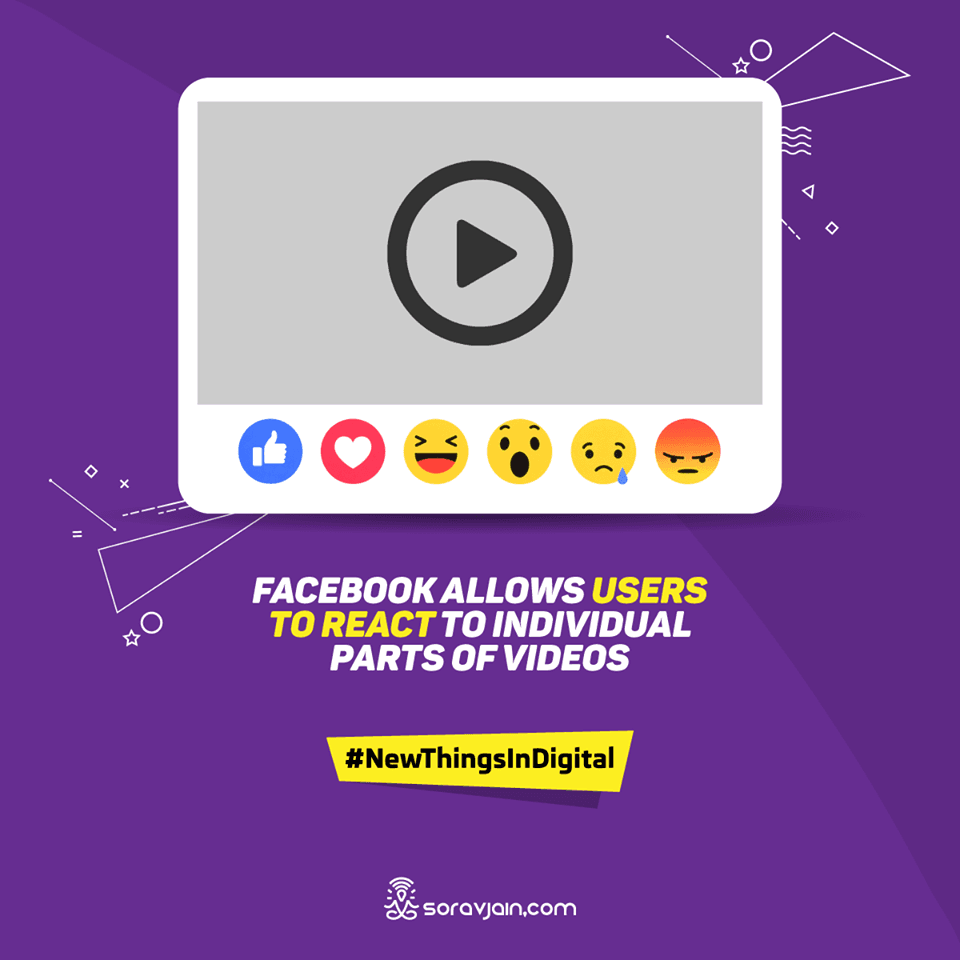 Well, Facebook seems to be testing the ability to react to different parts of a video similarly to the way that reactions bubble up when rewatching Facebook Live videos. However, Facebook hasn't officially shared any details about it.
#6 Twitter Shows Hashtag Insights In Real Time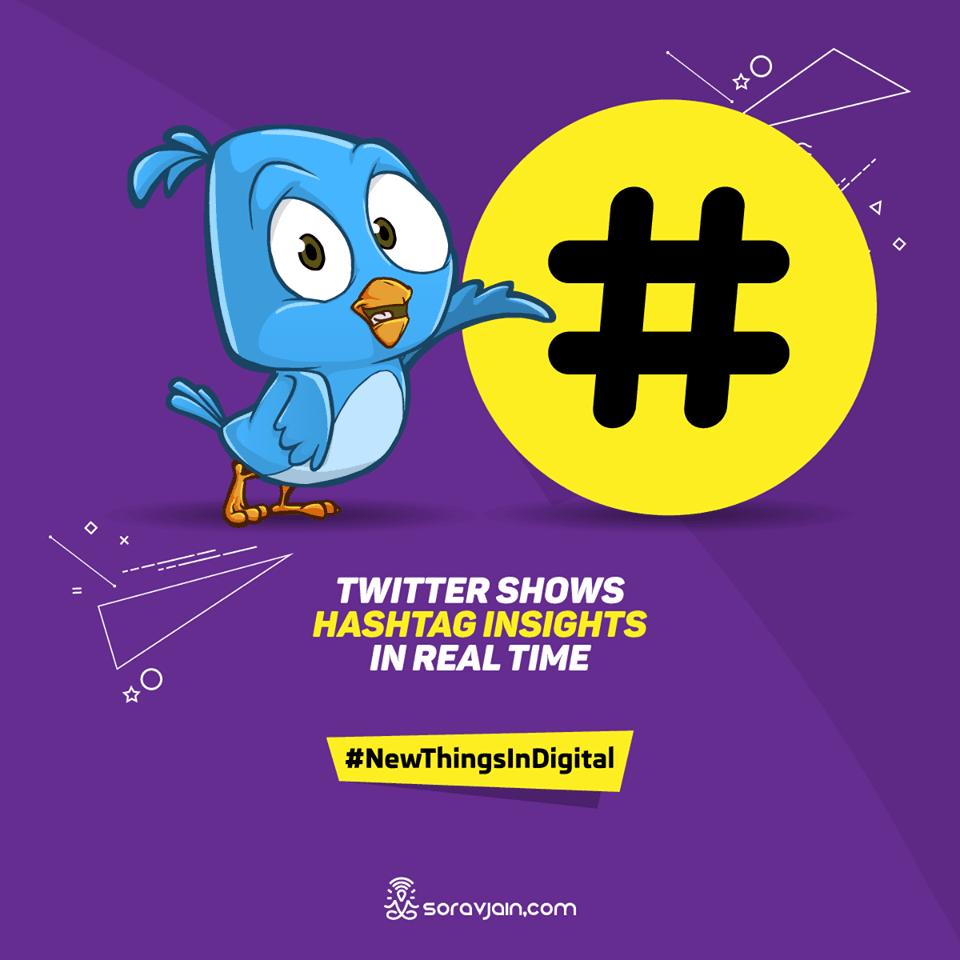 Twitter hashtags are evolving and how! It seems that Twitter will suggest variations on hashtags and reveal which versions are trending and how many people have shared the hashtag within the past hour.
#7 Facebook Introduces Custom Audiences For Users Lingering On Ads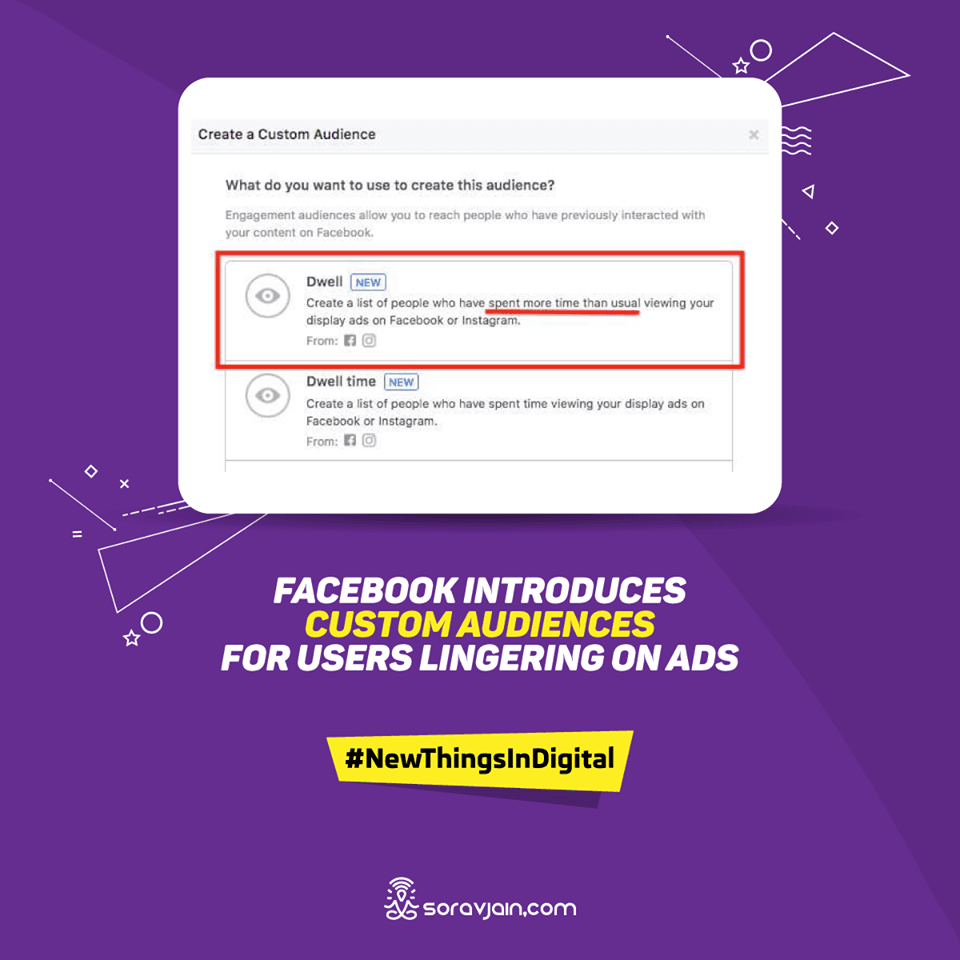 There seems to be a new option to target a list of people who have spent more time than usual viewing your display ads on Facebook and Instagram within Ads Manager. Simply called Dwell, this new audience targeting option is an expansion of Dwell Time, which rolled out a few months ago and targeted people who have spent any time viewing your display ads on these platforms.
#8 Facebook Penalizes "Engagement Bait" Posts
Facebook will now demote posts from people and pages that attempt to manipulate Facebook's news feed algorithm by boosting engagement to achieve greater reach. Facebook has reviewed and categorized 100s of posts to inform a machine learning model to detect different types of engagement bait.
#9 Instagram Tests New Fonts For  Instagram  Stories
Instagram seems to be testing five new fonts for Instagram Stories with users in Japan. They are reportedly being called Modern, Neon, Typewriter, Strong, and Classic; however, Instagram hasn't officially announced nor confirmed any details about these possible new fonts.
#10 Facebook Rolls Out New Features On Branded Pages Called "Our Story"
 Facebook appears to have rolled out a new feature for branded pages called 'Our Story. Within this new section, admins and page owners can upload photos, format text, and include links to tell people more about their business or brand.The flexible formatting and layout are similar to that of a blog post.
#11 Twitter Officially Introduces Multi-Tweet Threads
Twitter has been testing a new Tweetstorm feature that links the multiple tweets into a single thread. This week, Twitter announced that it's officially rolling out this new feature to all users on iOS, Android, and Twitter.com
#12 LinkedIn Highlights Trending Skills
LinkedIn launched a new monthly notification that shares relevant trending skills among people with your same job title and provides insights on which companies are hiring people with that skill. LinkedIn also recommends LinkedIn Learning courses that may help develop or hone a needed area of expertise.
#13 Facebook Might Shift To Viewable Only Organic Reach Counts In  2018
Facebook announced a major measurement update that would only count viewable impressions toward the organic reach for pages' posts, as it does for ads. Facebook confirms that it will alert pages once the change is actually implemented.
#14 Facebook Tests Private Commenting Option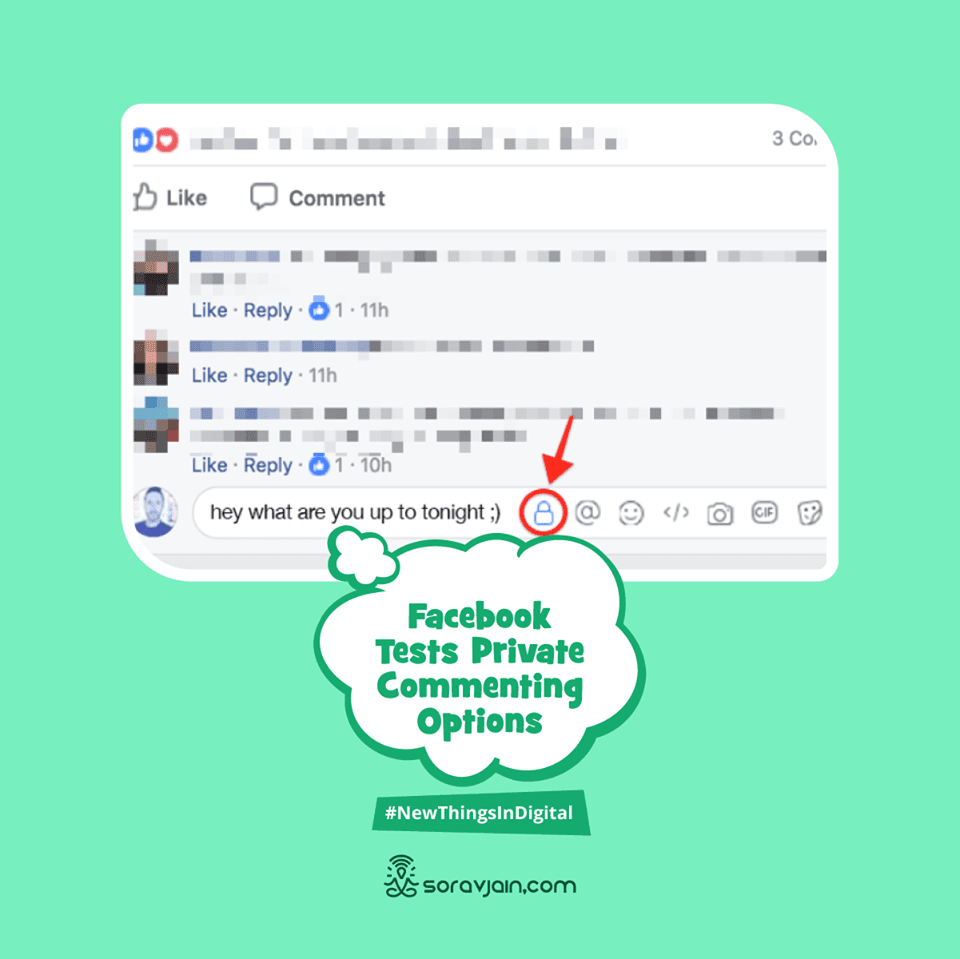 Facebook is testing a new privacy setting for individual comments with a small group of users.Wondering what it means? It means that you could write a reply to a thread, but only pre-approved individuals can see it.
#15 Instagram Rolls Out Right Manager
Instagram appears to have rolled out Rights Manager for Instagram. On Facebook, Rights Manager is one of several content management tools that help copyright owners protect and manage the rights to their videos and accompanying audio on the platform. You simply upload and maintain a reference library of videos you want to monitor and protect.
#16 Facebook Introduces Whatsapp Call-To-Action Buttons For Facebook Ads
This is great news to businesses that would like to make use of Whatsapp for their marketing efforts. Facebook launched a new ad unit that allows businesses to link Facebook and WhatsApp with a new call-to-action button that directs users to call or message the company through WhatsApp.
#17 Facebook Introduces Sound Collection For Videos
This news is going to be music to your ears! Facebook released Facebook Sound Collection to help creators find high-quality sound effects and music to use in their videos. Facebook guarantees that the sounds and music are fully owned by Facebook and are free and clear to use in any videos created and shared on Facebook and Instagram.
 #18 Instagram Experiments with Recommended Posts From Users You're Not Following
Instagram confirmed that it is testing a new feature called "Recommended for You" with a small group of users. This feature is housed in a new section within the Instagram feed and highlights images from users that either your friends have liked or have been chosen for you by an algorithm.
#19 Facebook Introduces A New Version Of Messenger For Young Children
Facebook officially launched Messenger Kids, a new stand-alone app targeted to children younger than age 13. This new app is full of features for kids to connect with the people they love like video chats, kid-appropriate GIFs, frames, stickers, masks and drawing tools,and more.It's also designed to comply with the Children's Online Privacy and Protection Act (COPPA), offers full parental control, and is completely free from ads and in-app purchases. Messenger Kids is currently available on iOS devices in the U.S. and versions for Android devices and Amazon Fire tablets will launch soon.
#20 Snapchat Rolls Out Two New Ad Formats
Snap Inc. unveiled two new formats for ads. The first is Promoted Stories, which string together multiple snaps into a longer-form slideshow and inserts it as a branded story in the app's Stories tab among the organic stories from other accounts a person follows and Discover content. The second new ad format is called Augmented Reality Trial ads that allow users to play with an AR version of a product overlaid on the world around them. Based on Snapchat's World Lens feature,the new AR ad experience is meant to let users get a better look at the product being sold and try it for themselves.
#21 Facebook Tests The Option Of Importing Instagram Contacts Into Messenger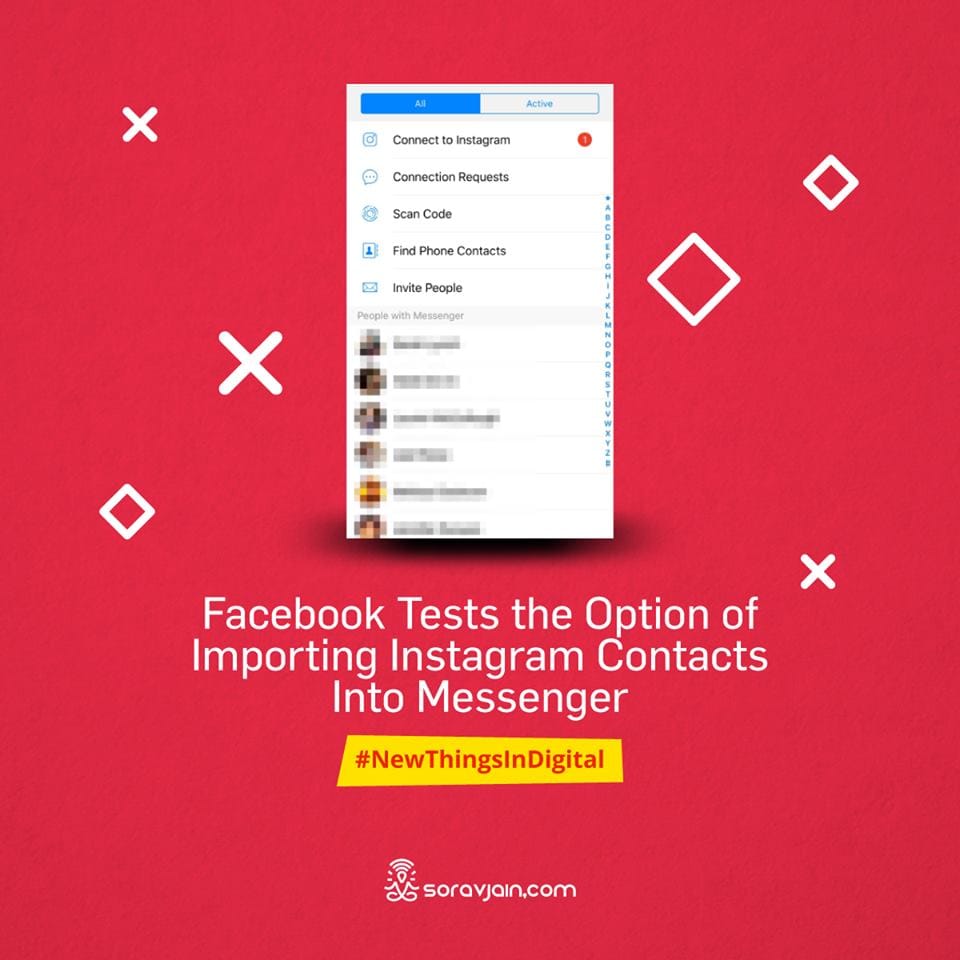 Facebook is currently testing a new feature that allows users to simply and easily sync their Instagram contacts into the Messenger experience.To know more, click here: techcrunch.com
#22 Pinterest Initiates New Bot & Chat Extension For Facebook Messenger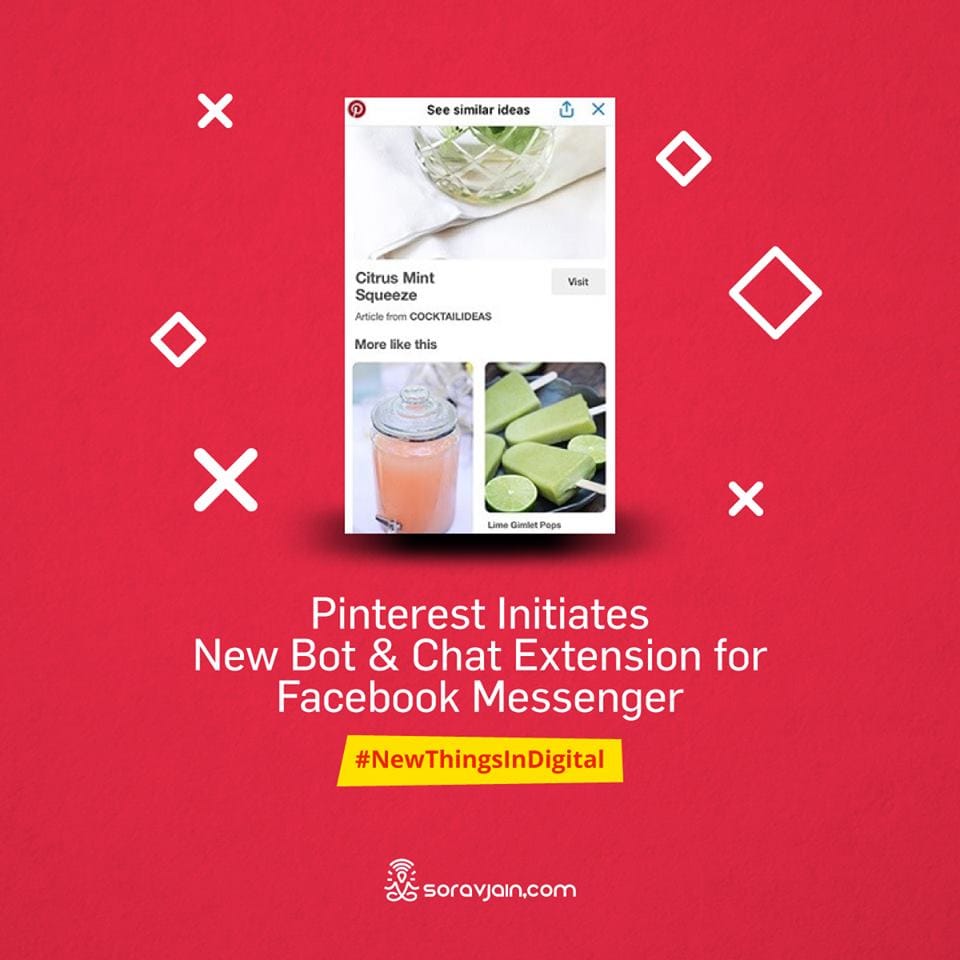 Pinterest rolled out a richer, more integrated experience through a new Messenger chat extension that makes responding to ideas, sharing new Pins, and accessing Pinterest Search and Related Pins quicker and easier. The Pinterest chat extension will be rolling out to users of the English-language version of the Pinterest app on iPhone and Android over the coming days.
#23 Facebook Requires Domain Verification Process For All Publishers And Page Admins
Facebook confirms that the ability for publishers to edit the way their content appears on Facebook will be removed in early 2018 unless admins complete the new Domain verification process for all of their pages. Domain verification provides a way for page owners and admins to claim ownership of their domain in Business Manager and allows them to control editing privileges of their links and other content. The intent behind this process is to prevent misuse of a domain and to keep bad actors from spreading misinformation on Facebook.
#24 Snapchat Applies Object Recognition To Suggest Filters For Food, Pets Etc
Snapchat's newest smart filters use object recognition to automatically suggest graphics such as borders or stickers based on what's in your photos. TechCrunch reports that these filters are capable of recognizing images of objects like pets, sports, and food, as well as specific locations, like beaches or concerts and will appear as options in the carousel of filters after the user takes a photo matching one of the above categories.
#25 Facebook Experiment With Pre-Roll Ads In Watch Tab
While Facebook has long resisted the pre-roll ad format for videos, the company appears to be considering it as a viable option for the programming featured on the recently introduced Watch Tab. Facebook hasn't officially confirmed nor shared any details about this experiment, but it's expected to roll out soon!
#26 Instagram Rolls Out Stories Highlights & Stories Archive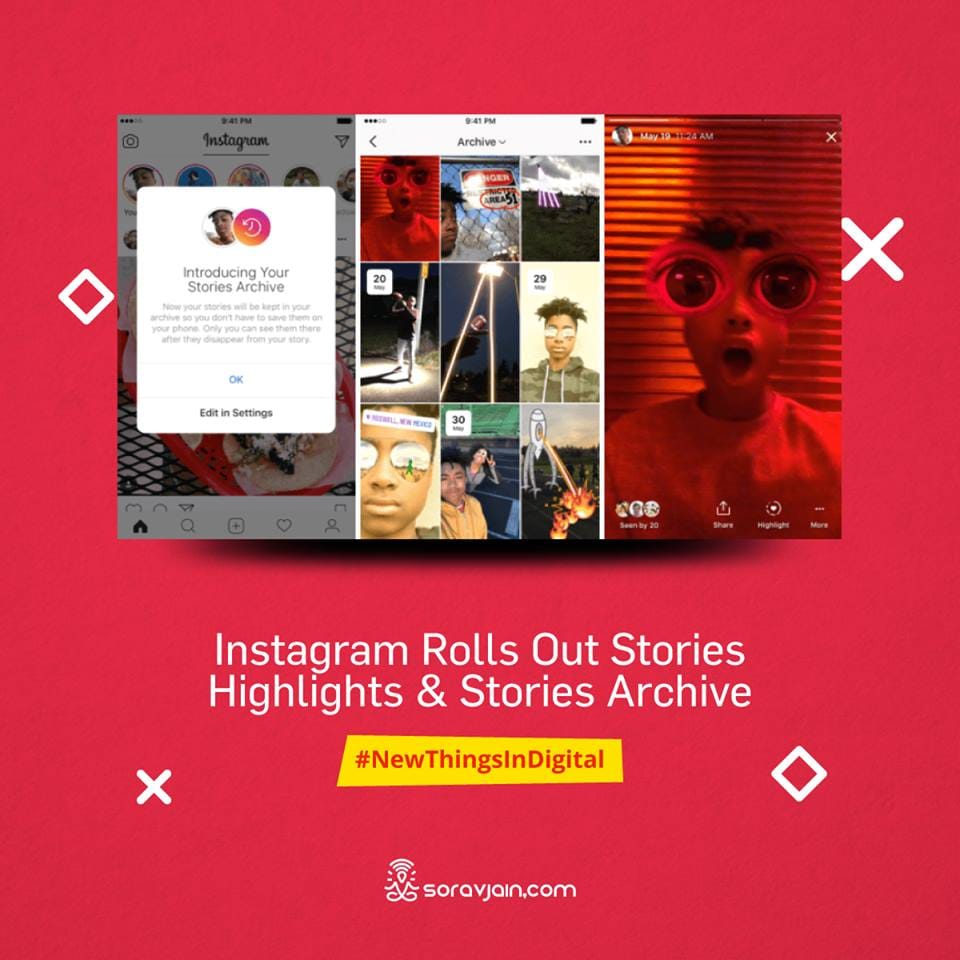 Taking storytelling to the next level, are we? Instagram rolls out two major features that allow users to save and showcase their favorite expired stories.The new Stories Archive feature automatically saves stories to a private part of a user's profile 24 hours after being posted. Rather than having to rush and download stories to a phone before they disappear, Instagram will now save them in the cloud, where they can be privately viewed, publicly shared,or downloaded later.
#27 A New And Improved Snapchat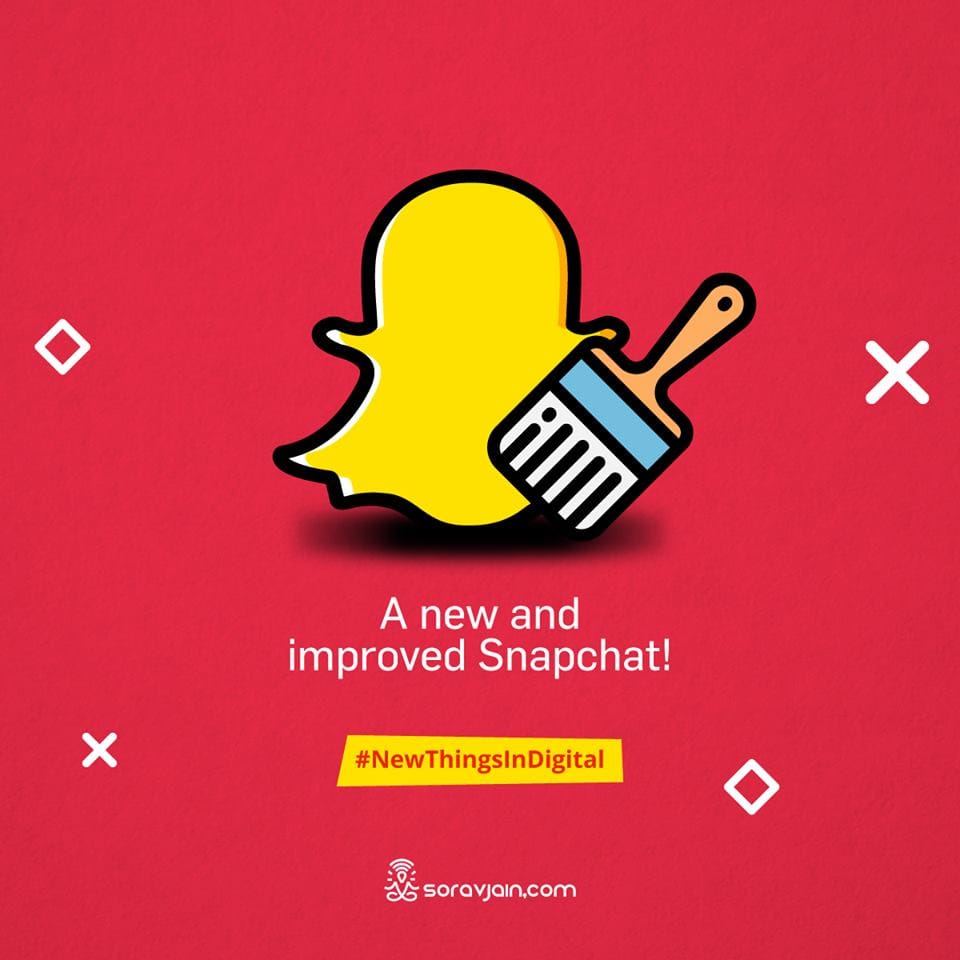 Boy! Are we loving the new vigour of Snapchat or what! Chats and stories from friends are set on the left side of the app and stories from publishers, professional creators, and the community are housed on the right. With this new layout, Snapchat is introducing a dynamic Friends page that displays your friends based on the way you communicate with them and promises that Discover will become uniquely personalized in some time.
#28 Facebook Launches "Did You Know" Social Questionnaire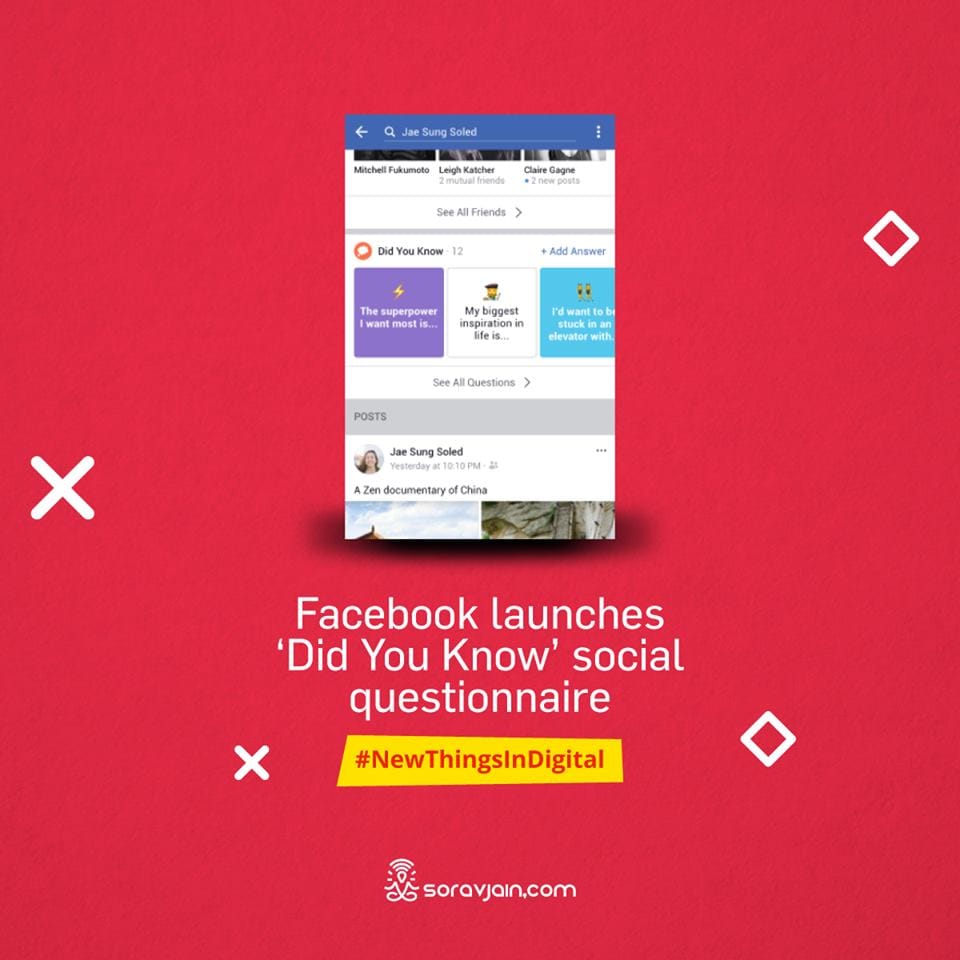 I am pretty sure all of you saw it on your newsfeed over the weekend. Facebook rolled out a new section found on profile pages called "Did You Know." It asks users to complete random statements such as "The superpower I want most is…" and "Mondays make me feel like…" to learn more about them. Users then have the option to share their responses as a colorful status update to their wall or set the privacy to Only Me and keep their responses to themselves. This new feature can be seen on mobile and the web.
#29 Facebook Adjusts Dimensions For Group Cover Images
Facebook appears to have adjusted the dimensions for group cover photos to 1640 x 856 pixels or a 1.91:1 ratio.
#30 Facebook Tests Instagram-Style Collections Feature For Saved Posts
Facebook appears to be testing a new Collections feature that should make it easier to rifle through your saved posts and find the ones you actually want to revisit. Similar to the Instagram feature with the same name, Collections on Facebook allows users to save and neatly organize posts into easy-to-find folders that can be accessed later.
#31 Twitter Confirms Dedicated Tweetstorm Feature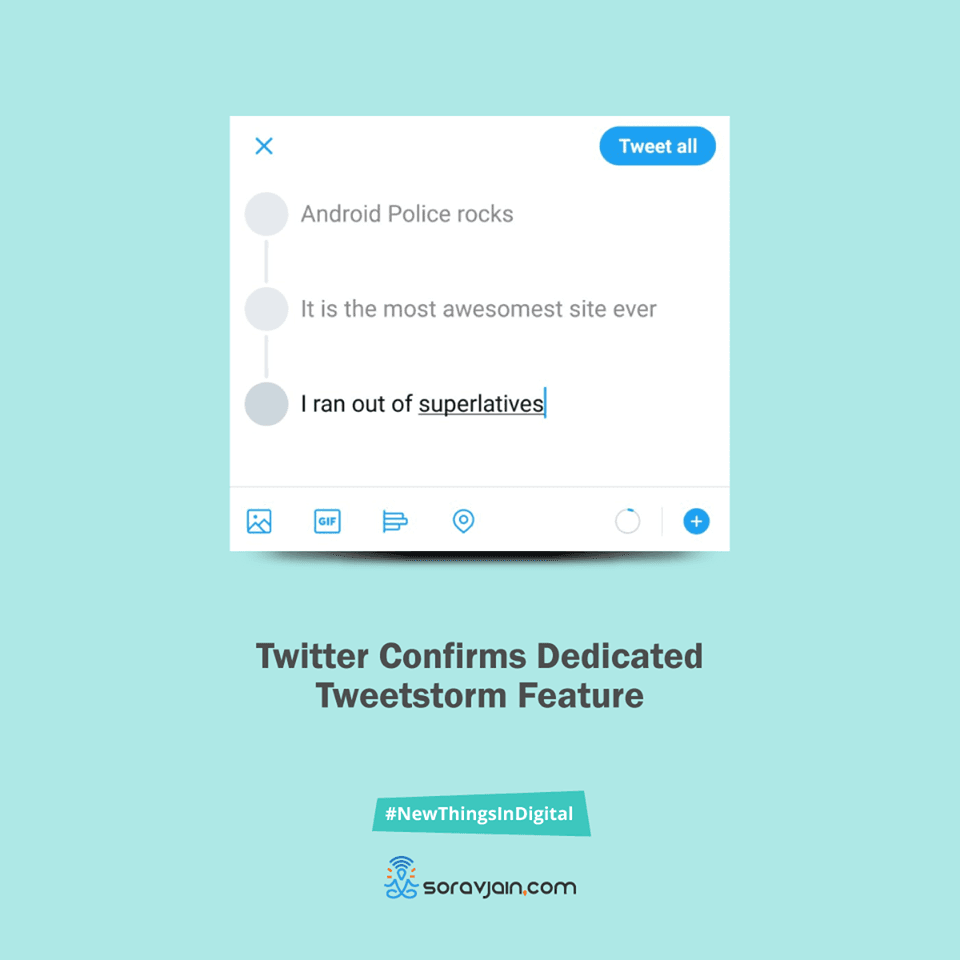 Earlier this year, developers discovered a hidden Tweetstorm feature in Twitter's Android app. Twitter has only now confirmed that it's testing this new feature with users who are part of its Experiments Program. It also added a Tweet All button in place of a user's avatar and a + icon next to the character counter that links the multiple tweets into a single thread. At this time, this new feature is only available to a handful of test users.
 #32 Facebook Rolls Out Trust Indicators For Published Content In The News Feed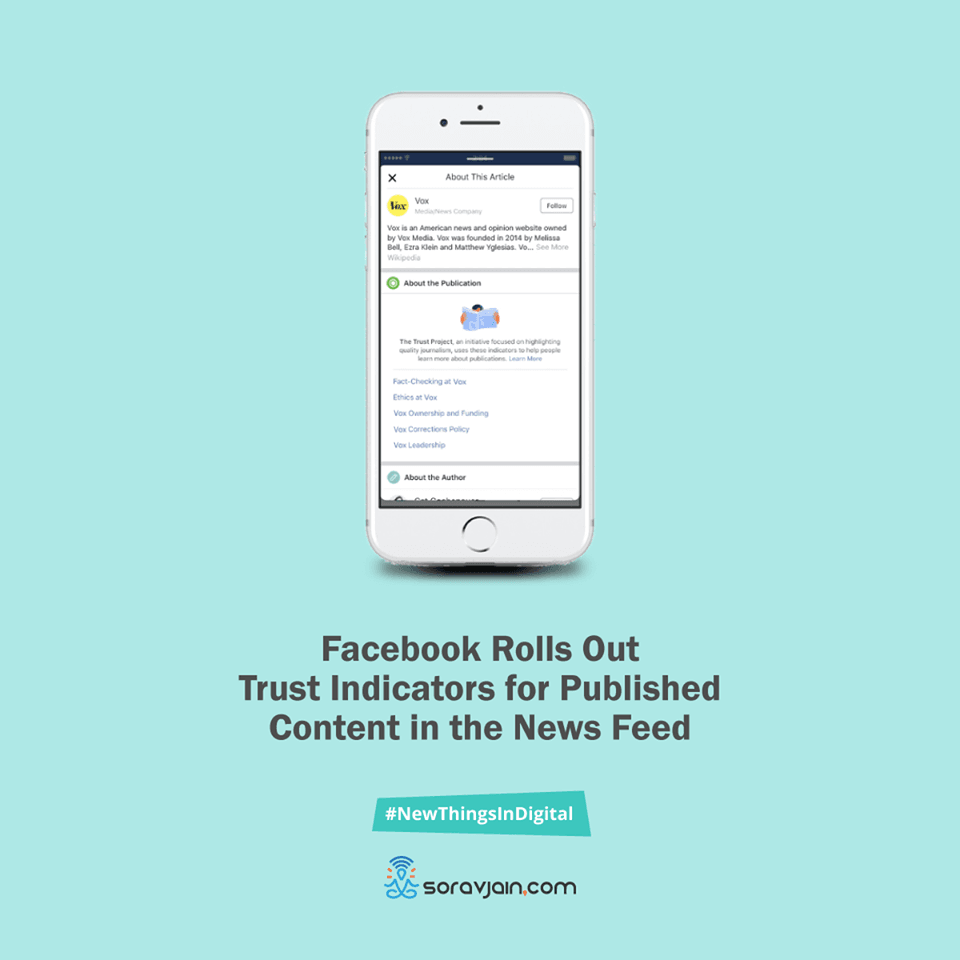 Earlier this year, Facebook began testing a new feature that offers additional context for articles shared in the news feed. Facebook announced that it will also begin displaying new publisher Trust Indicators such as information on their ethics policy, corrections policy,fact-checking policy, ownership structure, and masthead through this module. Facebook is initially testing Trust Indicators with a small group of publishers and plans to expand more broadly.
#33 Instagram Tests Wide Range Of New Features
Instagram appears to be finally working on a native Regram button. It's a feature many users have been waiting for for some time. Also, it looks like Instagram may finally join the GIF party and allow users to search for and add GIFs to their Stories or regular posts.Another new feature on the horizon, fingers crossed, is one that allows you to save your Stories in a personal archive.
#34 Facebook Prototypes Messenger  Broadcasts For Business
Facebook is privately testing a new Messenger product that will allow businesses to send automated mass-marketing messages to users who have contacted them in the past. Facebook confirms that it's currently experimenting with this possible new feature internally, but hasn't yet tested it with the public or any businesses
#35 Instagram Allows Photo Remixes And More Control Over Replays In Direct
Instagram users with the latest version of the app on iOS and Android can now reply to friends' photo messages in Direct messages with an image featuring a sticker of the exact photo to which they are responding. Users can "move and resize it, and add your own twist with stickers, text, and drawings" as they continue to send photos back and forth.