The month of February breathed in a number of updates into the digital realm. Right from Google beta testing a new AI powered reply app that eases your task of sending context-relevant responses to Snapchat relentlessly fighting back with added features, the month has seen its fair share of healthy competition between the social media channels. Read on to know what other interesting updates have entered the digital arena last month.
#1 Instagram

 

Introduces

 

Content

 Publishing Beta for Businesses and Apps:
Finally, Instagram is making headway with its publishing tool! Instagram has unveiled a change to the API that will allow business accounts to directly schedule and publish their Instagram posts. Previously, social media managers would have to use third-party tools to push reminders to post on Instagram. The latest update to the Instagram API now gives applications like Hootsuite, Tailwind, and more access to post scheduling. This new functionality is also open to Facebook Marketing Partners and Instagram Partners, but isn't currently available on the product itself nor has it been extended to Instagram ads.
#2 Facebook is Developing Chatbots With Improved Conversation Skills: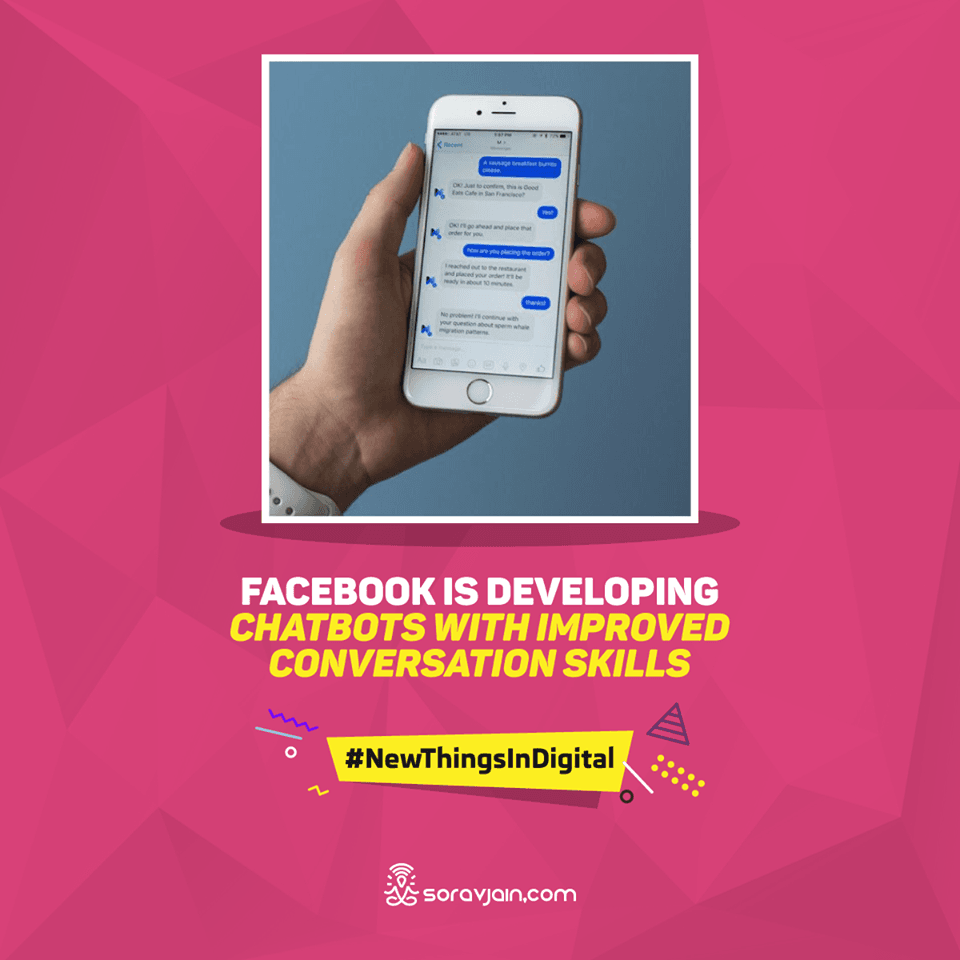 Facebook is developing chatbots with a "consistent personality" and the ability to carry on better conversations. The article notes that the key constraints with chatbots are that they don't provide context based on what they or their chat partners have discussed in the past and fall back on programmed responses like "I don't know" when faced with questions they don't understand. Researchers at Facebook are using data and deep learning to train chatbots to look for patterns in large data sets, follow conversations patterned off of natural human dialogue, and develop "personas."
#3 

Instagram

 Rolls Out Carousel Ads to 

Instagram

 Stories: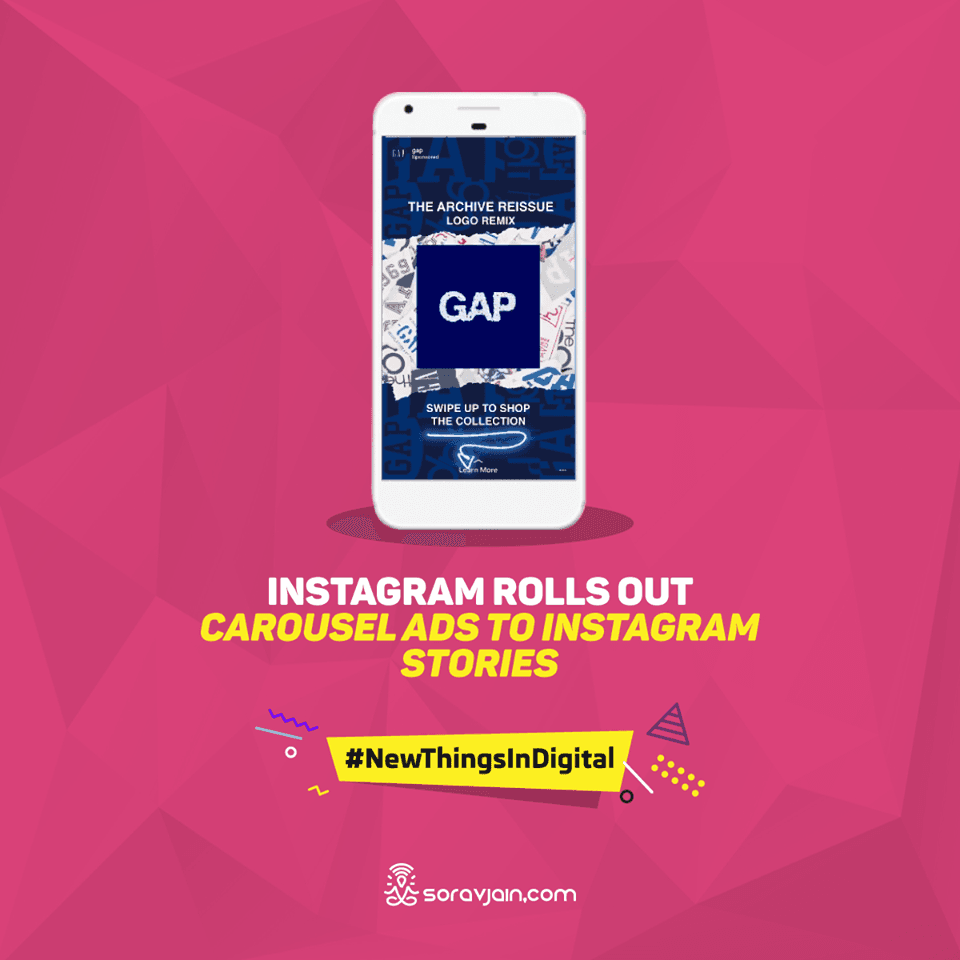 Instagram is introducing carousel ads for Instagram Stories, which will allow advertisers to include up to three pieces of media per Stories ad. Previously, advertisers were limited to one ad per story on Instagram.
#4 Twitter 

Introduces

 Sponsored Moments: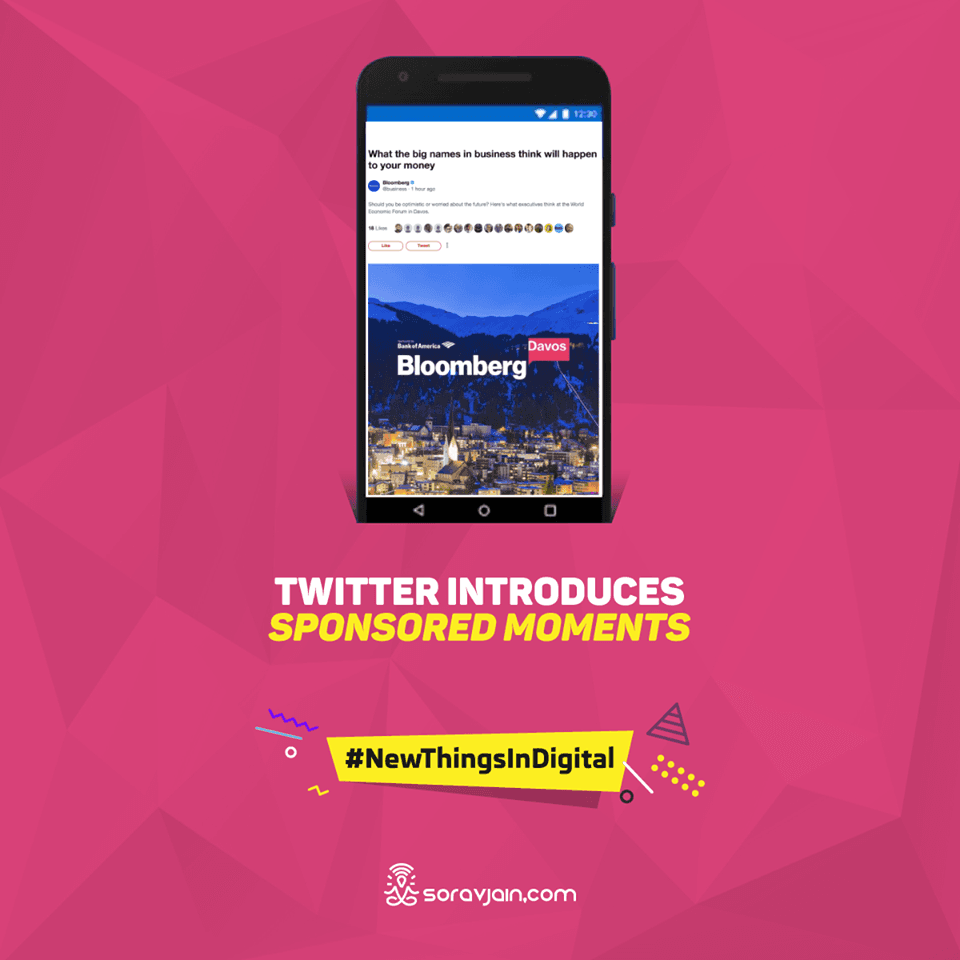 Twitter rolled out a new in-stream sponsorship feature called Sponsored Moments. With Sponsored Moments, advertisers can run interstitial tweets packaged around a specific event or theme and a branded cover against content from premium partners like Bloomberg Media. Similar to other in-stream sponsorships, advertisers can promote the moment to their specific target audience and expand their reach beyond the content partner's existing followers.
#5 

Instagram

 Officially Launches Type Mode:
Instagram officially introduced Type mode, which allows users to incorporate unique text styles, different background colours, and highlight words and phrases to create text-only stories. Type mode can also be layered over any photo or video in stories. This update is available as part of Instagram version 30 for both iOS and Android.
#6 Facebook Boosts Posts From Local News Sources in the News Feed:
Facebook announced that in addition to elevating content from friends and family and sources deemed to be "high quality," Facebook will now prioritize news items from users' local towns or cities in the news feed. This update is first rolling out in the U.S. and then in more countries over the year.
#7 Snapchat Rolls Out New iOS Features:
Snapchat rolled out an update to the iOS app that includes new features like the option to save texts in one-on-one conversations and the ability to see a friend's location on the Snap Map within a group chat. With this update, Snapchat has also removed the white frame that appeared when snaps from a camera roll are added to a story.
#8 Twitter 

Introduces

 Full Archive Search With Premium API: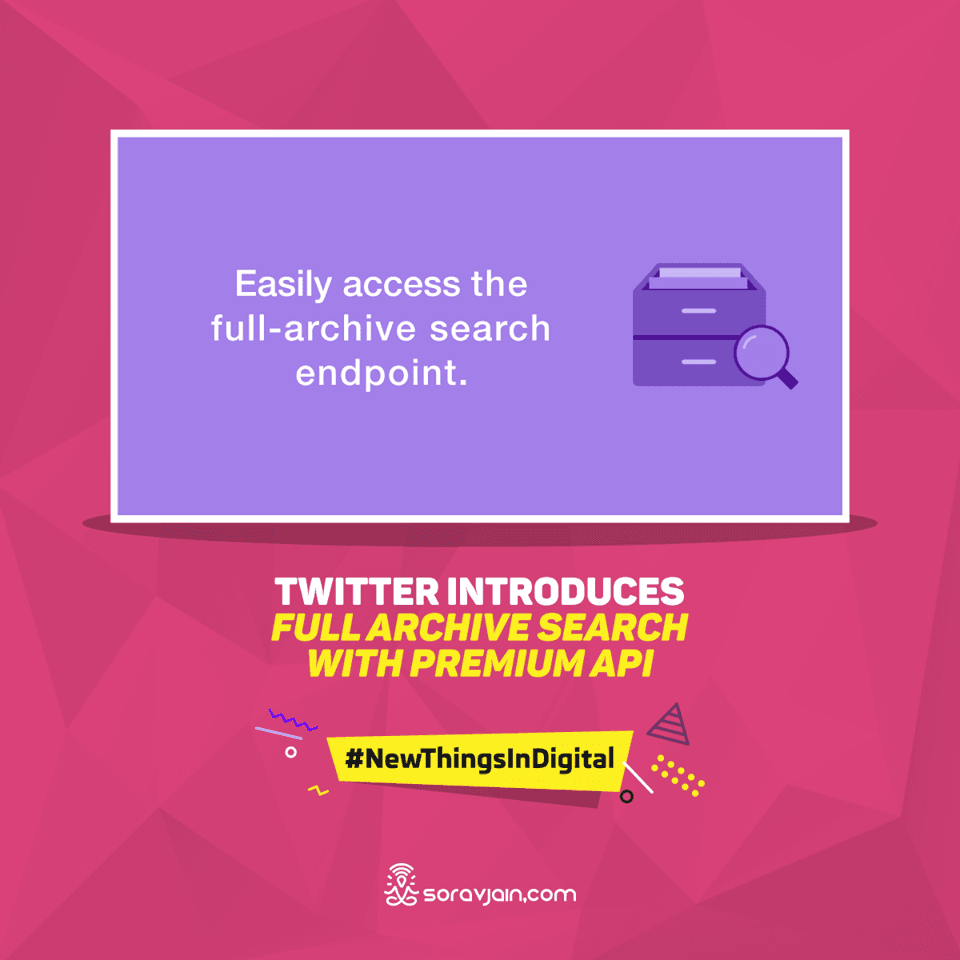 Twitter launched a new premium product for developers that provides access to an account's full Twitter archive. Twitter notes that this level of access was previously only available to enterprise API customers. Non-enterprise customers could only choose from the standard API that provides access to the last 7 days of tweets or the more recently launched premium API that goes back 30 days. This new premium API endpoint, called Full-Archive Search, will offer all tweets from all time to the wider developer community.
#9 Google 

Introduces

 New Search Console Beta:
Google is starting to release a new beta version to the search console to all users this week. This new version of search console was rebuilt and expanded by surfacing the most actionable insights and creating an interaction model which guides you through the process of fixing any pending issues. Google added the ability to share reports within your organization, have access to 16 months of data, and an updated index coverage report.
#10 Snap Inc. Shows Solid Growth in 4Q 2017 Earnings:
Snap Inc.'s Q4 2017 Earnings Report revealed that Snapchat has managed to gain 8.9 million daily active users during the most recent quarter, bringing its total to 187 million. While the platform still lags behind Instagram's and Facebook's daily active user totals, this leap marks the company's most significant growth since 2016. The results show that Snapchat's renewed strength came in large part from the developing world, which added 3 million daily users and doubled its average revenue per user.
#11 Snapchat Continues App Redesign Rollout: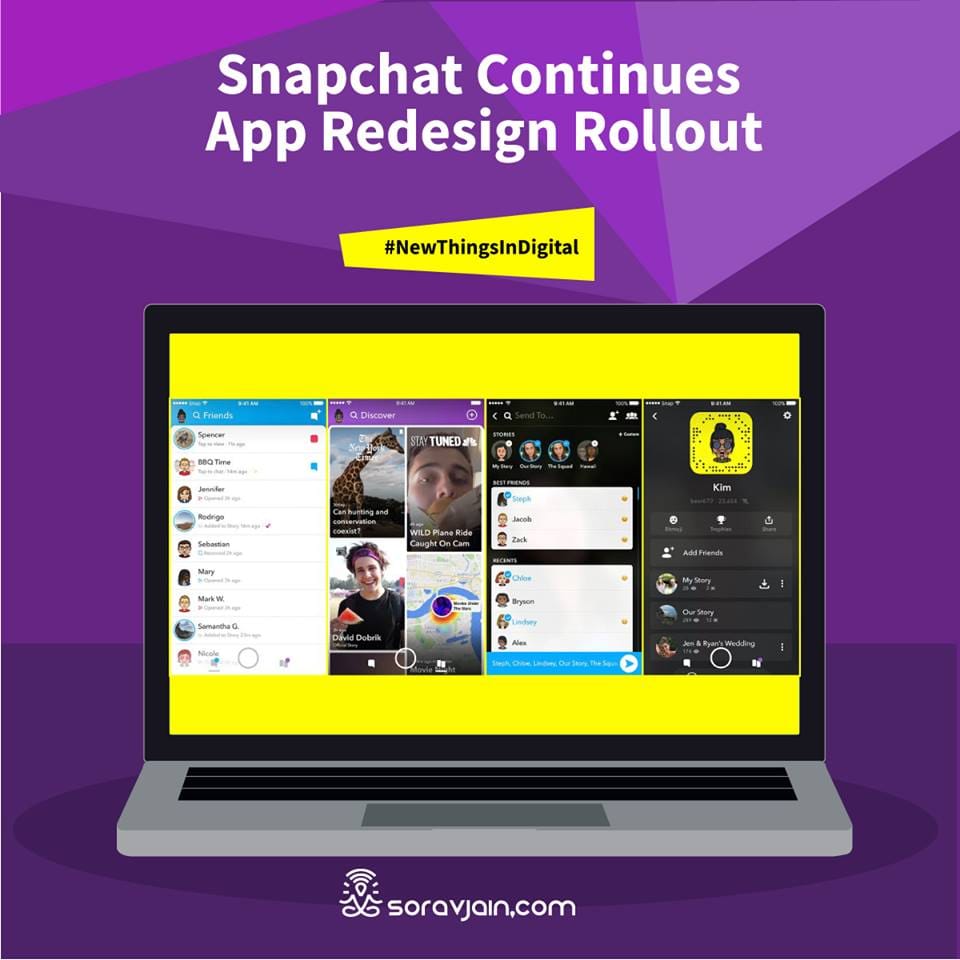 In late November, Snapchat announced a huge overhaul to the app that will organize content "around your relationships and personalized just for you." Although the early rollout of the redesign has been met with some negative reactions from its first users in the UK, Australia, and Canada, the company stated in its 4Q 2017 Earnings Report that it expects it will "take time for [its] community to get used to the changes but overall, [they] are pleased with the initial results and will be making the redesign available to our entire community in Q1 2018.
#12 Snapchat Opens Event-Specific Face Lens Creation to More Users:
Snapchat opened its Lens Studio "to allow anyone to make their own event-specific face Lenses." Users can choose from up to 150 premade templates available at launch or upload a face image to build their custom lens. From there, they can add text to finalize their lens.
#13 Snapchat Launches In-App Store for Company Merchandise:
Snap Inc. launched a merchandise store called Snap Store within the Snapchat app's Discover section. TechCrunch suggests that while the store only offers fun, quirky Snapchat-related merchandise like a plush "Dancing Hot Dog" and "Dog Lens" t-shirts, for now this endeavor could prove the potential for an in-app commerce platform for other brands. Snap Inc. states that products sold in the store currently ship to U.S. addresses only and hasn't yet confirmed plans to expand the store at this time.
#14 

Instagram

 Tests New Cinemagraph Camera Feature:
Instagram appears to be testing a new Cinemagraph feature in the camera. Cinemagraphs are a video format that features an animation in an isolated element of the video while the rest of the action is frozen like a still image.
#15 Are you ready for Vine 2.0?
Details are emerging about the release of a new video-sharing app to replace Vine, which was shuttered over a year ago. TechCrunch reports that the original founders of the Twitter-owned Vine app are reaching out to former Viners and social media star managers "in hopes of establishing ties with some top content creators to get feedback and fuel the app's eventual launch." The new version of the app is being called v2 and is expected to debut later this year.
#16 Facebook Messenger Experiments with New "Your Emoji" Status Updates:
Facebook Messenger is testing the ability to add an emoji to a profile photo in Messenger to let your friends know what you're doing or feeling at the moment. TechCrunch confirms that this new feature is called Your Emoji and will be visible on profile pictures in the Activity tab for up to 24 hours. If the test proves popular, it could potentially expand to the inbox and message threads.
#17 

Instagram

 Tests Shoppable Collection Ads:
Instagram has started testing a version of Facebook's shoppable Collection ads within its main feed. Like on Facebook, these ad units seamlessly blend videos and product catalogues where consumers can swipe to view individual products and complete purchases without leaving the app. Instagram is currently testing this new ad format with a "limited number of advertisers" including fashion and beauty brands Birchbox and Revolve, but plans to offer it to more advertisers in the coming months.
#18 Facebook 

Introduces

 Monetization Manager:
Facebook alerted publishers and businesses that Monetization Manager will replace the Audience Network tab on the Facebook for Developers site as of March 1 and suggests that they upgrade to the new platform "as soon as possible" to minimize disruption to their accounts. The new Monetization Manager can be found in Business Manager and was built to help publishers "better manage their placements across their apps and sites, analyze performance with deeper reporting, and access advanced optimization tools to help maximize revenue," all in one place.
#19 Facebook Experiments with Downvote Button for Comment Moderation:
Facebook is testing a new downvote mechanism for comments with a small set of the US population. The company states that this feature, which appears to be similar to Reddit's community-controlled commenting system, is only intended to be a method for flagging questionable comments on public posts and gives users a way to share feedback on what types of comments ought to be considered offensive, misleading, or off-topic.
#20 Snapchat Offers Free Credits to Brands Advertising on Other Platforms:
Snapchat is reaching out to advertisers who are paying for vertical video ads on competing services such as Instagram, Facebook, Pinterest, and others and offering them free credits on their first advertising campaign on Snapchat. Advertisers can apply for the credits through a form on Snapchat's site. The program is only open to advertisers that have not previously run ads on Snapchat and can provide proof of running a vertical video ad campaign elsewhere within the past 3 months.
#21 Google Rolls Out New Stories Format for Search:
Google introduced a new AMP story format that allows publishers to immerse readers in tappable, full-screen content, as well as enables the creation of visual content that is fast, open and user-first for mobile. The new AMP Stories is currently available as a developer preview and is being tested with a handful of selected publications.
#22 Snapchat 

Introduces

 Snap Map to the Web: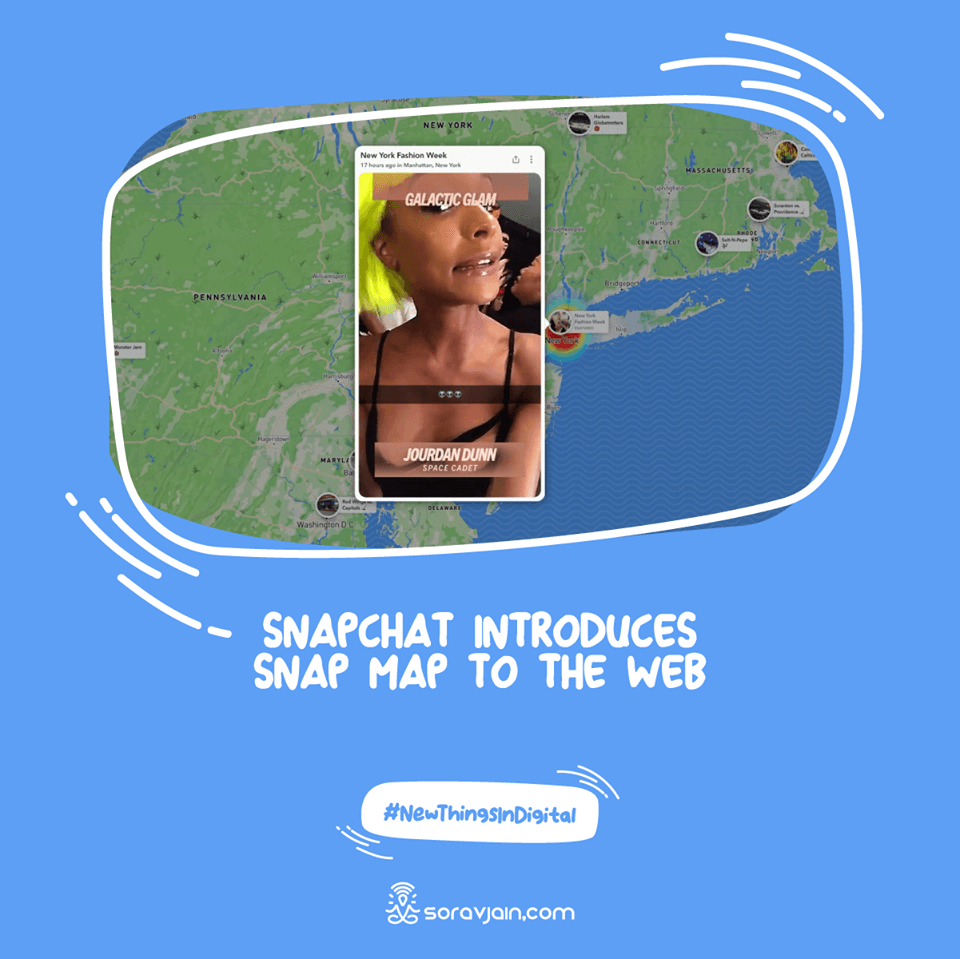 Snapchat released a new version of its Snap Map that's available to anyone to view on the web. The new web-based map features public stories posted from locations seen on an overhead Snap Map and a heat map that shows activity from users by relative volume in each area. Users can browse the map and click on any available bubble to view the public story posted from that place. Also, Snapchat was careful not to include individual user location or information on the web-based version of Snap Maps in respect of personal privacy. The new web-based map strictly features contributions to public stories.
#23 Pinterest Rolled Out New Tools for Organizing Pins, Boards, and Sections: 
Pinterest introduced a series of new improvements to help pinners organize, rearrange, and sort their pins. Users can now archive a Pinterest board once they're finished with it; reorder sections and pins within a board; and sort all of their boards alphabetically, by most recent or oldest, or using drag-and-drop.
#24 Snapchat 

Introduces

 Analytics for Select Creators

:
Snapchat creators who are either part of Snapchat's Official Stories program or have large followings on the platform will start seeing view count and demographic analytics on their Snapchat profile such as data on total views, unique viewers, time spent watching, audience demographics, and more.
#25 Facebook Tests Stories Photo Editing to the Desktop: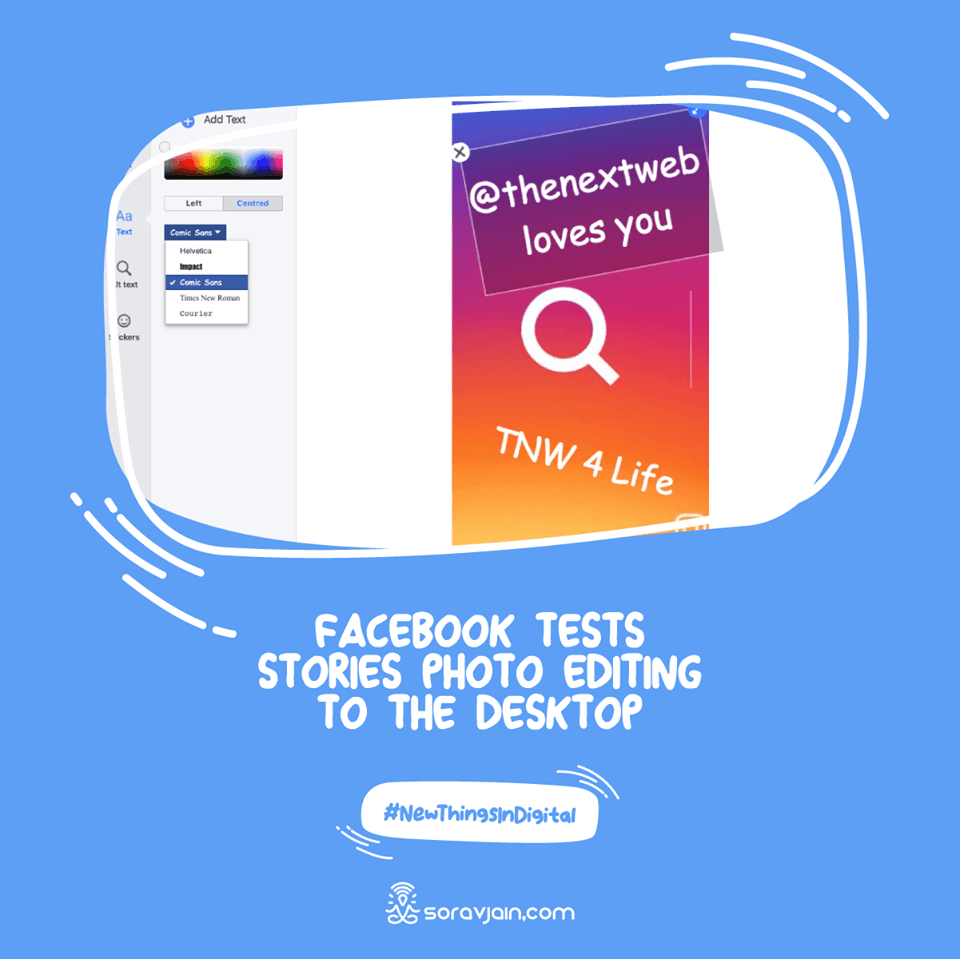 Facebook is reportedly updating the Stories posting feature with a dedicated photo editing tool for desktop users. The Next Web reports that "the new functionality resembles the standard image-posting photo editor and offers various options to manipulate the final picture – by adding text, colour filters, and stickers."
#26 Facebook Improves Page Insights:
Facebook rolled out two new updates to Page Insights that promise to help businesses understand the results that matter most. These include a change in the way Facebook measures the organic reach of pages that will be more consistent with the way the company calculates reach for ads and a redesigned Page Insights on mobile that will "make it easier to find the most important information at a glance." Facebook's goal for these updates is to make the insights that businesses care about most more accessible and easier to understand.
#27 Google Beta Tests AI-Powered Reply App: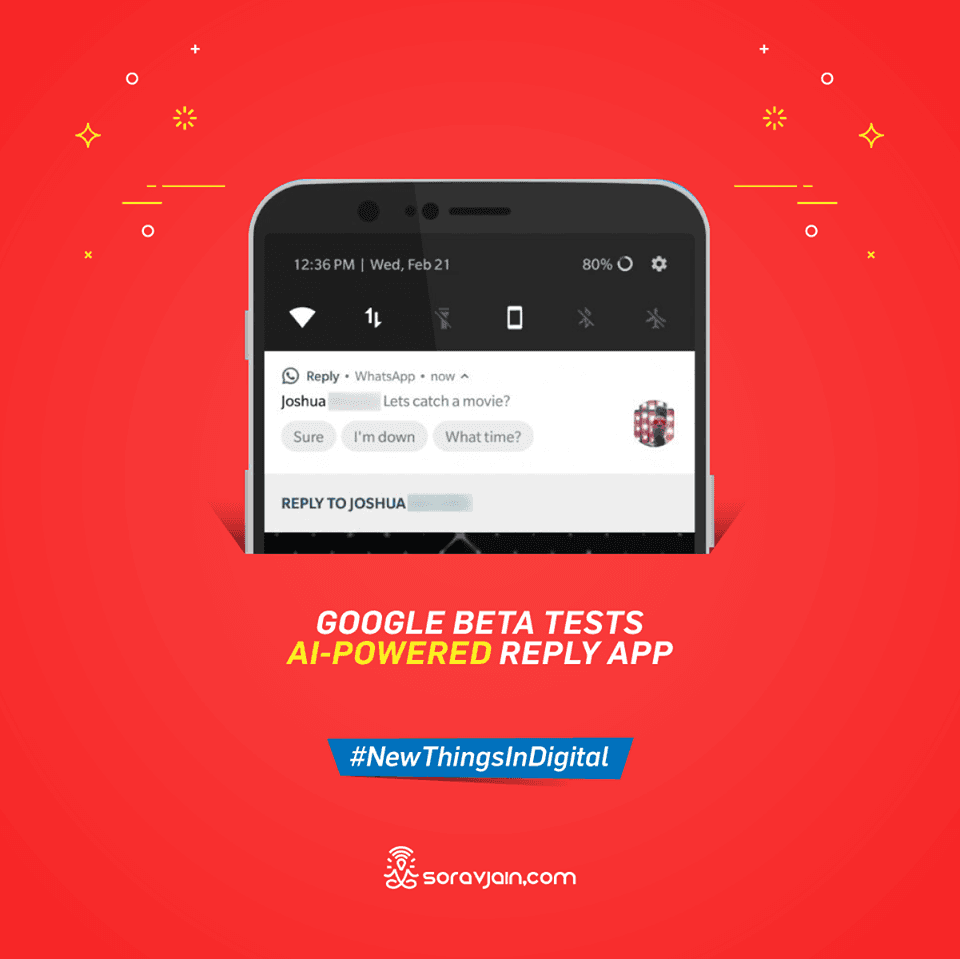 Google is beta testing a new AI-powered app that allows users to reply to texts from various messaging apps by tapping on contextually meaningful replies right in your notifications.
#28 Facebook Limits Notifications From Active Groups:
Facebook is reducing clutter in your notifications by limiting the number of alerts users receive from certain groups. Instead of getting notifications about every post shared within these groups, Facebook will now only send "the most relevant Highlights. However, users can change this option at any time.
#29 Snapchat Adds GIF Stickers for Stories: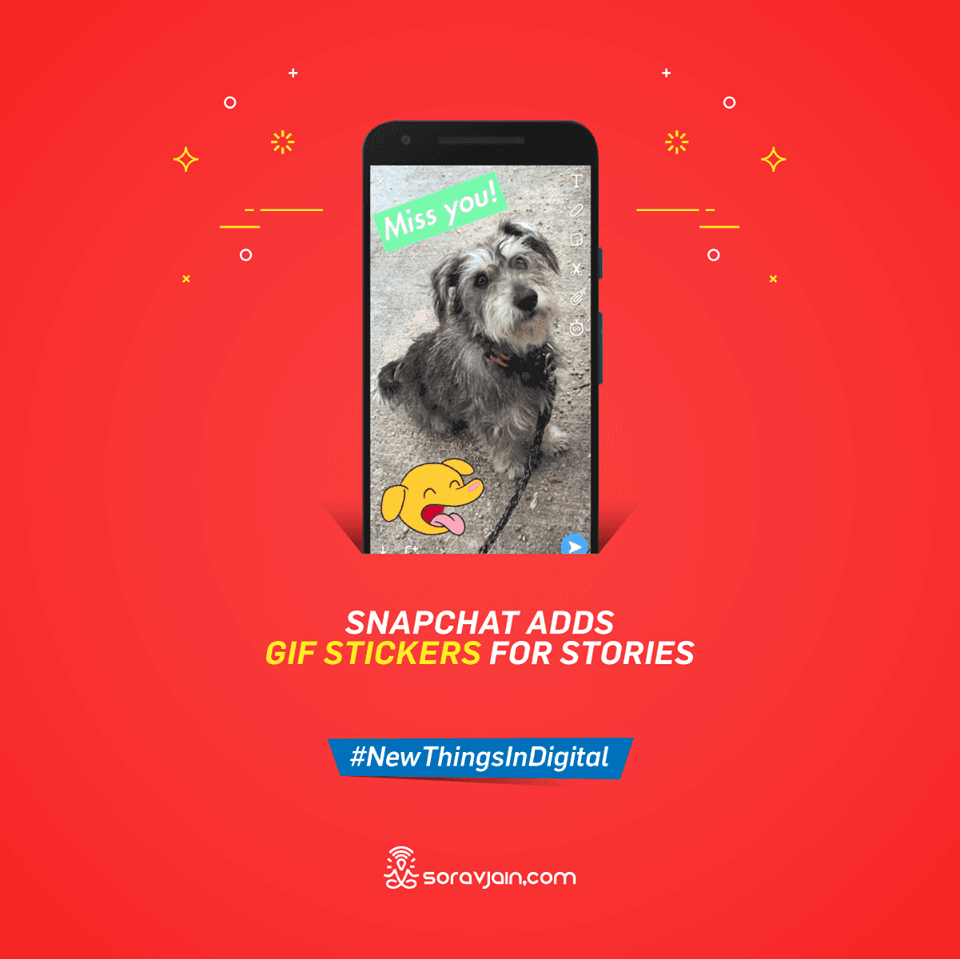 Snapchat rolled out the ability to add GIF stickers to stories. This new Snapchat feature mirrors Instagram's GIF stickers, which rolled out last month. Giphy stickers are available on the Snapchat app for both iOS and Android and can be found along with existing text, stickers, and other editing options.
#30 Facebook Messenger Simplifies Process for Adding Multiple People to Video or Voice Calling:
Facebook Messenger rolled out a new Add Person feature that allows users to quickly and easily add more people to a one-on-one video or voice call on the platform. The ability to add more people to an in-progress video chat or voice call is available on both Android and iOS around the world with the latest version of Messenger.
#31 

Instagram

 Direct 

Introduces

 New Replay Options
: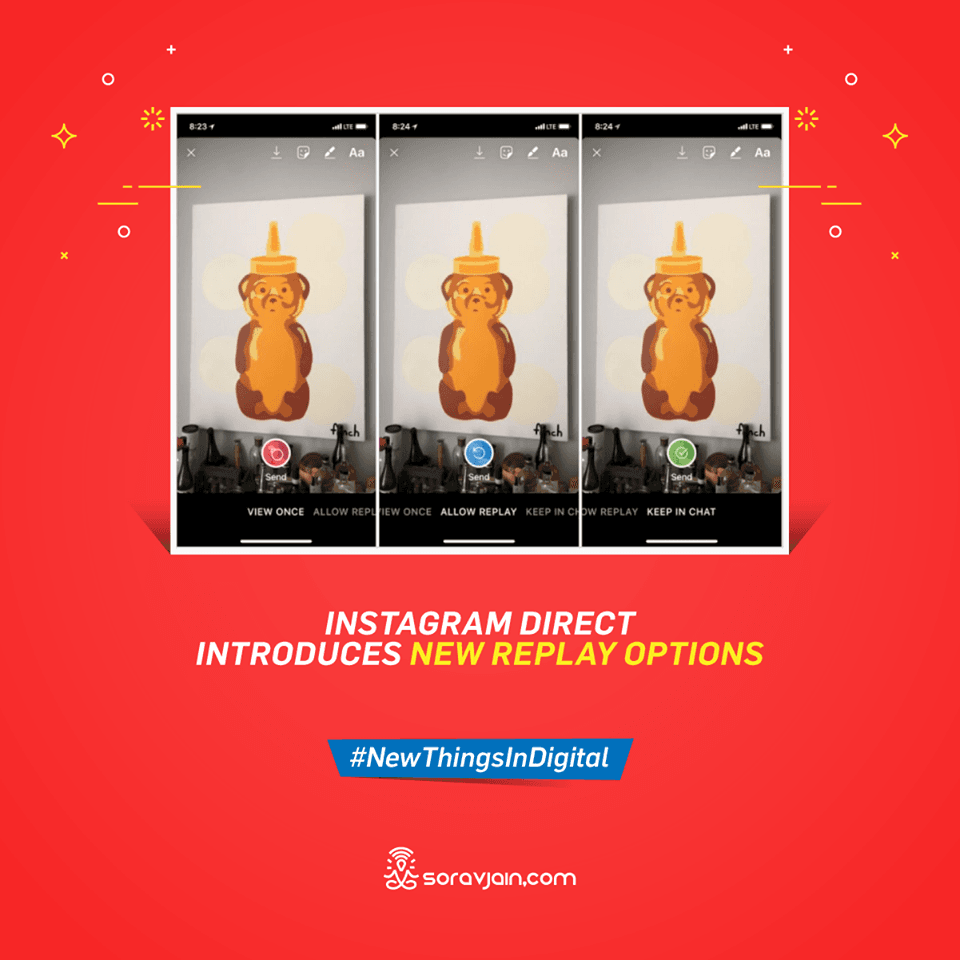 Instagram expanded the replay options for photos or videos sent from the Instagram Direct camera. Users can now choose to allow recipients to view the message once, replay it temporarily, or see a permanent thumbnail in the chat log with a recently released Keep in Chat option. Previously, all messages could be replayed temporarily but then would completely disappear.
#32 Twitter Streams Live Broadcasts During Breaking News Events
:
Twitter will partner with local news stations to stream their broadcasts during major breaking news events. These new local news broadcasts will be featured in a live-streaming window next to the Twitter timeline during major news events and can be found on both desktop and mobile.
#33 Facebook Rolls Out New Standard Format for Interactive 3D Posts in the News Feed: 
Facebook added the ability to share 3D posts to the news feed in October 2017. This week, Facebook began supporting the industry-standard glTF 2.0 file format for Facebook's 3D posts, which means that creators can easily share even richer, higher-quality 3D content on Facebook from an even greater variety of sources.The new format will allow for textures, lighting, and realistic rendering of rough or shiny objects and make it possible for developers to build seamless 3D sharing into any app.
#34  Twitter Cracks Down on Automation and Bot Usage: 
Twitter released a new set of guidelines that prohibits developers from using the Twitter API to allow simultaneously posting identical or "substantially similar" content to multiple accounts or perform actions such as likes, retweets, or follows from multiple accounts. It also prevents users from using any form of automation such scheduling tweets to multiple cards through either third-party platforms or the company's own TweetDeck.