The Digital arena has seen itself subjected to numerous changes and updates with the new year. Facebook alone has rolled out a staggering number of updates with varying uses right from showing users more relevant content, preventing harassment to introducing facial recognition. Other platforms like Snapchat and Instagram have not been far behind. Read on to know what January has brought us!
#1 Facebook is Replacing Disputed Flags with Related Articles
Facebook will no longer use Disputed Flags to identify false news. Instead they will be using Related Articles to help give people more context about the story. Facebook says "Academic research on correcting misinformation has shown that putting a strong image, like a red flag, next to an article may actually entrench deeply held beliefs – the opposite effect to what we intended. Related Articles, by contrast, are simply designed to give more context, which our research has shown is a more effective way to help people get to the facts."
#2 Snapchat's Might Add New Options for Sharing Snap Content Outside the App
Snapchat is reportedly looking to launch a new option called 'Stories Everywhere' which would enable users This option could help boost appeal with influencers and brands who've long raised concerns about the amount of effort required to create Snap content, only to have it disappear completely hours later. With Stories Everywhere, and as with Memories, your Snaps would live on, enabling users to create more comprehensive presences on the app, and drive traffic back to Snapchat.
#3 Facebook Rolls Out New Tools to Prevent Harassment
This is how Facebook is planning to discourage online harassment on the Facebook community!
It is introducing new features that:
1. Proactively recognize and help prevent unwanted contact like friend requests and messages when someone you blocked sets up a new account or tries to contact you from another account they control
2. Provide the option to ignore a Messenger conversation and automatically move it out of your inbox, without having to block the sender
#4 Twitter's Adds More Notification Types to Boost Awareness and Engagement
Twitter has been working on sending useful and relevant notifications to its users. The alerts and updates are pushed to its users in order to highlight relevant content and prompt further engagement. Twitter's been slowly trying to work more of these types of notifications in, capitalizing on user attention without being overly intrusive
#5 Facebook Adds New Listing of All Emails they've sent, in order to negate Scammers
Beware scammers!
Scammers regularly use emails made up to look like they're from The Social Network in order to steal your information. Facebook Product Manager Scott Dickens has outlined their new tool which provides a listing of all the emails Facebook has sent to you, so you can cross-check any questionable correspondence.
The new feature is available within your Facebook settings – tap or click on 'Security and Login', then right down the bottom of the list, you'll see the new 'See recent emails from Facebook' option.
#6 Facebook to use face recognition to help users manage their identity
Hear hear! Facebook has announced the next step in advancing their image-recognition tools, with the addition of new alerts for photos taken of you – whether you're tagged in them or not – and enhanced identifiers for vision-impaired users. Facebook's main announcement relates to the expansion of their photo identification system which will now alert you whenever a photo in which you're included is uploaded to the platform.
#7 Links to Low-Quality Web Links Likely to be Devalued on Facebook
Facebook wants to help users avoid said junk by devaluing links to websites which provide poor web experiences.
Facebook has developed a list of common characteristics which may indicate that a web page has low-value or spammy content.
1.Landing pages with disruptive, malicious or shocking ads.
2. Slow loading
3.Poor quality
4. High bounce rate
#8 Facebook Will be Giving Preference to Videos that People Proactively Search for
Facebook will give preference to videos which people are proactively searching for, and returning to
These are the 2 factors in play!
1. Intent – If people are going out of their way to find your video content through searching on Facebook or going directly to your page, your videos will receive greater distribution and will reach more people.
2.Repeat Viewership – If people are watching videos from the same publisher frequently, that publisher's videos will get preference in the News Feed making it easier for new people to discover that content.
#9 Facebook Announces Updates to Organic Reach for Pages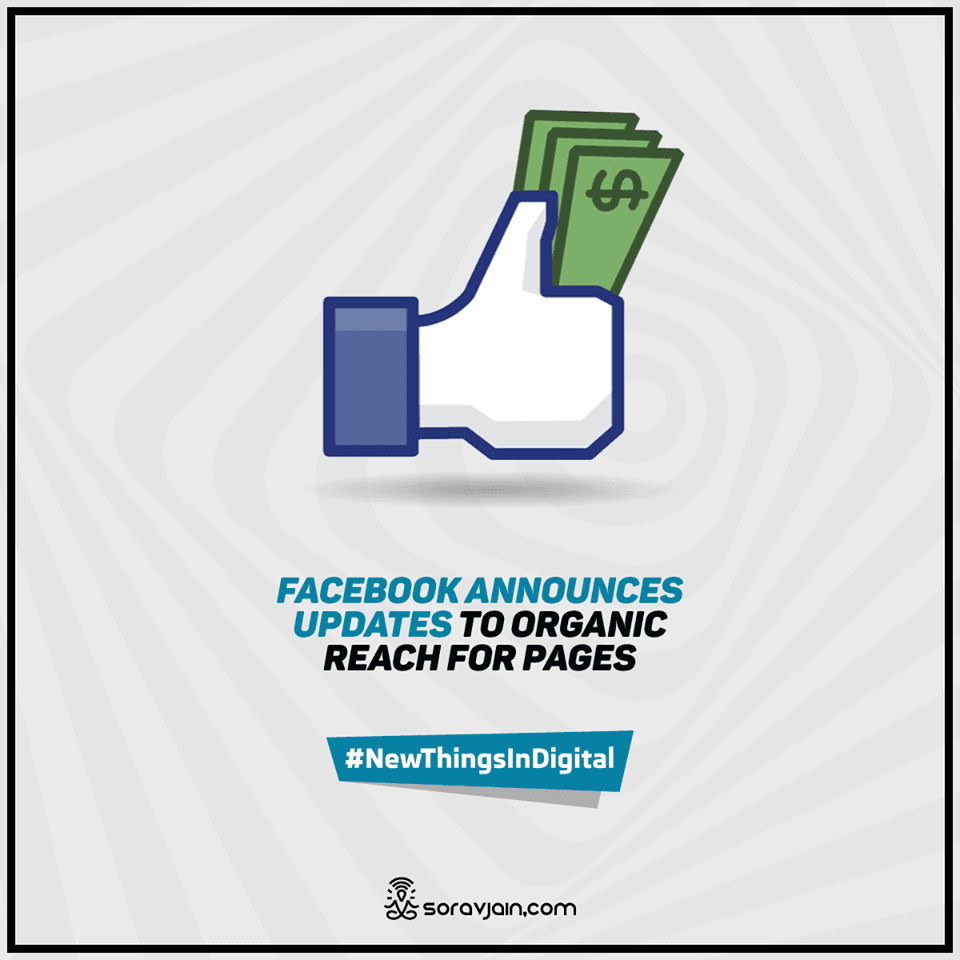 Facebook has chosen. It has announced that it will be promoting posts of friends and personal posts rather than public posts from pages and publishers. Here is what the blog reads "Because space in News Feed is limited, showing more posts from friends and family and updates that spark conversation means we'll show less public content, including videos and other posts from publishers or businesses. As we make these updates, Pages may see their reach, video watch time and referral traffic decrease. The impact will vary from Page to Page, driven by factors including the type of content they produce and how people interact with it."
#10 Instagram Allows Users to Send Live Videos in Direct Messages
Instagram recently announced that users can now privately send live videos over direct messaging. This update is available as part of the newest version of the Instagram app for iOS and Android.
#11 Facebook Introduces New Tagging Option to Stories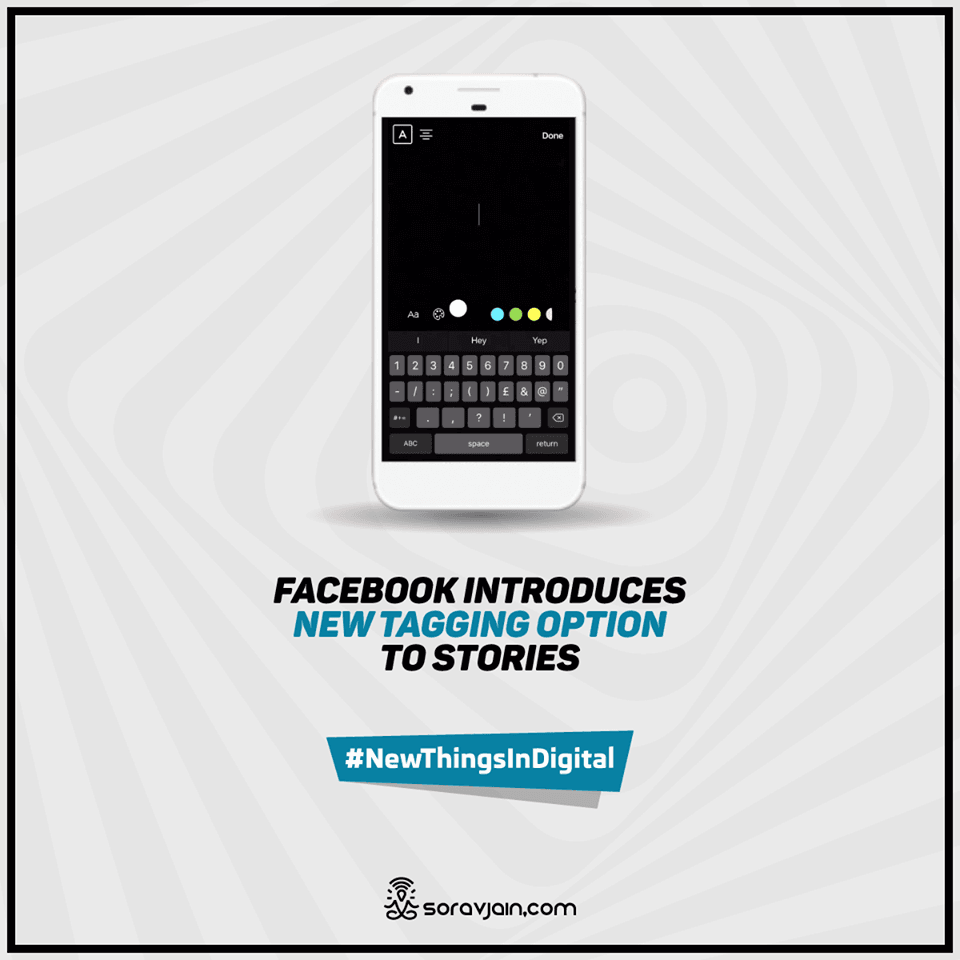 In an attempt to make Facebook Stories happen, Facebook now seems to allow broadcasters to tag other people and pages in their stories.
#12 Instagram Tests Ability to Share Stories Directly to WhatsApp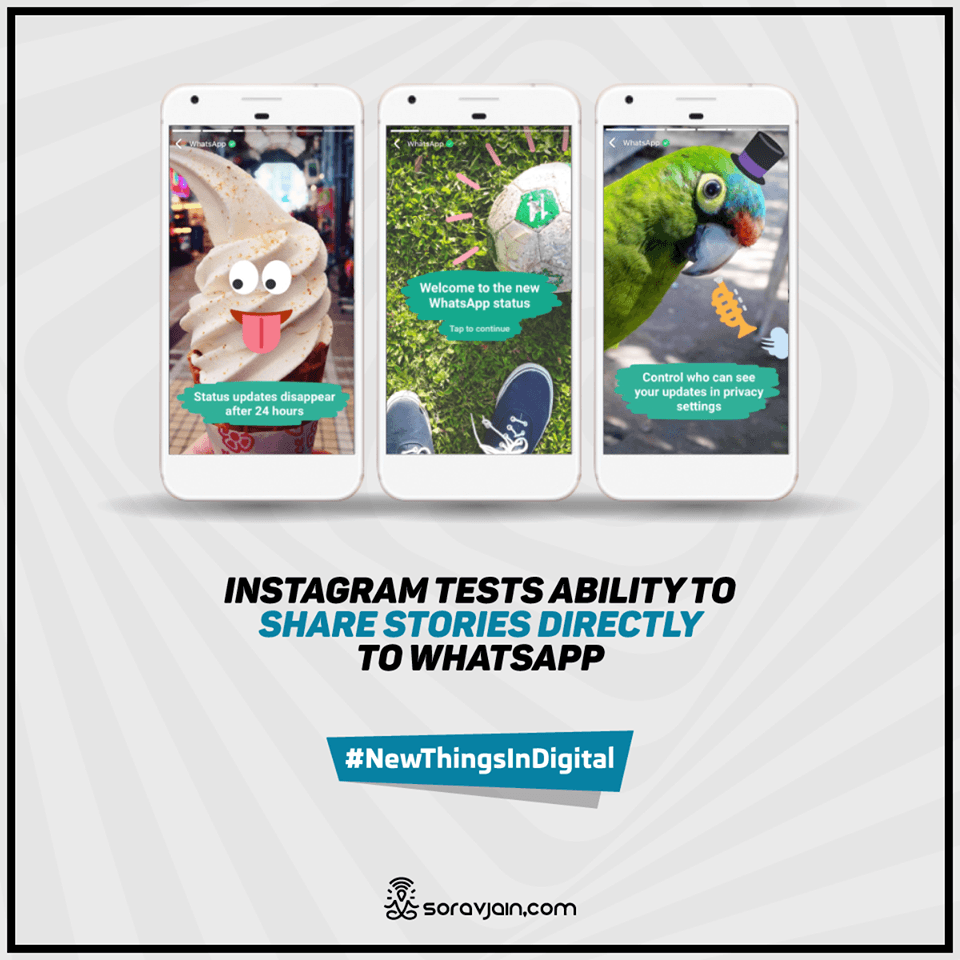 Instagram is allowing a "small number" of test users to post their Instagram stories directly to WhatsApp as a status. An Instagram story posted as a WhatsApp status also becomes encrypted like the rest of WhatsApp.
#13 Snapchat Reportedly Considering 3-Second Unskippable Pre-Roll Ads
Snap Inc. is seriously considering adding 3 seconds of commercial breaks before offering a skip option on ads on Snapchat. This new ad format would attract more ad dollars from brands and advertisers, which a source confirms aren't spending as much as on Snapchat as they have previously.
#14 Instagram Officially Introduces Recommended Posts
After testing posts that are "Recommended for You" with a small group of users, Instagram has quietly rolled out this new feature on iOS and Android. According to a post found on Instagram's Help Center, "these posts are suggested based on posts liked by accounts you follow" and can be disabled at any time.
#15 Facebook is Testing New Local News Section
Facebook is testing a new section of the mobile app called "Today In." It features a feed made up entirely of local news, events, and announcements. This feature is currently restricted to a few states in the USA
#16 Facebook Tests New "Watch Party" Feature for Groups
Facebook is testing an exciting video experience called Watch Party. This new feature allows Facebook group admins and moderators to select any public video on Facebook (live or recorded) and share it with other members of the group, who can then watch at the same time and in the same place with a dedicated comment reel.
#17 Instagram Tests New "Type" Feature for Stories
Instagram is now testing new fonts with a text-only Stories format called Type. There are several fonts and backgrounds to choose from, but users can also upload their own image to use as a background or apply a filter that emphasizes the text.
#18 LinkedIn is Now Focusing on Groups, with New Tools and Options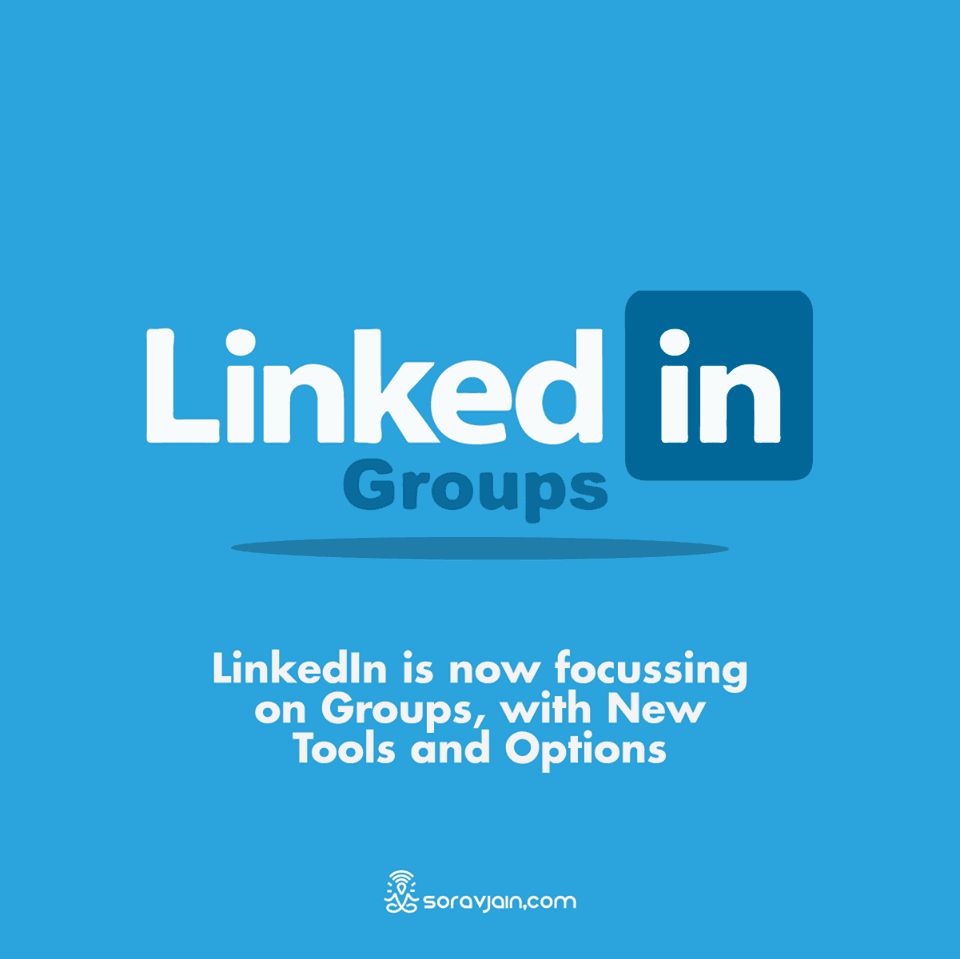 In an email sent to group admins, LinkedIn introduced some upcoming changes that include re-integrating Groups back into the core LinkedIn experience." These include the ability to access groups from the homepage and richer conversation tools like video posts and @mentions.
#19 Instagram Introduces New "Show Activity Status" Feature in Direct Messages
Instagram's new Show Activity Status notification in Direct Messages now shows other accounts you follow and anyone you have messaged in the past when you were last active on Instagram apps. This option is found under Settings and can be disabled if you don't want others to see this alert.
#20 Facebook Enables Users to Post Stories from Desktop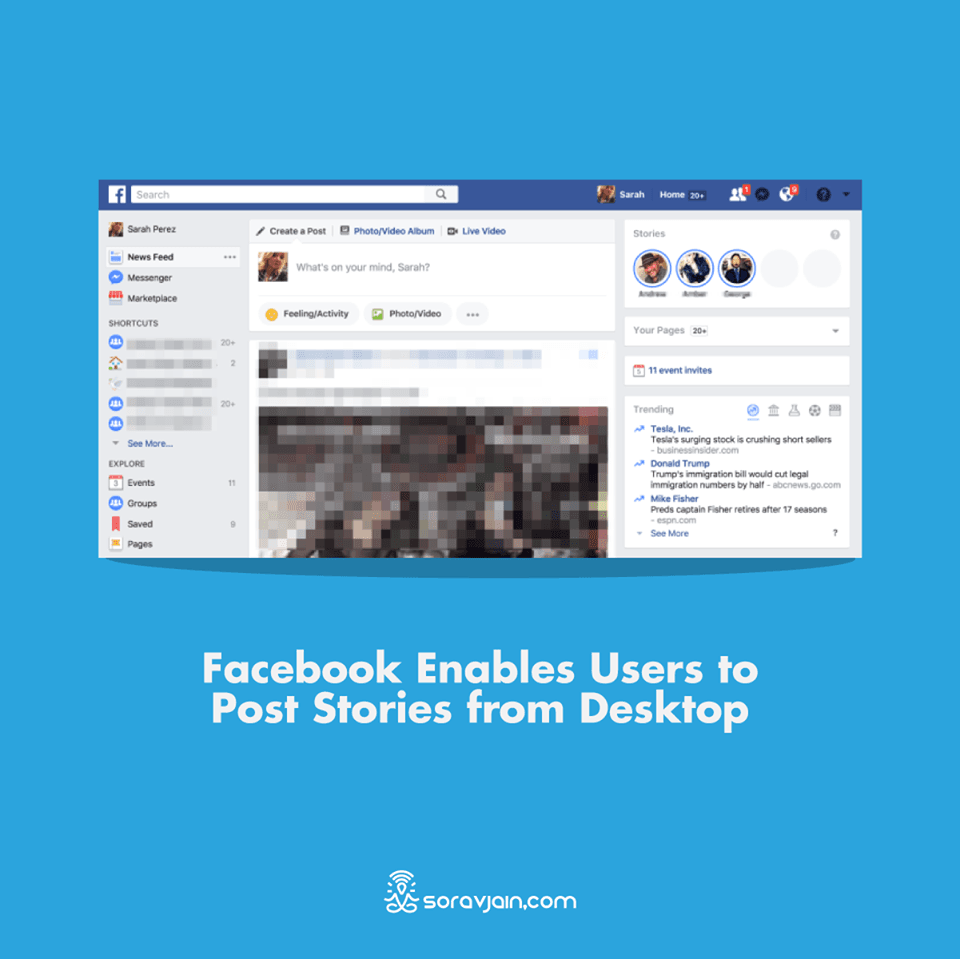 Facebook is enabling its users to post Stories from the desktop. They're also planning to move desktop Stories from the top right of the sidebar to the prominent middle of the feed pushing down the composer window and News Feed.
#21 Instagram is testing out a GIF library for Stories
Instagram is making Stories even more fun! It has been testing out a new, transparent background GIF library for Stories, in collaboration with Giphy. There's a new GIF category, which connects you to a custom set of GIFs, powered by Giphy. Each of those GIFs is custom-designed to stand alone, as opposed to being posted by themselves, so you can add the animations to your Stories posts.
#22 Facebook Announces New Methods to Measure Page and Publisher Trust
After last week's breaking news, Facebook has detailed how it plans to rank news sites by trustworthiness, in order to determine whether they get a distribution boost or penalty. Facebook has stated that in 2018, they will prioritize
1. News from publications that the community rates as trustworthy
2. News that people find informative
3. News that is relevant to people's local community
#23 Google Adds Keyword Functionality to the AdWords App
We haven't heard much about development on the AdWords app lately, but there's a new update out that makes the app more useful. Advertisers can now add, edit and remove keywords from their campaigns using the AdWords app. Ref: Click here
#24 Google is Sunsetting AdWords Review Extensions
The text ad extension will be removed from AdWords entirely next month. It was a decent experiment while it lasted. Google has announced that Review extensions will stop showing this month and will be deleted entirely in AdWords accounts in February.
#25 YouTube Announces Stricter Policies Around Monetization
In light of serious backlash due to controversial content from top creators over the past few months, Youtube has decided to make its monetization policies a lot stricter. These updates include a higher threshold for joining the YouTube Partner Program beginning February 20, 2018. YouTube will also roll out a new manual review process for Google Preferred channels and "a three-tier suitability system that allows advertisers to reflect their view of appropriate placements for their brand while understanding potential reach trade-offs."
#26 Facebook Now Asks Your Goals When Boosting Posts
Facebook now asks what marketers' goals are when they boost a post. They can select from two options, either "get likes, comments, and shares" or "engage and chat with potential customers." Facebook will automatically show the posts to people who are most likely to engage with it.
#27 Instagram Introduces the Ability to Upload Photos and Videos of Any Size to Stories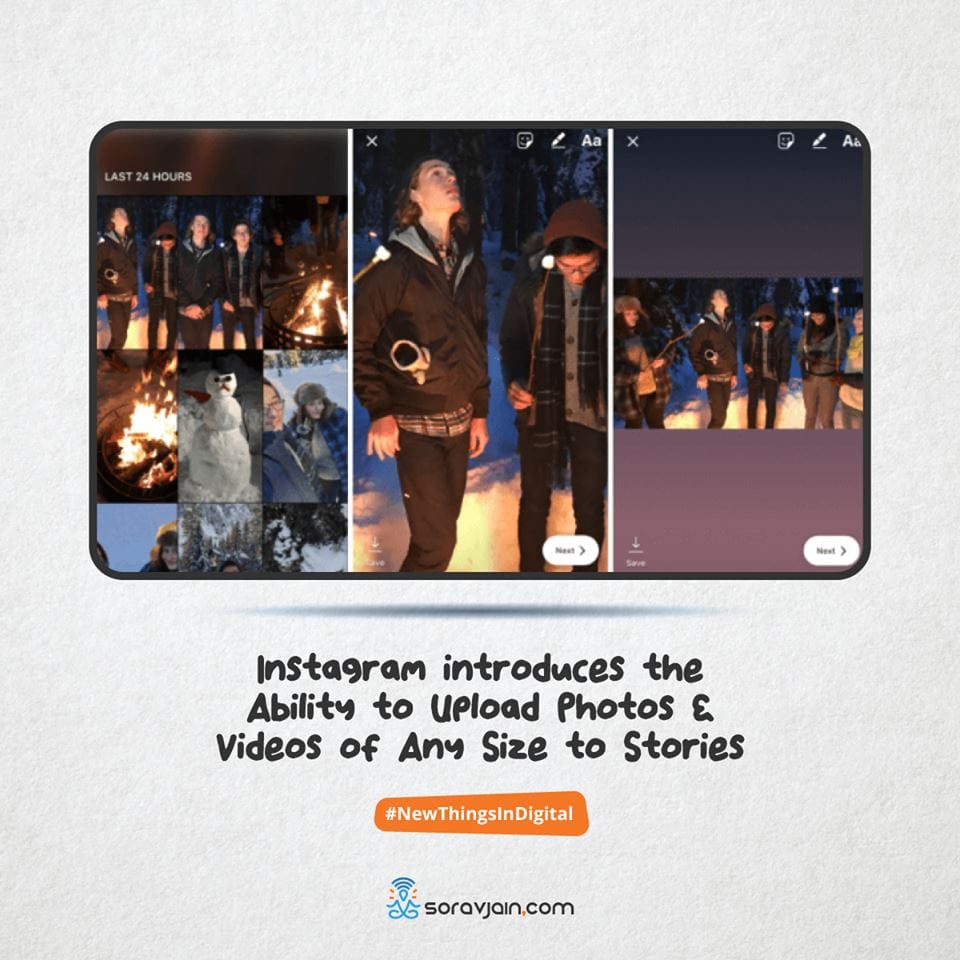 Bid goodbye to the annoyance of poorly cropped stories on Instagram! Instagram announces that users will be able to upload photos and videos of any size to their Instagram stories. According to Instagram, photos and videos can now be shown as a square, portrait, or landscape and any extra room will be filled with a custom colour gradient that matches the content that has been shared.
#28 Facebook Rolls Out Two New Ads Manager Reporting Options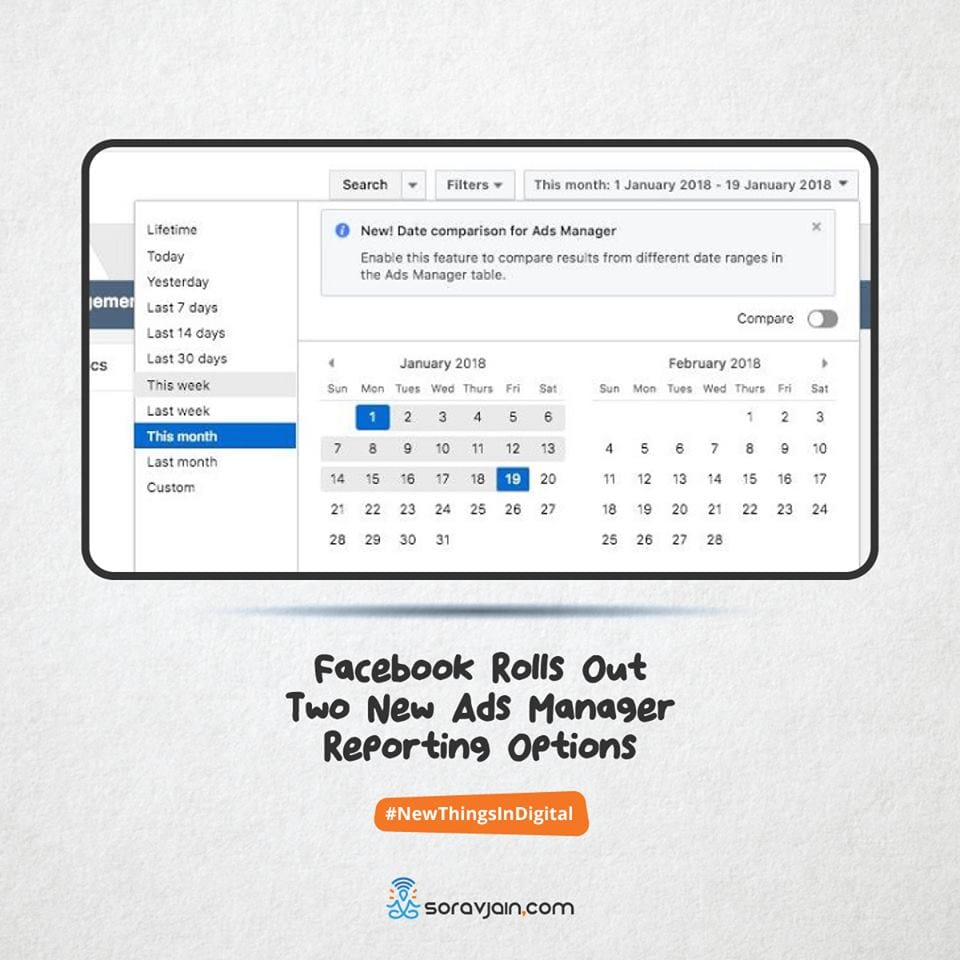 Facebook rolled out two new reporting features for Ads Manager. These include Date Comparison, which compares results from two different date ranges in the Ads Manager table, and the ability to see creative performance across all of your ad sets at once with Creative Reporting.
#29 Instagram Tests Recording and Screenshot Alert Feature for Stories
Instagram is reportedly testing a new feature that notifies users when another user has taken a screenshot or a screen recording of their Instagram stories. Reports state that this new feature is only being tested internally, but it has been spotted by select users. Instagram hasn't confirmed any plans to roll out this feature more broadly at this time.
#30 Facebook Business Manager Introduces a New Test and Learn Tool
What seems like a consolation prize after Facebook categorically stated that it won't be giving importance to posts from pages and publishers, under the Measure and Report section of Facebook's Business Manager, there's a new Test and Learn tool that allows admins "to easily create advertising tests that help [them] find the strategies that work best for [their] business.
#31 Twitter Utilizes Machine Learning to Crop Photo Previews
Twitter rolled out a new tool powered by machine learning that crops thumbnails within tweets to feature the more interesting parts of the images. Twitter initially began using facial recognition to crop images to faces but found this method doesn't work with photos of scenery, objects, text, and animals. Their solution is "cropping using saliency," which means identifying the most interesting thing in a picture based on eye-tracking studies and other research.
#32 Facebook Introduces a New List Post Feature
Facebook is here to make our to-do tasks and lists easier! It appears that Facebook introduced a new post feature called List that allows users to create a numbered list with a title. Facebook also offers suggestions on types of lists to create such as "My goals for 2018" and "My lifetime bucket list."
#33 Snapchat tries to befriend Publishers in Response to Facebook News Feed Changes
Snapchat is reportedly placing more emphasis on courting and growing its relationships with publishers after Facebook's most recent news feed updates. Digiday and Business Insider both confirm that Snapchat added a new role within the company that oversees day-to-day work with Discover publishers and announced a first-time publisher summit to help them be successful on the platform.