2020 has begun, and we have many trends to look forward to.
With one month already gone by very quickly, we have a list of new updates tested and launched by various Digital Platforms.
From Instagram's new modes in Boomerang, Facebook's Page Management History, LinkedIn's live-streaming for company pages to Instagram testing DMs for desktops, Twitter's new emoji reactions in DMs, January has been super diverse.
Let's jump in to see the complete list of New Things in Digital in January 2020.
List of the top 29 latest digital marketing updates in January 2020
1. Microsoft Advertising Launches Sweepstakes for Advertisers
Entries are open for agencies in the U.S., Canada (excluding Quebec), U.K., Ireland, Netherlands and Germany. To enter the Microsoft Advertising Sweepstakes, you'll need to complete the Microsoft Advertising Certified Professional (MACP) certification, add a new Microsoft Advertising account, or enroll in the Micorosft Advertising Partner Program.
2. Brands can now buy Walmart sponsored Search Ads via API Partners
Walmart made another move in building out its e-commerce advertising offering Friday with the launch of Walmart Advertising Partners. The company named four initial ads API partners: Flywheel Digital, Kenshoo, Pacvue and Teikametrics.
3. YouTube Adds 'Assisted Trim' Feature to Automatically Crop Out Copyright Claimed Elements
As part of an update to YouTube Studio, it rolled out a new process that will give creators the option to automatically remove the claimed section of their video, freeing their content from any such claim. The new Trim option directly on the Video Copyright details page can trim out copyrighted content claimed by Content ID in the video which automatically releases the claim.
4. Twitter Tests Topic Activity Insights
In order to help people better understand what they'll see on their timeline if they follow a specific topic, Twitter is developing new preview elements on topic listings, which would display things like related hashtags and follower counts, as well as notes on how active the topic is in the app.
5. Google Local Pack "Choose Area" Feature Now Live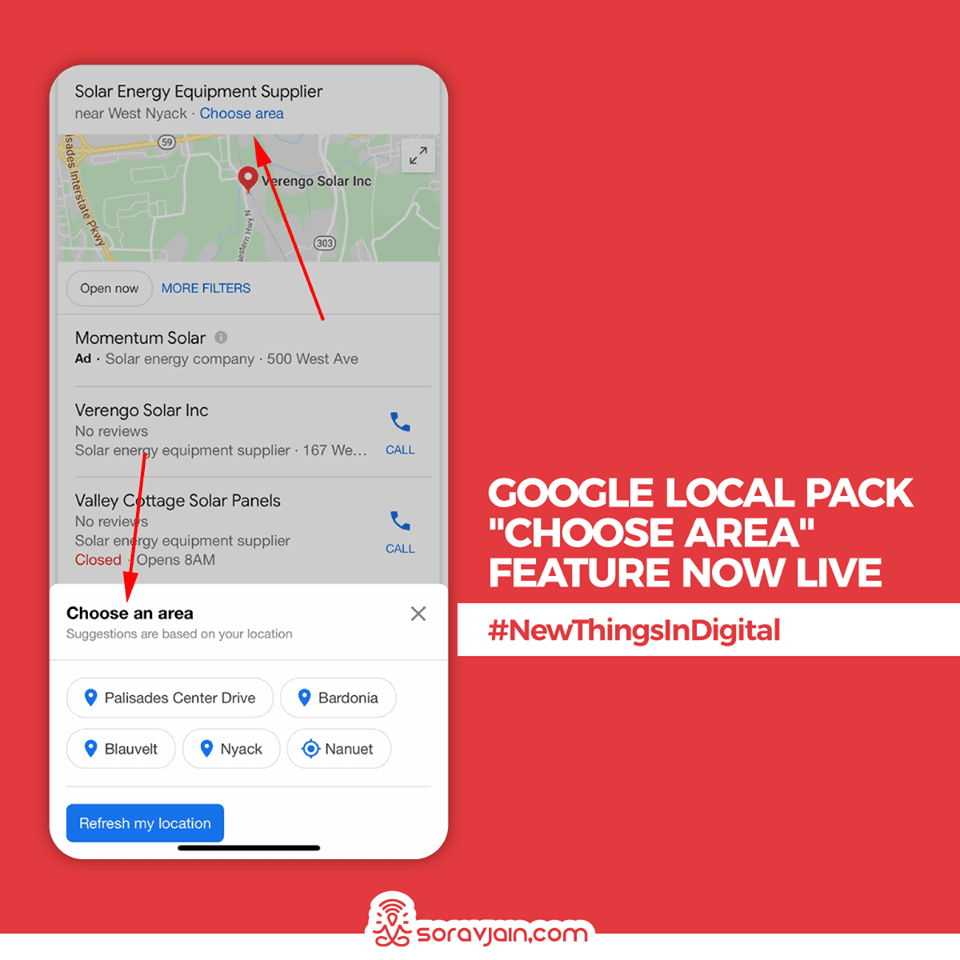 Google introduced an option to select or "choose" your area or location when a Local Pack comes up in the search results.
6. Google Displays "Get More Reviews" For Local Knowledge Panels You Manage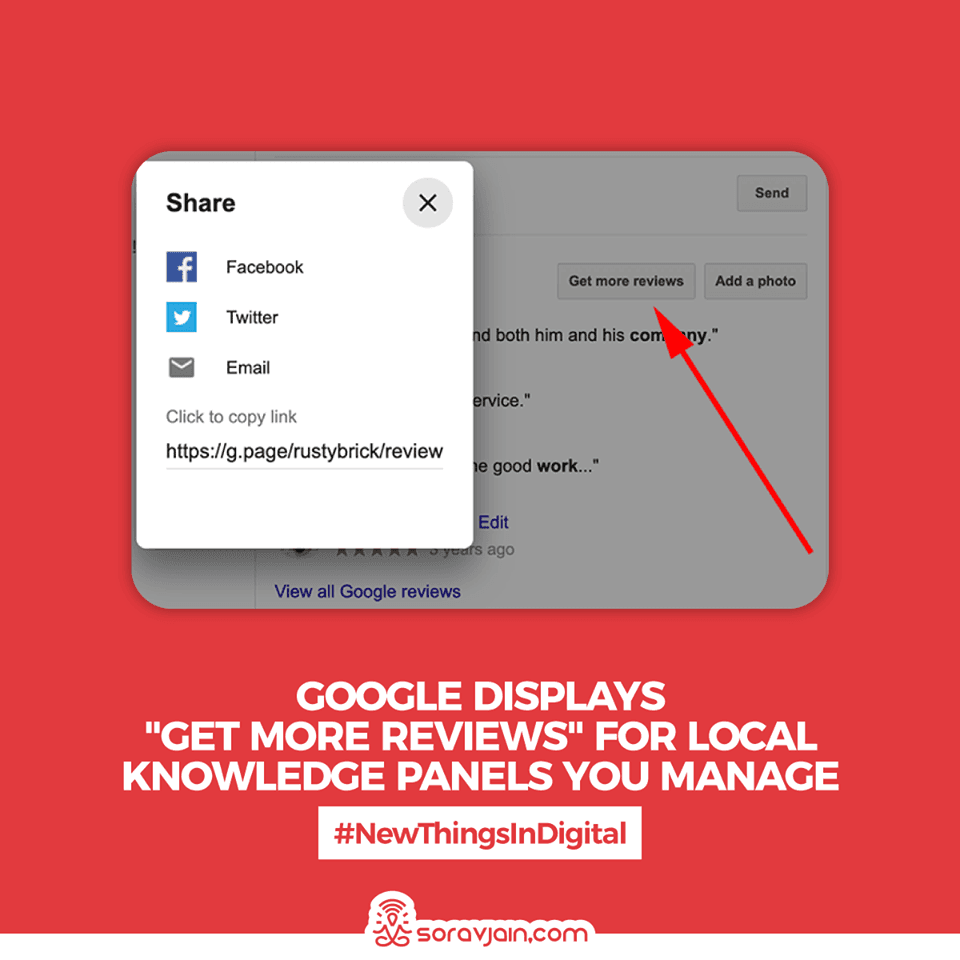 Google has changed the button for the local knowledge panel from "write a review" to "get more reviews" for the businesses you manage. When you click that new button, Google gives you a way to share with people the ability to leave reviews for your business, as opposed to taking you to write a review.
7. 'Lists On Google Maps', Search Carousel For Restaurants
Google is testing a new search user interface treatment for map results called "Lists on Google Maps". This shows you a carousel of results from Google Maps and Google My Business listings that you can scroll through and learn more about.
8. Bing Pages Launches To Promote Your Public Persona
Bing has quietly launched Bing Pages, a beta program that lets users manage their presence on Microsoft products such as Bing and Outlook.com. You can access it over at https://www.bing.com/bp/gettingstarted. Bing said "Participants who sign up for this program get their own page on Bing to highlight their contact information and social media channels.
9. Google Local/Maps With "In Between" Links To Other Businesses
Google Maps and Local can show in a business listing profile the address but near the address it sometimes shows other businesses nearby. Well, now it can also show where that business is sandwiched in between other businesses.
10. Google Ads testing custom dimensions to enable reporting based on your business structure
If you manage large or complex accounts or have extensive campaign naming taxonomies, Google Ads custom dimensions might help simplify your reporting efforts and campaign naming systems.
11. Instagram Adds New Boomerang Modes and Capability to Trim Boomerang Loops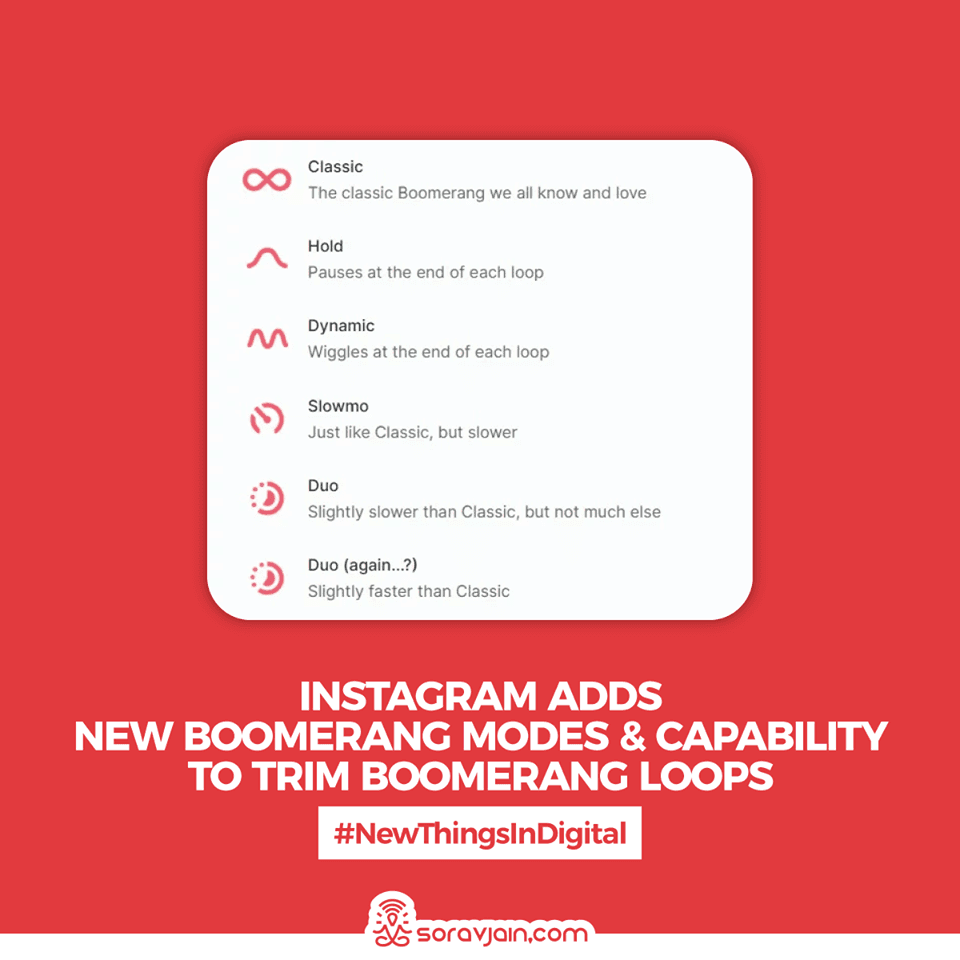 Instagram has added some new options to its Boomerang camera mode for Stories, including 'SloMo', 'Echo' and 'Duo' variants.
In addition to this, Instagram has also added capacity to 'trim and tweak' your Boomerang loop in order to better control your final clip.
12. Facebook Adds New 'Page Management History' Tab in Page Tools
Facebook has added a new tab to its Page settings which provides an overview of actions taken by Page admins, including Page role allocations, contact information, Business Manager relationships, and more.
13. Facebook Outlines New 'Video Traffic Source Insights' and Provides Video Tips
Facebook announced the new addition for its Creator Studio dashboard called 'Traffic Source Insights' which would provide a more direct overview of video watch time and retention metrics within four separate audience categories – 'Followers', 'Shares', 'Recommended' and 'Paid'.
14. Twitter is Testing an Option To Enable Users to Limit Who Can Reply to their tweets
In order to give the users more control, Twitter is testing this option with the following advanced settings.
Global – Anyone can reply to the tweet
Group – Only people you follow or mention would be able to reply
Panel – Only people you directly mention within the tweet text itself would be able to reply
Statement – No tweet replies would be allowed
15. Twitter is Planning To Remove The Audience Insights Element from Analytics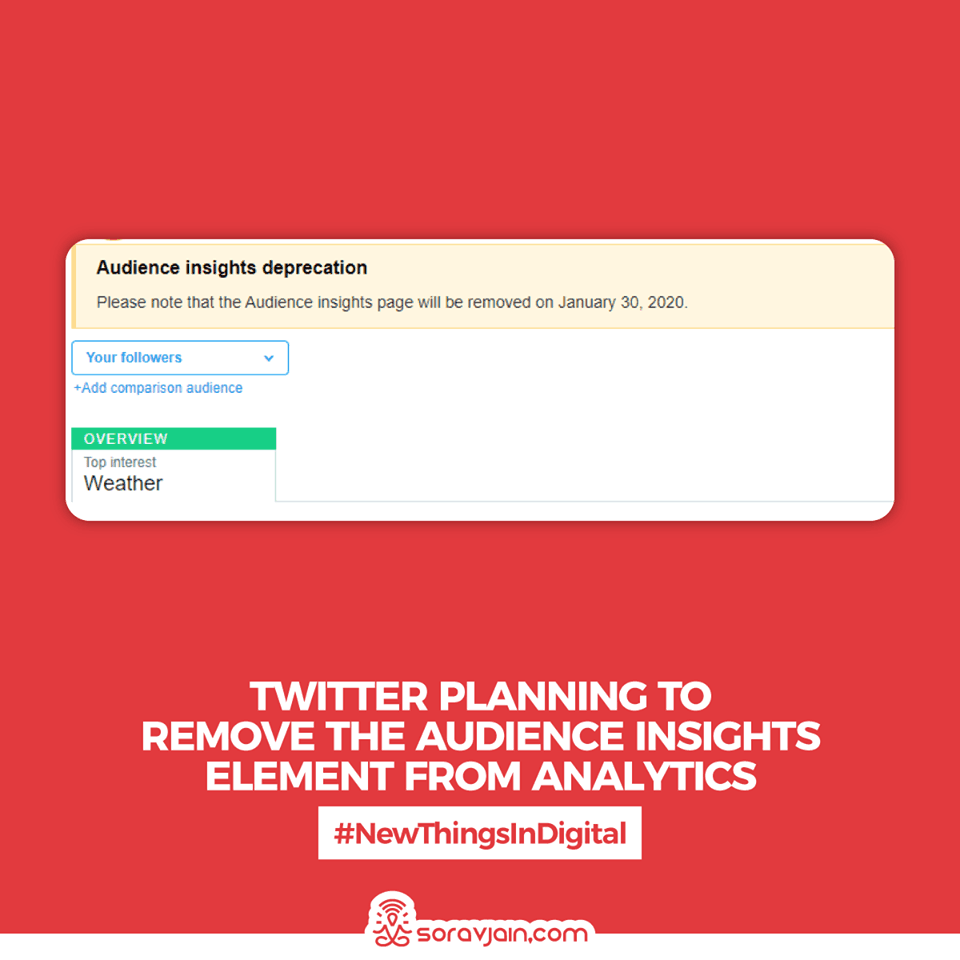 Twitter has confirmed that it is indeed removing its Audience Insights tab from Twitter Analytics at the end of this month. No update yet on the alternatives.
16. Google Expands Domain Name and Icon Listings in Search Results to Web Queries
Google unveiled a new look for its web search listings, including brand icons and more prominent domain listings, which are designed to help provide more clarity around the sites that users are connecting with via search. The format puts a site's brand front and center, helping searchers better understand where information is coming from, more easily scan results and decide what to explore.
17. Google Screened Ads Tests Photos
Google Screened Ads – like Google guaranteed ads – are being tested to show photos of professionals. Like a headshot of who you are looking to hire to do your job or your work. Having a photo probably helps with CTR and conversions.
18. Instagram Begins Testing of DMs in Its Desktop Version
Instagram has now confirmed that it will begin a small rollout of direct message access through the web-based version of its app. The addition will make Instagram's messaging tools more widely accessible, as not all users can access the platform via the app. For brands, the addition could have specific benefits for those looking to use Instagram Direct for customer service queries, enabling easier integration into your broader social media workflow.
19. LinkedIn Adds Live-Streaming for Company Pages and New 'Invite to Follow' Option
LinkedIn is now expanding LinkedIn Live to company pages, while it's also officially adding a new option to invite first-degree personal connections to follow a business page that you manage.
20. Instagram Is Working on a New 'Maps' Sticker for Instagram Stories
Instagram is working on a new map sticker for Stories which would display your location on the world map to easily share where you are, and what you are up to at any given time.
The sticker would show a section of a world map image, including a marker for your location, but wouldn't be able to zoom in too far on that map for privacy reasons.
21. Google Launches New Clothing Search Format to Better Facilitate eCommerce Queries
Google continues to make inroads into better facilitating eCommerce queries, this time via a new search results format which is specifically designed to display clothing-related queries. This will let you see clothes, shoes and accessories from across the web in one place on Search on your mobile device, so you can easily browse lots of different stores and brands at once.
22. Facebook is Adding More Detail to its User Controls Over Advertisers' Custom Audience List Targeting
Facebook added some new information elements in its 'Why am I seeing this ad?' listings, which provide users with a better understanding of how each ad has been targeted, including notes on the use of Custom Audience lists from third-party data providers.
23. Google Announces That Webpages with Featured Snippets Won't Appear Twice on Page 1
Google has confirmed that webpages in a featured snippet position will no longer be repeated in regular Page 1 organic listing. The change will affect 100% of all search listings worldwide. A webpage only gets one opportunity to appear on Page 1.
24. Google Tests Desktop Results Without Fav Icons
Google is testing showing the old interface without the Favicons, but just the URL.
25. Google Rolls Out Profile Icon To Local Knowledge Panel
Google is rolling out profile icons for the local knowledge panel. Google has been testing this for about a year, but it should be live for most businesses.
26. Google Adds New 'Collections' Listings Based on Your Search History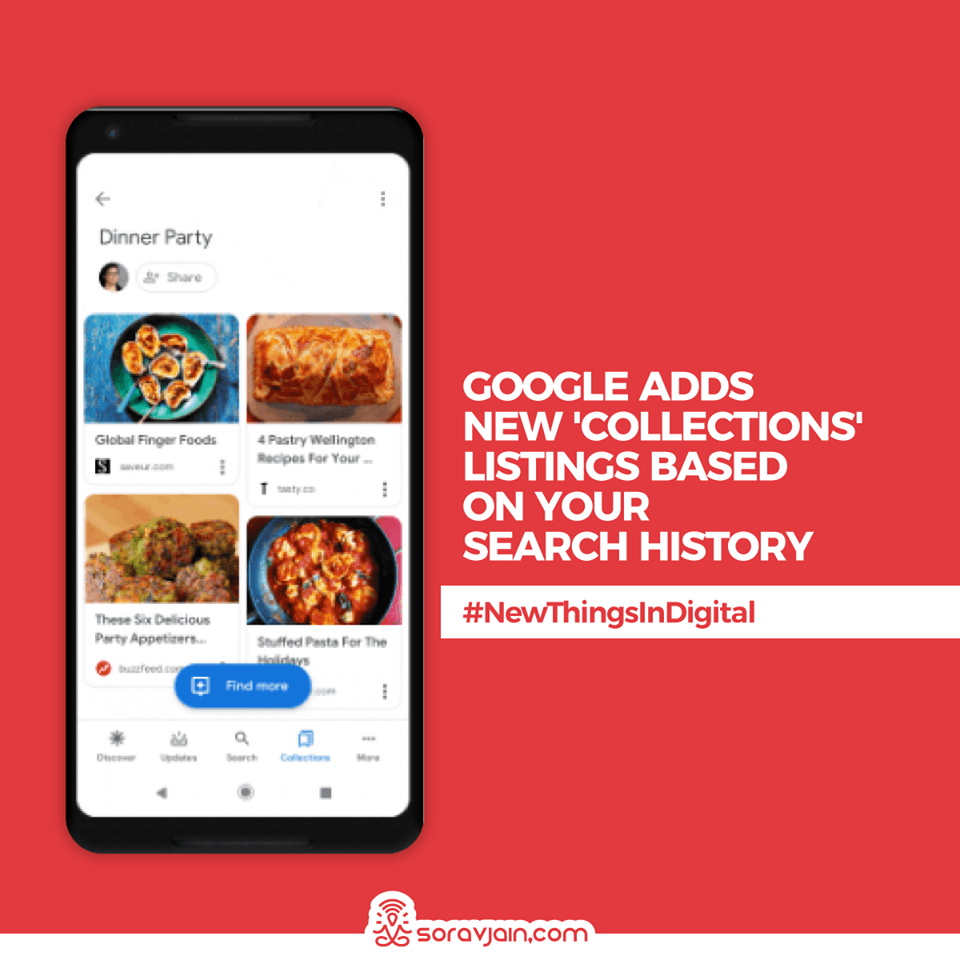 Google is looking to make your search history more functional by gathering topically related queries that you've entered in the past into defined collections, by launching some changes to Collections in Search to make it easier to jump back into your task without digging through your search history. Using AI, Collections in the Google app and mobile web now groups similar pages you've visited from Search related to activities like cooking, shopping and hobbies. You can choose to save these suggested collections so you can come back to them later.
27. Instagram Is Adding a New Way to Find and Share Stories that Mention Your Profile
Instagram has added a new Stories @ mention option, which highlights any Stories that mention your profile, and enables you to easily re-share them into your own Stories stream.
28. Twitter Launches Emoji Reactions for Direct Messages
Twitter has announced the launch of its new Reactions-like option in direct messages, which enables users to allocate a quick emoji response to any message within a thread.
To add a reaction, hover over the message and click the reaction button (heart and plus icon), or double-tap on the message and pick an emoji from the pop-up.
29. Google Brings its 'Dataset Search' Tool Out of Beta Testing
Google has announced that it's making its Dataset Search tool available to all users, providing a new way to find in-depth data collections into a wide range of subjects.