With every passing month the updates keep getting better in both quality in quantity. Keeping up with all of them is quite a task for most of us. We also might miss out on some really cool features that could actually be of much use to us. So, here's a compilation of all the amazing updates that caught our attention during the month of July.
From LinkedIn introducing personalized QRs for every profile, Instagram stepping up with Video Chat options to YouTube adding searchable hashtags, the month has showered us with a generous amount of updates on the digital front. Keep reading to know what else the digital shelves were stocked up with last month.
#1 Facebook

 

Tests

 

the

 

Ability

 

to

 

Cross

–

Post 

Facebook 

Updates 

to 

Instagram
Facebook appears to be testing the option to simultaneously share a single-image Facebook post to your page, page story, or Instagram.
#2 Instagram Introduces Music 

to

 Stories
Instagram users can now select music from a music library to add to their in Instagram Stories or choose a song before capturing a video when they open the Instagram camera. Music selection can be found by tapping the Music icon, found among the stickers, GIFs, and hashtags that can also be added to a story. The new music feature is now available as part of Instagram version 51 in select countries, and the ability to choose a song before capturing video is available on iOS only, with Android coming soon.
#3 YouTube Announces Next Steps in Creator Monetization and Premieres
At VidCon, YouTube announced the "next big steps for creator monetization" and several upcoming updates. YouTube is rolling out channel memberships, merchandising, and new marketing partnership opportunities between creators and brands through its new branded content platform called FameBit.
YouTube also introduced Premieres, which allows creators to debut pre-recorded videos as a live moment. When creators choose to release a premiere, YouTube will automatically create a public landing page "to build anticipation and hype up new content." According to YouTube, Premieres is starting to roll out to creators this week and will be available broadly soon.
#4 LinkedIn Adds Native QR Codes for Personal Profiles
LinkedIn introduced LinkedIn QR code to make it easier to connect on the spot when meeting someone in person. The LinkedIn QR code can be accessed by clicking the QR code icon in the search box found on the Home tab. It is available now in the LinkedIn iOS and Android apps globally.
#5 

Facebook

 Updates Ongoing Subscription Test for Instant Articles
Last October, Facebook began testing subscription support in Instant Articles with 10 publisher partners. Facebook reports that the initial test has been successful and it's now adding several updates to the program. These include tools that enable publishers to define when a reader sees a paywall, support for time-based special offers on the Instant Articles paywall and pre-paywall upsells, and a propensity model that predicts how likely someone is to become a subscriber to a certain publisher.
#6 Instagram Introduces Video Chat in Direct, Topics Channel in Explore, and More
Instagram debuted video chat in Instagram Direct, Topics channels in Explore, and new camera effects for Stories. All three were rolled out to all users on both Android and iOS this week. With the new video chat feature, users can video chat with up to four people at a time. Users can video chat with anyone with whom they already have an active Direct thread and the video will expand as more friends join.
#7 Twitter Expanded In-Stream Video Ads 

to

 More Advertisers
Twitter introduced in-stream video ads in April 2017 in the U.S. Earlier this month, Twitter expanded this feature to all advertisers around the world. Advertisers in 12 countries, including Australia, Brazil, Canada, France, India, Japan, Mexico, Saudi Arabia, Spain, United Arab Emirates, the UK, and the U.S., will be able to start in-stream video ad campaigns directly through Twitter's self-serve ad tool.
#8 

Facebook

 Introduces Info and Ads Section on Pages
Facebook added a new Info and Ads section to pages that allows anyone on Facebook to view the active ads a page is running across Facebook, Instagram, Messenger, and Audience Network. It also allows users to learn more about the page such as the date created and any previous name changes. Facebook notes that it will continue to add more details about the page over time.
#9 Instagram Expands Test of Questions in Stories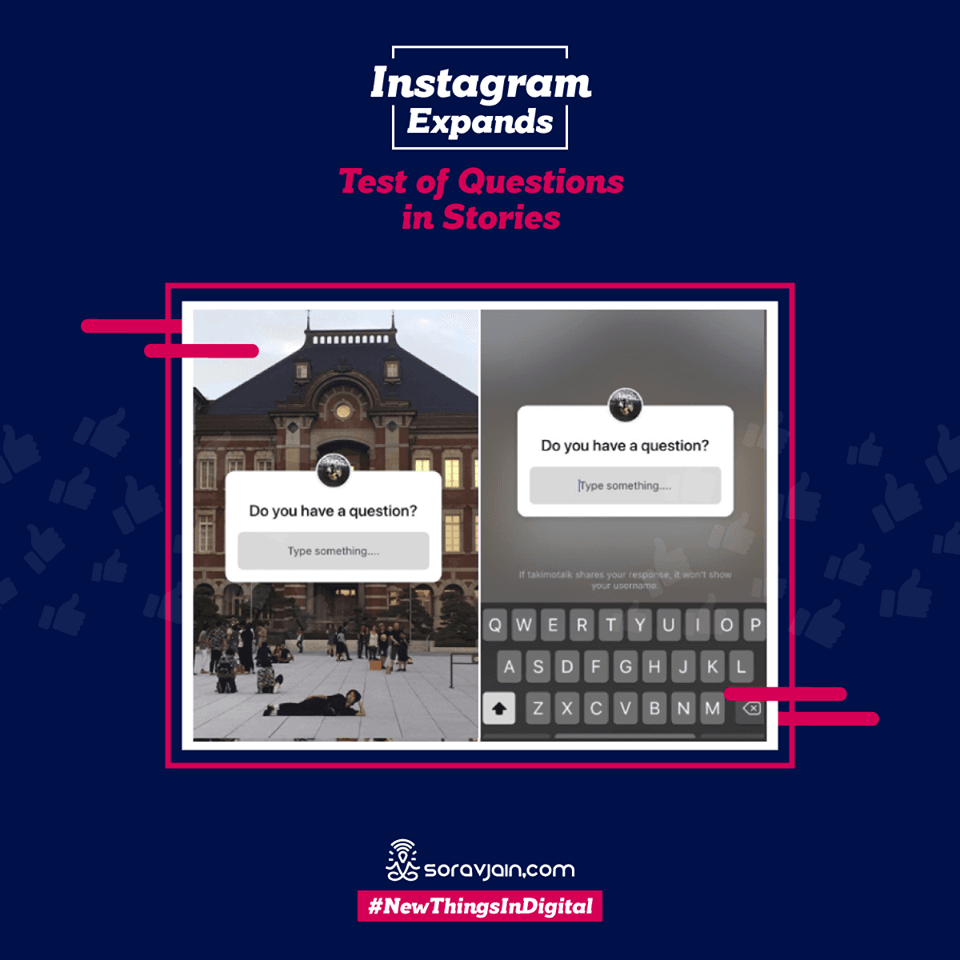 The image shown illustrates how the Q and A tool appears in the stickers tray and enables you to type in a question for your Stories viewers. Responses are then sent privately to the Story creator – which could provide a great way for brands to get more feedback from their audience and boost engagement.
#10 Facebook Adds Stories Archive, Enabling Re-Use of Stories Posts
Facebook is rolling out an archive option for Facebook Stories, the same as what Instagram provided for Instagram Stories late last year. This is not a new development – Facebook actually announced the coming archive back in May, but it's now being rolled out to more users, and could provide functional purpose, especially for brands utilizing Facebook Stories.
#11 Facebook Reminds Developers Deadline for App Reviews is Less Than a Month Away
Facebook is reminding developers that in order to keep access to a number of APIs, the app review deadline is August 1. Developers wanting to retain their access to any of the APIs for existing apps will need to submit their apps for review and "re-request" permission to use the APIs
#12 Users Who Had Been Blocked on Facebook Messenger May Have Been Unblocked Due to a Bug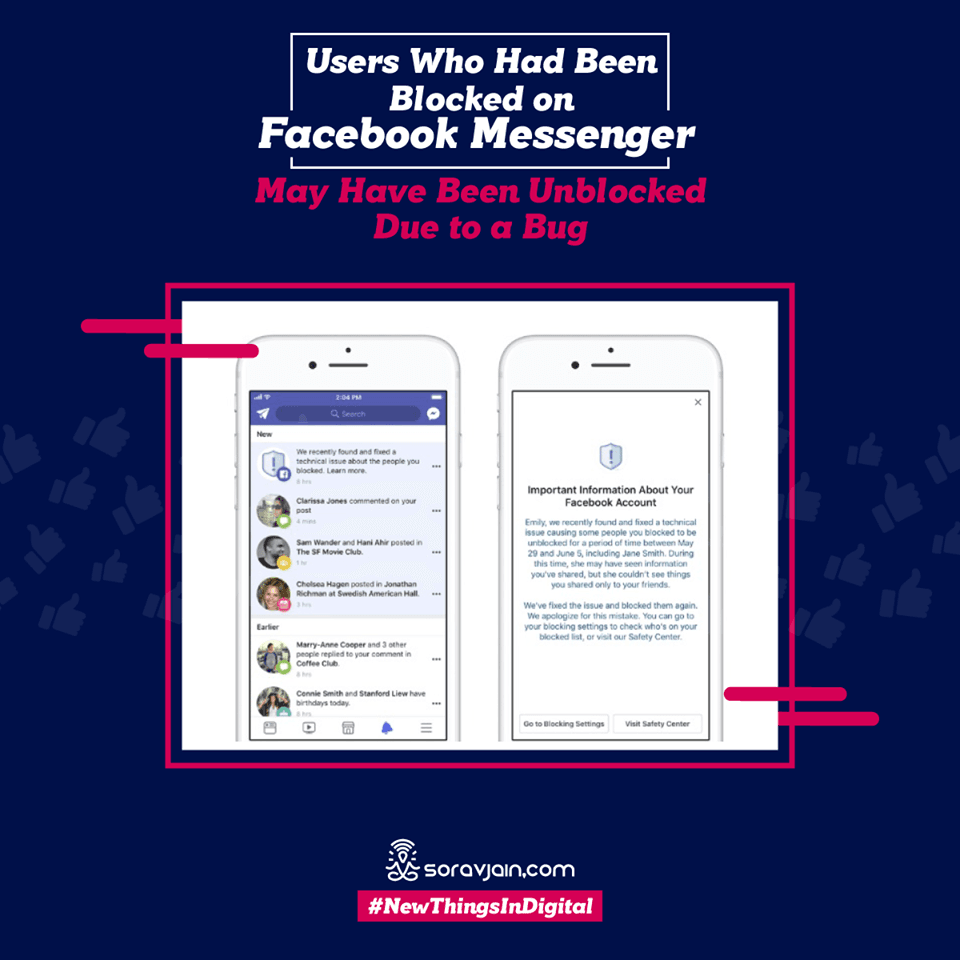 Facebook has reported that a Messenger bug may have enabled previously blocked users to see content from those who'd blocked them for a short period of time last month.
As explained by Facebook:
"Starting today we are notifying over 800,000 users about a bug in Facebook and Messenger that unblocked some people they had blocked. The bug was active between May 29 and June 5 – and while someone who was unblocked could not see content shared with friends, they could have seen things posted to a wider audience. For example, pictures shared with friends of friends."
#13 Instagram Rolls Out 'All Caught Up' Tool, Tests Option to Mute App Notifications
This week, Instagram has announced that it's rolling out its new 'All Caught Up' notifications to all users, which will inform you of when you've seen all the new content posted by profiles you follow. The problem stems from Instagram's algorithm-driven feed – now that your posts appear out of chronological order, it can be difficult to keep track of where the new posts end. Now, you'll be able to limit your time scrolling through, which will help users better manage their time.
#14 Facebook Takes Down More Than 10,000 Fake Pages, Groups, and Accounts
In order to prevent abuse and ensure Facebook is a safe place for everyone, Facebook recently took down more than 10,000 fake Pages, Groups, and accounts in Mexico and across Latin America because they violated Community Standards. The content that has been found to break Facebook's policies on coordinated harm and inauthentic behaviour, as well as attacks based on race, gender or sexual orientation.
#15 YouTube Might be Serving up More Pre-roll & Mid-roll Video Ads?
People have noticed a sizeable uptick in the number of pre-roll and mid-roll ads being served up on YouTube videos he has viewed during the last week.
A YouTube spokesperson emailed the following response:
Our goal is to ensure ads are useful and relevant to users. The number of ads that a user sees will vary based on a number of factors including ad preferences and the dynamics of auction and advertiser demand.
#16 Instagram is Testing With Persistent Stories Bar Within Main Feed
Instagram is testing a new feature where the stories bar, which usually disappears while you scroll down, will remain visible throughout your feed.
#17 Snapchat Introduces Lens Explorer
Snapchat, which currently boasts over 100,000 unique, community-generated lenses built with Lens Studio, is about to roll out the all-new lens explorer that would help you discover and unlock your favorite lenses with ease.
#18 Facebook Experiments with Augmented Reality Ads on the News Feed
Facebook is testing to roll out the augmented reality ads on Facebook messenger to take customer experience to a whole new level. You will be able to virtually try your favorite lipstick or your shades before actually buying them online.
#19 One-Click saving option on Pinterest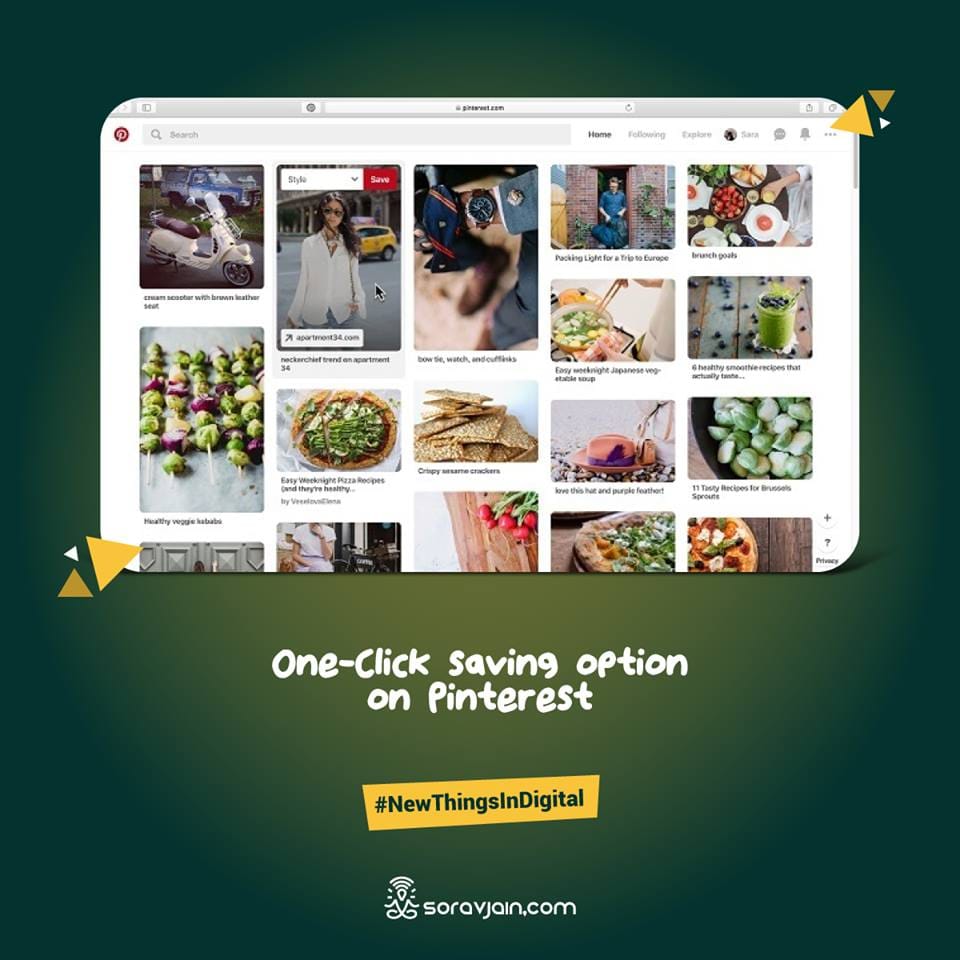 Pinterest now lets us save pins from the desktop web with just one click instead of having to click the save button and pick a board. Pinterest notes that one-click saving will also work on pins you see in search results, your home feed, or Following tab.
#20 WhatsApp Adds Group Chat Restrictions
WhatsApp rolls out a new setting in the group chats where only the group admins will be able to broadcast/send messages on the group, making it more suitable for organizations, communities, or schools to share important announcements and information within the app.
#21 WhatsApp to start labeling forwarded messages
Whatsapp has started labeling forward messages in an attempt to curb the violence caused by the spread of fake news on the platform.
#22 YouTube Introduces Copyright Match Tool For Creators with More Than 100K Subscribers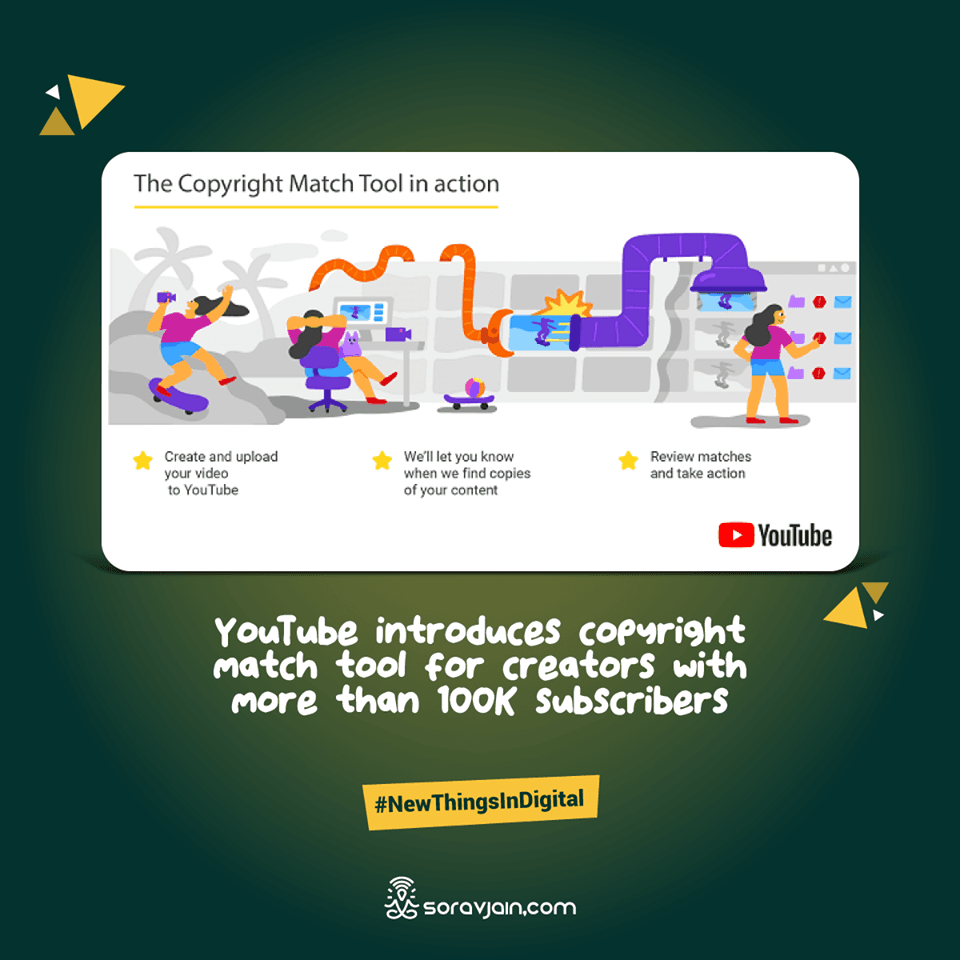 Youtube finally rolls out the new Copyright Match Tool after almost a year in beta testing with some select creators. This Copyright match tool is developed to scan re-uploads of the original content on other channels and reports them to you. When there is a match similar to ours, it will appear in the Matches tab in the tool and you can decide what to do next.
#23 Funded News Shows on Facebook Watch Tab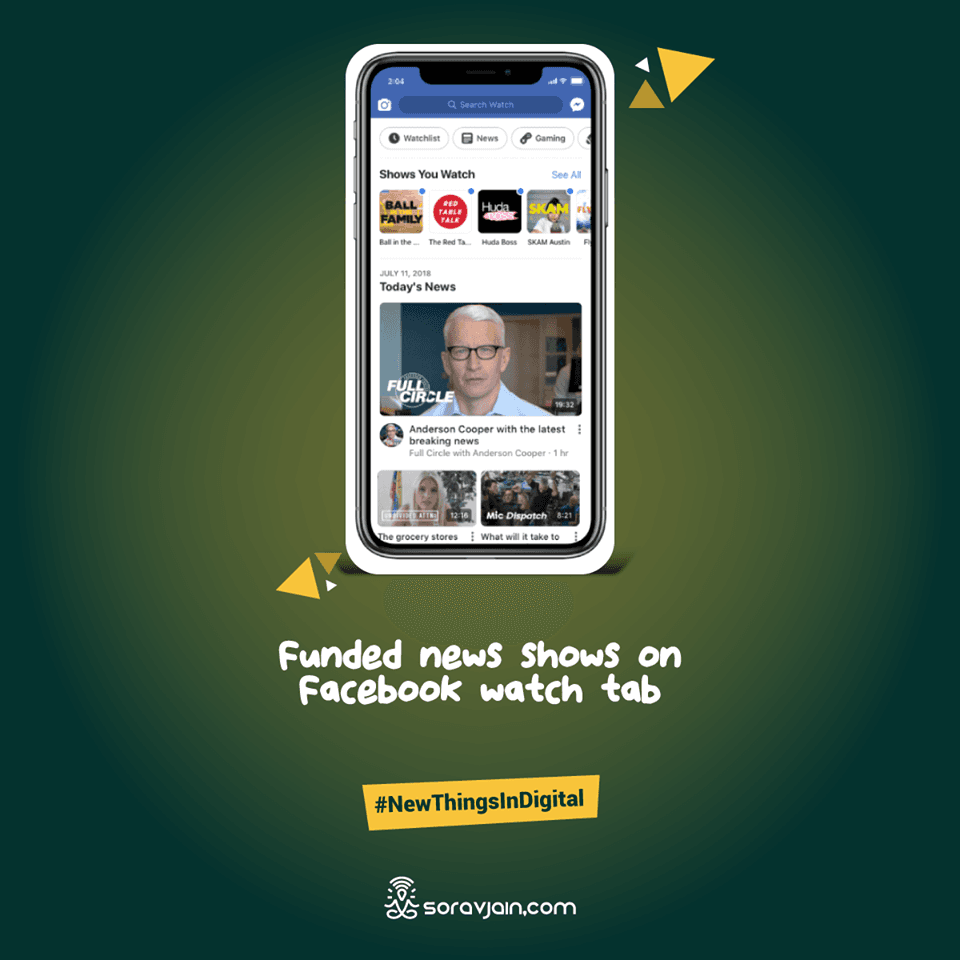 Today, Facebook Launches its first slate of funded news shows that will appear in a dedicated section of the Facebook Watch tab. It starts today as announced with the first lineup of shows from news publishers ABC News, Advance Local, ATTN, CNN, Fox News, Mic, Quartz, and Univision.
#24 YouTube Rolls Out Incognito Mode for Private Watching on Android
YouTube has now rolled out Incognito mode for all Android users. This feature has been in testing since mid – May. And now all the Android users have access to disable their watch and search histories on the app with this latest app update.
YouTube has now rolled out Incognito mode for all Android users. This feature has been in testing since mid – May. And now all the Android users have access to disable their watch and search histories on the app with this latest app update.
#25 Facebook rolls out an option to 'Like' or 'decline' a Page Through the Invite on Your Notifications
Facebook now lets you 'accept' or 'delete' a new page through the invites itself on your notifications.
#26 LinkedIn Rolls out Video Captions and New Content Sharing Tools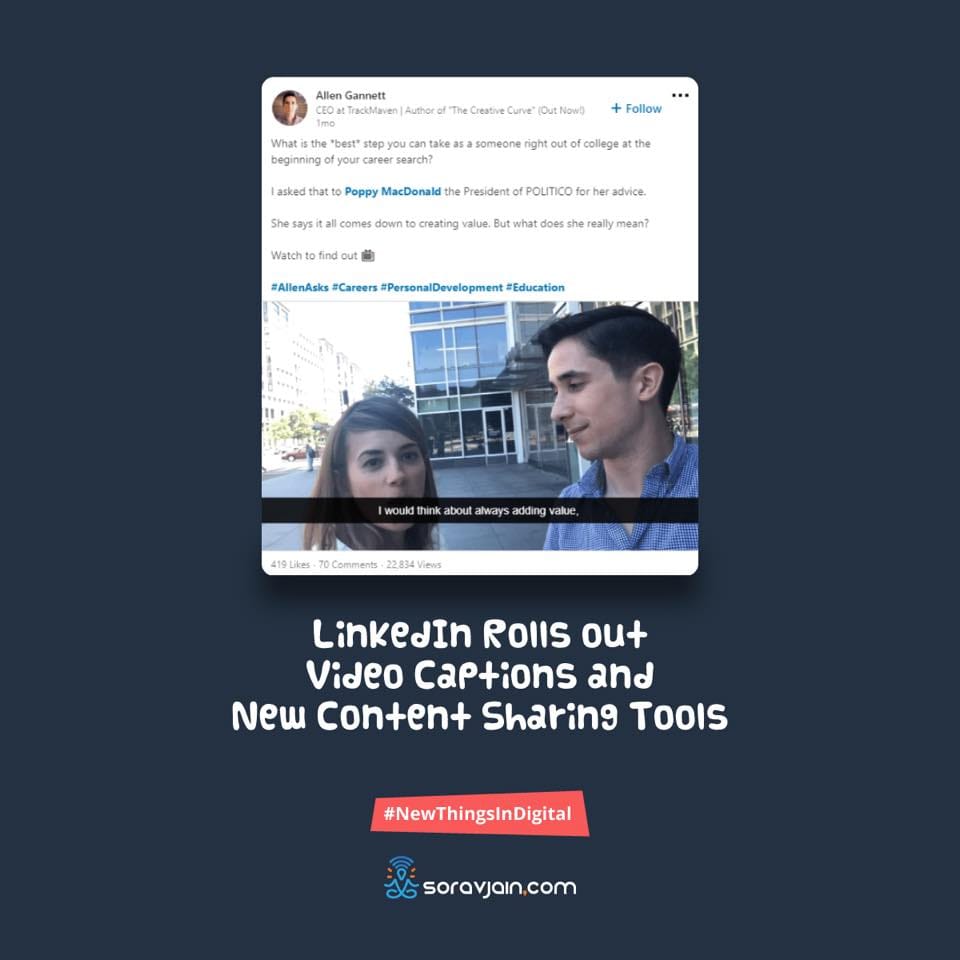 LinkedIn introduced the option to add closed captioning to videos posted from the desktop, as well as the ability to easily highlight and share quotes from LinkedIn articles and save drafts of posts to edit and complete later on mobile.LinkedIn is also rolling out a new Me tab, which offers a "quick and easy" shortcut to all of the content members have shared, written, or recorded for the site.Last month, LinkedIn introduced a See Translation button on posts that are in a different language than you speak. LinkedIn confirmed that this new feature is currently rolling out to both desktop and mobile.
#27 Instagram Experiments Ability to Remove Followers From Public Accounts
Instagram seems to be testing a new feature that will enable us to manually remove followers from public profiles and limit access to their content.
#28 Instagram Experiments Reaction Emojis for Stories
Instagram appears to be testing a new Facebook reaction-style emoji response for Instagram Stories, similar to the update on Facebook stories.
#29 Facebook Rolls out New Creative Tools for Ads Manager App
Facebook has rolled out a new suite of creative tools for the Ads Manager app that helps to build compelling ad content right from your mobile device. One can incorporate text; crop images; and add stickers, logos, and more into ads with fully customizable ad templates and color filters to further embellish and improve the quality of ads directly within the app.
#30 Facebook Experiments Branded Content Labels on Posts
This new experimental 'About This Partnership' tag for sponsored posts on Facebook, details the relationship among brands and the publishers who post ads for them.
#31 YouTube Introduces Searchable Hashtags Above Video Titles
YouTube has started displaying the first three clickable hashtags within a video's description above the title and at the bottom of the video and will bring up a results page with other videos tagged with the same hashtag. This new feature might still be in the midst of rolling out or available only in the US and other select locations on Android devices but doesn't appear to be available on iOS.
#32 LinkedIn Features New Messaging Tools to Enhance On-Platform Connection
LinkedIn has added an expandable message compose box and the ability to send attachments and start a group chat on LinkedIn Messaging on mobile. You can also include emojis in messages sent from the desktop, @mention people, and seamlessly copy and paste images from screenshots or the web into your LinkedIn messages.
#33 WhatsApp Restricts Message Forwarding to 5 Chats in India
From today, number of forward messages on Whatsapp will be restricted to 5. This change is applicable only for users in India inorder to avoid viral hoaxes
#34 Snapchat to Shut Down Snapcash
Snapcash, a relatively unknown and largely unused peer-to-peer payment service on Snapchat, is being shut down by August 30 due to the rise of other payment apps.
#35 YouTube expands VR App for the Samsung gear VR devices
YouTube is expanding its virtual reality app to Samsung Gear VR devices starting next week. It is also rolling out new features that allow users to watch together and chat and releasing exclusive new content for YouTube VR.
#36 YouTube is Testing a New Explore Feature in the iOS App
Look out for the new 'Explore' feature in the iOS app with expanded video recommendations, something very similar to Instagram's explore tab. It will help users discover more videos and creators to expand their audiences.
#37  Instagram Notifies When Friends Are Online
Now you can see if your friends on Instagram are online or no. A new green dot will appear next to profile pictures in various parts of the app such as the Direct inbox and the friend list when the user is active on Instagram.
#38 LinkedIn Rolls Out Voice Messaging
LinkedIn soon to introduce the ability to record and send voice messages of up to 1 minute with a simple tap on the microphone icon in LinkedIn Messaging on mobile. This will be available in LinkedIn app on iOS and Android and will be available globally to all members in the next few weeks.
#39 Facebook 'Watch Party' is Now Available to All Groups
Watch Party is rolling out to all Facebook groups with two new features. These include the ability for viewers to suggest videos and multiple co-hosts who can each add new videos to the queue.
#40 Facebook is Testing 'Tap to React' Stickers on Stories
Facebook is testing a new type of sticker that allows other users to "tap to react" to your Facebook stories.
#41 Workplace for Facebook Launches Collaboration and Personalization Features
Facebook rolled out new features like Workplace profiles, which will call out team members' birthdays and work anniversaries, share other personal details, and provide a one-click connection via Workplace chat. They also launched a new directory search feature and admin control over Workplace people profiles such as what information is shared. All these to help collaboration and drive greater personalization on its enterprise platform.
#42 Twitter Released Ads Playbook That will Answer the Most FAQs by Agencies
Twitter Business has released a Playbook for Agencies for Q2 2018, which aims to share answers to the most frequently asked questions by agencies and their clients about how to run Twitter ads well, where Twitter fits into an overall client strategy, and more.
#43 Google Updates Its Search Quality Rating Guidelines
Google has published a revised version of the 164-page set of guidelines used to help human 'quality raters' evaluate online content and provide feedback to Google.