The month of June was quite eventful with some amazing updates on almost every social media platform. From Instagram launching their IGTV feature, Snapchat introducing their first voice responsive lens to LinkedIn adopting the carousel ad format, the platforms have been scoring their own goals in the digital realm. Read along to know what other updates came our way last month.
#1 Instagram Adds Facebook Share Button to Stories
Facebook appears to have rolled out a new way to easily share Instagram stories to Facebook stories. This new button is found at the bottom of an Instagram story! Have you noticed it yet?
#2 Facebook Tests Review Scores on Business Pages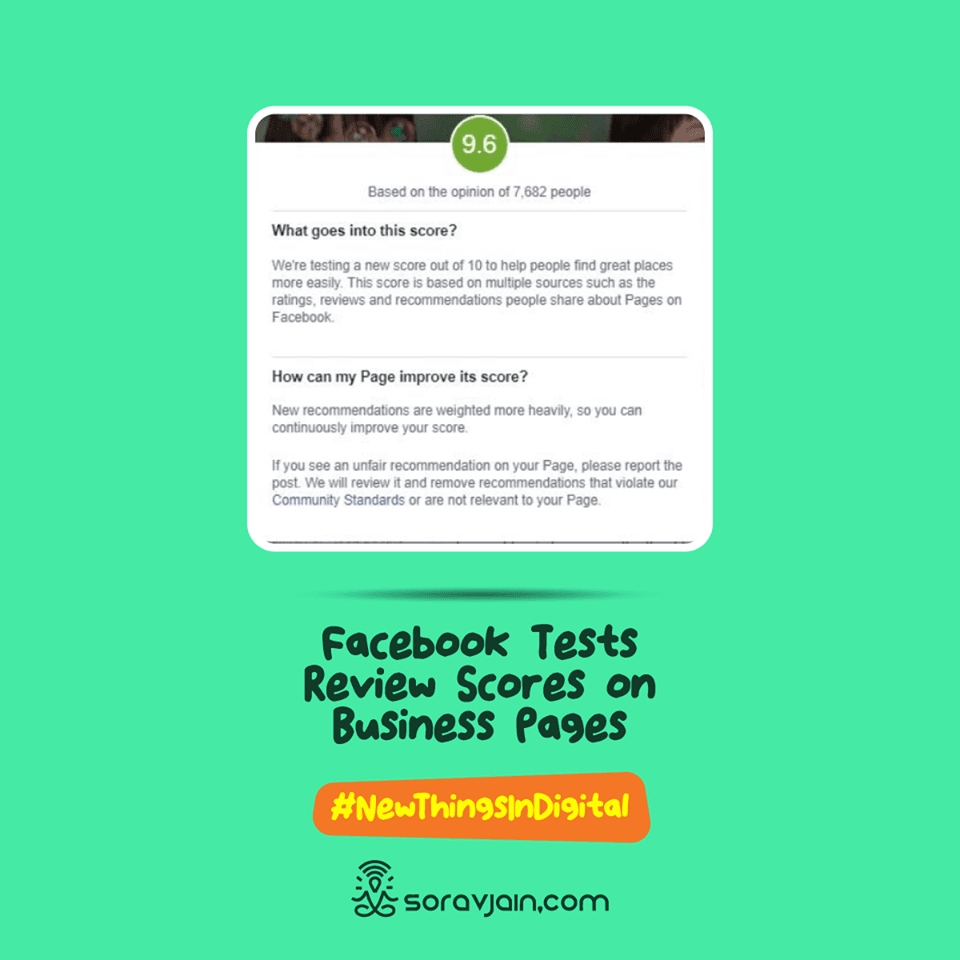 Facebook recently added an option for business pages to turn on review scores in place of star ratings. Unlike the star ratings, which are calculated on a five-point scale, the new review scores are based on 10-point scale and weight multiple sources including ratings, reviews, and recommendations people share about pages on Facebook.
#3 Snapchat Releases New Send and Receive Location Tool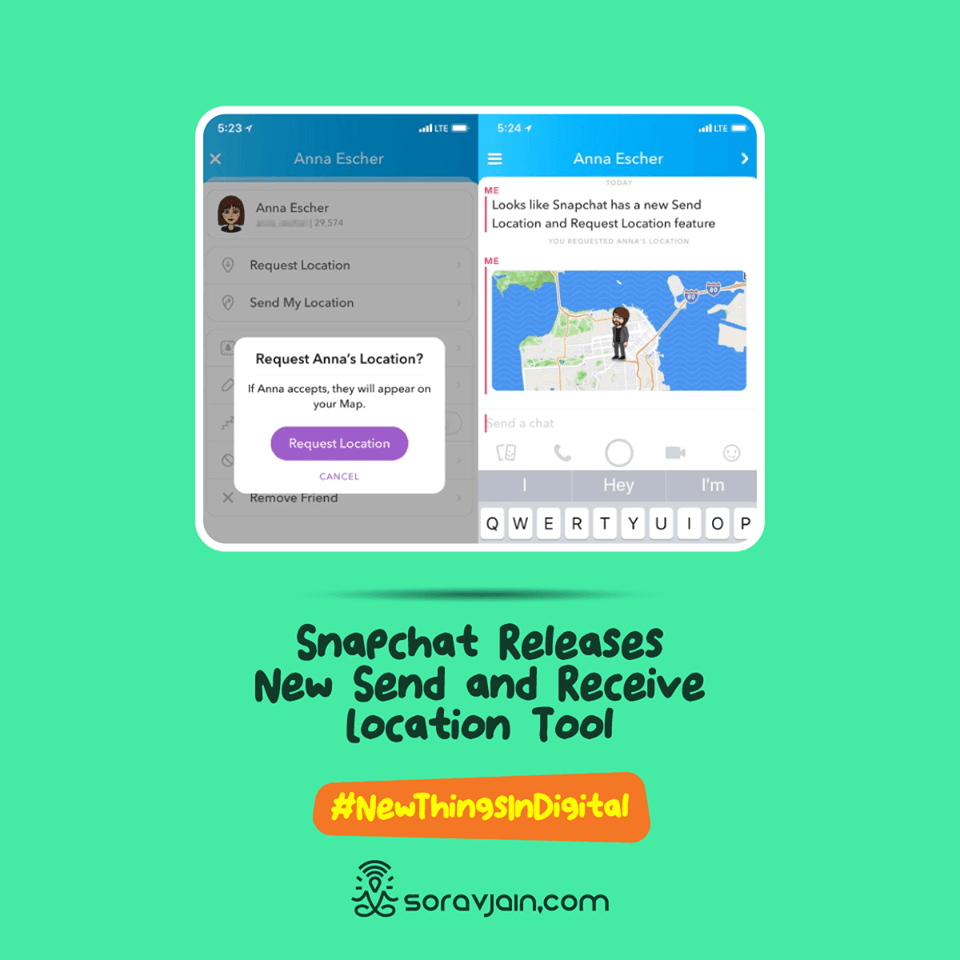 Snapchat now allows users to send their ongoing real-time location to a friend or request theirs, which show up on the Snap Map and within their message thread. This is an improvement on the public and always-on, coordinate-broadcasting Snap Map sharing that raised concerns about privacy and safety.
#4 Facebook 

Adds

 

Instagram

-Style Polling Feature to Messenger Stories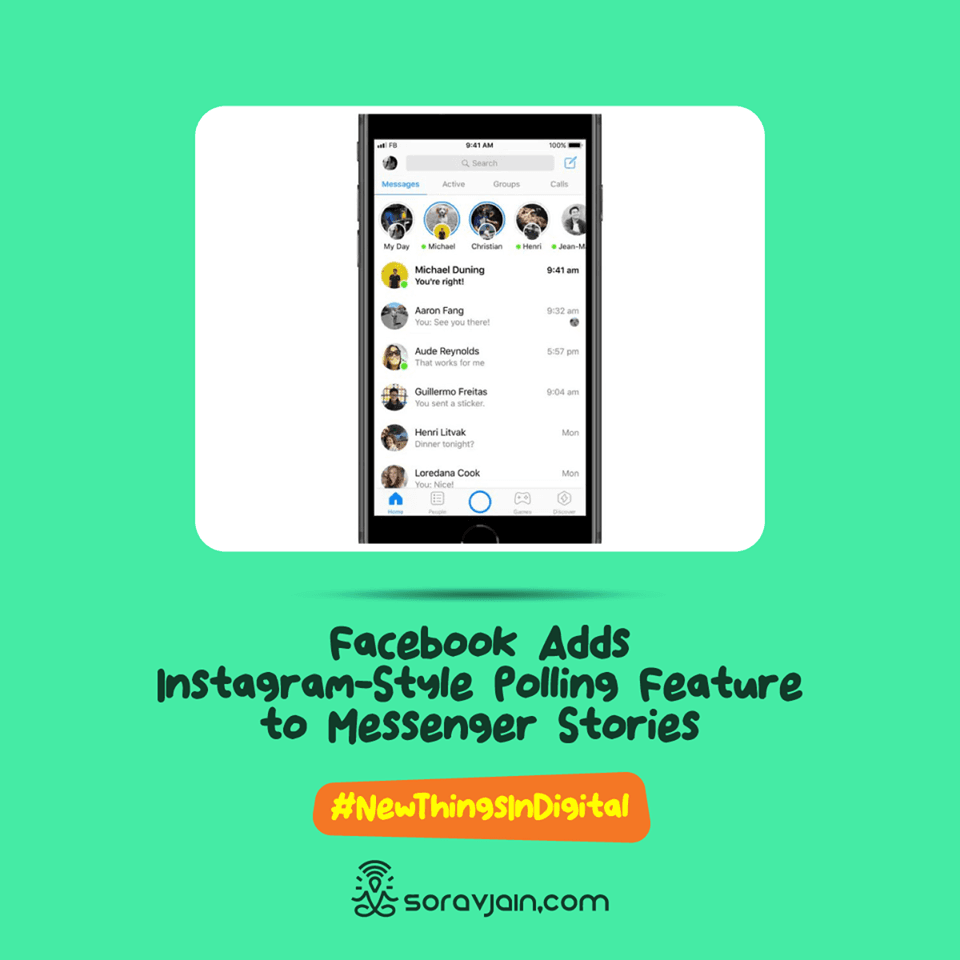 Poll stickers, like the one found in Facebook and Instagram Stories, are now also included in Messenger Stories. Just as you do with Facebook posts and Instagram Stories, users must first upload a photo or video to the platform, select a poll sticker, and then type a question and possible answers. To see the results, you simply swipe up to see a list of viewers and how each voted.
#5 Pinterest Tests Screen-Wide Promoted Video Ads
Pinterest announced plans to offer advertisers a promoted video tool that takes up the full width of the screen on a mobile device. This new ad unit is currently being tested among a "handful of marketers" including Paramount Pictures, P&G, Kohl's, American Express, Tropicana, Chevrolet, and U.K. department store chain John Lewis.
#6 Periscope Rolls Out Background Audio for iOS
Periscope added the ability to continue listening to Periscope broadcasts even when the screen is turned off or while using other apps. This update is currently only available on the iOS app.
#7 Facebook Tests Instant Articles Builder Tool
Facebook is testing Instant Articles Builder, a new open-source desktop app that enables publishers to generate instant articles from an existing mobile site without the need to write any code"
#8 Snapchat Introduces First Lens That Responds to Sound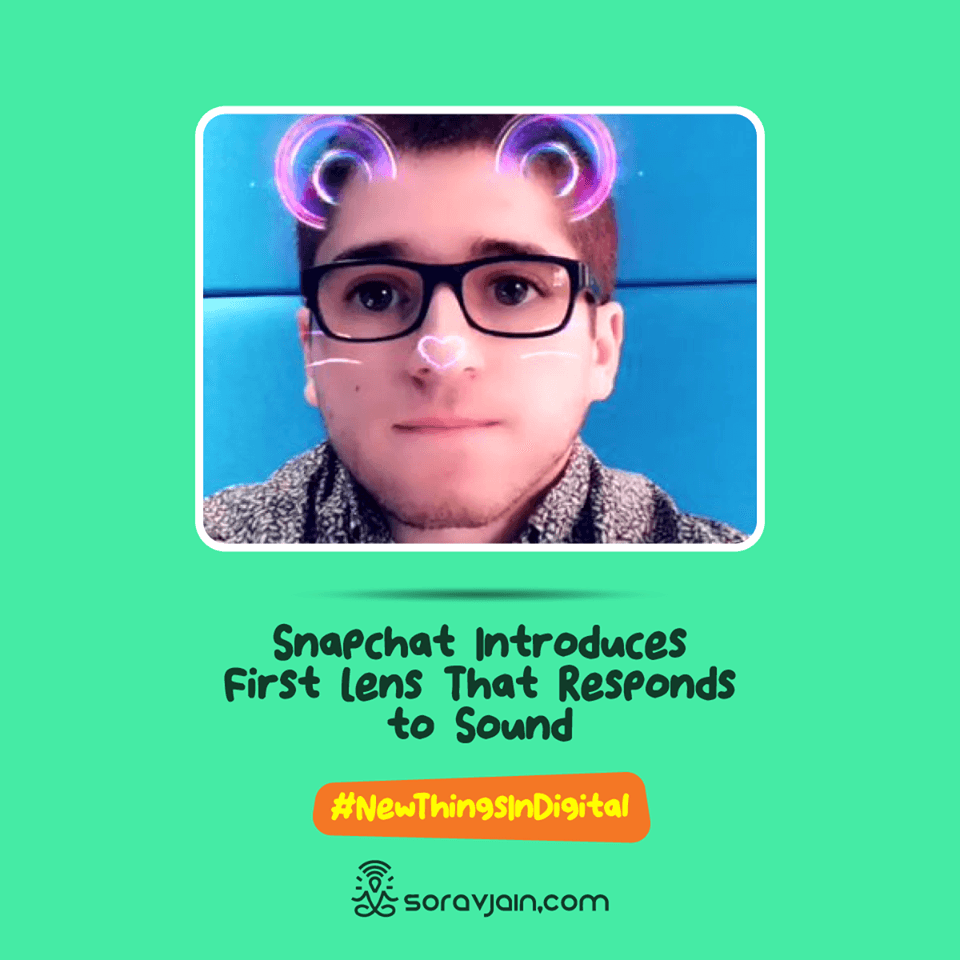 Snapchat introduced a new type of Lens that "reacts not just to what it sees, but also to what it hears." Snapchat states this is "just the first of many" and the company plans to launch more Lenses that react to sounds over the coming weeks. The first Lens with the sound reaction feature is currently available in the carousel for both iOS and Android devices.
#9 Instagram Shares Ranking Criteria for Algorithm
Instagram shared which factors are weighed by its algorithm before a post appears in a user's personal feed. Three main considerations that determine what you see in your Instagram feed are interest, recency, and relationship. Instagram also addressed several "myths" about how it ranks content.
#10 Instagram Prepares for Long-Form Videos and Snapchat Discover-Style Video Hub
Instagram is preparing to launch long-form video, which could allow videos of up to an hour long. It's speculated that Instagram will initially expand this update to vertical videos exclusively. Neither Instagram nor Facebook has confirmed any details about this move. Until now, Instagram limited video posts to 1 minute and stories to 15 seconds.tails about this move. Until now, Instagram limited 
…
See More
#11 Instagram Introduces @mention Sharing for Stories
Instagram added one of its most frequently requested features to Stories; the ability to re-share a post from friends. Now, when another user mentions your username in their Instagram Story, you will be able to share that photo or video to your own Story for a 24-hour period. Instagram notes that only public accounts are eligible to have stories shared in this manner.
#12 Apple Expands Advertising Business With New Network for Apps
Apple is expanding its growing advertising business with a new ad network for apps. Businesses will be able to sell promotional ads for search terms in the App Store and share the revenue with the apps displaying the ads.
#13 Facebook Monetizes Marketplace With Ads and Boosted Listings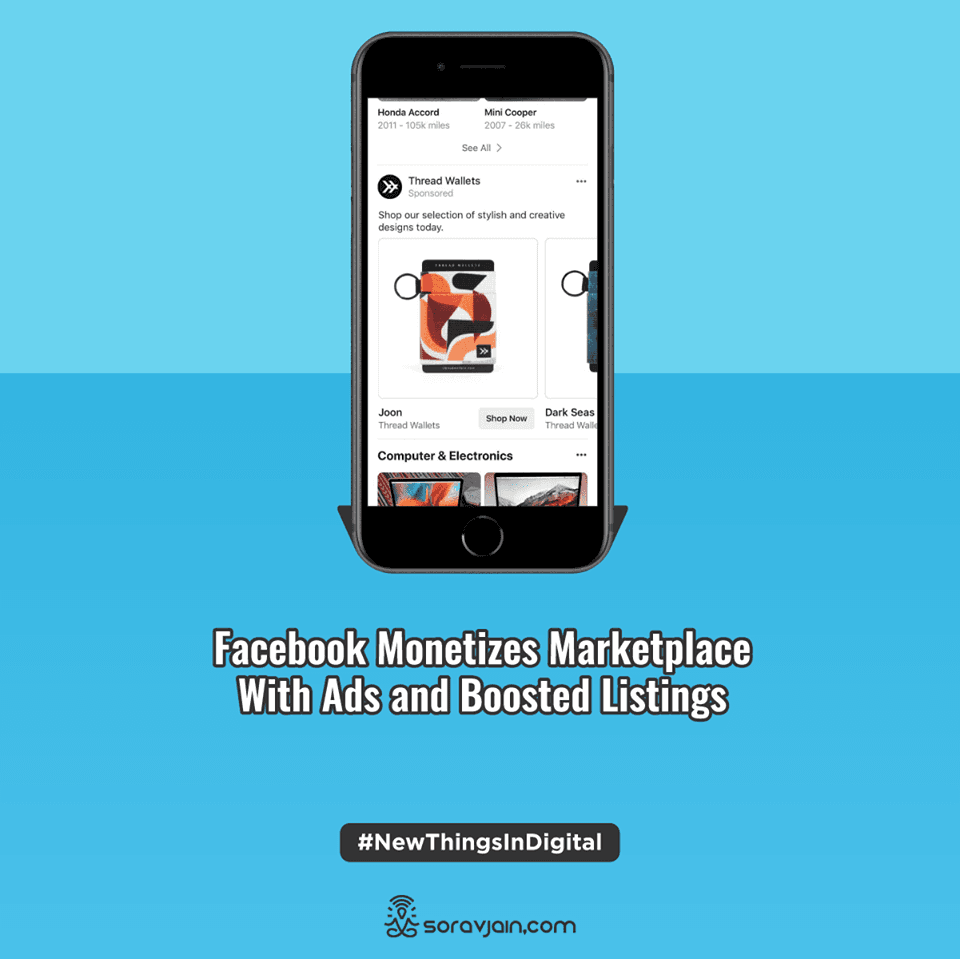 Businesses can now run product ads that will appear alongside other products and services in Facebook Marketplace and "reach people where they're actively shopping." Facebook has been testing these
new ad placements
with select brands and reports seeing increased purchases and year-over-year returns on ad spend. Over the next few weeks, advertisers targeting audiences in the U.S., Canada, Australi
a, and New Zealand will be able to run Marketplace ads using the traffic, conversions, product catalogue, video views, and reach objectives.
Facebook is also testing the option for regular users to "boost" their Marketplace listings to more people through the news feed. Ad buyers simply set a budget and end date for boosting their listing. The article notes that "no additional targeting options beyond being shown to age 18+ users in nearby zip codes" are currently available.
#14 Facebook Introduces Bidding for In-App Ads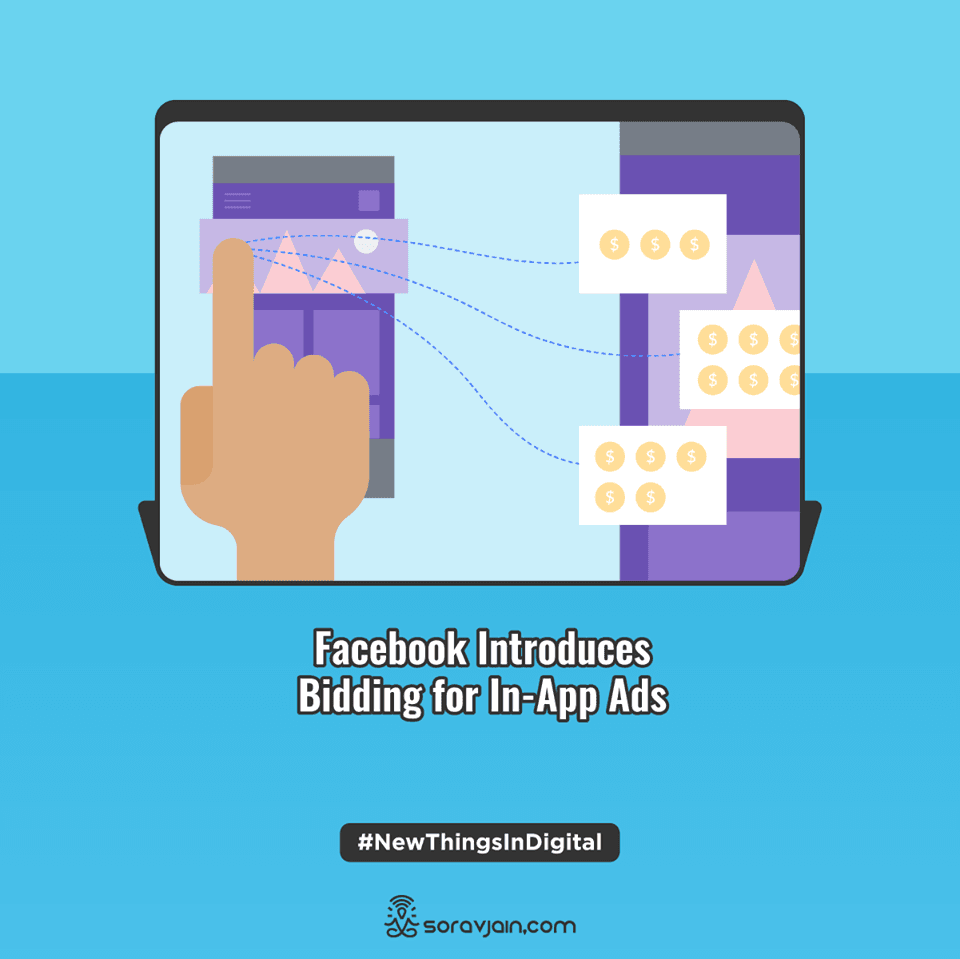 Facebook Audience Network announced that it now supports bidding for in-app advertising. Within this new system, ad networks will engage in real-time bidding among themselves to compete for the available ad impressions. The ads from the network willing to pay the most for placement within a publisher's app will be served.
#15 Facebook Expands Non-Profit Giving Tools to More Pages
Facebook initially rolled out charitable giving tools to help non-profit causes and organizations gather funds and support through the platform. The company expanded these tools to personal users and certain Live broadcasters last year and has now brought them to brand and public figure pages as well. Facebook also made it possible for users to invite up to three friends to organize and manage a fundraiser together, which helps expand their network of supporters.
#16 Facebook Launches Create Button for Desktop
Facebook appears to have rolled out a new menu button found on the top navigation bar that allows users to quickly and easily create a page, ad, group, and more.
#17 Facebook Enforces New Requirements for Custom Audience Targeting
Facebook added new requirements for custom audiences that are built from customer files. Starting on July 2, advertisers will be required to specify the origin of their audience information when they upload a new customer file: directly from customers, directly from partners, or a combination of the two. Facebook will also share the source of the information and specify if the advertiser is able to reach them through their phone number or email address within a drop-down menu from the ads
#18 Twitter Rolls Out Personalized News Alerts and Event Notifications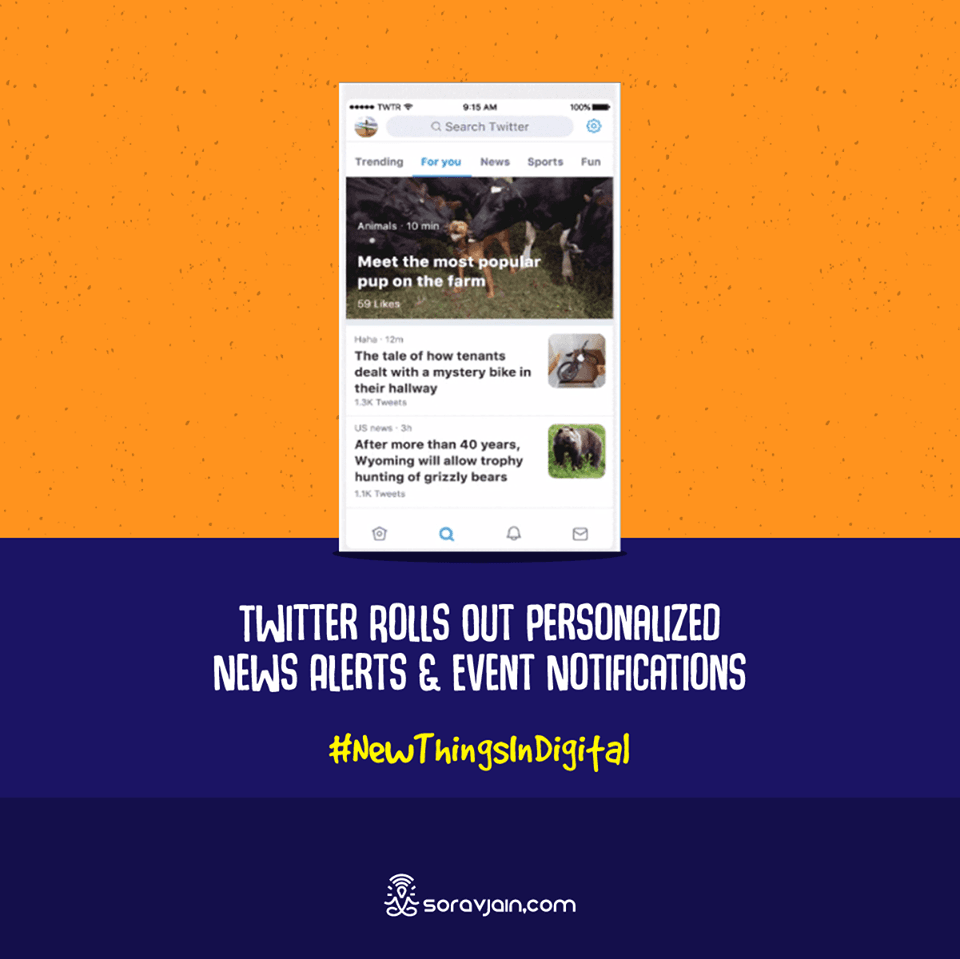 Twitter is making relevant breaking news, events, and stories easier to discover with topic tabs in Explore, updates to search, expanding the Happening Now feature to include tweets about breaking and personalized news, and sending personalized notifications based on an individual user's interests.
#19 Facebook probes into Bad Shopping Experiences From Advertisers
Facebook launched a new eCommerce review option inside its Recent Ads Activity dashboard that allows buyers to give feedback on products being advertised on Facebook. Any negative responses will be shared directly with advertisers in the hope that they'll take action to improve their practices. If they don't, Facebook will reduce the number of ads that particular business can run or ban them outright. This new tool is launching globally this week
#20 Instagram Expands Shoppable Tags to Stories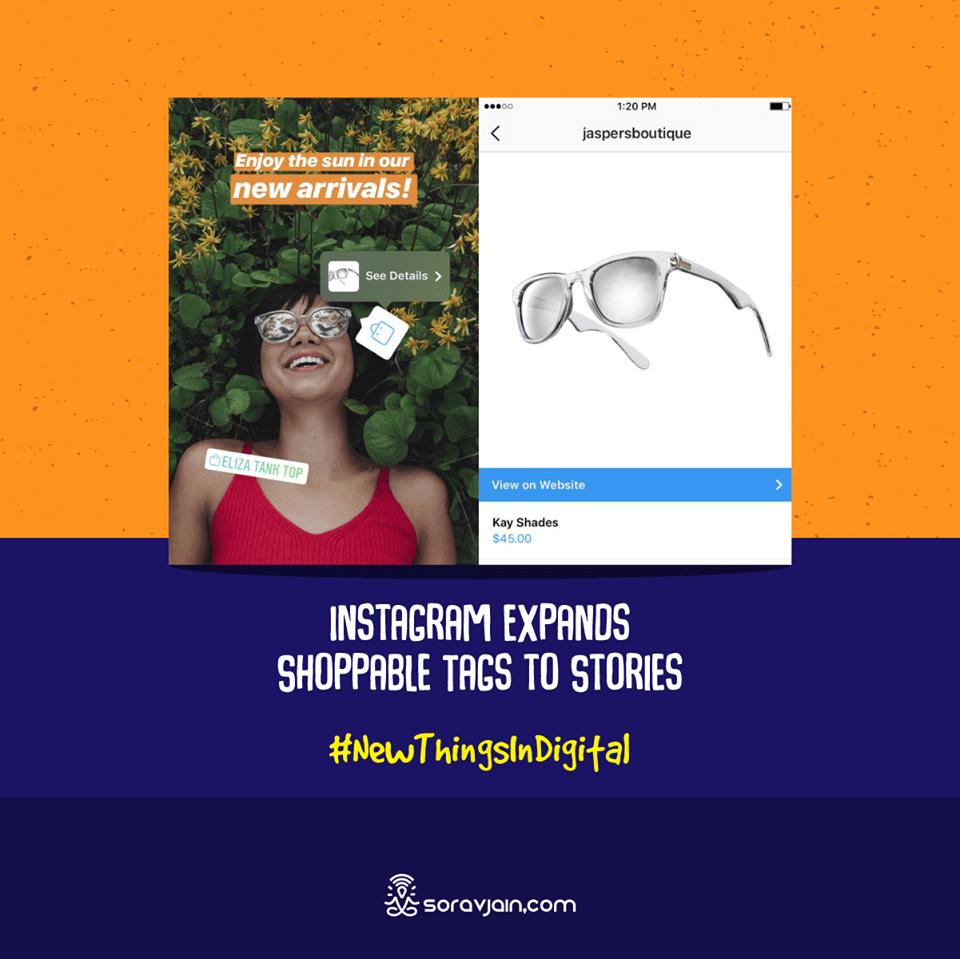 Instagram is beginning to expand shoppable tags beyond the feed to Instagram Stories. When you see a sticker with a shopping bag icon in an Instagram story, you can tap on it to see more details about that product along with a link to the brand's site. Instagram is currently piloting this program with select brands and more are coming soon.
#21 Snapchat Extends Ads to AR Lenses and Snappables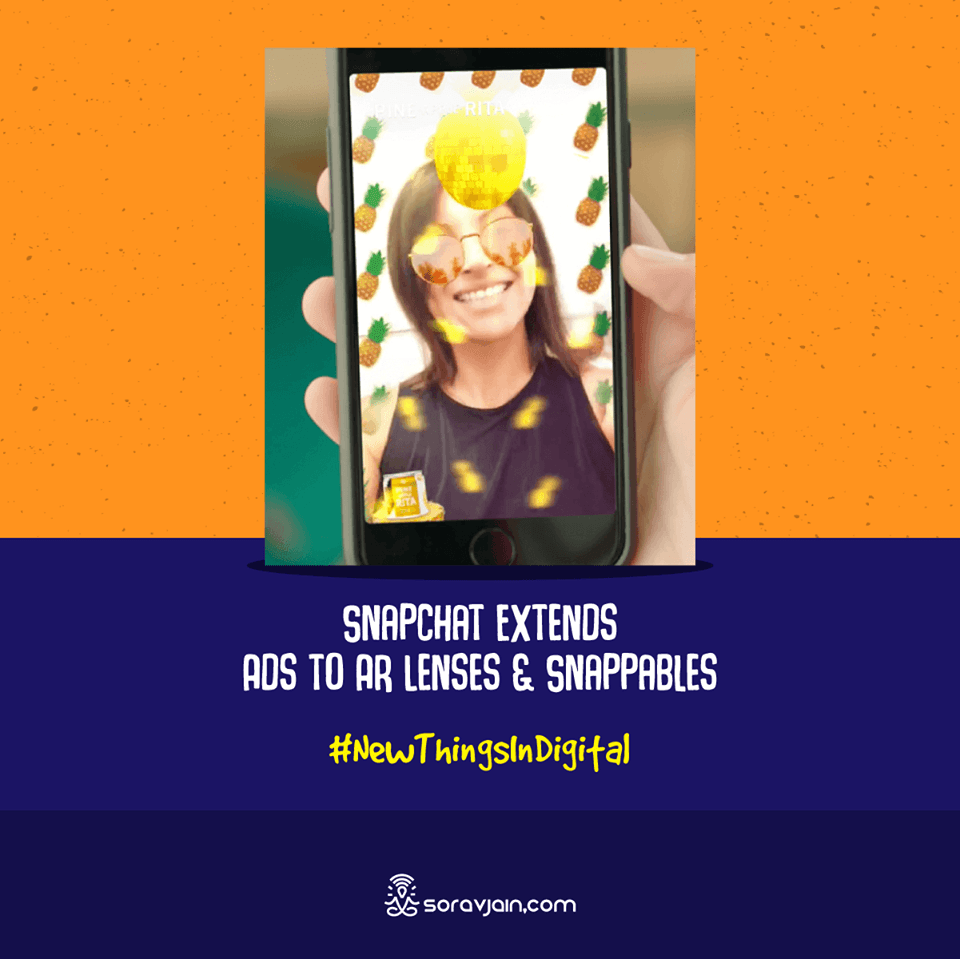 Advertisers can now run and manage their own AR advertising campaigns along with snap ads, story ads, and filters from directly within Snapchat's self-serve ad tool. For example, users would be able to swipe up on a snap ad to unlock a sponsored AR Lens with the new snap ads Lens attachment.
Snapchat is testing sponsored snappables, which turn its two-player AR games into ads, with Bud Light, Dunkin' Donuts, and mobile game developer King, before officially launching it more broadly. Snapchat is building on its eCommerce offerings with the introduction of goal-based bidding conversions around objectives such as purchases or signups.
#22 Google Provides Greater Transparency and Control Over Google Ads Experience
Google launched a series of new ad settings that make it easier for users to understand and control how their Google ads are specifically tailored to them. Google is also providing greater transparency in why a user may see certain ads by expanding the "Why this ad?" link found on all services that show Google ads. This includes search, YouTube, and almost all websites and apps that partner with Google to show ads.
#23 Facebook Experiments With A/B Testing for Page Posts
Facebook appears to be experimenting with an A/B testing tool for page posts. Admins with access to this tool will be able to post two different variations of a post to two different audiences and compare how each performs.
#24 LinkedIn Introduces Carousel Ads for Sponsored Content
LinkedIn rolled out new carousel ads for sponsored content that can include up to 10 customized swipeable cards. These new carousel ads come with the standard metrics for measuring a campaign's performance such as click-through rates and the number of leads. Advertisers will also have access to downloadable reports with clicks and impressions by individual card within the ad and LinkedIn will integrate reporting directly into the Campaign Manager tool in the coming months.
#25 Snapchat Allows Users to Clear Chats
Snapchat introduced Clear Chats, which allows users to delete messages sent in individual and group text, regardless of whether it has been viewed or saved. This new tool is rolling out to all users very soon
#26 Facebook Announces New Community-Centered Video Platform and Management Tools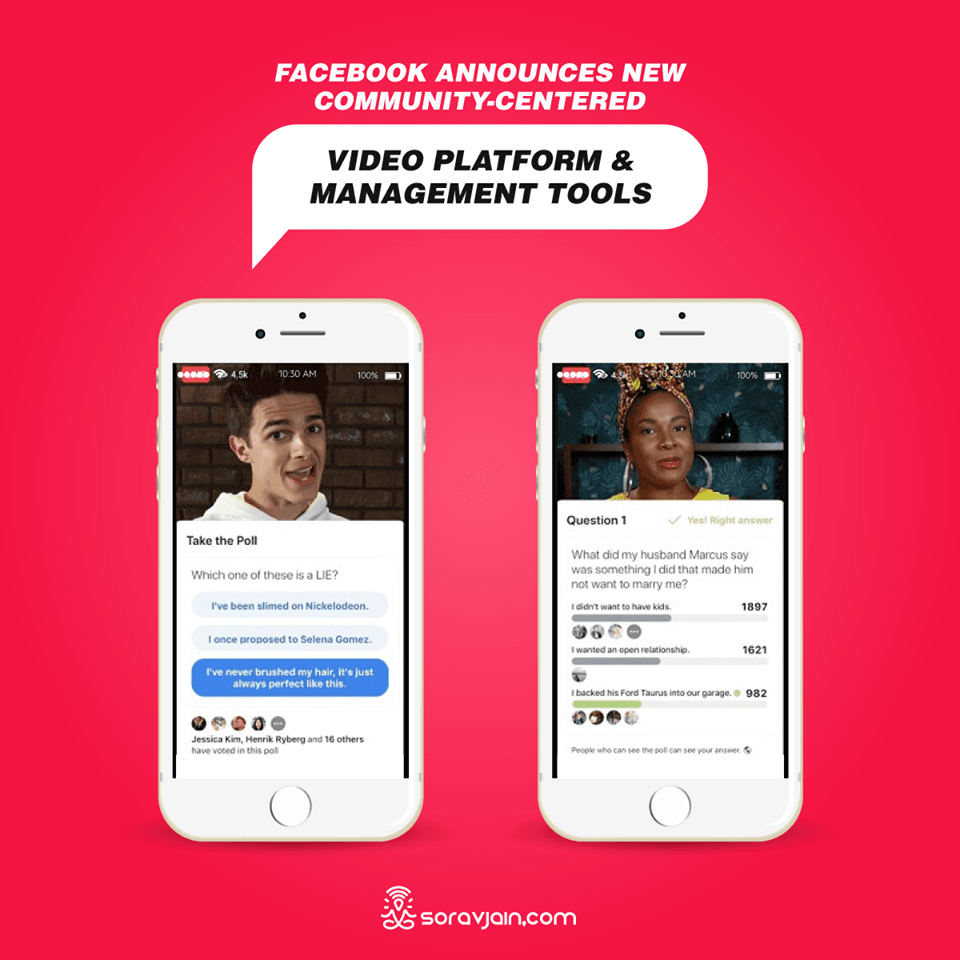 Facebook launched several new features to make its video platform more community-centered and engaging. Facebook is making Live videos more interactive with polling for live and on-demand videos and gamification for live videos. It's also bringing videos from pages into the Watch tab and rolling out the "top fans" badge to more creators. Facebook is also testing a new video template for pages that "puts video and community front and center on a creator's Page, with special modules for things like videos and groups," and rolled out the Facebook Creator App for Android globally.
#27 Twitter Acquires Smyte to Reduce Trolls and Bots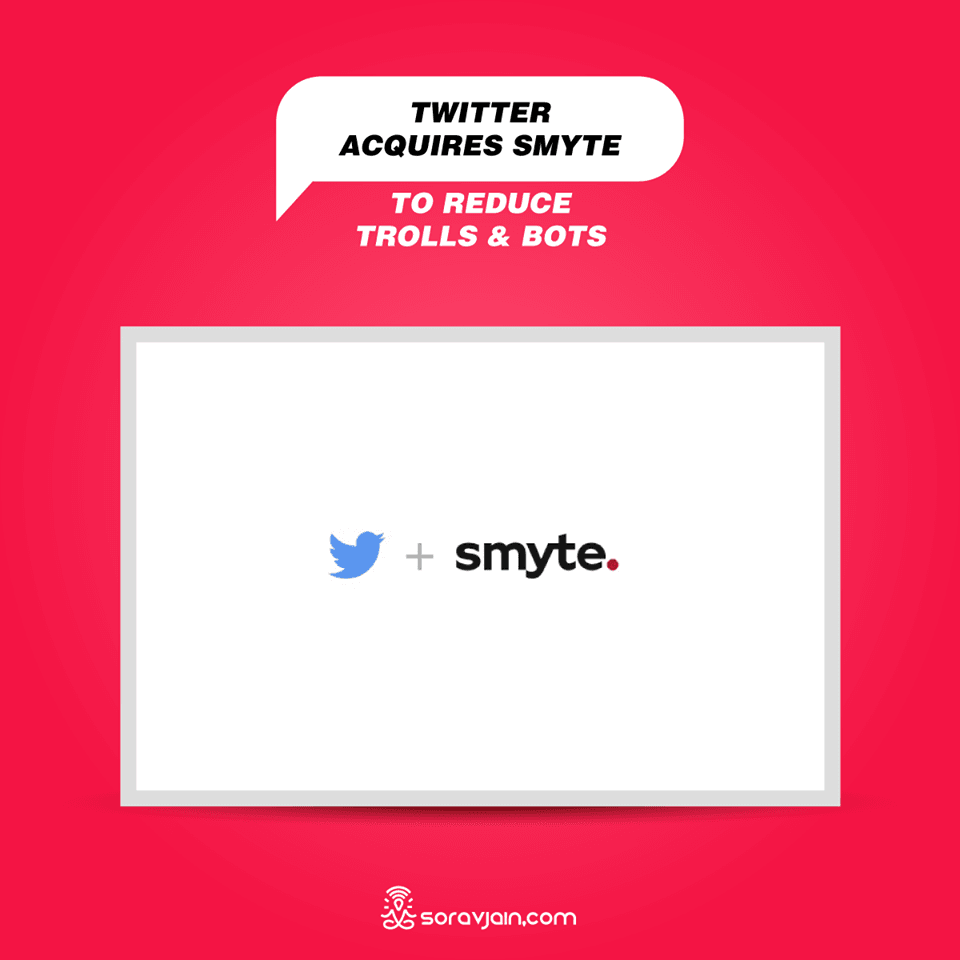 Twitter has taken another step towards reducing the impact of trolls and abuse by acquiring Smyte, a company founded by former Facebook, Instagram and Google team members who specialize in webspam, fraud and digital security.
#28 Instagram Debuts New Stand-Alone Video App, IGTV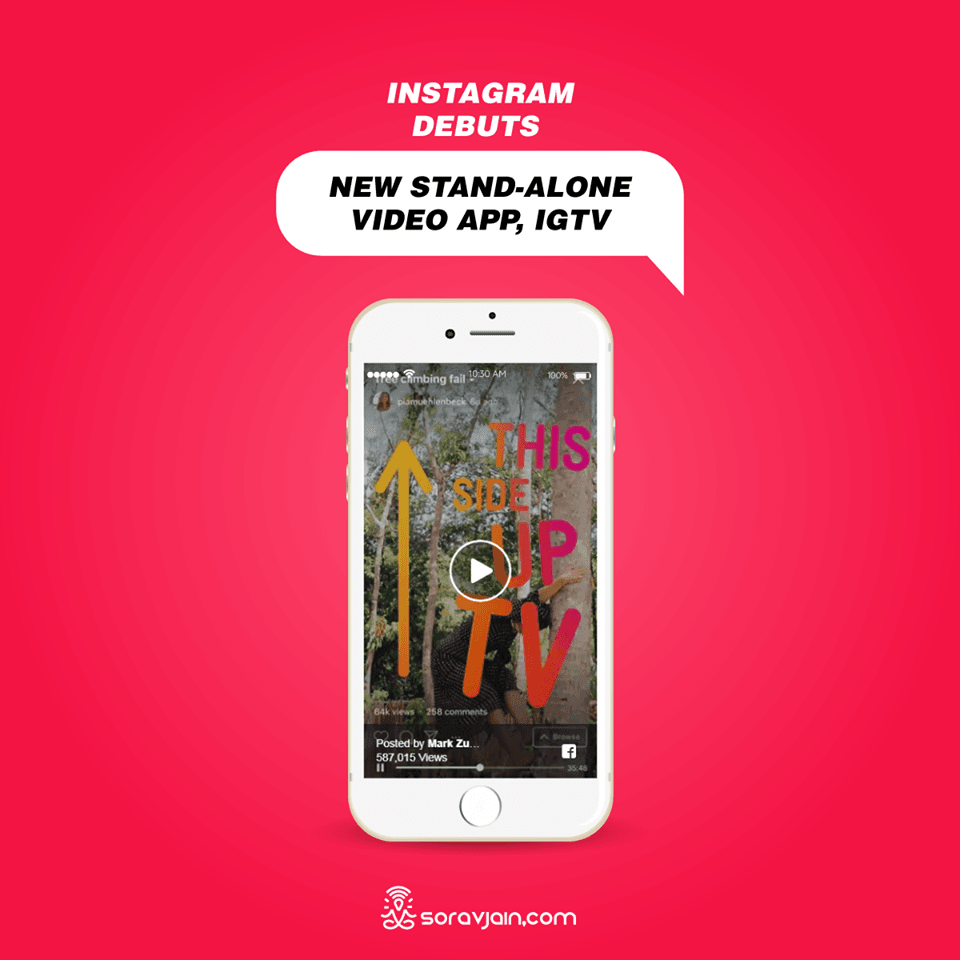 Instagram announced IGTV, a new app designed for watching long-form, full-screen vertical videos from your favorite Instagram creators. The videos can be up to an hour long and can also be viewed from within the main Instagram app. IGTV will be rolling out globally over the next few weeks on Android and iOS.
#29 Facebook is Testing Subscription Groups
Facebook is testing a new paid subscription program that gives admins the ability to create and manage separate, subscriber-only groups and charge members a monthly fee for accessing the exclusive content. Members will be able to sign up and manage subscriptions through the Facebook app for iOS and Android. Facebook states that subscription groups are part of their "overall approach to helping creators and leaders to financially support the work they do to engage their fans and communities." Facebook is currently testing subscription groups with a small number of group admins.
#30 Facebook Offers Autoplay Video Ads in Messenger
Facebook will slowly begin to roll out autoplay video ads inside Messenger this week. The company began selling static ads within Messenger a year and a half ago and is now looking to expand its portfolio to include video ads. Facebook states that these video ads will roll out "gradually and thoughtfully" and Messenger users "will remain in control of their experience.
#31 Google Released Dedicated App for Podcasts
Google released Google Podcasts app for Android devices. This new dedicated app for podcasts includes access to a vast library of podcasts (over 2 million) and will sync across virtually everything Google, including Assistant, Home speakers, and search. Google is planning to release "multiple AI-driven features in the months ahead" such as automatic transcription that adds closed captioning to podcasts, the ability to see what's coming next in the episode you're listening to, and proactive suggestions for material related to an episode in case you want to dive deeper into the subject.
#32 Snapchat Adds Weather and World Effects to Snap Maps
Snapchat is adding two new features to Snap Map: Weather and World Effects. With the new Weather Effects, users can include animations on Snap Maps based on the weather wherever your friends are. This can include animated raindrops, sunshine, or snow depending on their location. Similarly, World Effects adds "culturally significant" animations to mark nearby events like confetti on your birthday or other holiday-themed effects.
#33 YouTube Launches New Creative Suite for Marketers
YouTube rolled out a collection of resources to help advertisers tell great stories on YouTube, test creative variations, and measure creative impact. The Creative Suite will focus on delivering insights for brands with the new Video Experiment and Video Creative Analytics tools and storytelling with YouTube Director Mix and Video Ad Sequencing. YouTube is currently working with select brands and agencies to test these new tools and will gradually roll them out soon.