One half of the year 2019 has come to an end and we have seen some great updates in the Digital space so far. Just like the entire first half, the month of June saw some big updates too. From Instagram adding on-screen lyrics, LinkedIn adding videos to its messaging, Snapchat's new multi-snap feature to Facebook's new currency Libra, Google's new Carousel for text ads on Mobile and Facebook's preview option for Page posts, here is the list of #NewThingsInDigital for the month of June.
#1 Twitter Tests a New Mini Profile Card Alert For New Follows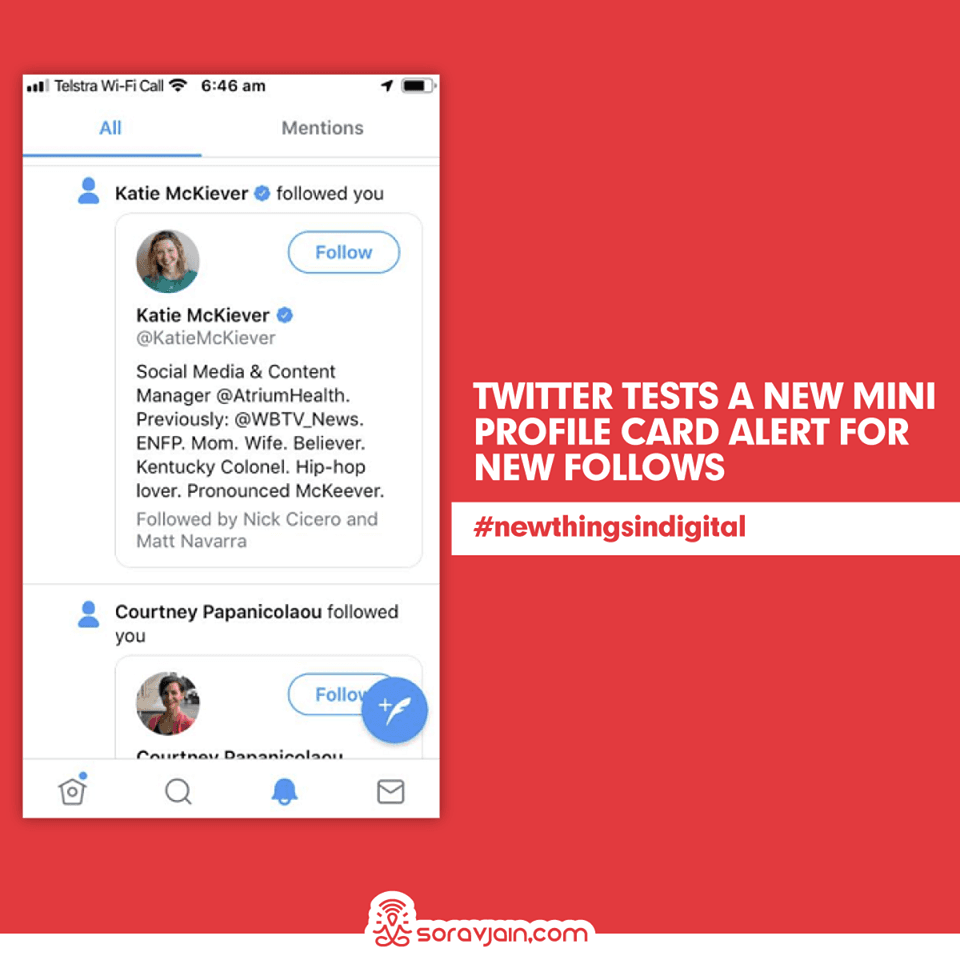 Twitter is testing an option to show a mini-profile card of new follows, which makes it easier to get more context about the respective users and helps you follow back promptly.
#2 Twitter Officially Rolls Out 'Go Live with Guests' Option
The new 'Live Guests' option will allow viewers to apply and take part in the conversation, with their avatar appearing on-screen (when permitted to join by the streamer), and their streaming audio available to all viewers.
#3 Twitter is Trialling a New Option Which Will Prompt Users With Direct Sharing Links Via DM
Twitter is testing a way to share tweets with friends you always DM, making it a lot faster and easier. The new prompts will show you a user's profile image, with a quick prompt to share via Direct Message. If you share a lot of tweets with friends via DM, this could come in handy, while it also aligns with the broader shift towards more private sharing – which Facebook, in particular, has been looking to capitalize on.
#4 Twitter Launches New 'News Alerts' Feature in India for the 2019 Cricket World Cup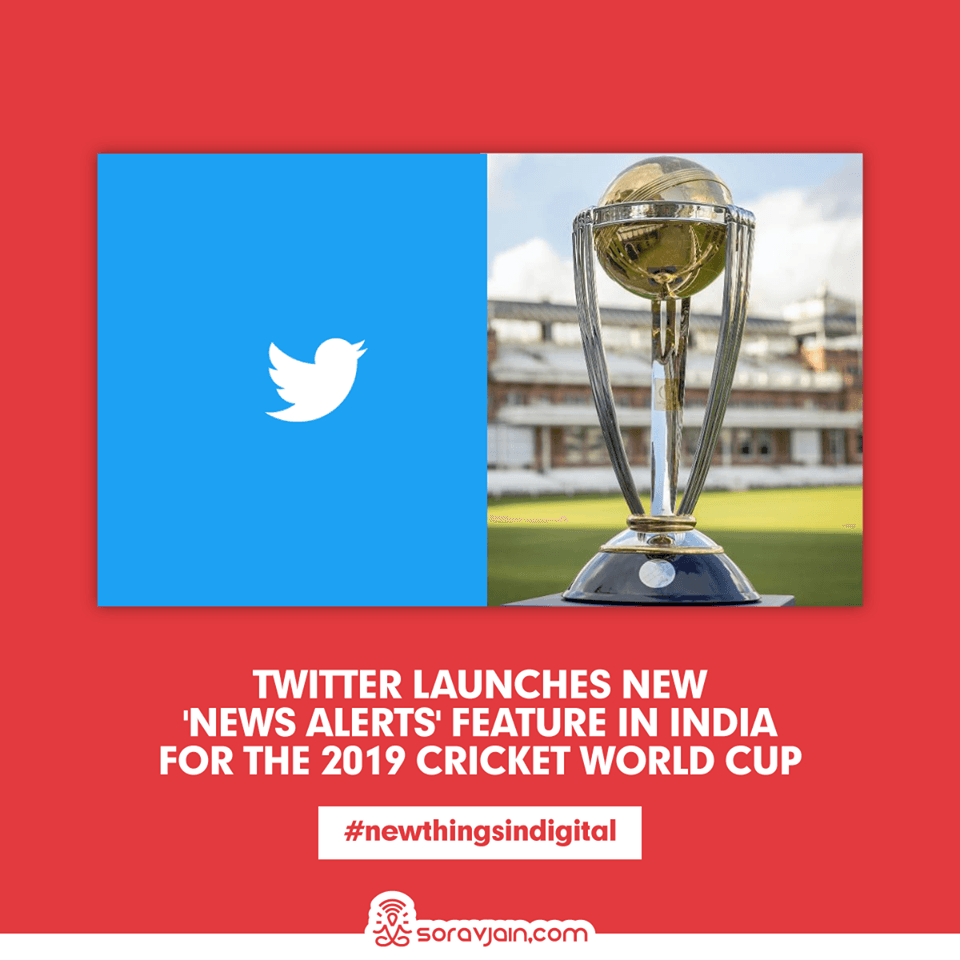 Twitter recently launched a push notification feature, where the platform occasionally pushes personalized news notifications in sports, entertainment or current affairs so people can stay more connected to what's happening in their world. By tapping on this notification, users will be taken to a Twitter Moment about the breaking news topic.
#5 Snapchat is Working on New Music Rights Deals to Enable Users to Add Songs to Their Snaps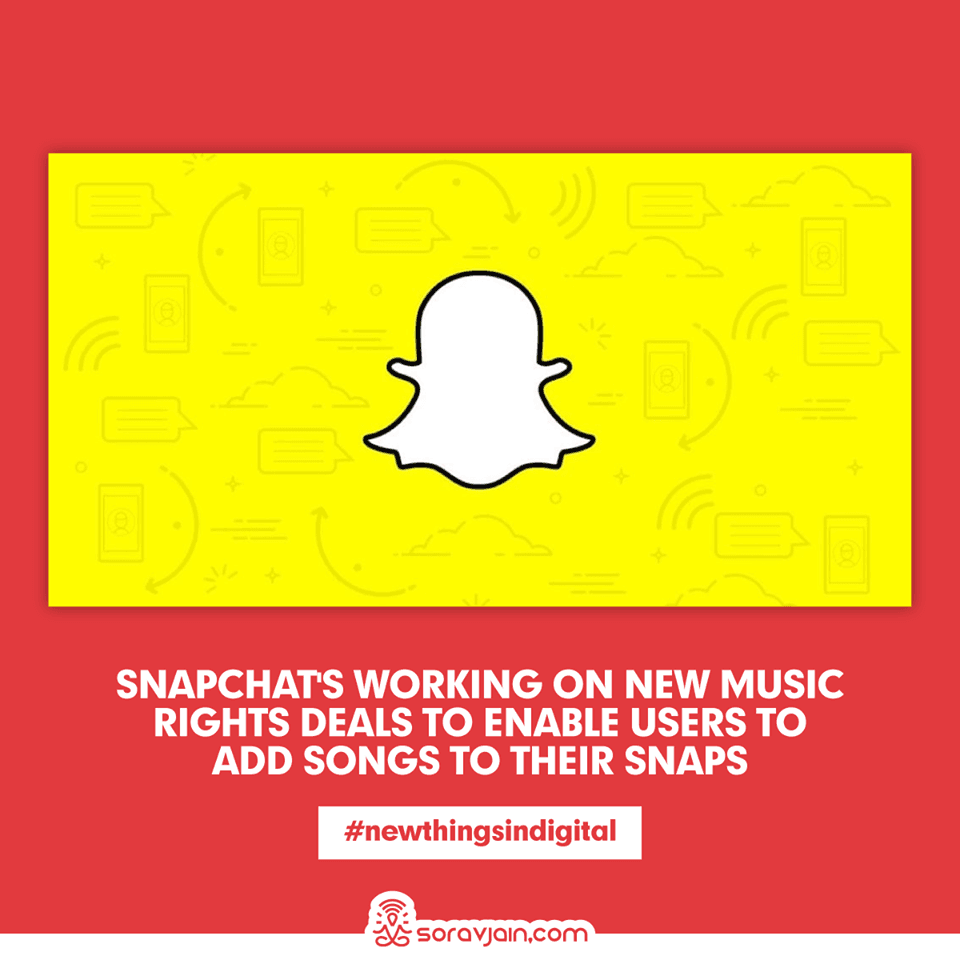 Snapchat is reportedly looking to establish new rights deals with major music labels, which would enable Snap users to add popular songs to their snaps.
#6 Google Brings Search Results to Life with New 3D/AR Examples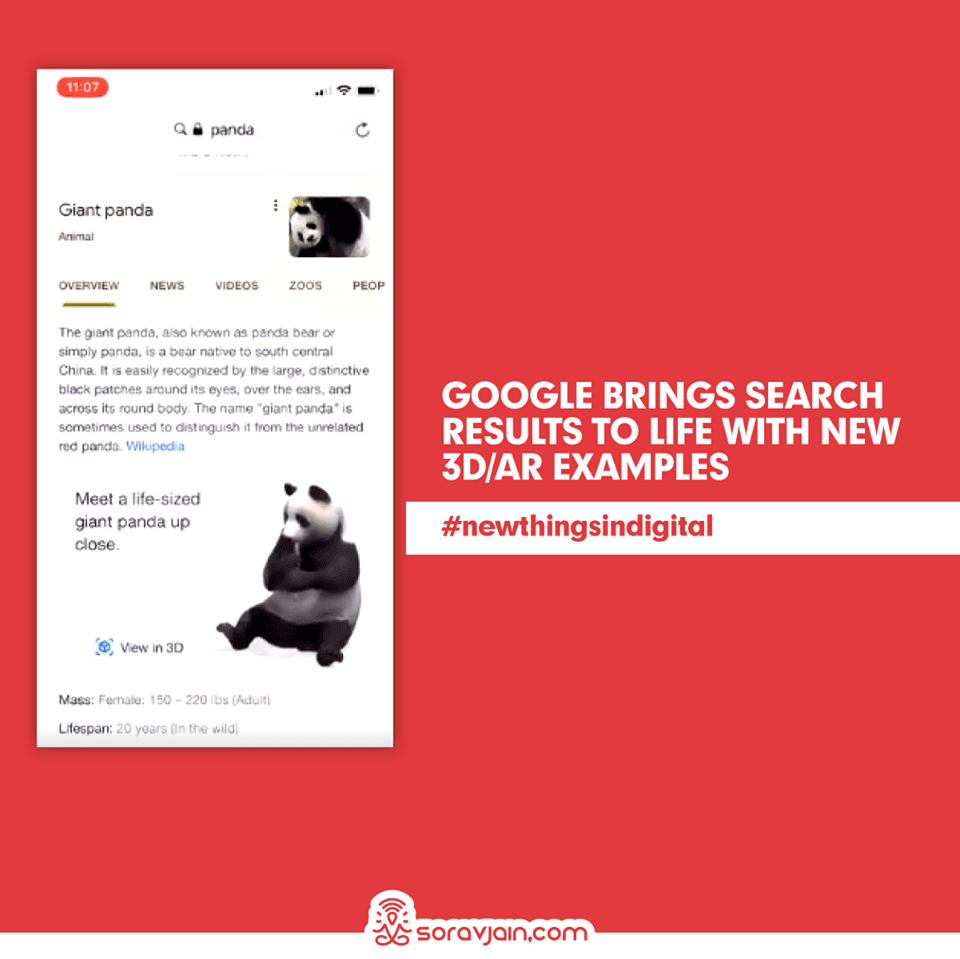 Google is now adding new 3D images and AR overlays into selected search results, enabling searchers to get a new viewpoint on animals, objects and more.
#7 Instagram Will Now Enable Advertisers to Boost Branded Content Partnerships as Ads
Instagram has officially announced the launch of its new Branded Content Ads option, which will provide additional ways for businesses to maximize their on-platform influencer partnerships.
#8 Instagram Adds On-Screen Lyrics to Music Stickers
Instagram is officially launching its new music stickers with lyrics option, which displays the song lyrics on screen, enabling users to sing along. The option may help Instagram fend off rising competition from TikTok, which has become popular among younger audiences largely due to its short, music-themed videos.
#9 Facebook Tests Another Layout to Promote the Various Options on Stories
Facebook stories have various creative options available and in order to make them more easy to find, a new test sees Facebook making those options even more visible and up front
#10 Amazon Replicates Pinterest Lens with 'StyleSnap' Feature
At Amazon's re: MARS 2019 conference, the company has announced a new in-app tool called 'StyleSnap', which will enable users to take a photo or upload a screenshot of any item of clothing and the system will find similar product matches, based on image recognition.
#11 TikTok is Reportedly Testing New Ad Targeting Options to Lure Marketers
The trending video app TikTok has reportedly been pitching advertisers on a new interest-based ad targeting option, which would enable brands to reach specific subsets of the platform's young audience in order to maximize the performance of their promotions. It is also testing pixel tracking, similar to the ad tools on other social platforms.
#12 Snapchat is Working on a New 'Join Group Chat' Sticker
Snapchat is testing a 'Group Chat Sticker' which would enable users to add to their Snaps. The viewers would be able to tap on to quickly join a private group discussion via Chat.
#13 Twitter Adds New Account Switching Option on its Web Version
Twitter has released a new, simplified account switching option on its web version, and within Twitter Lite. To quickly switch between accounts, you first need to add another account to your profile. Once you've added another account, you can then switch between them by long pressing on your profile icon, or tapping on your avatar in the top menu, then tapping on the linked account.
#14 Facebook Announces Updated Ranking Factors for Post Comments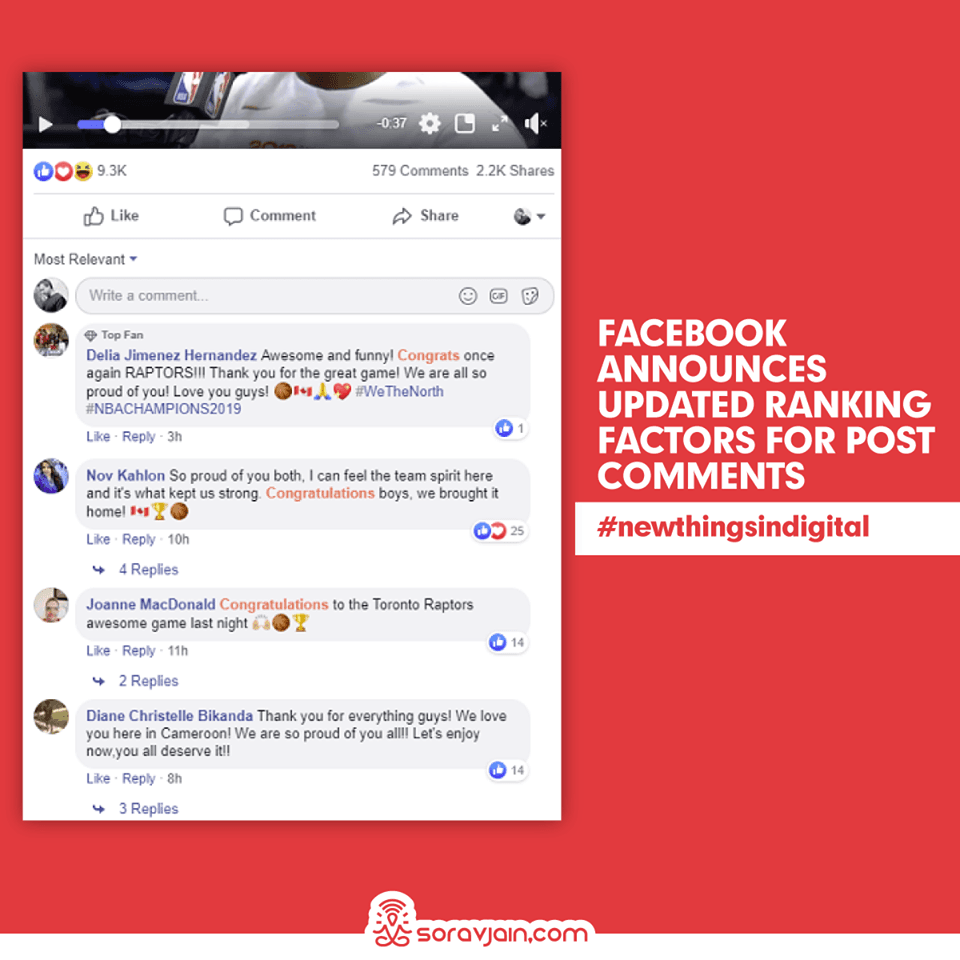 Facebook is once again trying to address the public comments section on its site and make it a little more meaningful for its users.
The social media giant made an update to improve the comment ranking on public posts, and also shared with its users how Pages and people can control their own comment ranking settings.
The new ranking system will be based, in part, on "integrity signals" that somehow determine if comments are "safe and authentic," and it will respond to how users engage with the comments, according to the blog post.
#15 LinkedIn Adds Video Within Messaging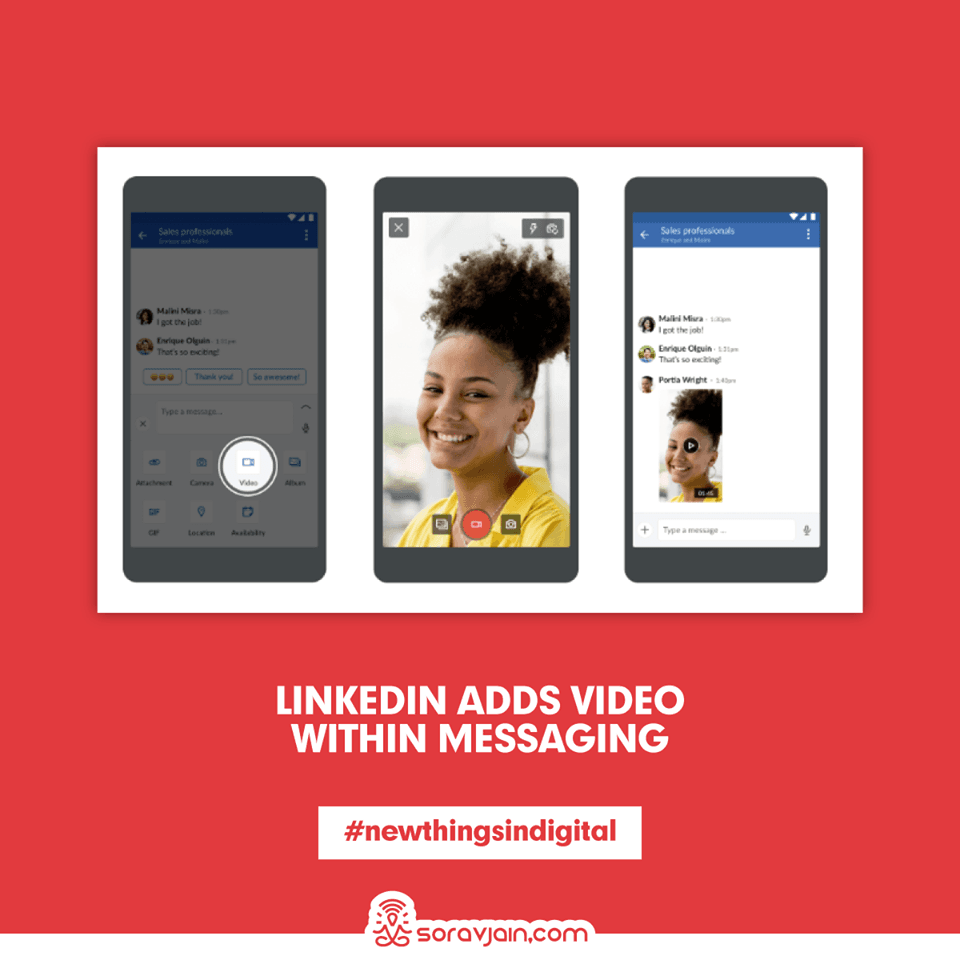 In order to further tap into the rising video trend, LinkedIn has also added a new option to record video clips with its messaging process. Videos are big on LinkedIn – according to LinkedIn's own stats, its users are 20x more likely to share a video on the platform than any other type of post. This option adds to that capacity, and provides another way to make your messaging stand out on the platform.
#16 LinkedIn Officially Launches Photo Tagging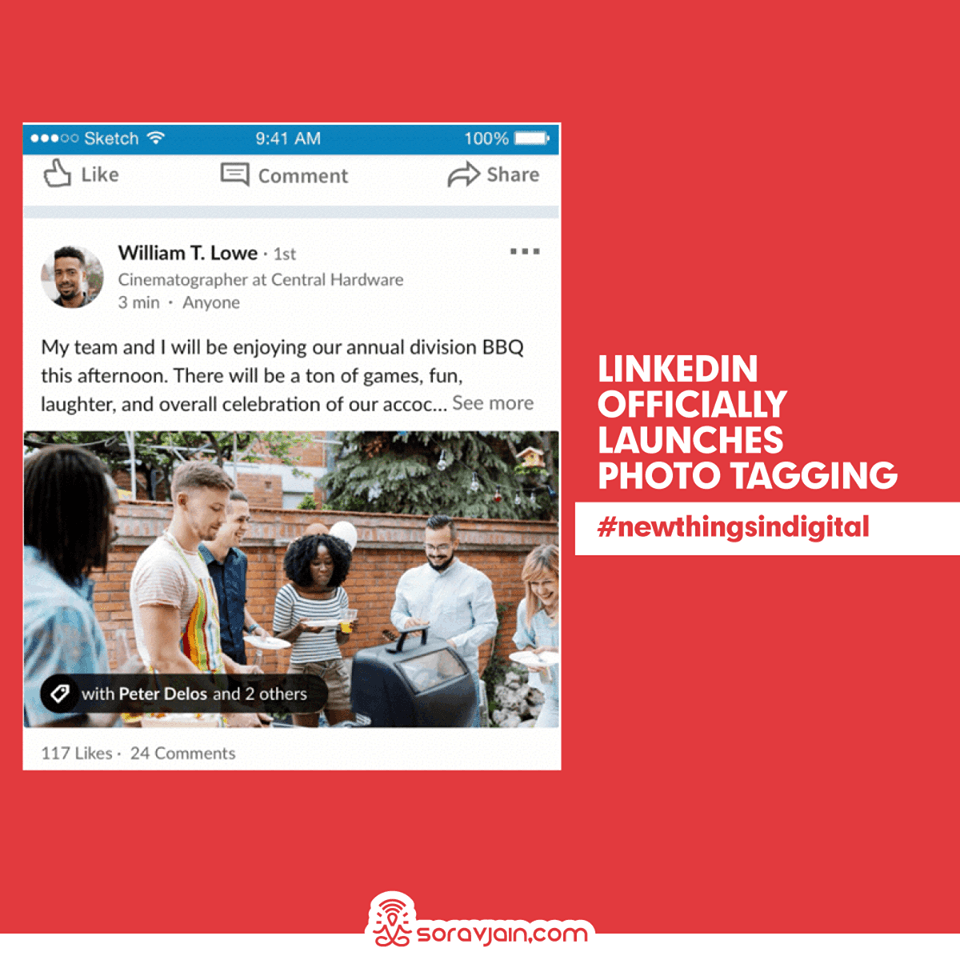 LinkedIn's photo-tagging option has actually been available to most users since April, but the platform has now officially launched the functionality to all users.
#17 Google Gives Search Icons a New Look, with Visual Indicators on Each Element
Google is rolling out a new update to its category icons in search results, which will make it easier to see what each element relates to, with small graphics to the left of the titles. You can see the new graphic indicators for each section, which may make it a little easier for searchers to quickly access the elements they're looking for, while also making them, potentially, more universal for users who don't speak the local language.
#18 LinkedIn Has Moved The Messaging And Post Buttons For Easy Access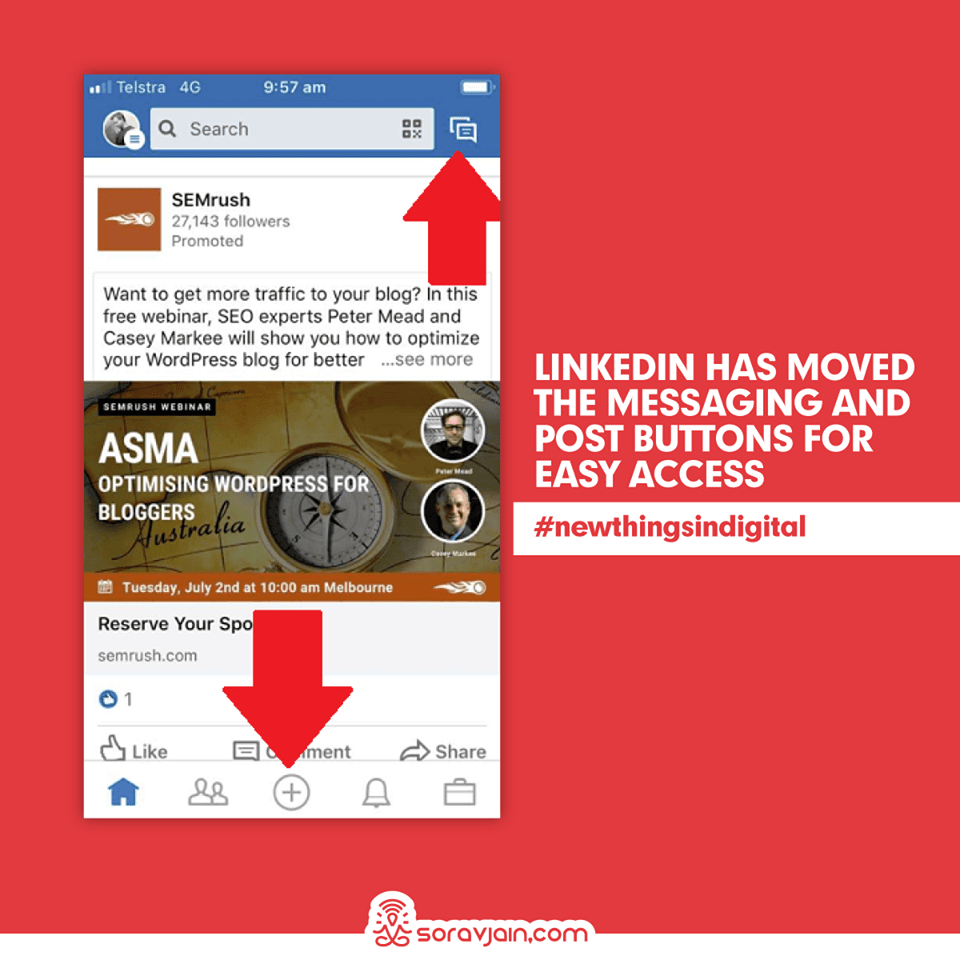 LinkedIn is also moving the messaging and post buttons within the app to make it easier to post or message from anywhere in the mobile app. The post button has a new home in the bottom center of your screen, and the message button now lives in the top right corner
The universal placement will ensure that users can engage faster, which could help boost in-app activity. It also aligns with the layout trends lead by Instagram, Snapchat, and more recently, Twitter.
#19 Snapchat's Testing a New 'Multi-Snap' Feature
'Multi-Snap' is a new option in the composer, which would enable users to create a string of Snaps at once, then post them all together. It would make it easier to compose more planned, structured Snap sequences.
#20 Campaign-level conversion actions now live for Google search, display campaigns
Google said that campaign-level conversion action settings are available for search and display campaigns. They'll be supported for video campaigns later this year.
#21 Google Testing Carousel of Text Ads On Mobile
The carousel ads appear with two headlines, a truncated description line and no ad extensions.
#22 Google My Business Adds More Branding Tools, Introduces Searchable @shortnames
Short names require GMB verification. Short names will take two forms: g.page/shortname and @shortname.
#23 Instagram is Working on a New 'Stop-Motion' Tool for Stories
Instagram is developing a new 'Stop-Motion' camera option for Instagram Stories, which would provide another way to create interesting video updates, without having to record any actual video at all. The new tool would assist your creation process by ghosting the frame you're capturing with the previous, so you can ensure that your placement and movement is correct.
#24 Instagram Will Now Keep All Content Captured in the Stories Camera for Seven Days
Instagram is rolling out another small Stories tweak, this time giving users more options on the content they capture within the Stories camera.
Any content you capture via the Instagram Stories camera will now be kept on hand for posting any time for the proceeding week.
#25 Facebook is Working on a New 'Preview' Option For Page Posts
Facebook is currently testing a new 'Preview' option for Page posts which would enable you to see what your update is going to look like before you hit 'Share'. The new 'Preview' button appears beside the 'Share Now' prompt. When tapped, you're then taken to a new preview window, which shows you exactly how your post will look once you share it – with options to view in mobile or desktop format.
#26 YouTube is Running a New Test Which Hides Comments Behind a Button
The video platform is now testing a new option which would see all video comments hidden by default, with users needing to tap a button to view any comments on a video. All comments on all videos, in this iteration of the app, would be hidden behind a specific 'Comments' button.
#27 Facebook Will Remove 'Mission, Company Overview and Biography' Sections From The Business Pages
Facebook will see the removal of certain Page information sections, with prompts urging Page admins to integrate those fields into other sections. This will come live by 1st of August. The change will see the following sections removed from your Page listing options:
– Mission
– Company Overview
– Biography
– Affiliation
– Personal Interests
#28 
4 Social-Like Options Added to Google My Business Listings To Maximise Brand's Exposure Through Search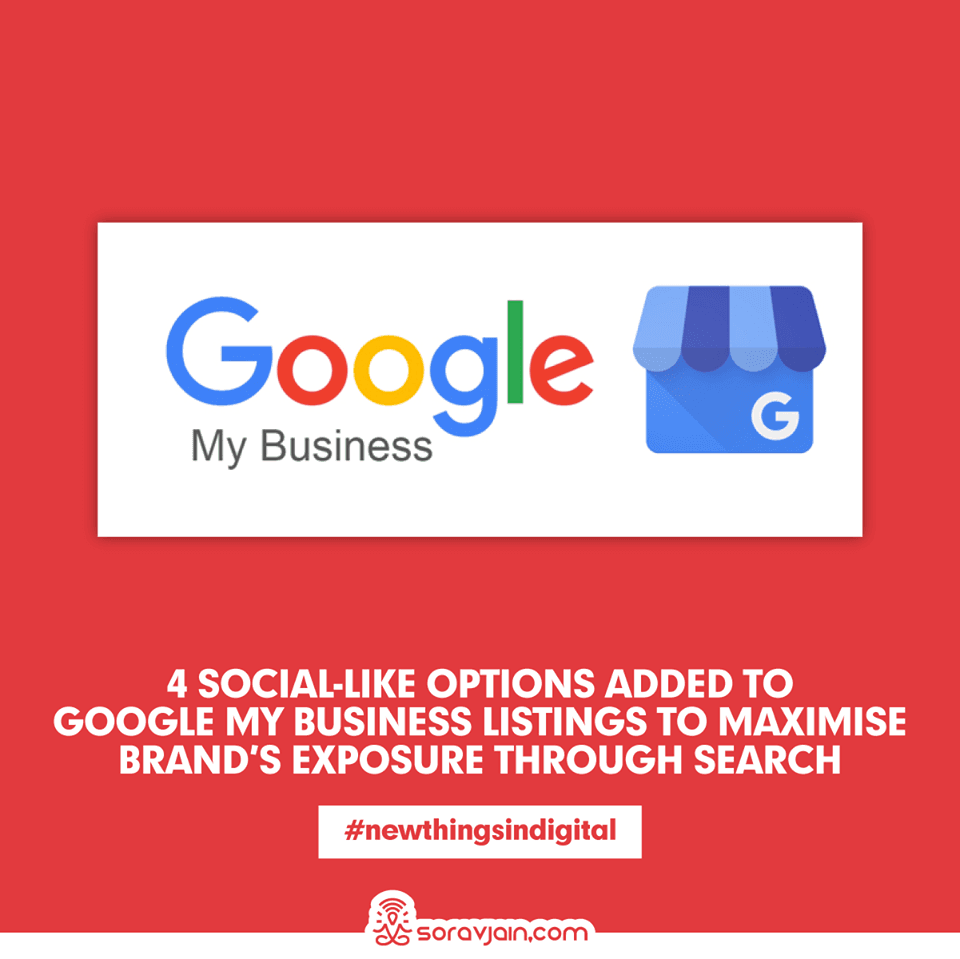 Google My Business is rolling out a new range of tools which will provide more options for brands to maximize their exposure through Google search – and even promote their Google presence through physical stickers, helping to drive traffic.
– Welcome offers
– Custom URLs
– New visual options
– Stickers and offline promo materials