March has witnessed updates like Facebook testing voice clip status, Snapchat enabling the feature to tag your friends on snaps to Twitter rolling out the verified badge to all users who fit the criteria. The bout of updates the month has received is only a sign of more to follow in the coming months. Read on to know what other digital marketing updates washed ashore in March.
#1 Facebook is Experimenting with Voice Clips as a Status Update Option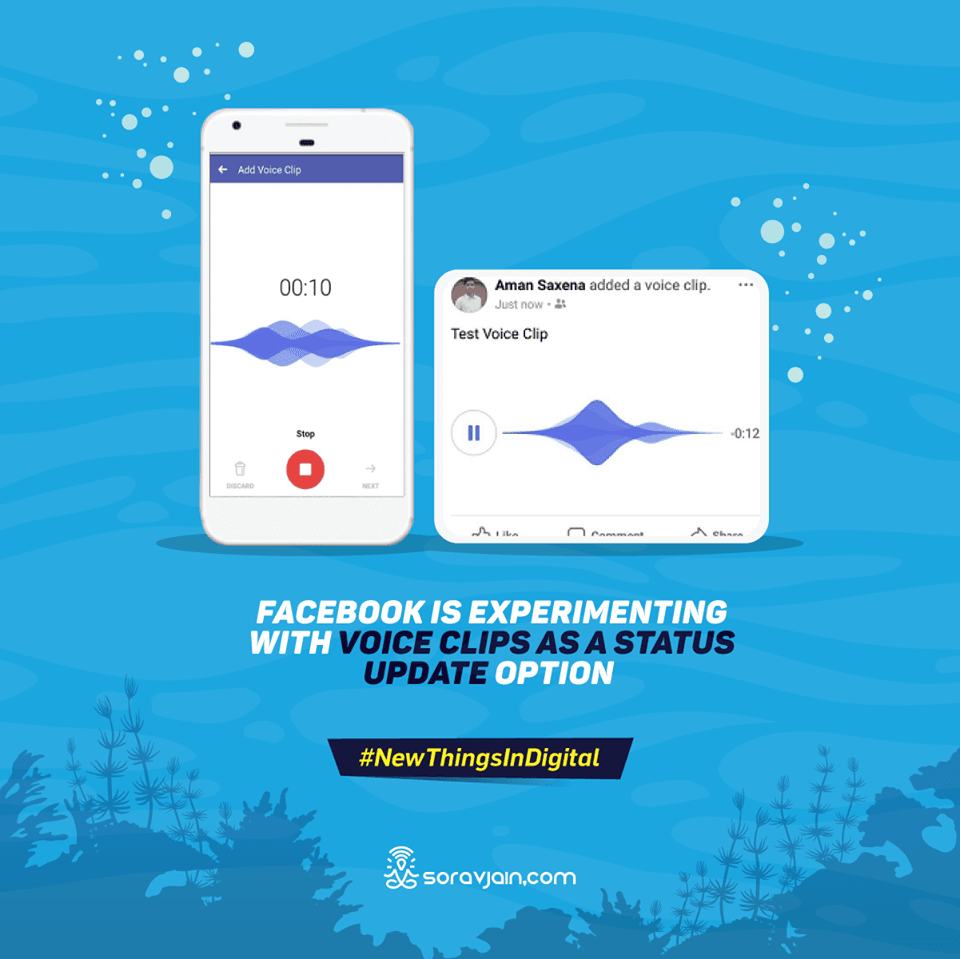 Facebook's now testing voice clips with a small percentage of users in India. In the status update options, a new type of update called 'Add Voice Clip' is now available to those with access. Tap on it, and you'll be able to record your message, with a waveform graphic indicating that the recording is in progress. There's currently no length limit on your audio clips, and you can preview your audio before uploading it to the News Feed.
#2 Instagram Might be adding Voice and Video Calling Features
As a strategic move to counteract the personal conversations and video calling options on Snapchat, Instagram wants to add voice and video calling features too. This would add to Instagram's popular direct messaging capabilities – which they've upgraded over the last 12 months, and would further compliment their live-stream guests option, which gives users a means to connect, in real time, through the app.
#3 Snapchat is Working on an AR-Enabled Version of Spectacles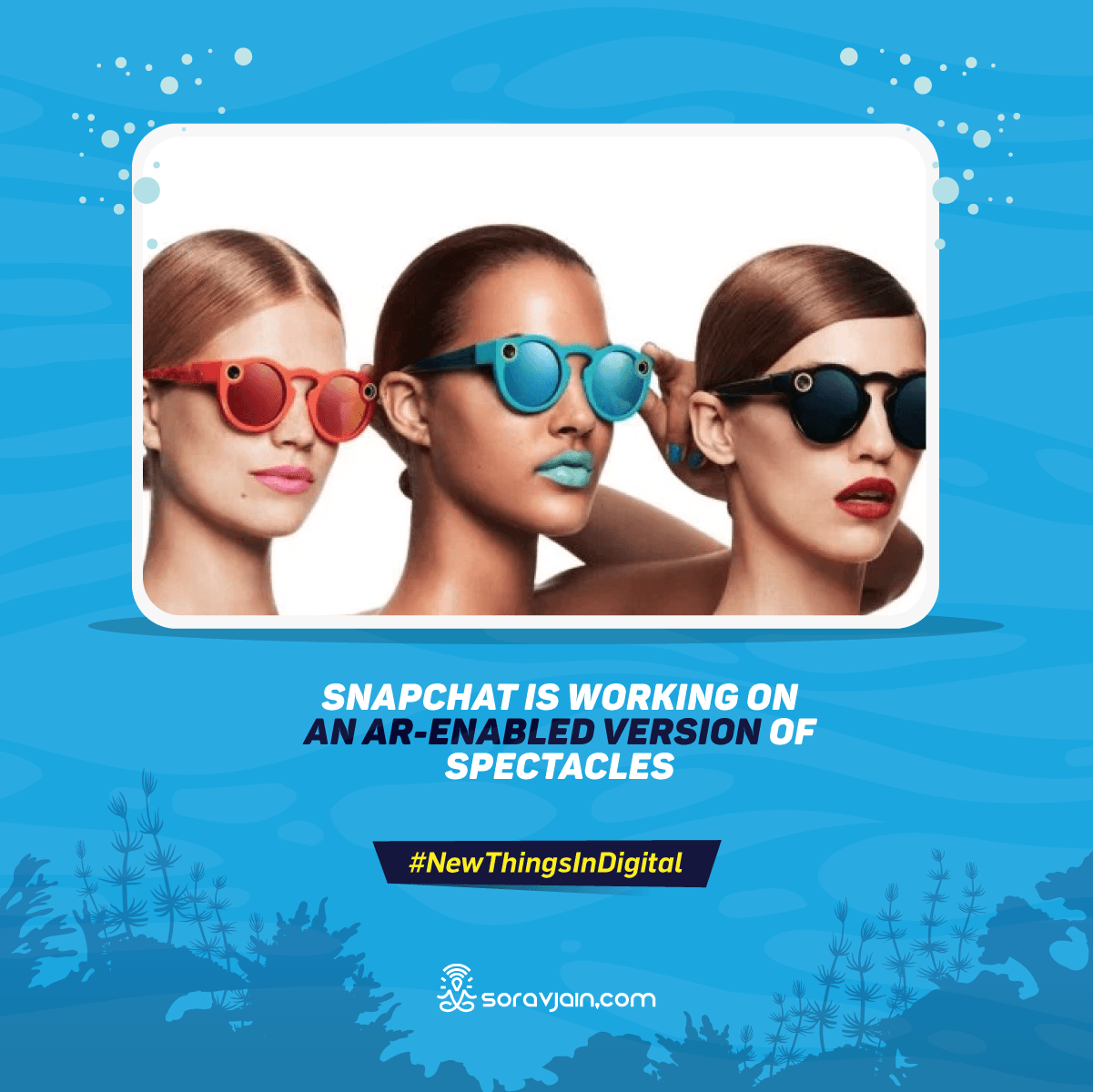 Snapchat is developing not one but two new versions of the smart glasses, with the second upgrade moving towards an AR-style tool, enabling users to overlay digital images on their real-world field of vision. Apparently, Spectacles V2.0 would be water resistant, available in new colours, and will focus on performance improvements and bug fixes rather than dramatic changes.
#4 Facebook Puts an End to Controversial 'Explore Feed'
Facebook has announced that it's ending its infamous 'Explore Feed' experiment which saw them introduce a separate News Feed for Page and publisher content in several countries.
Adam Mosseri said "In surveys, people told us they were less satisfied with the posts they were seeing, and having two separate feeds didn't actually help them connect more with friends and family. We also received feedback that we made it harder for people in the test countries to access important information."
#5 Twitter Calls for Outside Assistance in Dealing with Abuse and Misuse Issues
Though Twitter's problems with trolls and abuse, in particular, have been a key point of concern for some time. Twitter has acknowledged this at several points, though they've never been able to get the situation under control, with new controversies regularly cropping up and reawakening the issue.
So now Twitter CEO Jack Dorsey has called for submissions to help them make Twitter a better place.
#6 Facebook Tests the ability to Mass-Send Promotions via Messenger
Facebook's rolling out a new test of a self-serve sponsored messaging tool, which will enable brands to mass-send promotional messages to anyone who's already initiated a conversation with them on the platform. Businesses will be able to put together a message, add an image, then send it out to a group of users who've communicated with them on Messenger in the past. They can segment that group by product or type of interaction to better target their messaging, and they can add a call to action button to streamline response.
#7 LinkedIn Improves their Notifications System to get more Relevant Alerts
LinkedIn's Changji Shi explains that their mission is to 'connect the world's professionals to make them more productive and successful', and that the notifications they push to users are a big part of this. Essentially, LinkedIn's ATC system decides which notifications to send to each member, and when, based on a range of factors, including local time zones, when the user is most active, how they've responded in the past, etc. ATC also dictates where those notifications are sent – either via e-mail, mobile push notification or within the app itself.
#8 Facebook Expands On-Platform Job Advertising Tools to Over 40 Additional Countries
After opening up on-platform job listings to North American businesses last year, Facebook's now expanding the ability to apply to jobs directly on Facebook to more than 40 additional countries.The Social Network is looking to help local businesses connect with potential candidates who are already active on the platform.
#9 I have new Live-streaming Tools and Features!!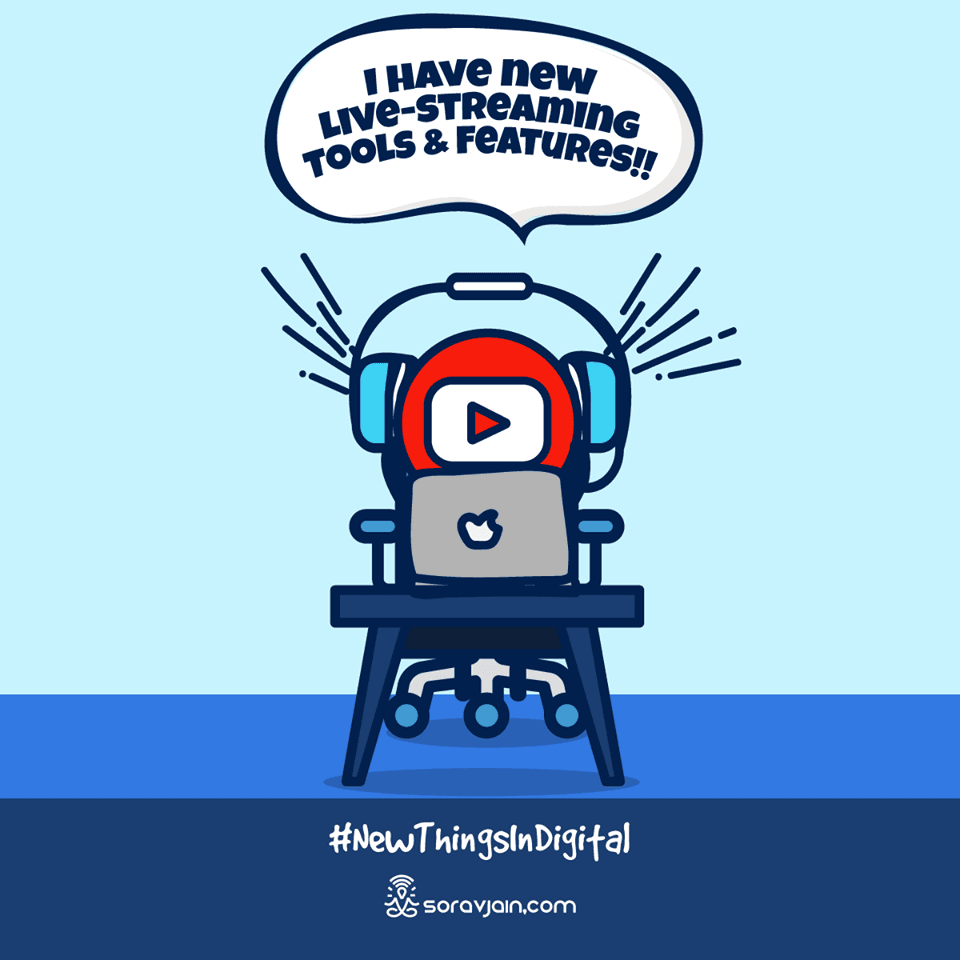 YouTube introduced more ways to watch live videos and interact with your community in real time.YouTube is starting to roll out a new chat replay feature, which appears alongside the video and unfolds exactly as it did when the video was live-streaming. YouTube also announced automatic captioning for broadcasts in English, location tags for mobile live streams and video uploads, and the ability to set up Super Chats for channels using IFTTT.
#10 Hey! Do you know about my new Customer Service tools for Websites?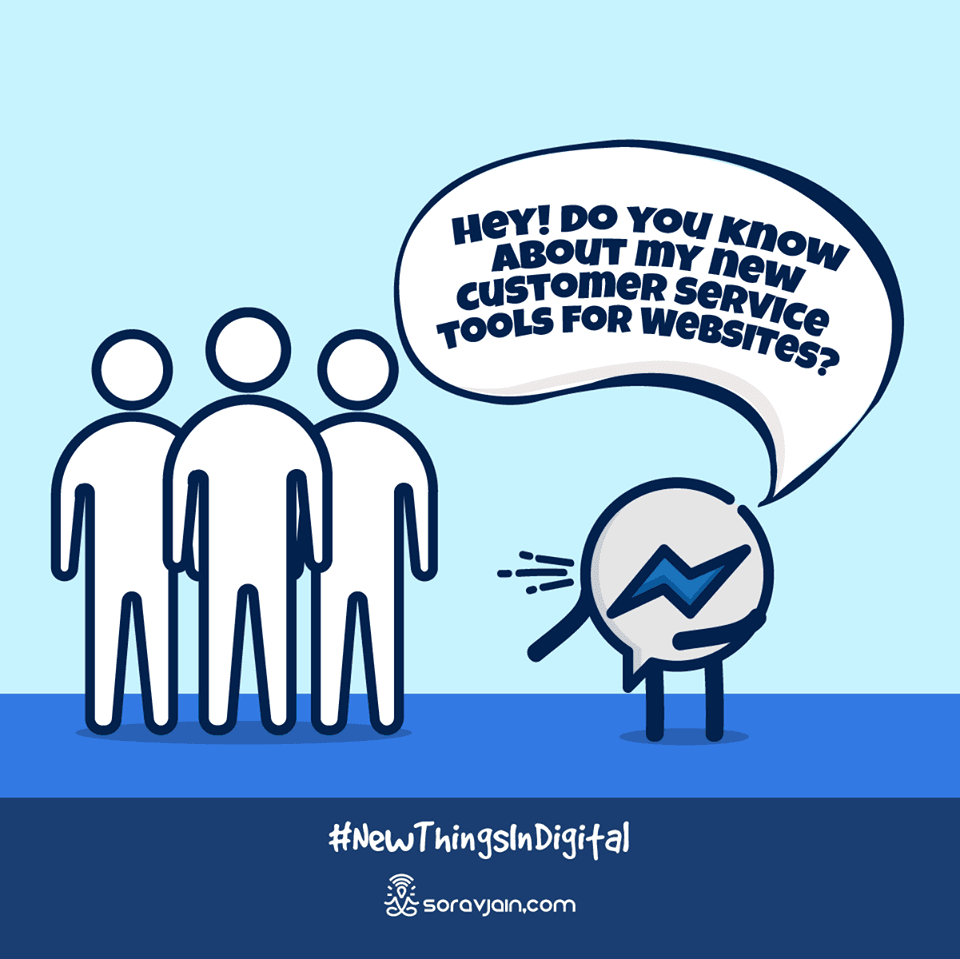 With the launch of Messenger Platform 2.3, Facebook rolled out several new tools that will make customer interactions on websites more seamless, intuitive, and enjoyable than ever before. These updates include quick replies for requesting users' email addresses or phone numbers, new message tags, and two new Messaging Insights API metrics. Facebook also expanded the customer chat plugin capabilities to include an easy setup tool, persistent menu support, in-browser user notifications, and much more.
#11 Hurray! You can Now Schedule Posts on Event Pages! 
Facebook now makes it easier for admins and event creators to plan and schedule posts on their Facebook Events pages. They now have the option to write a post that will be published to the page at a later time, like a welcome greeting or a follow-up question for an event.
#12 Check Out My New Bookmarks and Other Cool Sharing Tools!
Twitter added a new share icon on every tweet with three new ways to share content and save things you want to explore later. Twitter rolled out Bookmarks, which provides a discreet alternative to using the Favorite button. Twitter also added the option to share a tweet via Direct Message or share off of Twitter any number of ways. Bookmarks are now available globally on Twitter for iOS and Android, Twitter Lite, and mobile.twitter.com.
#13 I am Experimenting with Marketplace Ad Placement
Facebook appears to have rolled out a new ad placement in Marketplace, its buy-and-sell section that focuses on local deals. The new Marketplace placement allows advertisers to reach people who are already looking for goods and services on Facebook.
#14 Guys! I am testing new ways to Save and Bookmark content!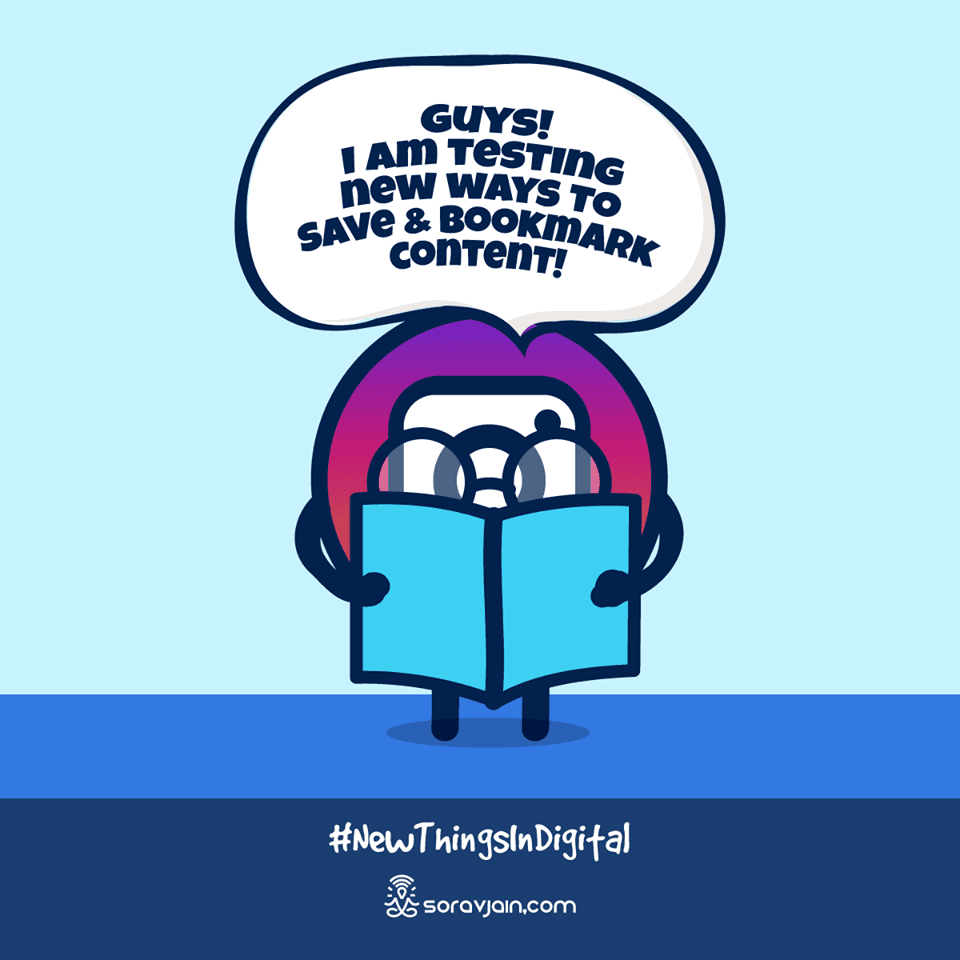 Instagram is currently experimenting with new ways to organize, bookmark, and save your content and data. One such feature is the ability to "star" a chat, which marks it as a favourite and makes it easy to reference in the future. Another is the ability to download all of your data from Instagram's servers. This data includes all of your photos, the information you've added to your profile, and more.
#15 I am gonna let you boost posts on groups! Isn't it cool?
The Boost Post button has arrived on Facebook Groups. With this new tool, group admins get three targeting options for link posts inside a group: generate more clicks; attract more engagement with likes, shares, and comments; or prioritize potential customers. Admins may also integrate a WhatsApp number, change the call-to-action button, gather insights on reach, and more.
#16 You Can Now Tag Your Friends in Snaps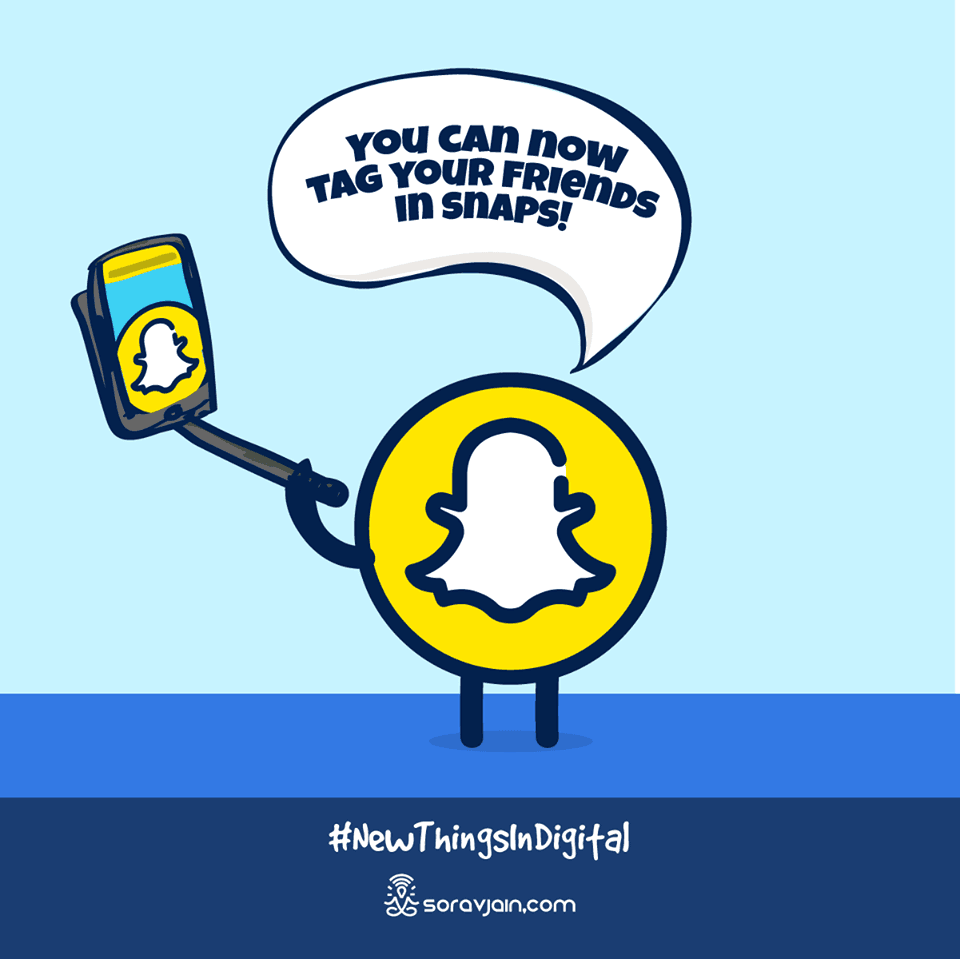 Taking notes from Instagram, Snapchat has introduced User Tagging! The process of tagging other users on Snapchat is fairly straight-forward – similar to Instagram Stories tagging, when you include a users' @handle via the text option, users will be able to tap on that tag to add that users' profile to their following list. Users can also tag multiple people in one Snap, with a 'Swipe Up' prompt taking you through to a full list of those mentioned.
#17 Twitter Intends to Expand Verification to All Users
Twitter is working to expand its blue checkmark verification process to all users and plans "to do it in a way that's scalable." Twitter's blue checkmark was initially intended to designate celebrities, athletes, and public figures from would-be imposters on Twitter, but was eventually expanded any users who applied and could justify needing verification. Business Insider reports that by making verification more accessible, "Twitter intends to shift the focus of the designation away from any presumption of endorsement and emphasize proof of identity."
#18 WhatsApp Messages Can Now Be Deleted an Hour After You Sent Them:
The latest version of the WhatsApp Delete for Everyone feature, which used to only allow you to delete messages up to seven minutes after you sent them, extends that time limit significantly to one hour, eight minutes, and 16 seconds.
#19 Google is Adding Captions to Image Results:
Google is adding captions to image results, showing you the title of the web page where each image is published. This extra piece of information gives you more context so you can easily find out what the image is about and whether the website would contain more relevant content for your needs.
#20 Facebook Filters on Personal Profiles
This feature allows mobile users to filter posts in their news feed, allowing them to see posts made on a specific date, published by specific people, and assigned a specific privacy level.
#21 WhatsApp plans to Disrupt India Market With Push Into Digital Payments:
The messaging app is testing a payment service that lets users transfer money to each other. The feature, dubbed WhatsApp Pay, is only available to a fraction of Indian users, but a full roll-out could come to all users by April.
#22 Facebook Tests Location-Based Augmented Reality Effects: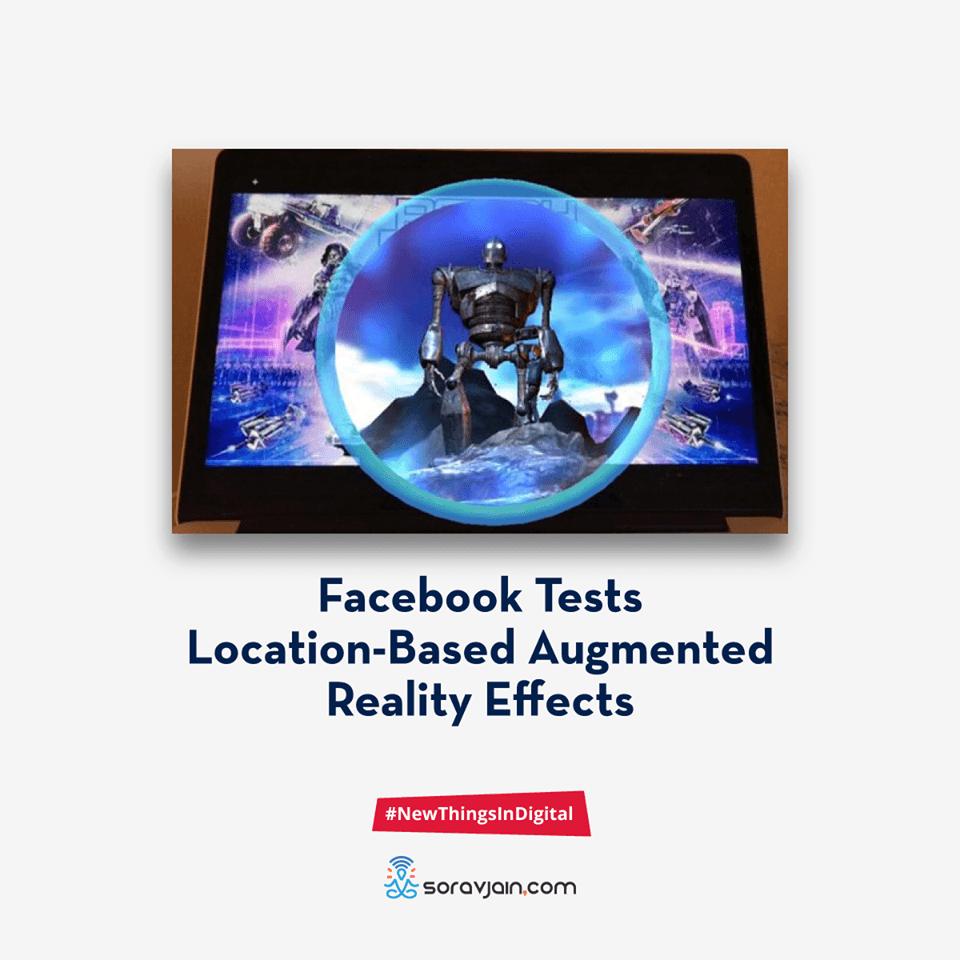 Facebook is experimenting with augmented reality experiences triggered by precise location markers in the real world. Facebook is running a closed beta test of this new feature with promotions for two upcoming films, Ready Player One and A Wrinkle in Time.
#23 Snapchat Allows Branded Content Ads From Discover Publishers: 
Snapchat now allows publishers in the app's Discover section to share branded content among the articles and videos they post for professional media partners such as BuzzFeed, Hearst, NBC Universal, Scripps Networks Interactive, and others. Publishers can now work directly with advertisers and sponsors to craft messages and ads that look more like the rest of their channels and perhaps drive up value for their services on the platform.
#24 Twitter's New Experiment Places Major News Events First on the Timeline: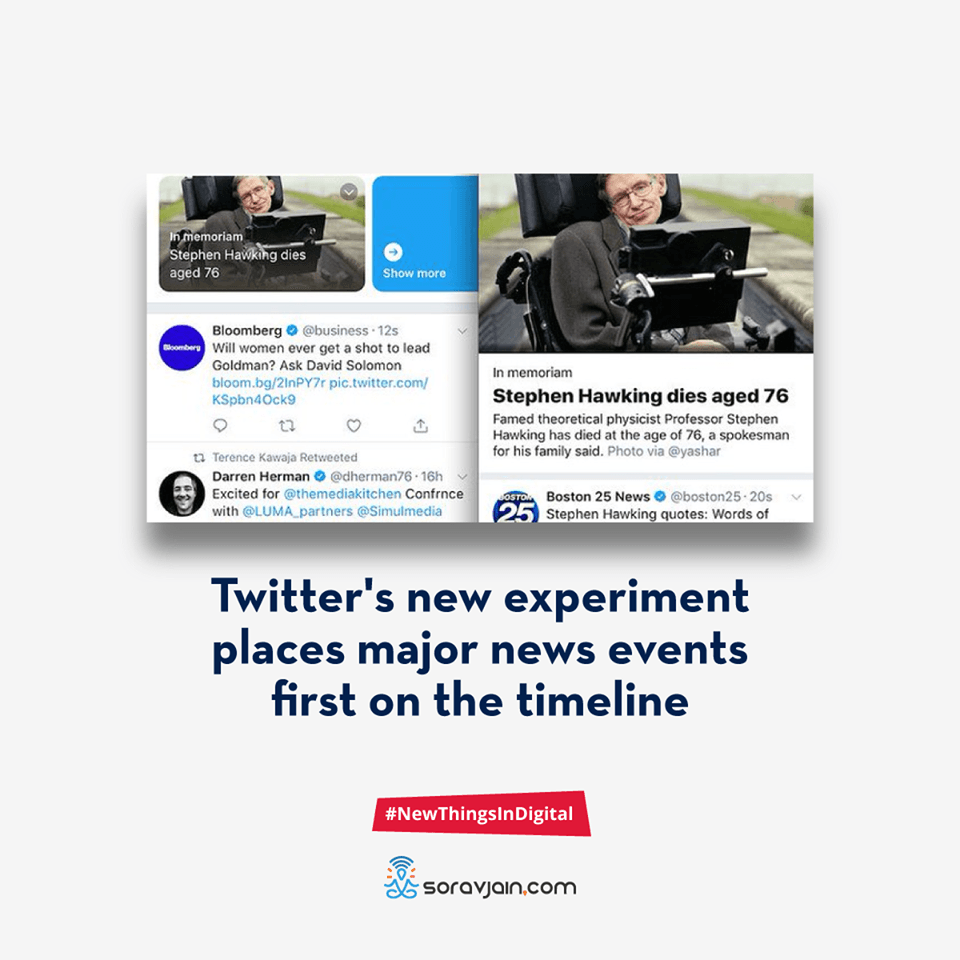 Twitter users could soon see the biggest news events first when opening the timeline. The social media platform recently confirmed a test of a news highlight reel at the top of user feeds. The tested feature would push news, while platforms such as Facebook are putting a lower priority on news items in an ongoing fight against fake news.
#25 LinkedIn Introduces New Creative Tools for LinkedIn Video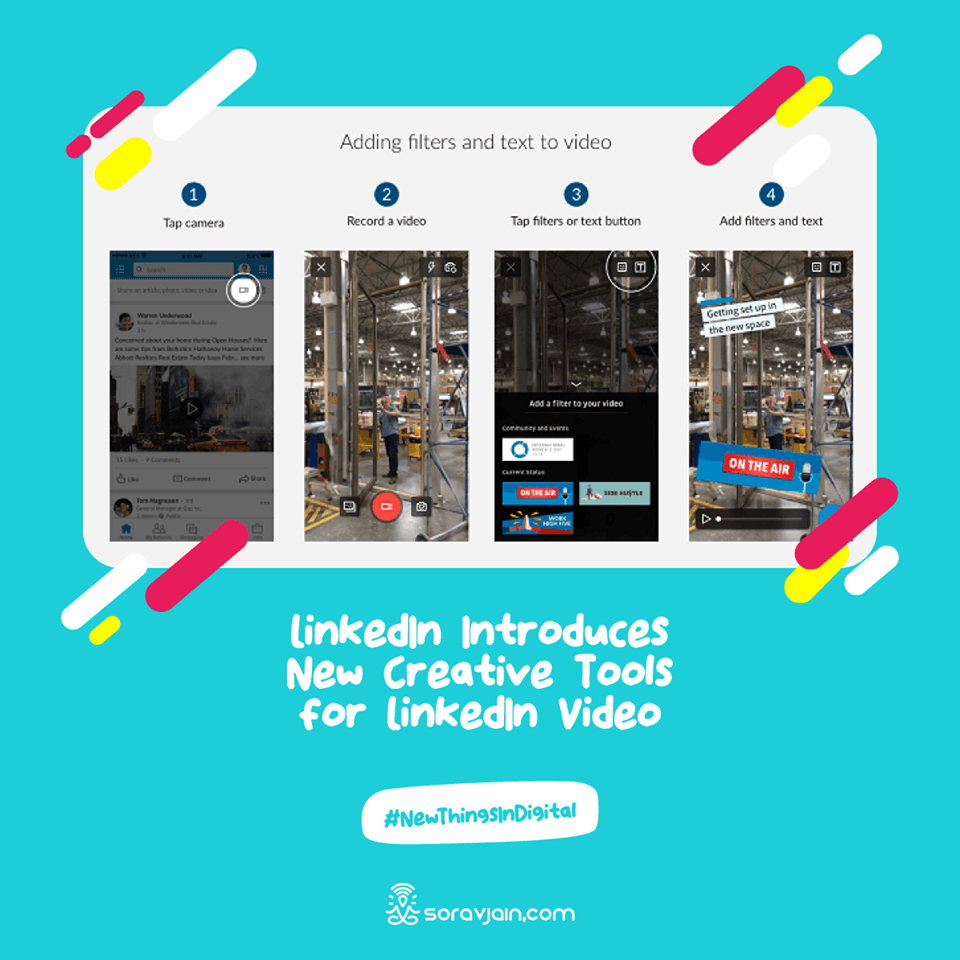 LinkedIn announced that its members can now "give their work buddy a 'Work High Five,' swap ideas on passion projects with 'Side Hustle' or share the latest with the 'On the Air' filter" on their LinkedIn videos. The company also rolled out three new text styles that can be overlaid on LinkedIn videos to add more context and detail "even when the sound is off."
#26 Instagram is Experimenting with "New Post" Button: 
Instagram announced it is testing a "New Post" button that allows users to choose when to refresh their Instagram timeline, rather than it happening automatically. The company is also making changes to ensure that newer posts are more likely to appear first in the feed.
#27 Facebook Adds Admin Privileges and Joinable Links to Messenger: 
Facebook added two new, widely requested messaging features that promise to "make your group chat experience more robust and seamless." These include admin privileges that allow users to approve new members before they join a group chat, along with the ability to remove, promote, or demote other participants as needed. Facebook is also making it easier for people to find and participate in an ongo
…
See More
#28 Instagram Introduces Hashtags and Profile Links to Users' Accounts: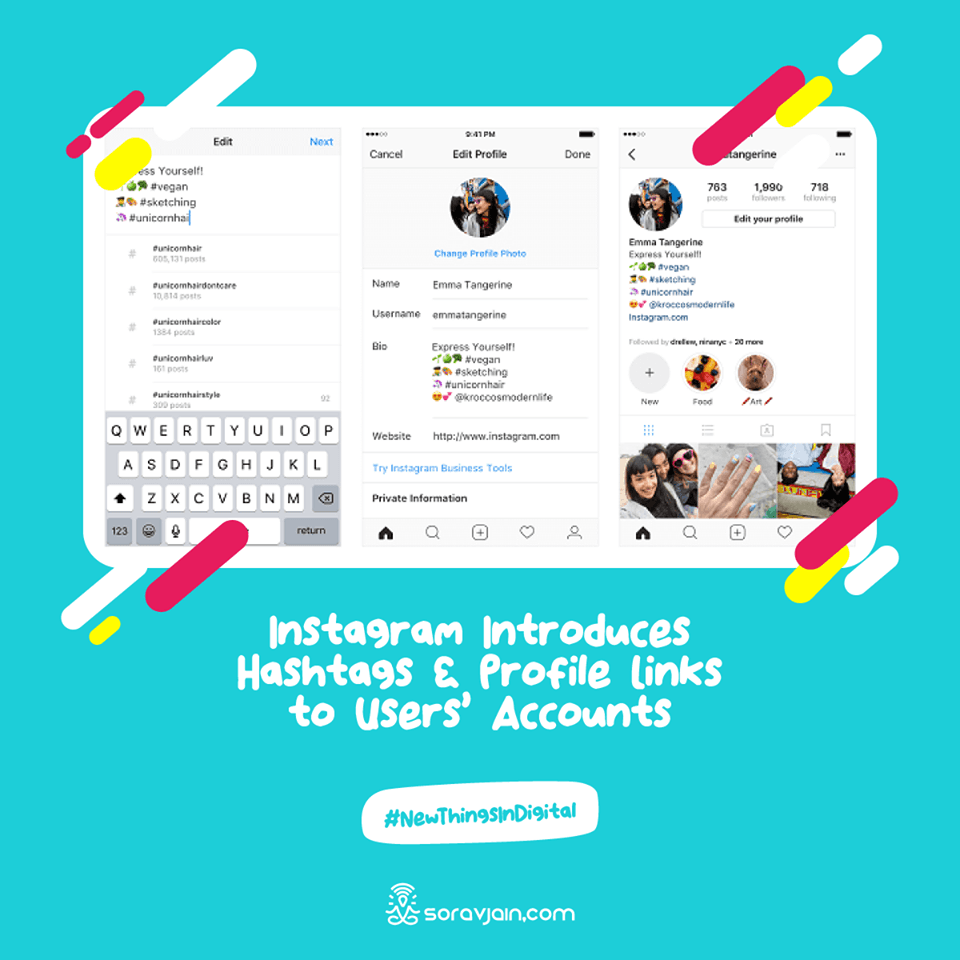 Instagram now allows users to link to several hashtags and other accounts from their profile. This gives users an opportunity to "show off their favorite subcultures and topics" and "help people promote their other accounts, pledge allegiance to their favorite creator, or shout out their significant other." Instagram users can add the hashtags and links to their profile bio through the Edit Profile section of their account settings.
Instagram may also be testing the ability to scan "nametags," or a visual code to open another user's profile. This technology appears to be similar to Snapchat's QR Snapcode capability and even includes the option to add stickers and selfies to a nametag.
#29 LinkedIn Rolls Out "Ask for a Referral" Button:
LinkedIn is making it easier for job-seekers to request a referral from a friend or colleague with LinkedIn's new Ask for a Referral button. Members can see their connections on job listings for a company and easily reach out to them with a pre-populated or personalized message using the Ask for a Referral button.
#30 Snapchat Expands Shop to Store and Adds Location Targeting by Category:
Snapchat is exploring the ability to track and target offline retail traffic by expanding its Shop to Store program to all brands, "whether they buy advertising or not" and unveiling a new feature called Location Categories that lets brands target ads directly to specific types of locations.
#31 Facebook Experiments with New Tools for Creators:
Facebook is investing in its video creator community and experimenting with "a range of new tools for creators" that will help them identify their fans, connect with brand opportunities, and find more ways to monetize their content. Each of these new features is rolling out over the coming months. Creators can join the Facebook for Creators community to be considered for product testing opportunities and get notified when new features become available.
#32 Instagram Expands Instagram Shopping to More Countries: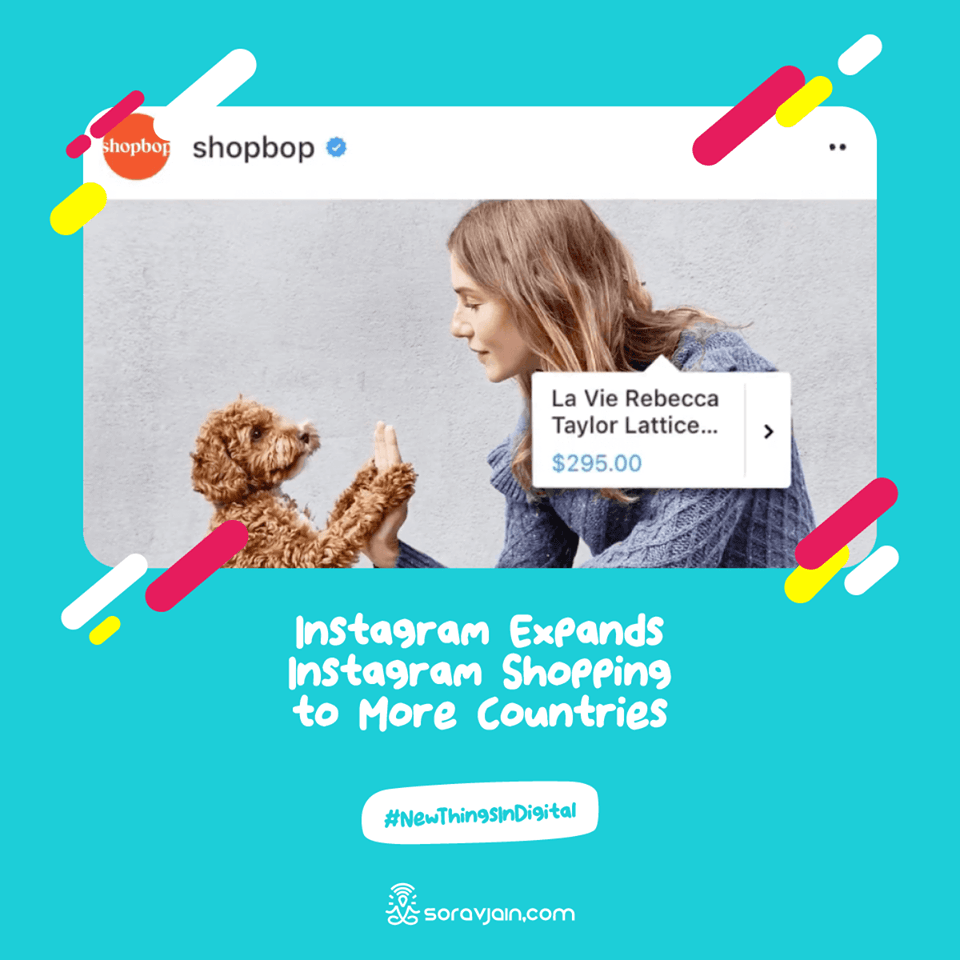 Last year, Instagram launched Instagram Shopping for businesses in the U.S. This tool allowed retailers add product tags with descriptions, links to their brand's website, pricing within their organic Instagram posts, and a Shop tab on their business profiles. This past week, Instagram rolled out Instagram Shopping to eight more countries including Australia, Brazil, Canada, France, Germany, Italy, Spain, and the UK.
#33 Pinterest Extends Automated Shopping Ads to More Advertisers:
Pinterest's shopping ads automatically pull from a brand's existing product feed and seamlessly turn it into visual, actionable ads. In addition, Pinterest is expanding Shop the Look, which adds clickable product tags to a brand's fashion and home décor pins, to France, Germany, Japan, and the UK.