Many major updates were announced this month. Most of the updates can be considered a pre-cursor of what can follow in the future as many 'testings' were rolled out. From Instagram testing new Title option for Instagram Live, Twitter testing option to hide tweet replies, Youtube testing its fact check feature to LinkedIn's new in-app shopping feature, Twitter's new Camera tool, and Facebook's new Dark Mode. Here are list of new things in Digital in the month of March.
#1 Facebook Has Launched a New Secret Dark Mode on Messenger
Facebook has rolled out its new 'Dark Mode' for Messenger – but they've hidden the function behind an in-app emoji trick. This may not be available to all users as yet
#2 Twitter is Testing a New Option Which Would Enable Users to Hide Selected Tweet Replies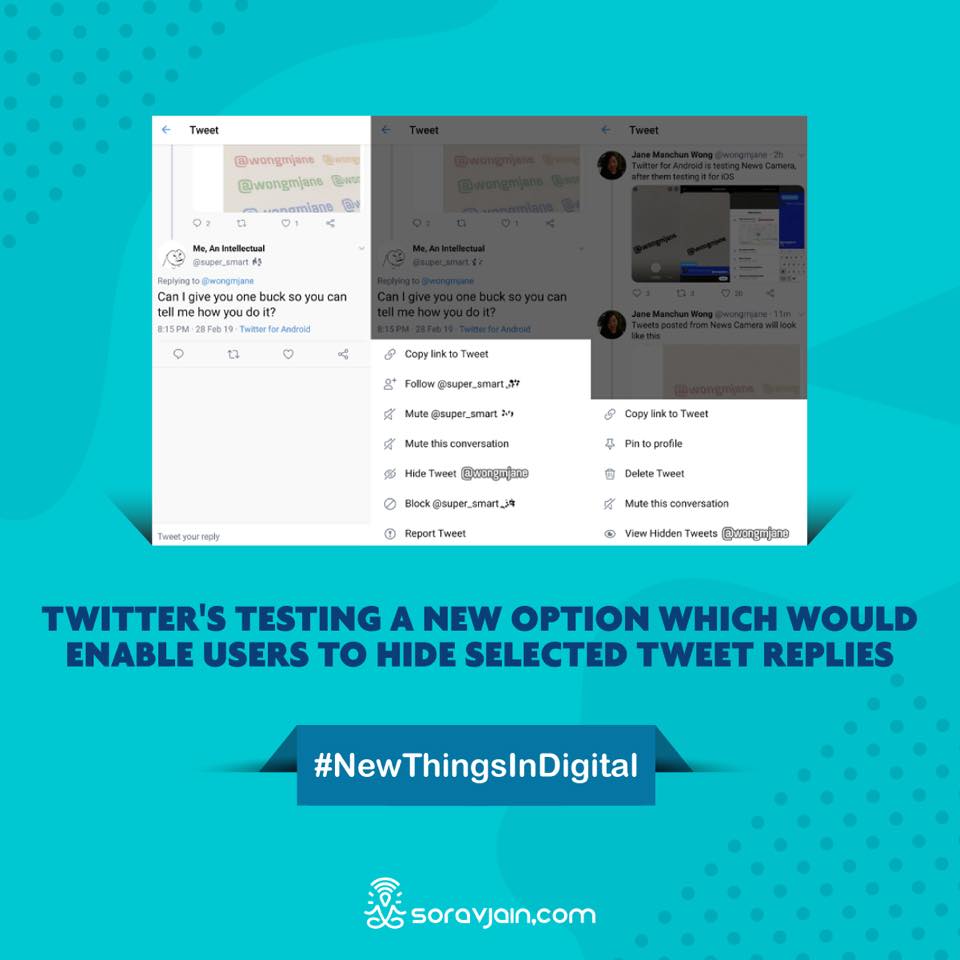 Twitter is working on a new feature which would enable users to hide any reply of their choosing on their tweets. A new 'Hide Tweet' option has been added to the reply tweet drop-down list. When selected, the chosen reply is hidden not just from your timeline, but from everyone else's also, though all users will still be able to choose the 'View Hidden Tweets' option (last frame above) on any tweet to see what the poster has chosen to hide.
#3 Facebook Introduces 'Facebook Showcase' – a Premium Video Advertising Option
Facebook has launched its new 'Facebook Showcase' ad program, which is aimed at giving bigger advertisers the opportunity to boost brand awareness in connection to popular Watch shows.
#4 Instagram Tests New Title Option for Instagram Live
Instagram is testing a new title option for Instagram Live, which appears on the pre-launch screen, and could help to add more context for the viewers.
The title frame could help get more people to watch the Live stream, particularly those who catch up at a later time, as it will be the first image shown on the Live tile in user feeds. It could also give Instagram another way to showcase relevant content, using the words in the description in a similar way to hashtags to uncover related material.
#5 Google Announces Expansion of Voice Assistant Options by Adding More Indian Language Variants
Google is adding more language variants to its voice assistant tools within its apps, so more people can use them within their regular usage flows.
It is also expanding its AI assistant tools to its messaging apps, so users can get information within their messaging stream.
#6 Google Adds More Insight to its Website Speed Test Tool
Google has announced a new update to its 'Test My Site' mobile optimization tool, which will now provide more in-depth data on your site's load-time performance, and how you can improve it.?
#7 Google Ads to Sunset Average Position Reporting Metric Later This Year
Average position has become less valuable in recent years. Prepare to adjust your reporting, management with newer metrics.
#8 Google Tests Ads in Assistant Results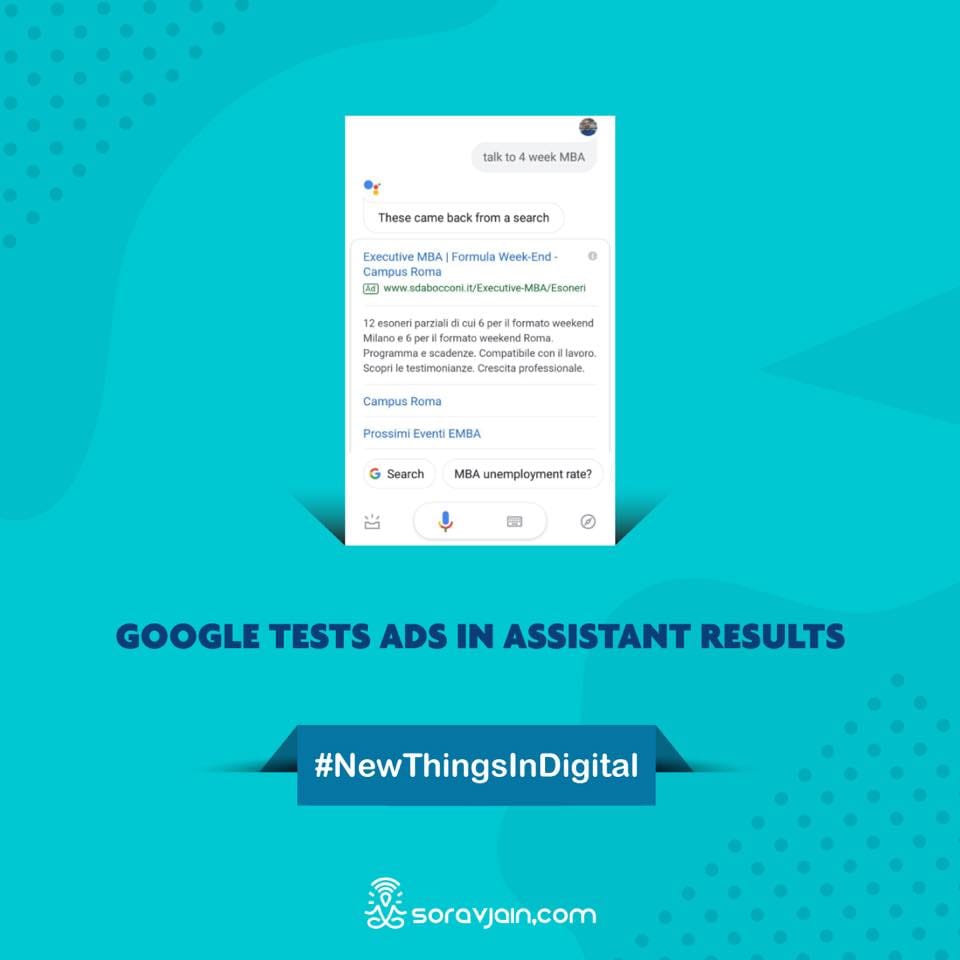 Google appears to be testing the delivery of ads in Google Assistant results?
#9 Google is Going to Add New, Advanced AR Masks to YouTube Stories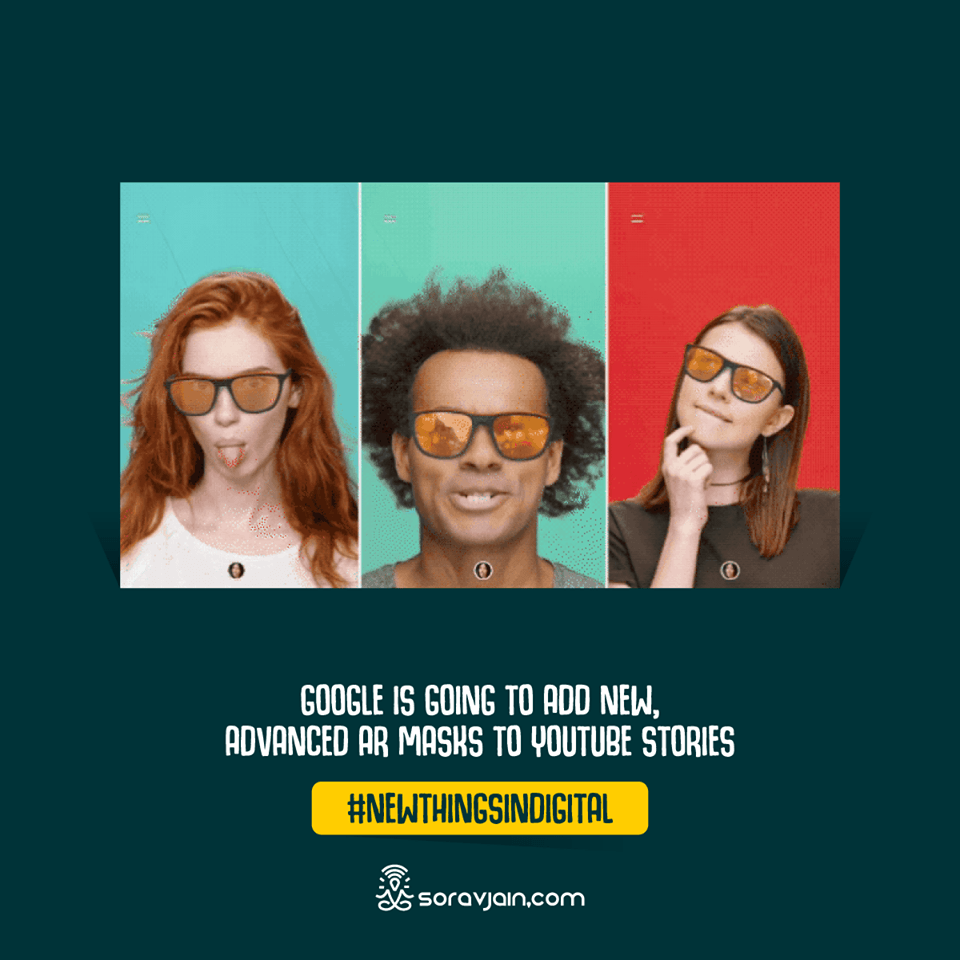 Google is looking to use its advanced capabilities to take its AR effects tools to the next level, which it plans to roll out in YouTube Stories. The new AR effects will utilize improved "anchoring" processes to make them more realistic, and more responsive to real-world cues and movement.
#10 YouTube Tests Out New 'Fact Checks' on Misinformation Prone Content
YouTube continues to ramp up its efforts to rid its platform of misuse and questionable content, this time through the addition of a new 'fact-check' pop-up which will appear on videos relating to subjects that are prone to misinformation.
#11 Google is Simplifying its Ad Auction with a Single Bid Process
In an effort to simplify its ad buying process for display and video ads sold via Ad Manager, Google has announced that it's moving to a new "unified first price auction" process.
#12 Instagram is Working on a New Sorting Option in Followers
Instagram is testing out a new filter option in your 'Followers' and 'Following' lists which would enable you to sort the listing by most recent additions, or the opposite.
The feature could make it easier to locate your most long-serving brand supporters, which may provide new opportunities for connection. It would also make it easier to engage with your most recent additions, and track locations and details, which you could correlate with campaigns.
#13 Google Announces New Shopping Ads on Google Images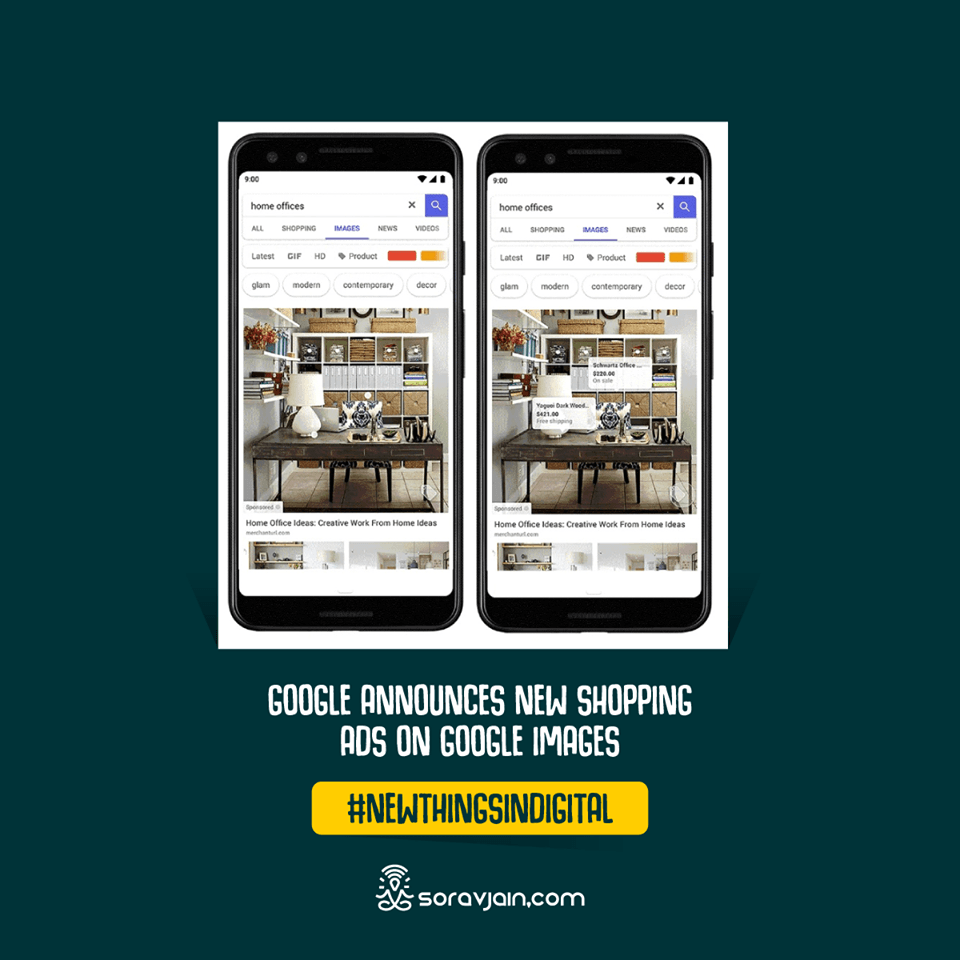 Google has taken a shot at the platform's core offering this week by announcing a new product discovery option which will enable brands to reach consumers who are searching via Google Images.
#14 Instagram is Testing a New Option To co-watch Videos With Friends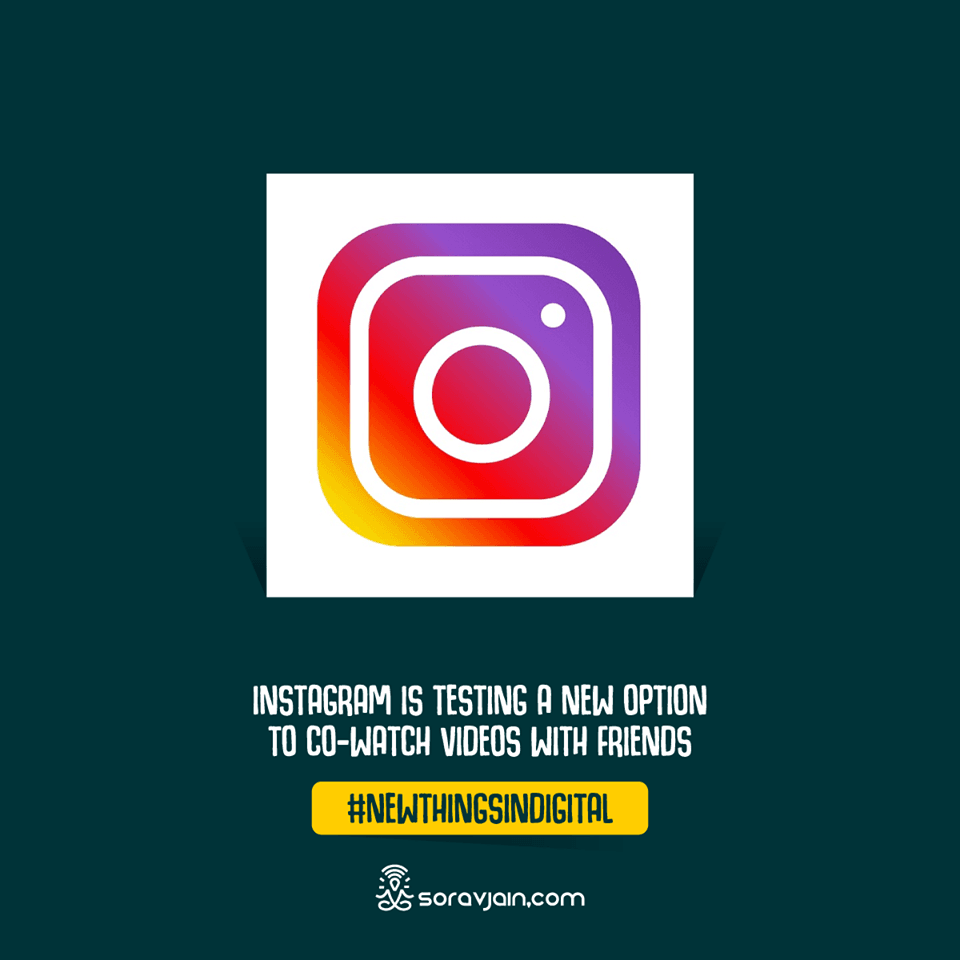 Instagram is testing a video co-watching feature. This feature would be available in Instagram Direct in video calls, and one would be able to co-watch videos from a playlist or the ones suggested by Instagram
#15 Twitter Adds Options to Report Tweets Sharing Personal Information
Twitter is looking to improve its response to violations of personal privacy on the platform by adding a new option for users to specify the type of personal information being shared via tweet.?
#16 Instagram Launches New Option to 'Pause All' Notifications

Instagram has rolled out a 'Pause all' option which will enable users to stop any and all notifications from the app for a chosen period of time.
#17 Twitter Introduces New Camera Tools to Increase Visual Focus
Twitter is rolling out a new camera tool which will enable users to capture Stories-like images, complete with overlays and searchable elements, which will open the door for more visual content options on the platform.
#17 Facebook is Removing Ad Relevance Score And Six Other Ad Metrics
Facebook has announced that it will remove its Ad Relevance Score and six other ad metrics, as part of a broader switch to more granular, relevant ad metrics to help improve performance. Three new metrics are expected to be launched soon.
#18 Google released a broad core search algorithm on 12th March
A rare Google confirmation came related to a Google search algorithm update this week. Google restated previous advice that there is no fix if your site was negatively impacted.
#19 Snapchat Will Reportedly Launch a New, In-App Gaming Platform Next Month
Snapchat has been slowly adding in more interactive games and features within the Lens carousel, there's now a whole range of AR games, or 'Snappables', which you can play by yourself or with friends.
#20 Twitter Has Launched its New Beta Testing App with the First Round of Users
Twitter has now released its new 'Twttr' test app, which includes a completely new layout for tweet replies. The new tweet reply layout helps to maintain the specific flow of tweet threads. Tweet replies are indented directly below each specific tweet within the stream, while replies from the original tweeter are highlighted with a color line along the left side of the response.
#21 Facebook Adds Stories Archive Option for Business Pages
Facebook has added a new Stories Archive option for Facebook Business Pages, which, along with the noted panel highlighting Page Stories specifically, adds to the potential appeal of Stories for businesses.
#22 Instagram Launches 'Checkout' to Facilitate In-App Shopping
Instagram, with an aim to facilitate on-platform shopping, is now taking the next step with the introduction of a new checkout option in the app. Instead of a 'View on Website' button when you tap through, users will see a 'Checkout on Instagram' option, which will enable them to make a purchase right there and then, before returning straight back to their Insta feed.
#23 LinkedIn Adds New Meeting Planner Tools Within it Messaging Stream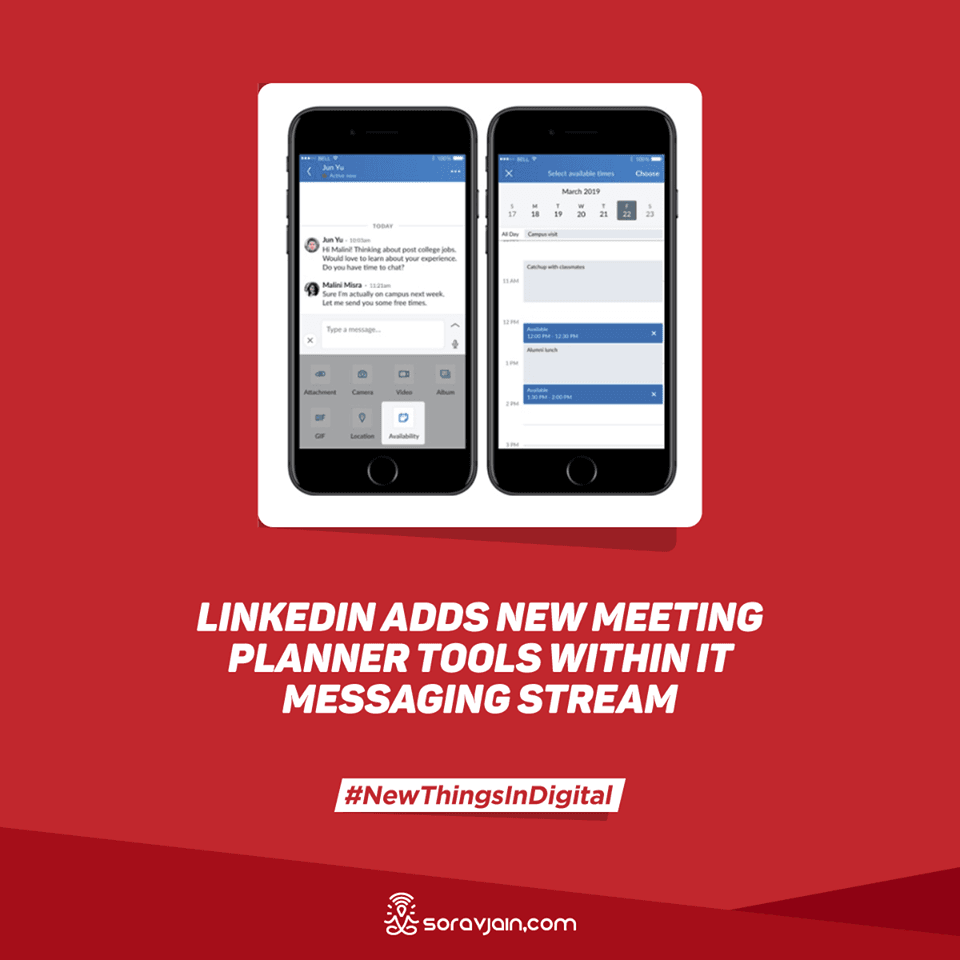 LinkedIn has added some new options which will make it easier for users to plan in-person meet-ups without having to switch away from its messaging stream. By tapping on the new 'Availability' option within the message composer stream, you can now access your calendar, and then select the open time slots you'd like to propose.
#24 Facebook Adds New Replies Option to Clarify Messenger Streams
Facebook is rolling out a new, quoted reply option for specific messages within Messenger chat streams, which will help to clarify the conversation and make it clear who's speaking to whom with each response.
#25 LinkedIn Introduces New Ad Targeting Options, Including Lookalike Audiences
LinkedIn is broadening its ad targeting toolset with the addition of three new options to help hone in on your specific target audience.
The three new options being launched are 'lookalike audiences', 'audience templates', and the addition of Microsoft Bing search data to beef up interest targeting. Here's how each will work.
#26 Instagram is Testing a New Format for Stories Options
Instagram is testing out a new format for its Stories camera, which harks back to traditional photographic process by providing a selector wheel to choose the option/s you want to use.
#27 Twitter's New Camera Format Adds New Presentation Style on the Web Version
After recently launching its new camera option, which enables users to swipe left into a new capture flow, and add colorful overlays to their images, Twitter is also bringing a new presentation for such content to the web version of the app, which uses the same overlay style, but also pops out the tweet and corresponding conversation into a separate window.
#28 WhatsApp Brings a New feature That Will How Many Times a Message Has Been Forwarded
To curb the spread of fake news, WhatsApp is now testing two new features called "Forwarding Info" and "Frequently Forwarded". One adds an additional 'frequently forwarded' label, while the other lets users check if their messages have been forwarded.
#29 Google launches News Initiative subscriptions lab for publishers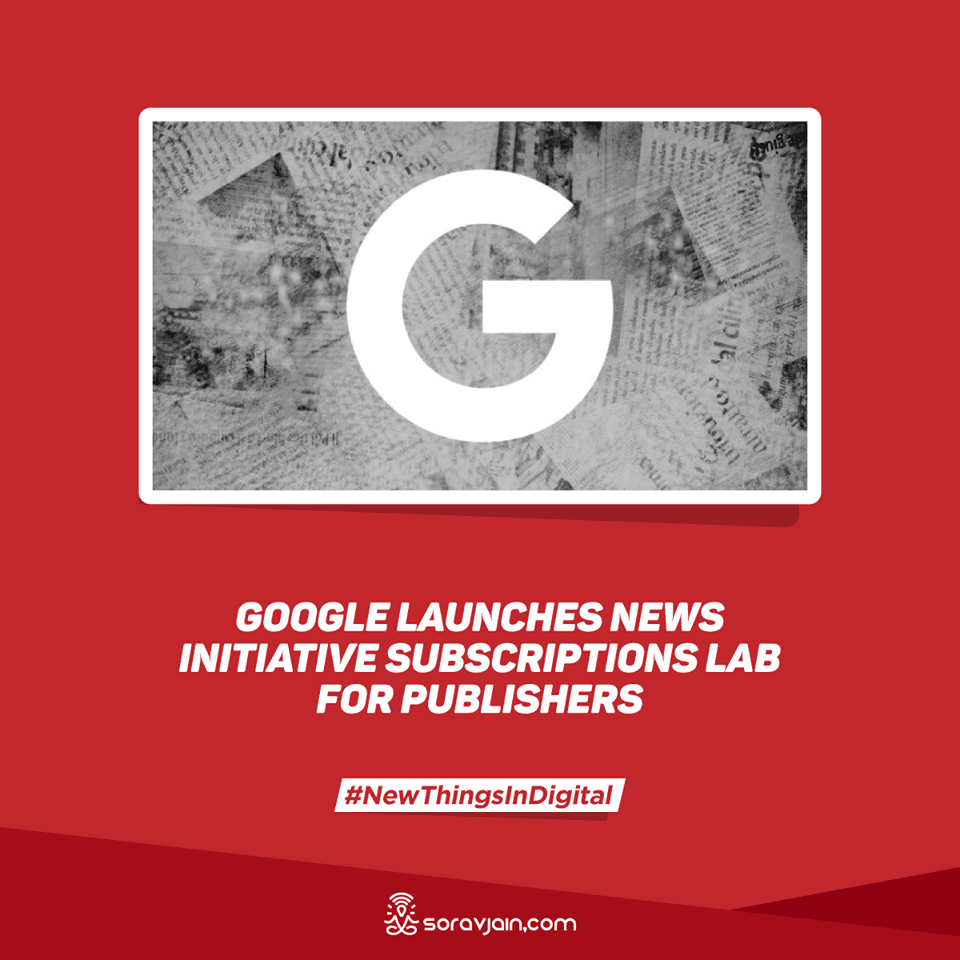 The company also announced new fact-checking tools and other efforts to stop the spread of 'misinformation.'