March marched along by our screens, giving us a big array of new things from many of our favorite Social Media platforms. These updates and announcements were the beginning of what the platforms have in store for us this year. From Instagram's new option to generate leads to Facebook's plan to bring the reaction to Reels, there were a lot of things to check out. Here is the complete list of this month's #NewThingsInDigital
In case you missed last month's list of digital marketing updates clicks on the link. Digital Marketing Updates for the month of February.
Top 16 Latest Digital Marketing Updates in March 2022
1. Google adds confirmed by phone call feature on Google My Business listing
To ensure the contact information on the Google My Business listing is updated, Google will now confirm and show if the number mentioned is active. Google will add, 'Confirmed by phone' and how long ago it was confirmed, next to the number.
2. Instagram lives can now have moderators to remove spammers and enhance the experience of a live audience
Just last month, Instagram announced that allowing a moderator for live broadcasts will be available for all users soon. It's a big step for the company, especially because it shows how important it is to give users a high-quality experience. This opens up a new way for businesses to connect and communicate with their audiences better than ever before.
Learn the art of amazing content creation through our Reels Mastery Course with 55+ HD videos, an exclusive WhatsApp community with weekly updates on the latest hacks, trending music, and interaction opportunities with Sorav Jain!
3. Automated captions now available for feed videos on Instagram
Automated captions can be a great way to save time and get your message out there! Rather than spending hours sitting in a room recording your video and then writing a caption, you can now let a computer do it for you! You can even adjust how fast the caption appears, how long the pause between each word is and which words to ignore!
4. Instagram expands the number of options available on Poll stickers
Instagram is making a new update that will increase the number of sticker options! The new updates will allow users to add questions, give poll options, and more. The update will be available to all Instagram users within the next two weeks and is free to install!
5. Twitter is going to start tweet awards; a way for creators to monetize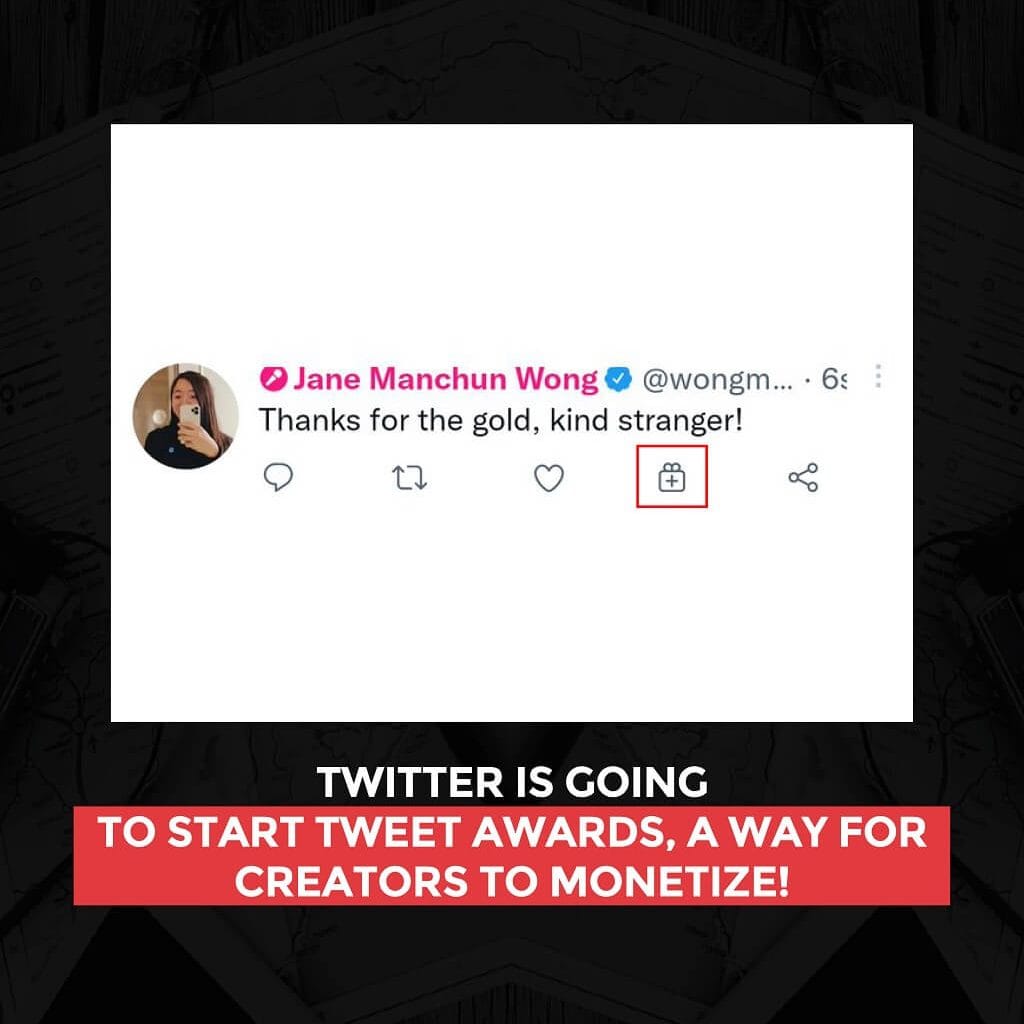 Called Tweet Awards, it will be a new way for creators to start monetizing their tweets and engage with their followers. Creators will be able to work with companies, brands, or sponsors and will be able to tweet about their product and get money for it.
6. Twitter upgrades its alt image text option for visually impaired users
Now, when adding an image to a tweet, you can include a description that will be added to the alt attribute of the image. The description will appear when a user hovers over the image with their cursor. The most helpful descriptions are ones that are able to give context to the content of the image and that do not just repeat what is already in the image.
7. Google starts testing things to know in search results
Knowing the right answers is important, especially when you're trying to find a place to eat in a new city or you're job hunting and need to know what steps to take after you've sent an application. While you can always ask a friend or search online, having an answer right in front of you can be invaluable. That's why it's exciting that Google is testing a feature to show answers to fact-based questions right in search results.
8. Google now showcases shop from smaller stores filter
This new filter will help users find smaller stores to get what they need. This new feature from Google is exciting for many reasons. First, it helps consumers find the products they need easier. It also helps small business owners gain new customers that would have never found their products on Google. It's a win-win for both parties.
9. Enhanced tags are now available on Instagram, enabling a better crediting system
Now, with enhanced tags, you can include the username of the person who edited the photo, the location the photo was taken, and the name of the company that owns the place in the caption section! By doing this, you'll make sure your credit is always intact and you'll be able to easily track where your photos show up!
10. Instagram now adds the 'Generate more leads' option while boosting a post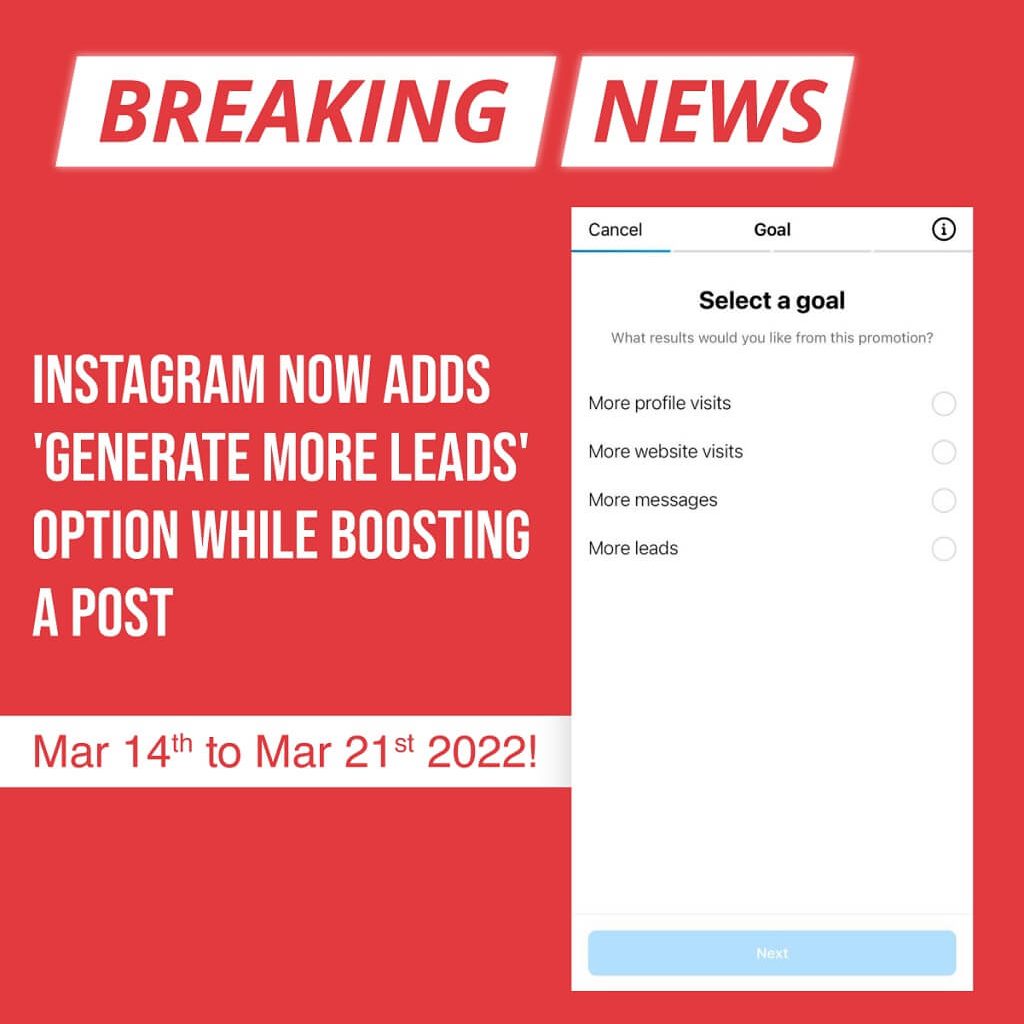 Instagram has announced that they are adding a new feature to their app that will allow users to generate more leads when they boost posts. This new feature is called the 'Generate more leads' and it will likely be a welcome addition to the many businesses that use Instagram to advertise
11. Facebook is currently working on bringing reaction to Reels
Facebook is constantly trying to innovate and improve the user experience. The last update to Facebook saw it add reactions, which allows a user to react to an image with more than one emotion. This is great because it gives a more accurate idea of how the user feels towards the image and what they think of it. Right now, Facebook is working on bringing the same technology to videos on the app.
12. Meta introduces new parental supervision and control tools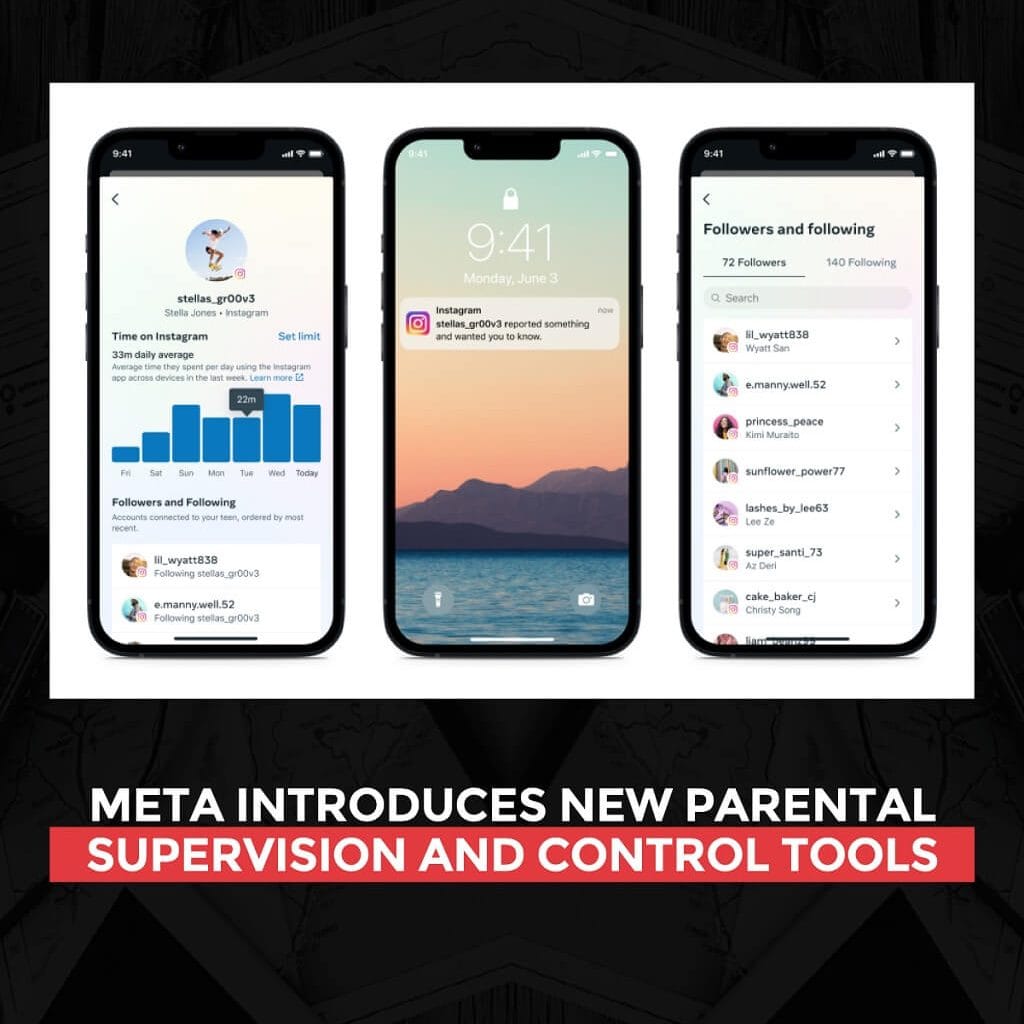 Meta has unveiled a new package of parental supervision and control tools. The tools will allow parents to block certain websites, set time limits on devices, and more. The new tools will be available on all devices in the Meta operating system.
13. Now you can know the top skills required for a job via LinkedIn's new tool
Now you can read more about the latest jobs posted to the site that has the skills you are looking for. Based on this information, you can decide if you want to apply for the job or not. After you do, you can read more about the job details and even contact the employer to make sure you can meet their expectations. This is a great tool for anyone who is looking for a job and wants to make sure their skills are on par with what employers are expecting!
14. Go Live together feature is soon coming to YouTube
This feature will allow video creators to stream live videos together, including those who have been partnered with the site for a long time. This feature is currently in limited beta, but many creators have been invited to participate. Many viewers have been excited about the Go Live feature. They say that it gives them a chance to hang out with their favourite video creators.
15. Twitter now allows you to create short audio clips from twitter spaces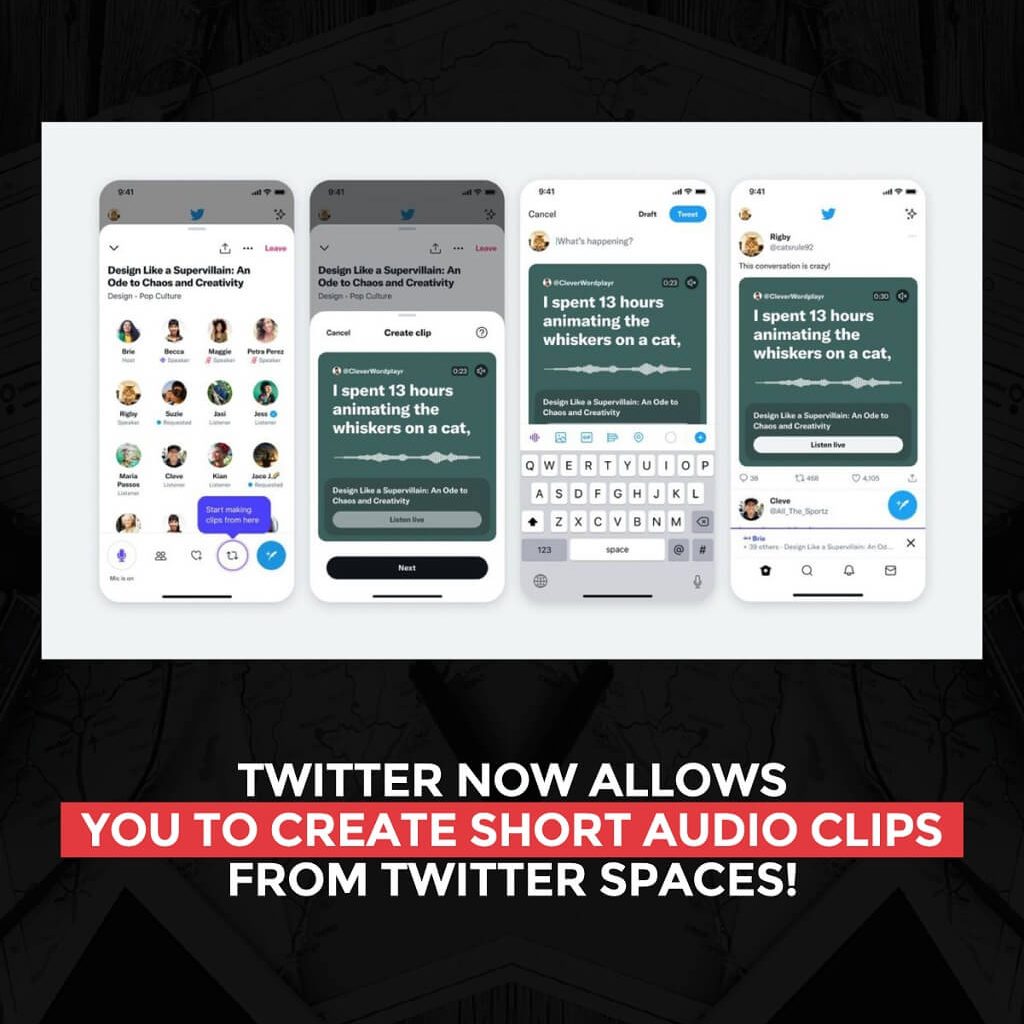 The feature has been around for a while on Facebook and Vine but has now been brought to the Twitter platform. It then loops back to the beginning and gives the user the option to post it or record more. The audio clips can only be up to three seconds long, but you can use them for promotions, sharing sounds from events or using it for a fun, quirky way to update users about what you've been doing on Twitter!
16. Google search result snippets to now have carousels
Google is making a change to the way it displays search result snippets, adding a carousel that displays additional results on mobile devices. At first, the carousel will display results in a 2-by-2 grid. Over time, Google plans to experiment with other layouts to see which one works best, but it will always show a maximum of 4 snippets at once.