The month of October saw a lot of interesting digital marketing updates and test features on various platforms.
With the year coming to an end, many updates were improvements on the previous updates launched by the app.
From Instagram adding a new audio feature for Reels, Facebook's new emotional health center to Google's journalist studio and LinkedIn's new event features, the updates added a lot of value to the platforms.
Here's the entire list of October's New Things In Digital Marketing.
In case you missed last month's list of #NewThingsInDigital Click here to read.
List of the top 29 latest digital marketing updates in October 2020
1. LinkedIn adds warning prompts on potentially inappropriate messages
LinkedIn has added some new measures designed to better protect users from inappropriate comments and content. LinkedIn members who have had their content removed due to a rule violation will now get a new notification on their posts informing them of such, while those who report an update will also get more info on what happens next in the process.
2. Twitter expands access to Voice Tweets
Now audio tweets are available to more iOS users (still no Android for now), while Twitter has also re-affirmed its commitment to adding auto-captions for voice tweets as soon as possible. Now more people have access to audio tweets, and soon, even more people will be able to enjoy the experience of seeing what people share via sound clips attached to their tweets, expanding context and understanding across the app.
3. Facebook announces new group features
Facebook has announced a new set of admin tools for Facebook groups, which will provide more ways for group admins to control their group discussions, and manage engagement. The biggest addition, from a group management perspective, is Admin Assist, which is a new process that will enable group admins to set up automated rules for post moderation, saving them time in having to sort through common problematic posts. Facebook's also adding new pinnable topics within groups, defined by hashtags.
4. Google Shopping Now Free Globally
In April 2020, Google opened up Google Shopping to free listings for all U.S. merchants, starting with the Google Shopping tab and then expanding to the main search results section. Google announced on Wednesday that it is expanding Google Shopping listings for free globally.
5. Google Takes Local Services Ads to Europe
Searches for local services grew more than 25% YoY across European countries. Google's Local Services Ads (LSAs) program is now rolling out in Europe. It will initially be available for 16 home services categories (not professional services) in 10 countries: Germany, UK, France, Austria, Belgium, Ireland, Italy, Netherlands, Switzerland and Spain.
6. Google My Business Announced New Performance Insights Metrics
Google announced new performance metrics, specifically for Google My Business Insights. We start with interactions to let you know how often people have contacted you. More metrics will follow over the next months and will include detailed reports about searches and the number of people who saw the profile. After metrics are added to Performance reporting, the older versions of those metrics will eventually be removed from the Google My Business web and app platforms. These reports are currently available on Search and will soon be available on Maps.This data will be available for up to 6 months. You'll be able to review your performance by selecting custom time frames, with interaction metrics updated daily and other metrics updated monthly.
7. Google Local Inventory Ads Gain "Pickup Later" Feature
Google announced that it is expanding its local inventory ads to support the option for stores to show a "pickup later" option. So you can show when the item is available for pick up in the store.
8. Instagram adds new audio features for Reels
Instagram has been on the top of its game when it comes to keeping up with aligning Reels with TikTok! The App launched three key updates earlier last week, which are all audio-related, helping users engage in music-related trends in the App.
The new options being added to Reels this week are:
Save Audio – This will give users the capacity to save sounds in-app, which they can then use in their own Reels clips
Share Audio Pages – Users will now be able to share collections of Reels which use a specific piece of audio via DM
Audio Browser – Users will be able to search for sounds and music, and the Reels clips that use them
9. Facebook announces new Emotional Health Resource Centre
With Mental health issues on the rise, especially in the wake of the global pandemic, Facebook has tied up with mental health based organizations like NAMI, Kids Help Phone and It's OK to Talk, to address the various issues related to an individual's mental well-being. The social media giant has launched its Emotional Health Resource Centre to invest in the critical areas of mental health support and to provide tips and information from leading experts, around the globe.
Here are a few new mental health resources available (or soon-to-be-available) that you can check out:
World Health Organization Digital Stress Management Guide on WhatsApp (WHO Health Alert chatbot)
WHO sticker pack on Messenger to facilitate conversations around mental health
Crisis Support Over Messenger for suicide and self-harm prevention help by Crisis Text Line Mental Well-Being Guides on Instagram
Peace of Mind with Taraji on Facebook Watch (an original series to throw light on mental health challenges facing people today)
10. Twitter Tests Making Quote Tweet default Retweeting option
Twitter has been testing and making tweaks to its user experience continually for quite some time now. Moving further into the process, the microblogging site is now testing making 'Quote Tweet' the default Retweeting option. This means that the Retweet button will directly lead the users to the Quote Tweet window, where one can either choose to add their thoughts on the tweet in hand before retweeting, or simply retweet the same.
11. YouTube Tests New Warnings For Potentially Harmful Comments
YouTube has joined the bandwagon of social media platforms that emphasize on preventing harmful comments from going up in the section. The platform is testing out prompts that warn users about potentially offensive comments, giving them a moment to reconsider before posting them to the comments section. In addition to this, YouTube is also testing a new process that will delete 'Held for Review' comments after 60 days, if the Channel owner doesn't take action on them. Both tests will be rolled out to selected users initially, with YouTube monitoring the response and usage.
12. Google Search Tests See Results that mention Filter Box
Google is now testing a new feature on Google Search, which allows users to add filters to their search. The filter box that is being tested helps the user narrow done their search, making the results more specific. Google adds a filter box to the right of the search results, allowing users to check off words, which Google will highlight in the results.
13. Google Ads Intros Automated Insights
Google introduced more automation features and campaign types as part of Advertising Week Tuesday. The announcements speak to what has been a years-long effort to use machine learning to serve campaigns across Google's properties as well as to the moves it has made in response to the pandemic
14. Web Stories are Coming to Google Discover
Google announced it is now bringing the Web Stories feature (previously known as AMP Stories) to Google Discover. So not only can you find Web Stories in Google Search and some other supported platforms, but it is now also going to surface in Google Discover – in the Google iOS and Android App.
15. Facebook Announces New Messenger Branding And Features

Facebook is rebranding Messenger, with an added set of new features, and a brand new logo in place. According to Messenger, the new logo reflects a shift to the future of messaging, a more dynamic, fun, and integrated way to stay connected to the people you're close to. Facebook has been adding additional features to Messenger, the past few months, including Rooms, collaborative video viewing, a customizable emoji response bar, new personalized stickers and colour gradients in your threads. In addition to this, Messenger now has added ways to customize your chats and engage via video, visual tools, within chat rooms and more.
16. Snapchat Announces 'Sounds' To Include Sound Clips Within Snap
Snapchat has been testing its new feature 'Sounds', which enables users to add sound clips to their snaps. After a successful test run of the TikTok-like feature in Australia and New Zealand, the social media app has announced the full-fledged launch of the functionality. The option is a result of Snapchat's negotiations with music publishers over the last year on new deals to allow for music sharing within Snaps. The feature is currently available only for iOS users.
17. Instgram Announces 'Action' Against Influencers Who Fail To Disclose Commercial Partnerships
Instagram has decided to handle the concept of sponsored content/paid partnerships better, to protect consumers. Influencers are required to use the "Paid Partnership with" option or use the hashtags #ad or #sponsored on their commercial posts, it is found that many don't do it. For the sake of consumers, Instagram plans to tackle the issue on two fronts:
(1) Instagram's looking to add a new prompt which would require influencers to confirm whether they've received incentives to promote a product or service before they can publish their post
(2) It is also developing new algorithms to detect potential advertising content. It would then look to alert the relevant business, informing them of the platform rules around such.
18. Twitter Adds Prompt To Alert Users Before they Share Flagged Tweets
Twitter has added another prompt to curb the spread of wrong information, alerting users when they go to share a tweet which has been flagged under the platform's rules against misinformation. The prompt will alert the user about the claim included in the original message being in dispute, and link them through to more information before they tweet/retweet the same.
19. Google Launches Journalist Studio For Journalists

Google on Wednesday announced Journalist Studio, a suite of tools that uses technology to help reporters do their work more efficiently, securely and creatively, along with launching two new products for reporters.
20. Google Tests Ads In Google Map Autocomplete Predictions

Google is testing ads for local businesses in Google Maps auto-suggest search results. Thibault Adda, local search specialist at Darden Restaurants, noticed and tweeted about it Thursday. As he typed a search for "Seafood restaurant," an ad for the seafood restaurant chain Red Lobster appeared in the auto-suggest results before he completed the search query.
21. Google Podcasts Manager Unlocks Podcast Search Performance
Google has launched Podcast Manager, a platform to extract insights, analytics and reports for the performance of your Google Podcasts on Google Search. You can set it up for your podcast at podcastsmanager.google.com/about. The tool throws light on how well or poorly your podcast has performed on Google Search, showing you plays by day, impressions by day, CTR, minutes played, your top episodes, device breakdown, top search terms, top discovered episodes and much more.
22. Facebook launches new Shopping audiences, Instagram Product Tag ads, tests Shops discounts

As we head into the holiday season, Facebook is rolling out several new features for e-commerce marketers and brands. It is also launching promotional support for Black-owned businesses and training and software discounts for small businesses.
23. LinkedIn adds new Event features, launches Meeting option via Messages

Events, a quintessential feature on LinkedIn was launched back in May 2020, now has nearly 10 million digital attendees, with more than 200,000 events being listed on the platform. LinkedIn is looking to make this better with new discovery features, promotion options and data capture processes.
24. WhatsApp Announces Shopping and Payment Tools for Businesses

Facebook and WhatsApp announced that it is increasing its investment into shopping with WhatsApp. Facebook has listened to feedback and will begin offering more and expanded tools to help businesses sell more online with WhatsApp.
25. Facebook tests 'Neighborhoods' Feature

Facebook Groups is a major feature that connects people from different walks of life and has played a significant role in helping people stay connected and more, during the pandemic. Groups are also a great tool for local communities to stay in touch. And Facebook, taking advantage of this reason, has launched a new test of an option called 'Neighborhoods', which aims to better connect more people to others within their immediate vicinity. Neighborhoods will enable users to connect with their neighbours and discover more about local happenings within the app. One needs to set up a Neighborhoods profile, before going on to use the feature.
26. Users can now share Topics in Tweets & DMs on Twitter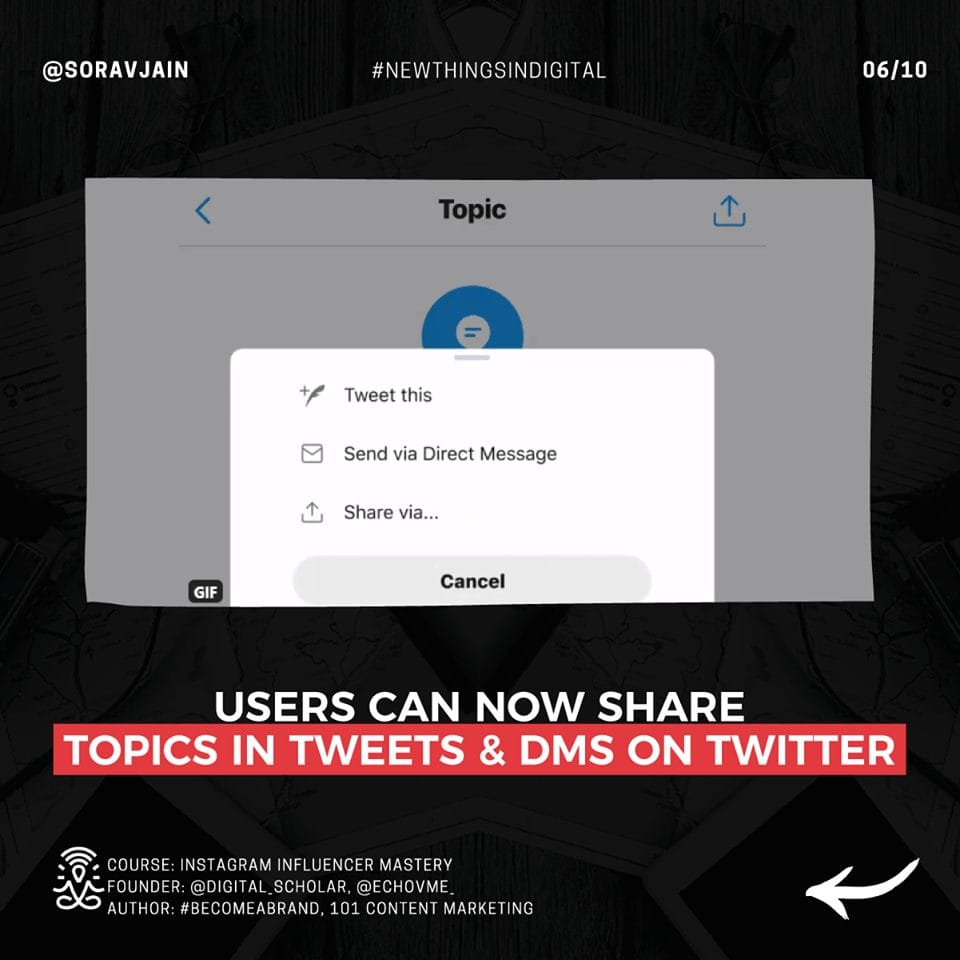 In another move to up the discovery of Topics, Twitter has added options to 'share' topics via DM and tweets. Upon clicking a topic, users will find a share icon/option in the top-right corner of the screen. On clicking it, they will find options to share the topic via a tweet, DM and even outside of Twitter, connecting others to the conversation.
27. Facebook Introduces a New Messenger API With Support for Instagram

Following its announcement of the Messenger-Insta DM crossover, Facebook has now announced that its new Messenger API will let businesses to manage their communications across Instagram, in addition to Messenger. Up until now, businesses could only respond to customer inquiries through the Instagram app and the inbox on Facebook's Business Manager. The update will allow businesses to also integrate Instagram messaging into the applications. According to Tech Crunch, "The updated Messenger API is launching into beta testing with businesses like Adidas, Amaro, Glossier, H&M, MagazineLuiza, Michael Kors, Nars, Sephora and TechStyle Fashion Group, among other consumer brands. The beta is also open to a limited number of developer partners."
28. Google Search Augmented Reality For Car Manufacturers

Google has now expanded its year-old 3D, VR and AR view on Image search, to car manufacturers. Upon searching for 'Volvo xc40 recharge' some users were able to see a "view in 3D" button and were able to see the car in 3D.
29. Google Maps Square Pins For Ads

It was reported in June that Google will be launching new map pins for advertisers. These pins are squares and they are called "promoted pins." They are ads and are paid for by advertisers to promote these locations. This was spotted by Andy Simpson, who posted about it on Twitter.