Welcome to the brand new series #NewThingsInFBAds. Whenever there are important updates in your Facebook Dashboard, count on me to spill the tea! Let us take a look at some of the latest developments that happened in the arena of Facebook Ads.
#1 Customize Your Creative as Per Placement
Displaying your ad in different placements such as Facebook Feed, Instagram feed, Instagram story or Audience network was always an extra work since the ad size differed for each placement. Facebook has now introduced a new feature where you can add any number of creative in the same ad set, that can be customized according to the placements.
#2 Customize Your Bidding Strategy
Are you running a Lead Generation campaign for your brand? Worried about the cost per lead? Fret Not! Facebook has rolled out a new feature where you can customize your bidding strategy according to two aspects:
a) Get more leads for lowest lead cost
b) Maintain a stable lead cost while raising the budget.
So, if you are working on a budget and want the most number of leads for a specified amount, bid strategy is the way to go!
#3 Optimize your AD using Dynamic Language
Running a Geo targeted Campaign? Then, the usage of regional language alongside English is the best way to attract native audience. But for that two different ad sets had to be created. Facebook has now made our work easier by rolling out a new feature where we can add up to 5 different languages in the same ad set!
#4 Creative Split Testing
Facebook lets you to do a Split testing where different versions of your ads can be compared to see what works best and make improvements in the future campaigns. Initially, the split testing was available to test the delivery, audience and the placement. Now, Facebook has expanded the variables to the Ad Creative! Use this feature to find out the best performing creative for your campaign.
#5 Customize Your Ads with Text Overlays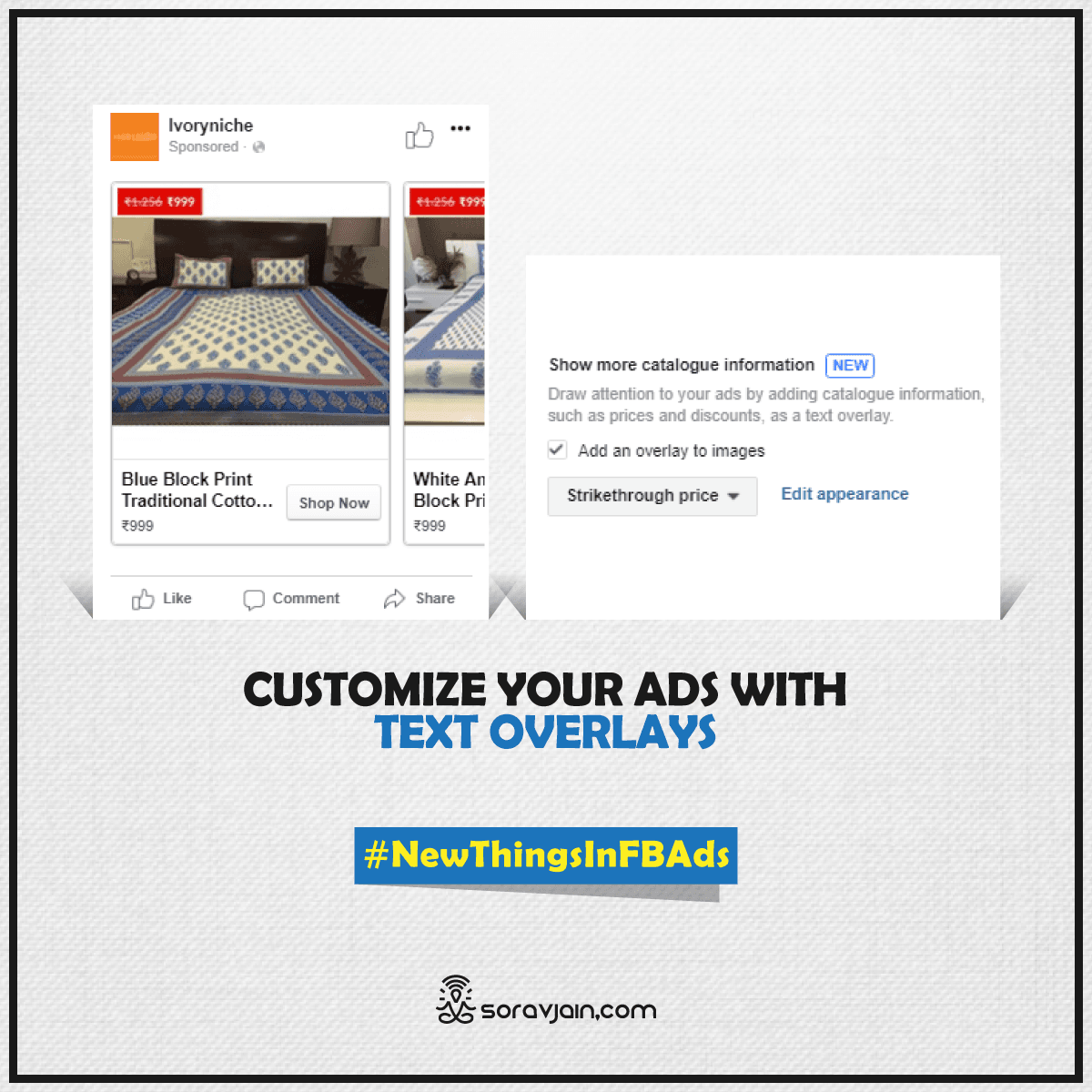 Are you a marketer from the E-commerce domain? Well then you must be aware that offers are a great way to attract majority of the mass. Now, Facebook has rolled out a new feature called Text Overlay where you can display the product price using strike-through overlay or percentage off overlay. We can also add the cash on delivery option. This feature is available for the objectives: Catalogue sales, Traffic and Conversions.
#6 Customize Your Lead Form with "Higher Intent" 
Facebook's Lead Generation campaign has always been a boon for the marketers to collect the customer data, without driving them to a landing page, using in-built lead forms. Facebook has come up with a new option where we would be able to choose the form type to optimize the leads that we receive. The 'More Volume' can be used to get more leads using a simple lead form while using 'Higher Intent' let's your prospects review their information before submitting them and thus increases the quality of leads.
What's your take on the tide of updates Facebook has brought to us? Tell me in the comments section!