I've always been a fan of how Facebook keeps generating ideas that helps digital marketers reach out more effectively. With the numerous options to target the audience, custom audience is one of the most essential tools in Facebook advertising. It's a list of customers that provides advertisers with the ability to reach their past, current and prospective clients on the social network. But not all brands have a big customer list that they can capitalize on. So, Facebook has a lookalike. This feature locates people with similar activities to your custom audience and creates an audience, which can help the brand to expand their database.
The ability to create lookalike is now expanded to create value based lookalike audience, where you upload a customer list with a value against each and this becomes the criteria to identify the audience which is similar to your highest-value customers.
What is Customer Life time value?
As I've already mentioned, it is the audience created by the value associated with the customer database, on how strong their relationship is with your brand. Few customers have made one single transaction and few have come back for repurchasing. This feature draws on the capabilities from the high valued customers and creates audience similar to them, available on Facebook.
How to create a Value-based lookalike audience with LTV:
It is a two-step process:
Create Custom Audience with LTV
Create Lookalike of the custom audience created with LTV calling it 'Value based lookalike audience'.
Let's break down these steps further.
To create Custom audience with LTV follow the process below:
1. Go to the audience section of your ads manager or power editor.
2. Click the create audience button for a drop down and select custom audience.

3. Click on customer file, which now gives you 3 options:
a) Upload your own file
b) Import from your Email CRM on a Facebook account.
c) Upload a Customer file with Lifetime value (NEW)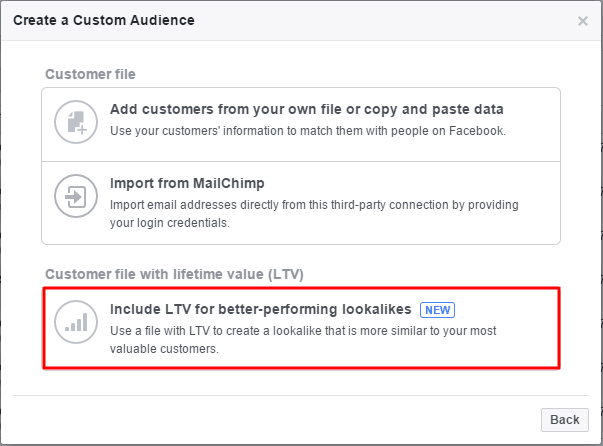 4. Since we are creating an audience with LTV, Choose the option 3 and manually add the customer file in .txt or .csv format.
Facebook suggest includes as much data as possible for it to identify them on Facebook and use the data. These are names, email addresses, phone numbers, first names & last names. It is like a normal customer file that is used to create custom audience. Here, the major difference is that you have to assign a column of values along with other identifiers. Facebook has defined the values as:
How often a customer makes a purchase within a typical purchase cycle
How much a customer spends each time they make a purchase
How much you project a customer will spend over the duration of your relationship with them
The potential length of a customer's relationship with you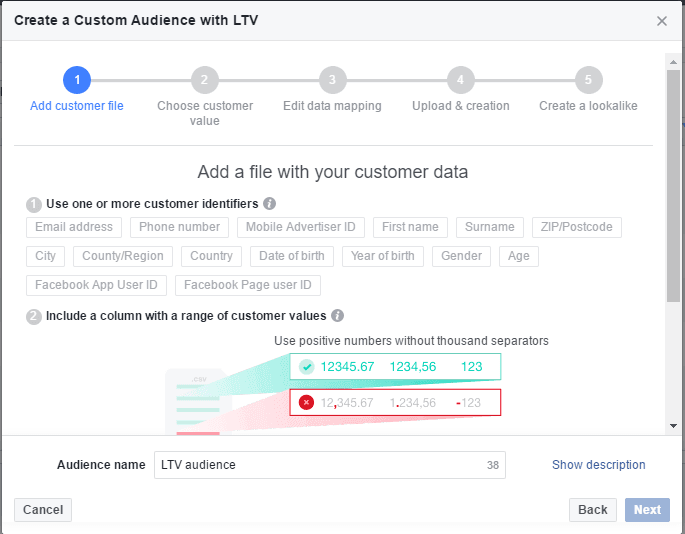 Here is a sample template of your Customer file, you can add or remove columns according to the data available with you.
5. There are two methods to define Lifetime Customer Value to your list of customers which is perfectly explained by Jon Loomer, a Facebook advertising expert. Click here to know the process
6. Upload your customer file and then choose the customer value column for Facebook.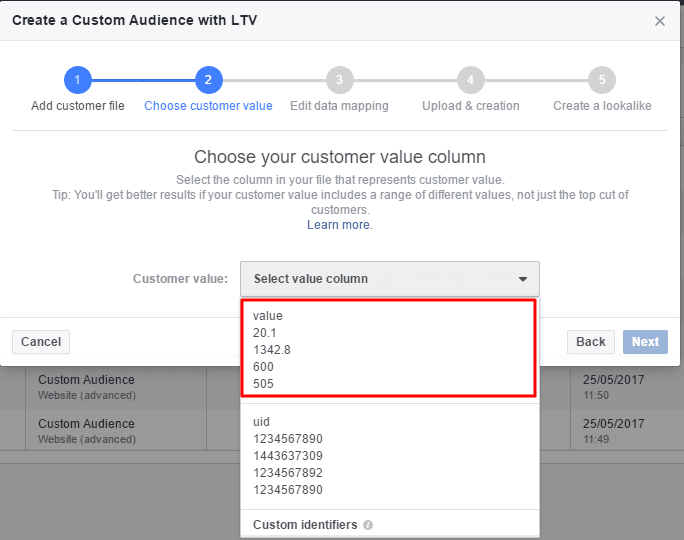 7. Then you can preview and map all the identifiers you have made columns of. Do the necessary edits in case of errors and click next. Your file is uploaded.
8. Now, the functional purpose of creating this audience is to create a lookalike to grow your potential audience database. This is the second major step towards creating a value based audience.
Click on create lookalike
Name the file of the source; you are creating a lookalike of.
Choose location you want to promote or sell your product to.
Select the range of your audience size from 1% to 10% where 1% being the closest lookalike of the existing customer.
Click on the create audience and your audience will start populating.
Note: It is not a new audience but one which you might want to concentrate on for hard-core selling of your product or service getting down the marketing funnel.
Inputs from Facebook on this new feature:
Use this audience for selling or promoting your product instead of branding.
As the cost per result will be higher, it is important that you keep a tap of RAOS (Return on Ad spend).
Do not rate or rank your customers when assigning values to, as you have to make sure the proportion you are giving will help Facebook match similar audience.
This new tool to create your value based audience is too cool but has challenges that might make your work tedious. Having lifetime values assigned to your customers is to maintain all your records and curating them for creating the custom audience with LTV. This audience will be of great use to marketers to cash on the capability of the online mirrors of their existing online and offline list of customers.
Drop in your thoughts on this new feature and feel free to share with me your experience with it.