The first half of 2023 has come to an end, and it went exactly as anticipated: big updates, all revolving around automation, AI, and customization. From Meta's new AI audio tool to LinkedIn's verification in job listings, WhatsApp's new Security Hub, and Instagram's multiple collaboration options, there were a lot of things to explore. Here is the complete list of this week's #NewThingsInDigital.
1. Instagram Trials Enhanced Ai Chatbot Experience In DMs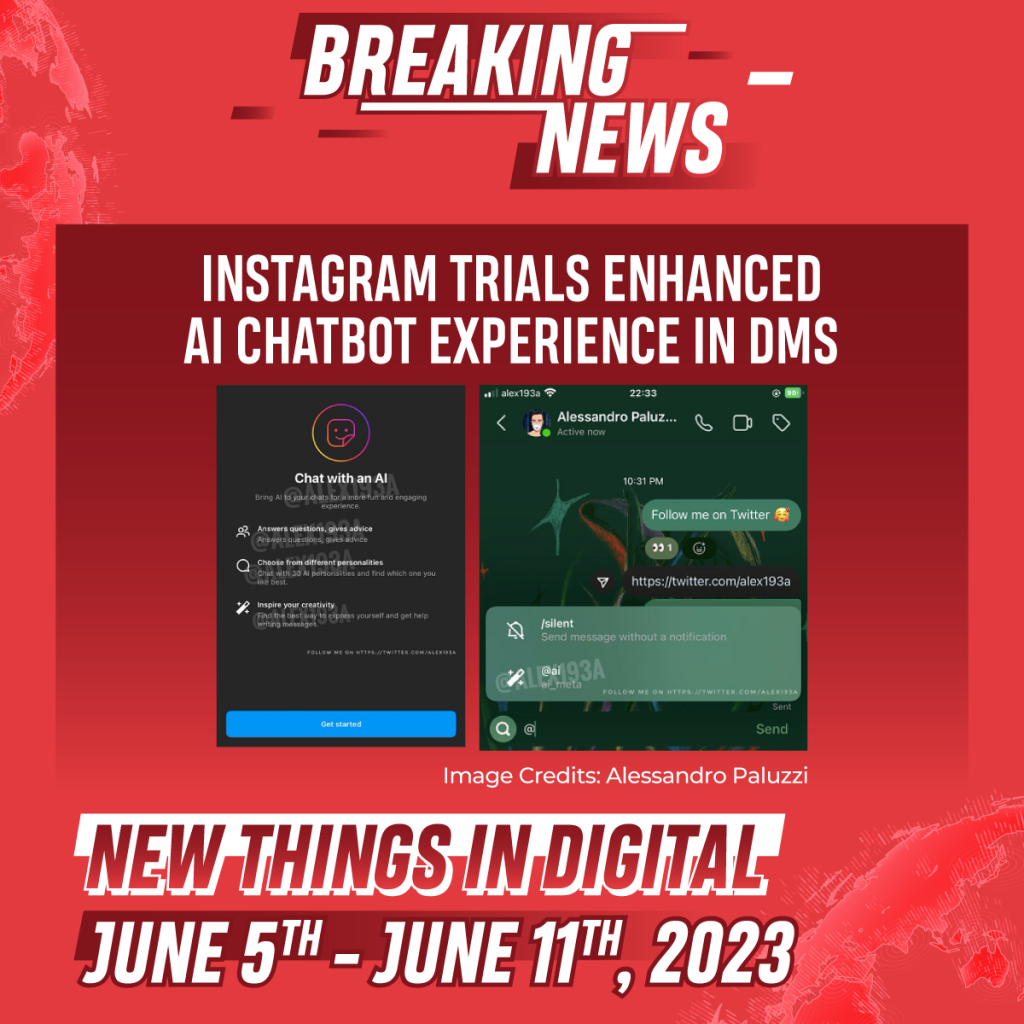 Instagram is developing a new AI conversation function akin to Snapchat's My AI tool. Users can ask questions and get advice from an AI system immediately within any chat thread on the platform with this future feature. In addition to addressing questions, the AI chat option will offer users advice and pointers on how to write more compelling messages. This improvement highlights Instagram's ongoing attempts to improve user experiences on its platform by leveraging generative AI tools, visual prompt tools, and multi-modal advancements.
2. Meta Verified Is Now Available In India
Meta Verified, Meta's subscription service, is now available to consumers in India. This service offers various perks in exchange for a monthly charge, including a confirmed blue checkmark and better account safety. Meta Verified is available in India for Rs 699 for iOS and Android platforms. Unlike the previous criterion of 'notability,' Meta Verified account authentication will now rely on official ID proof. Furthermore, Meta will launch a Rs 599 pricing option for web users shortly.
3. Twitter Extends Tweet Editing Timeframe To One Hour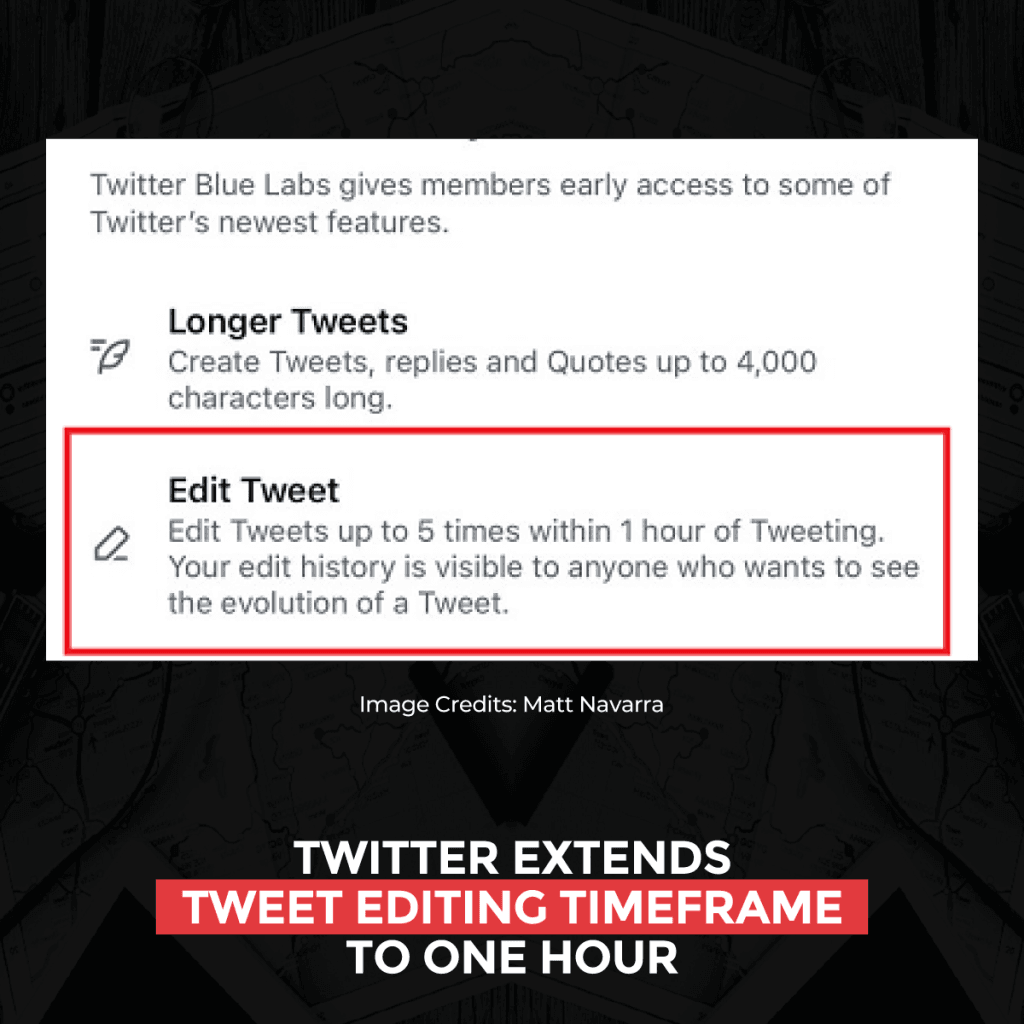 Twitter has added a Tweet Edit window extension for Twitter Blue subscribers. The edit window, previously set at 30 minutes, has now been increased to one hour. A social media consultant, Matt Navarra, provided an example of this development, disclosing that certain Twitter Blue subscribers now get a full hour to modify their tweets.
4. Linkedin Rolls Out DMs For Company Pages
LinkedIn recognises the growing trend of social network conversations transferring to private messaging and is working to improve its messaging options. Through InMails within the app, the platform hopes to encourage more professional relationships and conversations. LinkedIn has recently added an important feature as part of this endeavour. Company Pages can now send and receive direct messages (DMs), a significant step in facilitating direct connection between businesses and LinkedIn users.
5. Whatsapp Unveils Broadcast Channels To Boost Dm Engagement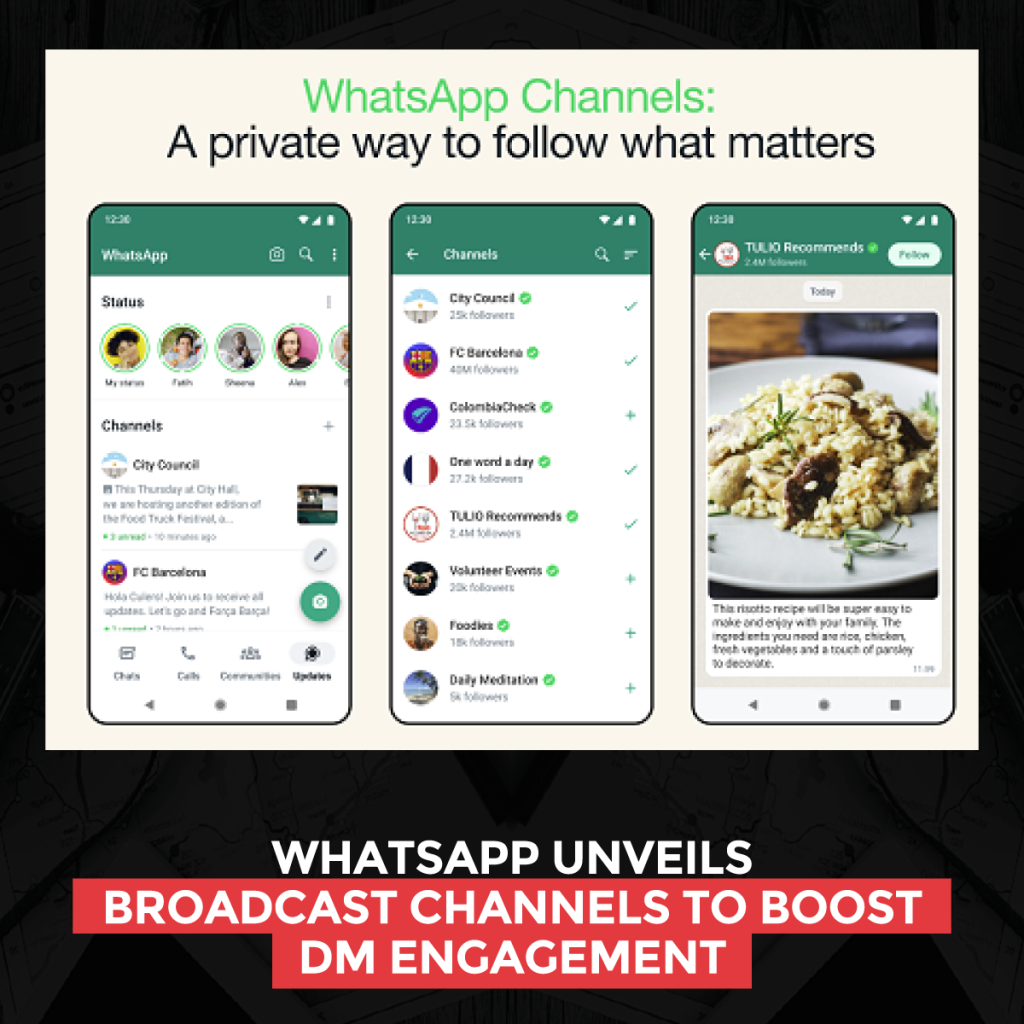 The introduction of WhatsApp Channels, a feature that allows WhatsApp users to receive direct messages (DMs) on particular themes of interest or follow specific producers within the programme, is Meta's most recent move in this respect. These Channels will be available via a dedicated 'Updates' tab, where users can also discover the most recent WhatsApp Status postings from the people they follow. Meta hopes to deliver a more focused and engaging user experience by introducing Channels into the Updates tab. This makes it an enticing choice for encouraging topic-based interactions within the app.
6. Youtube Welcomes Shorts To Join Cross-Promotion Program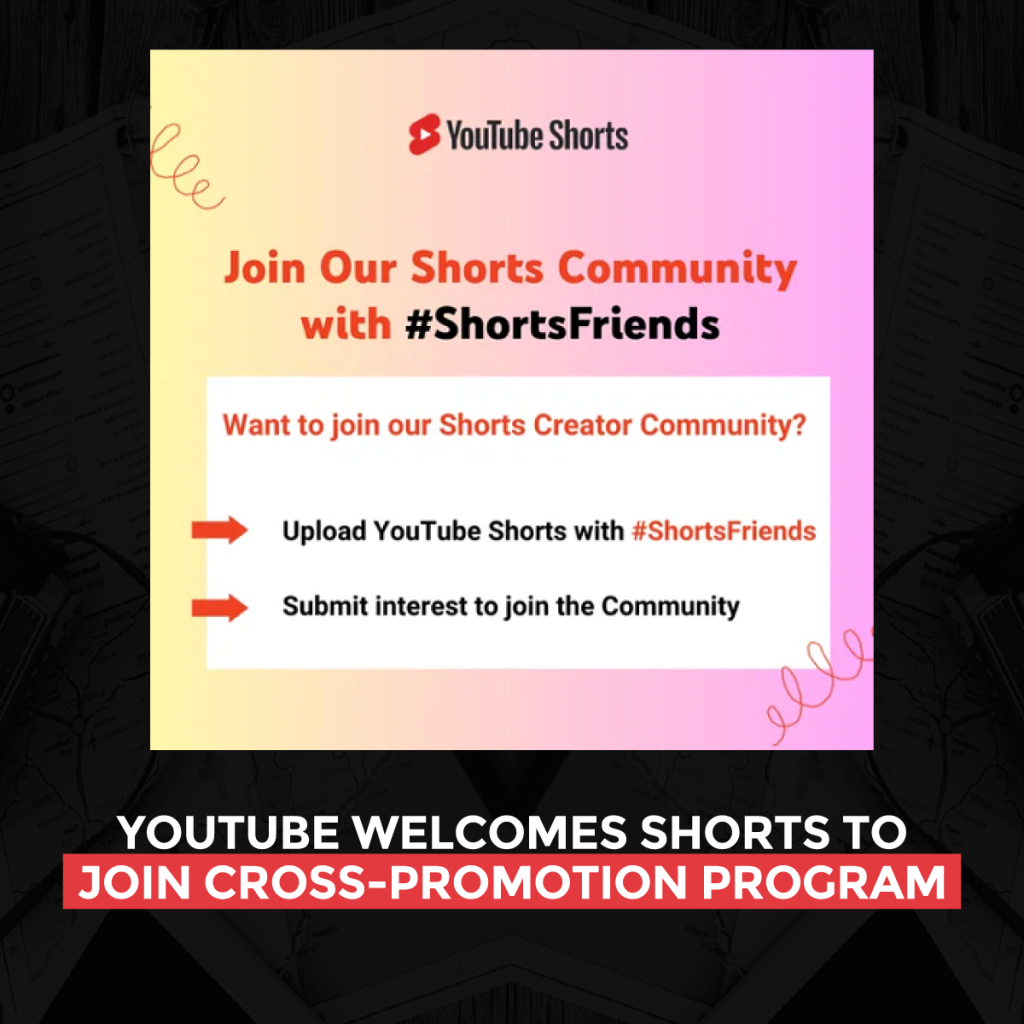 YouTube has recently introduced a new project dubbed #ShortsFriends, which aims to encourage collaboration and reciprocal promotion among the platform's Shorts artists. YouTube hopes that enabling reciprocal sharing within the app would increase the reach of Shorts artists. By connecting them, YouTube hopes to boost cross-promotion and higher engagement among Shorts artists.
7. Twitter To Share Ad Revenue With Creators For Reply Ads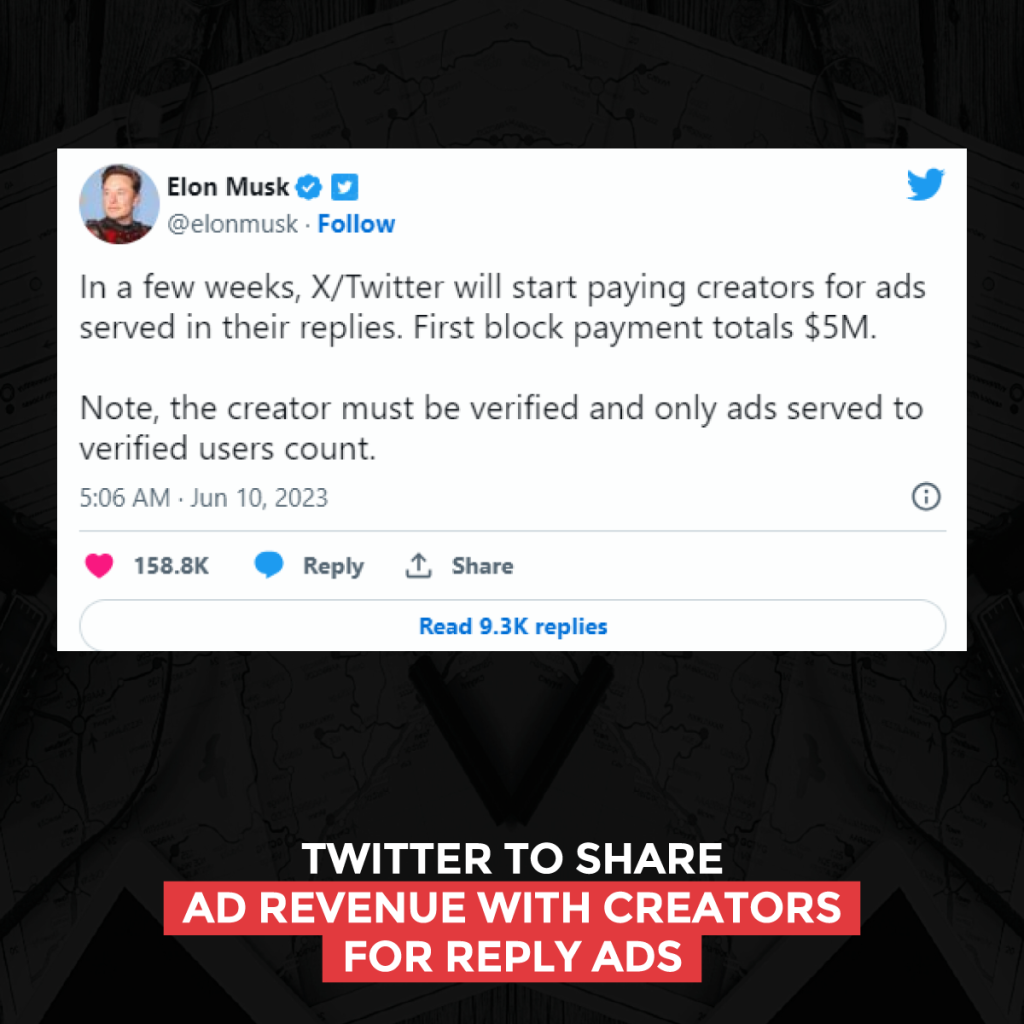 Twitter is getting ready to ramp up its efforts in creator monetisation. Still, there are several essential aspects to consider in light of the recent income-sharing element announced by Twitter CEO Elon Musk. Twitter will soon share money with authors for adverts placed within their tweet responses, a significant change. This opens up a new way for individuals to earn money from their Twitter presence. However, creators must pay close attention to the specifics of this revenue-sharing agreement, as they will define how they may efficiently capitalise on their Twitter activity and maximise their earnings.
8. Google Introduces Perspectives Filter In Mobile Search Results
Over the weekend, Google filters out the new perspectives under mobile search results. This feature, introduced at Google I/O, has gone through previews and tests in recent months, and it is now officially launched and operational. The views filter improves search results by presenting users with a larger diversity of perspectives and information sources.
9. Google Business Profiles Showcase Long Form Videos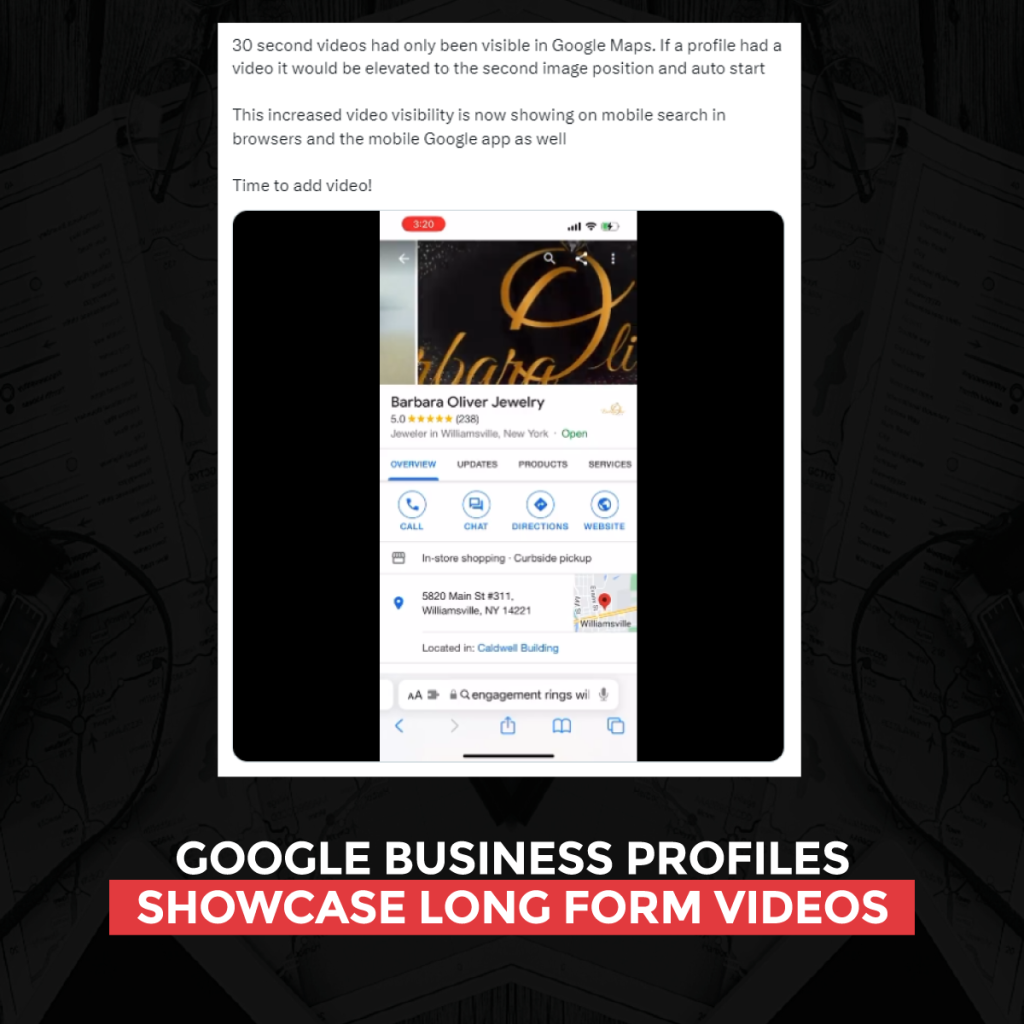 Google has entirely modified how videos appear under Google Business Profile listings on mobile search results. Previously, only videos of less than 30 seconds were included in the image portion of the listing. However, Google has begun to display films of 30 seconds or longer for specific items in mobile searches. This upgrade enables businesses to display more extensive video material on their Google Business Profiles, providing users with a more visual experience when looking for relevant information.
9. Instagram Extends Broadcast Channels To All Creators And Pilots New Channel Options
Instagram is now making the additional DM engagement option available to all users with an active Creator account, as part of a more significant trend away from feed postings and towards more private conversations. Meta CEO Mark Zuckerberg announced the extension on his personal Instagram feed, allowing more creators to post updates with a larger audience through DMs in the app.
10. Meta Expands Instagram API: Introduces Creator Accounts And User Tagging In Reels
Meta is improving the Instagram API to provide third-party platforms with more options. With this update, these platforms can provide expanded posting capabilities within their applications.
Third-party developers will now be able to implement content publishing for Instagram Creator accounts, in addition to company profiles available on the app, which is a vast improvement. This implies that if you have a Creator account, your chosen third-party platforms will soon be able to support the direct Instagram publication. This will make it easier for you to manage your material from a single dashboard rather than having to post on each network separately.
11. Meta Empowers Creators With New Tools: Facebook Reels Templates, Analytics, Ad Tools
Meta has released numerous updates geared at enticing creative persons by improving tools for extending the reach and impact of their material on Facebook. These upgrades include adding new Reels templates, enhanced editing tools for Reels, a daily checklist to aid in developing one's online presence, updated performance analytics, and more.
To help content creators even more, Meta is introducing the 'Inspiration Hub' under the Facebook Professional Dashboard. This hub will highlight the most recent Reels trends, providing vital statistics on the most popular hashtags, topics, and songs currently trending.
12. Meta Unveils 'voicebox': Speech-To-Text Translation Tool
Meta has given a detailed summary of its latest AI system, dubbed 'Voicebox.' Users can utilise this revolutionary method to transform text into audio in various styles and voices. Meta showcased how the Voicebox technology can effortlessly translate text inputs into high-quality audio output in a preview video, providing a more advanced text-to-audio translation experience. Voicebox accomplishes this with lower learning and processing requirements than comparable existing methods.
13. Twitter Launches 'highlights' Tab Exclusive To Twitter Blue Subscribers
Twitter has added a new "tweet highlights tab" feature only available to Twitter Blue subscribers. This feature allows paying users to curate and highlight their best tweets on their Twitter profile via a dedicated feed. Twitter Blue users can now add their tweets to this unique section using the tweet highlights tab. They can easily do so by selecting "Add/Remove from Highlights" from the three dots menu in each tweet's top right corner.
14. Twitter Aims To Stop Brands From Trendjacking Via Replies On Tweets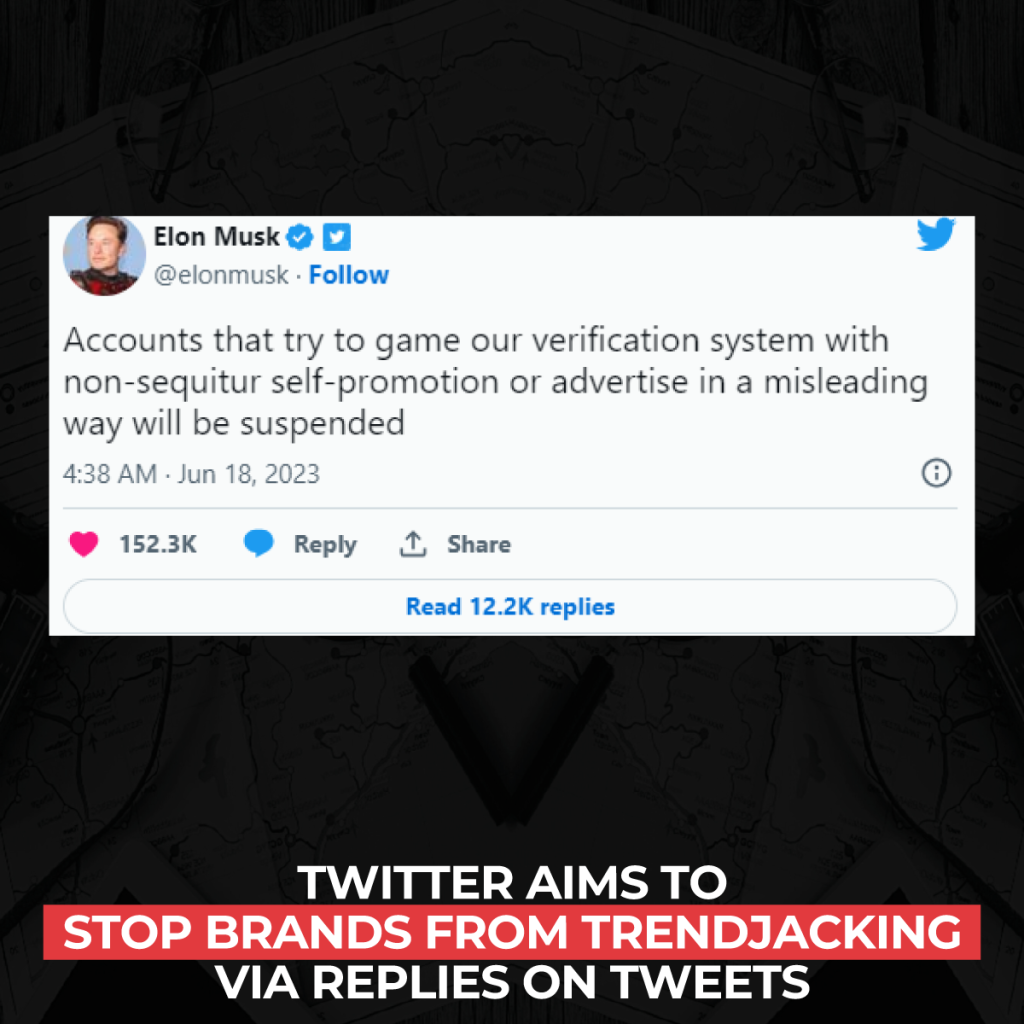 In response to customer complaints about scammers exploiting trending tweets on the app, Elon Musk posted a statement recognising the practice of tapping into trending topics, often known as 'newsjacking'.' Musk acknowledged that harnessing trending topics is a standard method many brands use to boost exposure and promote their content on the network, ultimately increasing awareness.
15. Twitter Explores Job Posts In New Twitter Recruiting' Experiment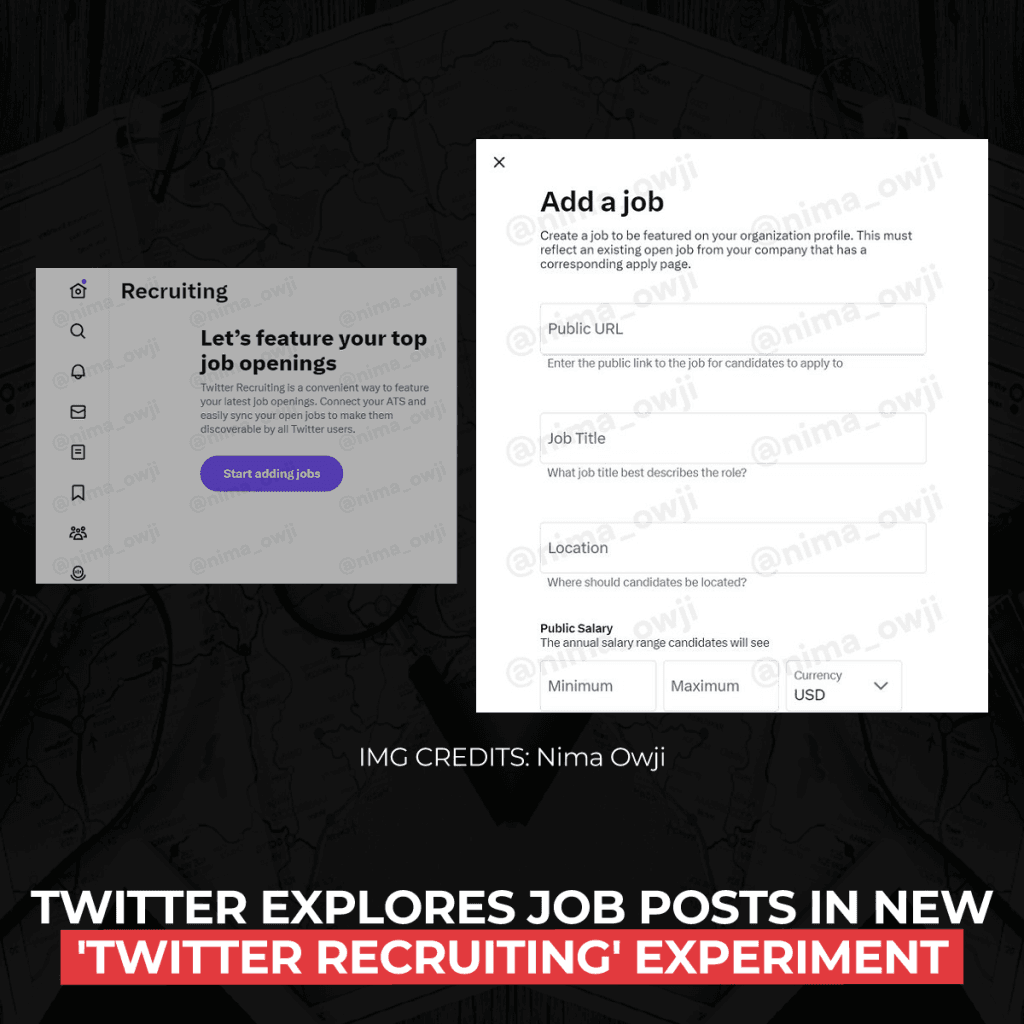 Twitter is preparing to enter the world of job postings and applications, as demonstrated by adding a new function called 'Twitter Recruiting' to the app's backend code. This upcoming feature will enable verified organisations to promote job positions on Twitter immediately. These organisations can submit job postings within the app, easing the process of linking job seekers with potential employers.
16. Google Unveils Ai-Powered Ad Options And Virtual Try-On Tools For Clothing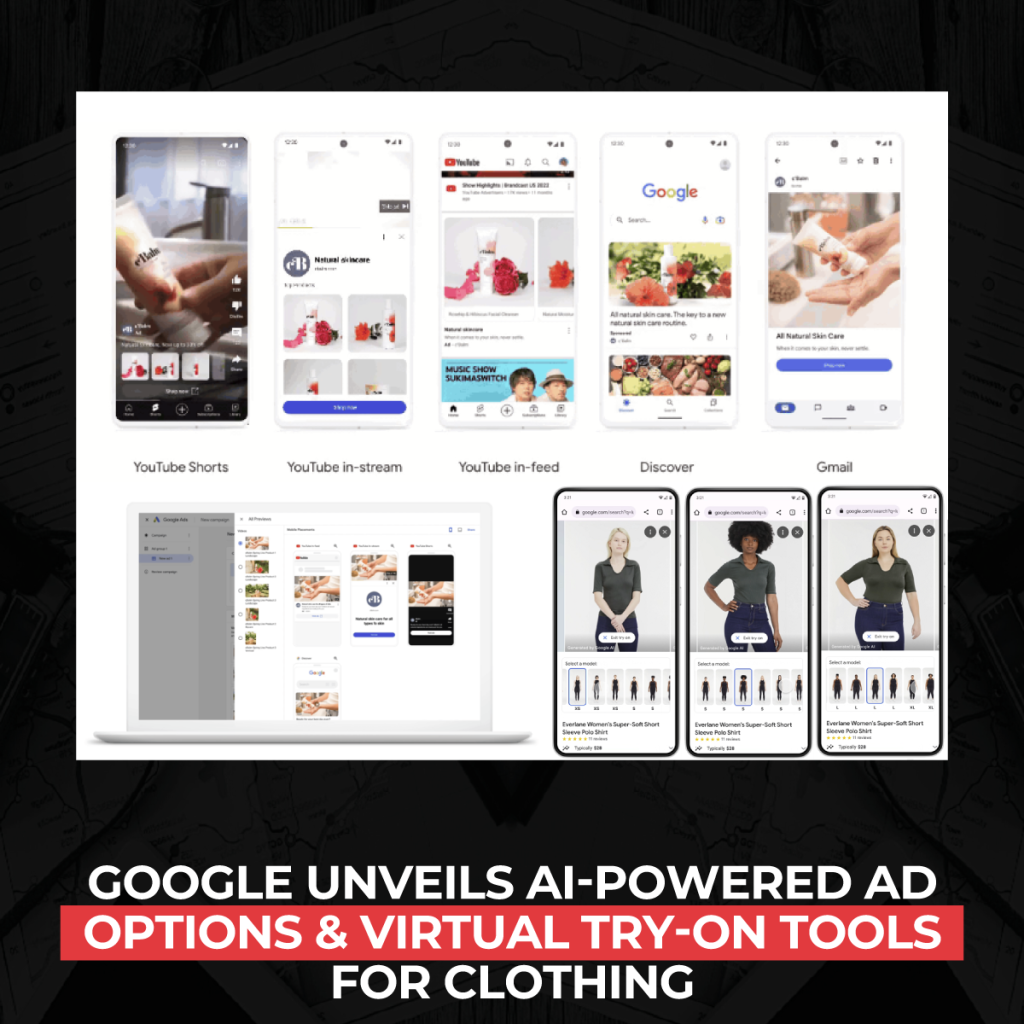 Google is working to enhance the online shopping experience. They are building a generative AI technique allowing people to try on garments virtually. This revolutionary feature integrates digital models that precisely depict various body shapes, allowing for more realistic visualisation of how clothing might appear on individuals. Users can better grasp the fit and appearance of clothing on a varied selection of accurate models by enabling a virtual try-on for garments.
17. Google Search Sources Reviews & Photos From Business Profiles
Google recently improved its Google Search Generative Experience (SGE) project by broadening its knowledge sources. The SGE experiment now includes reviews and photographs from Google Business Profiles and site content. This enhancement dramatically improves Google SGE's capacity to aid customers in trip planning, exploring travel choices, discovering eateries, and more.
SGE's new version includes enhanced features for local and vacation searches. When users ask precise inquiries about a specific location or destination in Google Search, they will be shown an AI-powered snapshot that compiles the most helpful information. This thorough snapshot incorporates pertinent details from reviews, photographs, Business Profiles and data from throughout the web.
18. Meta Launches New 'Community Forum On Generative Ai
Meta is introducing a new 'Community Forum on Generative AI' to broaden its ideas and encourage greater growth. This effort will provide a venue for public sessions to gain valuable feedback on the values consumers want to see reflected in these new technologies. Meta's Community Forum, in collaboration with Stanford Deliberative Democracy Lab and the Behavioural Insights Team (BIT), will provide participants with educational resources to deepen their understanding of the discussed concepts and allow them to raise pertinent questions about safety, behavioural impacts, societal shifts, and more.
19. Twitter Rolls Out 25 K Character Tweets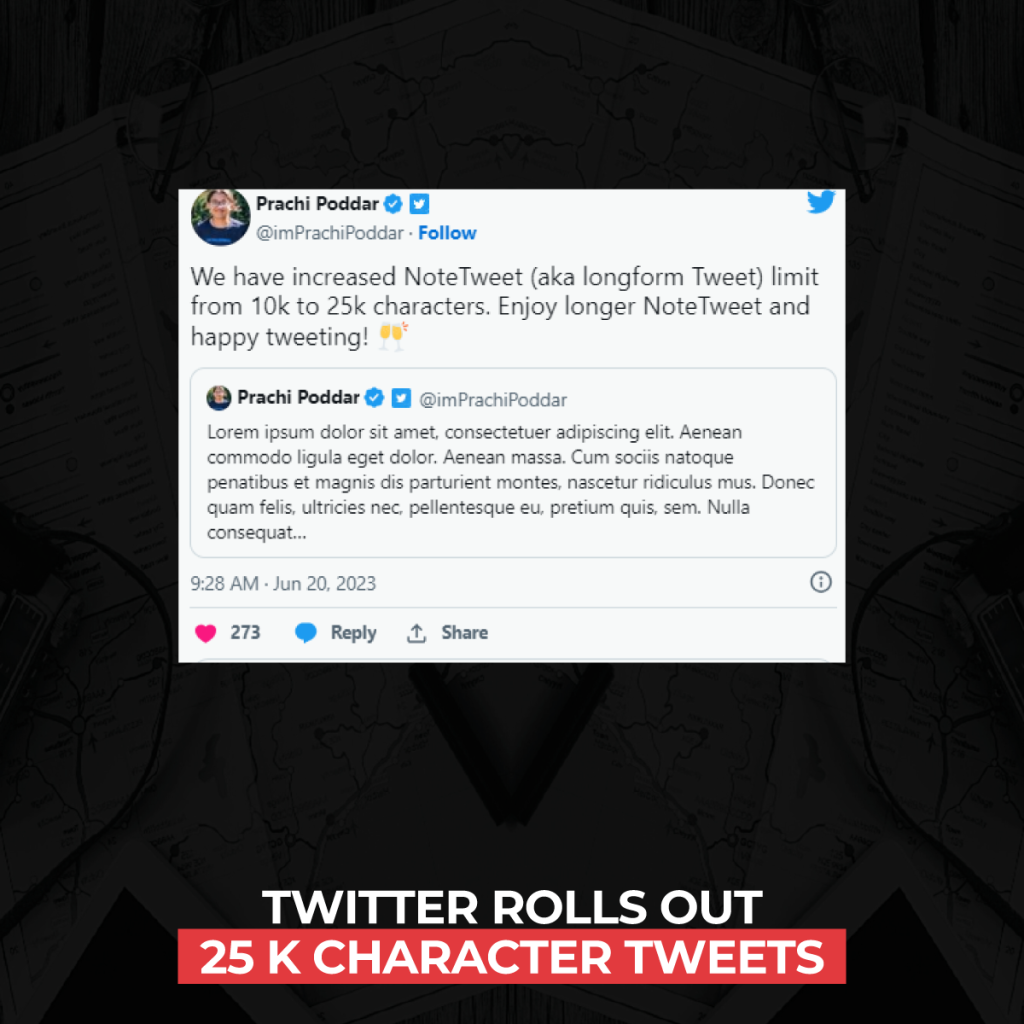 After initially allowing users to share tweets of up to 4,000 characters, which were then increased to 10,000 characters, Twitter has now increased the restriction to a whopping 25,000 characters per post. Twitter Blue users can embed inline photos within their lengthy tweets. This new tool was made available to all Twitter Blue subscribers last week, giving users more creative options for expressing themselves on the network.
20. Twitter Explores Search Functionality For Following List
Twitter is always improving the user experience of its app, and the current experiment focuses on search choices. This new test allows Users to search for specific keywords inside their followers list. This feature will not only let users see who is following them, but it may also expose other people's followers if made available across all profiles.
The 'Followers' tab's search option seeks to allow study on the flow of information among profiles. It may also help locate followers with specific keywords in their bio, or it may allow for filtering based on location, profile category, and other factors. Twitter's investigation of this feature gives up new channels for user research and expands opportunities for understanding and engaging.
21. Twitter Addresses Concerns: Reassuring Regulators And Ad Partners Amidst Controversy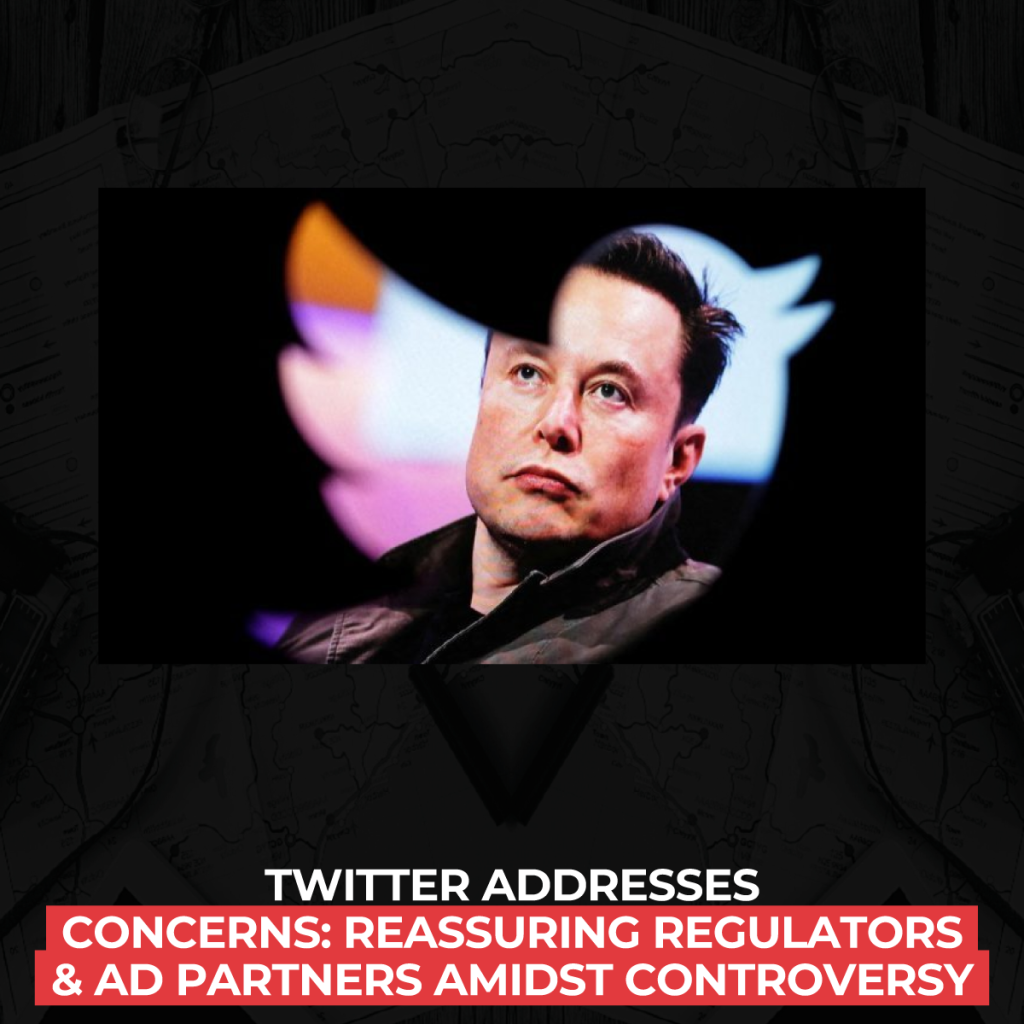 Yaccarino and Musk will meet with EU Privacy Commissioner Thierry Breton and EU Commission assessors to discuss Twitter's compliance with the EU's Digital Services Act (DSA) requirements. Twitter withdrew last month from the EU's voluntary Code of Practice on Online Disinformation, which is a DSA component. Despite opting out of the optional part, Musk emphasised that Twitter remained committed to the EU law, especially the new requirements for countering disinformation. The future meeting will focus on Twitter's position and ongoing commitment to meeting DSA responsibilities.
22. Linkedin Tests Generative Ai Posts: Exploring Content Creation
Following the latest news on LinkedIn's generative AI experiments, the site has formally launched its AI post-generation tool for a select group of users. LinkedIn's AI update assistant, initially found in the app's back-end code by researcher Nima Owji, now asks users to "share your ideas" in the composer and provides suggestions for a first draught of a post. LinkedIn users can now utilise AI to improve their content production process, potentially speeding the posting experience and promoting more engaging discussions on the network with the formal release of this functionality.
23. Youtube Trials New Feature: Create Shorts Replies To Comments On Others' Videos
YouTube continues to innovate by testing a new tool that allows Shorts creators to answer comments on other channels with videos. This upgrade intends to improve interaction and promote a feeling of community within the YouTube platform as a whole. YouTube provided the opportunity for Shorts creators to make Shorts as comment answers on their Shorts in February, broadening the ways artists may interact with their fans. YouTube's latest experiment aims to create more meaningful interaction and creative expression opportunities within its thriving video creators and consumer community.
24. Youtube Updates Impersonation Policy To Combat Content Re-Use
In response to increased misrepresentation and content theft on the platform, YouTube is adopting a policy update to address these issues. The amended guidelines would target fan channels directly, requiring them to explicitly identify that they are not formally linked with the company they are promoting. The primary goal of this update on YouTube is to prevent people from reposting someone else's work and portraying it as their own. By implementing these stricter restrictions, YouTube strives to create a more transparent and authentic environment for producers and users alike, creating a culture of innovation and respect for intellectual property.
25. Squarespace To Acquire Google Domains
Squarespace and Google have announced a breakthrough arrangement in which Squarespace will purchase all assets of Google Domains, including the transfer of around 10 million domains. This substantial transaction is expected to close in the third quarter of 2023. Google and Squarespace's collaboration marks a key milestone in the domain registration sector, providing new prospects and expanded services for users.
26. Bing Search Explores Animated Larger Favicons In The Testing Phase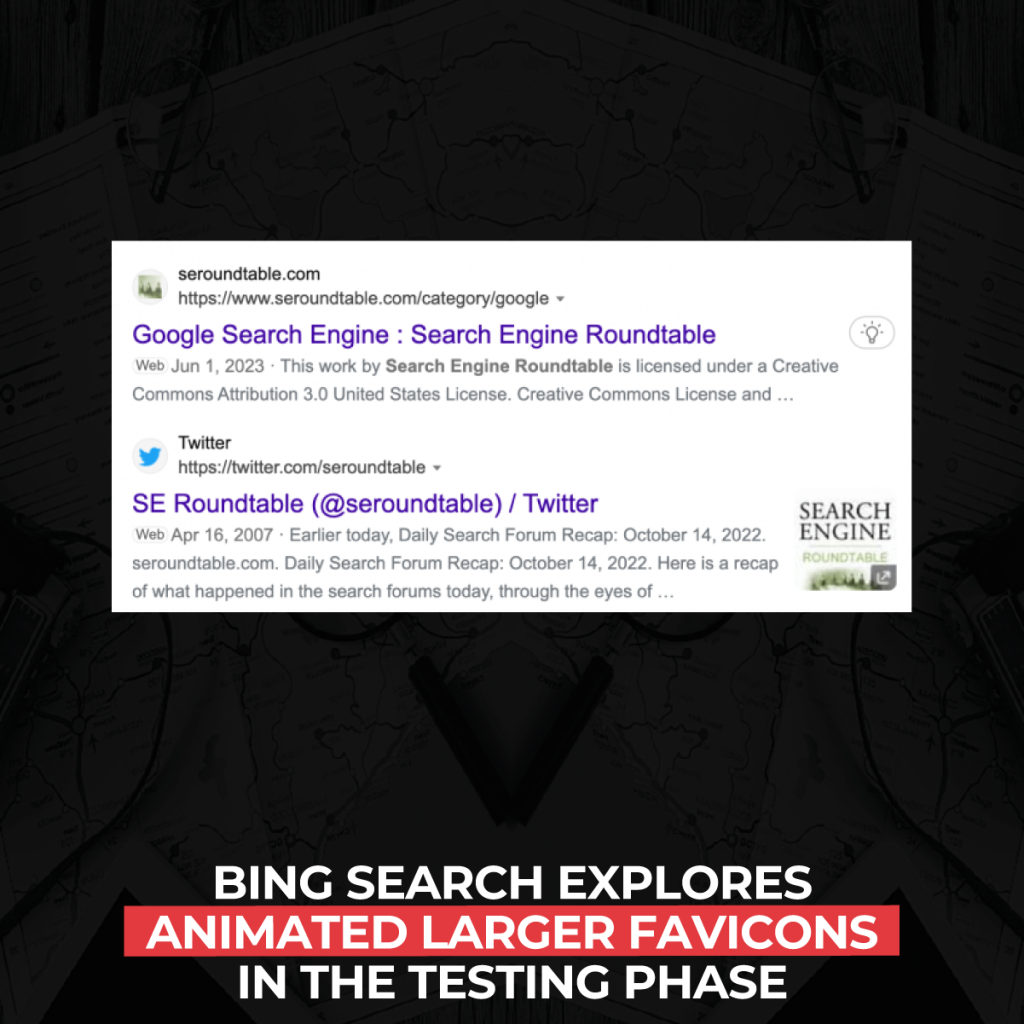 Microsoft is actively testing the use of larger favicons in Bing Search results. These expanded favicons are noticeably more extensive, as evidenced by side-by-side comparisons. With this update, Microsoft aims to improve visual appeal and make it easier for consumers to recognise websites inside search results. 
27. Instagram Enables Multiple Collaborations on Posts & Reels 
Instagram Collabs is a powerful feature that allows users to band together and co-author engaging Feed posts or Reels. By working together, your post will feature both handles and appear on both profiles, giving you more visibility. This means you can tap into one other's communities, increasing collective involvement. Content creators use this tool to cooperate with other creators and increase community involvement. Brands can also use collabs to announce agreements with other brands or team up with notable content providers to broaden their reach.
28. Meta Unveils Quest Subscription Service, Enriching VR Experiences
Meta+, a new monthly subscription programme priced at $7.99, is now available. Subscribers will have access to two separate VR titles on a monthly basis. While Meta emphasises that these are "titles" rather than just games, the primary goal is to entice Quest users with exciting new games, increasing their interest in Meta's wider variety of VR goods. Enhance your virtual reality experience with Meta+ today!
29. Meta's Threads App Emerges In Select App Stores As A Twitter Alternative
Meta's anticipated new software, 'Threads,' has debuted on the Google Play Store in select territories. Users can move their Instagram username to the conversation-focused site, creating a more public venue for DM talks. 'Threads' adds a new layer to social interaction. Keep an eye out for the official release!
30. Twitter Enforces Usage Limits Across The Board To Counteract Data Scraping
Twitter has taken substantial steps to combat widespread data scraping. Twitter has implemented use restrictions on verified and unverified accounts in response to Elon Musk's concerns over data scraping. These limits have been raised to:
Accounts that have been verified are limited to 10,000 posts.
Accounts that have yet to be verified are limited to 1,000 posts.
New unverified accounts are restricted to 500 posts.
By introducing these constraints, Twitter hopes to reduce data scrapers effectively and offer a safer user experience.
31. Linkedin Reveals Fresh Insights Into Recent Algorithmic Enhancements
LinkedIn's algorithm has been modified based on user feedback to prioritise professional and relevant content. Non-professional posts and attempts to game the system will no longer be acknowledged. The emphasis is on information from first-degree contacts and expert expertise and assistance. LinkedIn aims to remain a valuable and professional networking and knowledge-sharing platform.
32. Twitter Ceo Plans Full-Screen, Sound-On Ad Offerings In Scrollable Video Feed
According to The Financial Times, Twitter's new CEO, Yaccarino, has disclosed her approach to revitalising the platform's business. Yaccarino intends to capitalise on the growing popularity of short films inspired by the TikTok trend, emphasising video, AI, and in-stream commerce. She intends to launch a new full-screen, sound-on ad product that blends promotions into Twitter's scrollable video feed. This move complements the platform's prior video debut in October, which received further attention following Elon Musk's recent endorsement. Yaccarino hopes to boost Twitter's growth and improve user experiences by drawing on her knowledge of digital video, namely NBC's ad-supported VOD service.
33. Url Inspection Tool Now Added To Google's Rich Testing Tools
Google recently updated the Google Rich Results test to explicitly state that it is derived from the Google URL Inspection tool. This upgrade most likely occurred in May, when the new user agent, "Google-InspectionTool," was added to the crawler list.
Due to this change, the test now displays the names "Google Inspection Tool smartphone" and "Google Inspection Tool desktop" in the selector. It previously displayed "Googlebot Smartphone" and "Googlebot Desktop."
34. Google Explores Larger Product Images In Search Snippets Testing
Google is experimenting with more extensive product images in search results for select search results snippets. This is the product photos on the side of the search result snippets, not the product grid results.
This screenshot was contributed by Frank Sandtmann, who stated on Mastodon, "And another test on the SERPs for a search on Google Germany: Google appears to experiment with bigger image boxes next to some search results." These image boxes can hold up to four separate photos in two different layouts."
35. Bing Search Answer Panel Introduces Interactive Reaction Emojis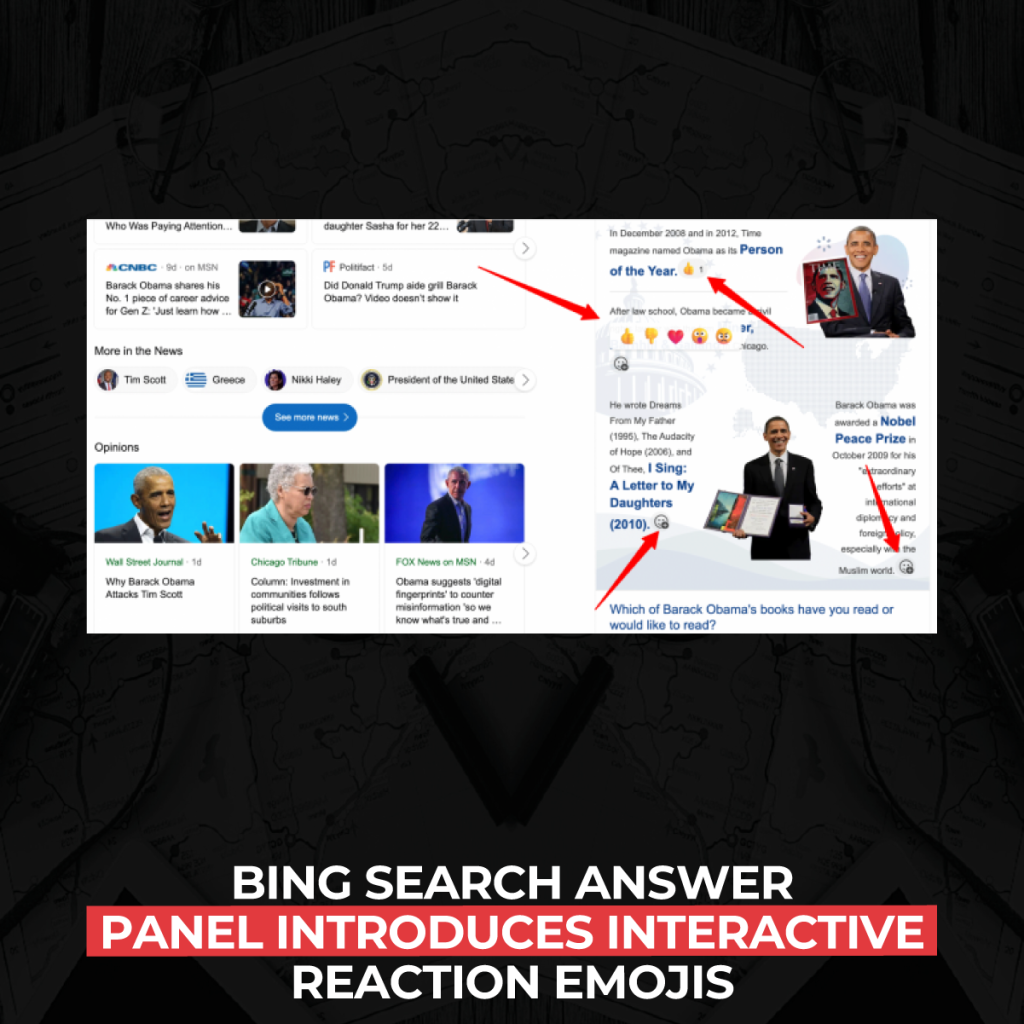 Bing Search has added a new feature that lets users use emojis to interact with some answer panels in the right sidebar. For example, if you search for "Barack Obama" and look at the sidebar, you'll discover that you may use emojis to communicate your reactions to individual answers.