It's an AI fest in the digital marketing industry, and we are loving the different tools and features that are coming up with AI assistance. May saw some big players enter the market with their own AI products. From Google introducing Bard, Snapchat introducing their AI chat tool, and a whole lot of other features by Meta and Twitter, the users had a lot of features to experiment with. Here is a list of #NewThingsInDigital for the month of May.
1. Meta Launches Ar Shopping Ads Across Instagram Reels
Meta is introducing new advertising options using augmented reality (AR) and Reels to help brands reach younger and older audiences. They are also working on in-stream commerce tools to boost in-app shopping. AR ads are expected to be popular with younger consumers but could also appeal to older audiences. More opportunities to share AR promotions may encourage wider adoption of advanced ad displays, leading to the next consumption phase.
2. Twitter Tests New Display Formats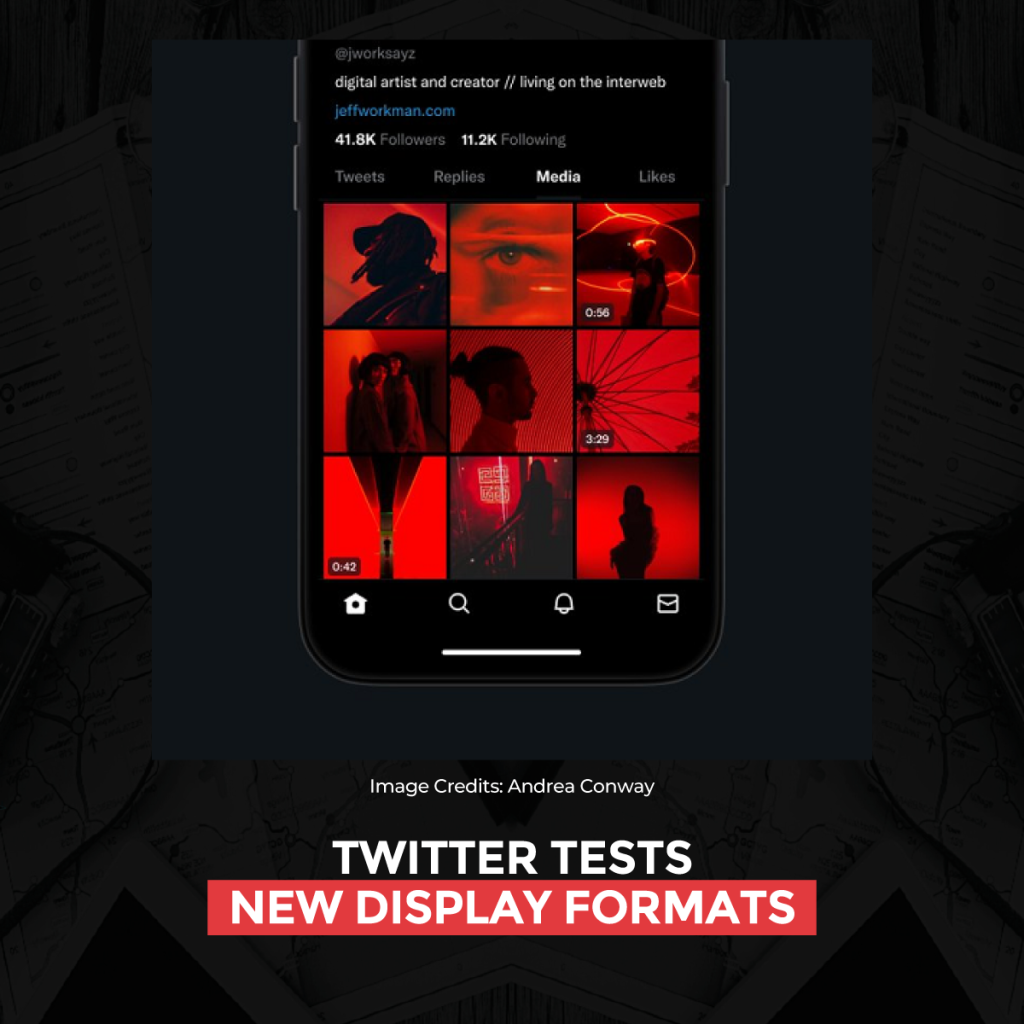 Twitter is considering adding a dedicated video tab to user profiles, as it aims to improve its visual elements and enhance the user experience under the leadership of Elon Musk. Musk has emphasised the need to improve video on the platform and provide better monetisation opportunities for creators.
3. Twitter Restores Free API Access For Public Service Providers In the App
Twitter has announced that public utilities will again be able to use its API for free. Twitter raised the price of API access in the previous month, requiring many organisations and developers who previously had free access to pay at least $40k per month to access Twitter connectivity.
4. WhatsApp Adds Single-Vote Polls and Captions for Re-Shares
WhatsApp is adding new conversation capabilities to improve engagement and contextual awareness, which may lead to new methods of communicating via messages. Single-vote polls are one of these capabilities, allowing users to limit each participant's responses to a poll question. WhatsApp is now rolling out this new functionality.
5. YouTube Aims to Simplify Channel Page for Better Engagement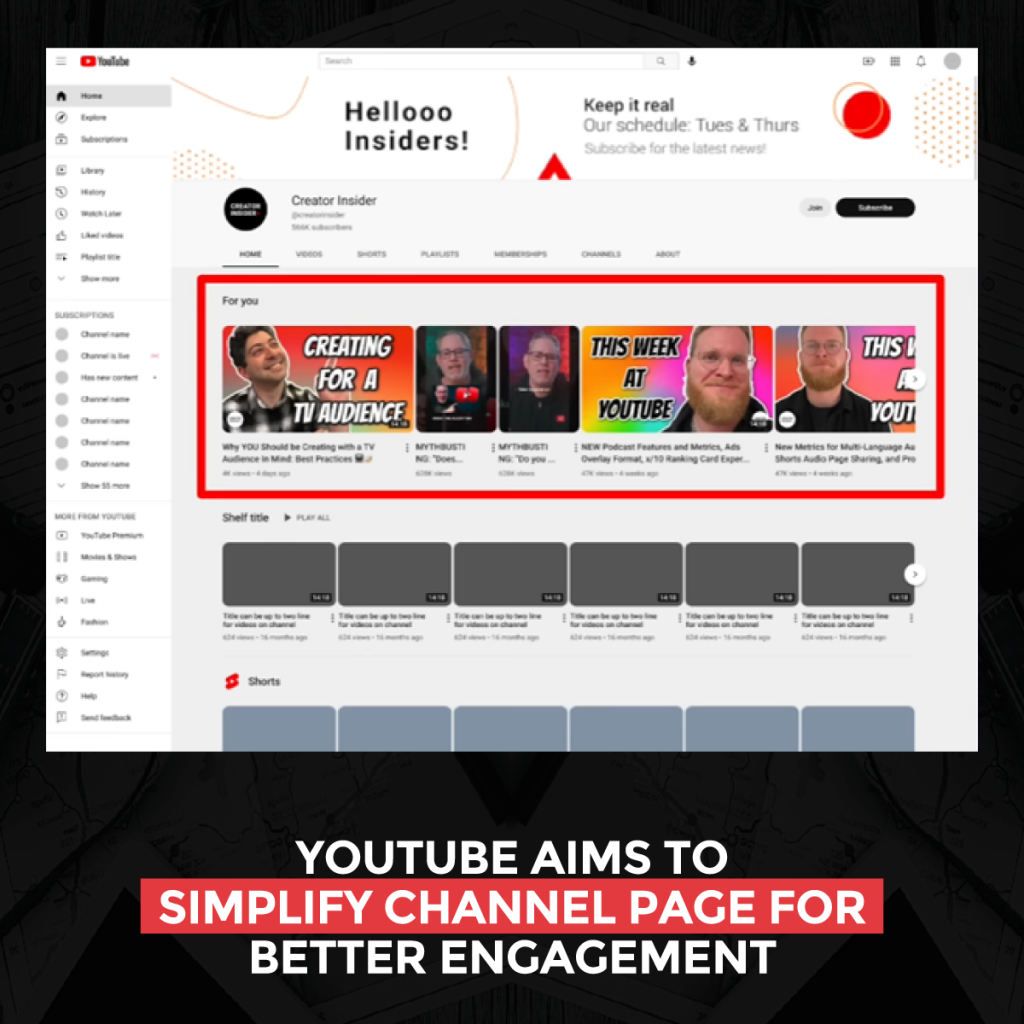 YouTube intends to improve its channel display options to help creators increase engagement. This will include new content sorting and categorisation capabilities to assist users in finding more relevant material inside the channel. In addition, depending on their viewing history, YouTube provides a personalised "For You" recommendation shelf for channel visitors.
6. Google Introduces Blue Checkmarks for Verified Brands in Gmail
Twitter is diminishing the blue checkmark as an indication of credibility, while Google is working to build its blue checkmark system. Gmail users will now see blue ticks next to verified brand profiles in their inboxes. Brands that have gone through Google's brand verification procedure, which includes registering their logo with a VMC and strengthening account security, will receive a blue checkmark on Gmail. This additional verification ensures recipients that the brand is legitimate.
7. Meta Announces Meta Quest Gaming Event
On June 1st, at 10:00 a.m. PT, Meta will hold the Quest Gaming demonstration to demonstrate the latest VR gaming innovations and titles for its headsets. This is consistent with Meta's metaverse approach, as younger users are intended to be the first digital platform, natives. These individuals will likely utilise such technologies to connect with others and participate in various activities.
8. Google Tests New Search Filter Menu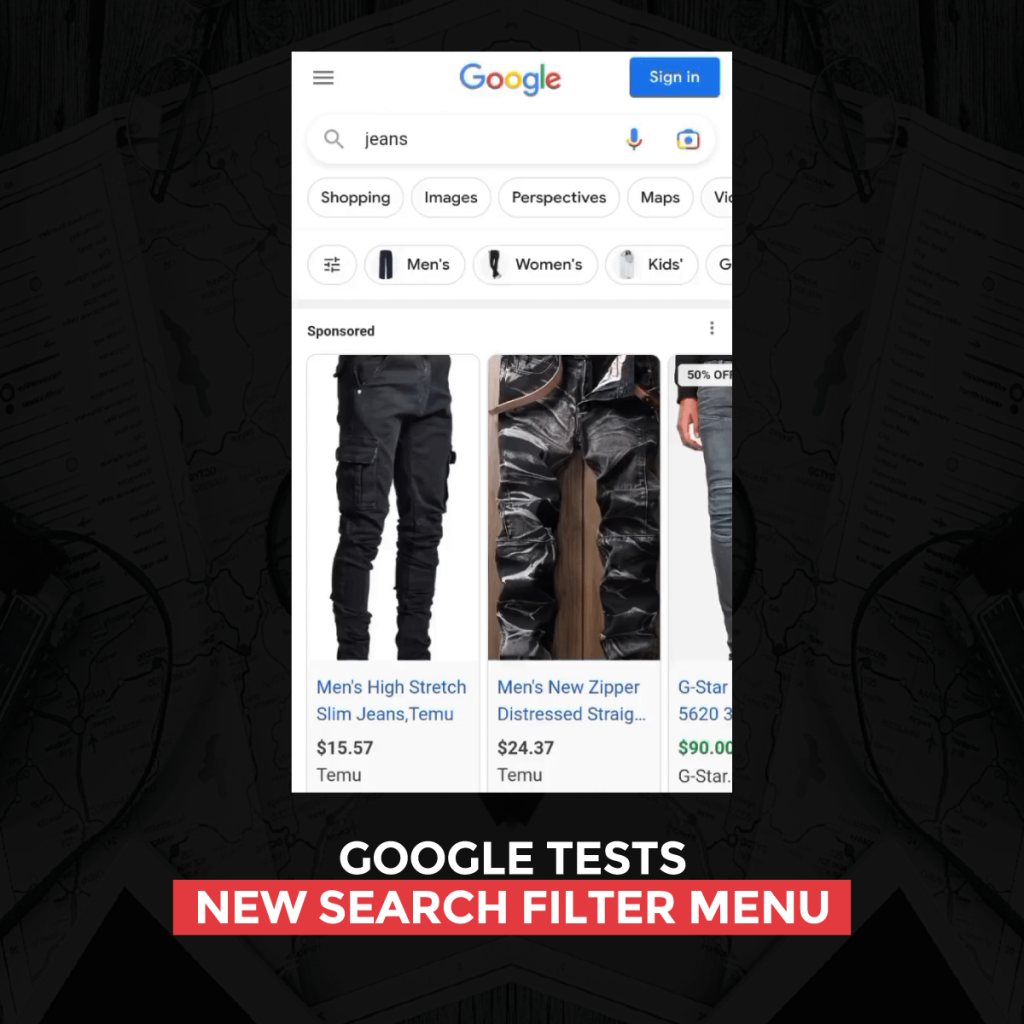 Google is testing a new function that allows users to filter search results based on various perspectives. The feature is being tested with a button enabling users to filter their search results by multiple perspectives. This new tool may give users a more diversified selection of search results, allowing them to see alternative points of view and thoughts on a specific issue.
9. Google Tests Up-Down Buttons In Autocomplete Search Bar
Google is testing a new feature in its search bar that incorporates up and down arrow keys, allowing users to quickly move through recommended search phrases. Instead of spelling out their search queries completely, users can use up and down arrows to cycle among the various autocomplete choices. Users can also navigate through the ideas by using the arrow up and down buttons on their keyboard. The new arrow buttons may be useful for browsing suggested searches rather than typing out their query visually.
10. Meta Tests AI Elements for Facebook & Instagram Ads
Meta tests AI Tools for enhanced Ad Creative: Text Variation, Background Generation, and Image Outcropping. Meta is set to revolutionise the advertising landscape with various new ad tools. These tools aim to refine Meta's AI capabilities, providing advertisers with innovative features to optimise their ad creative.
11. Meta Unveils New Insights into the Projected Economic Impacts of the Metaverse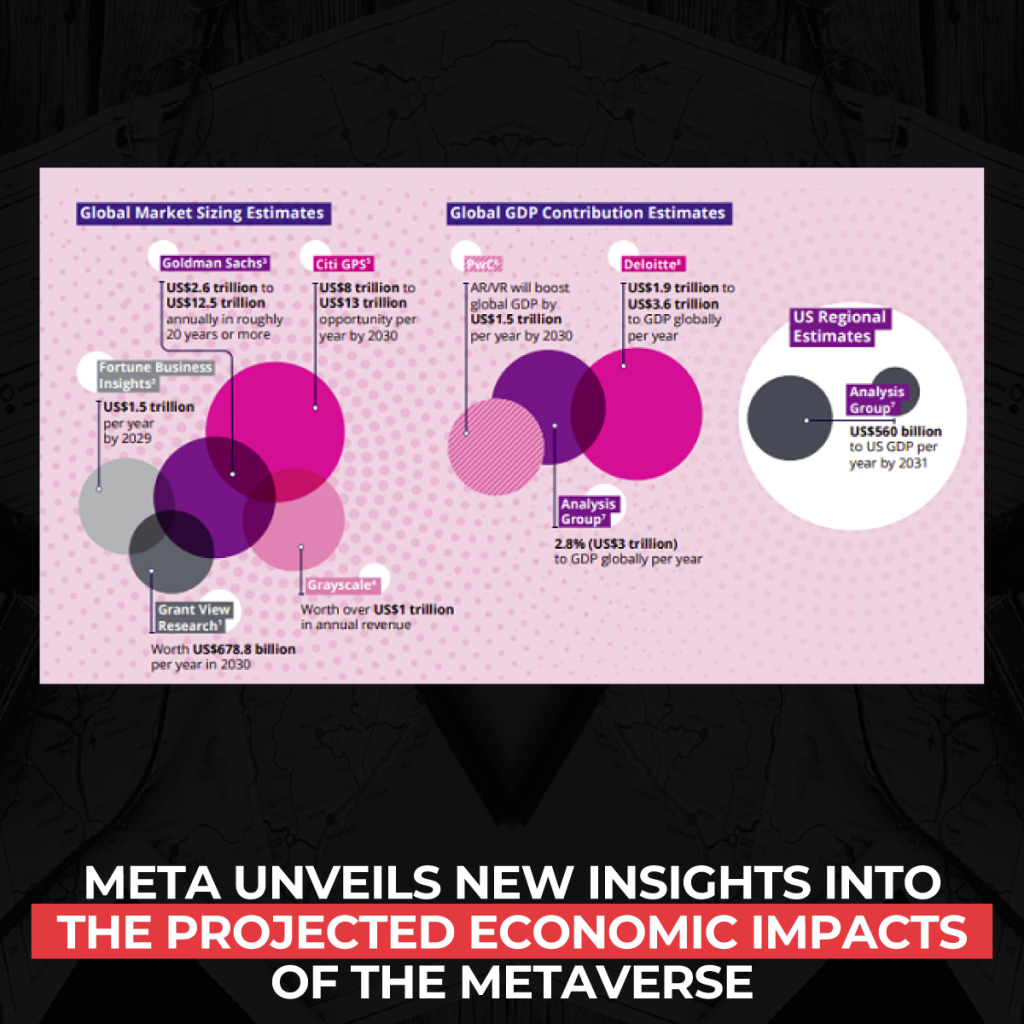 Meta collaborates with Deloitte to assess the economic potential of the metaverse in different global regions. In a ground-breaking move, Meta has released a series of thorough analyses in cooperation with Deloitte that seek to assign a monetary worth to the metaverse in various places worldwide. As presented so far, the metaverse represents a virtual reality arena where users can engage in more immersive and interconnected experiences as these technologies acquire popularity and adoption.
12. Musk Announces Linda Yaccarino As The New CEO Of Twitter
Twitter's future under the new CEO remains to be determined. With Elon Musk as executive chair and CTO, the platform will likely stay aligned with his original vision. While changes are anticipated, the balance between continuity and potential evolution will shape Twitter's forward trajectory.
13. Twitter Announces Initial Version of Encryption for DMs
Twitter just launched the first wave of its direct encrypted messages (DMs), while the platform admits that the security safeguards still need to be fully strong. Users can now enable encryption throughout their chat sessions. However, because the functionality and level of security are still limited, the term "encrypted" may not correspond with common assumptions.
14. Twitter Launches Direct Responses in DM Threads, ExpandS Emoji Response Options
Twitter has officially unveiled two highly anticipated direct message (DM) capabilities in its latest version that have been in development for some months. The ability to react directly to any message within a DM thread is the first notable addition. This enhancement simplifies group chat interactions by giving participants a more precise context for their comments and enabling more fluid discussions within the stream.
15. Twitter Introduces Video Playback Speed Controls and Upcoming Video Updates
Twitter has added playback speed settings for videos within the app as part of its ongoing video development strategy. This move reflects the platform's expanding emphasis on video content, likely to continue under incoming CEO Linda Yaccarino's leadership. Building upon previous enhancements like longer video uploads for Blue subscribers and improved playback quality options, the addition of playback speed controls gives users greater control over managing their in-app video experience.
16. LinkedIn Empowers Creators with New Topic Prompts
LinkedIn has been progressively spreading out its newly unveiled Analytics and Tools dashboard to members who have activated Creator Mode in recent months. This dashboard provides creators with a thorough overview of their content's success and access to various tools geared to their individual needs. LinkedIn's Creator Mode and accompanying analytics dashboard seek to provide content creators with essential data and expanded features for optimising their platform presence.
17. Google Introduces 'Related Topics' Filter for Enhanced Desktop Search Results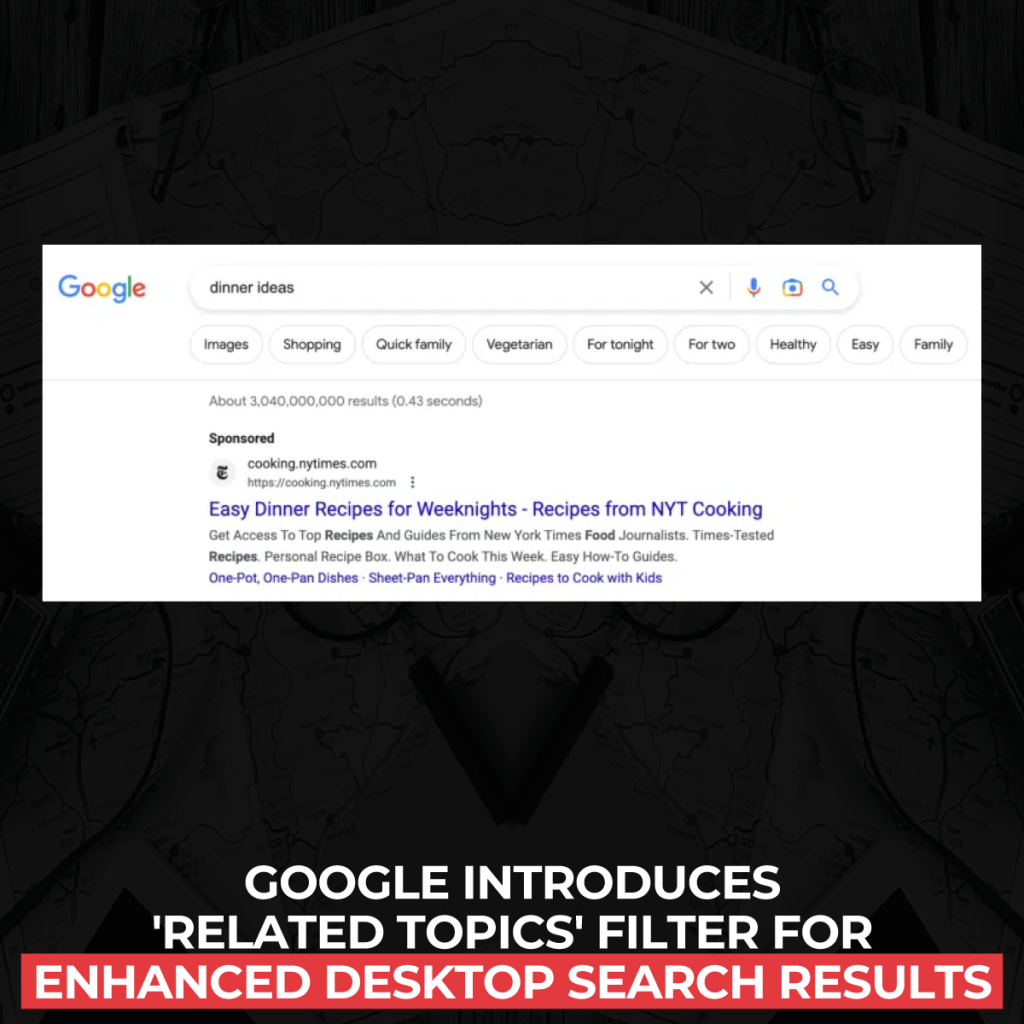 Google has expanded the availability of its related topics search filter, extending it from mobile search to desktop search results. This feature, introduced on mobile devices in December, allows users to explore interconnected subjects related to their search queries easily. By implementing the related topics filter on the desktop, Google aims to provide a consistent and seamless search experience across different devices. Users can now delve deeper into a topic of interest by utilising this feature, gaining access to a broader range of relevant information and expanding their knowledge on related subjects.
18. Google Bard Expands Features with Search, Maps, Lens, and More, Removes Waitlist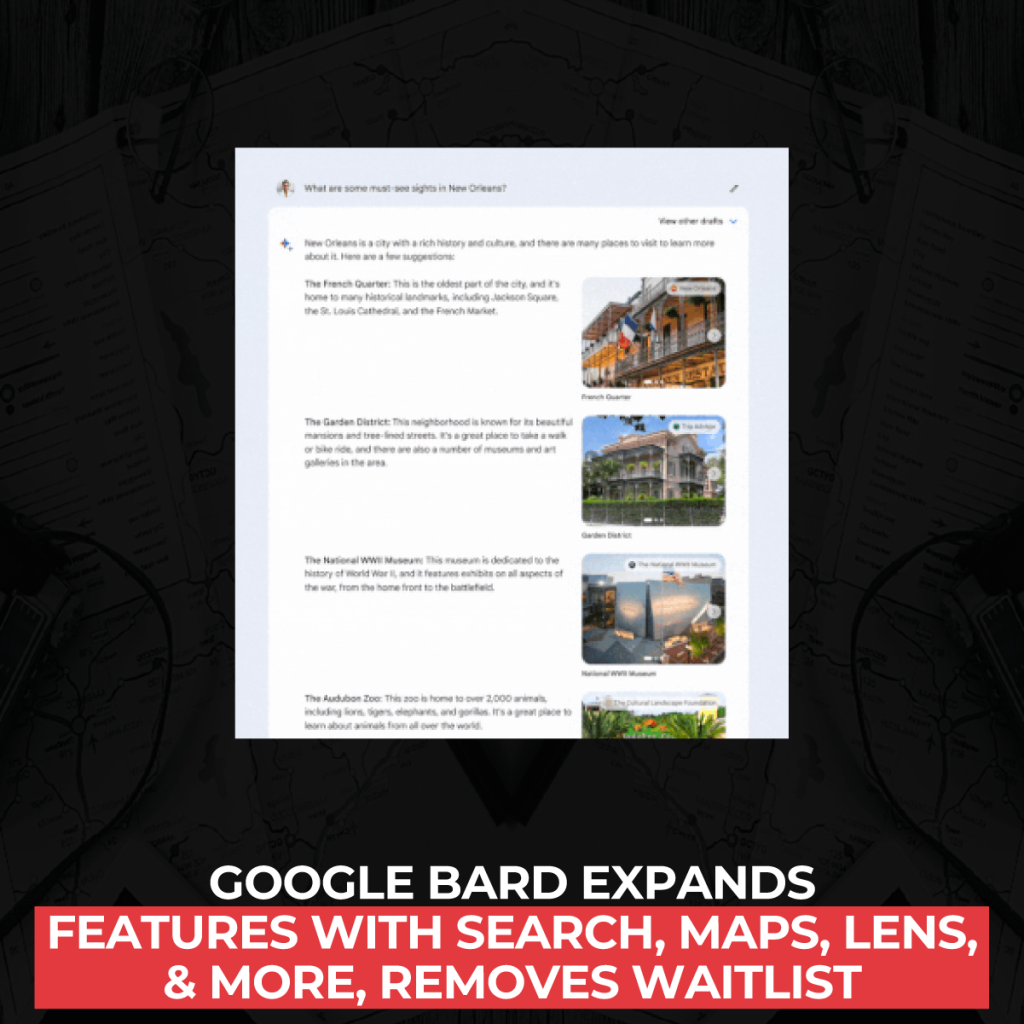 Google Bard received a significant update during Google I/O, encompassing various additions not previously mentioned due to the extensive coverage of core search updates. Notably, Google has eliminated the Waitlist for Bard, allowing more users to access the AI generative service. Furthermore, Google integrated several search-related features into Bard, including Google Search, Maps, Lens, and other functionalities.
19. Instagram adds GIFs in comments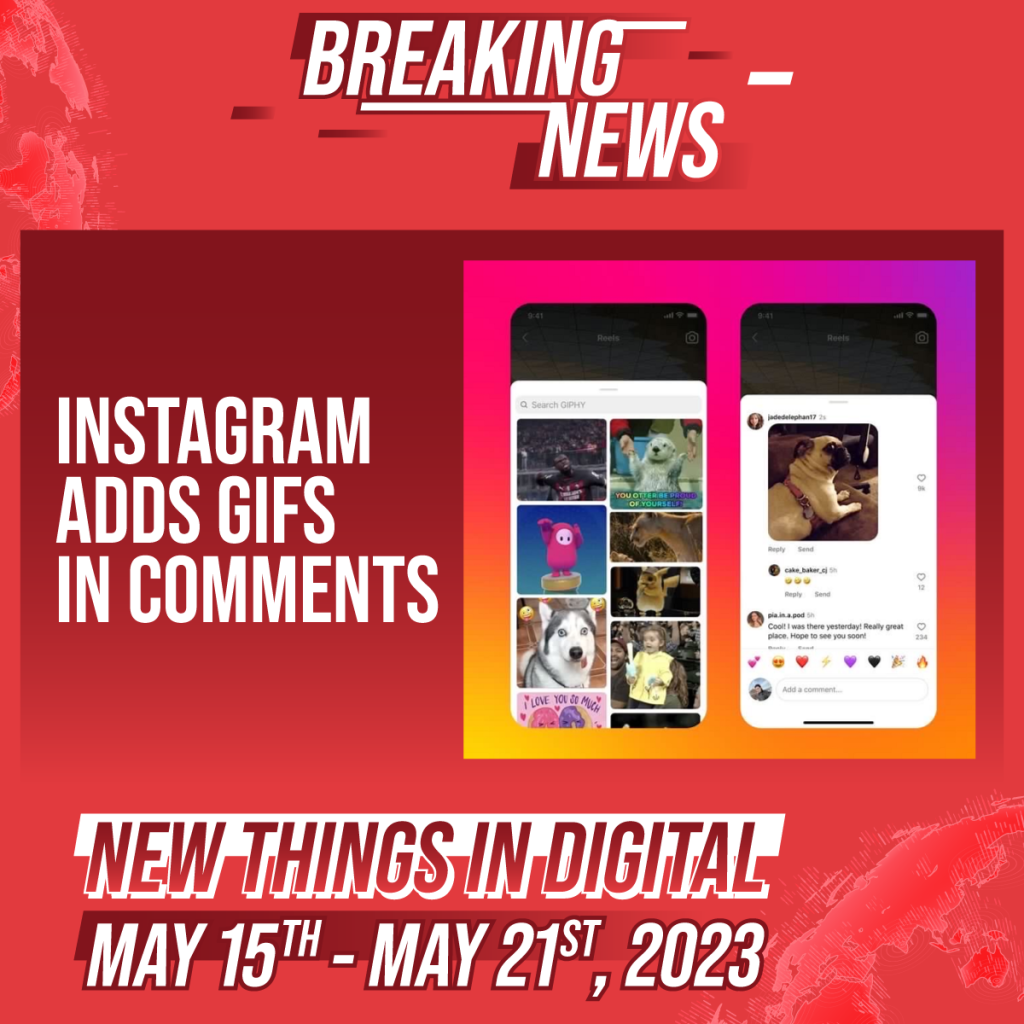 In a recent Broadcast Channels conversation with Meta CEO Mark Zuckerberg, Instagram CEO Adam Mosseri made an interesting news. He explained that Instagram users can now add GIFs to their comments. This new tool allows users to search for and share animated GIFs from Giphy from within the comment stream, giving them another way to express themselves and respond to Instagram images.
20. Meta Introduces Enhanced Lead Generation Tools for Facebook
Meta is making it easier for brands to connect with consumers on Facebook. They are introducing updates to lead generation forms, including a streamlined process for users to connect with businesses through simplified info-sharing. Additionally, users can apply discount codes automatically during checkout within the Facebook in-stream experience.
21. Twitter Blue Subscribers Gain Ability to Upload 2-Hour Videos within the App
In an official announcement, Twitter has confirmed that subscribers to its premium service, Twitter Blue, can now upload videos of extended length directly within the app. This new feature enables Twitter Blue's 650,000 subscribers to share videos up to two hours long, offering them a significantly expanded capacity for content creation and sharing.
22. YouTube Rolls Out 30-Second Unskippable Ads for Connected TVs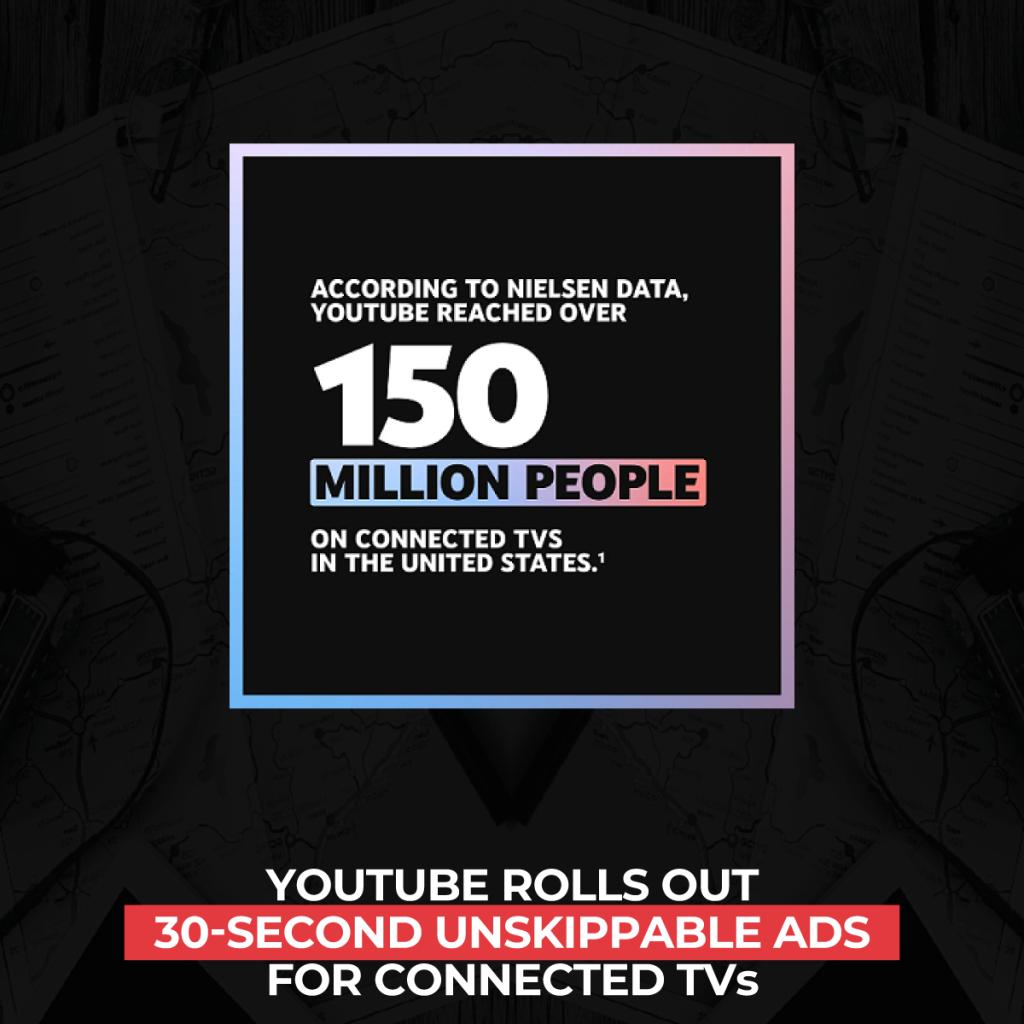 YouTube is capitalising on the growing usage of its app on home TV sets by expanding the availability of 30-second non-skippable ads to Connected TV campaigns. While this may annoy viewers, it presents a significant opportunity for marketers to reach audiences through the giant screen in their homes.
23. Meta Extends 'Meta Verified' Verification Subscription Program to UK Users
Meta has changed its original Meta Verified subscription programme, allowing users to receive a blue checkmark on Facebook and Instagram. Despite these adjustments, Meta is now making the programme available to users in the United Kingdom. Starting this week, users in the United Kingdom can apply for Meta Verified, allowing them to improve their accounts and earn the coveted blue checkmark.
24. Google Business Profiles Expanding Language Assistance Options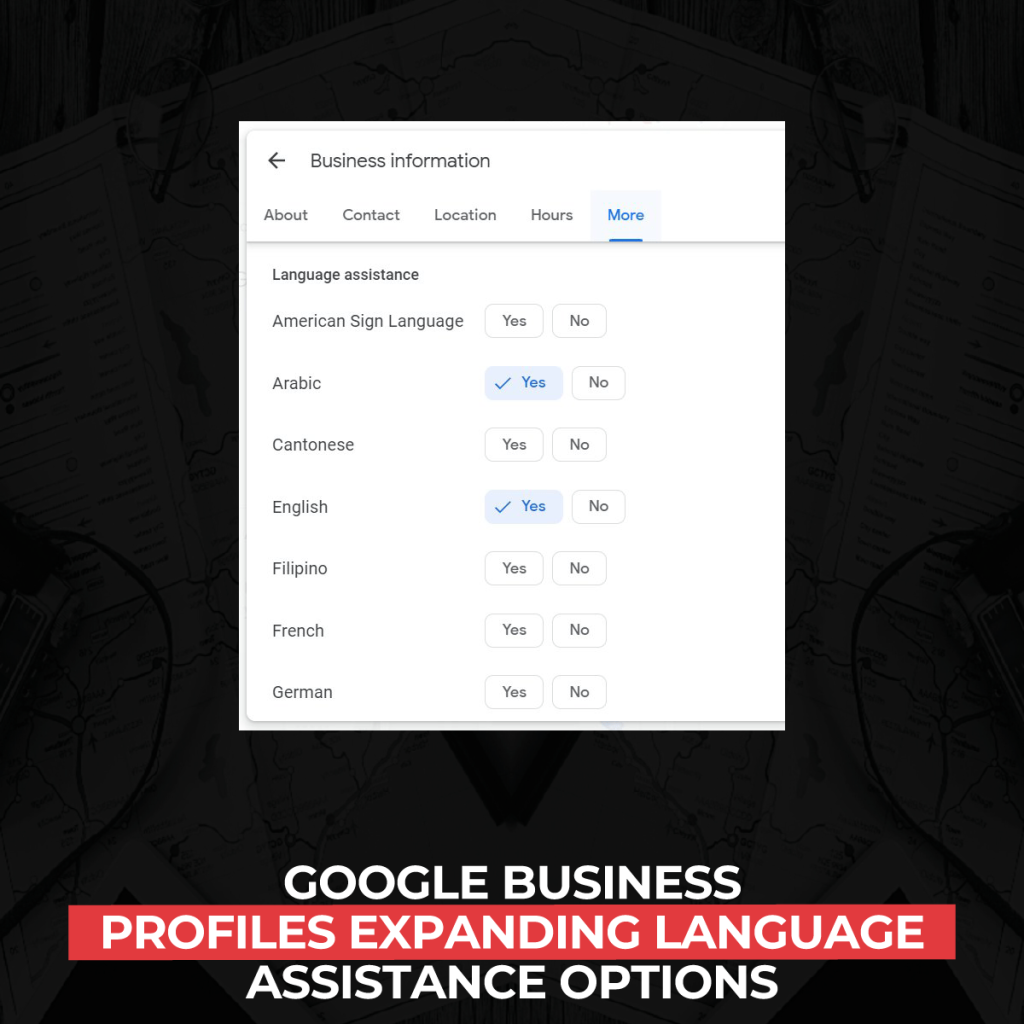 Google is expanding the types of organisations that can add and change the languages supported on their Google Business Profiles. This language support option, initially provided for healthcare facilities in December 2021, is now being extended to various organisations. This innovation allows businesses to better adapt to their client's language needs, enabling effective communication and accessibility.
25. Google Introduces Sharable Links for Recent Searches and Local Packs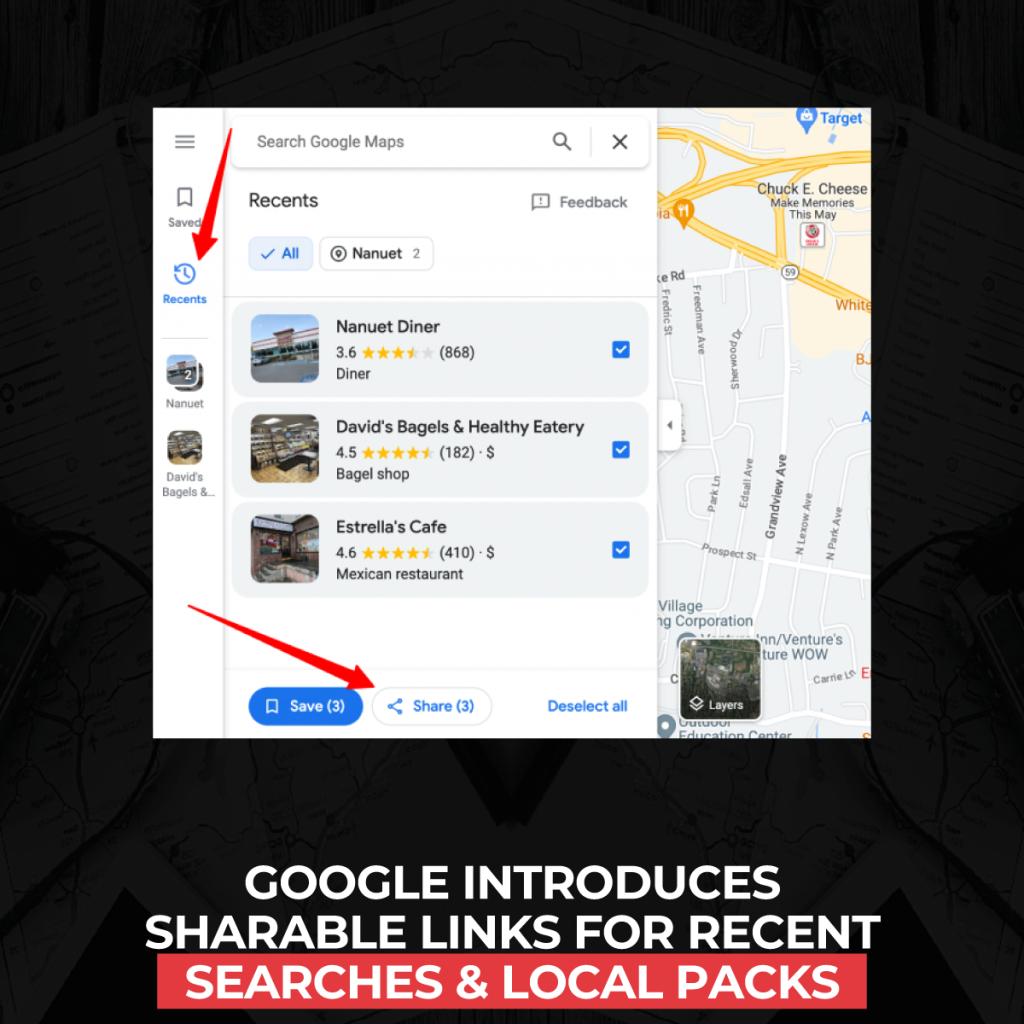 Users may now generate shareable links for their recent searches in Google Maps, allowing them to share these connections with friends or colleagues effortlessly. Furthermore, Google has added a share link option for local packs in search results, allowing users to share specific local businesses or locations with others easily.
26. Google Experiments with Product Details and Links in Web Search Results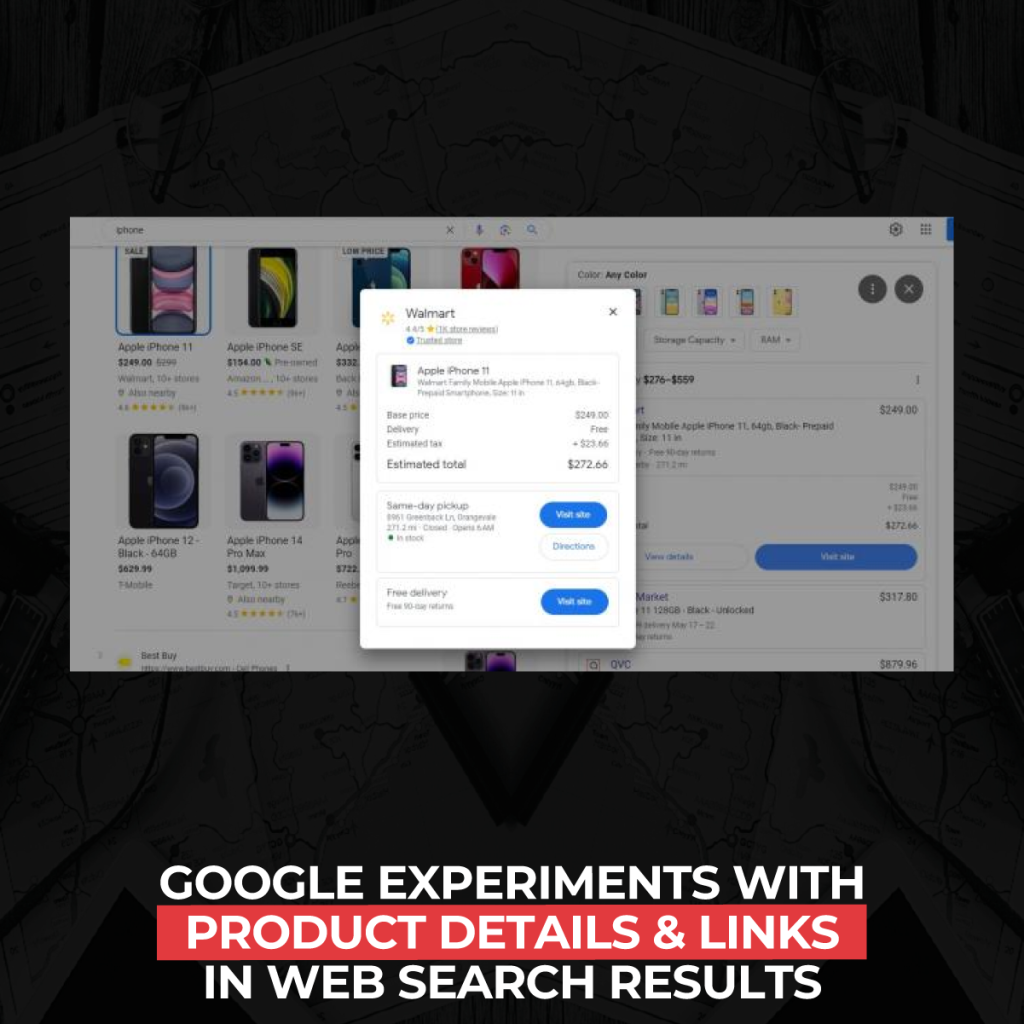 Google is testing a new user interface for product and shopping results in web searches. This test introduces additional components such as "Visit Website" and "View Details" links and a more comprehensive pricing details interface. These upgrades improve the user experience by offering more detailed information and making it easier to find essential product data.
28. Meta Open Sources Multi-Lingual Language Models To Maximise Inclusions
By open-sourcing its Massively Multi-lingual Speech (MMS) models, Meta hopes to provide connectivity and accessibility for a more extensive user base across multiple areas. These models can currently translate over 1,100 languages and dialects worldwide. Furthermore, Meta claims that its MMS models can identify over 4,000 spoken languages, providing the significant potential to connect and integrate new regions. Meta hopes to empower community researchers and developers to expand their translation skills by open-sourcing their MMS models.
29. Twitter Introduces List Search Capability On Desktop
Twitter now has a new tool allowing users to find and join curated Twitter lists based on their interests. This tool allows users to broaden their network and improve their Twitter experience by following more people or learning more about different topics.
Users can browse Twitter lists by visiting the Lists tab on Twitter's mobile and web versions. Users can access this area to browse various lists and join those matching their interests. Furthermore, users can pin lists as swipeable streams within the main Twitter interface.
30. Twitter Addresses Pricing Concerns with New API Access Tier
Twitter has introduced a new API access tier called "Pro" that offers developers greater tweet access at a more affordable price. This new offering allows developers to access up to a million monthly tweets for $5,000 or $60,000 annually. Introducing the "Pro" tweet API tier aims to address the challenges faced by developers and academics who found the previous access points too expensive for their projects.
31. YouTube to Retire YouTube Stories Next Month
Following the trend set by other platforms, YouTube is discontinuing its Stories feature, which will be deprecated next month. YouTube Stories was introduced in 2018 as a response to the popularity of the Stories format, initially popularized by Snapchat. YouTube Stories aimed to offer creators a full-screen engagement option and additional avenues for connecting with their audience. However, YouTube has now decided to move on from this feature.
32. YouTube Enables Access to Community Posts for All Channels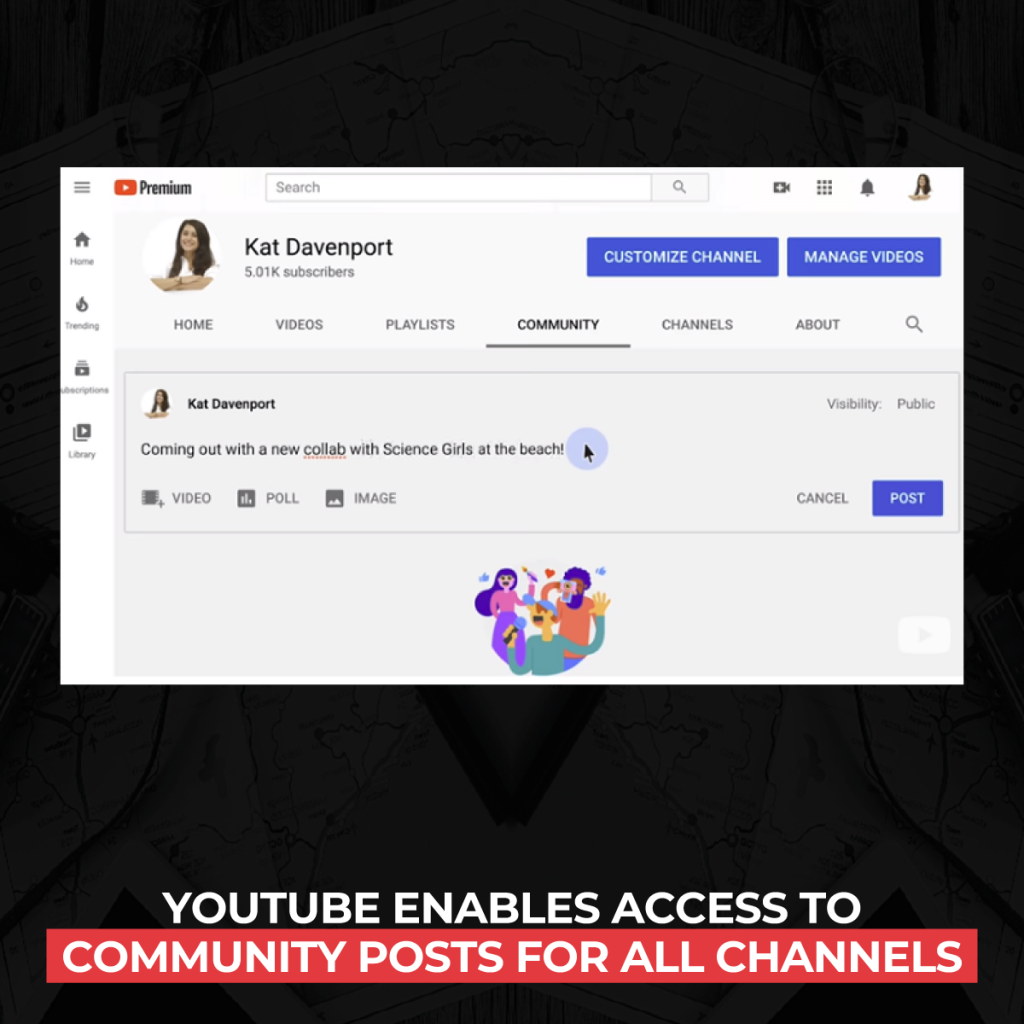 YouTube is extending the availability of its Community Posts feature to all creators, granting them the ability to activate this option and engage with their audience in new ways. Community Posts exist on a creator's YouTube channel and offer a text-based format for sharing updates and messages with subscribers, resembling the functionality found in other social media applications. This expansion provides creators an additional avenue to communicate and connect with their audience on YouTube.
33. LinkedIn Introduces Verifications in Job Listings
LinkedIn has introduced an initial phase of a personal identity verification process that allows users to enhance their profile by adding a confirmation note. This feature requires users to provide their Government-assigned ID for verification purposes. Additionally, LinkedIn is currently testing new verification elements within job posts. These elements aim to give users more contextual information about prospective employers, leveraging their LinkedIn profile data.
34. Introducing Merchant Center Next: The Future of Merchant Center
During Google Marketing Live 2023, Google introduced Merchant Center Next, a revamped and streamlined version of Merchant Center. This update goes beyond cosmetic changes and alters the entire process. Previously, setting up a product feed on Merchant Center involved manually inputting various details such as products, pricing, images, and descriptions.
With Merchant Center Next, these tasks are automated as the platform detects and pulls all the necessary information directly from the merchant's website. This new functionality brings convenience to merchants, saving them time and effort.
35. Google Business Profiles Panel Explores Image Slider Testing
Google is conducting tests to incorporate an image carousel directly within the business profile panel. As part of this test, business images are displayed at the top of the business profile listing. Users will have the ability to swipe through these images to view more visuals associated with the business.
36. Google Search Introduces Interactive Suggestions
Google is presently developing a "suggestions for your search" feature intended to improve and enrich the search experience. This interactive and visual tool is designed to help users broaden and delve deeper into their search process. When looking for a home, this tool will provide valuable tips and recommendations to help with the home purchase.