1. Meta Announces 'Universe Of AI' For Instagram, Facebook & WhatsApp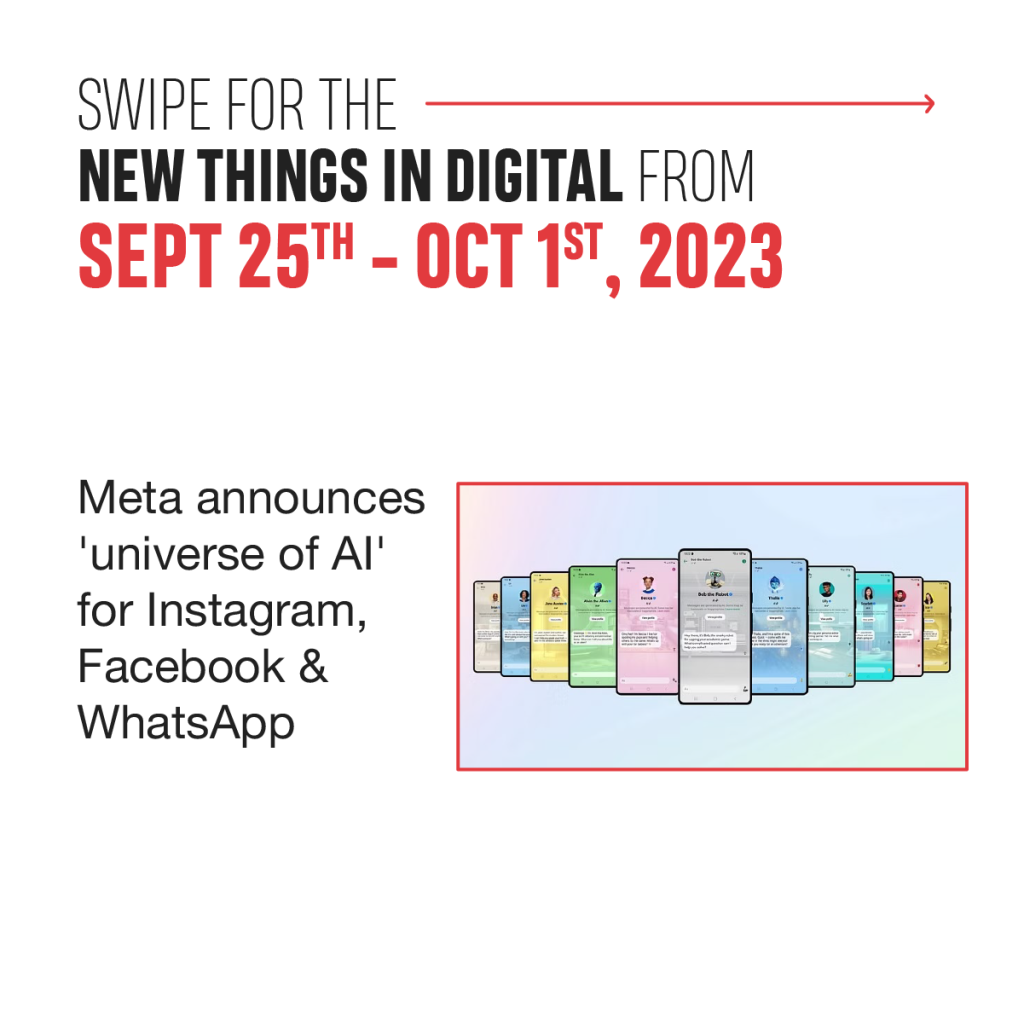 Mark Zuckerberg said during his keynote speech at the Meta Connect conference that Meta is making significant advancements in AI for its apps and devices such as Instagram, Facebook, and WhatsApp. They want to make these apps smarter and more beneficial to the billions who use them.
The new AI features they're introducing are tailored to specific jobs. Here are a few examples:
Meta AI Chatbot: They're releasing an intelligent conversation assistant working on WhatsApp, Messenger, Instagram, and even their Ray-Ban Meta smart glasses and Quest 3. In the US, this chatbot will give you real-time information (thanks to a partnership with Microsoft Bing) and let you create images with an incredible tool called Emu. Meta AI uses a unique computer program built on technology from their open-source project, LLM, Llama 2.
AI Characters: Meta introduces 28 AI characters with unique personalities and interests. Some of these characters are inspired by famous people like Snoop Dogg, Tom Brady, Kendall Jenner, and Naomi Osaka. They're like new virtual friends, each with their own stories.
2. X May Be Working On An Ad-Free Variant Of Its Premium Subscription Offering
It may feature options such as "Half ads in For You" (which is already available to subscribers) and "No ads in For You" (a potential new option).
It's uncertain what these tags indicate, but this may be a new subscription plan in which users pay a monthly price to remove adverts off their main timeline. If X goes ahead, it may cost more than their $8 monthly premium offering.
According to internal data, X presently earns roughly $12 per user each month merely by presenting advertisements. So, for an ad-free version of X Premium to be viable, they would have to charge at least that amount. However, it would lower the amount of space available for advertisements. Thus, how many people are interested in and sign up for the ad-free alternative would determine the final pricing.
3. Meta Is Diving Into AI and VR With Celebrity-Influenced Chatbots And Next-Gen Smart Glasses
Meta unveiled an array of new AI-powered capabilities at the 2023 Connect conference. The most noteworthy announcement is their AI chat assistant, similar to having a ChatGPT-like bot incorporated into all of Meta's products.
Even more remarkable is that this chat helper has several personas based on renowned voices. It is done to make it more relatable and exciting for users.
In a nutshell, the big news of the day is Meta's new AI assistant. It works exactly as you'd expect, allowing you to ask questions and get instant answers directly in conversations.
4. X Plans To Add A 'Verified Only' Reply Feature For Posts To Promote Paid Subscriptions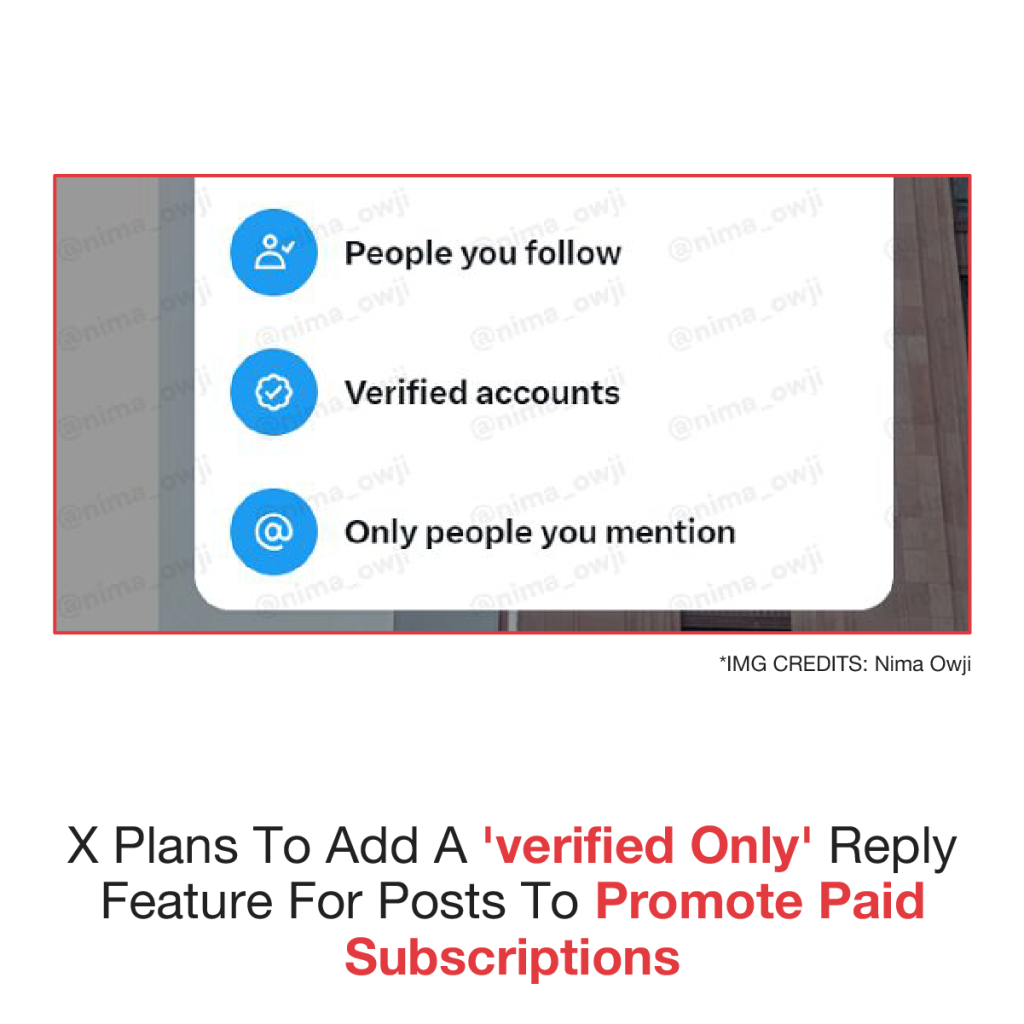 X is developing a new feature to entice more people to subscribe to its premium service, X Premium. This feature would allow users to restrict who can respond to their postings to those verified, typically including paid subscribers and individuals named in the post.
While all users can still cite the article, allowing non-subscribers to respond, the major purpose is to increase interactions among paying users. It may inspire more X users to upgrade to X Premium to interact with all postings.
X has been introducing premium-exclusive features like video calls, polls, Spaces, and more into its recent initiatives. Only a tiny proportion of X users (less than 0.5%) are subscribed to its Premium package.
In simpler terms, X is introducing a feature where you can limit who can respond to your posts to verified users, like premium subscribers and mentioned individuals.
5. Chatgpt Can Now Speak In 5 Human-Like Voices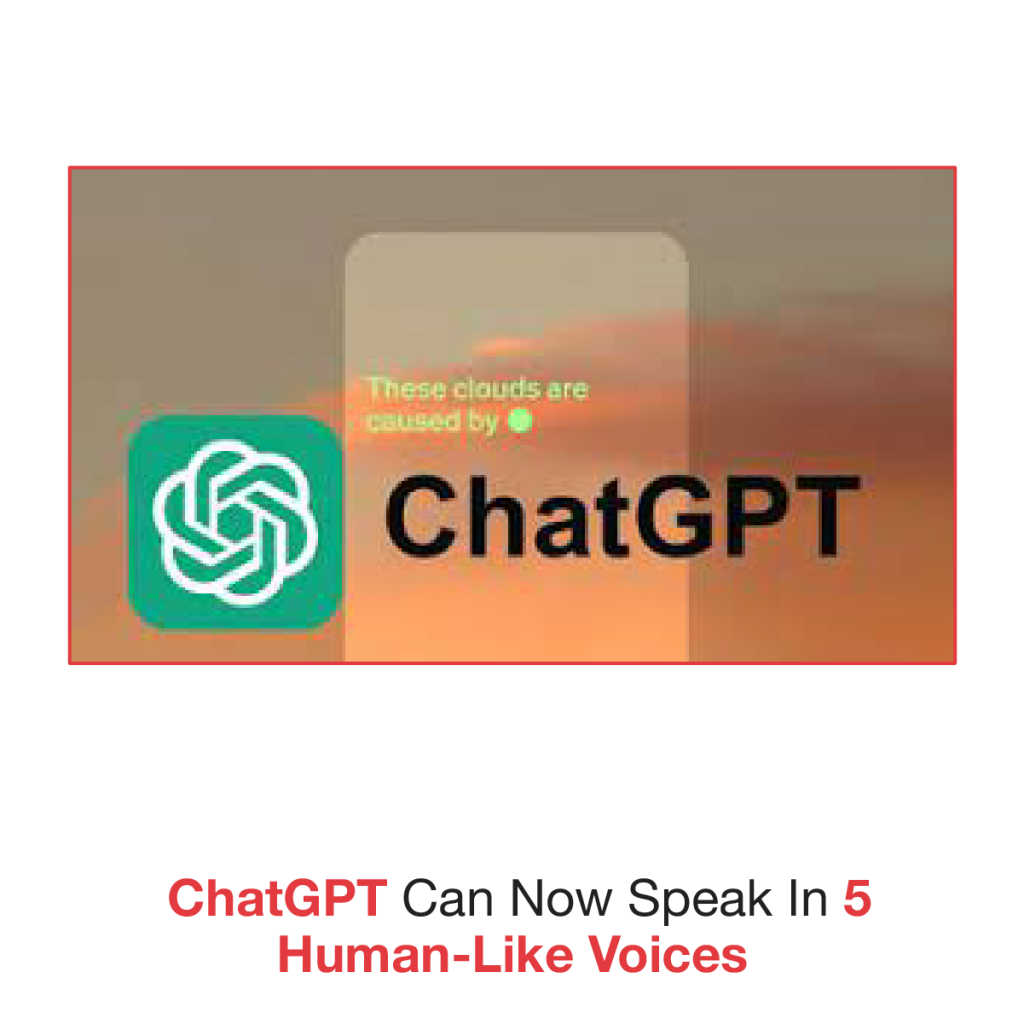 In ChatGPT, owners are introducing new speech and visual functionalities. These capabilities make the UI more user-friendly, allowing you to have audio discussions and visually communicate information with ChatGPT.
6. X's New Audio And Video Calling Features Might Only Be Available To Premium Subscribers
X intends to provide voice and video calling capabilities to X DMs. However, these features will be available only to X Premium users, so you'll have to pay for the premium service to enjoy them.
These new calling alternatives will be accessible from your email, allowing you to communicate with others via the app.
While X has provided some details regarding these new capabilities, it has yet to be verified whether they will be available to all users or only those who subscribe to X Premium.
7. YouTube Introduces Subscriber Analytics For Enhanced Content Planning
YouTube has announced several analytics changes, including the opportunity to discover why members terminate their channel subscriptions, which will help you plan your future content strategy. Additionally, YouTube now provides more extensive insights into the behaviours of new and returning viewers when interacting with your content, providing significant data for content development.
To begin, YouTube has provided a novel tool inside Studio Analytics for new and returning users. This tool gives separate stats for each viewer type, helping you better understand new viewers' content choices.
8. Google-Extended: The Latest Crawler To Safeguard Against Bard Or Google AI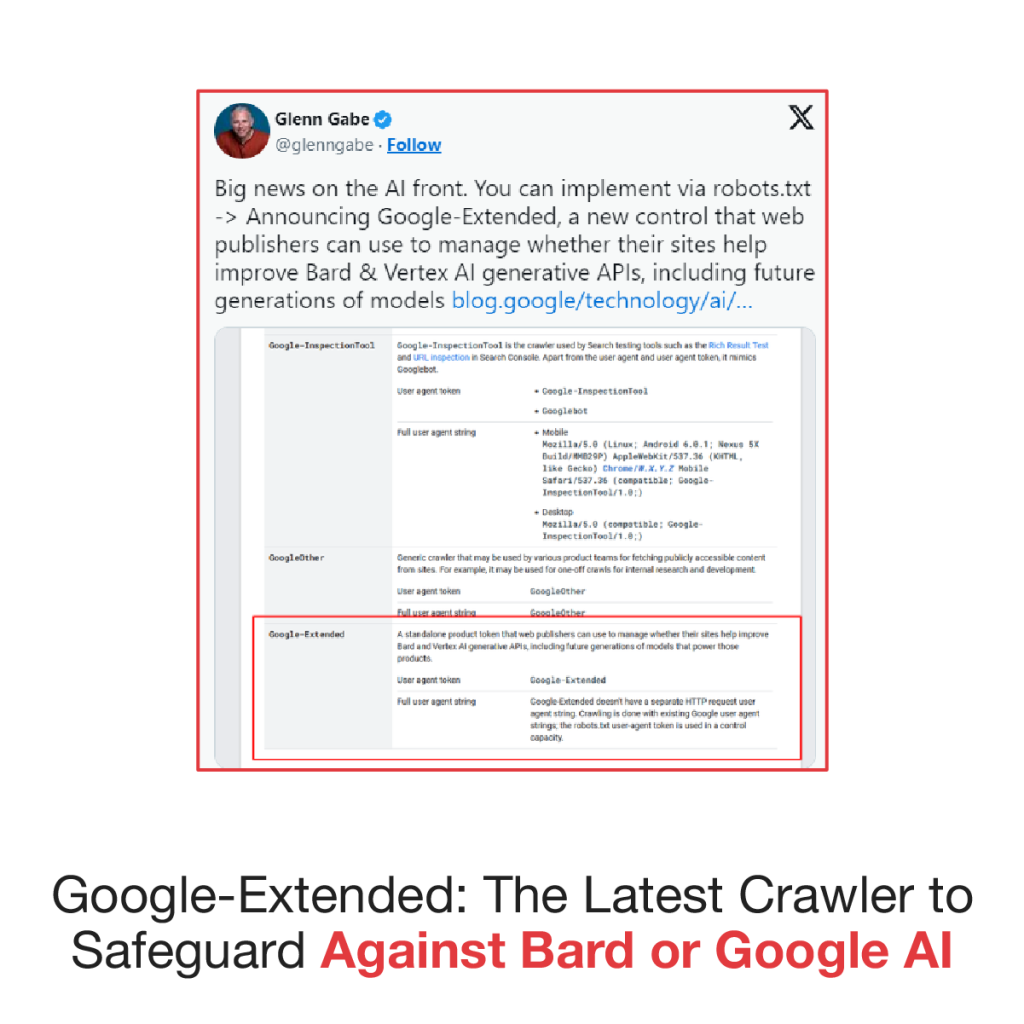 Google-Extended is a new web crawler from Google that allows content providers to control how their content is used to improve the Bard and Vertex AI generative APIs or future Google AI initiatives. Specify this in your robots.txt file with the user agent Google-Extended to prevent Bard from using your content.
It's vital to remember that Google's usual Googlebot and other bots will continue to crawl for indexing purposes. Using Google-Extended, on the other hand, indicates to Google that your work will not be included in Bard or other AI-driven Google projects. A Google spokesperson said, "Google-Extended will instruct Google not to utilize the website's content for Bard and Vertex AI generative APIs." Google advises that website managers continue to use the Googlebot user for Search.
9. Google's Plans To Restrict Bard Shared Conversations In Google Search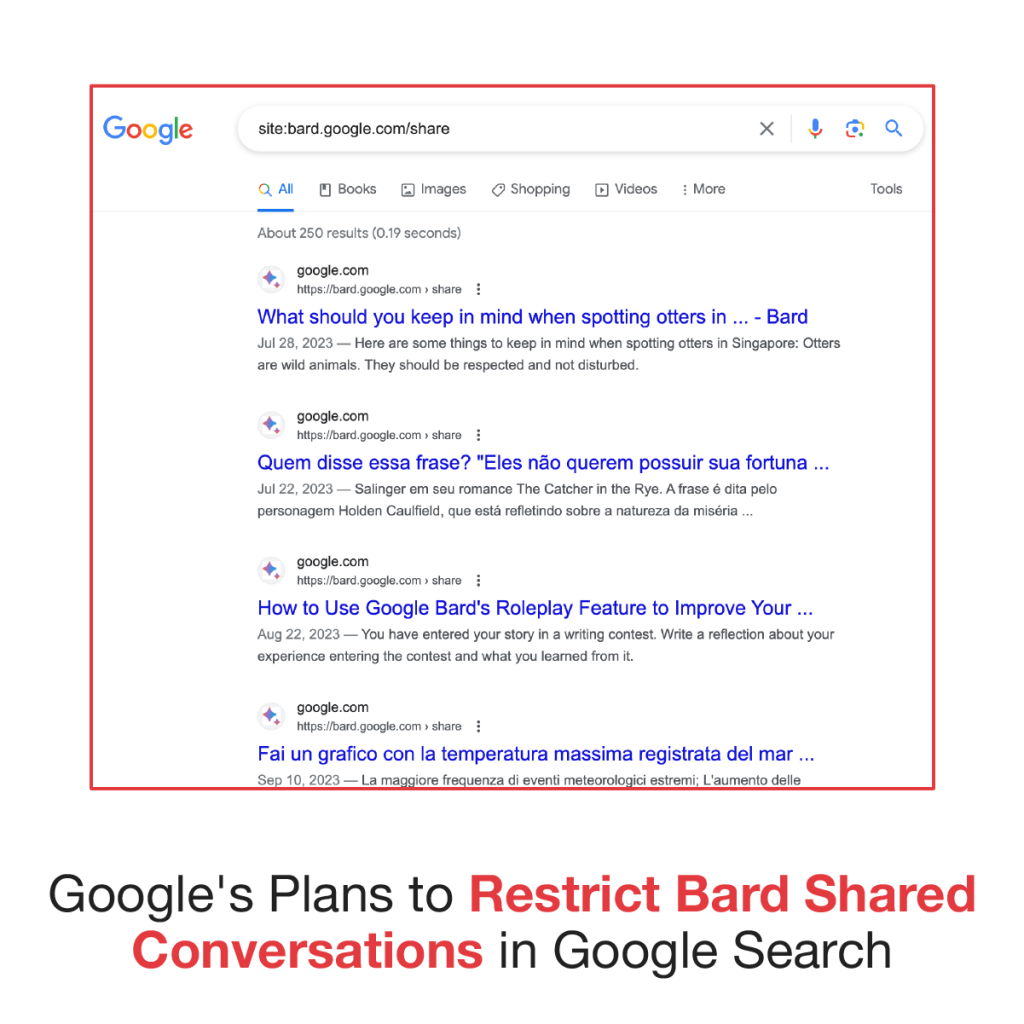 Google Bard recently added shared discussions, but an oversight prevented search engines from indexing the results. Initially, there were no directives in the robots.txt file to contain the indexing of bard.google.com/share. As a result of Google Search's proclivity to index content, several public chats were indexed.
10. Meta Is Reportedly Considering New Strategies To Reignite Interest In Threads
Despite Meta's initial enthusiasm for Threads, recent reports reveal rising internal reservations about the platform's lacklustre growth. Threads, which had 100 million members within five days of its introduction, has struggled to maintain that momentum, gaining only 32 million new profiles in the last three months. Furthermore, third-party monitoring shows that Threads usage has dropped significantly, from 21 minutes per user per day in July to just 6 minutes per session. To put this into perspective, Elon Musk reported in May that X users spent about 31 minutes daily on the app.
11. The Updated Link Preview Format For X Is Now Active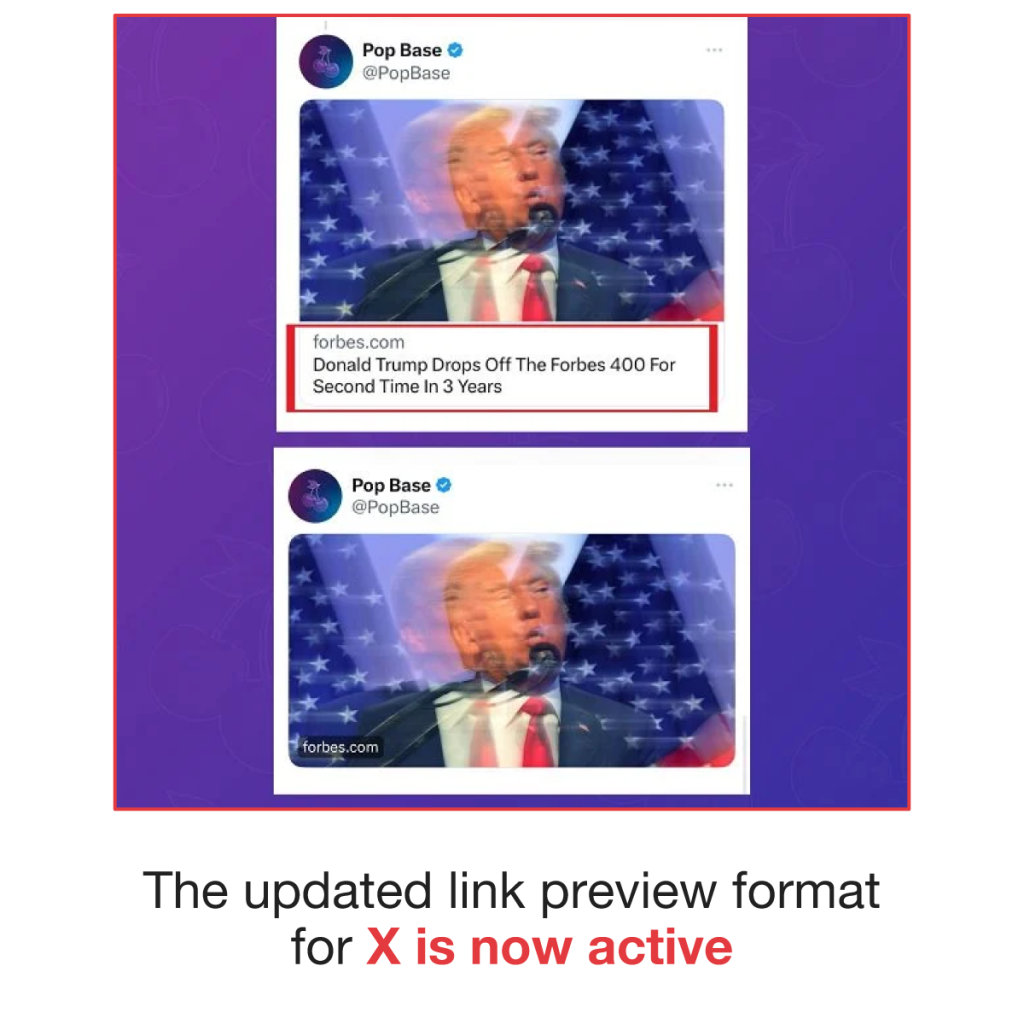 X is releasing a new in-stream link preview style that removes the headline and sample text, displaying only the header image from your post. When you add a URL to your tweet in this way, the post's header picture will be displayed with the domain address superimposed on it. This strategy may appear unusual for a platform that has typically relied on sharing news items.
On the other hand, Elon Musk, the owner of X, is determined to encourage more users to provide original updates directly on the app. Instead of delivering incentives, the X team makes off-platform link sharing less enticing within user updates.
12. Meta Suggests A $14 Monthly Fee For An Ad-Free Facebook Experience
Based on a proposal that Meta filed to E.U. regulators last month, The Wall Street Journal has now disclosed the potential pricing for these new alternatives, building on recent reports that Meta has investigated the prospect of giving an ad-free subscription tier for both Facebook and Instagram.
The E.U.'s growing data privacy requirements, which are putting additional strain on the company's ability to utilise personalisation based on user activity, are driving the company's planned ad-free solutions. With that option no longer available to many E.U. customers as a result of the new Digital Services Act (D.S.A.), Meta has considered enabling ad-free subscriptions in the E.U. as an alternative, allowing it to continue to provide an ideal user experience (i.e. users).
13. Youtube Experiments With Fresh Community Notes Feed Within Its Mobile App
YouTube is improving its mobile app integration of text-based social engagement by introducing a dedicated Community Posts feed for channels. This change reflects YouTube's attempts to elevate Community Posts as an essential component of community interaction. To accomplish this, they've developed features like polls, quizzes (presently accessible on Android and will soon be available on iOS), disappearing updates, and more. Furthermore, YouTube has reduced the Community Notes qualification limits, allowing all channel managers to use this tool.
Adding a dedicated notes tab expands on this, making it a more beneficial tool for app outreach and awareness. YouTube is now testing this new Community Notes mobile feed with a small number of Android and iOS users.
14. YouTube Expands Monetisation Access, Adds AI Effect For Shorts
YouTube is increasing access to its Partner Programme, allowing more users in more locations to qualify for monetisation of their YouTube films while simultaneously releasing a new generative AI function for Shorts that will make you look like a 500-year-old statue.
To begin, YouTube recently lowered the admission requirements for its Y.P.P. program, allowing creators with 500 subscribers (down from 1,000) and much fewer video or Shorts views to monetise their material with YouTube adverts.
Initially, lower entry levels were only available to producers in certain regions, but creators in 23 additional nations can now monetise at lower entry rates.
6. Linkedin Adds Generative AI Elements To Enhance Recruiter And Learning
LinkedIn, the professional social network, is expected to use A.I. to improve its services as a subsidiary of Microsoft, which has made significant investments in OpenAI.
LinkedIn recently announced its "Recruiter 2024" project, which blends artificial intelligence (A.I.) into its recruiting and hiring solutions, providing creative methods to deploy automated insights and tools to optimise H.R. procedures. Incorporating natural language instructions within the app is the key element of this improved Recruiter procedure. It means that consumers can now say things like "Find me a senior growth marketing leader," and the Recruiter will help them through the rest of the process.
15. Google Rolls Out October 2023 Spam Update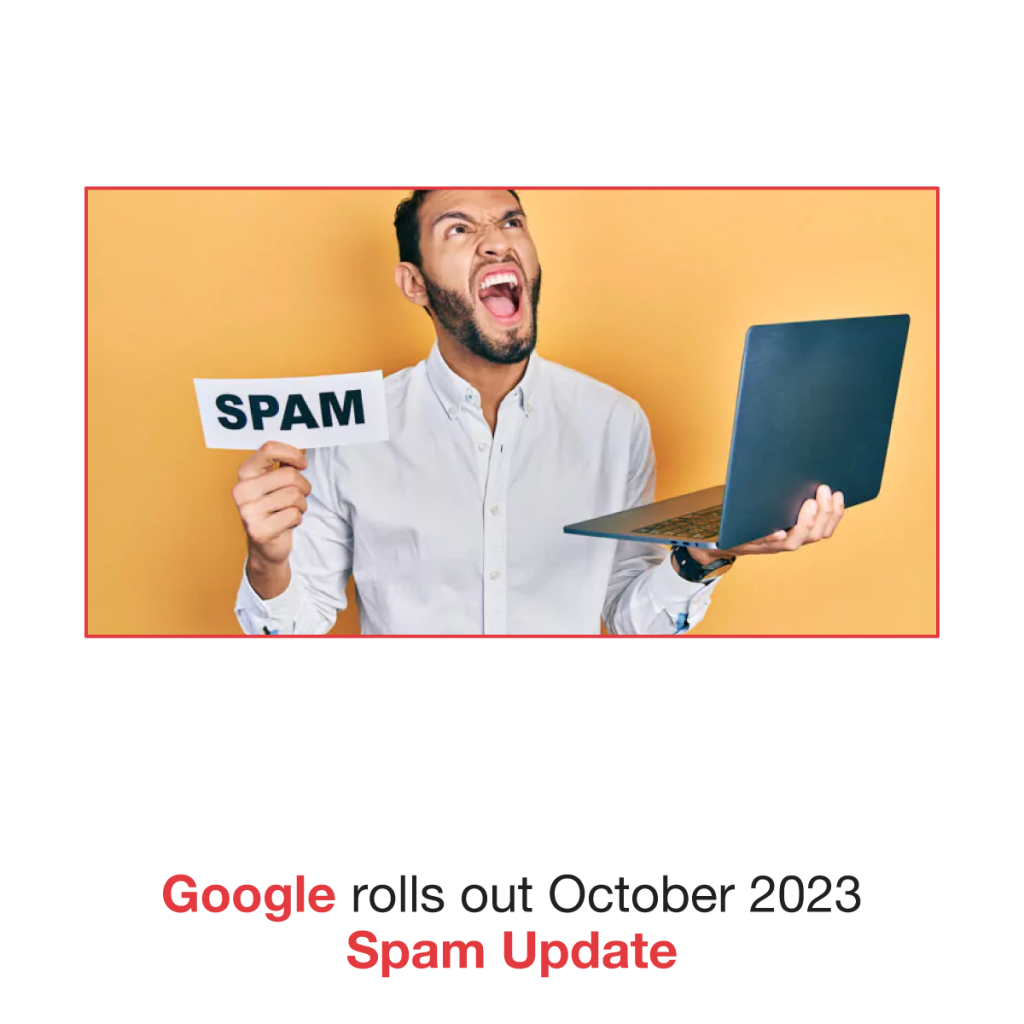 Google has released an upgraded search algorithm targeted at reducing spam results for consumers everywhere. Cloaking, hijacked content, auto-generated material, and scraped spam are primarily addressed in this October 2023 Spam Update in various languages, including Turkish, Vietnamese, Indonesian, Hindi, Chinese, and others.
Feedback from Google's community members who had noticed an increase in spammy results in their native languages informed the decision to adopt this upgrade.
16. Bing Knowledge Panels Now Feature "Learn More" Cards
Bing appears to be testing new "learn more" cards in the knowledge section of search results. The Learn More cards are in the style of a carousel, which you can slide around to learn more about the topic from third-party websites.
17. Google Search Tests New Hotel Snippet Carousel Design
Google is experimenting with a new hotel search result snippet. Under the main snippet, the search result snippet displays a carousel of hotel cards. These cards can be scanned to access numerous hotel alternatives listed on the website.
18. Instagram Trials New Stickers for Enhanced Holiday Season Engagement
Instagram has swiftly created new features to increase user engagement and facilitate more successful marketing methods. The expected "App" sticker, which allows users to promote other apps within their Stories, is one of the significant features. This sticker might be valuable for promoting special discounts, products, or cutting-edge creating tools. Given its anticipated availability before the holidays, merchants will likely use the sticker through influencers to boost app marketing during major sales events.
Furthermore, Instagram is experimenting with a "Secret" sticker that will only be displayed to those who respond to the Story with a message. This method would allow artists to selectively offer access to the secret content, potentially promoting more direct reactions and developing community. Additionally, the platform is exploring a new music-sharing feature known as the "Music Pick" sticker. This sticker would allow respondents to share their favourite tracks, enriching the social experience with a personalised touch.
These recent developments supplement the latest updates introduced by Instagram during its "Instagram University" event in New York. Some of these updates include audio Notes, the incorporation of close friend groups, and the introduction of new birthday reminders. As Instagram continues to innovate, businesses and marketing teams will undoubtedly find these new features essential for optimising their social media strategies.
19. Threads Explores Adding Trending Topics, GIFs, and Voice Posts
Threads is gearing up for a new feature called "Trending Topics," allowing users to stay up-to-date on the most recent talks within the app. According to a screenshot posted by app developer Willian Max and sourced from a Meta developer's account, the latest trending list will feature the most popular discussions in Threads at any given time. Users can explore existing conversations by tapping on any topic, bringing Threads closer to the real-time news discussion experience provided by X.
Threads is gearing up for a new feature called "Trending Topics," allowing users to stay updated on the most recent talks within the app. According to a screenshot posted by app developer Willian Max and sourced from a Meta developer's account, the latest trending list will feature the most popular discussions in Threads at any given time. Users can explore existing conversations by tapping on any topic, bringing Threads closer to the real-time news discussion experience provided by X.
Threads are making steps towards giving a comparable experience to X by focusing more on current critical subjects. Despite having no intention of prioritising news and politics, Threads' decision to emphasise the critical
20. X Allows Restricting Post Replies to Verified Users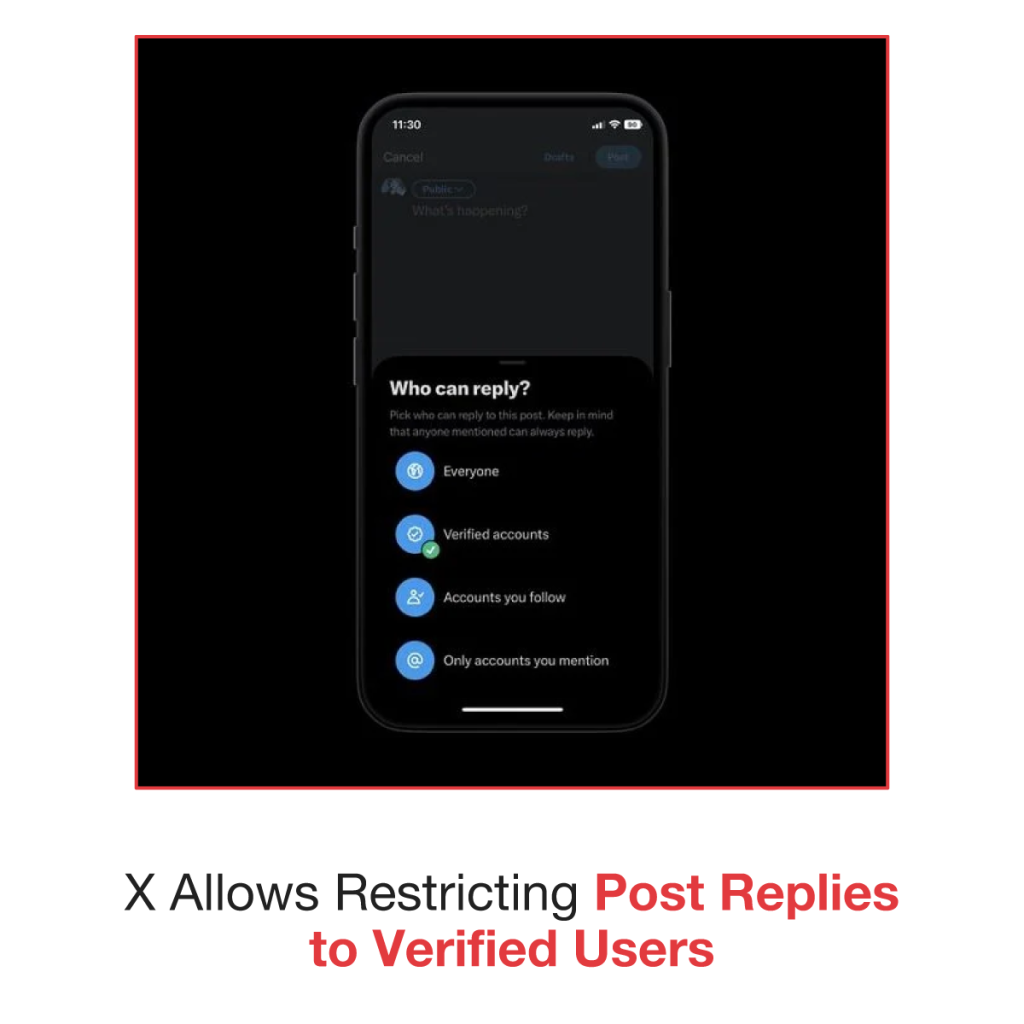 Following successful testing, X has developed an audience management tool that allows users to limit post replies to verified identities. This new option complements X's existing reply controls, which include the recently added "Verified accounts." Despite the fact that the Premium package is only available to less than 0.5% of X users, this feature could be valuable for people looking for involvement from specific user groups, ensuring encounters with like-minded individuals.
Notably, according to a recent X disclosure, just 20% of users actively publish, with most engagement occurring via replies, re-posts, and quotes. As a result, limiting replies to a subset of people may appear unproductive, especially for artists participating in the new ad income share programme, which relies on adverts displayed within post replies.
21. Threads Rolls Out Post Editing and Voice Notes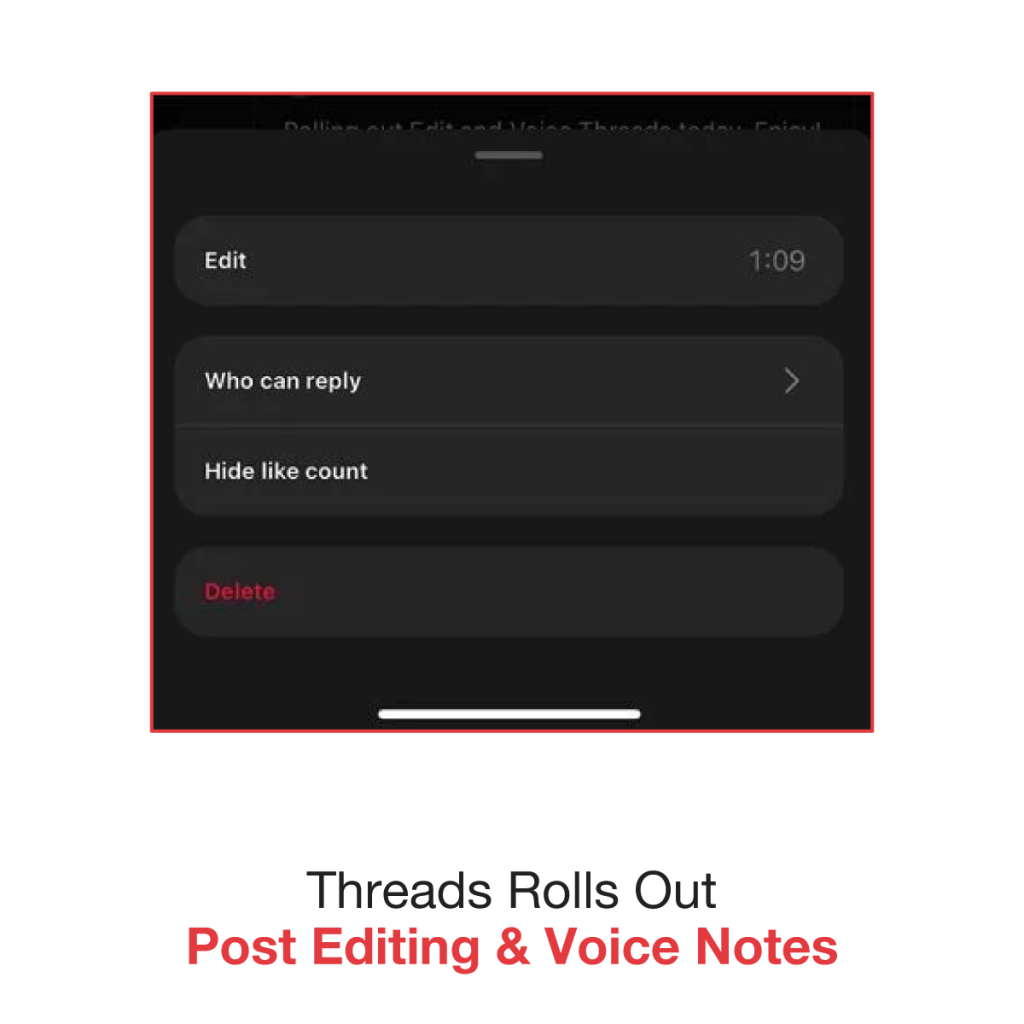 Threads, Meta's Twitter counterpart, has added an "Edit" option, allowing users to change their postings within a five-minute window after publication. This feature, accessible via the "More" menu, recognises the need for speedy error fixes while maintaining the integrity of shared information. This limited editing option, like Twitter, attempts to preserve the original context of posts, protecting against potential misuse or misinterpretation caused by changes to highly distributed content.
22. Threads Developing In-House Messaging Feature
The Threads team at Meta is working on an in-stream direct messaging (DM) option, aligning it more closely with the functionality of X and other social platforms after initially being reluctant about incorporating messaging features. Recent data string additions in Threads, as disclosed by data privacy expert Jorge Caballero, hint at the impending implementation of DMs. According to Caballero, these DMs will likely be encrypted, with the ability for users to send self-destructing messages, in keeping with Meta's approach to messaging tools. Using default encryption would allow for easy interaction with Meta's larger communications integration approach.
23. YouTube Adds Audio Description Options, Creator Profile Pronouns
YouTube has added a new feature that allows producers to insert multi-language audio descriptions in their videos, improving accessibility for a wider audience. This supplementary narrative track, available during video uploads in the "Subtitles" section, improves engagement for people with visual impairments. The ability for viewers to search for audio descriptions and change their settings to play these recordings by default adds to the platform's accessibility. This upgrade intends to make YouTube content more accessible and enhance creators' audience reach, thereby improving video discoverability for users who choose this feature as a search preference.
24. Google Integrates Generative AI Image Creation in Search

Google is pushing deeper into generative AI with a new Search feature that allows users to build graphics from text suggestions. This improvement intends to extend the discovery process beyond the boundaries of traditional search results. Users can immediately enter picture creation prompts into the Search engine using the new Search Generative Experience (SGE), with the results presented within the search interface.
25. Google Discover Introduces An Exclusive Segment for E-commerce Products
Certain users' Google Discover feeds purportedly display an e-commerce or goods category. A digital marketing consultant, Glenn Gabe, shared a screenshot on X, exposing a "Clothing" section in his Discover feed that referred him to Google Shopping for more information. "Focus on e-commerce and interested in Discover?" says Glenn. Seeing a "Clothing" category appear yesterday, as we approach the holiday buying season was interesting. Four products were displayed, some of which were viewed, leading to a shopping page with store locations. The headline resulted in a new SERP for 'Shop Clothing,'" indicating the potential relevance of this development, especially in light of the forthcoming Q4 shopping season.
26. Google Tests Line Divider Between Site Name, URL, Favicon & Snippet Description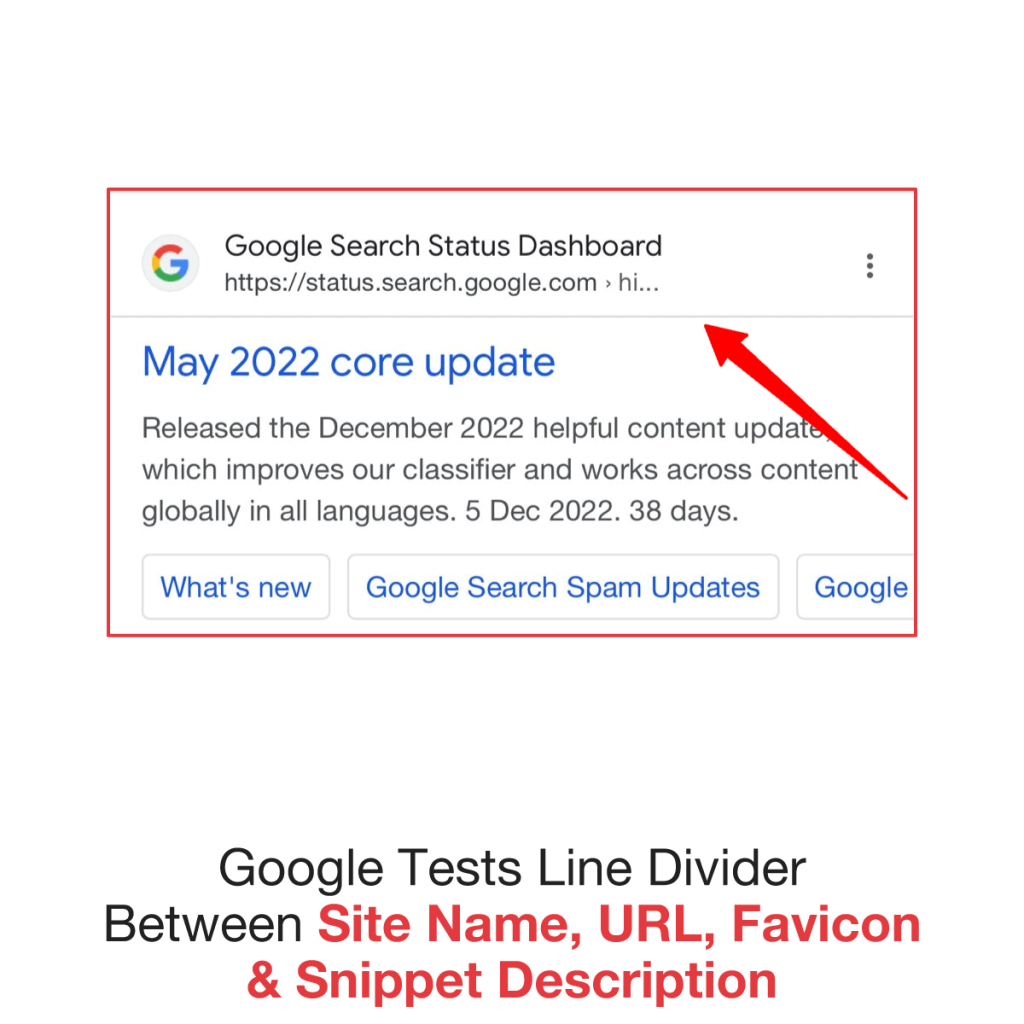 Google is currently experimenting with a separator between the site name, URL, and favicon and the description of the snippet. This trial differs from prior trials of line dividers and separators, which were used between search results.
27. Instagram Introduces Polls in Comment Streams for Feed Posts and Reels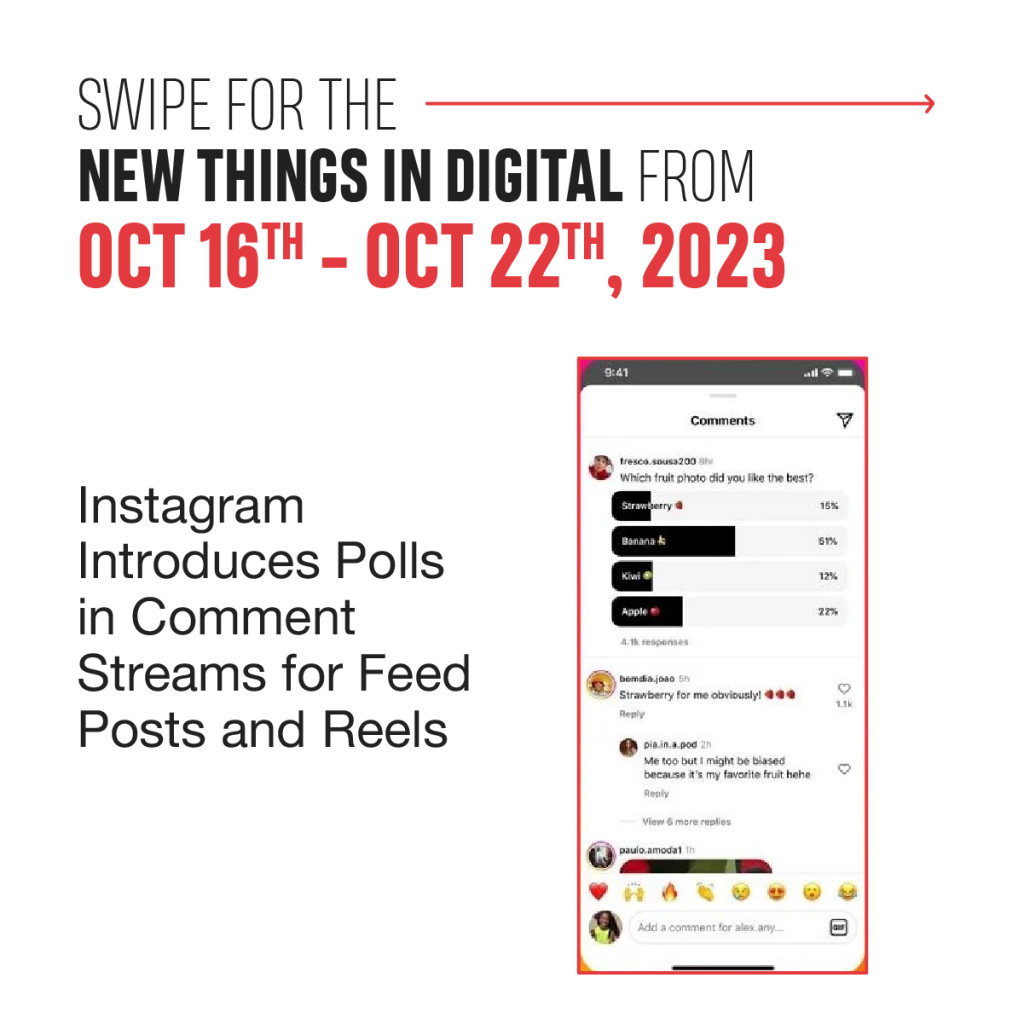 Instagram's most recent upgrade now allows users to build interactive polls in comment threads for feed items and Reels footage. While this feature has only been in trial for six months, it has already proven popular in Stories and Direct Messages.
The lightweight structure of our polls facilitates user engagement, allowing viewers to share their thoughts more easily. It may be a helpful tool for companies and creators to get feedback and increase engagement rates. According to Instagram CEO Adam Mosseri, the option is available to a small group of users as a test, with plans for a larger deployment soon, as stated by Meta CEO Mark Zuckerberg on their respective Instagram channels.
With this new capability, observing how users leverage polls within their content streams will be intriguing.
28. Threads Posts May Reach Facebook and Instagram Connections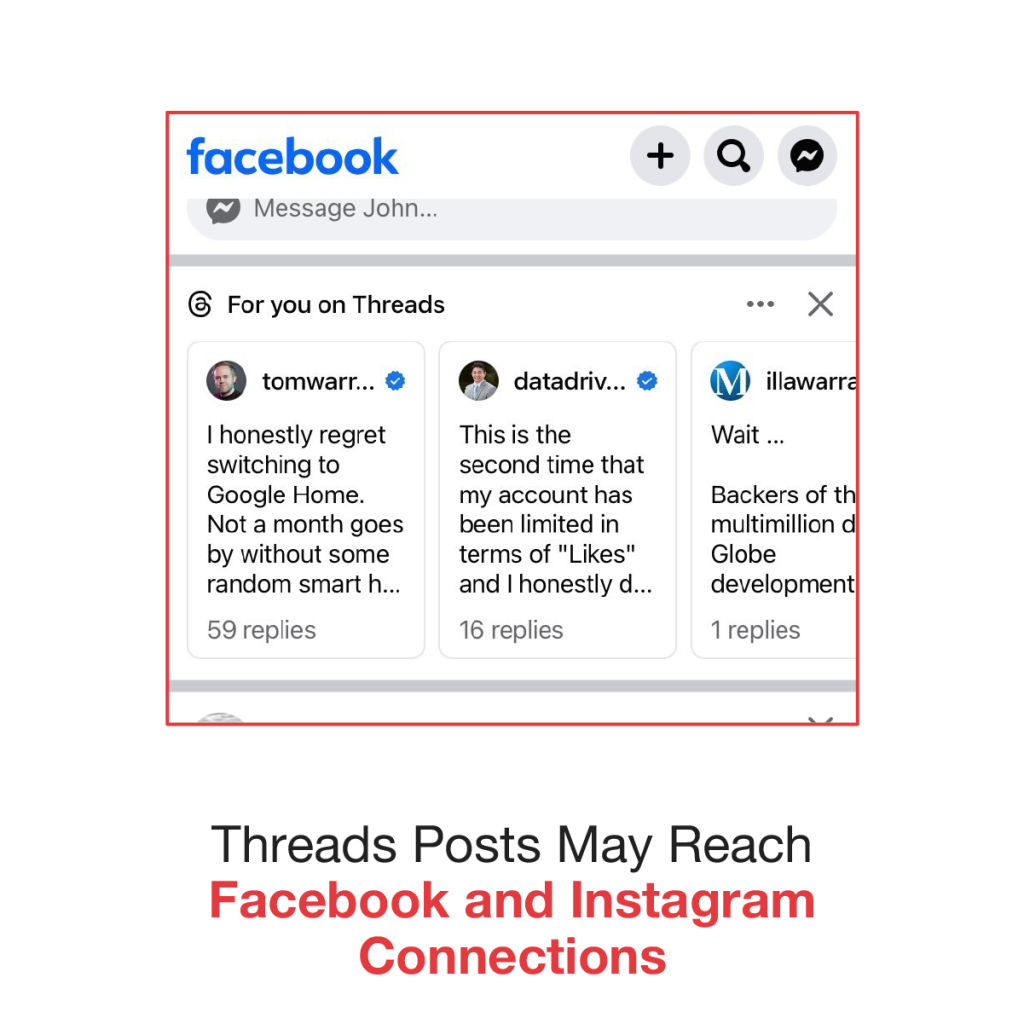 If you've been using Threads, you should be aware that your postings may be accessible to your Facebook and Instagram contacts as part of Meta's efforts to promote the app. This change hopes to increase engagement on Threads, which has recently suffered a drop in activity. However, this may imply that your Threads updates are shared with your Facebook friends, which you may not desire.
Instagram, too, offers a function that displays Thread updates in a side-scrolling feed. It isn't surprising, given that Threads requires an Instagram account.
29. Meta Expands Broadcast Channels to Include Facebook and Messenger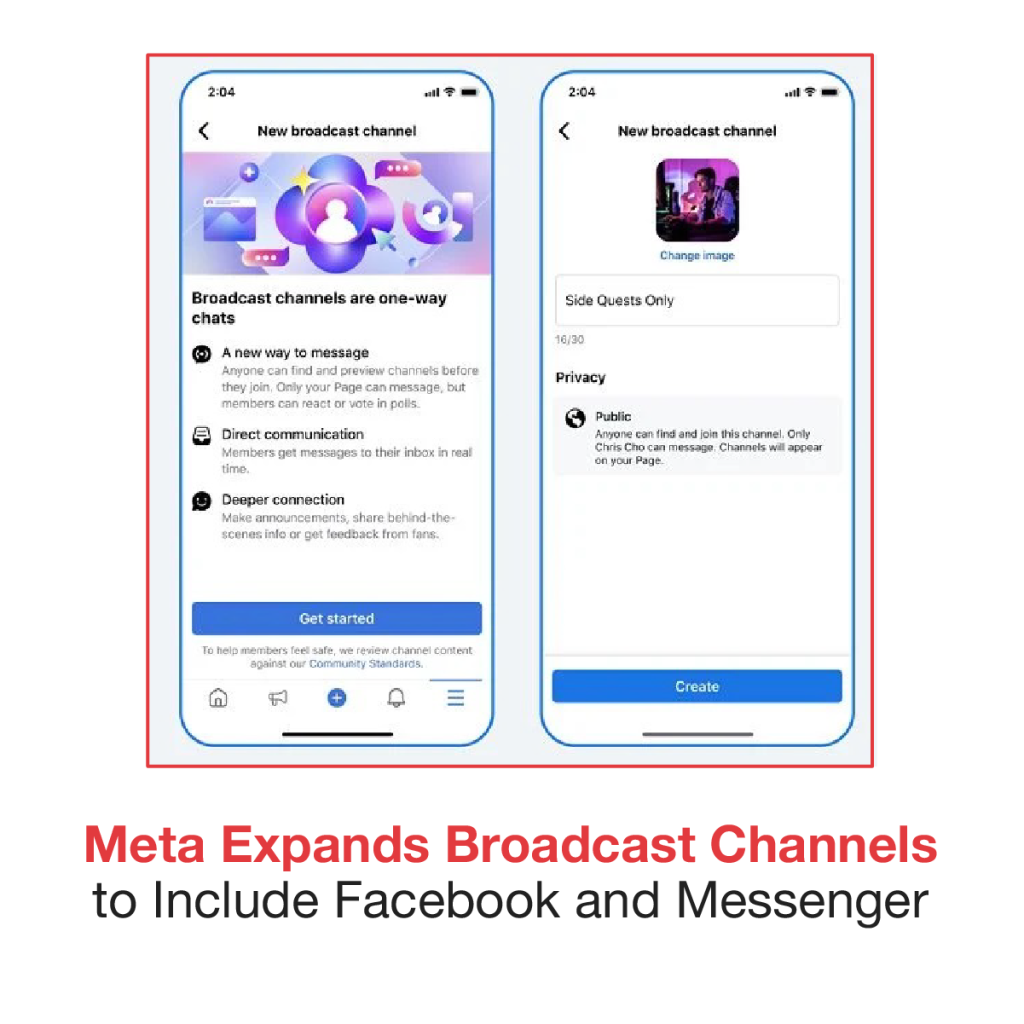 Meta's famous broadcast Channels feature is being rolled out on Facebook, Messenger, and Instagram. This improvement allows producers to share updates with their fans more directly. Broadcast Channels are comparable to one-way group chats in that they enable consumers to follow their favourite producers and stay updated via direct messages.
As more conversations shift to messaging, this feature has become essential for creators looking to maintain closer contact with their audience while avoiding algorithmic constraints that may limit post visibility.
Broadcast Channels will be prominently shown on Facebook creator sites, and artists can promote them inside their feeds. Furthermore, Pages on Messenger will be able to build a broadcast Channel, allowing them to contact their target audience directly.
30. YouTube Experiments With New Comment Controls To Regulate Video Interactions
YouTube is testing a new feature that allows producers to disable future comments on specific videos while maintaining old comments. It provides artists more control over how their stuff is discussed.
You can currently disable comments for your entire channel or individual videos, but doing so deletes all existing comments. Although you can personally check comments, there is no way to stop them at a specific point.
Creators can find a balance with this new option by maintaining past comments but blocking new ones, creating a middle ground for regulating debates.
31. Whatsapp Adds Account Switching In-App
WhatsApp has released a helpful upgrade that allows users to switch between several accounts within the app without repeatedly logging in and out. This functionality is handy for professionals who now manage two phones to separate work and personal affairs.
Open your WhatsApp settings.
Look for and click on the arrow located next to your name.
Select the option that says "Add account".
You'll be prompted to provide a second phone number and SIM card or use a phone that supports multi-SIM or eSIM functionality.
Once the second account is added, you can manage your privacy settings and notification preferences for each account separately.
32. Threads Launches Instagram Profile Tags
Instagram has added a new Threads feature that allows users to tag Instagram profiles that still need to install Threads. When you tag such persons, instead of the typical @ handle, the tag will display an Instagram emblem. It allows other users to follow these accounts ahead of time, guaranteeing that you receive all of their changes if they later activate a Threads profile. You may also visit their Instagram profiles, promoting deeper integration between the two programs.
33. Youtube Unveils Ui Updates With Enhanced Scrubbing And Song Id Elements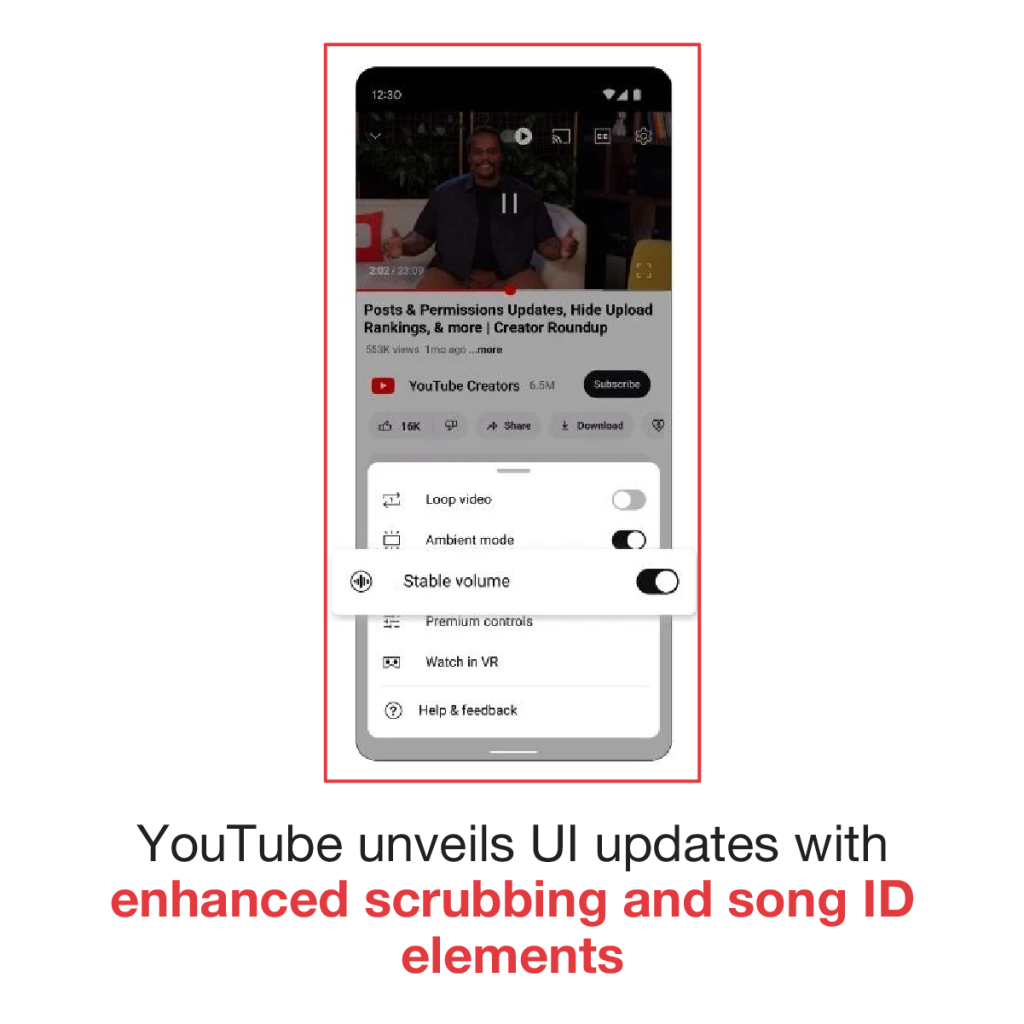 YouTube has released various user interface upgrades to improve the watching experience while remaining consistent with the YouTube UI. One noticeable update is the addition of a constant volume setting, which provides a consistent volume level throughout your video-watching sessions, preventing unexpected loud sounds. All users will have this functionality activated by default; however, you can disable it if you prefer the prior dynamic volume settings.
Furthermore, YouTube is offering a more user-friendly method of navigating video material. Users may now engage a new straightforward option that switches to 2x playback, allowing for smoother video skimming by pressing and holding anywhere on the player.
34. Google Tests Discover Feed On Google Homepage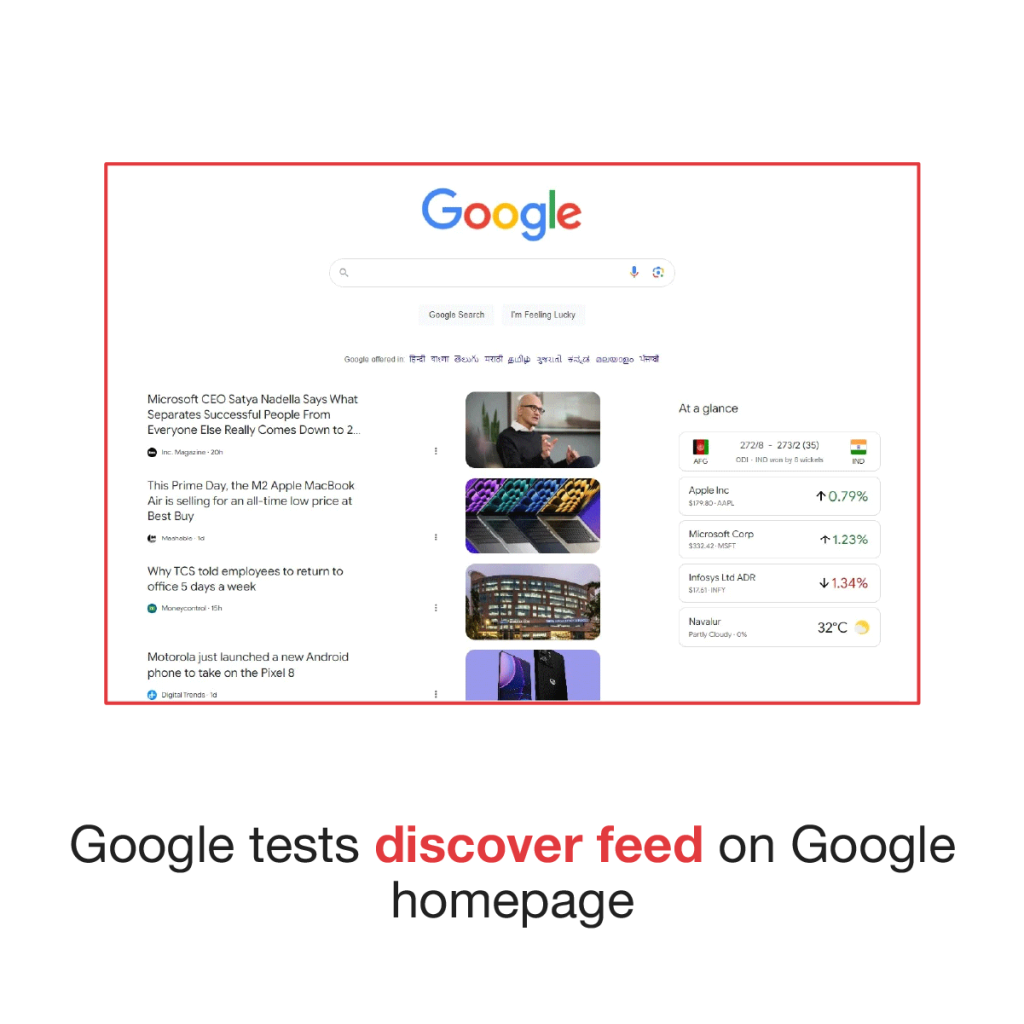 In India, Google is experimenting with showing the Google Discover feed on the Google.com desktop home page layout. The Discover feed is typically available solely in the Google mobile app or within the mobile browser interface, where users can enable it. This is a change from the company's usual practice of keeping the desktop interface clean.
According to Google spokesperson Lara Levin, this implementation is now experimental and only available to users in India.
35. Google Top Stories Test "Mentioned In These Stories"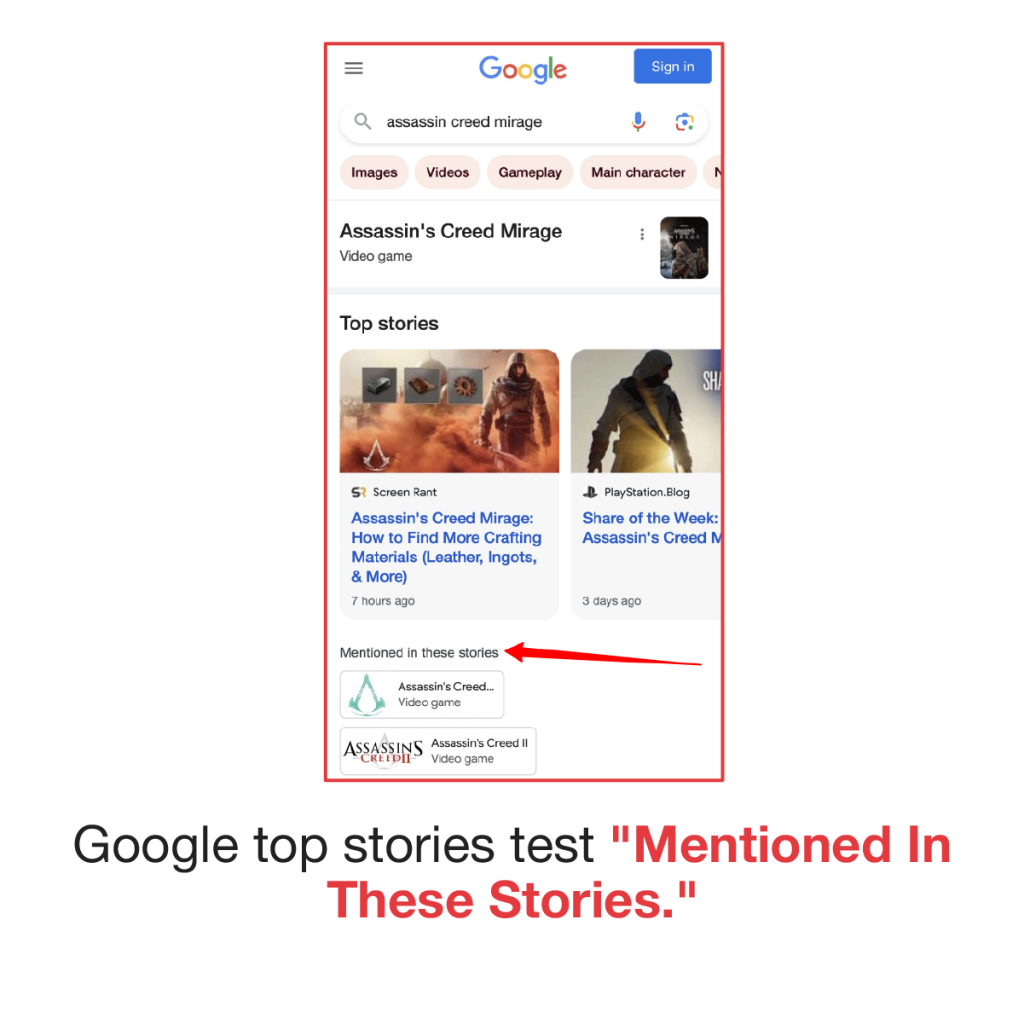 Google is now testing a new version of the "mentioned in" function, now available in the top stories area under the term "mentioned in these stories.
36. Instagram Enables Users To Update Their Profile Picture With Short Videos In Notes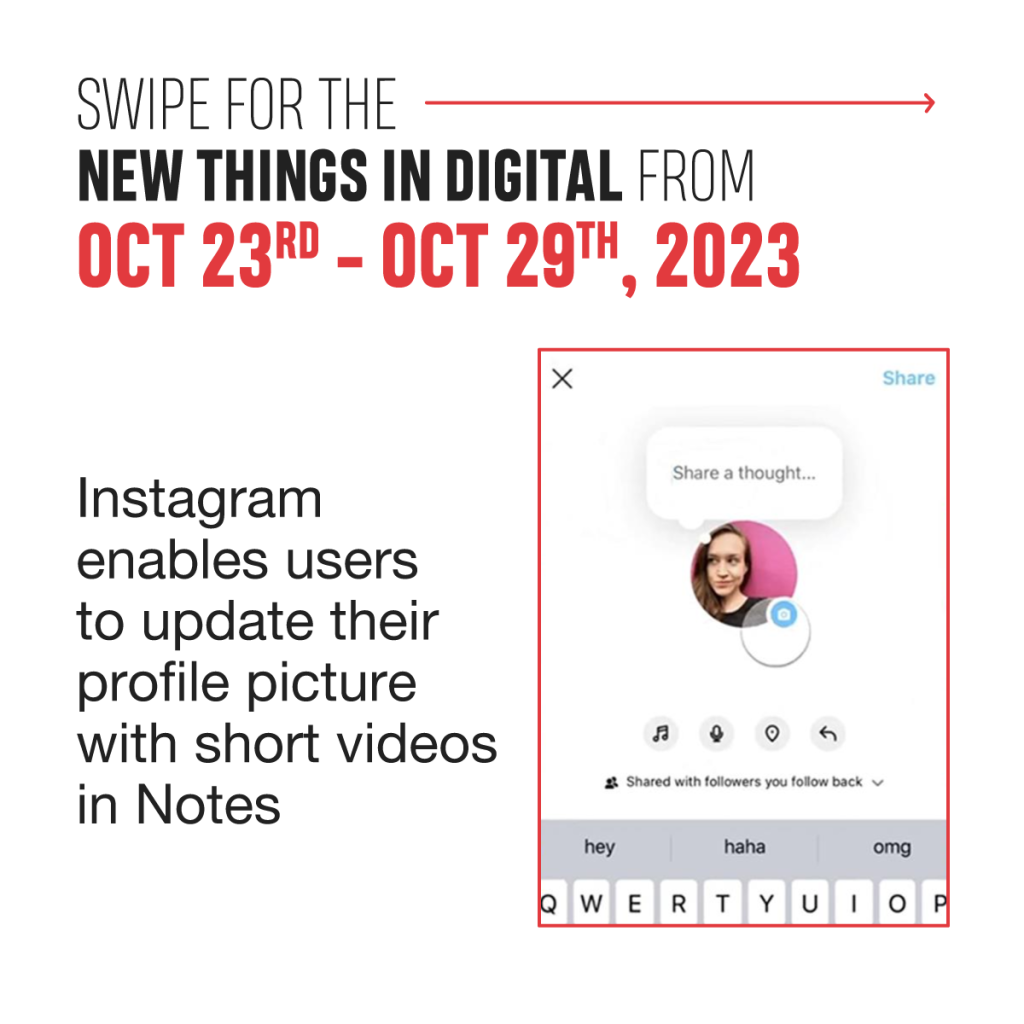 Instagram's newest feature allows users to replace their profile image in Notes with a short video. Instagram CEO Adam Mosseri demonstrated the feature's capabilities in a video posted to his broadcast channel.
When users begin to compose a note, a new camera icon will appear on their profile picture, according to the example. From this icon, they can record a video to post on Notes.
Furthermore, Instagram is experimenting with a feed that only allows postings from verified users who have paid for the privilege, drawing inspiration from Elon Musk's X, which offers enhanced controls to paying users.
37. Threads Developing API, Cautious Of News Content's Influence
To do this, Instagram implements popular features such as direct messages (DMs) and hashtags. Despite their popularity, Instagram CEO Adam Mosseri seemed hesitant to integrate hashtags.
However, an API that allows third-party platforms to schedule Threads posts and smoothly integrate Threads posting choices into their systems is vital for publishers. Mosseri stressed that Threads should prioritise creators over news sources, as creators are increasingly driving engagement.
This approach matches Mosseri's previous comments about the app's focus on avoiding magnifying news content owing to associated dangers such as scrutiny, hostility, and potential integrity issues despite the app's potential for increasing engagement.
38. Threads Add Polls And GIFs, Expanding Engagement Features
According to Mark Zuckerberg, CEO of Meta, Threads users may embed GIFs into their postings, providing another way to improve their content. This new feature adds a GIF icon to the Threads composer options, allowing users to browse GIPHY (previously Meta) for an animated image that best represents their message.
Furthermore, incorporating polls provides another interactive method for engaging the Threads audience. Users can create in-stream polls with up to four response options by selecting the line chart symbol, allowing viewers to interact and vote on various issues.
39. Meta Announces New Avatar Updates, Including Halloween-Themed Customisations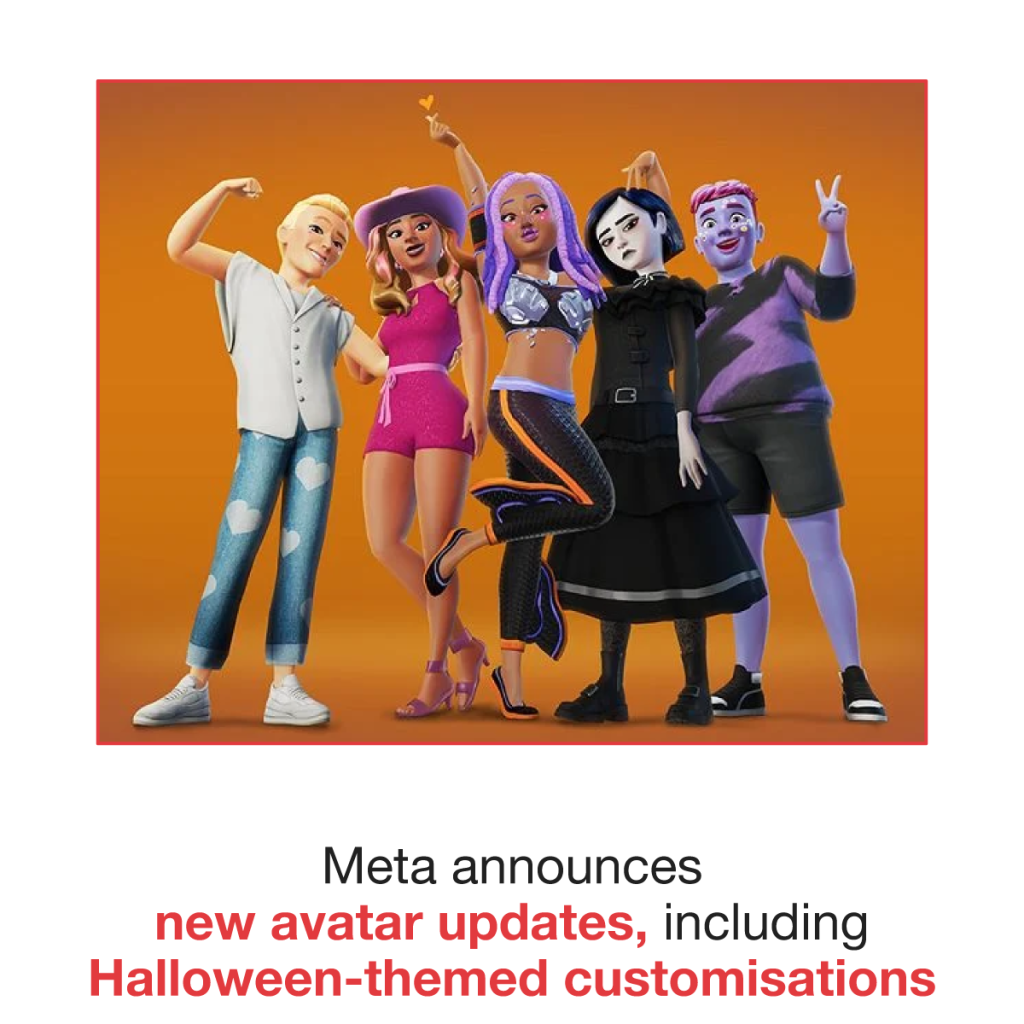 Meta actively encourages users to explore its 3D avatars and the growing avatar interaction features. The goal of this effort is to allow a larger audience to participate in its 3D virtual reality surroundings, with the possibility of progressively transferring them to a more immersive metaverse experience. In accordance with this plan, Meta just released a new Halloween-themed upgrade for its avatars, allowing for greater customisation of digital characters. Users may now give their avatars a festive Halloween look, as shown in the accompanying image, with options such as purple skin and a wider range of hair colours.
40. YouTube Testing Comment Controls For Better Video Interaction Management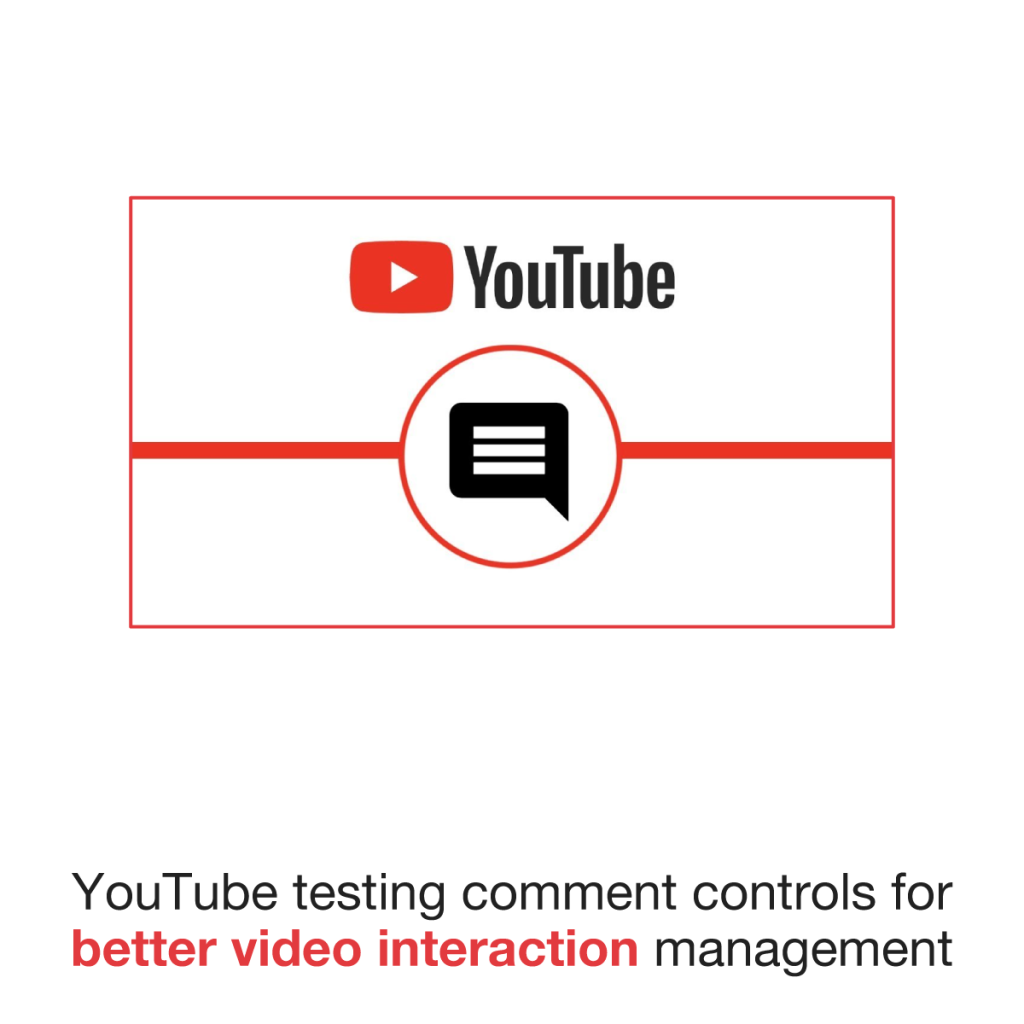 YouTube is testing a new tool allowing producers to disable future comments on specific videos while keeping any already posted remarks. The goal is to provide more choices for moderating comments about video material. It is now possible to disable video comments at both the channel and individual video levels; however, doing so deletes all previous comments. Although comments can be held for review, there is presently no straightforward way to stop comments at a given point. This new technique aims to find a happy medium by allowing artists to maintain a level of debate while exercising control over future comments.
41. Google Maps Prioritises 'Photo-First' Results For Local Listings
Google Maps search listings now include "photo-first" search results in select regions. This move, according to Google, is intended to provide consumers with an additional method of discovering inspiration. As a result, the local listings displayed in Google Maps search results will now include a photo carousel above the written information for each entry. These images were derived from thoroughly examining the billions of images posted by the Google Maps community.
Google emphasises that this "visual list of places" lets consumers discover new destinations that closely match their search parameters. Users can tap on a photo to get more information and quickly travel to the desired location while scrolling through the local results.
42. Microsoft Introduces Pubcenter For Website Monetisation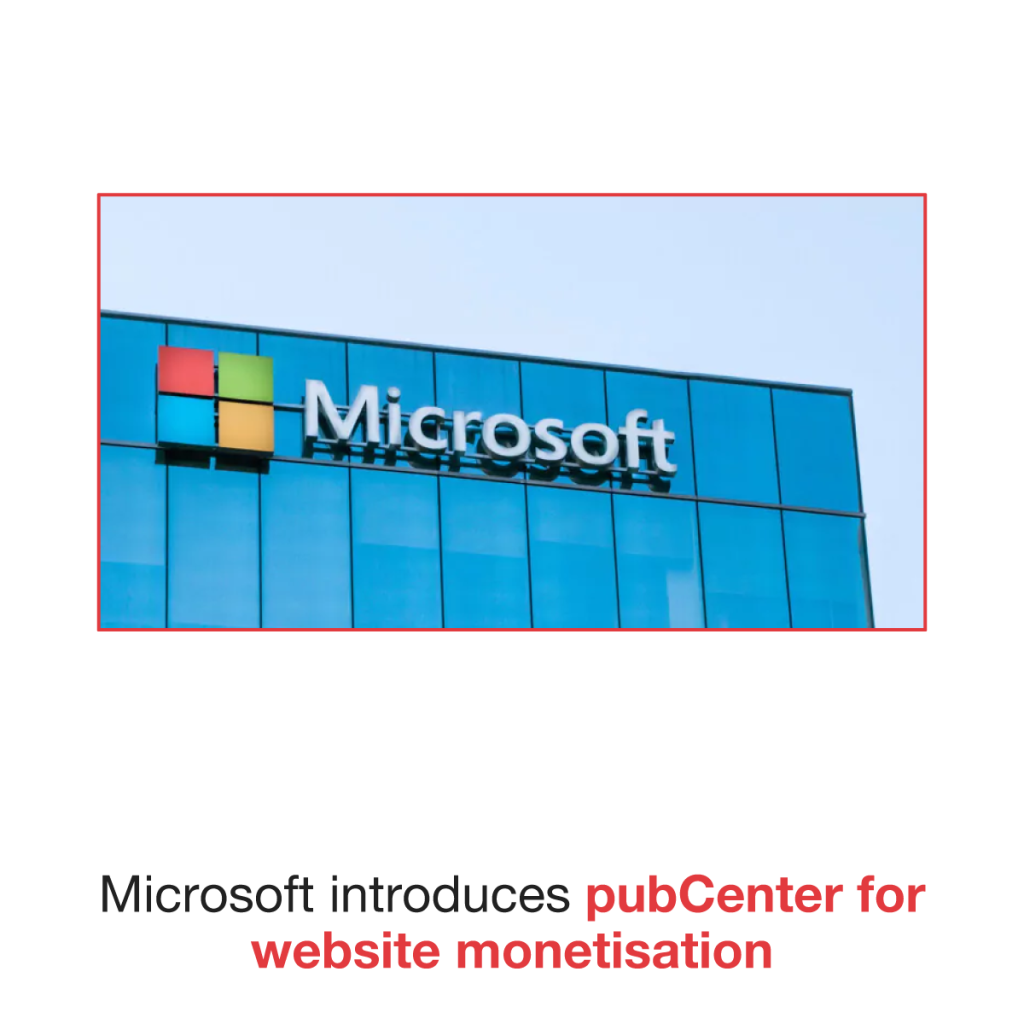 Website publishers in the United States now have a new way to generate cash thanks to Microsoft's pubCenter service. This newly created platform helps websites monetise through adverts, providing an extra outlet for publishers in addition to Google AdSense.
43. Google Search Introduces A Nearby Store Filter In The Product Overlay
For years, Google Search has provided techniques for locating products at neighbouring retailers. The product overlay tool in Google Search was recently upgraded to include the ability to filter by neighbouring stores. While the exact debut date of this feature is unknown, Google may display a "nearby" button when users click on a product in the popular products area, allowing consumers to filter their search results to reveal local retailers that have the product in stock. Khushal Bherwani revealed this discovery by posting an example on X. Here's a screenshot to help you understand the feature.
44. Google Search Supports Syntax Graph Merge
Google Search added syntax graph merge support last week, allowing the usage of many structured data types, such as JSON-LD and Microdata, on a single webpage. This functionality was announced at Google Search Central Live in Zurich recently.
This development was revealed by Ryan Levering, a Google Software Engineer specialising in structured data. Levering emphasised that this capability enables users to take advantage of the benefits of numerous syntaxes. Additionally, he noted that Google has updated validator.schema.org, the Google rich result test, and all Google ingestion to accommodate this feature.