LinkedIn Lead Generation Form ads are the new cool thing on the block and every B2B marketer would want to test their hands on this. In the last tutorial blog post, we learnt how to create Facebook Lead Generation advertisements. In this blog, we shall explore in detail about LinkedIn Advertisements. LinkedIn advertisements are not new, but there are innovations. Innovations that can make our advertising experience better.
There are five types of LinkedIn ads you will observe:
1. Text ads:
The one you would see on the right-hand side of LinkedIn
2. LinkedIn Sponsored Story Ads:
The regular boost post feature of the LinkedIn company page.
3. LinkedIn Sponsored Inmails:
The feature that was available with LinkedIn ads resellers or LinkedIn ads team, is now available for everyone. Similar to running your Gmail ads, you can now run inmail ads using LinkedIn ads dashboard.
4. LinkedIn Lead Generation Ads:
LinkedIn has copied Facebook before and had recently rolled out another new feature, a clone of the lead generation form of Facebook. They introduced Lead forms for sponsored content campaigns. This new addition to LinkedIn advertisements will definitely be beneficial for the marketers to collect leads for businesses.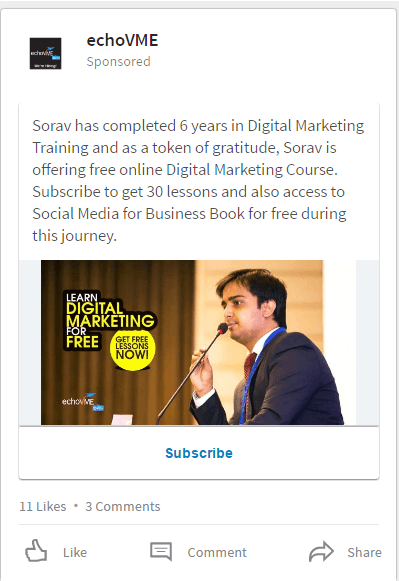 5. LinkedIn Dynamic Ads / Programmatic Ads:
It is a personalised display ad which appears on the right side of the desktop. These ads use LinkedIn members' information to personalize it.
While these are a number of ways by which you can promote your business/ product or service, we are going to take a tour of the new feature and explore how we can effectively use it to generate leads.
LinkedIn Lead Generation Ads
Driving users to a landing page or a website to access any content is getting harder. Taking too much of a user's time might even result in losing them. Lead forms make the process easier and most importantly gives a seamless experience to mobile users where a user clicks on an ad, lands up on a prefilled form in which information would have been extracted from their profile and filled for the user to submit.
Here is a 10 Steps Easy Process to Create Your First LinkedIn Lead Generation Advertisements:
Before we get started with creating lead forms, few things that are to be noted:
You can promote your content only if you connect it to a business page.
Log on to https://business.linkedin.com/marketing-solutions/ads to get started with LinkedIn advertisements.
Click on create an ad and then select your business page to enter the campaign manager. You will then be in your company's advertisement dashboard of LinkedIn. Follow the steps below to run an ad with lead gen forms.
Note: To start an ad with Lead forms, you must first create a form to be used for the content to be promoted.
Create a Lead Form:
1. Go to Campaign Manager and find TOOLS at the top right corner.
2. Choose lead forms from the drop down menu.

3. Click on the Create new form template. You can duplicate these forms when required for future campaigns.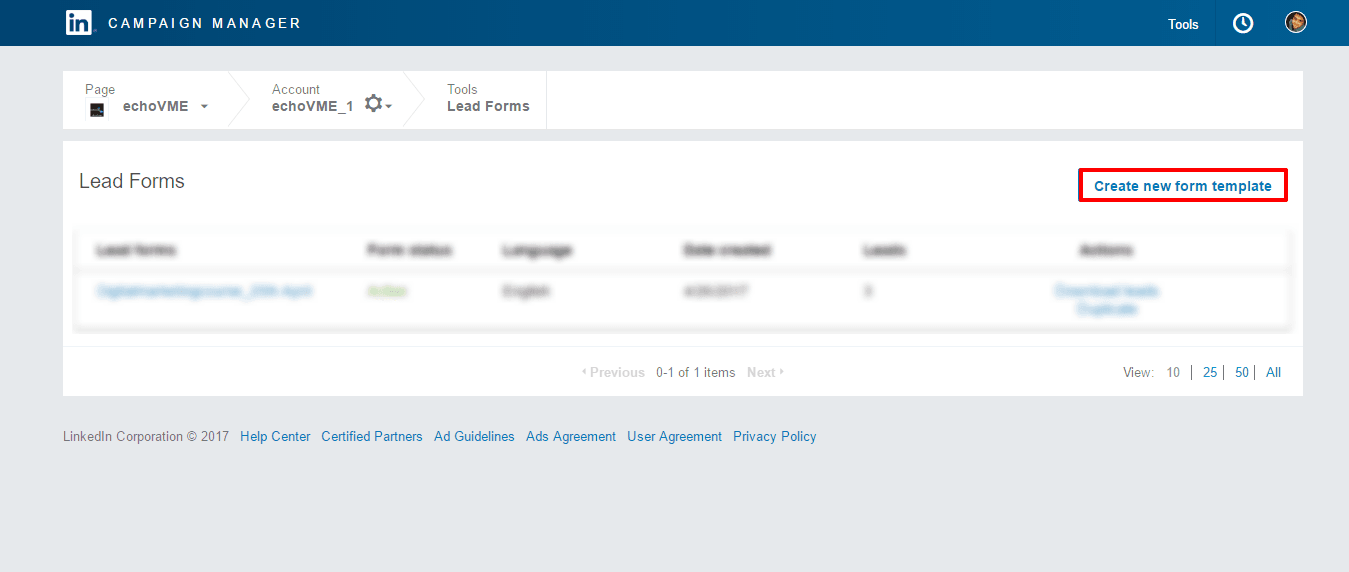 4. You can then create a form asking the details you would like to know about your customers. Name the form and choose a language you prefer and enter the following details.
Offer headline: You can give a headline of maximum 40 characters.
Offer details: A description of the offer or value you would provide to the customer on signing up the form. Character limit is 160.
Questions: Information you want to collect. You can ask a maximum of 7 questions in a form.
"Thank you" message: Once a user submits a form, a thank you message can be displayed. It is an optional message in case you would like to thank the user for filling the form.
Link to your Website: You can provide a link to your website for further information for the users to know.
Save the form and then use it when you create the campaign.
Steps to run your advertisement (Objective/Targeting/ Bidding)
5. Below the tools section, you will notice the 'Create a Campaign Button'. Click on the button and start a sponsored content campaign.
6. Next, name your campaign and choose to run the ad with lead forms.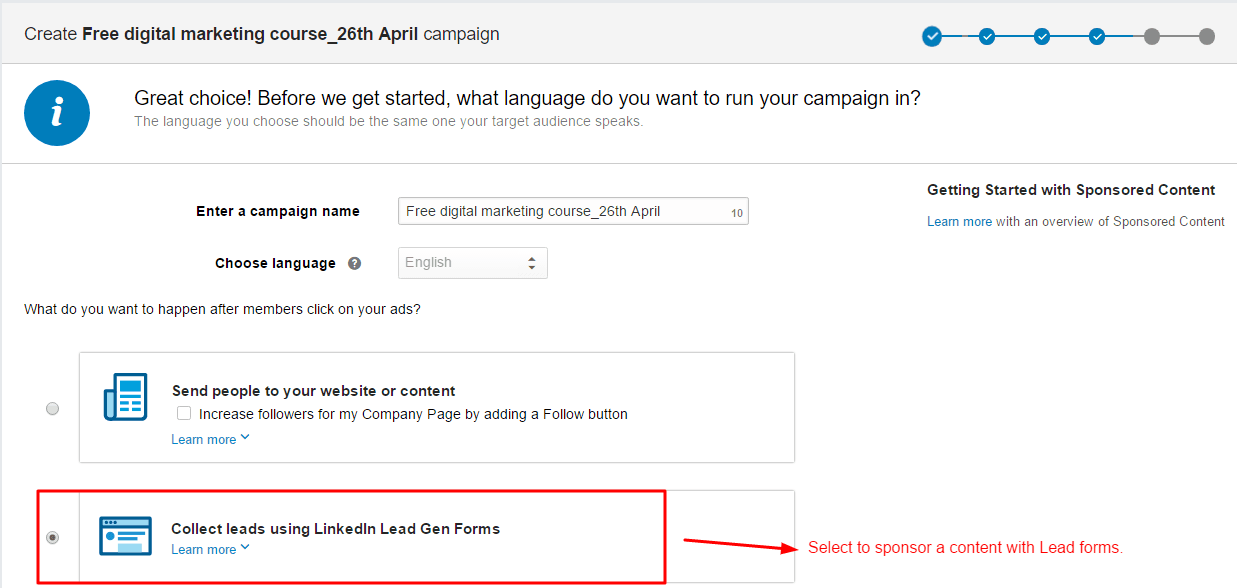 7. Further, choose the content you want to sponsor from an already existing post or create a new sponsored content. Already existing posts are the ones you have done till date on your business' LinkedIn page. So select the ideal content for your sponsored story.

8. In the next step, select the form you have created initially and give a call to action like "Sign Up", "Subscribe", "Get Quote" etc.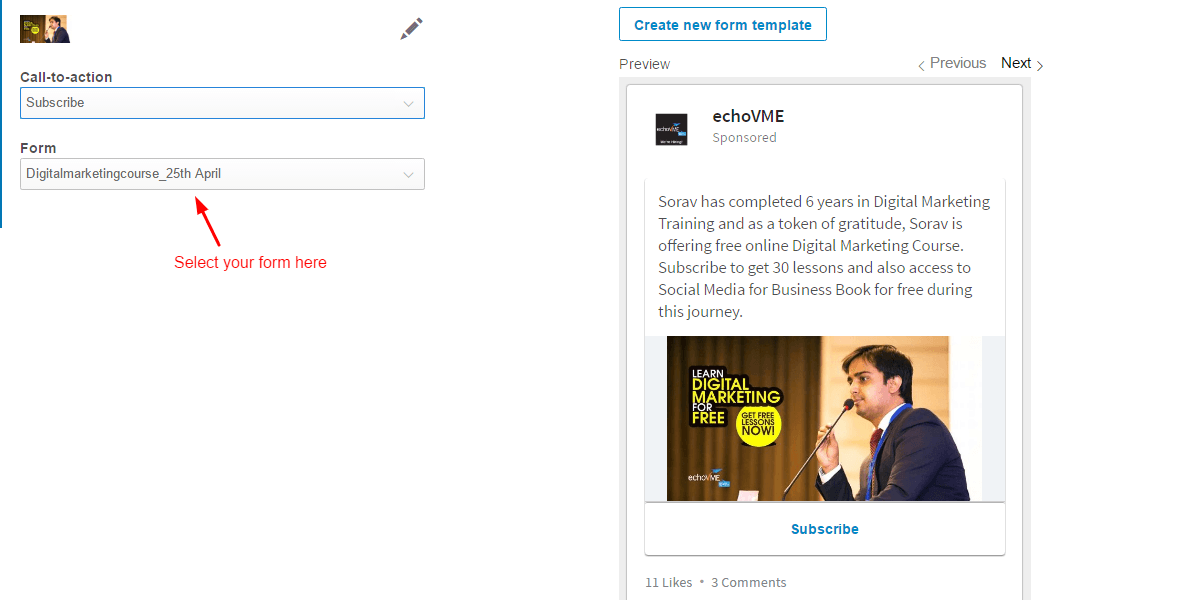 9. Finally, select a target audience in the categories available i.e., company name, company industry, company size, job title, job function, job seniority, school, fields of study, degrees, skills, LinkedIn group membership, gender and age.

10. Set up your budget and bid. Schedule the campaign for the dates you want to promote. Your campaign is set to launch. Once it is been approved by LinkedIn, the campaign starts and you can measure the performance in the campaign manager.
To measure the effectiveness of ads with lead forms, new metrics are available to measure the value you're getting from amount spent like cost per lead, form fill rate, lead form opens and no. of leads.
Results of LinkedIn Lead Generation Advertisements:
I ran this Lead Generation advertisement targeting people on the basis of job titles and job function. It cost me Rs. 242 per lead, there were 9 people who opened the advertisement but only 3 of them decided to submit their details to us.

Results of LinkedIn Lead Generation Ads. 9 Clicks and 3 Form SubmissionFinal Verdict:
The LinkedIn advertisement platform is an expensive affair when compared to Facebook advertisements. However, this feature makes ROI much easier for B2B brands and the platform gives more space for advertisements than the regular display scenes.
LinkedIn Lead Generation Step by Step Video
FAQ's
1. Are lead forms available for all objectives?
No, as of now it is available only for sponsored story but it is said to be rolled out later this year for Text ads and Sponsored Inmails.
2. Is it for both desktop and mobile users?
No, this is available only for LinkedIn mobile app and will soon be served to desktops as well. In the beginning, it is aimed at catering the 80% of mobile users who engage the most with sponsored content.
3. Where can I download or get the leads when someone submits it?
You can download leads from the campaign manager, under tools where the form was created or connect to a CRM tool to directly receive leads.
Do you have any other doubts or a feedback on how effectively this feature can be made part of our advertisement strategy? Let us know in the comments below.