Blogging is crucial! I have stressed enough about it in my lessons and articles as it is a great tool that can help you make money online. It is a platform where a person can share his views or passion about anything and everything. All he has to do is sign up on a blogging network or host the content on his own website. Blogging has evolved from being a hobby a few years back to the full-time profession today. In India, people still think blogging cannot make a full-time profession but they're wrong. Amit Agarwal, Top Indian Blogger earns up to INR 30,00,000 per month! There are many bloggers like Lakshmi Sharath who quit her full-time Marketing job and started blogging about Travel, which took her to 10+ countries at the expense of their tourism boards.
Blogging is essential:
For building your career.
For sharing your knowledge with the world.
For getting discovered on the Internet.
To showcase your talent
To become popular on internet
To make some quick bucks on Internet.
Know the blog basics:
If you are planning to get started with blogging, here are some basics you need to know and follow:
Choose a platform – WordPress, Blogger, Tumblr, LiveJournal, Medium etc are some popular platforms you can choose (I recommend WordPress).
Select Domain Name and Hosting – Brainstorm thoroughly when choosing a domain name. Let the name be short, memorable and not confusing for readers or else just go with your name. There are plenty of hosting services available with numerous plans so do through research and choose wisely.
Design/Modify the blog – If you go with the ready template then customize it to your desire look and feel. And if you want to design the same it would be far better.
Add Plugins – Plugins will add more value to your blog. They will help your blog work faster and smarter. Security, publishing, and monitoring plugins are some you just can't miss installing.
Start Writing – Start with About Us, Contact Page, Products, Services pages etc and start writing new blog posts everyday or at least once in two days! Learn more about blogging and content amplification here
Now that you know how to get started with the blog, here are some excellent ways to make money from your blog. However, if your primary objective is to replace your full-time income with blogging then understand it is by no means a get rich quick ordeal. Blogging requires hard work, dedication, research and most importantly the urge for writing. Do it for the love and joy of blogging, money will slowly follow you. So it's time to brush up your language skills, find your passion and start making money.
Ways to Make Money with Blogging:
Enroll With Advertisement Providers
This method is use commonly to monetize one's blog. The advantage with this method is that it is very simple, making it quite popular. Various networks like Google Adsense, Viglink, and BuySellAds provide ads to be displayed on your blog. Most of these networks will charge you a fee of 20% to 40% of your total earning for finding relevant advertisers.
Understanding Popular Ad types:
CPC/PPC Ads – Cost Per Click otherwise known as Pay Per Click are banner ads that can be placed on sidebar or in-between content of your site. You will be paid for each ad that is clicked by the reader.
Example Network for CPC/PPC Ads – Google Adsense, Revcontent, BidVertiser Infolinks and so on.
CPM Ads – Cost Per 1000 Impression is what we call it CPM Ads. CPM deals generally come from agencies that are willing to pay you a fix amount upon touching 1,000 impressions on placed ads. CPM is most effective to incorporate as you will be paid even if the reader does not click on ads. However, you need to have at least 1,000 visitors a day to survive in the game.
Example Network for CPM Ads – Amazon CPM Ads, AdBlade, Propeller Ads, Conversant Media and so on.
How to get started?
Quite simple, sign up with the provider, apply for the advertisements you wish to place on your blog. Once the application is accepted for your blog, you will receive codes for the ads. Whenever a user clicks on these ads, commission is generated per click. The earnings per click may vary from $.01 to $50 depending on various factors pertaining to your blog.
If you are using wordpress, you can use Google Adsense plugins! This will help you get the advertisements activated for your blog.
Once you start using Adsense account, Google will start placing ads on your blog. As you will aim at increasing traffic to your blog through various means you will earn revenue as and when people will click on the ads.
Jeremy Schoemaker From ShoeMoney.com
Here is an example of Jeremy Schoemaker who made $1,32,994 US $ using Google Adsense on his blog Shoemoney.com
Direct Advertisements
Direct Advertisement or sponsored ads has certain edge over the previous method. This is one of the best method to make money using your blog after you gain exposure and see traffic flowing. These kinds of ads are independent one, unlike Adsense which select the ads that need to be placed. 3rd party Advertisement Networks also keep a considerable amount between you and the actual advertiser. This may even sound similar but here you select and review which ads are being placed on your blog unlike Adsense where you have no control over the ads placed. You quote the price directly here eliminating the middleman. Finding the advertiser may be a hiccup but once you have established a list of clientele, you can make a fortune with your blog.
How to Locate Direct Advertisers?
First create an "Advertise Here" page with complete detail about your Alexa Ranking, PR, Daily Traffic, your Klout score and other details that your advertiser might need. Then use the following tips for locating Direct Advertisers:
Google – Major advertisers use Google AdWords for online advertising; search them online using your website related keyword. Contact them by sending a mailer about your ad selling service; you never know what might click!
Check Popular Relevant Blogs – If you often blog, then you already know some other popular blogs in your niche. Check what ads their advertisers are placing, offer a good deal to those advertisers to attract them to your site.
Use Advertising Networks – Brands that are already advertising using third party networks are best to be approached for direct advertisement. They will be more interested as they will no more have to spend on networks and dealing with direct seller is much more convenient.
Tips: 
Have some space allocated on your blog UI at the top or on the right hand side that shows 'Advertise Here' feature.
     Have a pre-fixed cost defined on the website or the automated emailer when people make an enquiry.
     Talk to the Ad Networks, or key players, regional players in your industry for a fixed advertisement on the website.     Remember, people want to see how much of traffic do you drive on your website and how relevant is the traffic.
3. Backlinks Commission
Backlinks refers to all the links on your blog that refer to other websites. It is more like you referring to another website on a related article. For Instance you're a well known tech blogger and backlinking the words like "OnePlus One" to Phone's official website and "Buy OnePlus One" to Amazon's Page.
Quality backlinking can also boost up your chances of webpage appearing on Search Engine. The more links related to certain topics appear, the further it pushes itself up on search engine. However, you cannot keep this exercise as a part of direct sale like advertisements on your website. Backlink promises can be part of a review of the product / service and it would be your genuine effort. Too much of backlinks from same article to multiple clients can even result your blog in the Sandbox (In nutshell, Google will penalize you) as Google is completely against buying and selling of backlinks.
Writing Paid Reviews
Most bloggers have a definite field for blogging. Once they've completed a certain time on their blogs, they should have gained a certain level of knowledge, expertise and skills relating to it. If you are able to recreate the knowledge with marketing skills, you'll be surprised to know that there are number of brands/people that will pay you for writing content for them.
Get a dedicated blog website, with all the details relating to such projects or find the needy party. Complete the task in professional manner and get paid. Pay will mostly be fixed by you but would depend on your site's hits, influencer engagements and popularity.
Best Paid Review Sites
In India you can use websites like:
Indiblogger.in: Indi blogger is one of India's oldest blogger networks. Most of the new networks are getting evolved from this platform or at-least the benchmark is done considering this platform. They have many indibloggers meetup, great giveaway based blogging campaigns and blogging contests (you should participate in indiblogger initiatives at-least to network with other bloggers). They are currently running one of the popular campaigns called – Flipkart Outdoors.
Blogmint.com: Its a market place for bloggers to pick up brands who is willing to hire bloggers who can review them or their products or write for their blogs.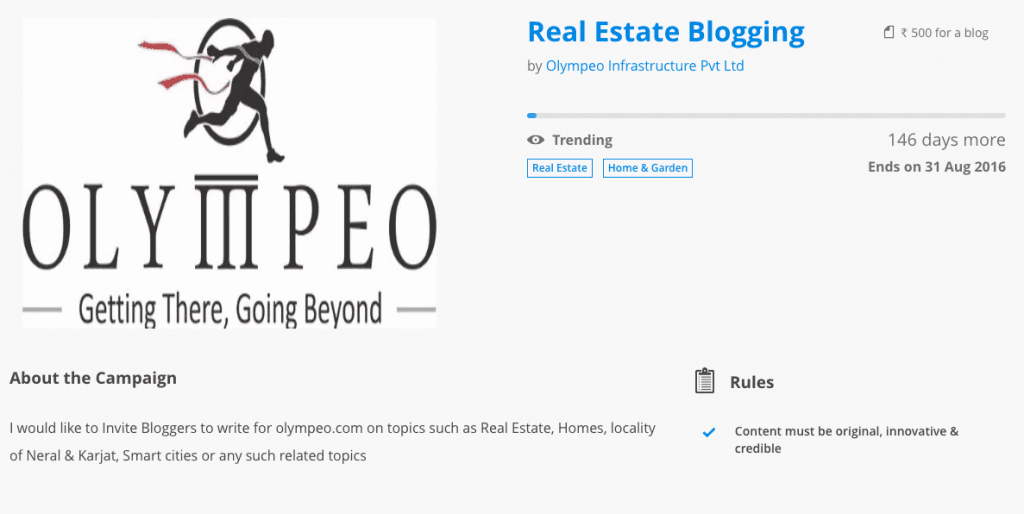 Digital Influencer (dinfluencer.com): Its a recently launched platform by Team echoVME with some absolutely cool Live projects. Brands like Cashkaro.com, Urban Tree Infrastructures, Apollo White Dental Care, Casenation and more have their projects placed for bloggers exclusively.

Services

and Digital Products

 
If you know what you're good at, then start your own set of services. Like, you can start Logo Creation, Content for Websites, Photography, Blog Migration, Website Building or any other services that you want to offer. There are a lot of ideas that would work great online and you could use the opportunity to gain from your passion or hobby. Feature your previous work with a good description, details, contact and a good user interface always helps!
Let you blog be services centric: If you are a designer, showcase your design skills exclusively on your blog! Portfolio, choice of colors you use, your photos while you design and promote your blogs all across and do the right SEO for the keywords used in the content strategies. These services can be driven with Consulting pages, Get a logo done in 100 US $ pages – you need to have a strong call to action for the services or products you are planning to sell.
On my blog I sell my book: Social Media for Business – On an average about 200 to 500 book gets sold every year through no hard selling. People who reads content are more likely to buy your book as you become trust agent on internet. Another popular Social Media influencer of the world: Pam Moore is very clear with her communication on her blog/website. When you click on her contact page it clearly conveys her costs of consulting or if you wish her to review a particular product – a specific price needs to be paid.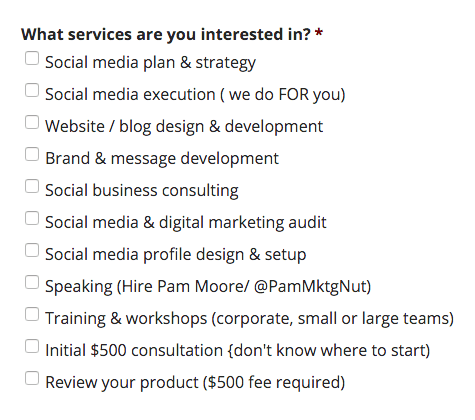 Where to Sell Services Outside Your Blog?
eCommerce Blog – If you want to sell digital good or service then create a shopping cart using Shopify or 3dcart or PayUMoney ( I personally use PayUMoney to sell my books) and start selling to expand your business. Most of the eCommerce website offer 14days to 1 Month free trial, so trying out selling online is of totally worth!
Fiverr – Fiverr is a most popular marketplace today for selling almost anything that you can imagine. The base "Gig" at Fiverr starts at $5 and "Extra Gig" can shoot up to even $100 if you really have something best to offer.
Gigbucks – Much older than Fiverr and allows you to sell services ranging from $5 to $50. There is no membership charge and no limit for seller posts. The site charges you 20% commission on each transaction.
Fourerr – Fourerr is an excellent alternative to Fiverr, where seller can sell their services starting at $4. This again will charge 20% commission for each product/services sold.
Redlr – Redlr is a fun marketplace where you can share small services starting from $5. You can also response to the buyer need and get best rates.
Affiliate Marketing
Popularity of affiliate marketing these days has shoot up to a different level. It is today a main source of profits and revenue for major merchants and brands. This method can bring in good amount of income from your blog too. You need to place a product or service on your blog with sufficient description. When a person buys the product or service from your website, you get paid. It requires certain homework. You need to know what the people are looking to purchase and if the product supports the content of your blog. Do not over do promoting same brand's product or services.
Also, don't make your blog full of such posts. Place the product between all your posts subtly. Find the product or service you want to affiliate with. Apply with them and get approved. Most websites take 24-72 hours to confirm the due amount and the commission will be paid on 25-50% on the sale value of the good.
Types of Affiliate Marketing –
Pay Per Click (PPC) – Here the merchant pay you whenever a visitor click his advertisement placed on your website. Best rate per click would be $1 per click.
Pay Per Lead (PPL) – Insurance and financial firm are generally interested in PPL where application and contact form are placed on your website. You earn a certain amount whenever these forms are filled by visitors.
Pay Per Sale (PPS) – In this form the advertiser will pay you a fixed percentage of fee for each qualified leads.
Pay Per Performance (PPP) – With PPP the marketer pay a commission range from 15% to 20% when a visitor make purchase or show interest in buying by filling the contact form.
Example Network for Affiliate Marketing – Commission Junction, ClickBank, and Google Affiliate (These are some brilliant platforms from where you drive Affiliate commission). In Indian context you can work with Snapdeal Affiliate Network, Flipkart Affiliate Network and Amazon Affiliate Network – Review the products on the blog and if someone makes a purchase through your reviews and recommendations you will get a share of the sale.
Premium Membership
Premium Membership site is website that charges recurring fee for access to premium content. This method cannot be applicable to all bloggers but a few well known bloggers who are masters in the particular field of blogging. They can create premium site access, services, products or newsletter for the unique content they'd offer to their readers or users. Create a special landing page for details about premium access and give a clear view about what you're offering on the general blog. Set the price and offer and get paid whenever someone applies for it. A premium membership site can be created using MemberPress plugin https://www.memberpress.com/ with WordPress.
How to attract visitors to Premium Membership?
Allow Free Premium Downloads – Offering free eBooks, or other valuable digital downloads will help you build email mailing list and is also a proven method to encourage new members to sign up.
Free Online Course – Visitors are generally asked to pay onetime or monthly fee to get access to the lessons on relevant niche. Members will more likely sign up if you offer them a free online course for example; I'm offering Free Digital Marketing Course
Online Publications – Create weekly or monthly publications and charge visitors for that excusive content. Start with offering first 10 content for free, and for more content they need to sign-up for subscription.
 Jon Loomer – one of the popular Facebook Marketers runs a premium membership for absolutely cool workshops and content online for US $ 97. There are many bloggers who converts their subscribers to premium members – so that they can have a closed group interaction with specific set of audience who is very keen on learning few things 'hands-on' virtually.
Sponsored Blog Posts 
Many a times companies or individuals would want you to cover a story for them – about their products or case studies. They might be willing to provide you content or fill the template you have in place. This is more likely to happen as your blog becomes popular with time. These stories are called sponsored stories and you can proudly present those stories as sponsored blog post. There are higher chances that you will also get quality content from the contributors – you can restrict the style that you want them to write on. Remember, there should be a section for 'Guest Blog / Sponsored Blog' so that readers get to know that you are open for sponsorships.
If your blog or website has good number of visitors, some brands would like to place their name in the title bar of your blog or similar important places. This is kind of similar to direct advertisement, but there's goodwill of sponsorship given to you blog. This would also generate more income compared to it. All you have to do here to is put in efforts to make your blog a successful one!
This completes the eight ways you can generate income from blogging. Making money from your blog isn't easy, but not too hard either. You have to work hard at least for six months to a year for creating loyal readership and following. Put in some effort to promote the blog. Most bloggers fail to promote their blogs and no one knows about their blog posts.
It's your turn now! 
Let us know if you are a blogger and have implemented any out the above methods on your blog. Also do let us know if we missed any method which you have implemented and generated revenue with. If you are a reader, have you seen any of the above in sites you've visited? Let us know!