The month of Mayhem lived up to its name and bombarded the world with updates that are just too exciting! Right from Quora making some changes that will benefit all businesses to Live features on Facebook that are definitely going to be a rave, the following updates are taking the Social Media scene to the next level! Take a look at the bold moves that some of our favorite Social Media platforms took in the past week.
Instagram Officially Rolls Out Location Stories and Hashtag Stories on Explore:
You are lying if you said that you haven't gotten lost in a swirling tornado of stories and posts while exploring Instagram. Guess what! You can now explore stories and hashtag stories relevant to your location! This is a great platform to see what's happening around you and find stories related to your interests!
Pinterest copies Facebook. Brings promoted videos on autoplay:
We all know how the promoted video option in Pinterest took the social media world by storm. Now, with a new autoplay format, the Promoted Video sparks into action the moment a Pinner scrolls across it in their feed—no need to hit Play. They can just sit back and watch your video unfold. Will it be a welcomed move?
Facebook's new Live features are lit AF:
There are 2 kickass features that Facebook has to offer its disciples.
Live Chat With Friends and Live with, two new features that make it "easier to share experiences and connect in real time with your friends on Live.
1. With the new Live With feature, users can invite friends to join them on a Live broadcast. This new feature is available now "for all profiles and Pages on iOS.
2. Next is, Live Chat With Friends which lets you invite friends to a private chat about a public live broadcast. You can invite friends who are already watching or other friends who you think may want to tune in. You're able to jump back into the public conversation at any time, and you can still continue chatting with your friends via Messenger after the broadcast ends.
Instagram Tests New Archive Option for Posts:
Instagrammers are prone to deleting their pictures in a fit of frustration or impulsiveness and regret it later. However, there is a new option in the making that allows you to categorically hide your pictures from the public but keep them to yourself. This is none other than the exciting "Archive" feature. Time to archive all the unflattering selfies and pictures with your ex, aye?
Twitter updated its custom emoji set with 69 unique new emoticons: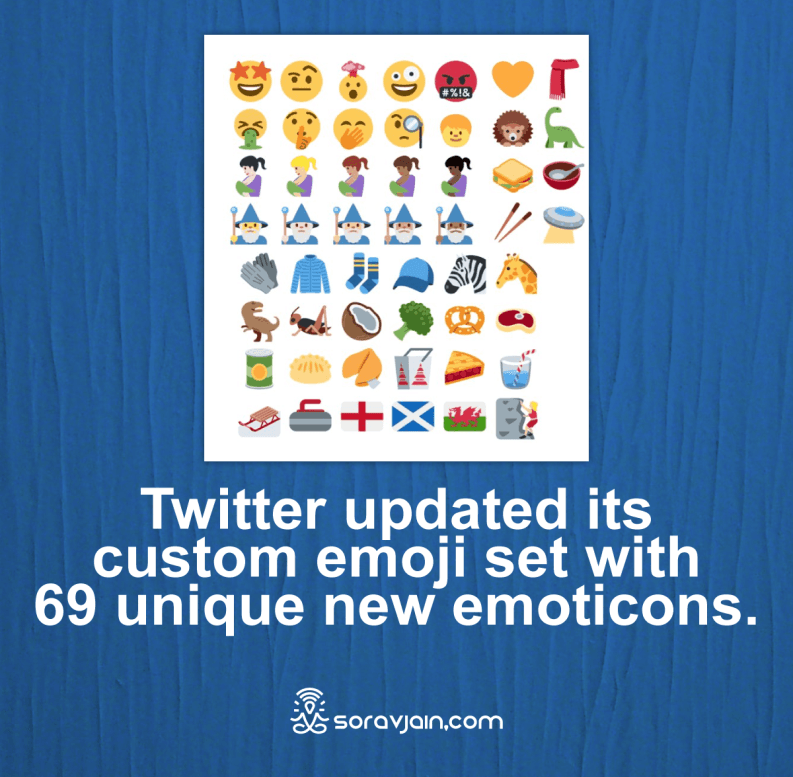 Just when we thought we cannot possibly have more emoji, Twitter decided to surprise us. Twitter updated its custom emojis set with support for Emoji 5.0. Twitter users now have the option to choose from 69 unique new emoticons with 239 variations for duplicates and skin tones. These emojis vary from puke emojis, sex positions to adorable animals, this new set of emojis seem to cover a wide range of our emoji needs that we didn't know existed. Twitterati, get set to communicate via emojis alone!
Twitter Tests New Way to Reach Customers With Direct Message Cards:
Twitter, is setting new standards for it by announcing a new style of advertisement that businesses can use to easily reach you in your Direct Message inbox. The company is calling the feature a Direct Message Card, which is a specially designed ad that prompts a user to click on an automated reply. Good for advertisers and a nuisance for the public? Who knows how this will pan out!
Instagram Update:-
You can now share website links in DMs, which will appear with an auto-preview in the thread: Lo and behold! Instagram has introduced a super cool feature that allows its users to send links in DMs with an auto preview in the thread. This comes as a relief as the annoying practice of redirecting the audience to the bio of an account was severely inconvenient. This move comes as a welcoming change to businesspersons and a possible inconvenience to users as it might spam their DM.
Quora bring its ads platform out of beta and launches it publicly: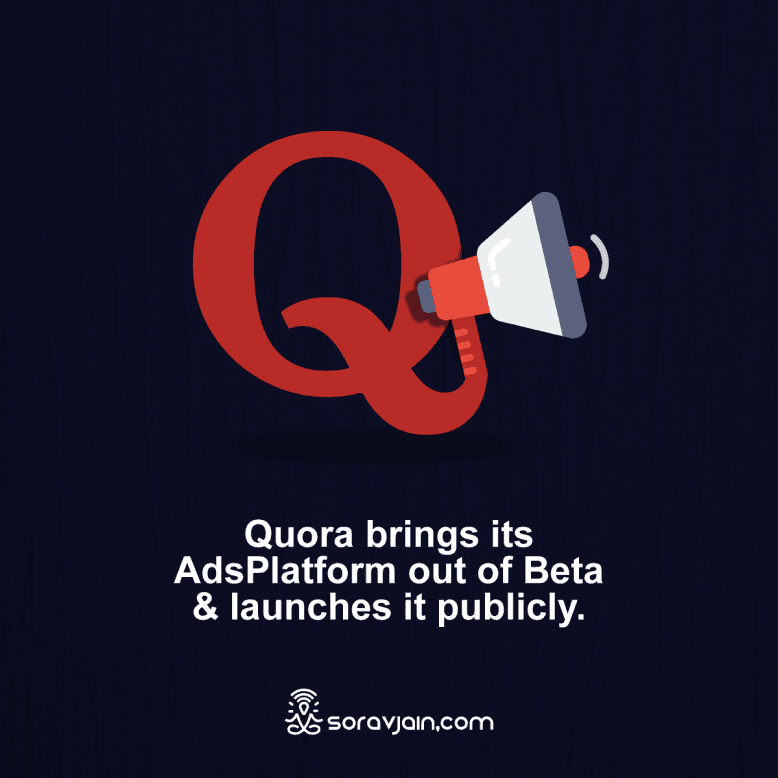 About a year ago, Quora announced an experimental pilot of third-party ads. Now, they have announced that they are bringing the ads platform out of beta and launching it publicly. With more than 200 million monthly visitors to Quora, it is a move that will benefit readers and advertisers alike. Any paid content will be clearly labelled (currently with "promoted by") to distinguish it from other Quora content and will not cause any confusion to the readers! They have also incorporated a feature wherein the user can give feedback to improve the quality of ads they are seeing!
What a time to be alive! With these revolutionary features making our Social Media life and Digital Marketing experiences easier and effective, bars have been set high! Hoping to explore and experience many more of such swagger updates in the months to come. With Digital Marketing in hands, possibilities for excellence are out of bounds.