About Lakeside2:
Sugal & Damani Foundations, equipped with its team of skilled professionals, has been in the real estate business for a long time. With a vision to become best in various industrial verticals, they have taken up the responsibility to use nature friendly resources in every project they undertake. Their vision and service have turned them into players of significance and a favorite among their clients.
Challenge Faced:
Although having established that Sugal & Damani are connoisseurs in the real estate realm, located on the outskirts of Chennai,  Lakeside 2 wanted to get their bookings kick-started.
Solution:
Build a strong digital presence and relevant audience base on Facebook
Launch Google PPC Campaigns
4-Step Sale Strategy:
Step1: Invest in Puzhal:
The strategy involved first capitalising on the accessibility the locality was enabled with. The Puzhal region has, over the years, turned into one of the biggest beacons for residential and commercial establishments. This is what we capitalised on, the accessibility to work places, schools and public transport.
We launched an E-mail marketing campaign with '10 Reasons to Invest in Puzhal'. This was also a remarketing strategy as our target audience included people who had shared their E-Mail IDs while showing interest to know more about the property.
Step 2:  Facebook Lead Generation:
The lead generation ads were pushed through Facebook. We diligently planned our targeting and narrowed it down to the people who fit the following profile
Website Visitors
NRI
People living in Annanagar, Ambattur and Purasaiwakkam
Here are samples of the lead generation ads we've run for them.
Sample 1- This ad highlighted the key benefits of the locality like being a stone's throw away from Velammal International, Ambattur IT Park and other corporate establishments. The ad also contrasts between how investing in Puzhal is a better option in comparison to other residential areas like OMR, which often face water scarcity.
Sample 2- The ad campaigns also included targeting parents of students from Velammal Global school, highlighting the ease of accessibility between the school and the property. This campaign also put the spotlight on specifics such as being Vaastu compliant, which appeals to a higher percentage of the demographic.
Step 3: Landing Page and PPC Marketing:
A landing page was designed and deployed highlighting every feature that the Lakeside2 brand boasts along with its location that provides people with an abundance of fresh water. A Google PPC Campaign was set up that would appear on the search result of anyone looking for 'Flats for sale in Chennai' or other similar terms. Once they click on the ad it would direct the users to the landing page.
Below are the screenshots of our Text PPC Ad and Landing Page. Our Ads were optimised enough to appear on the top of the search engine results.
Display Ads- Below are screenshots of our display ads both in English and native Tamil. These ads where targeted to people who had previously searched for flats/apartments in Puzhal. They were also displayed to people who visited sites that contained classifieds.
Step 4: Vernacular Communication:
The display ads were also pushed in the regional language – Tamil. The aim here was to connect with the local audience with the ads. Our experimental move yielded us a good number of clicks and conversions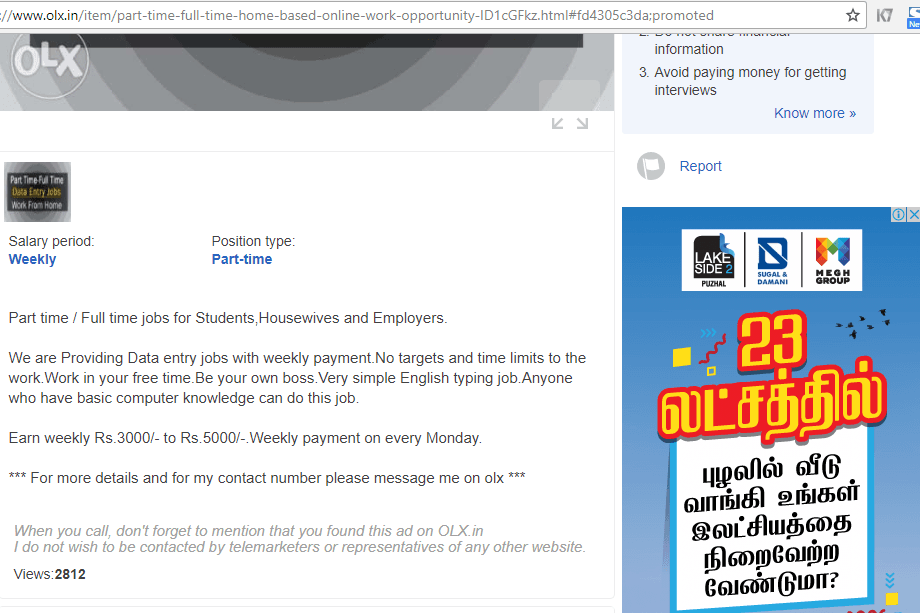 Top performing ad:
 This has been one of our top performing ads which has yielded about 110 quality leads  for Rs. 175. Again, this ad copy has a mix of vernacularism, which has seemed to have won a positive appeal with the Chennai audience.
Results:
With our diligent planning & effort, we have obtained the following results from the respective campaigns:
PPC Campaigns :
The PPC campaign yielded Lakeside about 28400 clicks and 255 leads.
Cost per lead is Rs. 110.
Social Media Marketing:
The Lead Generation Campaign yielded 572 leads.
Cost per lead is Rs. 100.