I recently conducted a survey with about 100 Digital Marketing Agencies in India to understand where they stand. In last few years, I have noticed that a lot of agencies have taken birth. In fact, in India, there is both rise and death of an agency every single day. 50% of the audience who responded to this survey, started their agency in the last 3 years, and the rest of the agencies have been there in the industry for more than 3 years.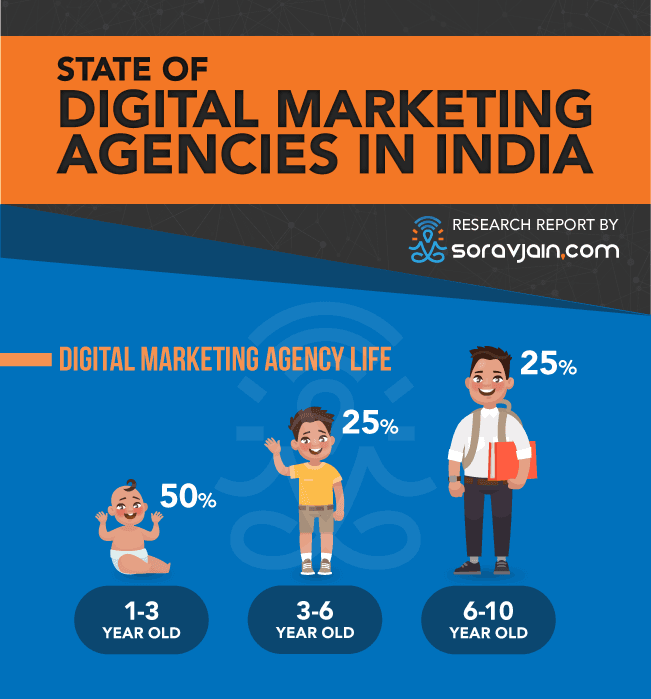 Team Size of Digital Marketing Agencies in India:
Most of the participating agencies in India have teams of 1 to 10 people almost 45%, 33% agencies have teams between 10 to 30 people and only 22% agencies have teams larger than 30 people at the moment. Typically, in India most of the agencies are in the bracket of 10 to 30 people and very few have scaled it beyond 30, they are more likely to have offices across India. Challenges of scaling up / lack of industry talent could be one of the reasons and also because most of the agency owners feel the market is yet to mature.
How do Indian digital marketing agencies draw investments?
82% of agencies in India are bootstrapped, 17% agencies are either merged or funded and most of these agencies have more than 50 employees.
Are the bootstrapped agencies planning to scale?
38% of the agencies are bootstrapped and would like to keep it that way, whereas 44% agencies are aiming to take loans or merge companies or are looking for an investor at this point of time.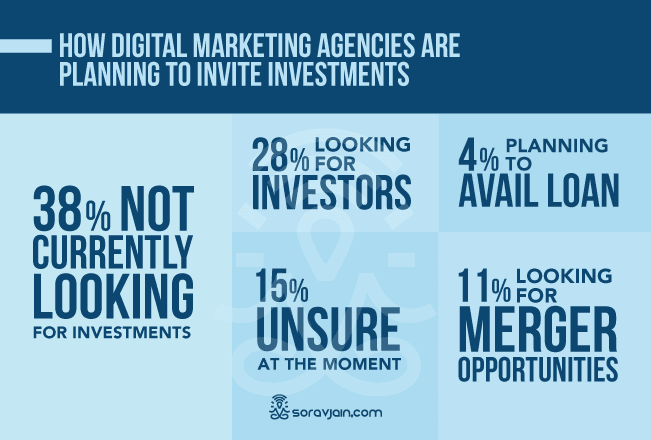 Typical Structure of Indian Digital Marketing Agencies:
When we look at the kind of structure these agencies hold, I have segregated them into 3 categories -top, medium and low priority. 70% agencies have a design team, web development team, SEO team and Social Media team. 50% agencies have video developers & video editing team, their social media team is client servicing team, they have SEM / Media buying team, content writers and HR team. Very few agencies have an admin team, client servicing team and sales team.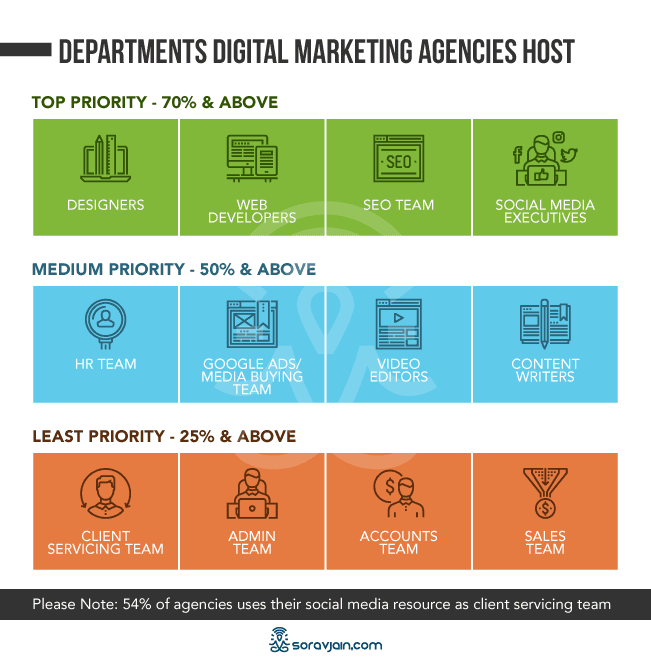 Do the Indian digital marketing agency owners find Indian market mature enough?
64% of the people who took the survey think that the digital marketing industry in India is yet to mature while 44% of the people think that we're low on budgets and 17% of them think that the Industry here is good and mature.
Challenges of Running A Digital Marketing Agency in India:
Running any business is quite a lot of a challenge and with the changing landscape of the digital world, it has become all the more challenging. There are various challenges that digital marketing agencies have been facing and here are some of them:
Some of the top challenges of the Industry have been: Hiring the right talent, retaining the right talent, scaling the company and getting the right budgets from the clients. While doing this research I had also met several CEOs and had a discussion with them with respect to challenges, most of them are finding the market a little saturated, competitive in the ever-growing freelance culture. They have also mentioned how there is a need of a Digital Marketing Association in India where certain parameters are to be defined to fix on the industry norms and blacklist both agencies and clients who don't meet the Industry ethics. Also, attrition and office politics are some of the dirty scenes most of the agency owners have been facing.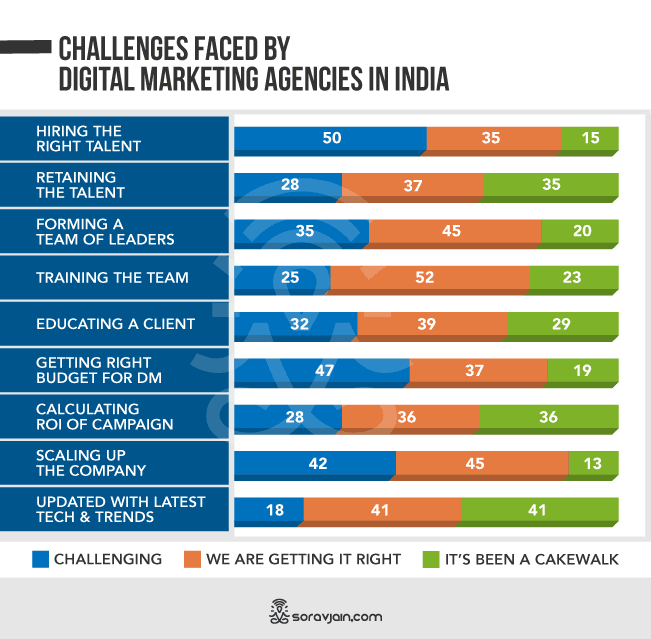 79% of agency owners who responded to survey feel they are running short of the right talent at this point of time and 50% of them who hired resources from various top institutes are certainly not happy with the knowledge they currently hold.
Industry Verticals That Spend in Digital Marketing in India:
Now let's look at the categorization of the industry on the basis of their spending as per the agency owners. Real Estate and E-Commerce are some of the highest spenders for them at the moment. Followed by healthcare, travel, FMCG and Retail Manufacturing and BFSI is the segment that spends the least.
In the super competitive industry, 70% of agency owners like to collaborate with other agencies when they don't hold the expertise. Whereas 30% clearly don't and they are majorly agencies with more than 80 employees.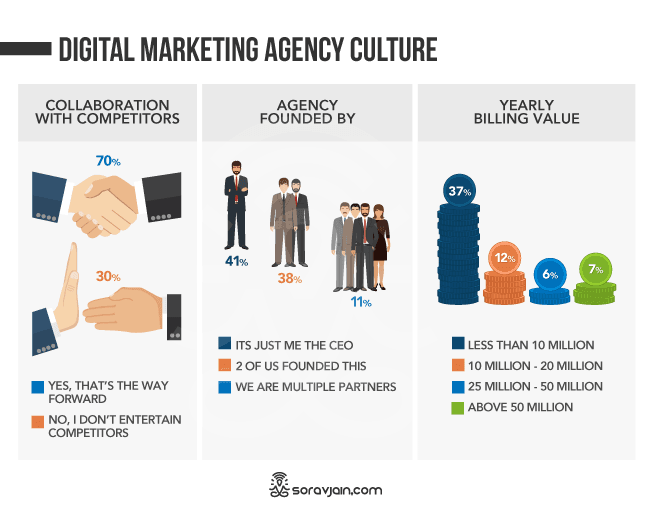 For the agency owners, Bangalore and Mumbai have been the most promising markets, Delhi and Hyderabad are moderately promising markets, whereas, Chennai and Pune have not been happening markets for many. Surprisingly, 24% agency owners don't like to serve Indian clients much, they love to work with clients outside India. And this is an interesting trend that agencies should probably adapt to scale – use the same resources but with some clients who pay 4 times the Indian cost.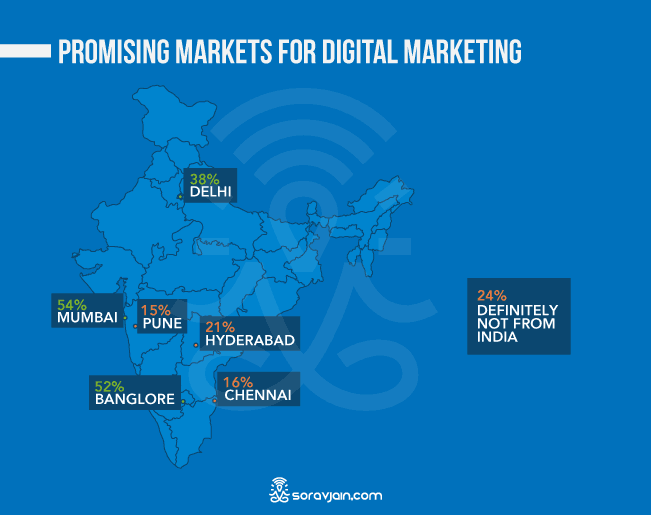 How do Digital Marketing Agencies Grow Their Business?
67% agency believe in Word of Mouth in growing their business and only prefer working with a handful of clients, whereas only 8% agencies have sales team; these 8% agencies are merged, funded or holding more than 50 employees at the moment with a billing value of  25 to 50 million and above. This is an indication that agencies need to have a strong sales team for their growth and not just be dependent on the Word of Mouth.
Most of agencies owners find Google India's customer service a lot better when compared to Facebook, Twitter and LinkedIn India. 50% agencies haven't attempted Twitter and LinkedIn advertisements yet. Basically, Google & Facebook are of highest priorities when it comes to advertisement platforms for Indian agencies.
Which is the most preferred digital marketing service in India?
And finally, 81% agencies feel that Social Media sells like hotcakes followed by web development, Digital ads and SEO.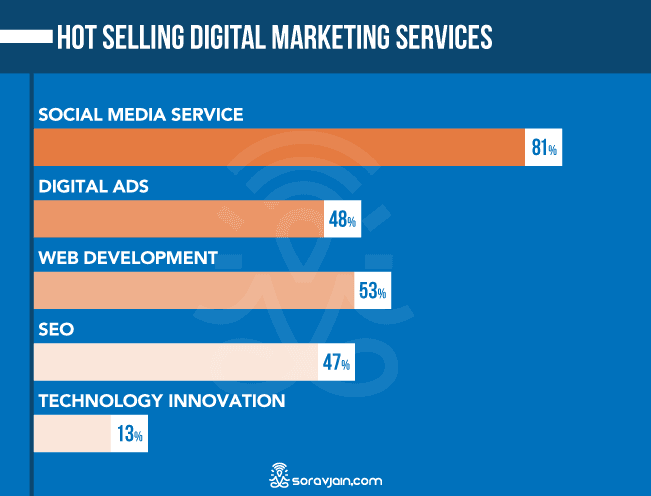 So that's the state of Digital Marketing Agencies in India. It is time we roll up our sleeves to take important measures to scale up and do some good work.
I thank all the CEOs / Directors who participated in this survey. If you are a CEO and are keen to be a part of the Digital Marketing Agency Association, come join our Facebook Group!