With more than 467 million members, LinkedIn remains the most popular social network for professionals and one of the top social network overall. But are you really using LinkedIn to its fullest potential?
With new social networks emerging continually, LinkedIn is a platform that often gets underrated. But the truth is, LinkedIn Marketing can prove to be extremely commanding especially when you are aware of its hidden hacks that don't really get as much traction as they deserve.
For those who don't know much about LinkedIn.
LinkedIn was launched in 2003 and is currently the third most popular social network with Facebook & twitter occupying the top 2 positions respectively. You can think of LinkedIn as Facebook but with a more professional touch and a lot of hidden features. It is predominantly positioned around careers and enables its members to connect and share content with other professionals, including their colleagues as well as their potential employers, Stakeholders, business partners and new employees.
If you're a business especially a B2B, LinkedIn can prove to be a fantastic marketing tool.
So, to help you learn how to use LinkedIn to its fullest potential, here's 8 proven tactics that will ensure your success in LinkedIn,
#1.  Promoting your profile:
There are a lot of ways to let people know that you're in LinkedIn and ready to connect. Whether it's on your blog, mentioned on other social profiles or on printed assets, your LinkedIn profile should get as much eye balls as possible.
Display your LinkedIn profile URL anywhere you can think of
Coz, the more exposure you give your LinkedIn profile, the more you'll encourage people to check you out and connect with you.
Mention your LinkedIn profile URL is places where they can get maximum visibility. Here are some places to start with:
Email signature, Facebook "About" section.
Print collaterals such as business cards, handouts.
On your website, email newsletter.
Make your Twitter profile visible in LinkedIn.
I always believe in the saying, "Twitter + LinkedIn = Higher Visibility" Syncing your LinkedIn account with twitter is a very simple yet important step to ensure that your content reaches a broad audience.
Your Twitter handle will be displayed as a clickable link in your LinkedIn profile, making it easier for people to find and follow you on Twitter.
Make your LinkedIn URL visible on Twitter Bio.
Cross promoting your various social media connection points can help people from one network find you and connect with you in the other. Twitter couldn't afford a profile area for your LinkedIn information. However, you can incorporate a link to your LinkedIn profile in your twitter bio, so that your potential and current twitter followers can instantly click through and learn more about your professional life.
#2. Networking on LinkedIn
Growing your LinkedIn network not only establishes you as a subject matter expert but also extends your reach and exposure.
Why a large LinkedIn network matters?
The number of acquaintances you have on LinkedIn matters a lot. Remember, the more 1st degree connection you have, the more 2nd and 3rd degree connections you will have, making you just a connection away from reaching millions of people.
LinkedIn is a colossal search engine in which you'll only show up in your 1st, 2nd & 3rd degree connections searches. Which means if you're not connected with individuals at these levels, you won't climb up in their search results.
In the image shown below you can see how the number of connections increases for each relationship level.
So, if you want to be found in LinkedIn, build your number of 1st degree connections. Also, remember, you need only 501+ connections to be part of an elite expert tier. People who see your profile will know you use LinkedIn for business, add value and connect.
Here are some ways to grow your network,
Share an update every day
When your update consistently shows up in the feeds of your connections, they're more likely to interact with it and this interaction introduces you to their connections and that's an organic way to grow your connections.
Interact with your connections' update
Build relationships with your existing connections by interacting (like/comment/share) with their updates. Grow an audience by participating in conversations on popular posts in your niche. This gives you more visibility and people are more likely to connect with you to know more about you.
Send Personalized Connection Requests
Personalized connection requests increase your chances of getting connected with people you don't know and gives you a better shot at signing up a new client.
Join and Participate in Group conversations
Make it a mission to join a few LinkedIn groups a month. And then make sure to engage with the groups by asking questions, commenting, and liking other people's comments.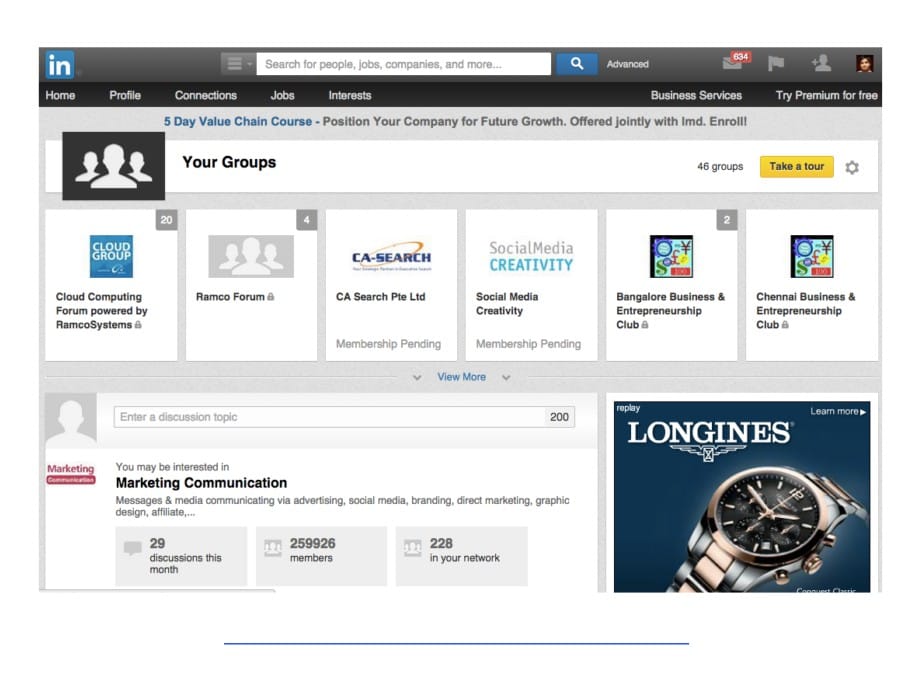 When people notice you in groups and interact with you, they are more likely to connect with you. Chances are you might also find a new client or an employer.
Search for local group members in LinkedIn groups
If you belong to a group, walk through your membership directory and send connection requests to individual members. If you don't know that person, you can always win their hearts with a personalized connection request.
Post content using LinkedIn's publishing platform
One of the key perks of publishing on LinkedIn is that your post is not only shown to your connections but also to the entire LinkedIn community. This increases your exposure and help you grow your network by reaching more people in your niche.
Set a goal to make at least 40 new connections a week. You will taste success in LinkedIn once your number of connections exceeds 500+ and beyond.
#3. Sending personalized connection requests
If you're serious about connecting with someone you don't know on LinkedIn, skip the standard invite template. It doesn't work that way and your request won't be accepted by the recipient.
You sign in to LinkedIn, Glance at the connections suggested by LinkedIn and recognize a few. They maybe an old friend, colleague and sometimes even people you've never met before, but you're they are a good connection to make. You choose to connect with them and send an invitation with the standard template,
You think Gary would have accepted my request? No, he won't! It's just one of the many requests he receives every day.
Never send an invitation to connect with someone without making the message personalized. You must connect with them on a personal level.
Do your homework. Before attending an interview for a job opening in a company, you gather as much info as possible about the company the day before, right? The same will work better for connecting with people on LinkedIn. The key is to understand the person before interacting with them.
Find what's common. After doing your homework on that connection, find & note down things you have in common. This could be a connection in common, alma mater, same LinkedIn group or even attending the same event/conference.  
craft a personal message. Instead of sending out the same old standard template that accompanies LinkedIn invitations, I recommend you to combine the information mentioned above to write a memorable intro and telling them why'd you like to connect.
An ideal example of a personalized connection request would look like,
A personalized connection request will not only enable you to stand out but also compels the recipient to accept your connection request.
#4. Sending Personalized Communication (InMail):
We've all heard the saying "First impression is the best impression" and that's true for the social networking world too. When you send an InMail to a prospect/potential employee what kind of impression are you making? Will they ignore you or make an action?
I often hear from frustrated sales guys who perform a targeted search on LinkedIn, find their ideal prospect, sent an InMail and then no response from the receiver, nothing. Why?
At the end of the day it comes down to one simple thing – the message is too generic.
The secret recipe to writing a great InMail that will get opened and get a response is more likely dependent on how personalized it is. The more clearly you demonstrate that you have done your research on your prospect, the more likely they are to respond to your mail.
Here are some of the ways to make a good first impression,
Check out their contact preferences. Before you start drafting your InMail, check to see if your prospect is open to receive an InMail about business deals. When you open an InMail you will be asked to choose a category from a drop-down list, located just above the subject heading. Before you chose a category look at your prospect's preferences at the right of the text box.
A catchy subject heading will do the trick. If you want your prospect to click on your mail, you will want to grab their attention by writing something in the subject line that relates to them. One of my client's rep found out through a shared connection, that his prospect had been given a BMW as a bonus and put in a subject line "How's the BMW running?", It certainly got the prospects attention.
Social norms apply to InMail's too. You wouldn't walk up to a random person at a conference and just start talking to them without introducing yourself first. Be honest that it is a business deal and how your offering will benefit them specifically.
Most critical part of your InMail. Show you've done your homework. The recipient should be under no impression that your InMail was drafted specifically for him / her.
Keep it brief. Remember you are not writing a song of ice and fire, so keep it short. Don't waste your prospect's time. The objective of your mail should be to start a conversation or set up a meeting. Nothing else. Your InMail should be no longer than 100 words or 3 paragraph.
Include a clear call to action. Instead of being equivocal and saying "If you're interested in what I'm offering, give me a call"; Why not hustle? Specify a date and time for a call and ask them if they're available.
An Ideal example of a personalized InMail would look like,
#5. Using LinkedIn for people relationship management:
Looking for a better way to stay in touch with your most important business relationships?
What if you could stock all your connections in one place?
With LinkedIn contacts, you can keep all your emails and calendars, address books, up to date in one place.
Manage Your Connections with LinkedIn Contacts
Add tags easily, hide or remove a connection, send a DM via LinkedIn from the front page of your network.

Sync your email contacts from inside LinkedIn, Gmail, Google contacts, Outlook mail & contacts, Yahoo mail & contacts, your iPhone's address book and even calendars from google. Post the initial sync, the file updates now and then to keep everything current.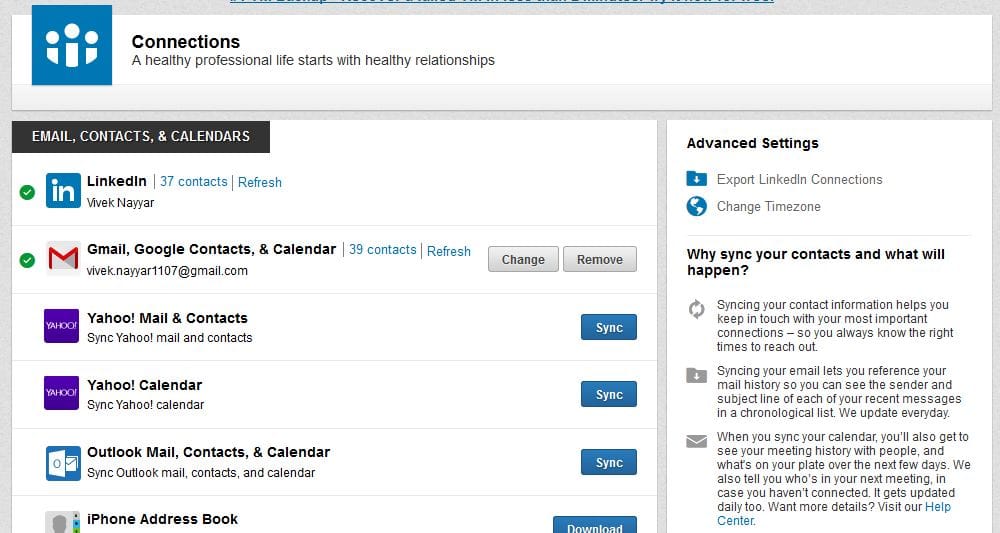 You can also import your contacts manually. However, you should do it again at some time to catch up with your latest email contacts.
Stay connected with your connections
Start your day by staying in touch with your contacts. When you log in everyday into your LinkedIn account, you'll find it easier to see who has good news to share.
LinkedIn notifications will alert you to career changes and birthdays in your network, which provides a perfect opportunity for you to stay in touch with a quick message.
Advanced Search Functionality
Sort your contacts by several criteria – source, whether they were added a while ago, recently added by you via outlook contacts, or any other third party apps. You can also sort them by tags, titles, location, potential merges, hidden and even the recent conversations you had with them. These additional categories enable you to manage your connections more efficiently.
Whenever you click on the profile of a 1st degree connection or people you have sent a DM/InMail, you'll be able to see more information about your past communication and connection with them.
You can also make notes and keep helpful information. Write as much as you want to, as what you enter isn't public viewable. The relationship tab is exclusively robust.
Make a note of how, when and where you met your connection and if applicable the name of the person who introduced you.
This helps to set the right context with the person you're contacting.
Manage your networking activities.
LinkedIn makes it easy to view your messages. If you have exchanged an InMail or messages with a connection, it will be displayed on the relationship tab of your connection.
This helps you to refresh your memory.
Share your calendar for better Networking
When you import/sync your calendar on LinkedIn, shared events are also displayed. This allows LinkedIn to show you if other connections are attending the same event. You can make use of this information to set reminders to find your connection at the event.
stay connected on the go.
LinkedIn is available as a mobile app for both iOS/android users, so you can stay in touch with your connections on the go.
LinkedIn is my preferred contact management tool. What's yours?
#6. Polish Your Profile
Your profile is a vital element of your experience in LinkedIn. A complete profile picture shows you're actively contributing to the LinkedIn network.
So, are you getting the most out of your profile?
Wondering about the ways to drive traffic to your profile?
LinkedIn offers many ignored ways to enhance your profile, helping more people discover you and connect with you.
The following tips will make you stand out and help your LinkedIn profile pop:
Add a professional profile picture
Are you aware that your profile is 7 times more likely to pop up in searches by adding a profile photo? Additionally, your profile is a virtual handshake, so pick a friendly profile photo that aligns with your persona.
Choose a square profile photo with size not more than 10 MB, recommended at 400 x 400 pixels.
Create a distinctive LinkedIn profile headline
The headline is your current employment position, by default; however, you can tailor it to demonstrate your expertise. Think of it as a tagline for your personal brand. It's the first thing people will see, so make it count!
Use your LinkedIn background effectively
Use your LinkedIn background photo to let people know who you are and what you do. Many people use nature snapshots, stock photos for the cover image. However, you can utilise that space to do more than just show off your new car. Use that space for credibility building, portfolio, publications, photos of you influencing, and more.
Customize your LinkedIn profile URL
Include everything on the web to your full name and reach for the stars in the search rankings. LinkedIn vanity URL can help you do that. LinkedIn has a high google search page rank. Using a URL like linkedin.com/in/SoravJain enables you to rank high.
Tell your story using the Summary and Experience sections.
Your summary is where you can share a bit about your vision for your persona/role. Feel free to include personal anecdotes about doings you enjoy outside work. As you can see below, Gary Vaynerchuk, CEO of Vayner Media, makes his profile stand out by featuring published content and a keyword-rich summary.
Your Experience tab should include a list of all the key positions you've held, and briefly explain your roles. Uploading rich media (videos, images, and presentations) and content you've created is a great way to bring your portrayal to life.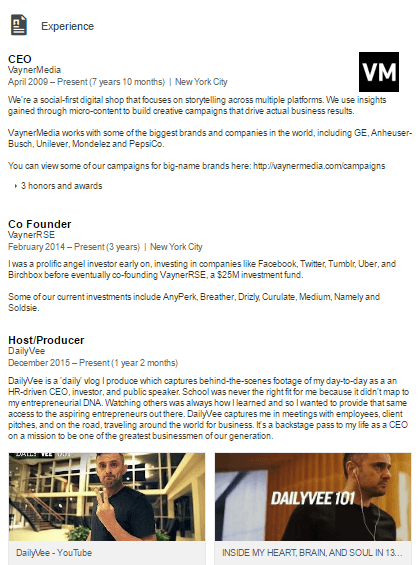 Make sure to use a keyword-rich approach like Gary, so that your profile can be easily found.
#7. Build your personal brand on LinkedIn
Do you want to improve your visibility in LinkedIn?
Wondering how LinkedIn can help you with it?
LinkedIn empowers you to build a professional presence, showcasing your work to the people you want to connect with.
Let's see how to build your personal brand with LinkedIn,
Building your LinkedIn network simultaneously builds your personal brand.
Make meaningful connections on LinkedIn. Once your profile is optimized, start growing your network and build strategic brand associations. This not only keeps your network fresh and clean but also strengthens your global connections.
Connect with friends, colleagues, classmates, industry experts, vendors, and other professionals. And don't be shy to ask your contacts for introductions to people in their network.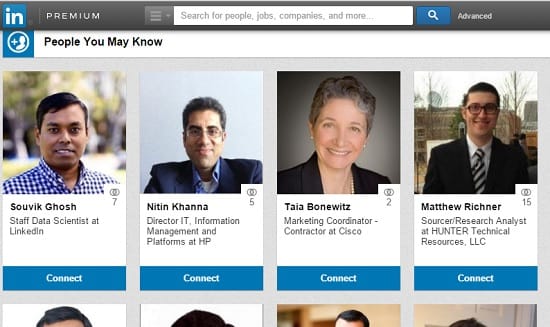 Remember, if you're trying to connect with someone you don't know, don't forget to include a personal note explaining why'd you like to connect with him/her. For example, "I saw you speak at DMS 2017 and was impressed by the ideas you shared" is sure to get your request accepted.
Publish content on LinkedIn to showcase thought leadership
This is a feed-driven world. People are engaging with different forms of content through multiple channels. Millennials almost spend 18 hours a day consuming content.
As of now, LinkedIn is a decisive content publishing platform. In fact, more than 3 million posts have been published in LinkedIn with 30% of them coming from the millennials.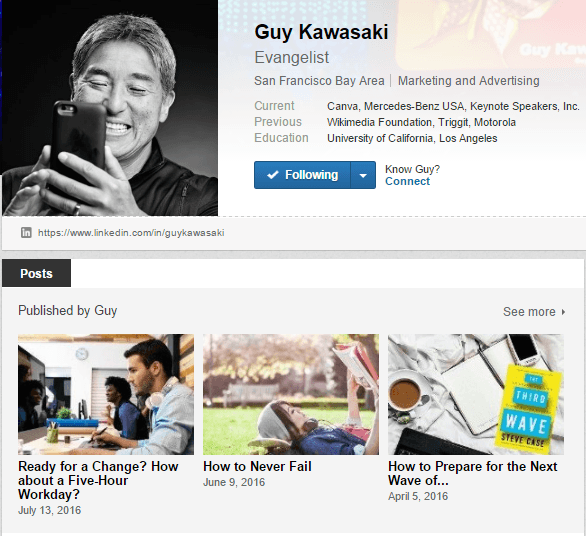 Show the world what you care about. Once you start publishing content in LinkedIn you will notice a spike in your profile views. Publishing long-form content not only builds your credibility but also makes your professional profile stronger.
Customize your feed
Design a feed that keeps you updated. Simply follow the topics and people that matter the most and unfollow those that don't. Restructure your feed by unfollowing connections whose updates you never want to see. They won't be notified if you unfollow them and you'll still stay connected.
Follow LinkedIn influencers to keep abreast of the latest trends & insights from top industry leaders and subject matter experts. Here are some of the influencers who I follow for my daily dose of motivation.

Create a SlideShare account
Build authority and boost your personal brand by presenting LinkedIn SlideShares from your perspective on industry news or trends. Also, share presentations, videos you produce, webinars you were featured in, and any other interesting piece of content you created. Moreover 80% of traffic to your presentations comes from organic search, this also gives you an SEO advantage.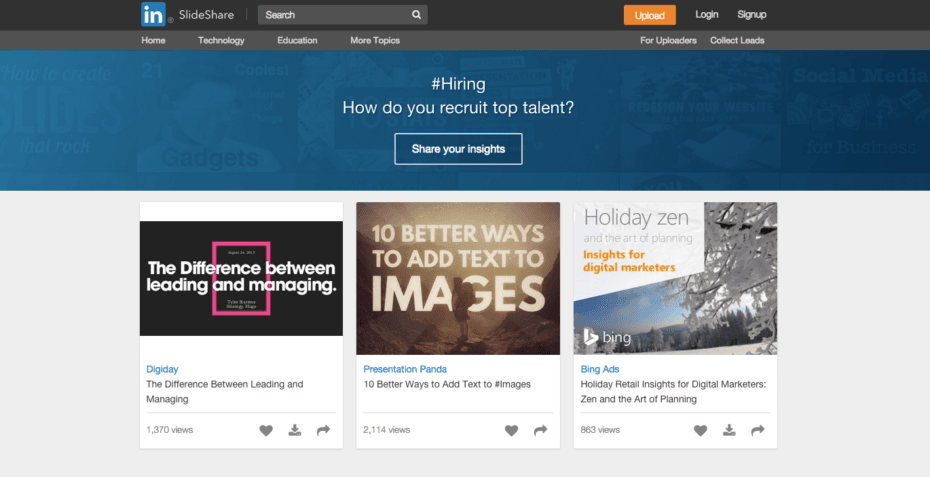 So, what do you think? Are you going to use these strategies to uplift your personal brand?
#8. Become a LinkedIn brand ambassador
Are you active on LinkedIn? Is your company encouraging you to become their brand ambassador in LinkedIn?
Becoming a brand ambassador for your company will take to great heights – even a great corporate career!
It's a very important role and gain you valuable credit with peers and prospective employers. The big MNCs and now even few start-ups use the concept of brand ambassadors to spread the word through employees so you'll be expected to be well connected and active in the right networks. That's the reason why a few companies require your social media profile links while you apply for a job.
So, with all these being said, you have no other choice than to become a brand ambassador for your current workplace. 
To start with it,
Follow your company Page
Tag your company in Current Work section.
Regularly like / comment / share company updates from company page on your profile.
Recommend new careers/openings that arise in your company to your connections.
Don't think it's a waste of time, at the end of the day this will benefit both yourself and your organisation.
Conclusion
When you're joining LinkedIn, you're not only joining a social network, you're joining a feed-driven network looking to interact and swap ideas. Once you start building your brand on LinkedIn, you'll be amazed by the number of opportunities that come knocking your door.
Embrace the tips and best practices stated here and you'll be able to taste success in LinkedIn sooner than you think.