WINK is the first of its kind, premium-luxury salon boutique to have emerged in Chennai. The salon has pampered over 1000 people and dolled up more than 50 celebrities. At WINK, they offer high-end services ranging from advanced skin solutions to personalized hair designing. The salon houses a photography studio, a bridal/VIP suite, a meditating room and a training room. WINK is an experience that you will never forget. If you haven't made a visit to this luxurious salon in Chennai yet, its time you do so!
Objectives
To revamp the design of the website in a fun yet quirky way that would match up with the standards of the salon
To make the salon's presence felt on social media with a kind of communication that is quirky and stands out
To look out for ways in which the salon can be promoted on the digital space and brings in footfall
Solutions Offered
To design a website portal where elegance and sophistication is the main focus including the element of fun and quirkiness. The website was to be made in a way that would keep the offline personality and style of communication of the salon as it is on the online space.
Create a content bucket that would best work with a salon, design posts in accordance to that, with friendly and relatable copies that would connect to the consumers.
To integrate broadcast messages to stay in touch with the consumers and indirectly sell the salon.
4-Step Brand Promotion Strategy:
After hours of brainstorming with the both our teams at echoVME and the client, we finally narrowed down to the following 4 strategies that would help WINK stand out from the rest on the digital front.
#1 Web Designing and Development
#2 Facebook Promotion
#3 Instagram Campaigns
#4 Messenger Campaigns
Step 1 – Website Designing and Development:
We had to revamp the website in a way that it is easy to navigate, user-friendly and contains all the information on the various kinds of services that it offers. The color palette is adapted from the logo and it uses pop art where the focus remains on the hair of both men and women with bubble chats and dialogues. In all, an eye pleasing website was made. The theme of the website matches up with their menu card and there are real images of work with content that is SEO friendly and aiming to bring website on top of Google for keywords like best hair salon in Chennai, best bridal makeup artist in Chennai etc. You can see the Google search results snippet below for one of the aforementioned keyword.
Step 2: Facebook Promotion
The aim was to develop the salon's presence on social media in a way that would make it the talk of the town.
#2a. Ads:
The following ad was run for the stellar bridal makeup services that WINK offers. The ad reached about 8000+ people and garnered a good number of leads that were then converted.
Facebook Posts:
#2b. Before-After Post Series:
WINK as a salon is creating beautiful head-turning hairstyles and we use the before-after template to showcase their work. This style of post is a great way to highlight the transformation that is seen in the client who has rendered the services. Every salon should have a good quality camera so that you can click some quality pictures and use them for your social media communication. Remember, selling a salon is all about showcasing great work. So do not hesitate to ask for your customer's consent.
Contest post series
#2c. Guess The Celebrity:
WINK being a celebrity salon has been visited by a lot of celebrities. One such picture of the celebrity- Siddharth was used in the form of a contest post to gain traction. A total of 400 entries were submitted for this contest. When I say Siddharth visited WINK it's like a news, but when I ask you guess who visited WINK it raises a lot of curiosity. If you add a contest touch to it, you might even see people participating and educating themselves about celebrities visiting WINK.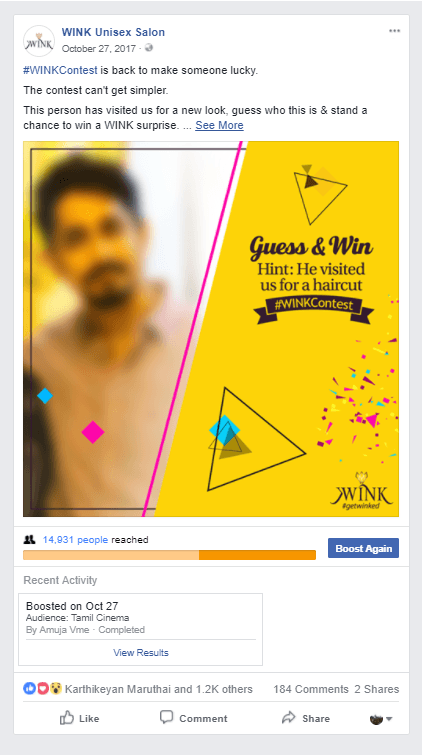 #2d. Spreading Some Festive Vibes:
During Christmas, WINK gave away a makeover contest with emphasis on the fact that Santa Claus does exist and prompting the viewer to tag the Santa of their life. This also connected well with the Secret Santa scenes, that's quite a craze in corporate setups, during Christmas.
#2e. Gender Specific Contests
A women centric contest, which showcased the hair colors that are done in the salon, was made. The viewers had to guess the names of the colors to win a free hair color. The post got a total of 8 shares and 84 comments.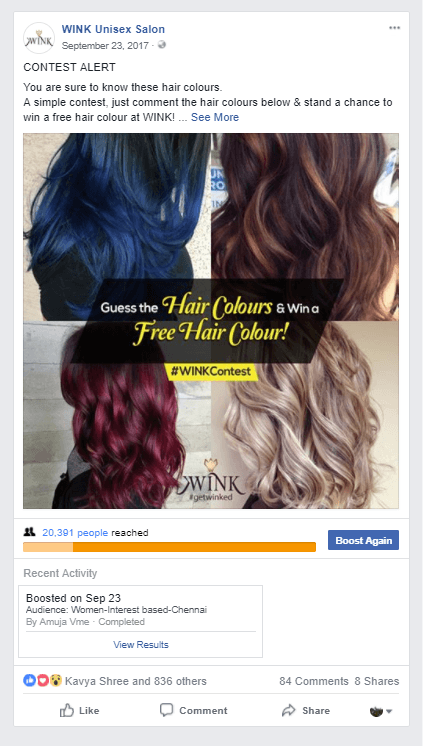 Another contest was run specifically for men. It was run in the month of November, celebrating #NoShaveNovember. Men participating in this had to take a selfie of their beard which they grew in the month of November. One of the coolest selfie (which was randomly selected) was given a surprise. The post got a total of 145 comments and 22 shares.
#2f. Salon related contest
A contest highlighting the salon was conducted where the viewer has to spot the differences. The winner was given a voucher from WINK.
#2g. Makeup Related Contest
Contests related to makeup were also made. A quirky and unique contest that worked well is given below. A total of 77 entries came in and the most quirky name was given a surprise.
#2h. Investing In A Long haul Post
At echoVME, we are strong believers of Long Haul Posts especially when a brand is new and when there are limited budgets. There is no point in you doing one post a day and boosting them. As you see in one of my videos on YouTube, I talk about Power of 5. Power of 5 is the first thing that we practice.
To celebrate the 6 month anniversary of the salon a post was made which displayed the various sections of the salon. Every intricate detail of the salon was captured displaying the luxurious feel and comfort that it would offer to its consumers. It targeted people who haven't been to the salon yet. The post then was boosted on and off on a regular basis for more than 6 months. Up until today it has a total of 293 shares and 62 comments and reached close to 1,96,000 people especially people around the store.
Since WINK often gets celebrity customers and Madhavan is usually known to charm girls with his good looks, they got lucky when Madhavan visited the salon for setting the look for Vikram Vedha and the CEO requested him for an anniversary greeting, which was well received by the audience. Especially girls, who were targeted through the sponsored means. This video has a total of 86k views and 298 shares. Impressive isn't it? As a salon owner you should build personal contacts with some of your top customers and leverage their fame to your advantage when the opportunity comes, to help enhance your company's brand image.
On the above lines we also created another long haul post that went out on social media with our favorite number based series '40 Cool HairStyles For You'
Innovating Special Day Posts As Our Quirkier Benchmark:                      
Special days are the sole bread and butter of content buckets I would say. They help the momentum going. Here are just one or two samples of the special day posts that we did for the brand. I am sure you'll love some of the ideas below.
#2i. Post
The first Diwali or the 'Thala Deepawali' as it is fondly called in Tamil Nadu is a very special occasion for the newlyweds. And WINK, this year, was giving out special surprise for such newlyweds around Diwali. It was a post which involved tagging, which got it a lot of traction – 165 comments and 118 shares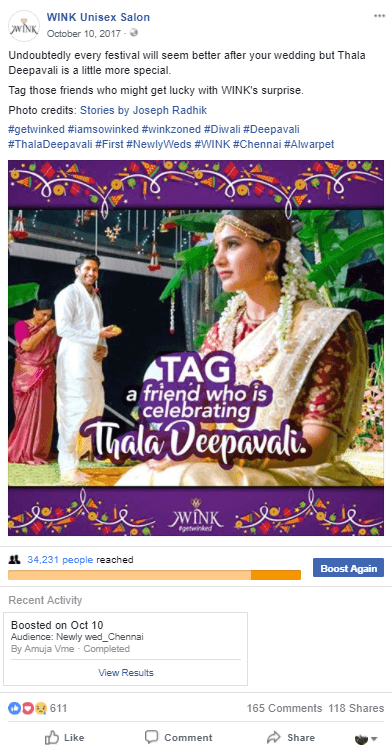 #2j. Video
For World's Aids Day, a video was made highlighting how minutes of pleasure can turn out to be a lifetime of pain. The most intriguing factor of this post was that a scissor (which is generally used in a salon) was creatively used to showcase the message of Aids Day.
Events
As a Social Media Agency, we understand events on Social Media channels are well received and that is why we suggest local brands to create local events so that there is a more 'Social' touch to the social media lifestyle of the brand. Even if the event brings only 20 people, these 20 people are earned through social media and you have got their time, which is of great value.
Let's look at some of the events planned for the event along with our partner ad agency: BePositive24
#2k. Children's Day Carnival
WINK ever since its incorporation has made Children's Day, an occasion that would never be forgotten. Up until now it has been held twice and it has seen a total of 15-20 kids in 2016 and 30-40 in 2017. Given below is the event page that was made for the carnival in the year 2017.
It was a two day carnival that was held on 11 & 12 November, 2017 offering a cool haircut for the child and a complimentary hair spa ritual for the parents. Other than this, the whole of the salon was made child-friendly. They had popcorn and a sugar candy stand, a tattoo stall and a photo shoot especially for children.
#2l. Promotion of the event
The event was promoted through an event page on Facebook and also through ads. One such ad post is given below.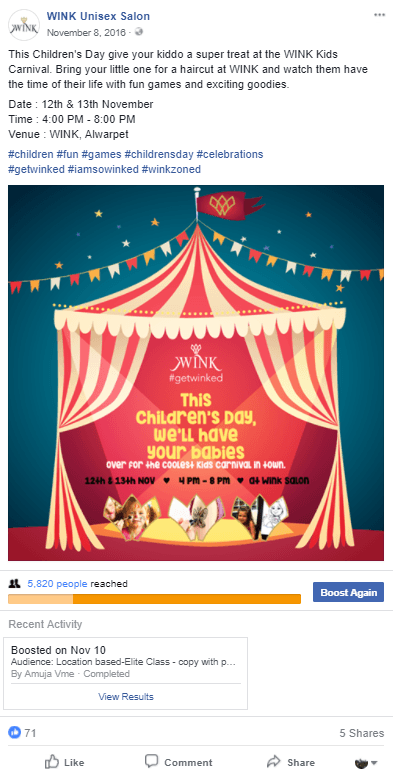 #2m. Wishing post
A wishing post for Children's Day was made as well and was promoted across all social media channels.
Once the event was over, the photos of the event were posted on the page acknowledging the parents who got their children for the carnival and telling the parents who have missed the first day of it that the second day is still coming. A video of the event was also made where children were seen eating, playing around and having a lot of fun!
#2n.Blood Donation Camp
A blood donation camp was held on 13th June 2017 in the WINK premises. It was conducted in accordance to World Blood Donor Day in collaboration with Lion's Blood Bank and Research Foundation. It witnessed a total of 80 donors and these donors were given a free haircut as well. To promote this, an event page was made. Since the event was well received and Samantha Jagan, the founder of  WINK Salon, is a strong supporter of the blood donation initiative this event is now going to take place year on year.
#2o. Video Promotion
Andrea Jeremiah who is a frequent WINK visitor was requested to make a video and she readily gave one video cut to promote this initiative.
An acknowledgment post was made for the blood donation camp as well where pictures of a few were put up on the event page thanking them for their presence and the good deed done by them. A few celebrities who dropped in for the camp were Surya Ganapathy & Nivetha Pethuraj.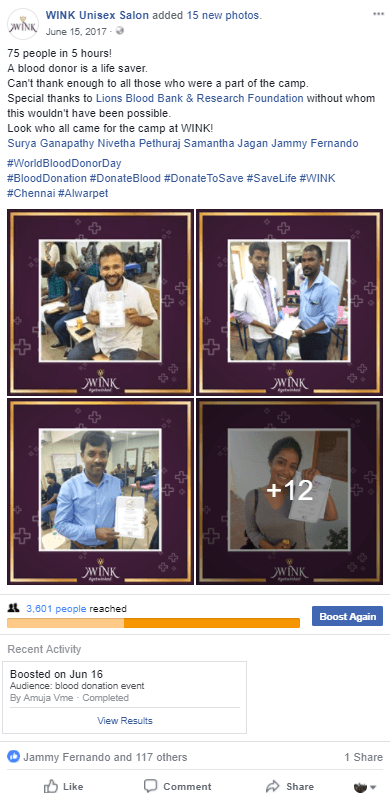 #2p. Wine and Cheese
When WINK was launching its new range of hair colors, a wine and cheese party was held in the salon being true with the French tradition.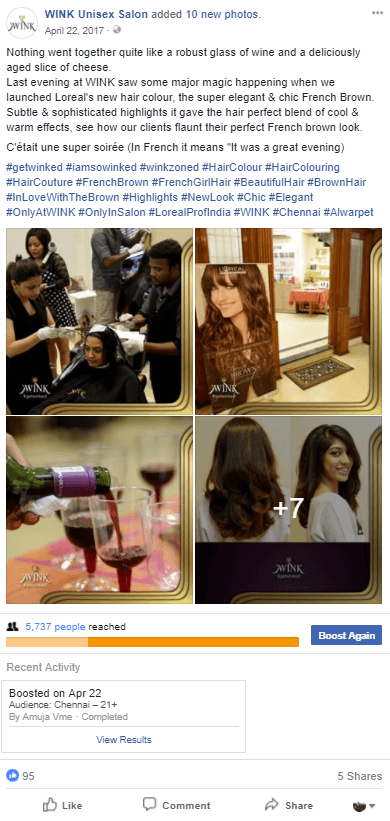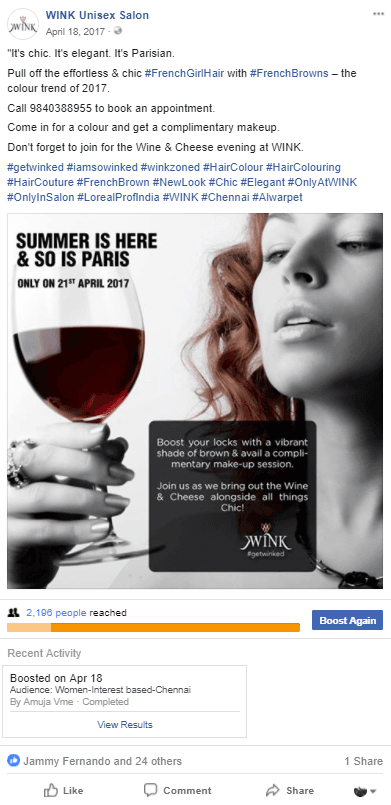 #2q. Video posts- WINK Turns 1
WINK celebrated its 1st anniversary in style as well. A lot of celebrities, who are regulars at WINK wished WINK and these videos were put up with the hashtag #WINKTurns1.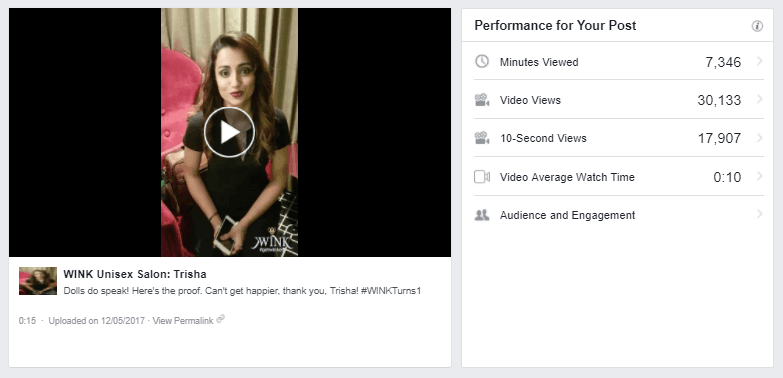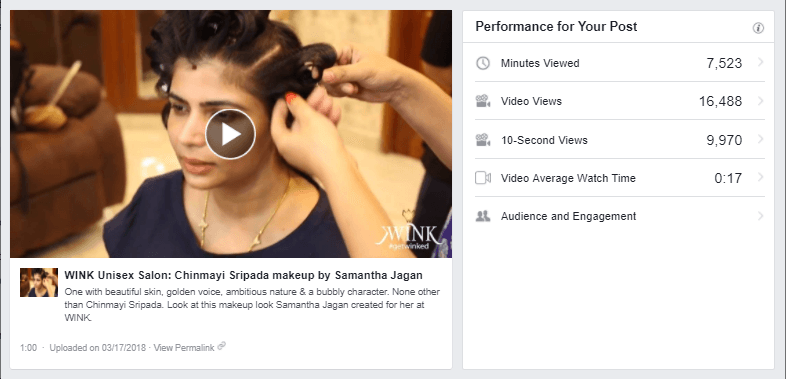 #2r. Promoting WINK Rockstars For Their Face Value and Great Work To Inspire
Breaking the monotony, we also made posts where we talked about Samantha Jagan aka Sam and Jammy Fernando. These two individuals have already built their images as a makeup artist and a hair stylist respectively.
Recently, we spoke about Samantha who was invited to inaugurate the WoE Digital Summit – An Event to recognize and encourage women entrepreneurs.
Here is a video post that speaks about the Salon Director – Jammy Fernando, his work and accolades he has garnered through his 17 years in the industry. This video helped people know who he is and also inspired a lot of them to visit the salon to experience his magic.
Jammy Fernando is your guy next door who you can always rely on to transform you into a complete stunner on extremely short notices! See the video to know more about this style guru & don't forget to book an appointment with him only at WINK! #getwinked #winkzoned #iamsowinked #SalonDirector #SalonDirectorSpecial #Makeover #Magic #MagicalMakeover #Haircut #Hairstyle #Hairstylist #HairCouture #WINK #Chennai #Alwarpet

WINK Unisex Salon यांनी वर पोस्ट केले गुरुवार, २४ ऑगस्ट, २०१७
Step 3: Reaching Out to the Audience on Instagram
On Instagram, WINK has witnessed a journey from 0 followers to 9018 followers. Following are the styles of post that are majorly run on Instagram.
#3a. Guess which colour/brand
One day contests like guess which colour/ brand is conducted offering an experience in return only on Instagram bringing in a lot of engagement.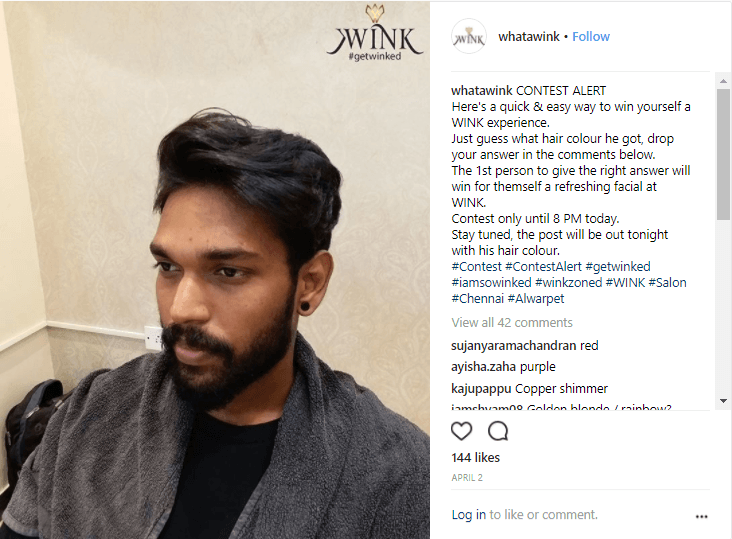 #3b. Guess the celebrity
Another style of contest that is run on Instagram is guess the celebrity contest in which a blurred/ scrambled image of the celebrity with whom WINK has worked with recently is posted to gain traction.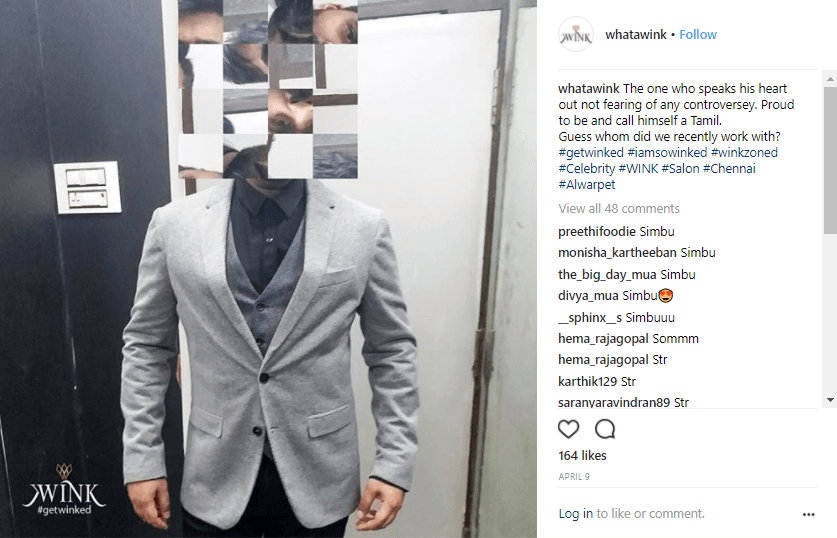 #3c. Makeup questions
A lot of makeup questions, puns and videos are regularly run on the Instagram page to create engagement. One such makeup question is given below.
#3d. Followers Campaign
A followers campaign was run which over a period of 20 days went from 800 followers to 1200 followers. It was boosted on Instagram to gain more followers and also offered a free haircut to one lucky person!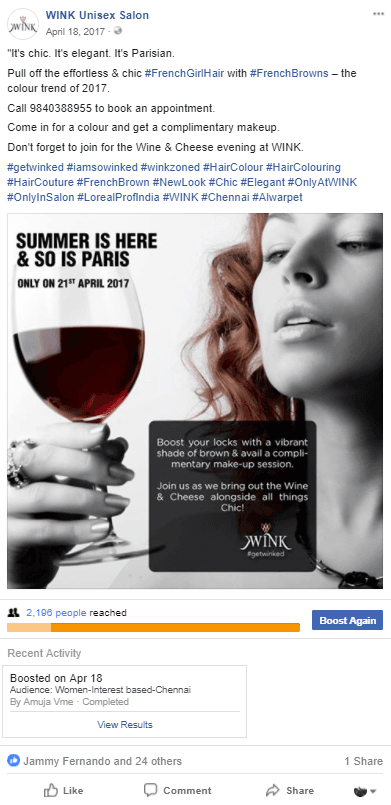 #3e. Surprise Initiatives For Our Customers:
WINK makes sure all of their clients feel special while at their salon, especially when some special day is round the corner. One such event happened for Women's Day when one of their customers came for a haircut, unbeknownst to what lay ahead of her. She was surprised with a shower of flowers and a few gifts from Team WINK. This was followed by her receiving an array of free services from WINK. Here is a glimpse of the day:
#3f. Innovative Instagram Stories:
Instagram stories are the new cool. They help you narrate your stories to your followers in a much more creative and fun way. The Instagram handle makes use of this feature to talk about everyday events at WINK. We also use polls and the new slider feature to keep the audience engaged. Offer posts are also put up on the stories. We also receive a lot of DMs for the stories posted.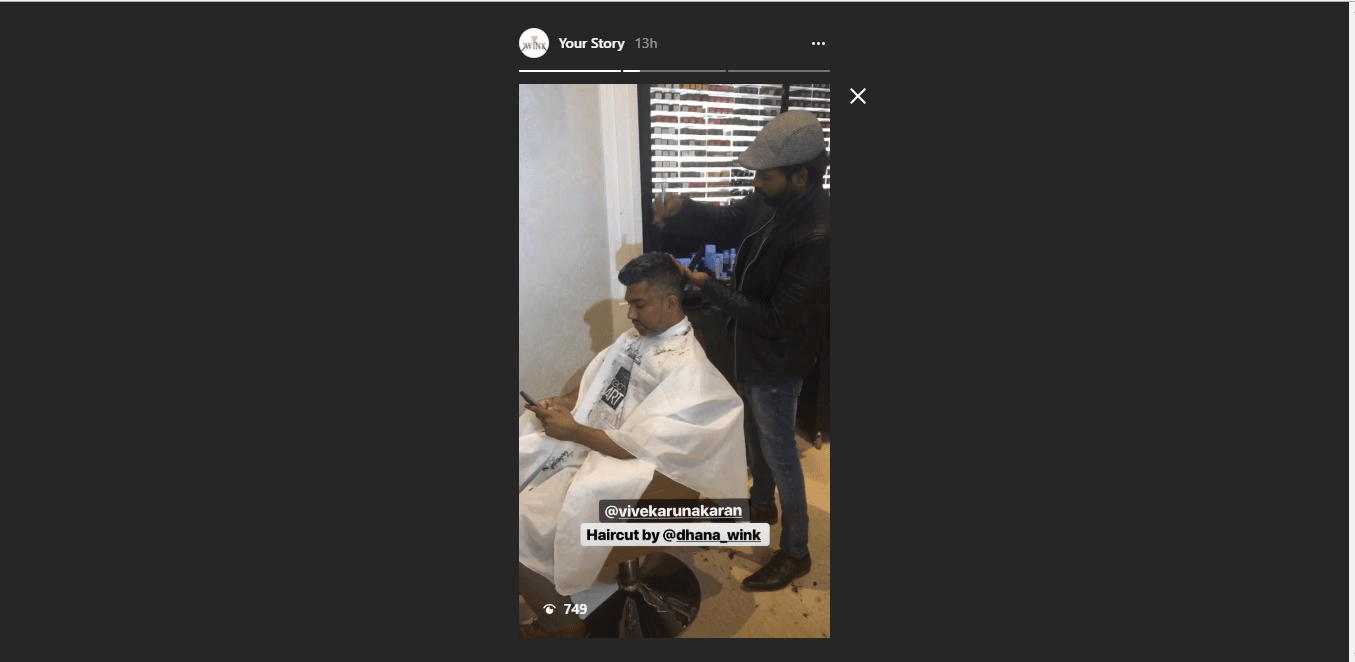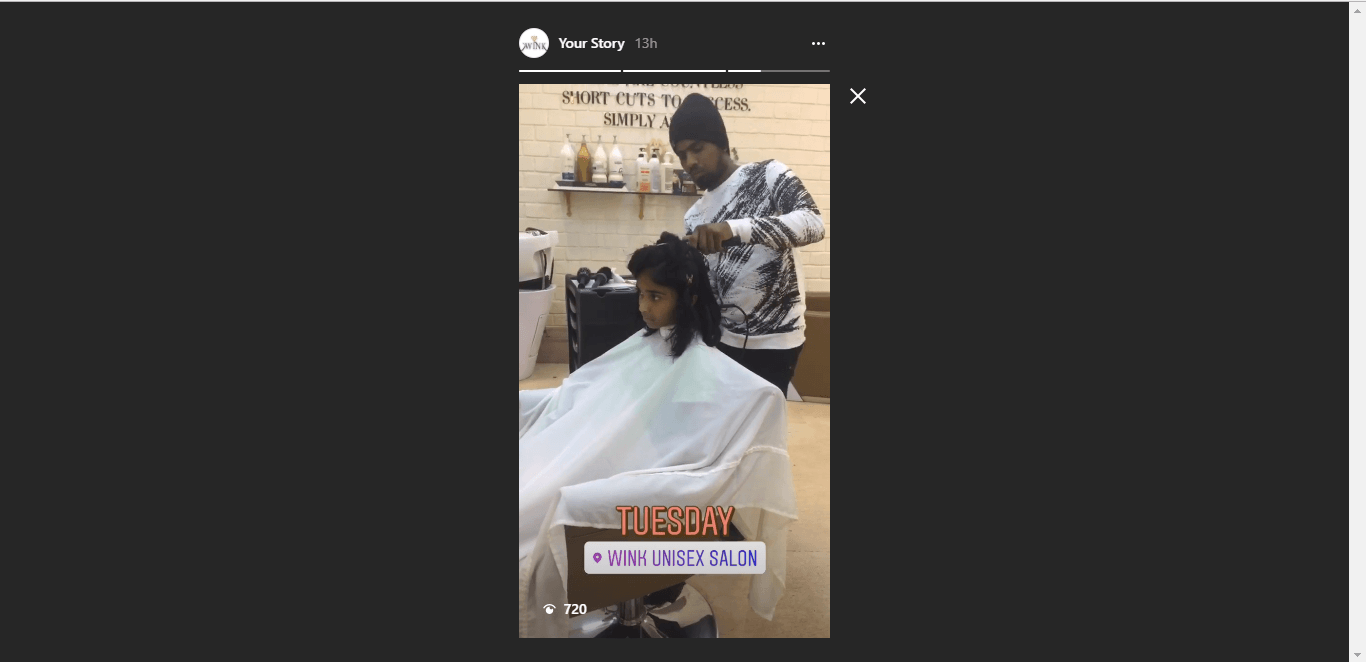 Marketing your product with a personal touch will always give your customers a better experience. It is also the best way to build customer relationship and gain their trust. People feel more connected to a brand when they can instantly reach out to one of their representatives. We had this in mind and launched our Facebook Messenger campaigns.
Step 4: Broadcast messenger
The broadcast today has a total of 800 people. It was started with "Win a free makeover by sending us a 'Hello' on messenger." It brought in quite some traction.
Other than this we regularly converse with the people who are on our chat list. These conversations are not offer based. They are generally on topics which are indirectly selling the salon. One such example of the conversation that we use is given below.
Final Verdict For Salons Using Social Media:
Adapt to storytelling, don't use Social Media for sales. Create content that make believe in your work.
Invest in a good camera and make your team social media savvy so that they can upload photographs and share it with the agency.
Capture every important moment, do boomerangs, cooler stuff so that there is lot more richness in your new piece of content.
Host contests every month.
Offers inspire people to buy things – so try to run multiple offers.
Capture before and after photographs.
Create campaigns and events around special days.
Track your competitors.
Invest in great quality videos.
Go live while you do some innovations.
Innovate hairstyles, nail art that can WOW people on social media.
Results
WINK has won The Best Salon In The City Award for 2017
We have a total of 56,000+ likes on the Facebook page, 10000+ followers on Instagram, 1000+ followers on Twitter with a total of 4800+ tweets and 800+ messenger subscribers