Looking for best digital marketing agencies in Hyderabad? Here is the list of the top 10 digital marketing companies in Hyderabad including the contact details of the respective agencies.
Businesses, big or small, are either looking to promote digitally or they are already on it. Digital marketing has become mandatory for a business's growth.
You can see a more significant number of digital agencies these days because of the demand for professional and experienced digital experts.
Instead of the businesses breaking their heads to come up with workable digital strategies, they handover the entire digital planning for the company, to an agency.
The digital marketing agency examines the business as a whole and identifies its position in the market. This also involves looking for competitors and their digital presence. After the initial examination, they come up with the right plan for the business depending upon their findings.
In India, in the last year alone, the digital ad spend has increased by 32%. Digital experts are also hellbent on sharing digital marketing knowledge.
But in today's competitive platform, it is impossible to perform digital marketing without having an excellent understanding and an individual experience. In 2020, we can expect the growth of digital agencies even in the second tier areas of the country.
So, how to choose a digital agency that can design a perfect campaign that can grow your online presence as well as pump up the ROI?
Finding The Right Digital Marketing Agencies in Hyderabad
#1 Digital marketing's core would to find out the target market and show them the best content pieces. The agency that has worked with your set of audiences, in your niche would be a wise choice.
#2 Identify why you want to hire the agency. If SEO is your sole focus, the company must have SEO expertise.
#3 Choose an agency that has a super-duper online presence. Check their Instagram, Facebook, and Twitter handles; look for the frequency of their activities. Also, take a scroll through their online reviews and recognitions.
#4 Pick an agency that has substantial industry experience. Five years and above, you be the best filter option when it comes to experience.
#5 If you are looking for a digital marketing agency to drive up your leads, you have to look for agencies that offer qualified leads. You can always check for their previous campaigns.
Don't forget that you are not only going to be working with the agency, but they are also going to be a part of your business. So, choose agency not only by looking into the presentation they brief you with, but also the kind of work that they have already delivered.
Hyderabad is one of the most technologically advanced cities in India. Digital marketing agencies that follow updated techniques, digital brand building agencies and digital marketing institutes are seen to be growing in recent times.
Digital marketing agencies in Hyderabad are also witnessing an inflow of people seeking jobs in various digital marketing streams from all over the state.
Top 10 Digital Marketing Agencies in Hyderabad in 2024
Please note this list is no particular order!
1. echoVME Digital
If you want to look for a top-notch digital marketing agency in India, then you should consider echoVME Digital, an award-winning digital marketing agency that delivers the best for its clients.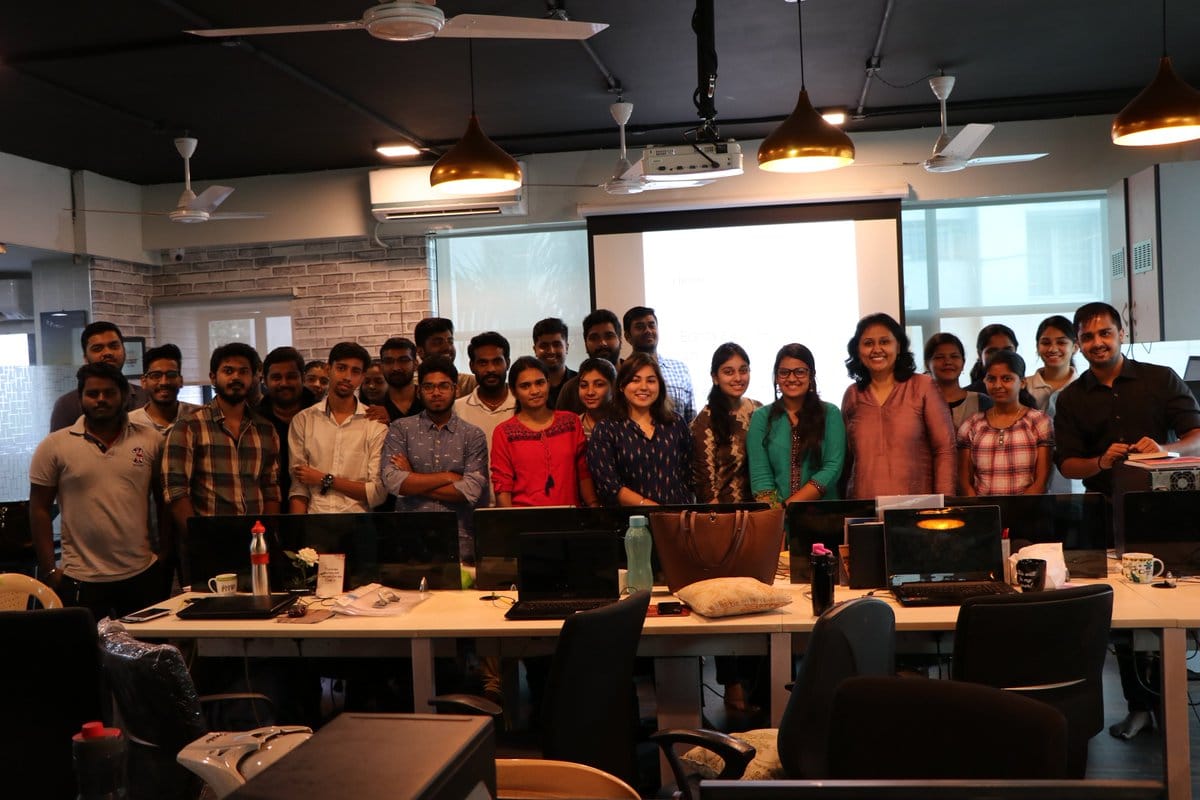 Their young and energetic employees know to get the ball rolling in providing a plethora of digital marketing services.
Their innovative and trendy ideas are the gateway for brands to get a substantial online presence.
| | |
| --- | --- |
| Founded In: | 2011 |
| CEO: | Sorav Jain |
| Team Size: | 70+ |
| Clients: | Bosch, Ramco, Chuchu TV, Apollo, Credai, Equitas, GRT, The Hindu etc |
| Services: | Digital Marketing, Social Media Marketing, SEO, PPC, Website Development |
| Contact: | 091764 02555 |
| Email: | bde@echovme.com |
| Website: | www.echovme.in |
Want a complete audit report and strategy plan for your brand?
2. GeeksChip
They have catered to more than 420+ clients all over the country. Most-known for their bespoke approach, they offer services such as SEO, SEM, PPC, SMM, web design, ORM, among others. One domain that they are experts at would be healthcare.
They have done strategic SEO for several healthcare clients and made them rank on top of the SERPs. Some of their clients include NCC urban, Merkee band, Troop messenger and Ananya learning centre. They have featured in several online forums, as the top digital agency in Hyderabad.
Address: S.S. Arcade, 3rd floor, plot #97 & 98, Kavuri Hills, Phase 1, Madhapur, Hyderabad- 81
Phone: +91-9100068884
Email: info@geekschip.com
Website: www.geekschip.com
3. GenY Medium
Rated among the top Digital Marketing Agencies in Hyderabad, GenY Medium helps businesses to grow with excellent and robust digital marketing strategies. They came into the digital race in 2012 and have been at the top of the game since. Their client list includes giants such as Lenovo, TATA, Apollo healthcare, Cigna health insurance, Aakash, Aparna constructions, etc. In 2018 they were featured among the top 1000 high growth companies in the Asia Pacific.
Their services include PPC, SEM, SMM, SEO, Digit presence, marketing automation, social listing, mobile marketing, online reputation management, transformation consulting, market research and insights. They are also a premier google certified partner.
Address: H.No.1-62/172, 3rd Floor, Plot No.172, Phase II, Kavuri Hills, Madhapur, Hyderabad- 33
Phone: +91 8019888314
Email: support@genymedium.com
Website: www.genymedium.com
Check this also: Top 710 Digital Marketing Agencies in India
4. Shoot Order
Shoot Order is one of the top-rated digital marketing agencies in Hyderabad. It is a part of the Ivent IT solutions Pvt. Ltd. Established in the year 2012, they have been a one-stop solution for digital marketing since. They offer services such as SEO, Media Buying, Media planning, Affiliate marketing, PPC, Email Marketing, SMM & Web-app development.
You can also contact them to get a free SEO audit and a free online reputation audit for your business. Their client-list includes Continental hospitals, care health, BMW, Hathway, Nalsar University, Times group and many more. Other than having huge conglomerates on their hands, they are also known for their quirky social presence.
Address: Softsol tower-1, 2nd floor A Wing, Plot no 4, Infocity, Software units Layout, Madhapur, Hyderabad
Phone: +91-40-49524419
Email: info@shootorder.com
Website: www.shootorder.com
5. I Prism technologies
I Prism technologies is another best digital marketing agencies in Hyderabad. Known for their web development and mobile app development since 2009, I prism also offers complete digital marketing packages. Even though their headquarters are in the USA, they cater to almost all over the world. I Prism offers SEO, SEM, SEM, SMO & App optimisation. The company is ISO certified and has global recognition.
Address: Rd No. 3, Near Apollo Hospital, Jubilee Hills, Hyderabad- 33.
Phone: +91 888 561 7929
Email: info@iprismtech.com
Website: www.iprismtech.com
6. DigiClues- SEO services and digital marketing agency
As their tagline says, DigiClues is an SEO focused digital marketing agency in Hyderabad. The number one priority of DigiClues is to bring the client's website on top of the SERP. They also offer other digital marketing services at affordable pricing.
"Google only loves you when everyone else loves your content. Content builds relationships. Relationships are built on trust. Trust drives revenue." -Simraan Shaikh, founder of DigiClues. If you are looking for premium solutions at an affordable price, then Digiclues would be a reasonable choice.
Address: Building, 5th Floor, Accord Blu, Banjara Hills Road Number 10, Banjara Hills, Hyderabad, Telangana- 34
Phone: 7013820442
Email: info@digiclues.in
Website: digiclues.in
7. Inovies
Inovies is a leading digital marketing agency in Hyderabad. Inovies has over a decade of experience in technical writing, web development and digital marketing. Their digital marketing services include Influencer marketing, digital marketing consulting, Web analytics, mobile marketing, online reputation management, video marketing, growth hacking and customer acquisition.
HBL power systems ltd., Tick N Trade, rent it, Bisol Q Techno enterprises, Bits consulting, Swcic is some of the brands for which Inovies has done digital marketing. They are a member of the international web association, Nasscom and IMA.
Address: Level 5, Plot No:57/99 & 50/109, Survey No: 78, Patrika Nagar, Madhapur, Hyderabad, Telangana- 81
Phone: 040 4027 3049
Email: info@inovies.com
Website: www.inovies.com
8. The go-to guy
The go-to guy is a creative digital marketing agency in Hyderabad that offers the best rebranding solutions in the city. Other services here include, strategy, content, search, paid search, social media marketing and online reputation management.
They have rebranded for Valufy, Wozart- inventing tomorrow, Santosh Dabha. They have also marketed for ZIM, Gleecus, Tenet diagnostics, Fission labs, Intellika, Sabrentkaro and many others.
Address: Second Floor, Plot # 4/2, Sector 1 HUDA Techno Enclave, Hi-Tech City, Madhapur, Hyderabad- 81
Phone: +91 93901 75427
Email: enquiry@thegotoguy.co
Website: www.thegotoguy.co
9. The Smarketers
The Smarketers are known for their innovative and trendy works that use updated tools and techniques to drive sales and marketing. Their client list includes Acuvate, Alcatel-lucent enterprise, Inry inc., Team viewer, Thompson Reuters, ITC infotech, etc. Smarketers device innovative strategies for B2Bs to propel sales using inbound marketing and account-based marketing.
Address: A1004, The Platina Gachibowli, Hyderabad, Telangana- 32
Phone: +91 6301 108 934
Email: info@smarketers.com
Website: www.thesmarketers.com
10. Veiview solution
They offer 360-degree digital solutions to B2Bs, SAAS based products and E-commerce companies. They are known for their online reputation management service in Hyderabad. It is taking control of the client's entire online presence and making it visible to the right audience, interacting with the audience who engage and track performance.
Veiview offers mobile app SEO, amazon SEO, local SEO and International SEO, making them a strong contender among other SEO agencies in Hyderabad. They have given some significant campaigns for clients such as Crown industries, Bloom skin and hair clinic, Stem tools, Khalifa Homes. Strategic data solutions and Supra ventures.
Address: Western Aqua Building, Workafella 5th Floor Hitech City, Hyderabad- 72
Phone: 9618422442
Email: info@veiview.com
11. Digital rank
A bunch of SEO experts started it, and now it is one of the top digital marketing agencies in Hyderabad that offer a complete digital marketing package. Digital rank has branches in Delhi, Ahmedabad, Surat, Chennai, Banglore, Kolkata apart from the one in Hyderabad. They offer SEO, SEM, SMM, PPC, Email marketing, online reputation mgt., Video advertising & Affiliate marketing.
Address: 201, The Gateway Sri Swamy Ayyappa Society, Madhapur, Hyderabad, Telangana, India- 81
Phone: 040 – 40268570
Email: info@digitalrank.in
Website: www.digitalrank.in
So, have you hired any digital marketing agency in Hyderabad that I haven't mentioned here? Share your experience in the comments section.
Digital marketing agencies in Hyderabad offer comprehensive services that help businesses boost their online presence. With an experienced team at your disposal, you can count on these agencies to help you achieve your marketing goals. Contact them today to see how they can help you reach your target market.
Want a complete audit report and strategy plan for your brand?