April saw many major updates from various platforms, especially Facebook and Instagram.
From Facebook's new voting system for comments, LinkedIn's new titles, to Instagram's test to hide like counts and Google's store location and inventory status option, there were a lot of interesting updates this month.
Here is the entire list of #NewThingsInDigital for the month of April.
In case you missed last month's list of #NewThingsInDigital then you can read it here. Digital Marketing Updates of March.
List of the top 27 latest digital marketing updates in april 2021
1. Instagram Officially Launches 'Remix' Option In Reels
After testing the option for a while, Instagram officially launches the 'Remix' option, another popular feature on TikTok. With this feature, creators can show their take on existing Reels clips that are eligible for remixing. According to Instagram, the Remix option is enabled by default for the Reels created at present. Creators can switch on the option for Reels posted in the past by clicking the three-dot menu on the right corner of the Reels and hitting 'Enable Remixing'.
2. Facebook Adds 'Slow Down Comments' Option Within Groups
Facebook has added an interesting option for group admins to access. The social media giant has added an option, 'Slow Down Comments', which enables the admins to control the pace at which people can comment. This option, according to Facebook, would also help ease tensions and angst among users on a given topic of discussion. When this option is enabled for a post within a group, a person can only post one comment every five minutes. This can help when it comes to heated arguments and debates on the group. With this, people can take a breather and consider and contemplate the content before posting it as a comment.
3. LinkedIn Taps Into The Audio-Social Trend By Developing Audio Rooms
With the rise of the audio-social trend, LinkedIn is now looking to tap into it with its own version of audio rooms, which is at the development stage. The audio-social trend poses great scope for professionals to connect and engage in discussions and conversations with fellow professionals within the same niche. LinkedIn shared the UI of the feature's look and feel, and it would showcase the Audio group's name on top, followed by the group of speakers named, and then the listeners listening to the discussion.
4. YouTube Launches Test To Remove Public Dislike Counts On Videos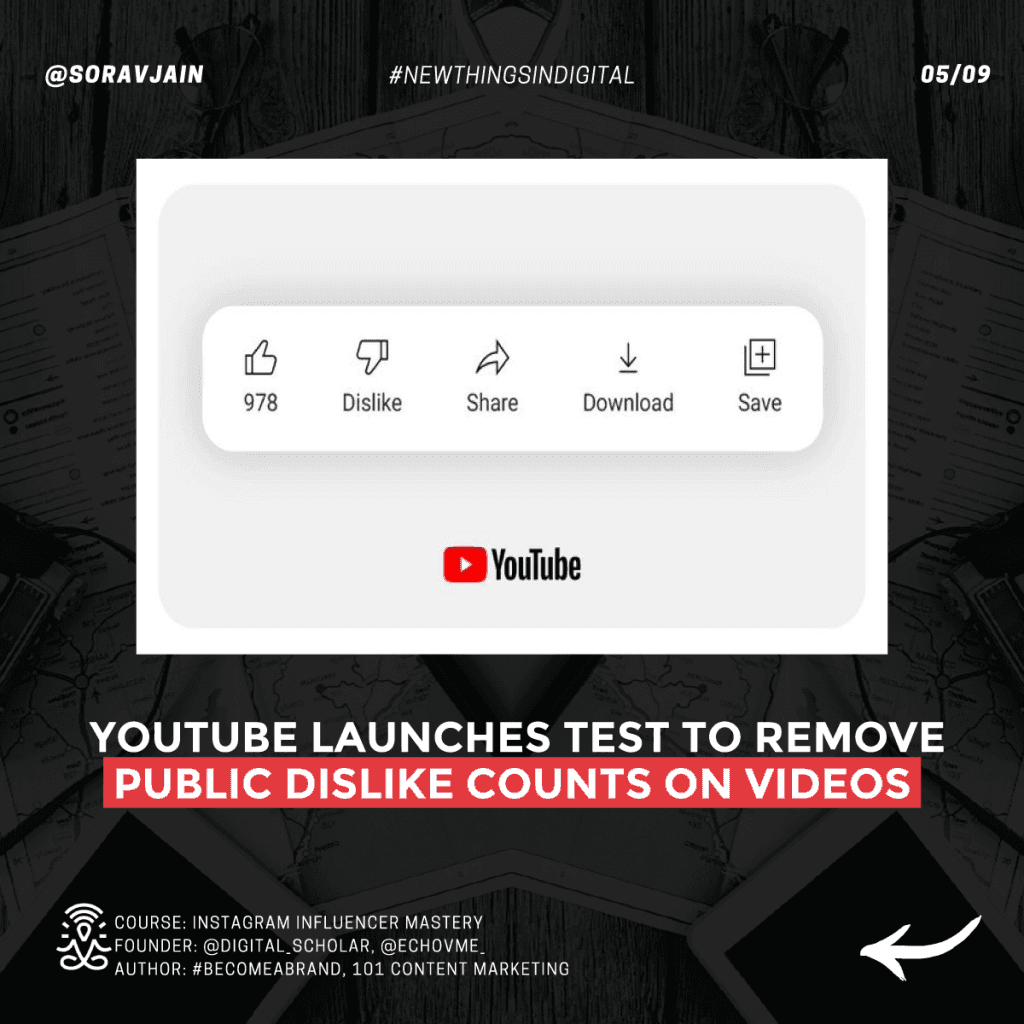 YouTube has launched a limited experiment and is testing removing public dislike counts on videos. Instagram has been testing removing the display of likes for almost a year now. YouTube is looking to join the bandwagon of eliminating the negativity and hate that spreads through the video's dislike counts. Creators will be able to see the likes and dislikes count on YouTube Studio, while users will still be able to like and dislike videos. It is only the total count that will be removed. This would remove negativity and help people be more comfortable sharing content on their channel.
5. LinkedIn Adds 'Video Cover Stories' and 'Creator Mode'
LinkedIn has added a series of new features to enhance user experience and benefits. For individual profile members, the platform has introduced a new 'Video Cover Story' option, which enables users to add more about themselves, and people visiting their profile can view it. Once recorded and uploaded, an orange ring will appear around your LinkedIn profile picture, with a preview of the video playing silently. Apart from this, LinkedIn is also adding an optional gender pronoun field.
Lastly, LinkedIn has also added a Creator Mode, in which users will be able to add a selection of hashtags relevant to the topic they are posting about. The app will also move your 'Featured' and 'Activity' sections to the top of your profile, while it will also replace the 'Connect' button with a 'Follow' button, which will help users build a solid follower base. Apart from this, the Creator Mode will enable LinkedIn Live broadcasters to show their live broadcasts within their profile backgrounds.
6. Google Search Is Testing a 2-Pack Display In Google Local
Google Search is dropping the 3-pack display of results for a 2-pack one. Google has been tweaking its Local results, so only 2 local results are listed instead of 3. This update can positively impact businesses that rank no. 1 and 2, for only information about their business will be displayed on top. And with one lesser result, the potential for the company listed will only grow.
7. Google Knowledge Panel Now Displaying Competitors As 'Top alternatives'
On Google Search, the Knowledge Panel is a space where information about a product or a business is displayed. Google is now displaying competitors' names under the label 'Top alternatives' in the Knowledge Panel. This can be a case of concern for business and brand owners alike, for they definitely won't want their customers flocking towards their competitors.
8. Instagram Provides Navigational Tips To Educate Unaware Users
Instagram has released a video featuring Adam Mosseri, Head of Instagram, where he offers navigational tips for users and viewers who don't know to use the full functionality of the platform's UI.
The following shortcuts were outlined in the video:
Tap on the Home icon to go back to the top of your main feed
Press and hold on the search icon to begin a keyword search, rather than tapping through to the Explore tab
Double-tap on the profile tab to quickly switch between accounts
Tap and hold to pause Stories
'Peeking' on posts in the Explore tab by pressing and holding on the thumbnail image
Except for the double-tap to switch accounts option, the rest are old functionalities but were outlined to help those unaware of the app's functionalities.
9. Facebook Adds New "Layouts" Option For Posting Images
In its latest update, Facebook has added a new "Layouts" option within its composer tool. This provides users with a new range of frames and formats that add a dash of freshness to the platform's visuals. The option offers users an array of frames and vibrant collage layouts they can choose from while posting multiple images on their Facebook profile. Back in 2019, Facebook tested multiple image upload options, and now, the social media platform provides users with frames and collage layout options!
9. Google Launches Video Ad Experiment To Refine Marketing Approaches
Google has announced that it will be adding a new video ad experiment on Google Ads. This will let advertisers test and compare different approaches and refine their video marketing approach. Google claims that these are easy to set up and quick to deliver results. The feature will be added to the Google Ads Dashboard under the 'Drafts & Experiments' tab, with the name 'Video Experiments'. In this feature, you will be able to test which of your video ads is performing well on YouTube. You will be able to access the results on your Google Ads dashboard.
10. Facebook Tests Updated Upvoting and Downvoting Feature For Comments in Groups
Facebook launched the up and downvoting option for comments on Groups back in November 2020 and has launched an updated test for the same. Facebook has now included badges to commenters with which you, as a moderator, let them know why you find their comment and opinion valuable. The badges option will pop out as a prompt when the upvote and downvote option is made available.
11. Facebook is Testing Page Labels To Provide More Context To Posts
Facebook is testing the provision of more information about a page with Page labels. This option being tested aims to provide more context to posts linked with Political pages, and they delineate whether the page is "public official", "fan page" or a "satire page". The new labels will appear below the page's name on the post to avoid confusion of why the particular page is posting the content.
12. Google Tests Local Businesses Listings and Maps in The "People Also Search For" Section
Google is now showing local business listings, and Maps results in the "People Also Search For" section. It is also noted that the Search field is showing local location results in the autocomplete suggestions.
13. Facebook Adds Options to Schedule Stories and The Business Discovery Process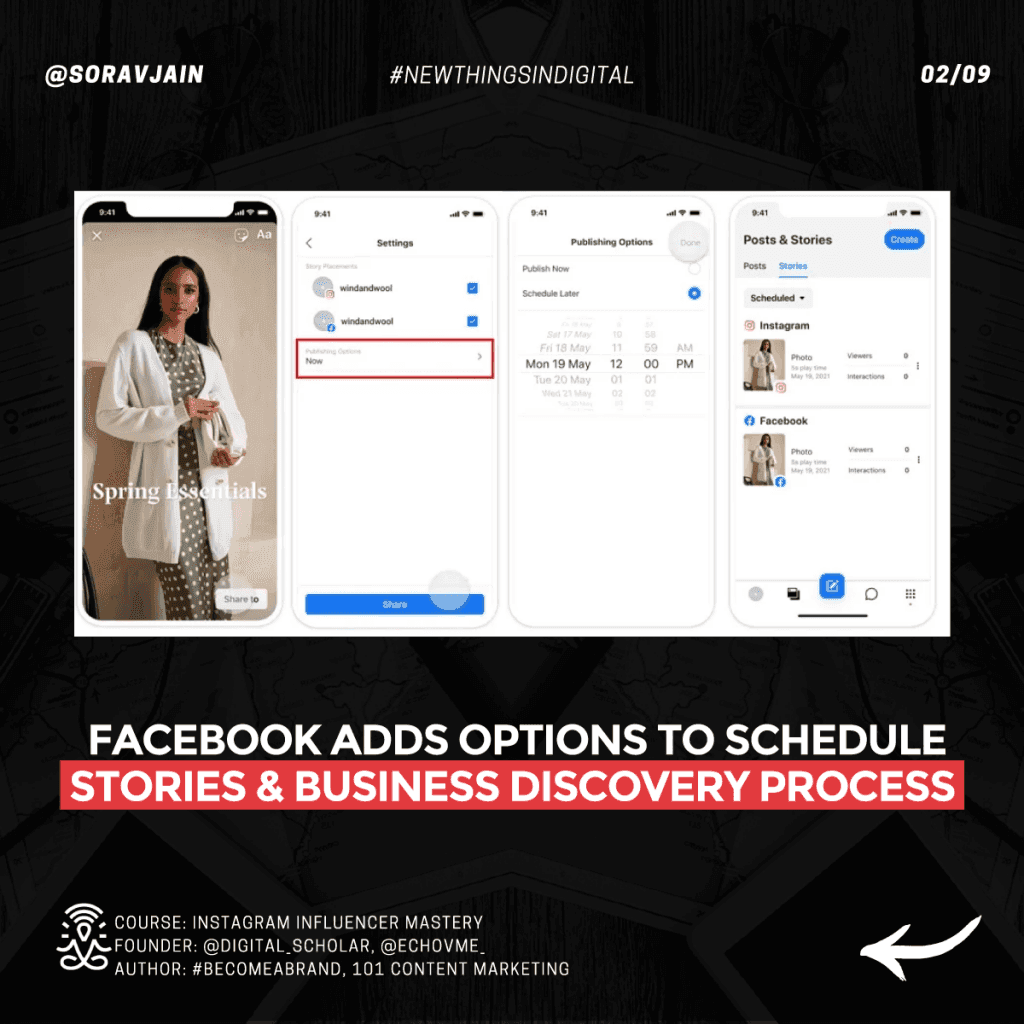 Facebook announced new features for its Business Suite, including scheduling Stories and the business discovery process! The biggest and the most awaited feature is finally here. Creators and Page admins can now create/compose and schedule Stories for Facebook and Instagram via Business Suite. The scheduled Stories will be displayed on the app's content calendar. This option, however, is not available on Creator's Studio as of now. Another feature for Business Suite users is the option to save Facebook and Instagram posts as drafts, adding more flexibility in posting and scheduling of the same.
Apart from this, Facebook is also looking to add a new business discovery process to the feed through page-related recommendations. The platform is also adding a few options for advertisers like:
– 'Conversion Leads' goal, which will help them optimise ads for leads that are potential conversions.
– Lead ad forms can be converted to Messenger templates for easy follow-up with Leads.
– 'Call Ads' option through which advertisers can display a 'Call Now' CTA button in their ads.
14. Clubhouse's Android Version's Development Progresses Rapidly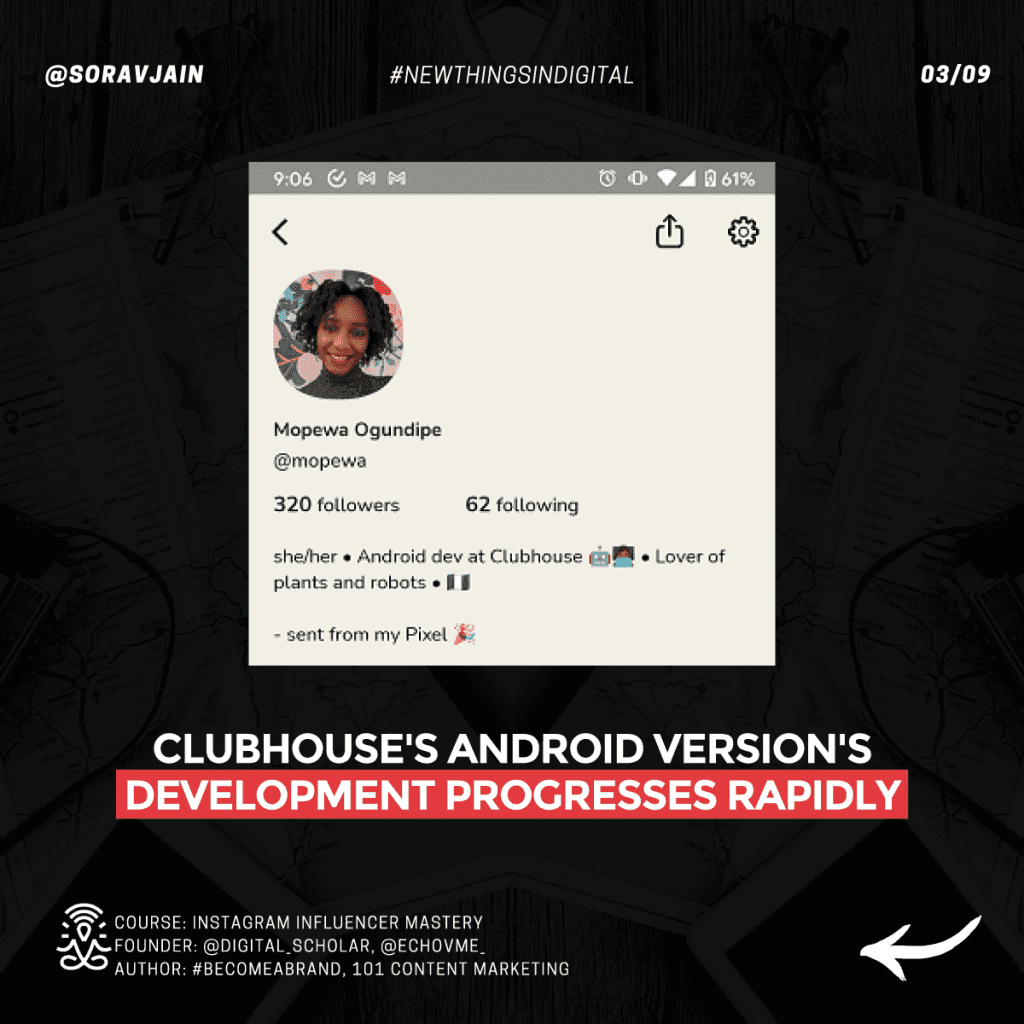 The growth of the popular Audio-social platform Clubhouse has been severely hindered due to its invite-only option and the lack of an Android version. The platform is now trying to rectify this by developing an Android app. This would open up a whole range of potential user-groups for the platform. One of the platform's android developers posted a screenshot of how a Clubhouse profile would look and its functional overview. With competitors like Twitter's Spaces and Facebook's recently launched 'Hotline' on the rise, it only makes sense for Clubhouse to up their game to survive the competition.
15. LinkedIn Helps Address Career Gaps Through New Titles Like 'Stay-At-Home Mom' and More
LinkedIn has added a few new job titles to address career gaps, particularly for women and new parents who have stopped working temporarily. The platform has also made changes to how freelance positions are displayed or listed, which makes it simpler for users to be transparent about their professional experience. Some of the labels introduced include 'Stay-at-home Mom', 'Stay-at-home Dad', and 'Stay-at-home Parent'. For freelancers, the platform is adding new labels like 'Self-employed'. And for these labels, users don't have to specify or name the organisation they work for. To further address employment gaps, LinkedIn is also trying to add more labels like 'Parental Leave', 'Family Care', 'Sabbatical', etc. This could be of great help for those potential employees concerned about finding jobs post their employment breaks.
16. Instagram Launches a New Test That Will Enable Users to Choose To Hide Like Counts
Head of Instagram, Adam Mosseri, has announced that Instagram's new test will allow users to choose whether they want to hide the post like counts on their profile. The platform has been testing this option for a long time now but hasn't published the results since COVID-19 de-prioritised this test. Right now, with the new test, Instagram is trying to –
> Hide Like counts on other people's posts
> Switch off Like counts on your own posts
> Keep full Like counts in the App
17. Facebook Launches Initial Test of 'Sparked' – A New Video Speed Dating App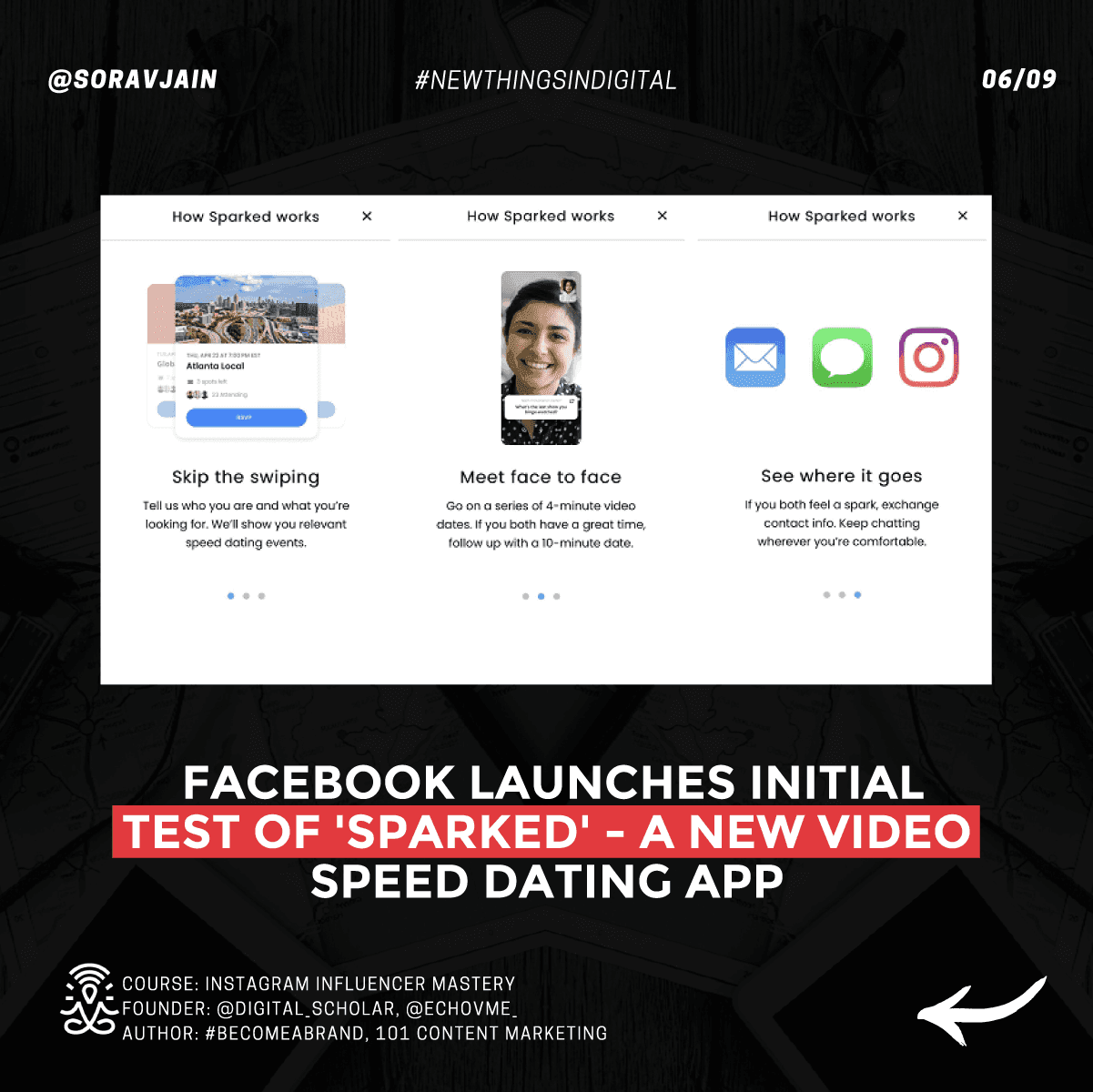 As part of its New Product Experimentation, Facebook has begun initial testing of its latest product 'Sparked', a video speed dating app, for people looking to meet new people. This app will enable users to have a 4-minute video call with their potential match to judge better if they will hit it off with one and another before moving forward. The platform does not include the famous swipe left, swipe right, and DM process, as opposed to the modern day dating apps like Tinder. The app will provide profiles based on the traits mentioned in your profile, and you can choose to hold a 4-minute video call, followed by a longer one to assess suitability, before taking things forward. The app is currently in limited BETA testing.
18. Google Local Tests Displaying Store Location & Inventory Status on Search
When a user looks for a product on Google, the search engine is now displaying details of a nearby store with the product's inventory status. Information about the store location and inventory status is added along with the product's pricing and ratings. This update is helpful as users would most likely also look for stores while looking for a product online.
19. Edits On Google My Business Can Now Be Made Through Web Search
In 2017, Google My Business launched features that enabled users and business owners to manage their local listings directly from their web search. Now, Google has updated the features, and you can now manage your business profile through the web results, directly making edits to hours, business category, products, photos, location, and more. This update has simplified GMB's editing process for expert and non-expert users alike.
20. Facebook Tests Instagram Reels Ads And New Video Ads Options For Facebook
Finally, Instagram is introducing the option to run ads on Reels to enable users to monetise the TikTok-like feature, which is doing great on the platform! The ads come in the same short video format, with 'Sponsored' tags to maintain transparency, along with CTA buttons like 'Install Now' and 'Shop Now'. The ads can run up to 30 seconds in length, and Instagram will show them in-between organic Reels content. Apart from this, on Facebook, the platform has added new video ad options, with the most notable option being the in-stream ad targeting categories. The platform has added new targeting options that let advertisers go in-depth and more specific in terms of targeting, breaking down larger topic groups. This gives Facebook advertisers a more comprehensive range of options they can choose for their ad to appear in.
21. Twitter is Here With its Initial Tests of Business Profiles and The Super Follow button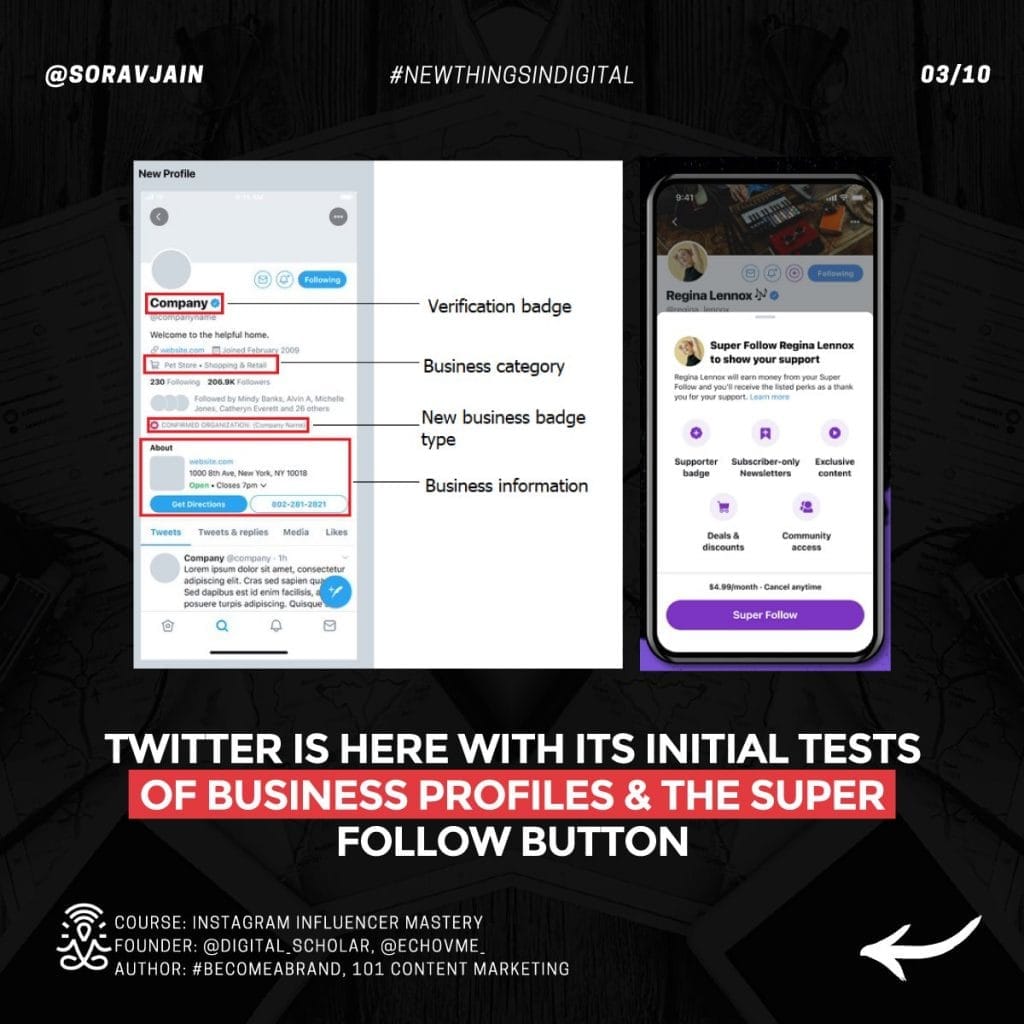 It has been an interesting week for Twitter, with the platform testing major potential updates. First off, the platform launched its initial test of business profiles. This format of professional profiles will have more dedicated tools and features that will enable businesses, entrepreneurs, and creators alike to use Twitter for work. These profiles come with updated profile options, including new information like address and contact information within the main profile and more.
Twitter is also experimenting with its 'Super Follow' button, which will enable users to provide users with exclusive locked content they need to pay to access. The platform may also add a 'Tipping' option that will let creators monetise their Twitter presence.
22. Facebook Has Started Suggesting Topics Within The Feed For Users to Follow
Facebook is looking to make the platform more enjoyable and convenient for users to use while also increasing engagement. The new prompts are based on the content you have consumed before. This makes the suggestions more relevant and interesting. The topical prompts or suggestions appear in the newsfeed, as a carousel, with a 'Follow' button below each topic.
23. Instagram is Working On New Story Stickers And Background Visuals For DMs
While Instagram is running high on the success of Reels, the platform is also constantly working to make the user experience more enticing by optimising other features like Stories and DMs.
The platform has introduced new stickers for Stories, including a link option where users can copy-paste a clickable link to their Stories.
Instagram has also added background visuals for Direct Messages. The most notable would be the Star Wars-themed background for chats that is in the works!
24. Instagram Adds New Tools To Prevent Repeated, Unwanted Contact And Abusive DMs
Instagram has constantly been working towards making the platform safe and abuse-free. On that account, Instagram has introduced the following:
Tools that will filter DMs with abusive language
Capacity to block people and prevent them from coming after you, using a different account!
Users will soon be able to see a 'Hide Offensive Content' option within which they can turn on the options to hide offensive message requests and comments.
Secondly, users will also be able to block abusive users' current and future profiles that they may create, thereby disabling them from contacting you through new and other profiles.
25. Reddit Announces New Audio Meeting Rooms 'Reddit Talk'
Following Facebook and Twitter, the next social media platform to tap into the audio-social trend is Reddit! The platform has announced the first look of its audio-social feature called 'Reddit Talk', which are audio rooms within subreddits. This provides users with another option to connect within the app. As evident from the first look, Reddit has a very Clubhouse-like feel, with the moderator of the audio-room having a larger avatar, followed by listener-participants of the room below, with smaller avatars. Currently, only moderators of subreddits can begin an audio meeting.
26. Google Search Tests Search Refinement Carousel For Hotel-Related Searches
Google is currently testing a new carousel on Search that lets users refine their hotel-related searches for a new destination. For example, when you search for hotels in New York, Google might, through a carousel, give you suggestions to look for hotels in New Jersey, or Hamburg, or someplace else.
27. Google Adds New Food Ordering Tab To Google My Business menu
Google has added a new 'Food Ordering' Tab to the Google My Business menu. With this tab in place, restaurants might be able to control or supervise how customers order food from them online.