The first quarter of the year just ended, and with it, ended a month full of interesting updates.
From Twitter letting people view YouTube videos from within the app, Facebook launching audio-only rooms, to Instagram launching Reels Remix, the month was full of interesting updates.
Here an entire list of New Things In Digital Marketing.
In case you missed last month's list of #NewThingsInDigital click here to read. Here are the new things in digital from the month of March.
List of the top 36 latest digital marketing updates in March 2021
1. Instagram is considering making Likes count optional for users
Instagram has been working towards making the Likes count optional for users for quite some time now. It started testing the option within a limited set of audiences. However, recently, the platform unintentionally extended the test to a larger audience, resulting in users freaking out with the absence of likes on posts. Instagram is looking to add an option to each post – asking users if they'd like to hide the Like counts. The platform aims to keep content more authentic while also preventing unnecessary comparison, which affects the mental health of users.
2. Twitter tests "Undo" option for published Tweets
For a long time now, users have always demanded an edit option in published Tweets to eliminate any grammatical errors. Twitter might not have provided the users with an edit option but is testing an "Undo" option that pops up and stays for about 5 seconds right after the user has tweeted. This gives the user the window to check their tweet and edit any errors before it gets published.
3. WhatsApp brings video and voice calls to Desktop App
WhatsApp's video and voice calls were available only on the phone version of the app up until now. The messaging platform has now launched its video and voice calling features on its desktop app. WhatsApp has said that throughout last year, they have seen a rise in the number of voice and video calls on the app. The expansion of these features to the desktop version of the app is to help people stay connected in more ways than one.
4. Twitter steps into eCommerce with new shopping CTA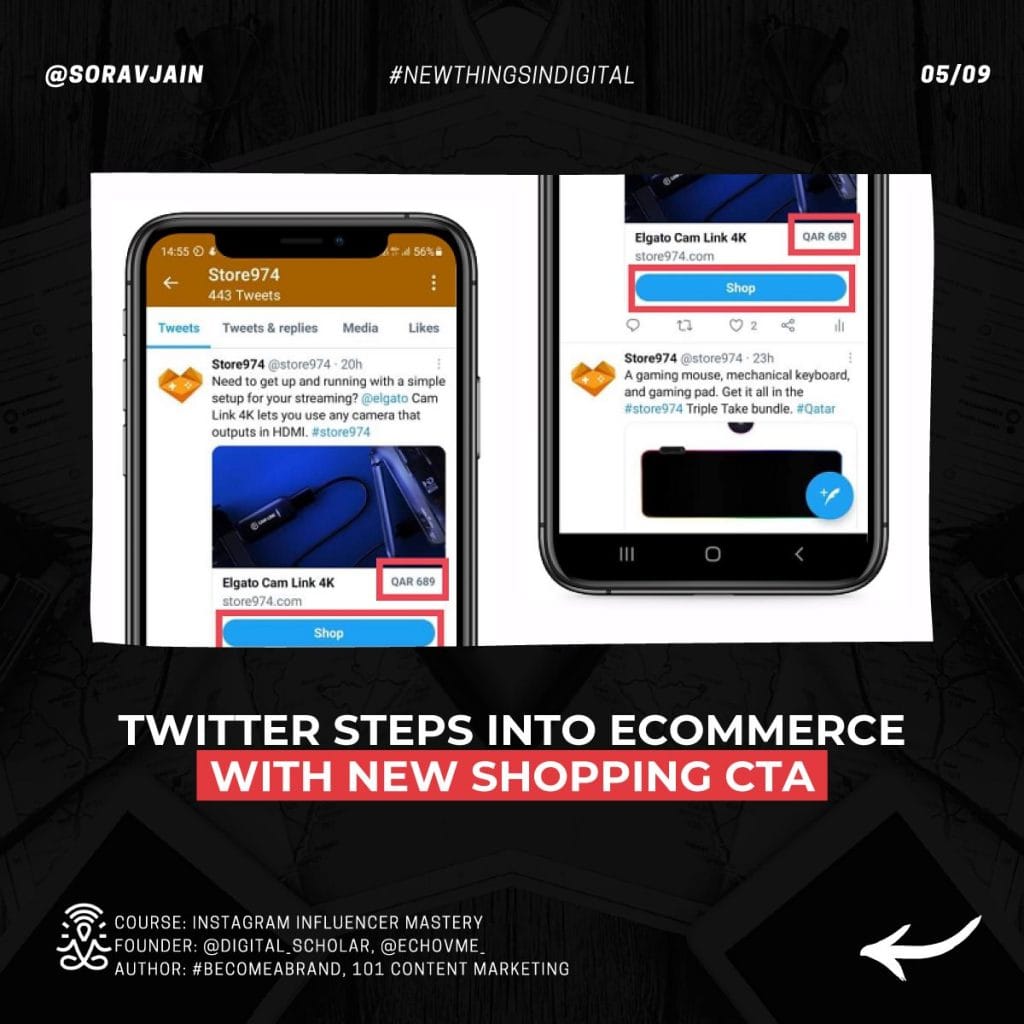 With eCommerce options constantly expanding on all social media platforms, Twitter is the next to join the bandwagon. The micro-blogging platform, in its Analyst Day presentation, announced that it is looking to introduce eCommerce options on Twitter. Currently, it is testing a CTA "Shop" that will be attached to product-related tweets and will lead users to the transaction page. The presentation also pointed at a string of other eCommerce-based developments on the App.
5. Facebook videos now feature in Google's Short Videos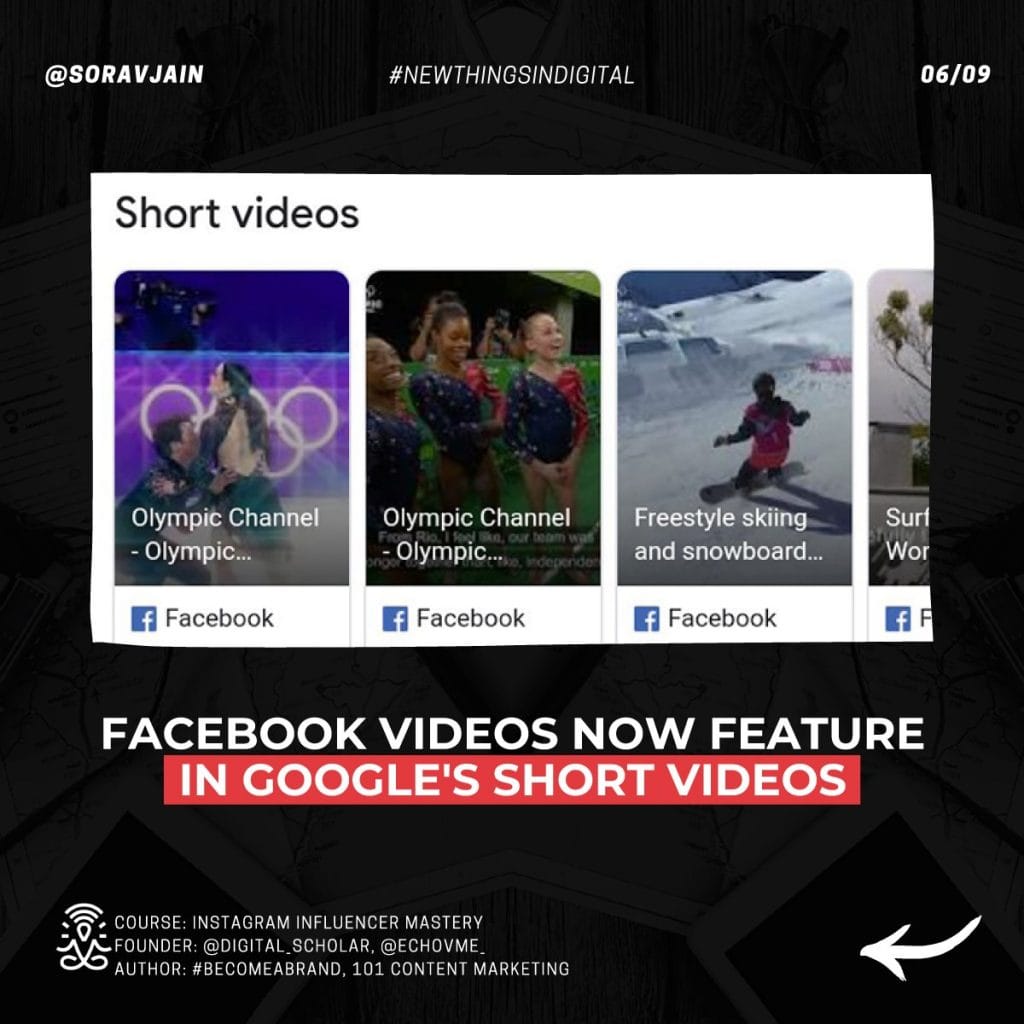 Initially, when launched, Google Short videos featured videos from YouTube only. Then, Instagram and TikTok videos were also spotted. The recent development on this front is that Google Short videos now also feature videos from Facebook.
6. Google tests the "See results that mention" feature on the left side panel
Sometime back, Google tested the "See results that mention" feature on the right side of the Search panel. Now, the search engine is testing the same on the left-hand side, along with the search results. Once you choose your filter, the results will be showcased on the left side of the panel.
7. Twitter launches Beta version of private audio Spaces on Android
With audio-based features taking the centre stage on social media platforms, Twitter is rapidly working on fully developing its clubhouse-like audio feature – Spaces. While the platform has been working on scheduling features on Spaces on the side, it is also reportedly working on private audio Spaces within the App. The platform has launched a BETA version of Spaces for Android users.
8. Facebook launches official test of sharing Instagram Reels to Facebook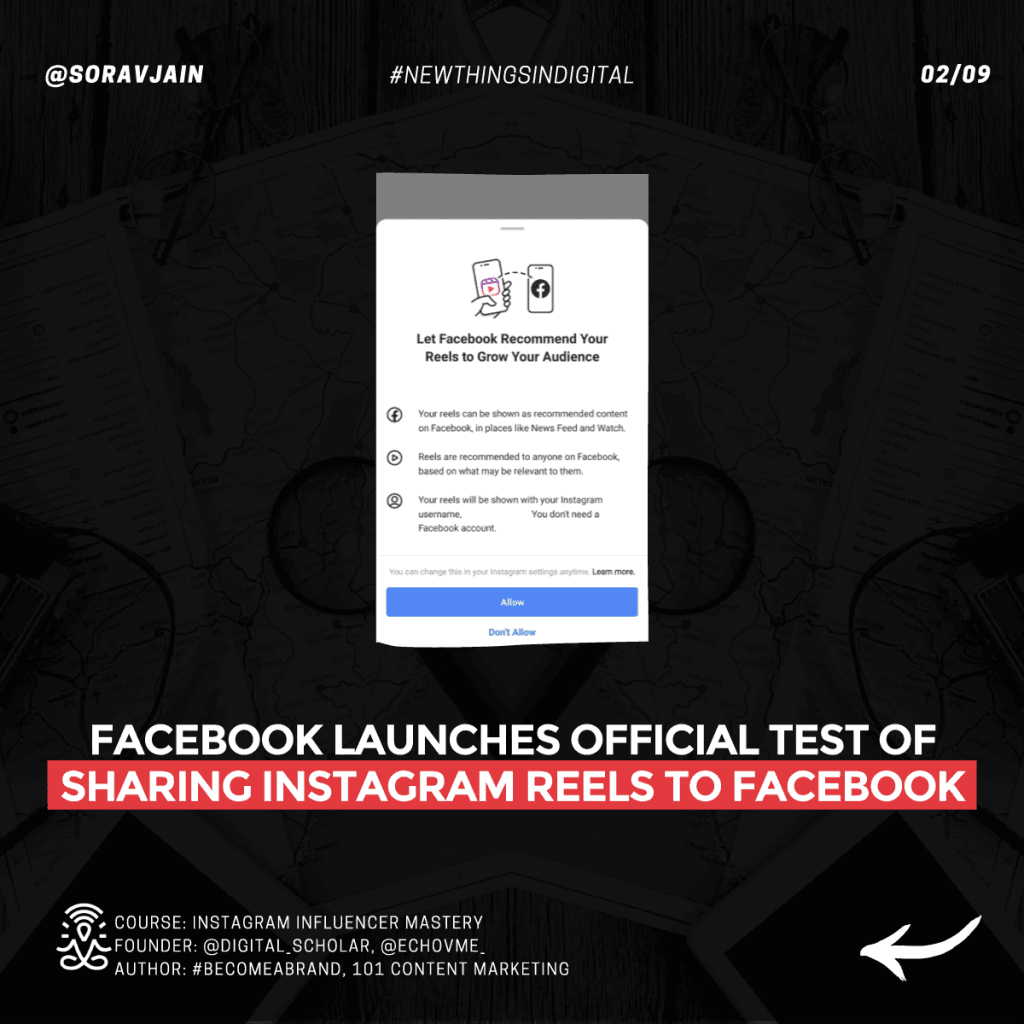 Facebook extensively introduced Reels on Instagram right when TikTok was banned and has since been working towards expanding the usage rate for the short video feature. After talking about it for quite some time, Facebook is officially launching its test to share Instagram Reels to Facebook. This option has been in limited testing for a while, but Facebook, at this stage, is specifically testing this option in India.
9. Advertisers can now control who can reply to their promoted Tweets on Twitter
Twitter earlier had added an option for users to control and limit who can respond and comment on their tweets. The micro-blogging site is now extending the same option for advertisers to exercise in their promoted tweets. Brands can now limit who can reply to their ads on Twitter. The platform has added the option in a drop-down menu in the ads creation window, where you can choose who can reply to your ads.
10. Instagram tests auto-captions in Stories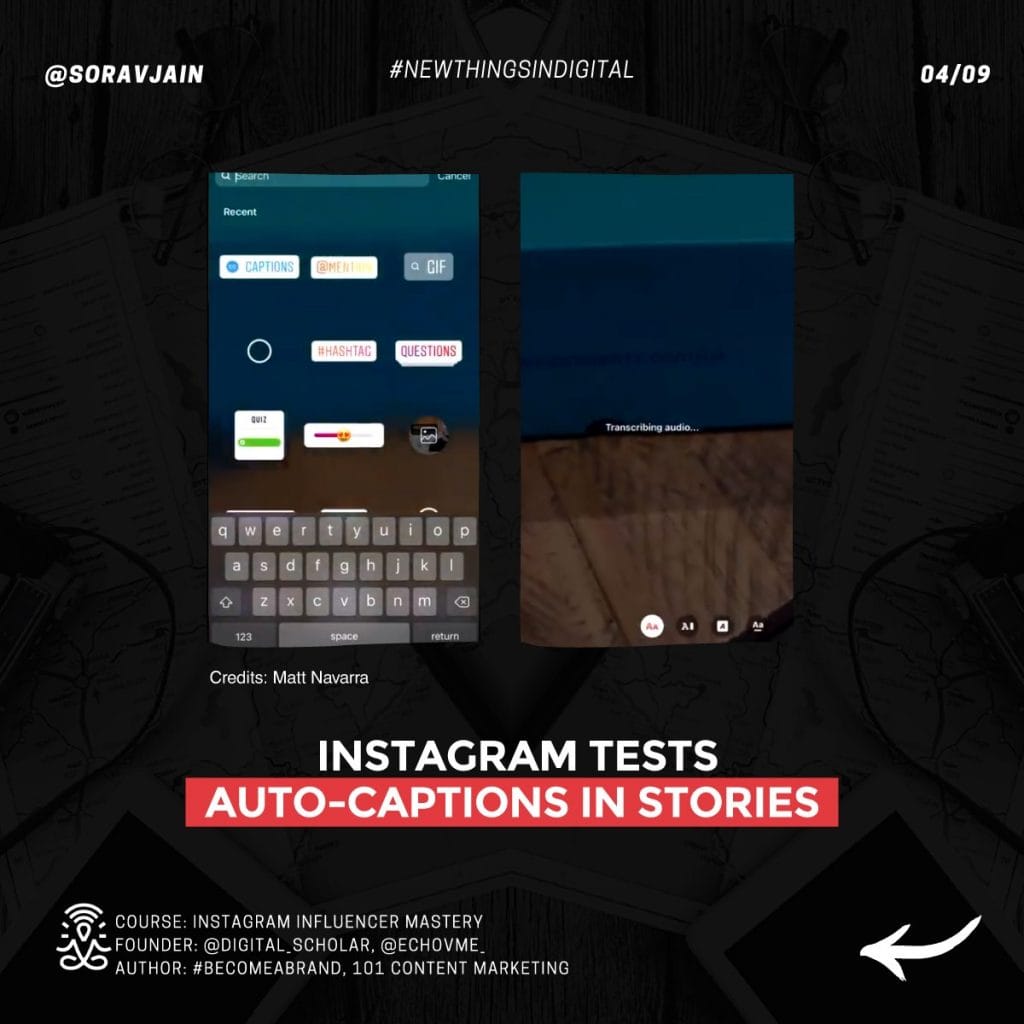 Instagram has now added the auto-captions option to stories. The platform is testing out a "closed captions" sticker to Stories, which will automatically generate captions to your Story videos. For the captions, Instagram provides four different font styles you can use on your Story, which you will be able to choose once Instagram is done with the transcription of your script.
11. Facebook adds "Holiday Mode" to Market Place
Facebook has added a new "Holiday Mode" to its Marketplace. This feature will help you pause your Marketplace listings if you are going to be away. This mode will let your customers know that you are unavailable, and you can pause your listing instead of removing it temporarily.
When on Holiday mode, buyers won't be able to converse/get in touch and place orders with you. This won't cancel or pause any ongoing or pending orders.
12. Facebook introduces ads in short video clips in new monetization options for creators
The new set of monetization options announced by Facebook focuses on short video clips. The options will enable creators to earn money through short videos.
Videos need to be at least a minute long, where "minimally interruptive" ads will run for 30 seconds. According to Facebook, for videos that are three minutes long or more, ads can run after 45 seconds. The test is currently limited, with Facebook looking to expand it to more creators.
13. "Full coverage" links officially added to Google Search
Google has announced that a "Full coverage" option will be added to Google Search's mobile version, starting with users across the United States.
It's been in the making since 2019, but Google has just given out an official confirmation. When you search for topical news on Google, you will first see a carousel on the results page, below which there will be a clickable button that says "More news on…" On clicking this, you will be redirected to a page filled with exclusive and most important updates on the topic.
14. Google updates direction icon on Local Results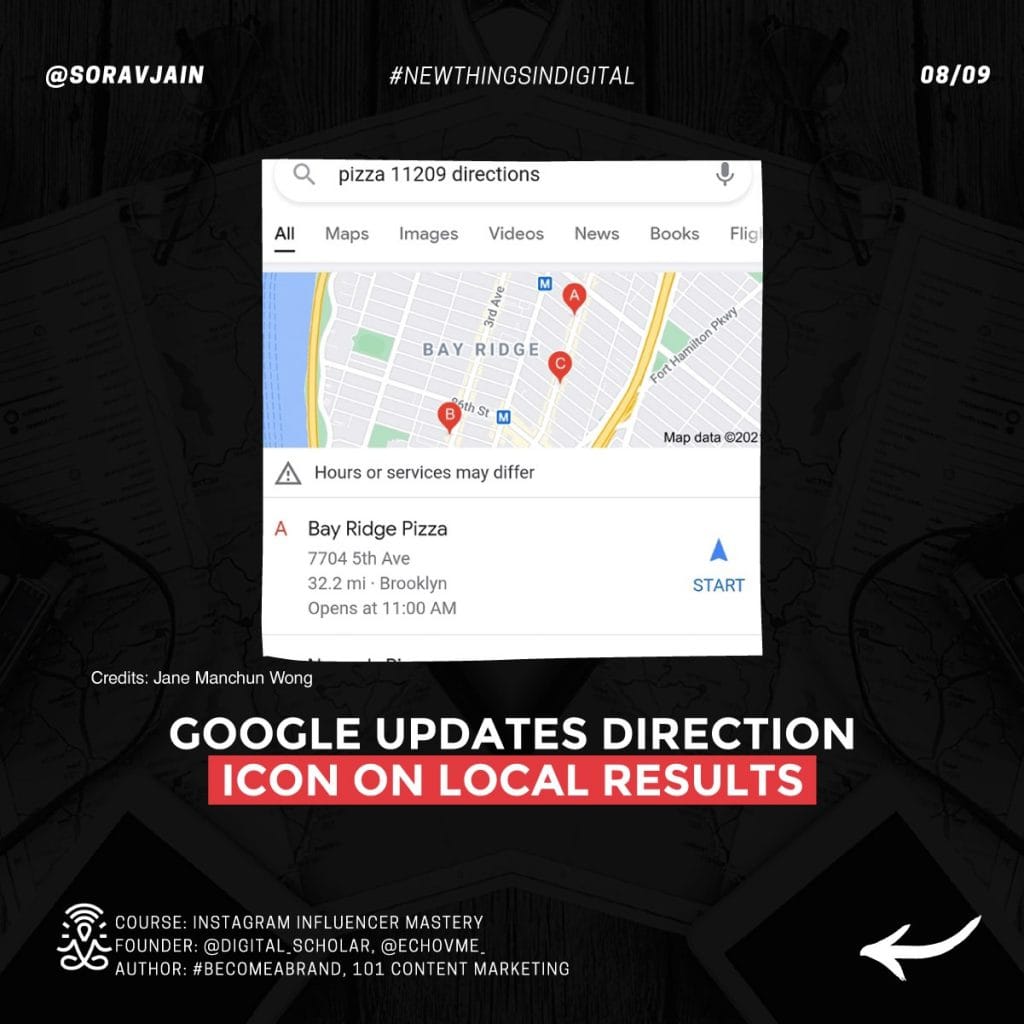 Google has now updated the direction icon on Local Search Results. Earlier, Google had a white arrow within a shape, but the updated icon, which is a straight-forward, upward-facing arrow, is simpler and neater.
15. Instagram looking to add new labels to show when a post is re-shared to Stories
Instagram is not for users sharing their feed posts on Stories and has been trying to keep them from doing so. In its latest attempt on this front, the platform is looking to introduce labels on the top left corner that would convey that the user has shared the post from their main feed to the Story. A similar label says 'Created with Reels' within the Story when the user shares Reels to their Story. These labels are to explain their origin to viewers/followers and are not a harsh imposition per se.
16. Twitter tests option to view YouTube videos within the platform
Twitter has announced that it is launching a test that enables users to view YouTube videos within the platform, without the App or the conversation. Up until now, the App allowed users to share clickable URLs, which they had to click and go through to YouTube to watch the video. But now, the in-stream option will be instrumental in boosting engagement, as users don't have to navigate through multiple apps to watch a video. At the same time, they can also actively engage in the conversation.
17. Facebook is working on launching audio-only Rooms
With the rise of the audio-social concept and social media platforms looking to tap into it most effectively, Facebook is running to catch up too! The platform is working on an audio-extension of its group video calling feature Rooms. Hence, it is not much of a stretch for the platform in terms of creating an audio-social feature separately. Known as Audio Rooms, the feature would enable users and admins to create public or private group chats.
18. Spaces to have a dedicated tab on the Twitter app
The development of Twitter's audio tool Spaces is happening in full swing, and the micro-blogging site is now working for the tool to have a dedicated tab within the App. This is a move towards increasing visibility for the feature so that users start putting it to use. The tab, when tapped, will take users through a full-listing of in-progress and dedicated Spaces features.
19. Twitter tests background options for re-sharing of Tweets on Fleets
Twitter is adding more visual options to its Stories-like tool Fleets. This would enable users to add videos and images to the background while re-sharing Tweets on Fleets via their camera or camera roll. The visual feature's addition will aid in increased response to Fleet, with more people wanting to use the feature on the platform.
20. Google My Business releases tool to manage your reviews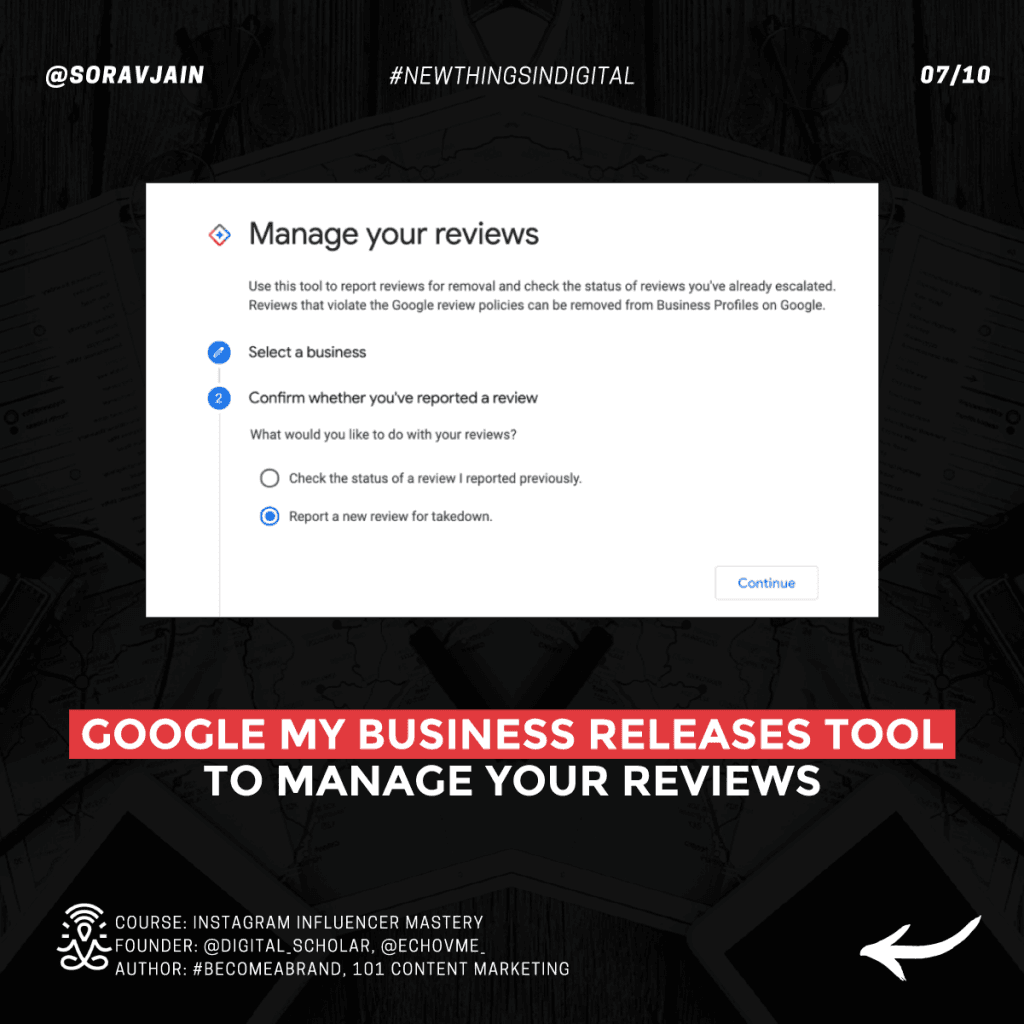 Previously, there was no real way to see the status of reviews you submitted for a takedown in an organized fashion. The newest feature within Google My Business allows local SEO practitioners to see recent reviews on their listings in a single place and check the status of reviews they reported to Google.
21. After a tumultuous 2020, Google blocks 3.1 billion ads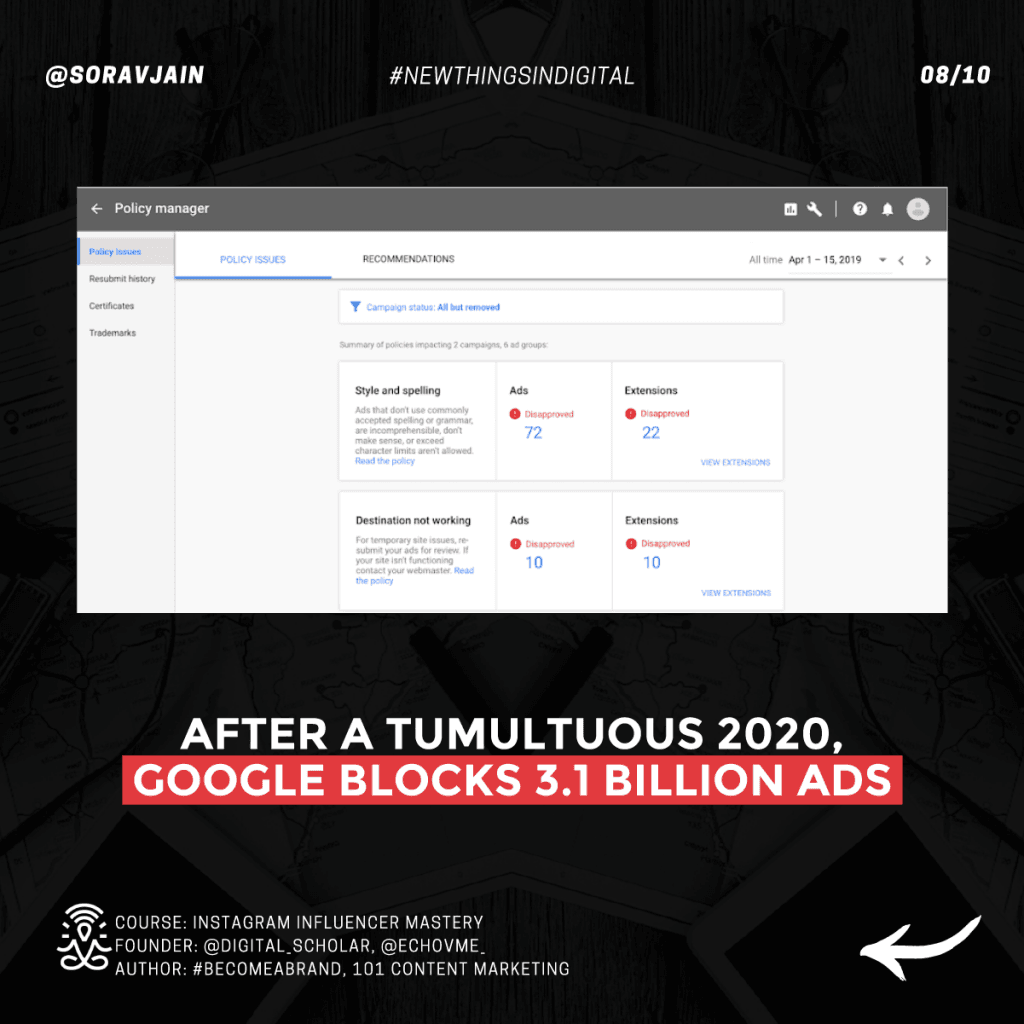 The report lists misinformation around COVID-19 and the political climate as well as ad fraud as top concerns last year. It's been a turbulent year for marketing, and Google's latest Ads Safety Report reflects the trends advertisers have been noticing and adjusting to for a while
22. Featured snippets went missing but have now returned
Around February 19th, Google started to show significantly fewer featured snippets in its search results. Then, last Friday, March 12th, featured snippets returned to normal levels.
23. Instagram announces draft feature for Stories
Instagram has announced that it will soon launch a draft feature for Stories. This will enable you to save your Stories to drafts, and you can post them at a later stage. According to Instagram, drafts have been a commonly requested feature. This feature will immensely help brands that have recorded a story through the app but want to post it at an optimum time. Up until now, it is possible to save Stories either to your device or through third-party apps that Instagram does not facilitate. But with the drafts feature within the Instagram app, the content creation flow will be easier and simpler.
24. Facebook is testing the 'Green Screen' creation feature for Facebook Stories
Facebook is testing a Green Screen option as part of the Stories creation tool. Creators can record a video with the green screen tool and later add pictures and videos from their device's camera roll. This will be added to the background of the story. The feature that originally comes from Instagram will help popular brands and personalities create a wider variety of content. Facebook's green screen option is available to a limited audience since it is in testing mode.
25. Instagram tests 'Quick Reply' stickers on Stories
Instagram is working on a new option where users will be able to respond to Stories using a whole new range of stickers. This gives reactions to Stories a fresh take altogether. Up until now, reactions to Stories have been limited to a set of 6 basic smileys. This update enables the users to be more expressive in reacting to Stories.
26. Instagram launches limited test of 'Remix' option for Reels
Instagram is working on an all-new 'Remix' option on Reels. It's not a surprise that the option, which was a hit on TikTok, is being added to Instagram Reels. The option 'Remix this Reel' is appearing for some users as it is being tested with a limited audience. Once selected, users can add a reaction clip to the Reel, which will be played as a parallel to the original clip.
27. Google is testing a "Not Helpful" button on Google Local Reviews
Google is testing a 'Not helpful' button within listings on Google My Reviews. Though launched five years ago, Google is right now displaying it on listings. As per a forum discussion on Twitter, the search engine might show both a 'helpful' and 'not helpful' option.
28. Google tests replacing 'Message' button with 'Chat' button on Google My Reviews
Google's local panel allows you to message and chat with those business owners who have enabled the option on Google My Business. Previously called 'Message', Google is now displaying a renamed option – 'Chat'.
29. Twitter is developing 'Community' tools for tweet sharing with a select audience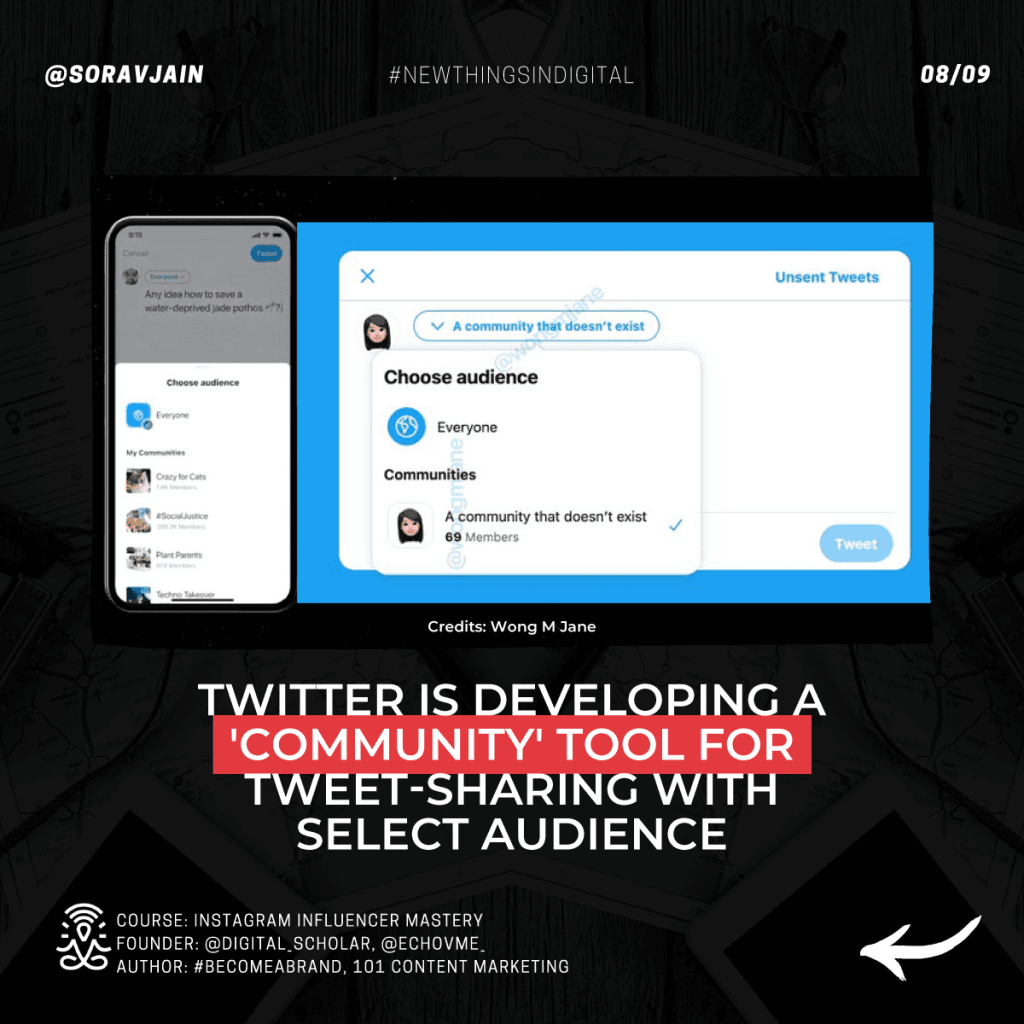 In its analyst presentation, Twitter discussed the development of a 'Community' tool that would allow users to share tweets to select subgroups of users. This can help users engage in a wider breadth of topics and have more \mmeaningful conversations with like-minded people without being worried about boring their followers with tweets.
30. Twitter working on "Safety Mode" to manage on-platform abuse
Twitter, in its Analyst Day presentation, announced that it is working on an anti-troll feature to better manage on-platform abuse. The feature called "Safety Mode" will alert users when their tweets get negative attention. It also has the 'auto-block and mute' option, which will automatically block any accounts that have been sending abusive or rude replies for over a week.
31. India implements strict rules for enforcement actions from social media platforms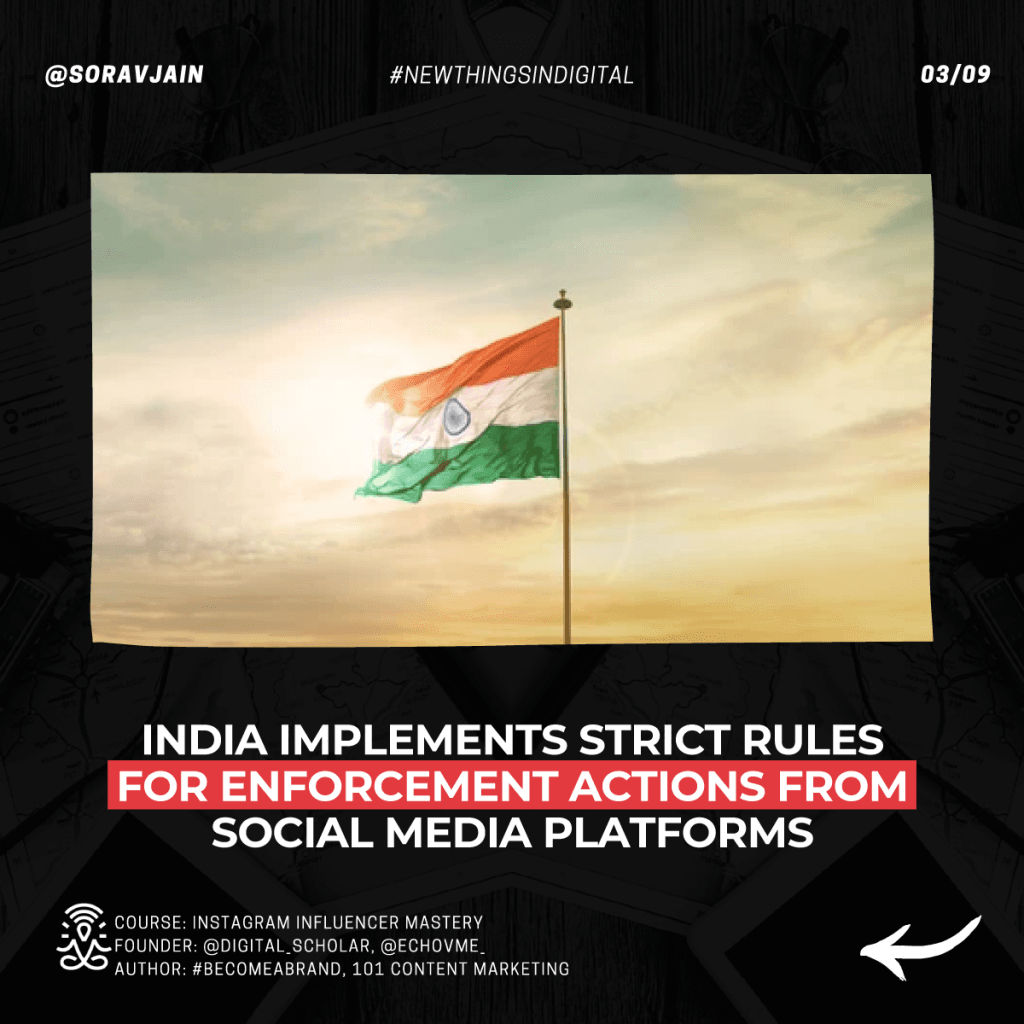 The Indian Government has unveiled a set of enforcement requirements from social media platforms.
According to TechCrunch, the following are the requirements highlighted by the Indian authorities:
Social platforms to acknowledge takedown requests of unlawful, misinformation and/or violent content within 24 hours
Platforms will need to deliver full action and response to any such requests within 15 days
In cases involving explicit sexual content, platforms will be required to remove the content within 24 hours
Platforms will also need to disclose the originator of objectionable content (WhatsApp has previously noted that its encryption processes will not be able to accommodate this)
In addition, the platforms will also need to appoint compliance officers, and each company will also need to set up a local office in India to establish a direct connection.
32. Twitter adds stickers and "Twemojis" to Fleets
Twitter has added its first set of visual tools to its Stories counterpart Fleets. Currently available to users in Japan, the platform has added stickers and Twemojis. The emojis resemble the usual ones present on the keyboard and can be replaced using the ones in the text tool, but the stickers are a more organic variation that you can place and move around.
33. LinkedIn adds Content Recommendation & Lead gathering options to Company Pages
LinkedIn is adding new tools to help brands boost their organic reach for promotions on the platform. The first addition is the "My Company" tab on the company page. This will include "Recommendations" and "Content Suggestions" listing, which will enable businesses to facilitate direct sharing of relevant posts and increase internal engagement among internal employees. The platform has also announced that Lead Generation forms will be integrated into the Product Page for free, which will drive more high quality leads for pages.
34. Google tests playing videos as overlays in Search
Up until now, Google redirected people who clicked on YouTube and other video links to their respective pages. Now, Google is testing playing videos as overlays on Google Search instead of taking users to the host site.
35. Google will discontinue Showcase Shopping Ads on April 1st
Effective from April 1st, Google has announced that it will remove Showcase Shopping ad groups and stop serving ads. It has also said that the ad layouts like merchant carousels are now part of the Product Shopping ad groups. These product ad groups may dynamically feature products in new layouts, which will increase ad traffic.
36. Google tests displaying auto-suggestions on scroll-up
Google is testing popping up and displaying auto-suggestions and auto-complete search terms when the user scrolls up back to the top of the search results. It might not be the best move in terms of user experience, but it is a test anyways.