With the rising heatwaves of April came some of the hottest trends from our favorite digital marketing platforms. Right from Twitter's Unmentioned option, Instagram extending the character limit for its bio to Facebook's option to ad music in comments, and YouTube's Shorts ads, there have been big developments in the world of digital. Here is the entire list of #NewThingsInDigital for the month of April 2022.
In case you missed last month's list of digital marketing updates clicks on the link. Digital Marketing Updates for the month of March.
34 Latest Digital Marketing Updates in April 2022
1. Instagram adds quick replies and music sharing options in DM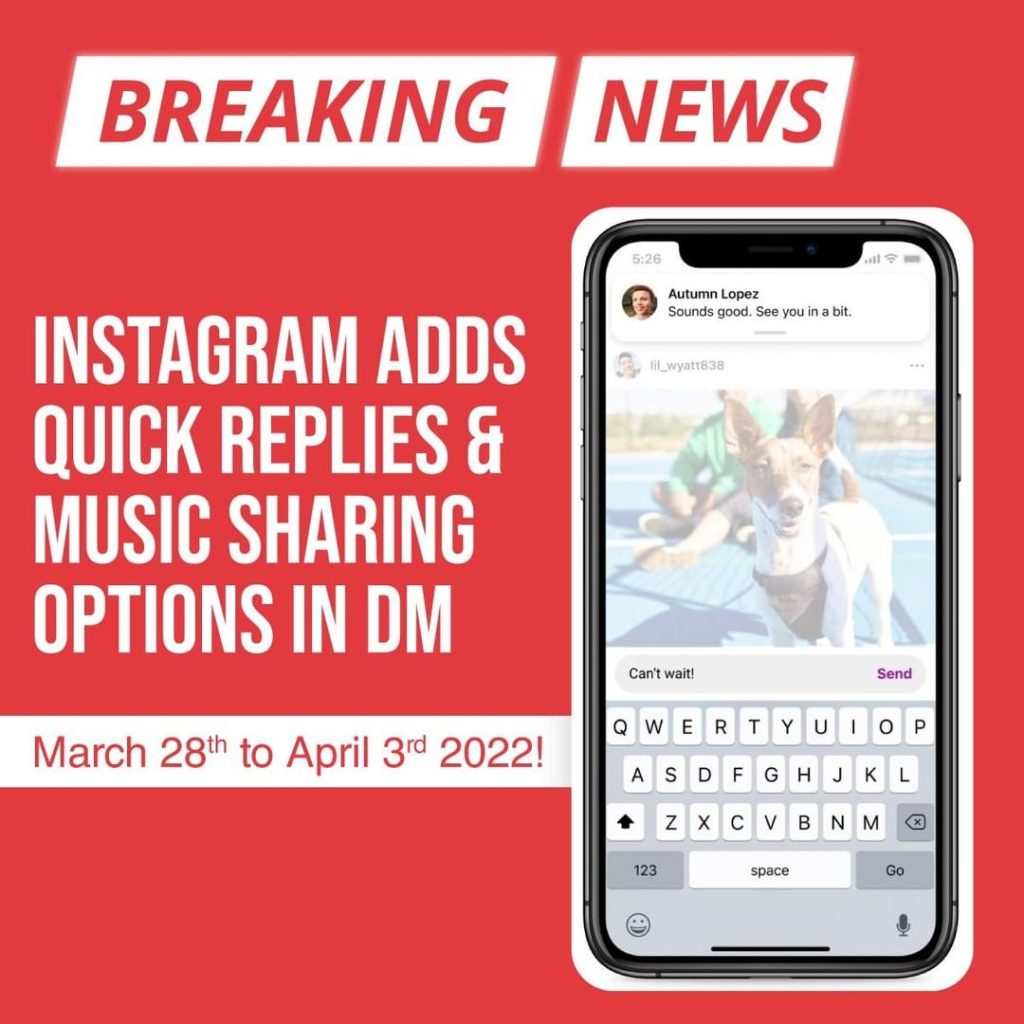 Instagram is looking to offer users an enhanced messaging experience within the app. The social media platform has rolled out two important updates for Direct Messaging on this front. First off, the platform has added a 'quick replies' option that it is calling the 'reply while you browse' option. This will allow you to reply to messages on Instagram while browsing feeds/profiles within the app, eliminating the necessity to tap through the message and continuing with the interaction on the DM's chat window. In addition to the quick reply option, the social media application has also added a quick send option – this will enable you to send a post to your closest friends upon long-pressing the send button on the post – offering you an uninterrupted browsing experience.
The next notable update is the option to share music via Direct Messaging on the app. According to Instagram, "Enabled by integrations with Apple Music, Amazon Music and Spotify coming soon, you can now share a 30-second preview of that song you just can't get out of your head, and your friends can listen directly from the chat window." This could make it easier for users to share music with their friends on Instagram. With music discovery growing to be the 'in' thing, Instagram could potentially tap into this trend while also increasing music engagement on the app.
2. WhatsApp announces new audio messaging features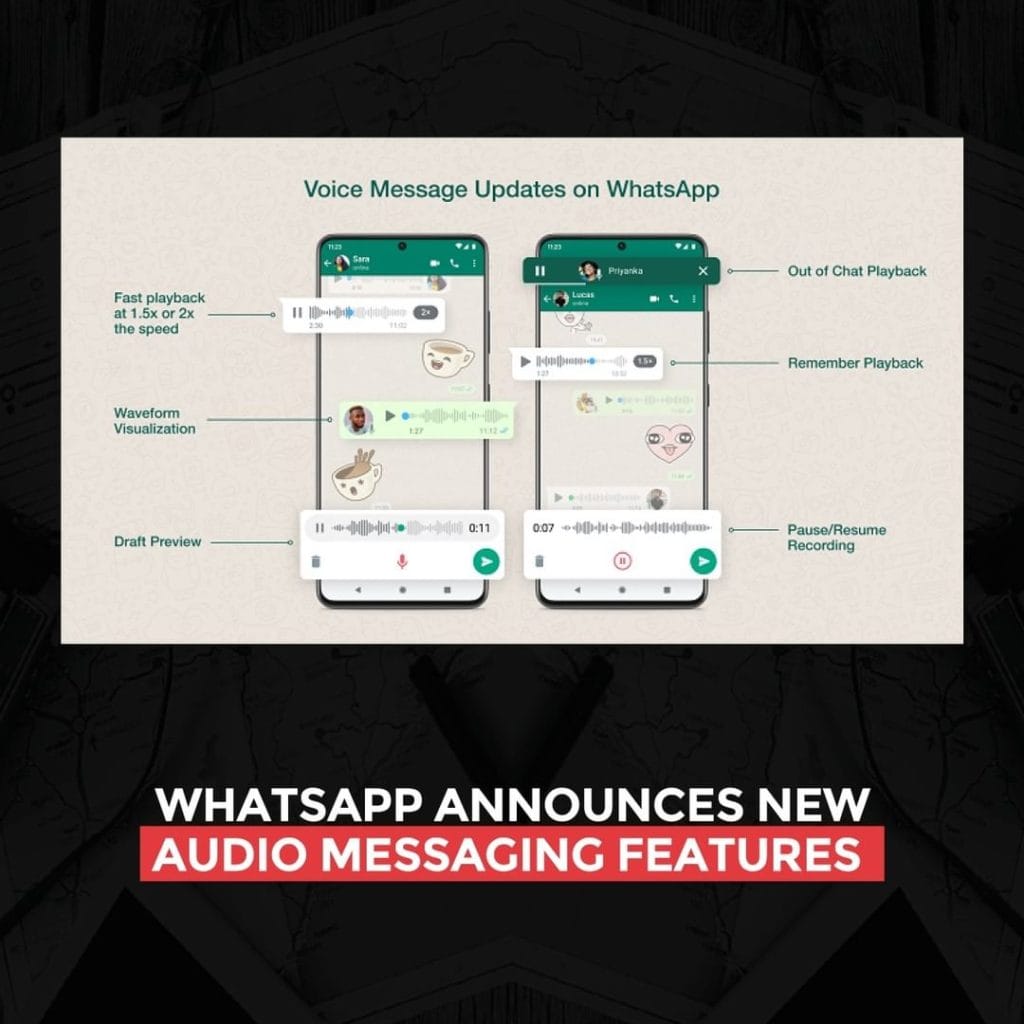 Audio-social tools are gaining increased popularity, with more and more social and digital media users using voice messages across social media apps like Messenger, Twitter, and more. Voice messages on WhatsApp are also extremely popular, with 7 billion voice messages being sent on the app on a daily basis! The application has hence announced a range of audio messaging features in order to provide users with an improved audio-social experience within the app.
The updates include:
– Out of chat playback: This will allow you to listen to voice messages even when you are out of the user's chat window, so you can engage with audio messaging while browsing and responding to other messages within the app.
– Pause/resume recording: With this option, you can now pause your recording and resume when you are back and ready in case of any interruptions.
– Waveform visualisation: The audio messages are more visually enhanced now, with a wave-like visualisation on the voice message that will help the recording.
– Draft preview: You can now listen to a preview of the voice message you have crafted before sending it out to the intended user.
– Remember playback: Resume from where you left off after you have paused a voice message.
Fast playback on forwarded messages: WhatsApp now allows you to play voice messages at different speeds, including 1.5x and 2x on both regular and forwarded messages.
These are some of the updates that WhatsApp has rolled out that are sure to provide you with a more interactive audio messaging or social experience within the app.
3. Instagram adds updated editing tools for Reels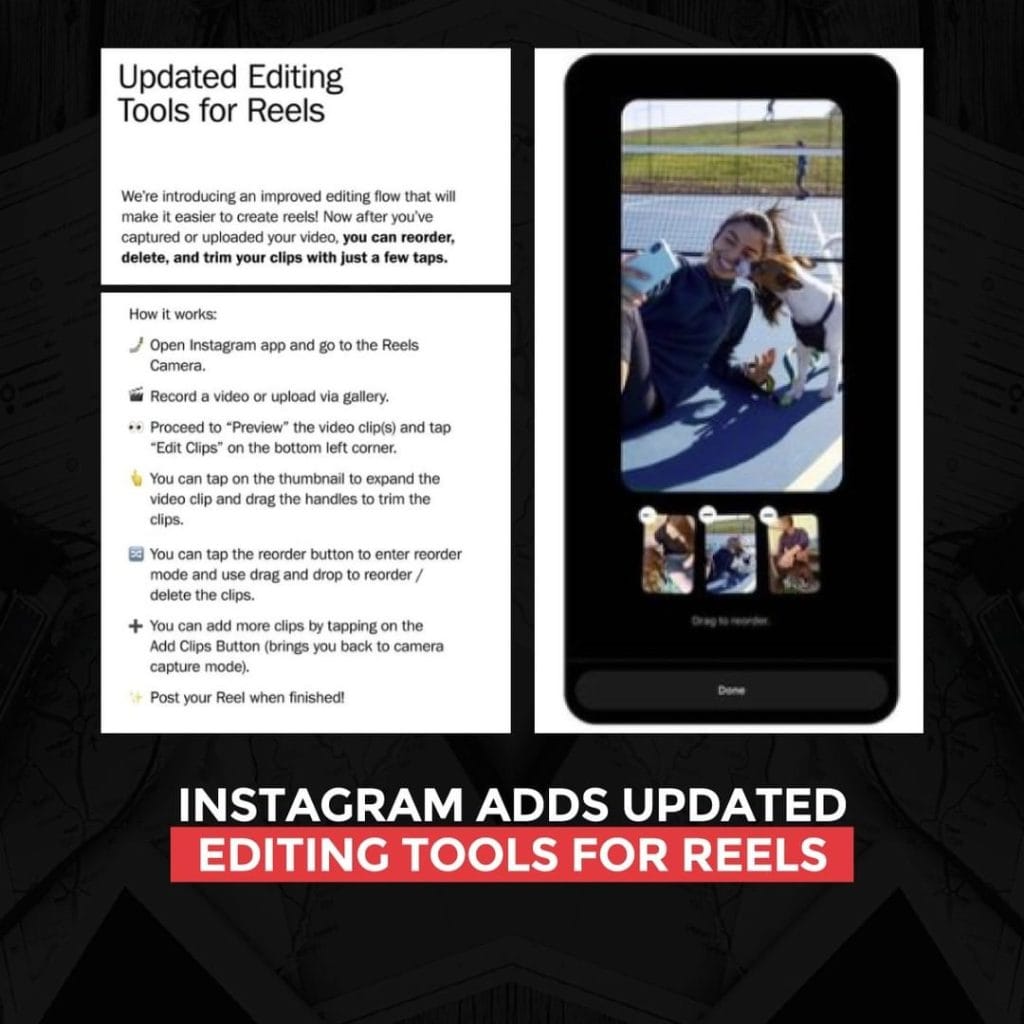 Reels as a feature has created waves on Instagram, shooting up user engagement on the platform by leaps and bounds. To offer an improved user experience and to make it easier for users to edit their Reels, the social media platform has rolled out a set of updated editing tools for Reels.
The new editing flow lets you tap on the thumbnail and specifically cut down any segment you want to trim off. The update also comprises a new 'Re-order Mode' that allows you to re-arrange (or even delete!) the reels clips as per your needs, thereby making the editing process more straightforward.
Though small, this can be a handy update for people who extensively use Reels on Instagram.
4. Twitter makes Professional accounts open for all users
Twitter's Professional account format has been making the rounds in the digital/social world for quite some time now. The latest update on this front is that the microblogging site has made its Professional Account open for all Twitter users.
Twitter Business's official handle put out a tweet announcing the same. The tweet read, "🌎 Now globally available for everyone; Professional Accounts are a new tool on Twitter that allows you to have a unique and clearly defined presence on the platform."
Users can convert their account to a Professional account through their account settings. Once you have been through the conversion process, you will have access to a range of new and exciting features that Professional accounts come bearing. Some of these features include a new business information display, newsletter (Revue newsletter), product listings, and much more.
You don't have to wait for Twitter to convert your profile to a Professional Account. You can easily get this done through account settings.
5. Messenger adds shortcuts to enhance communication
Meta has constantly been making tweaks and adding features to its range of apps to provide users with a wholesome experience. Messenger has rolled out a range of shortcuts to enhance communication. These shortcuts are simply commands that make announcements, payments, and activating various functionalities easier for users.
These commands come in two forms – '@' commands and '/' commands. For example, you can use the @ command to address a specific person in a group and communicate with them. You can also use the command @everyone to make a general announcement addressing the entire group.
According to Messenger, "When you start a message with @everyone, all participants in the chat will be notified. @everyone is perfect for group reminders, impromptu get-togethers or when you need to gather the brain trust to crowdsource an answer to a time-sensitive question. This way, your message gets maximum exposure, and nobody misses out."
There is a string of '/' commands that help you perform different actions. Some of the commands include:
/silent – This command will enable you to silent notifications for your messages on the chat/group.
Messenger has also announced a few more:
/gif – when you type '/gif' and a topic of your choice – Messenger will then provide you with a range of GIF options you can choose from for your message.
/Pay – This is a simpler way to make payment and payment requests in groups.
/shrug and /tableflip – These shortcuts will automatically add the 'shrug' and the 'table flip' emojis.
These are some of the exciting 'shortcut' features that Messenger has rolled out to make the communication process more straightforward.
6. Twitter tests interactive ad formats to enhance the promotional appeal
Looks like Twitter is shifting a part of its focus on in-app promotions with its recent test of interactive ad formats. Normal users might feel that the feed has become more commercial, but this is a step from Twitter to enhance the app's promotional appeal. The microblogging site is currently testing three interactive ad formats –
Interactive text ads: This will enable advertisers to link their website or landing pages to select words within the ad copy.
According to Twitter, "These ads will appear with a larger, bolder typeface than the standard Twitter font in the timeline. Advertisers can highlight up to three words in their ad copy that, when clicked, will drive consumers to landing pages chosen by the brand."
Product explorer ads: These ads will present a 3D representation of the product in the promoted tweet, allowing users to touch, zoom, rotate, and swipe to get a full view of the product being promoted.
Collection ads: brands and advertisers can display a 'collection' of images along with the main image in the promoted tweet. What's notable here is that each image can direct the user to a different website or landing page.
According to Twitter, "Brands can display a primary hero image with up to five smaller thumbnail visuals below. The primary image remains static while consumers can browse through the thumbnails via a horizontal scrolling experience."
7. All users can now tag products in feed posts on Instagram
What was restricted to just public profiles, influencers, collaborators, and 'approved' creators, is now open to all users. Instagram will now allow all users to tag products in feed posts on the platform. This update comes as part of Instagram's e-Commerce push or expansion. Users can now provide a direct link to products and brands available on Instagram.
According to the social media platform, "Scored a new pair of earrings from a small business you love? Tag the product in your Feed post so your friends and followers can learn more about the earnings and shop them!! People come to Instagram to share and discover trends and inspiration. Product tagging will make it possible for anyone to support their favourite small businesses, share how they styled their looks along with the products they used, and more."
This update can do wonders for brands and businesses, offering them free publicity with a chance of potentially increasing their sales within the app. This update can also influence the user behaviour (with regard to e-commerce) on the platform.
8. Google rolls out Audio Knowledge Panel in regional language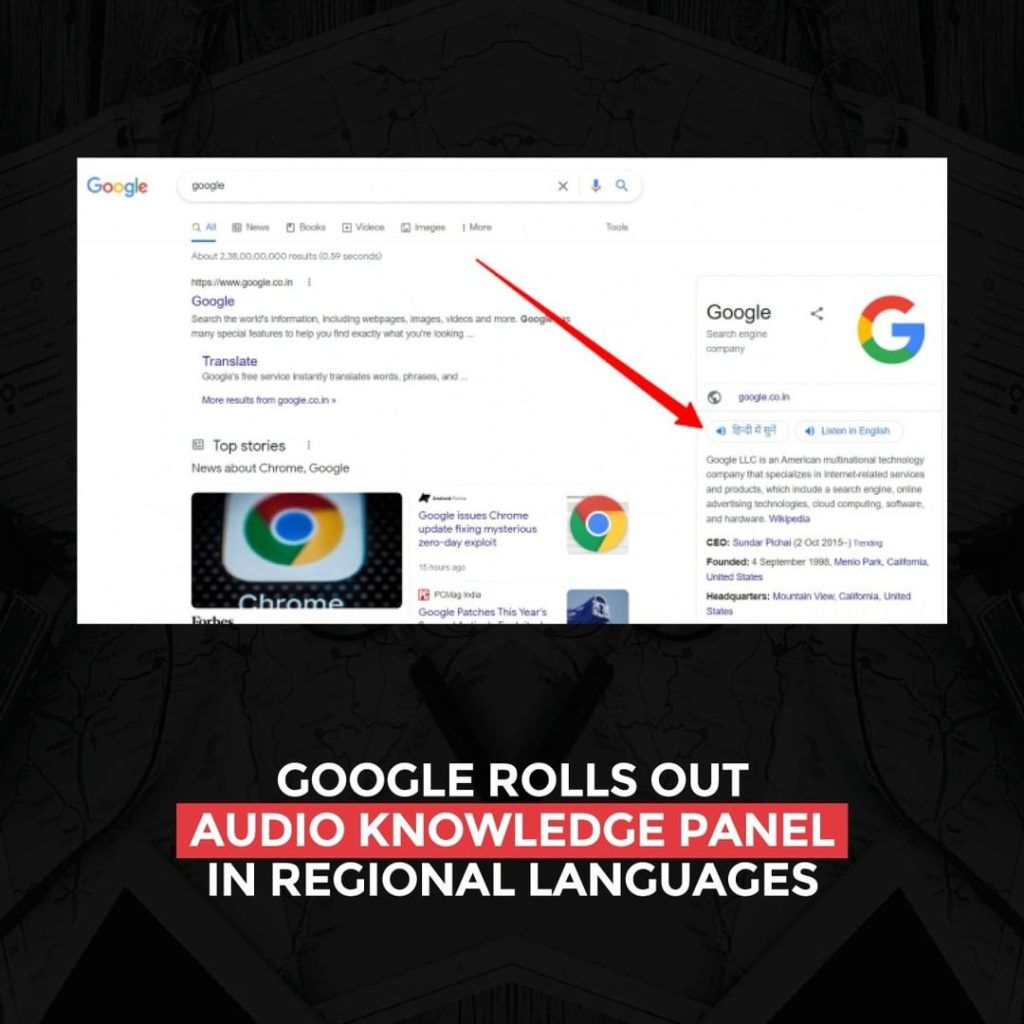 Google has rolled out what is called the Audio Knowledge Panel in regional languages. The Audio Knowledge Panel is nothing but the audio feature that appears in the Knowledge Panel on the Search Engine Results Page (SERP). The panel will play the audio clip in both English and your local languages.
9. Google Search makes Stock recommendations for purchases
'Stocks to buy now' is a legitimate title for a section that Google displays when you make a search query on stock – 'inflation stocks'. This update is part of the 'related searches' feature and might end up being dangerous for both the search engine as well as the person searching.
10. Meta rolls out the 'Share to Reels' option to third party developers
Once integrated, third-party apps will have a Reels button so people can share short videos, then customize them with Reels editing tools.
11. Instagram removed its in-stream video advertising options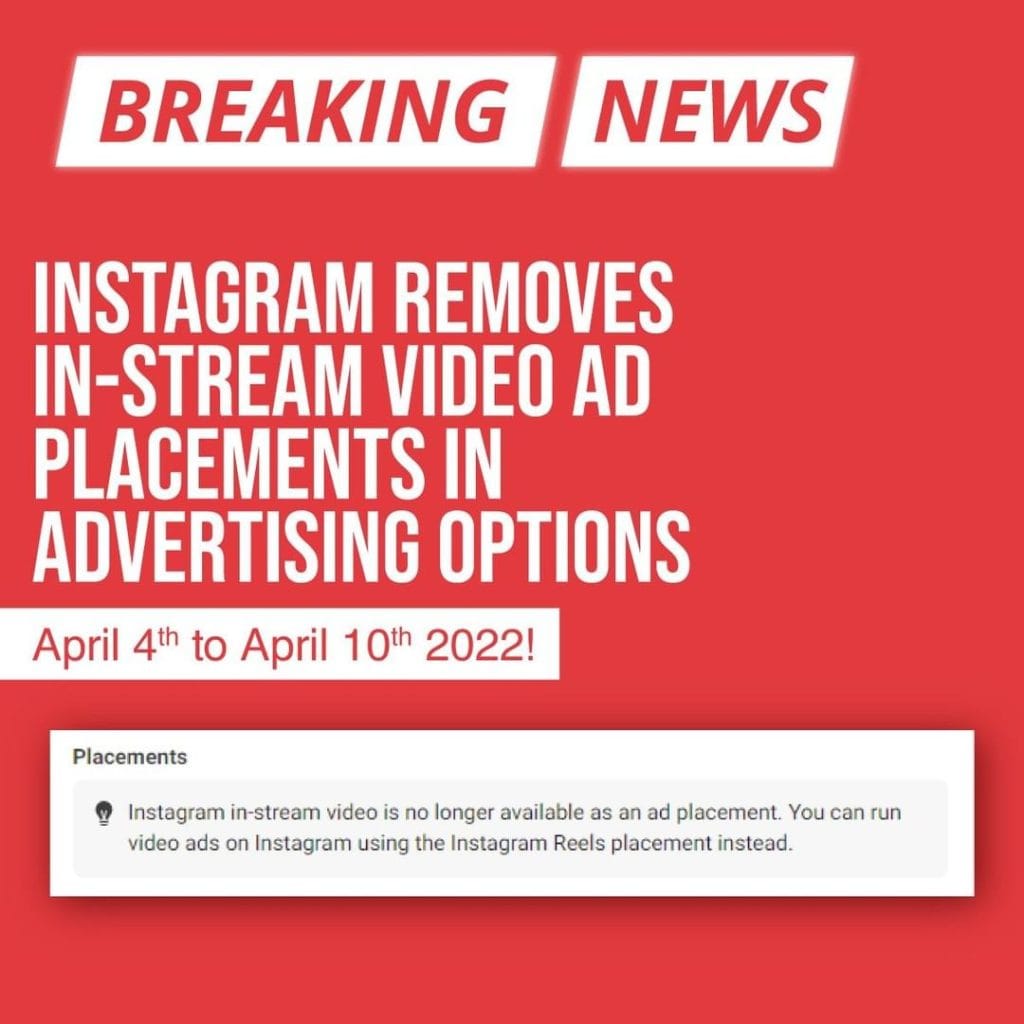 AdWords partners are now informed that in-stream video AdWords are no longer an option in the app.
12. Twitter's test of the 'Unmention' option in its initial stages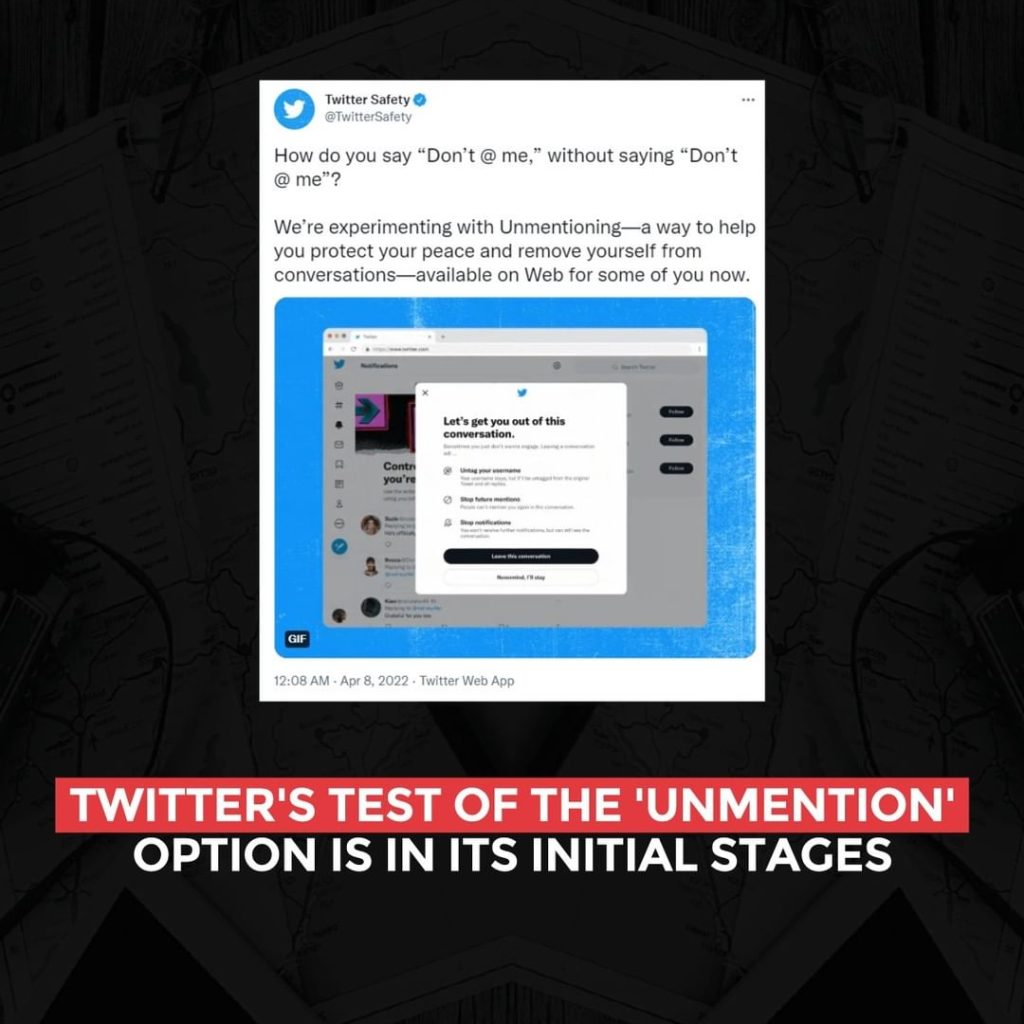 This will enable users to remove themselves from conversations if they no longer feel comfortable being involved.
13. Twitter is testing an option to update and display status within tweets
This would enable you to note where you are, how you're feeling, what you're up to, etc.
14. Google will now automatically update Local Listing Hours on Maps and Search
Google said it looks at a number of things such as popular times (real-time user location data), the hours posted by your storefront via street view imagery, and more.
15. Google rolls out 'Multisearch', a new search mechanism that uses Lens
With this feature, users may search using an image and then refine their search with a text query.
16. Twitter confirms that it is working on an edit button
It seems that Elon Musk is looking to use his newfound sway as the company's biggest shareholder (and latest board member) to make tweet editing a reality.
17. Google announces a new 'Recycling' attribute for Google My Business profiles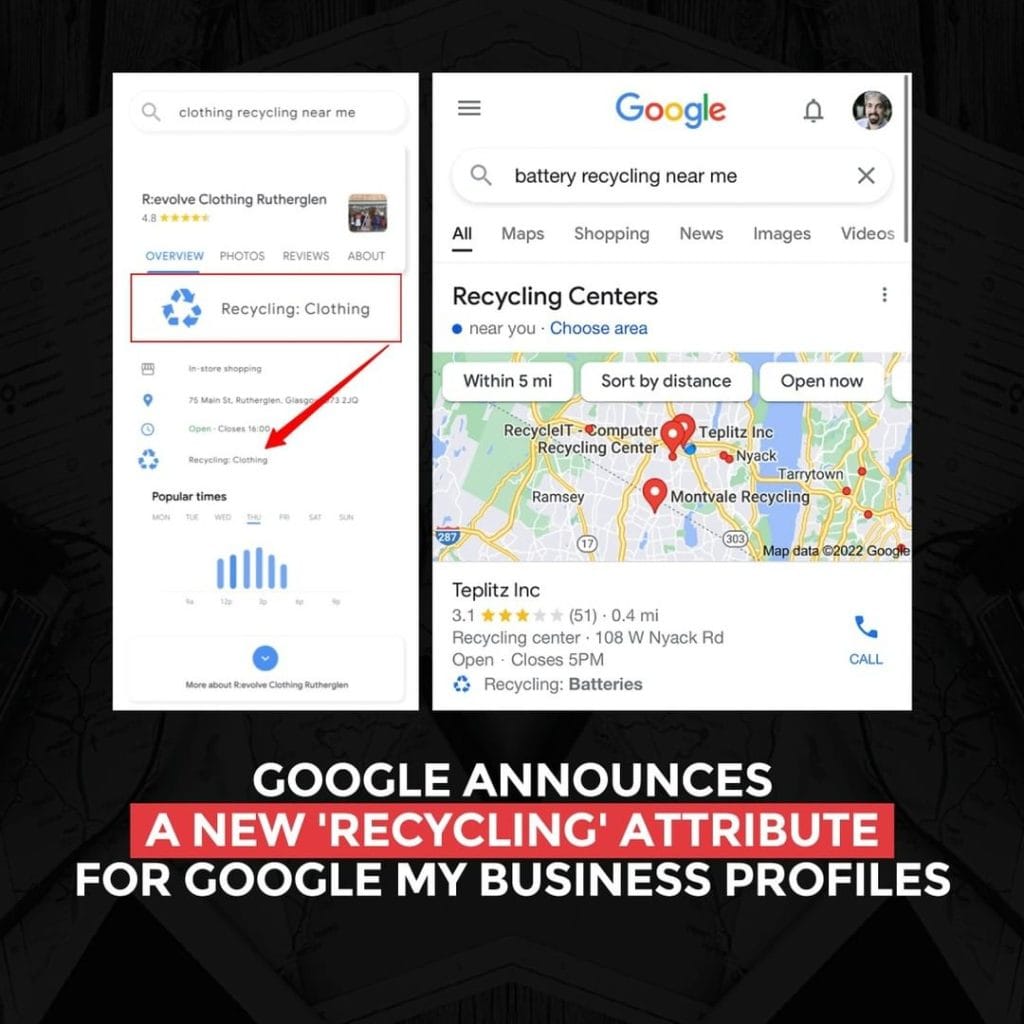 With the addition of a new recycling attribute to a merchant's Business Profile, people can find nearby recycling points on searches and maps easier than ever before.
18. Instagram tests extending the character limit for the name in the bio

To date, the character limit for the name on Instagram is Instagram is 30.
19. WhatsApp announces 'Communities' to improve group chats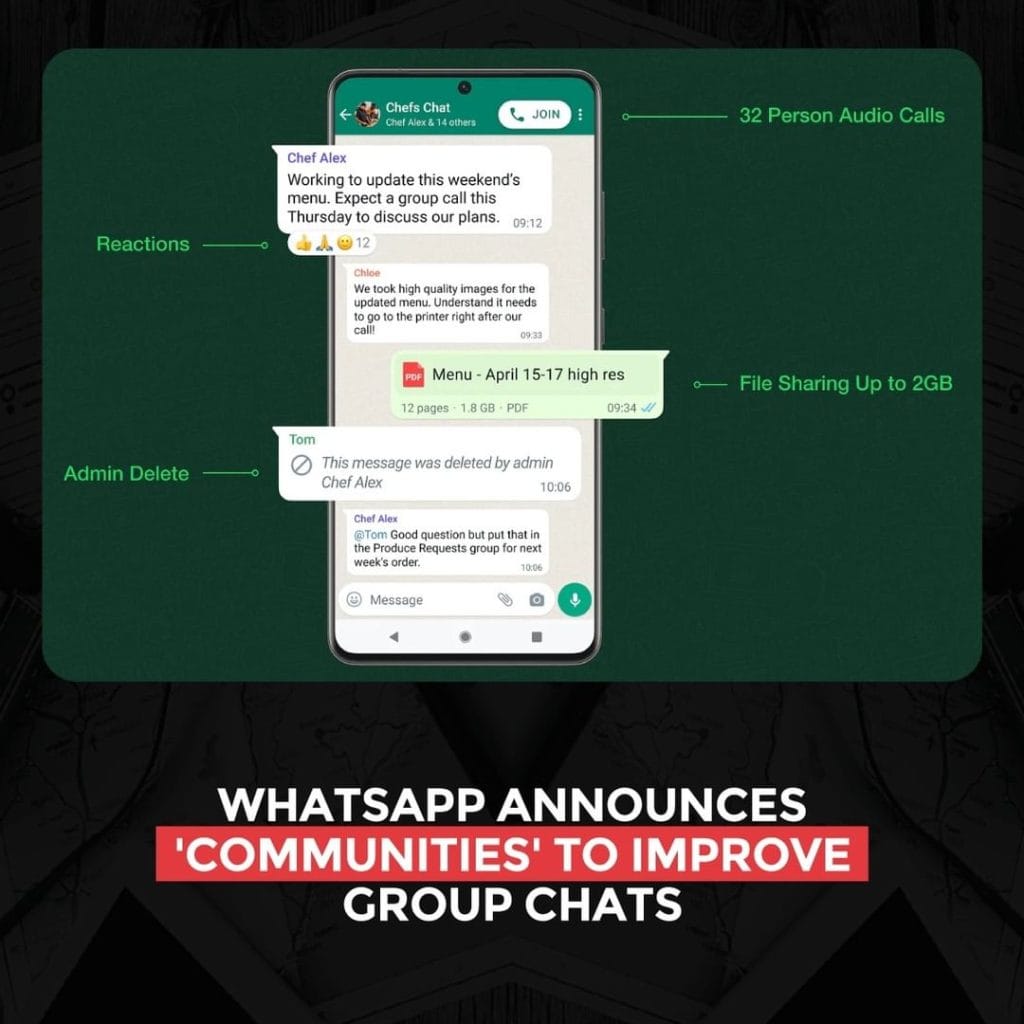 Users will be able to receive community updates and easily organize small discussion groups on topics they care about.
20. YouTube rolls out new 'Search Insights' for all creators
This will provide new data points to help you refine your YouTube strategy based on what people want from the app.
21. Instagram launches new 'Use Template' feature in Reels
Upon clicking 'Use Template', you can use the template used in the Reels you just viewed.
22. YouTube introduces new options for automated captions
There's a new option to add a 'Subtitles editor' role within the app so that you can grant access to a third party to manage subtitles on your clips.
23. Twitter launches improved image descriptions globally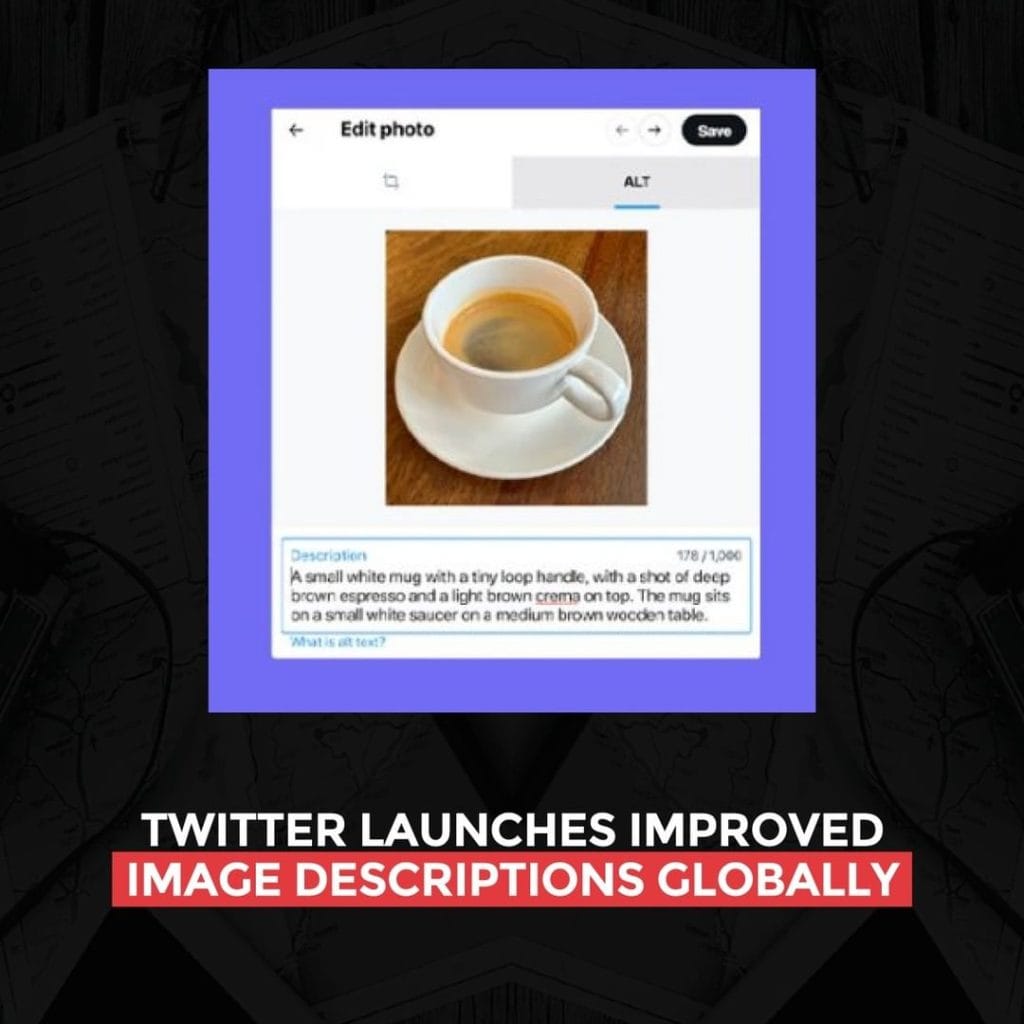 Twitter has launched 2 new features, namely Public ALT badges and exposed image descriptions for Android, iOS, and the Web.
24. Google tests the audio option in the 'People Also Ask' section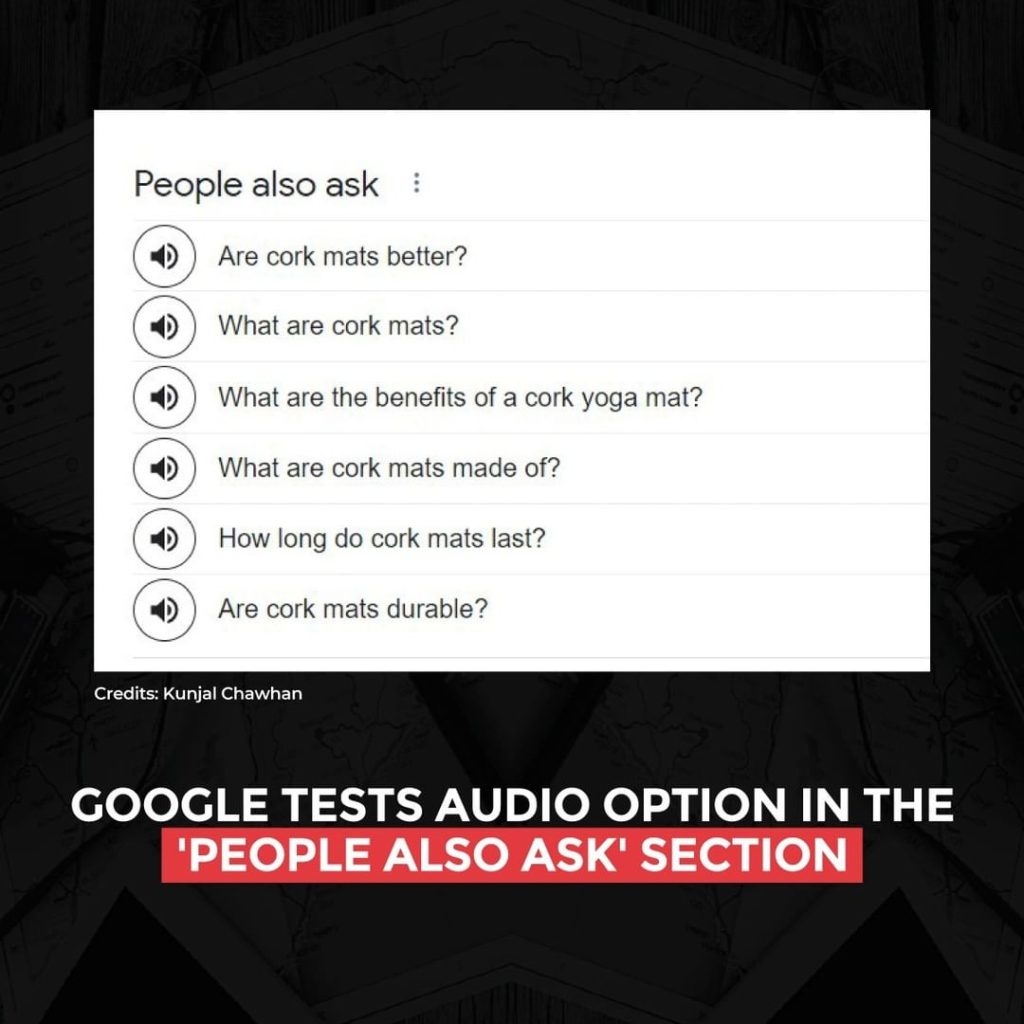 In the "People Also Ask" section, there appears to be a new feature that lets you hear Google read you the results of those snippets.
25. Bing tests sub-snippets below main snippets for page insight feature

Bing is now experimenting with placing a sub-snippet below the main snippet for the page insights feature.
26. Instagram tests 'Pinned Posts' on user profiles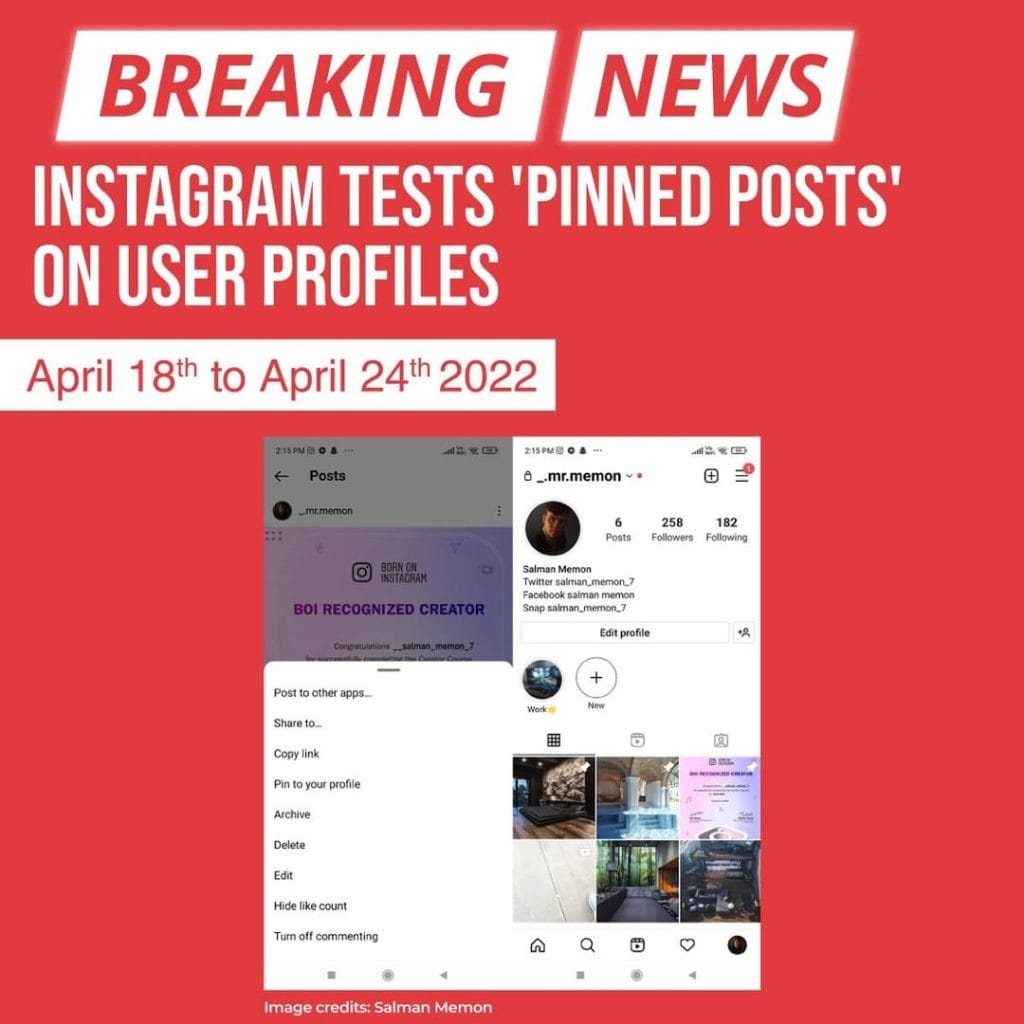 It is also testing an "Edit Grid" feature, which lets you rearrange your profile grid.
27. Twitter is testing 'Closed Captions' option in videos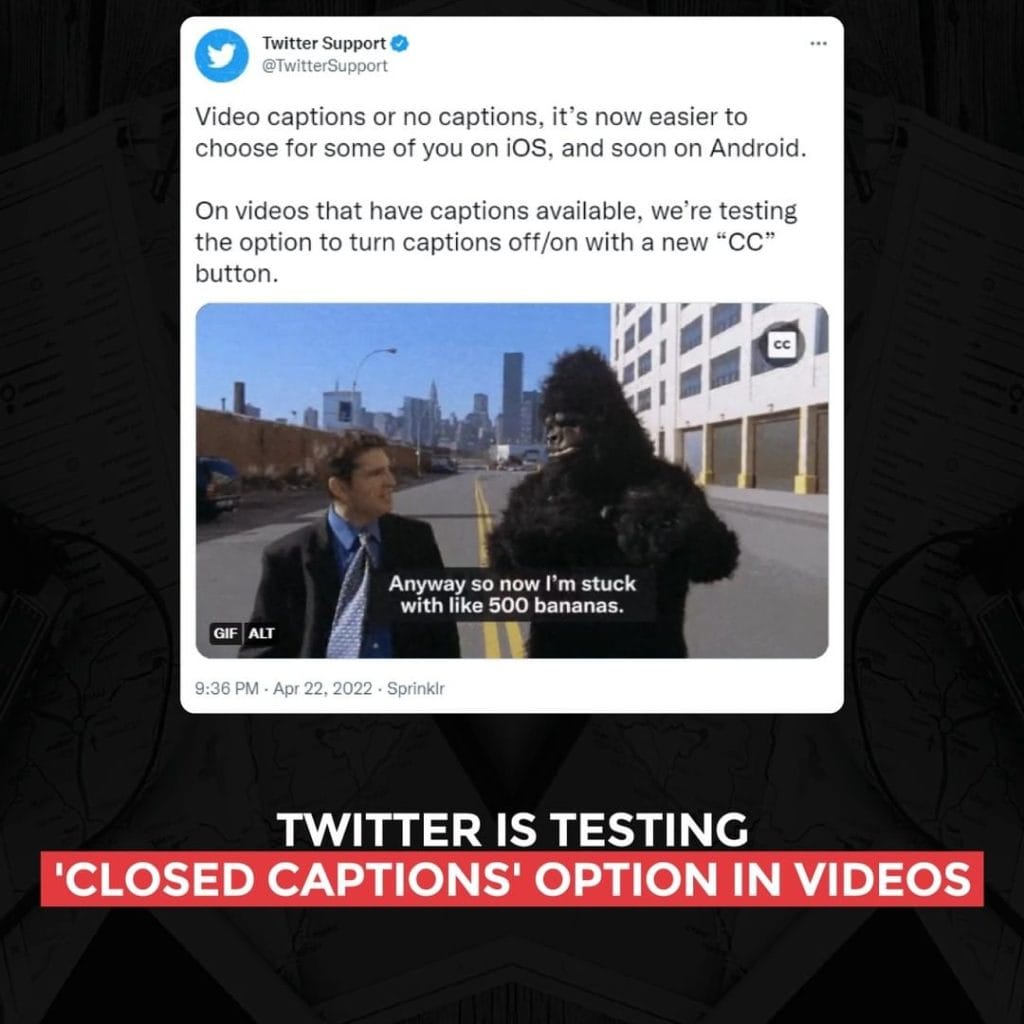 With the new button, you can switch captions on (where possible) and see which clips have captions available.
28. Instagram makes Product Tags available to all users in the US
In addition to making direct links to products and brands available to everyone, this will encourage more users to organically share product links, as well as encourage more people to click through, and ideally buy the item.
29. Twitter's edit option will have a publicly viewable 'Edit History' option
This way, misunderstandings over an edited tweet can be easily tackled or avoided.
30. Instagram is testing removing the 'Recent' tab from the Hashtag search
Instagram says, "…We want to see if this helps people connect with more interesting and relevant content on hashtags, while also keeping them across what's current."
31. Facebook adds 'Add Music' option to comments
This addition can help improve interactions within posts on the platform.
32. Twitter is testing promotions of third-party tools within the app
Twitter has launched a new initiative to promote third-party tools built with its developer platform when users, for example, block somebody in the app.
33. Google's 'Scroll-to-Text' feature for site links is live for Search Results in the US
The update, which began being tested in November 2021, is now live in the US version of desktop Search results.
34. Google writes its own Knowlege Panel on Google Search
Google apparently uses AI or machine learning to write these knowledge panels.