And just like that, August passed by as well. But it was unforgettable on the digital front, with all the platforms putting their best foot forward. From Instagram increasing the length of their Reels, Canva introducing Video editing features to WhatsApp's new archive option, and Facebook's campaign ideas generator, the month saw some of the most exciting updates. Here is a complete list of #NewThingsInDigital for the month of August
In case you missed last month's list of #NewThingsInDigital click here to read.
Here are the new things in digital from the month of January.
Latest Digital Marketing Updates in August 2021
1. Instagram expands Reels to 60 seconds!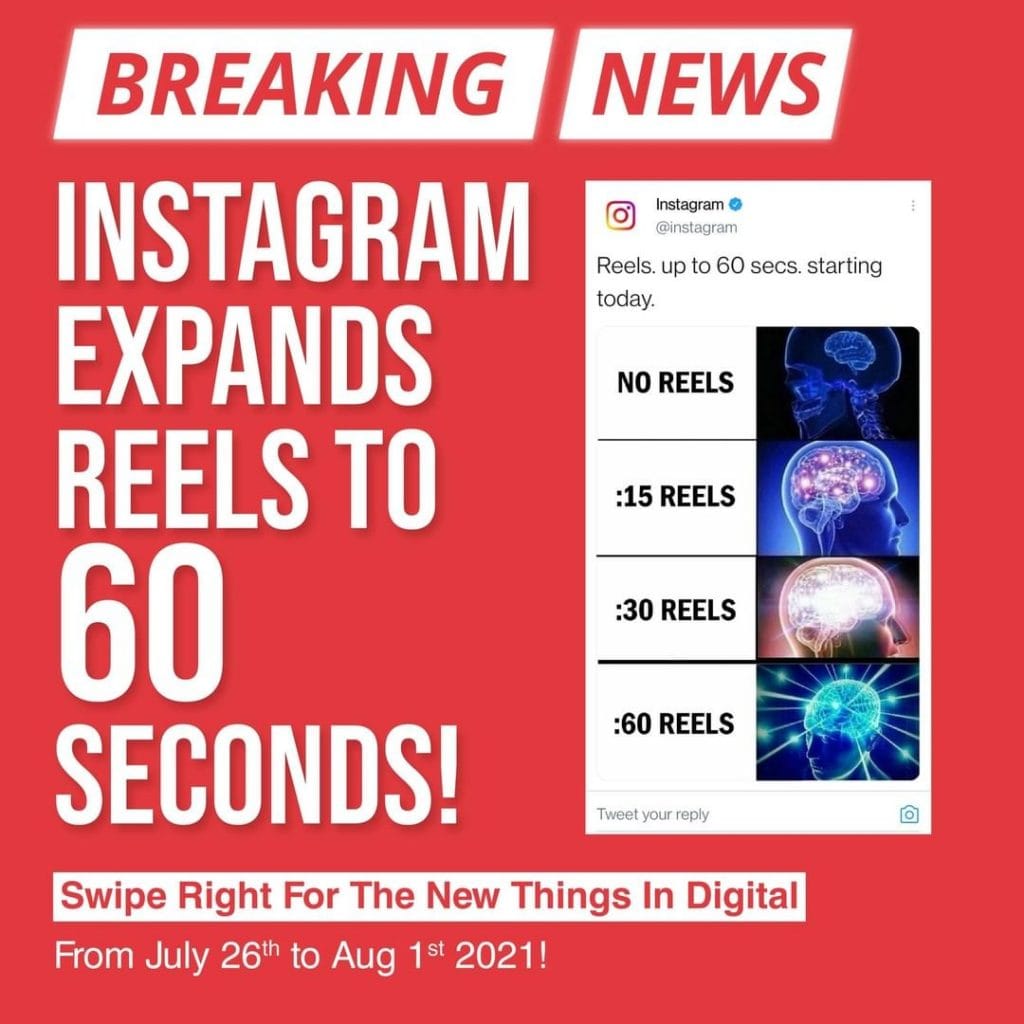 In an update, Instagram expanded the Reels duration from 30 seconds to 60 seconds for users. The platform has been experimenting with longer Reels for quite some time. What started out as a 15-second video format first got extended to 30 seconds last September.
Given that now TikTok has a time limit of up to 3 minutes and YouTube's Shorts supports videos up to 60 seconds, it is only ideal that Instagram increased the limit for Reels, thereby adapting to the trend. However, with the platform already providing a window to create videos through other formats – 1-minute video on feed, 1+ minutes on IGTV, and the usual 15-second Stories, the 60-second Reels only gives more room for creators to experiment and put out their content in different formats.
2. Instagram tests a TikTok-like vertical content feed for the Explore section
Instagram has overtly been going after TikTok's popularity with its clone, Reels. With that said, Alessandro Paluzzi, an App Researcher, has spotted that the platform is working on a TikTok-like vertical feed presentation for the explore section. Once you enter the section, you will be able to swipe through Instagram's content recommendations and across multiple image posts.
He notes that the explore section will remain the same, but once you enter a post, the view will be like a full-screen, Reel-like display. You can tap on the back arrow to go back to Explore or swipe through the posts in the section.
3. WhatsApp adds a new 'Archive' option that lets you permanently hide noisy group chats
WhatsApp has added a new Archive option that permanently lets users mute and hide noisy and extremely active groups. Of course, you can go back to the Archived folder to go through the chats. According to WhatsApp's announcement. 'Archive on WhatsApp lets you organize your private messages and prioritize important conversations. Your Archived chats will now remain archived and muted, but you can always change them back!'
Users have always been able to archive and mute chats, but the update now is that they won't receive notifications about new messages on those chats, thereby hiding them from the chat listing permanently. Only users can go and undo the 'archive option' and bring them back to the chat view.
4. Instagram adds new privacy initiatives and ads targeting restrictions to protect younger users
Instagram has been actively working towards protecting young users from unnecessary on-platform harassment/abuse and access to unsuitable content. To make this more effective, Instagram is looking to make 'private account' as default for users below 16/18 years of age.
As explained by Instagram, "Wherever we can, we want to stop young people from hearing from adults they don't know, or that they don't want to hear from. We believe private accounts are the best way to prevent this from happening. So starting this week, everyone who is under 16 years old (or under 18 in certain countries) will be defaulted into a private account when they join Instagram."
Apart from this, the platform is also imposing ad targeting restrictions. Instagram said that it would only allow advertisers to target users below the age of 18 based on their age, gender, and location. So previously available options like interests and activities on other websites and more will not be accessible to advertisers.
5. Facebook launches 'Campaign Ideas Generator' to aid businesses in their promotional activities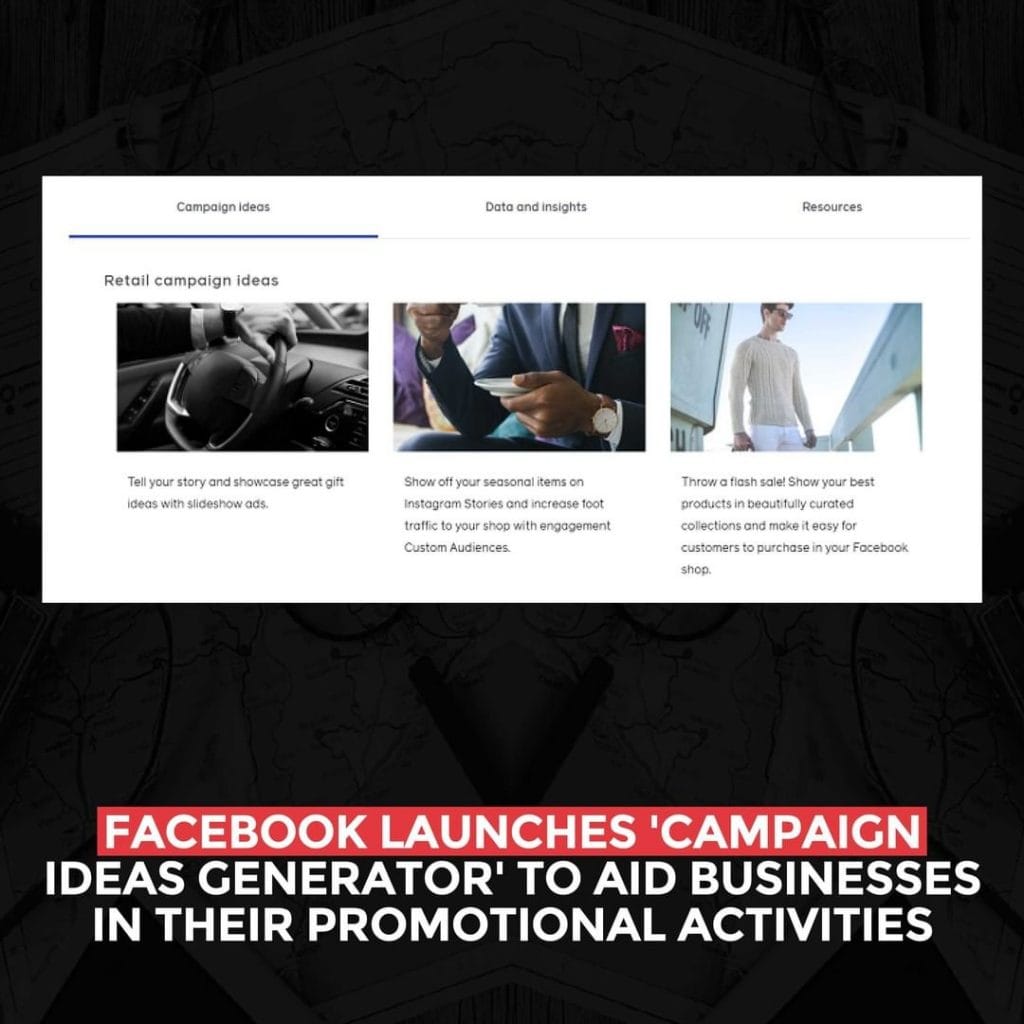 Facebook has launched a new Campaign Ideas Generator, a mini-site that will help inspire and help you come up with great ideas for your campaigns and promotions. The generator provides various insights, recommendations, and templates specific to holiday events and business types.
This might sound like a cut-copy-paste solution since the very idea of the ideation process is that you brainstorm and develop ideas on your own. But this generator provides you with pointers and prompts that prove to be helpful. You can go into the site, select your business type, and get started with your idea generation process. Once you do this, you will see three tabs – Campaign Ideas, Data and Insights, and Resources.
While Campaign Ideas give you thought starters for your ideation process, Data and Insights provide you data points for the parameters you have chosen. The Resources tab highlights case studies and reports to help hone your strategy.
6. Twitter launches test of new 'Shop Module' on business profiles as part of its e-Commerce push
Back in April, Twitter launched an initial test of Professional Profiles. In a move to push its on-platform, e-Commerce initiatives, the micro-blogging site is testing a new 'Shop Module' on business profiles, with a selection of US-based brands.
The Shop Module is a space dedicated at the top of a profile. Businesses can showcase their products in the format of a carousel. When the Shop Module is enabled, users can scroll through the carousel of products and learn more about a product by tapping on it. They can even make the purchase without leaving Twitter.
7. Google tests' Areas Served', a new attribute to its Local Business Listings
Google is currently testing a new attribute on Google My Business/Local Business Listings. Called 'Areas Served,' the attribute defines and lists out the areas in which the business is active. Companies will be able to manage this on their Google My Business, under the 'Info' section.
8. Google is testing indenting Search results from the same domain
Google is testing indenting Search Results which display two answers to your query from the same domain.
9. WhatsApp launches disappearing videos and images in chats
WhatsApp has taken one step further into making the platform safer and more private by launching disappearing images and videos in chats. Though this is quite similar to Snapchat's auto-delete feature, it still gives users an added layer of privacy on the platform. This option will provide the visual elements being shared with the option of getting deleted on being viewed.
According to WhatsApp, "As with all the personal messages you send on WhatsApp, View Once media is protected by end-to-end encryption so WhatsApp cannot see them. They will also be clearly marked with a new "one-time" icon."
WhatsApp has been under the scanner due to its data privacy changes earlier this year, which led to a steep decrease in its number of users.
10. Twitter adds sign-in option through Google and Apple IDs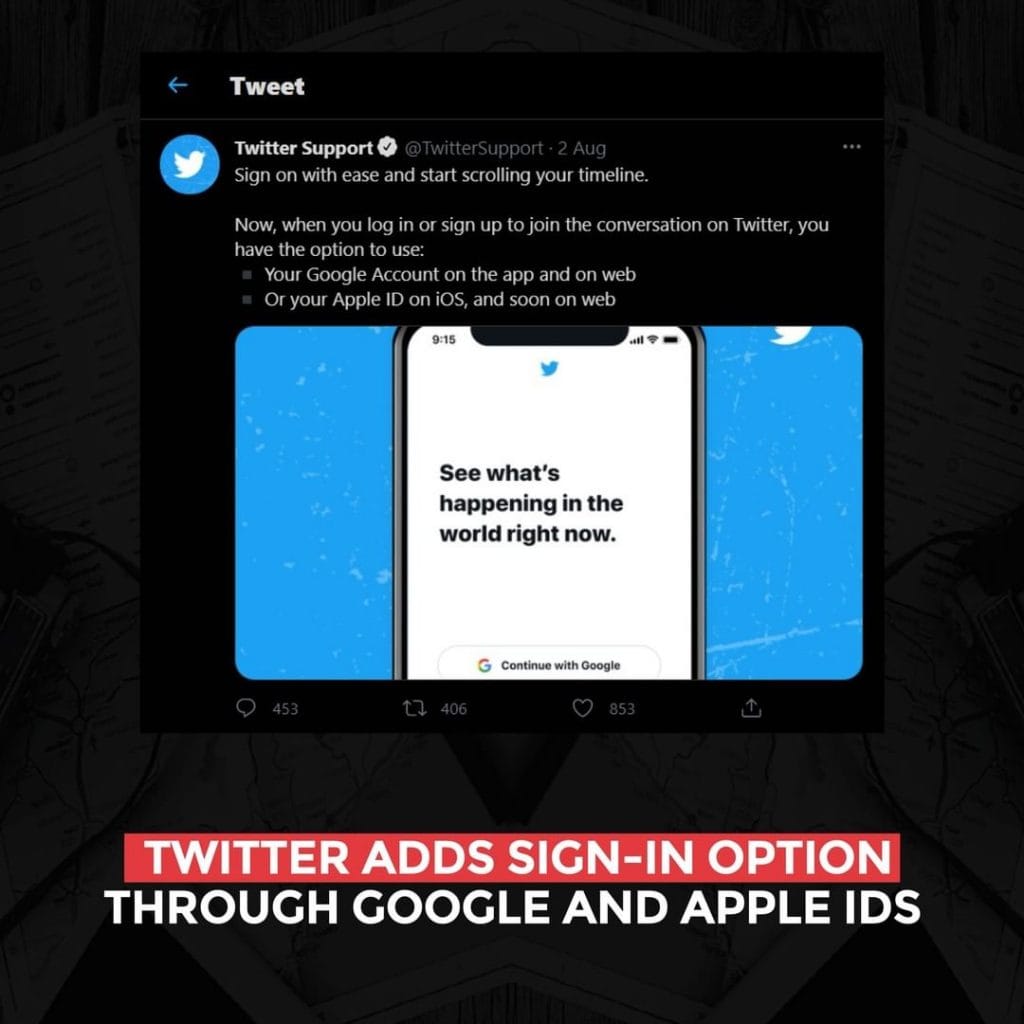 Twitter made an official announcement that it has added sign-in options via Google and Apple IDs. This option, which has been under development for quite some time, lets users sign in to their Twitter account using the credentials of their Google and Apple IDs. While users can log in to their Twitter using their Google IDs on both the app and the Web version of Twitter, those with Apple IDs can only sign in to the app for now. To access this new feature, you will have to update your Twitter app to its latest version and log out of all devices. When you want to log in again, you will see the option to use your Google or Apple ID.
11. Twitter adds co-hosting option to Spaces
After working on this for a few months now, Twitter has finally added the option of co-hosting on its audio-social platform, Spaces. This provides you with an alternate way to manage your audio chats. When you host a Spaces session, you will be able to add a co-host by simply clicking on the 'Guests' tab. You will see a new 'Invite co-hosts' option upon clicking which, you will be able to scroll through the participants in your session and add a partner as co-host. You can add a maximum of 2 co-hosts. Co-hosts can remove guests, manage requests within the Spaces, and pin Tweets. So if you are scheduled to host a Spaces session with many participants, having a co-host or two is definitely going to be helpful for you!
12. LinkedIn updates its 'People You May Know' recommendations to maximize connection opportunities
LinkedIn has refined the algorithm of its 'People You May Know' section to remove bias and improve economic opportunities within its system. This is also to make sure that users are not impacted by the information they put up, like where they grew up and studied, and more. The current algorithm gives more visibility to more active and high-profile users, proving to be disadvantageous to those who have a clean, professional profile but are less active. To address this pitfall, LinkedIn has developed a better system that provides a broader pool of recommendations and highlights people who are not seeing as many connection requests, thereby broadening exposure.
13. Google tests 'Discussions' carousel on Search
Google is currently testing another design/layout for displaying forums on the SERP. Google calls this carousel 'Discussions' and displays the section in a two-column and multiple rows carousel interface.
14. Google removes 'Rich Results Type' from Search Console Performance Reports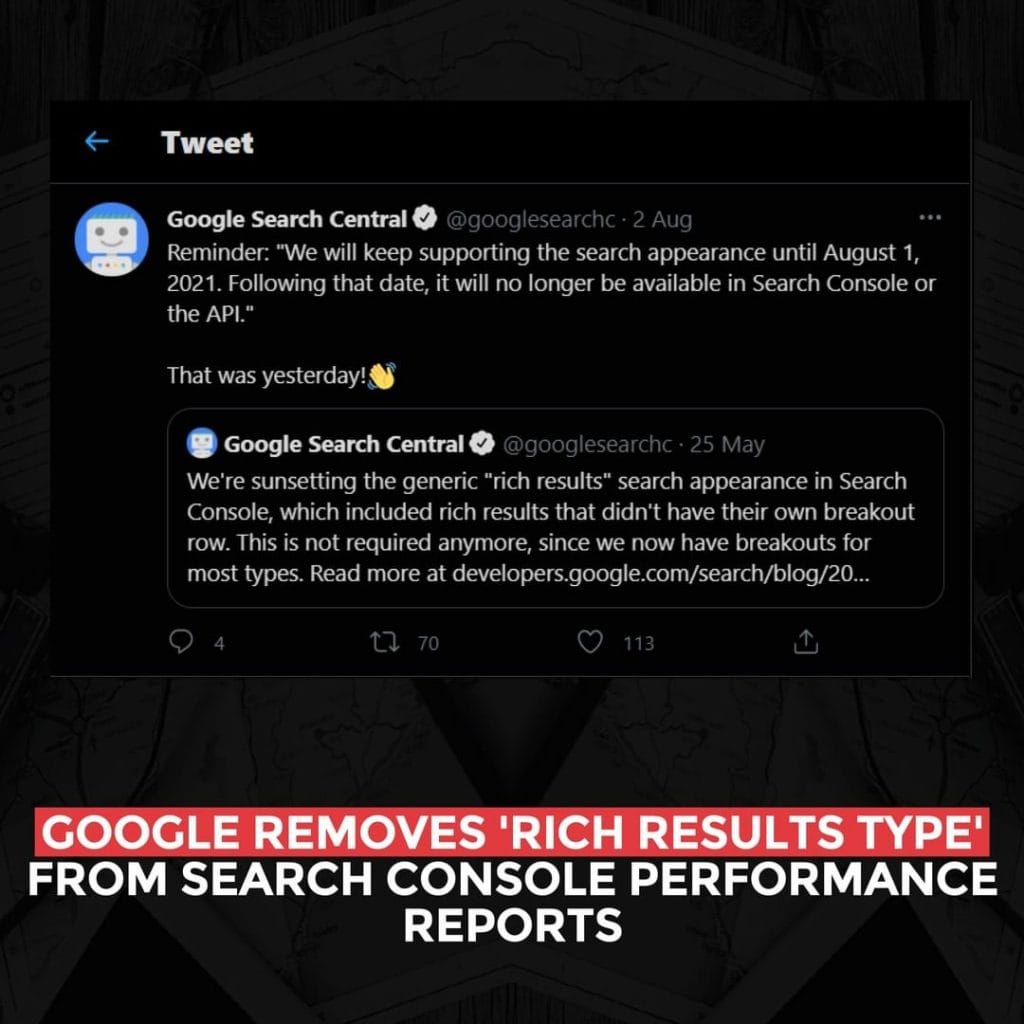 Google has removed the 'Rich Results Type' from Search Console Performance Report. After announcing this back in May, the search engine has officially removed it from the report. Google even Tweeted, saying it will support the search appearance till August 1st, 2021, following which it will no longer be available in the Search Console or API. Google said that the generic Rich Results Type is not required since it offers 'breakouts for most rich result types.'
15. Microsoft Bing tests new chat feature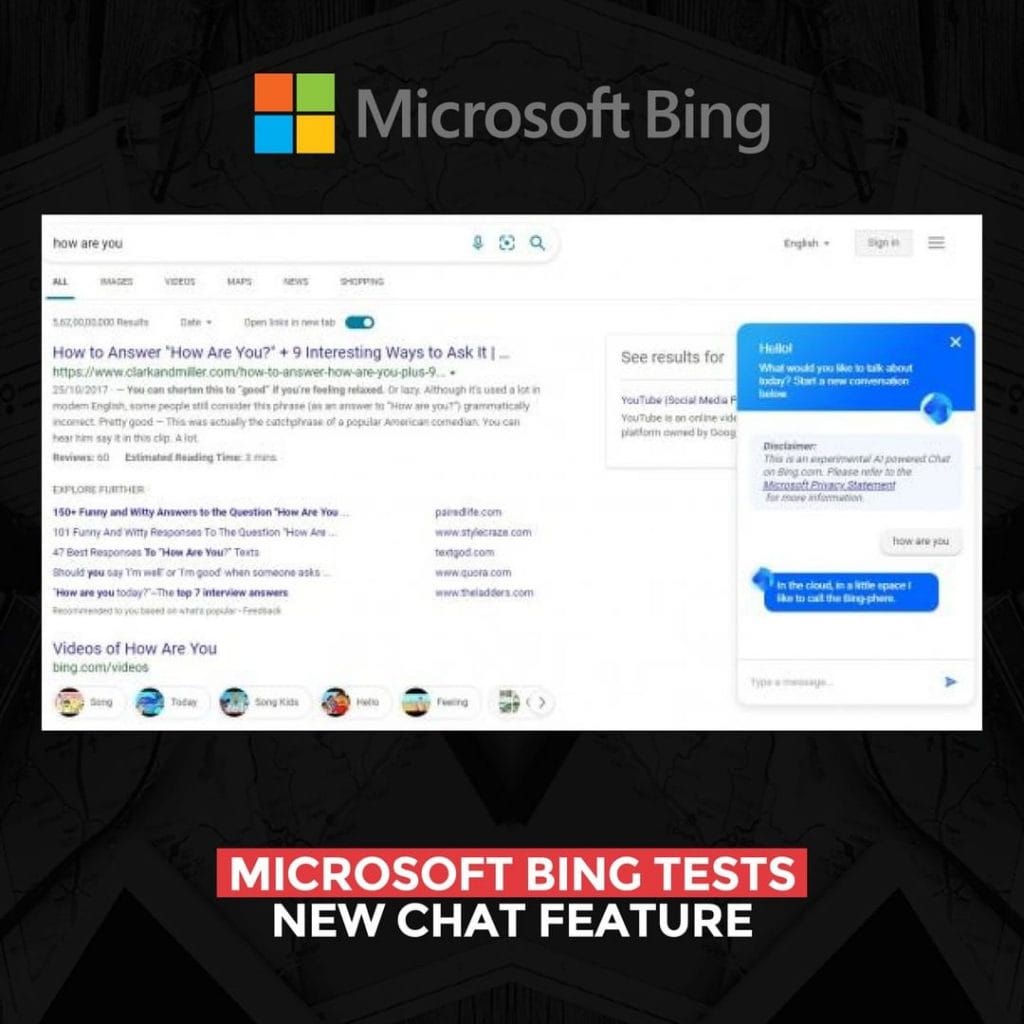 Microsoft Bing is testing a new chat feature in its search results. A chat box pops up as you search for something, along with a disclaimer that reads, "This is an experimental AI-powered Chat on Bing.com. Please refer to the Microsoft Privacy Statement for more information." You can ask the chatbot any question, and it provides you with answers using AI.
16. Instagram adds new "Audio" tab in Search to boost Reels engagement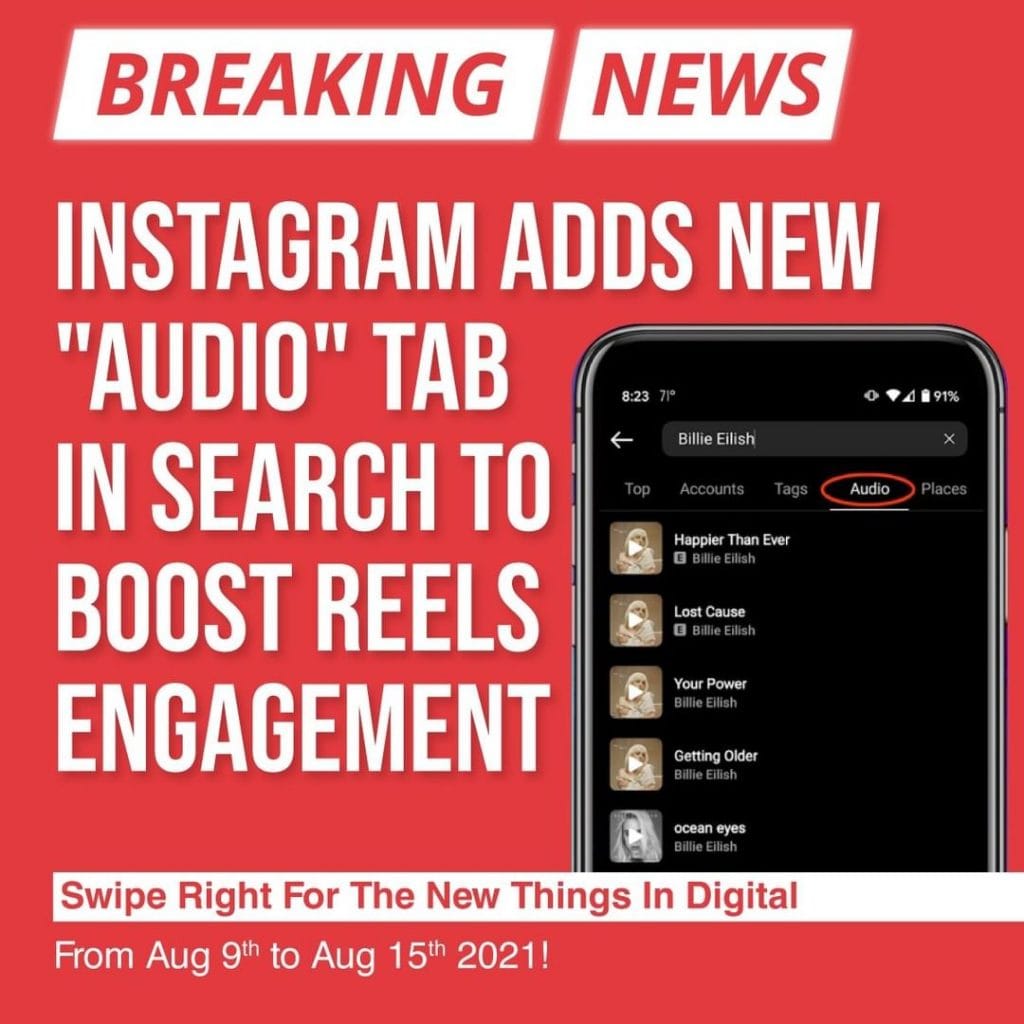 Instagram has added a new 'Audio' tab to its Search option. This is in a move towards boosting Reels engagement. This makes it easier for users to tap into trends based on popular music. The audio tab on Search will display a list of trending music, which can be used to create Reels. This is Instagram's aim – to provide easy discovery of trending music to be used for Reels. When you tap on the songs, you will be able to see a display of the top Reels created with that song. You can go ahead, use the song and create your own Reel or save the audio and use it later.
17. Instagram tests Ads on the Shop tab to highlight products
Instagram is testing Ads on the Shop tab within the app to highlight promoted products. This is a move towards broadening e-Commerce activities on the platform and making it more 'shoppable.' Brands that have their products listed on Instagram Shop will be able to promote their products to reach more people. Promoted products will appear on the front page of Shops, along with a 'Sponsored' label on the posts. When users click on the ad, they will be taken through to a page dedicated to the product, where they will be able to find more details about the product, including additional images, specifications, and more. This will also help people check out other products that the brand offers. Like posts, sponsored or promoted products can also be saved and shared with friends. The option is currently under testing and will be expanded to users soon, based on the results of the test.
18. Twitter tests a new option that enables users to remove specific followers from the audience
Currently, when you have to remove a follower from your Twitter profile, you will have to first block them, and if you want to make the 'unfriending' smoother, later unblock them. But Twitter is now testing a way in which users can amicably 'remove' followers from their audience without having to block them. This provides a light-touch way of getting away from that person. The new option will enable you to directly 'remove' a follower from your list. This option does not involve the follower being blocked in any way.
Currently, in testing, this is a healthier way of removing followers.
19. Facebook launches end-to-end encryption for Messenger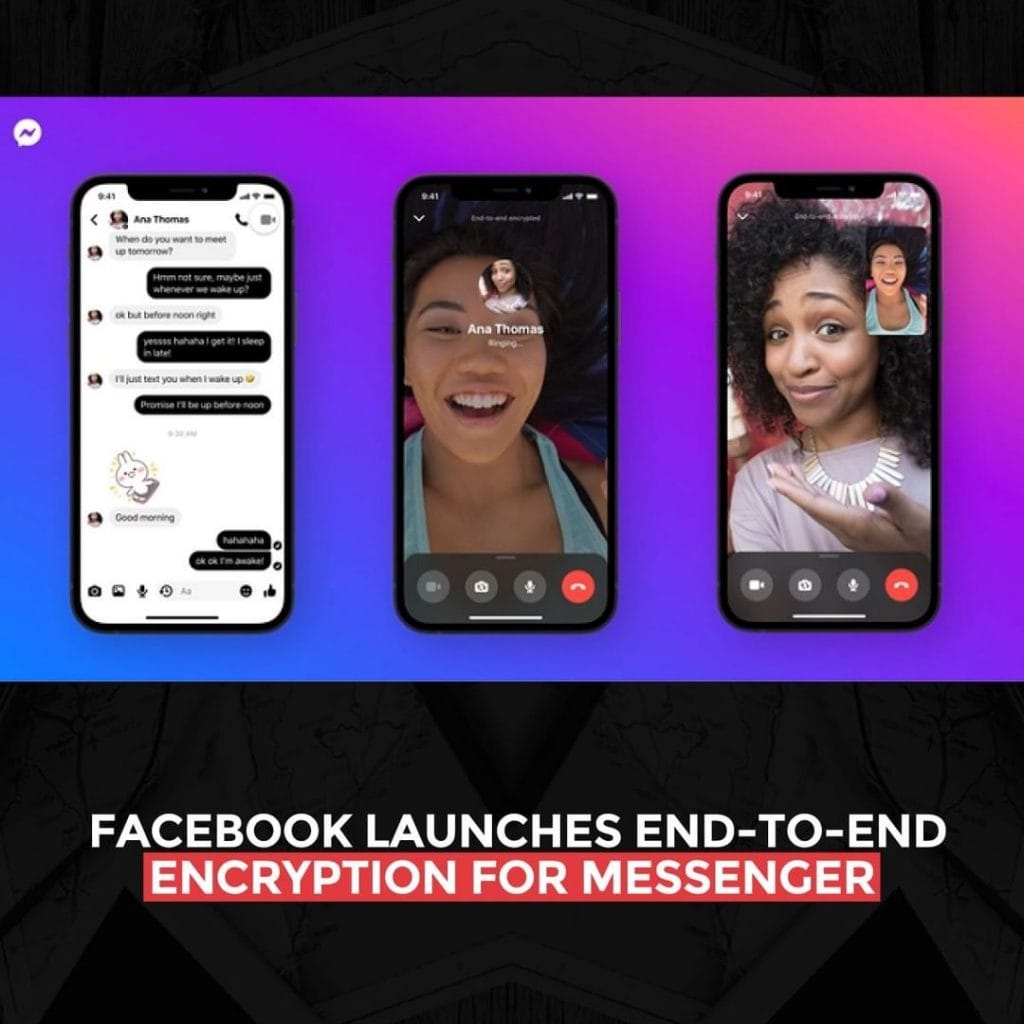 Further moving into its shift towards full integration of its messaging services, Facebook has officially rolled out end-to-end encryption for voice and video calls. This will include a label on top of an ongoing voice or a video call on Messenger saying that the discussion in progress is end-to-end encrypted. Facebook has been encrypting messages for a long time, but now, users will be able to end-to-end encrypt their voice and video calls as well.
Along with this, Facebook is also working on a disappearing messages option while also testing end-to-end encryption for group chats and Instagram Direct. This move ensures that users' conversations remain private.
20. Twitter adds 'Raised Hand' emoji to raise questions in Spaces sessions; expands rollout of voice effects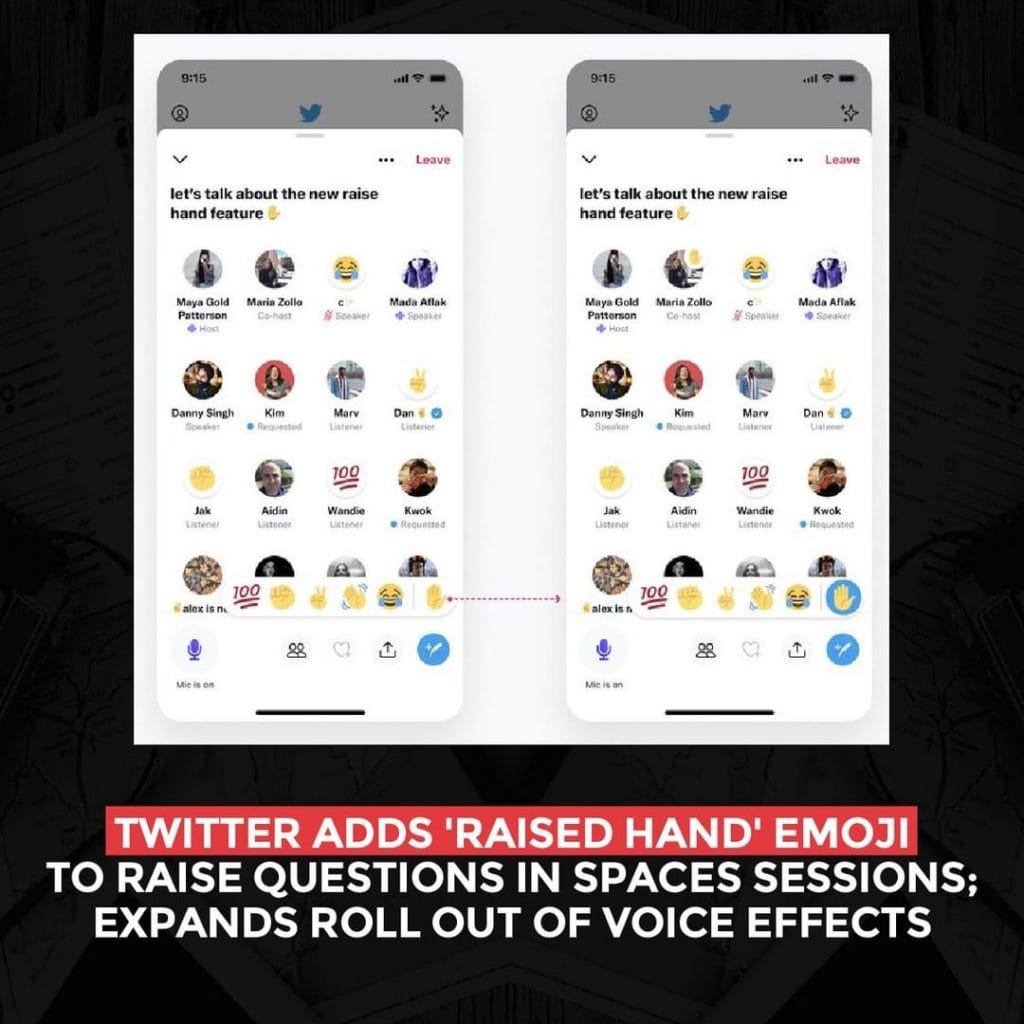 After launching a dedicated Spaces tab within the app, Twitter is now looking to add more features to enhance its audio engagement experience. The platform has added a new 'Raised Hand' emoji, available for speakers, hosts, and co-hosts. They can use this emoji to signal that they have a question or even something to add to the discussion without interrupting the one who is already speaking. When a speaker uses the raised hand button, an emoji will appear on the top right corner of their bubble, indicating that they have a question or an addition to the discussion. The raised hand will be present until the speaker decides to turn it off or unmute it when they are ready to speak.
In addition to this, Twitter is also expanding the roll-out of voice effects. The platform said that the voice-changing effects are now available to at least 50% of iOS users.
21. Instagram adds new features to protect users from on-platform abuse and bullying
In a move to further battle on-platform abuse and bullying, Instagram has added three new features that protect users, especially high-profile ones.
a) Limits: Enables users to temporarily limit unwanted comments and messages from select users, groups, and profiles in the app. Instagram, through this option, will suggest groups and profiles for the user to limit based on detected activity.
b) Improved warnings: Instagram currently displays a warning message on comments it finds abusive or offensive before posting. When the user tries posting the same comment multiple times, Instagram will display a stronger message, warning them and reiterating the potential penalties they will face if they still go ahead and post the comment.
c) Hidden words for DM: This is a feature through which users can filter DM requests based on offensive and harmful words and phrases that are re-routed to a 'hidden folder.'
22. Twitter is testing new 'Topic' tags in Spaces to improve discovery
Twitter has been placing a stronger emphasis on developing its audio-social feature Spaces. In a move to further boost engagement, Twitter is bringing its 'Topic' tags to Spaces. This improves Spaces discovery. Users will be alerted about Spaces sessions that align with their topics of interest. Hosts will be able to add up to three topics that their Spaces session is related to. The Spaces will then be highlighted to users interested in those topics.
23. Google is now displaying an 'Affordable picks" carousel on Mobile Search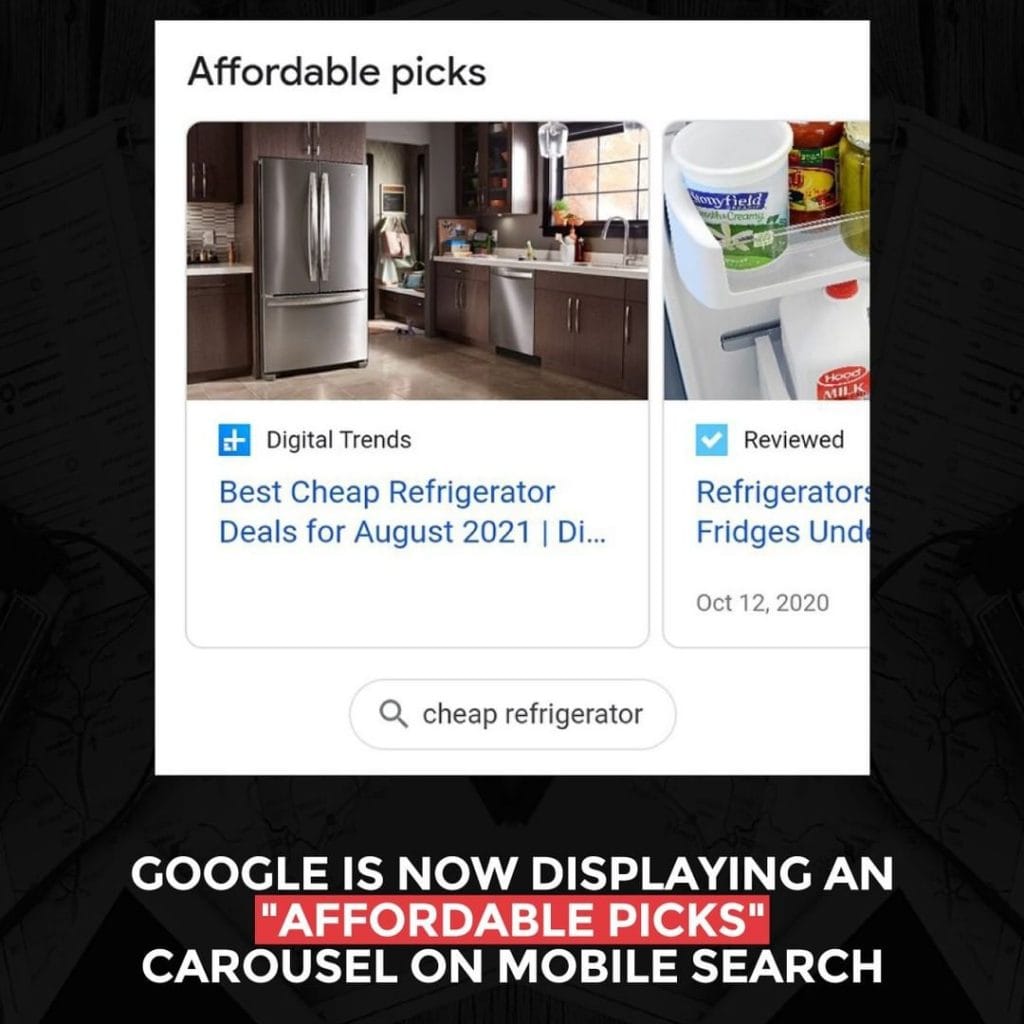 Google is now showing a new carousel that helps people find out economical and low-cost products online. The Search Engine has labeled this carousel 'Affordable Picks' and displays it on Mobile Search. This carousel appears when the search term includes the word 'Cheap.'
24. Canva launches video editing features
After emerging as an excellent photo/post editing platform trusted by several content creators, Canva has officially launched an array of video editing tools to help users edit their video content. It offers a set of templates, some accessible only by Canva Pro users, while some templates are free. With the Canva video editor, you can edit, add transitions, audio, animations, and more to your video content. This comes as a handy addition for content creators who are used to editing their content on Canva.
25. Facebook tests bringing Reels to its main App
Facebook is looking to maximise Reels engagement. Its latest pushback attempt comes via Facebook Reels. Yes, Facebook is bringing Reels to its main app to capitalise on the short-form video trend. The social media platform is testing a Reels display unit within user feeds that will help bring more users to try out their short-video offering.
According to TechCrunch, "Facebook Reels will give Facebook users the ability to create and share short-form video content directly within the News Feed or within Facebook Groups. Initially, you'll be able to tap a "Create" button from the Reels section that appears as you scroll the News Feed, while you're watching Reels or by tapping on "Reels" at the top of your News Feed. From here, users will gain access to a standard set of creation tools, including those for video capture, music selection, camera roll import, timed text and more."
In addition to this, Facebook is also looking to expand its option of letting Instagram creators share their Reels clips to their Facebook pages. These Reels will be displayed along with their Instagram username. Facebook has been testing this option of sharing Reels within Facebook for a few months now, and this move is just an expansion of the same. It is anticipated that the next update could be the creation of Reels within the Facebook app itself.
26. Twitter is currently working on a 'Leave this conversation' option to manage on-platform engagement
Facebook is coming up with a 'Leave this conversation' option which would enable users to leave conversations, thereby avoiding on-platform negativity. The option, which is only a proposal as of now, will allow users to untag themselves from threads and keep them from being mentioned again within the conversation. This would also ensure that they stop receiving further notifications regarding that conversation. In addition to this, the user's tag in the Tweet they were previously mentioned in will be inactive, and other users won't be able to tap and view their profile as well.
This could be a beneficial option to avoid negativity of any sort on the platform and also being targeted by groups and individuals alike.
27. YouTube adds video chapter listings within Search to broaden search capacity
YouTube is adding new video chapters within its Search, in a step towards enhancing its in-app Search tools. Back in July, the video streaming platform announced that it would be adding automated chapter segmentation for all video uploads. YouTube's system would work to identify critical elements within each video to streamline navigation for users.
With this recent addition of chapter listings, YouTube will provide users with the option of a new 'Chapters' drop-down, which would enable them to go to specific elements within that clip, direct from your Search results. This is a quicker way for users to find the exact segment they are looking for in a video.
As of now, the chapters listing is not available for all videos.
28. Twitter announces new improvements for DMs, including multi-DM sharing and updated navigational elements
Twitter has announced a few improvements for DMs that include the much-requested multi-DM sharing options, along with better navigational elements. These updates will be helpful for brands looking to promote their products and services via Twitter's DMs.
The first addition is the multi-DM sharing option that will enable users to share content with up to 20 different DM conversations simultaneously. The main idea here is to simplify the Tweet sharing process on DMs and streamlining users' private interactions.
In addition to this, the micro-blogging site is adding a new 'quick scroll' button that will direct you to the latest message in the thread when tapped on. With this, you can quickly scroll back to the latest response after having looked at past conversations.
And lastly, Twitter is changing the display format of DMs. The platform is looking to tackle timestamp clutter by grouping messages by date, along with the addition of two more options:
a. Long-press option to attach an emoji reaction
b. Double-tap option for liking messages.
This would definitely enhance engagement on Twitter DMs.
29. Twitter looks to facilitate the development of third-party apps with launch of API access for Spaces
Twitter is rolling out API access for Spaces to facilitate third-party app developers to build apps, services, and tools that will enhance Spaces discovery. The main aim here is the discovery of Spaces sessions, which is one of the most requested developer features.
Twitter explains,
"With the Spaces lookup and Spaces search endpoints, we hope to enable developers to build tools and solutions that help people on (and off) Twitter find interesting and relevant Spaces more easily. This will also benefit Spaces Hosts by making their conversations more discoverable and bringing more engaged listeners into their Spaces."
Discovery is a key focus here for Spaces, as live audio sessions can easily get boring if users cannot look for and land on relevant and interesting Spaces sessions.
30. Google includes new 'Cross-language results' filter in the Google Search Console Performance report
Google has a new filter in the Google Search Console Performance Report called 'Cross-language results'. SEO experts suspect if Google will translate other languages and show them in Search results. Cross-language search is activated only when Google is unable to find a good-quality answer in the user's query language.
31. Google Local Results shows reviews from web and independent sites
Google is currently testing a new way to show reviews in the local listings for businesses. The Google local results show reviews from both the web as well as other independent sites. Google is clearly labelling if reviews are from the 'Web' or 'Independent Sites', along with the number of reviews.
32. Google replaces 'Feedback' link with 'Report' link on Knowledge Panel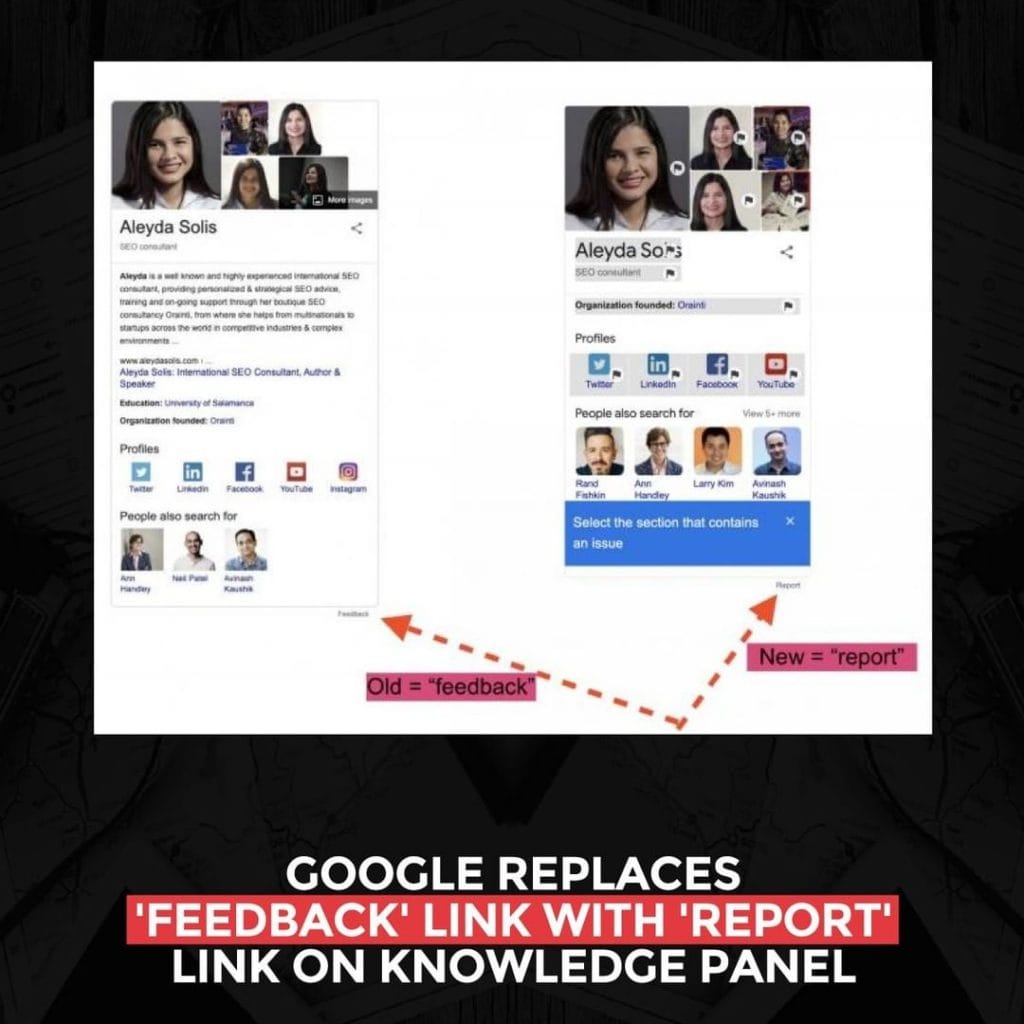 In a new tweak, Google has replaced the 'Feedback' link spotted below the knowledge panel with a 'Report' link. This seems to make more sense, as people looking to improve their knowledge panel will find it more encouraging to click and get a 'report' rather than feedback.
33. Instagram is replacing the 'Swipe Up' link feature with Link Stickers on Stories
To improve Stories interactions, Instagram is changing the way external links are shared on Stories. The platform is removing the 'Swipe Up' link feature and replacing the same with Link stickers. Instagram confirmed that all users who have access to the Swipe Up feature would be able to use the Link sticker on Instagram. The Swipe Up feature will be permanently removed by August 30th.
Instagram has highlighted 3 benefits of this move:
> A streamlined Story creation experience: Story stickers help you express yourself better and share things that matter to you the most.
> Increased creative control: The Links sticker functions the same way as other stickers on the platform – you can move, resize, and toggle them, and they can be placed anywhere on the Story.
> Better engagement: With Link stickers, you can receive quicker reactions to your Stories compared to the Swipe Up link feature, where replies are not possible.
34. Facebook adds new features to Messenger to celebrate its 10th birthday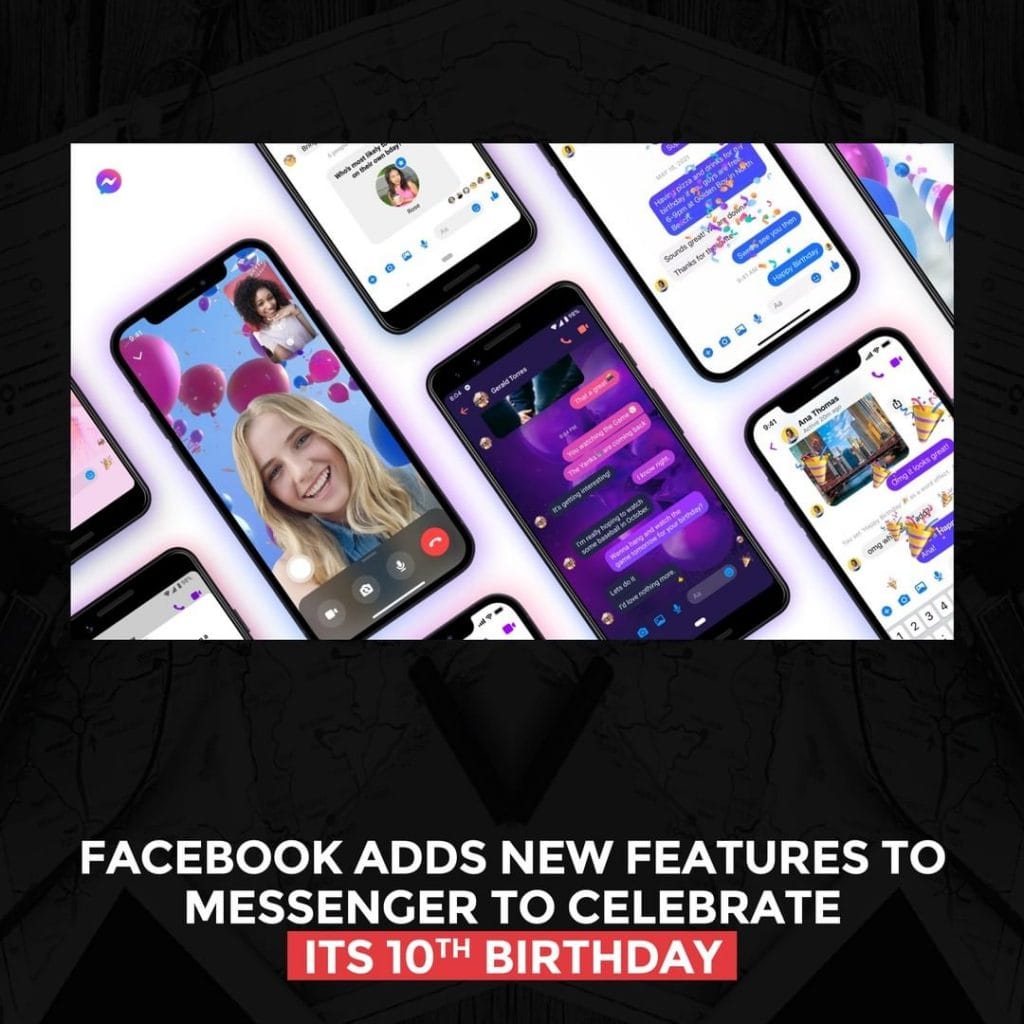 Facebook launched Messenger as a separate app back in 2011. It's been 10 years since, and to commemorate Messenger's 10th birthday, Facebook has added an array of new features to the platform.
> New Poll Games: Facebook's adding new poll games to Messenger, which would help you learn more about your friends.
> Straightforward way to share contacts: All you have to do is select the contact you want to share and click on the 'Share Contact' option under the 'More Actions' section.
> Upcoming Word Effects option: This is an exciting way that lets you choose an emoji for a word you have typed out. It is an interesting way to spice up your chats and conversations.
Apart from this, the platform is adding other features, including birthday expression tools and birthday gifting options using Facebook Pay.
35. Twitter tests displaying Spaces sessions that people you follow are tuning in to
Twitter is looking to make its Audio-social platform Spaces a more significant element. In a move towards this, the platform is testing showing Spaces sessions that people you follow are tuning in to. In this test, Twitter will highlight a broadcast of Spaces that someone you follow is listening to at that point of time. Up until now, Twitter has been notifying users about a new Space session or when someone you follow is speaking in a Spaces session. But the platform is now testing the option of displaying Spaces sessions that people you follow are listening to. This further expands Spaces discovery.
36. Twitter rolls out ticketed Spaces to select users
Twitter has been testing 'Ticketed' Spaces for select users for over a month now. Currently, the platform has announced that it is rolling out the feature for limited users officially, thereby providing users with another way of making money on the platform.
As explained by Twitter:
"We want to help people creating cool Spaces make $$$. Today, some Hosts will be able to create Ticketed Spaces! We're experimenting on iOS only for now, but we hope to get it to everyone soon. Know it's taking us a little time, but we want to get this right for you!"
Ticketed Spaces provide users with the opportunity to monetize through the efforts they put on Spaces.
37. Google tests' fact check' labels for Google Top Stories
Google has had a fact check label on its news stories for many years now. But right now, the platform seems to be testing fact check labels in Google's Top Stories section.
38. Google Search tests additional carousels: Research, People Also Shop, and Similar Products
Google has been testing carousels for different sections for some time now. Additionally, this week, the search engine is testing out 3 more carousels, namely 'People also Shop', 'Research', and 'Similar Products' on the Search Engine Results Page (SERP).
39. Google Posts can now appear on third-party sites
When you add a Google Post on Google My Business, the search engine sends you a notice that warns you about how the Google posts you create can also appear on third-party sites, apart from the web, Maps, and Search. Google has not mentioned the third-party sites the posts can appear on, but it also makes it clear to the user that the post must, however, comply with Google's policies.