February came and went by in a jiffy and brought with it quite a few interesting updates.
From Instagram's multi-participant Live stream, LinkedIn's new freelance marketplace, WhatsApp reattempting to launch its updates, and Twitter's new 'Spaces' feature, the updates were very beneficial for the Digital Marketing fraternity.
Here is the list of the #NewThingsInDigital in the month of February.
In case you missed last month's list of #NewThingsInDigital click here to read.
List of the top 28 latest digital marketing updates in Febuary 2021
1. Instagram Launches New Professional Dashboard to Support Creators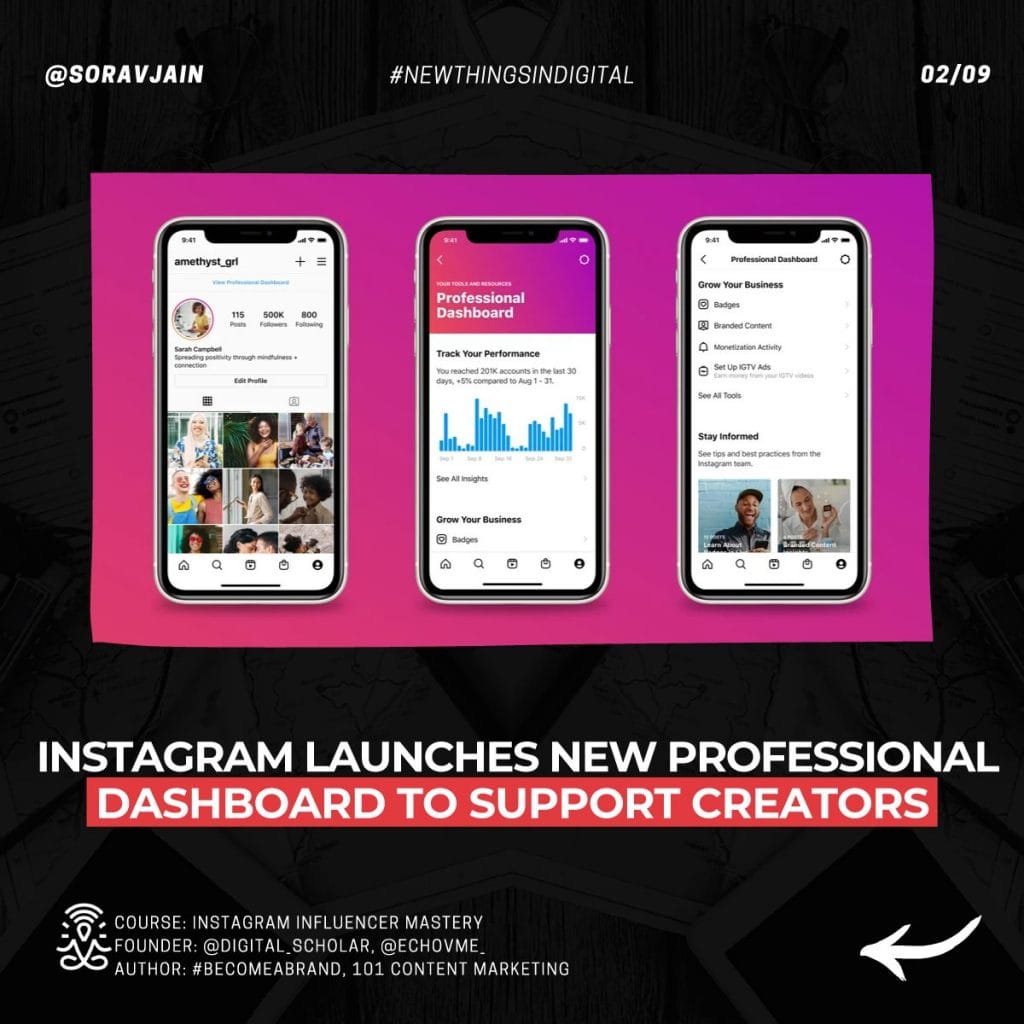 Instagram serves as a platform of expression for a plethora of creators from different fields of expression. While some may create content with ease, some may not. And for this reason, Instagram has now launched the all-new Professional Dashboard, to support creators in social media management and marketing. The dashboard helps bring in all information from resources and tools that exist on Instagram, together in a centralised "home" location. The platform helps in tracking and performance and growing one's business on Instagram. It also assists creators by giving out tips on everything that's new on Instagram. The platform only requires one to have an account on Instagram. This will be beneficial for both marketers and creators alike.
2. Instagram Tests to Stop People From Sharing Feed Posts to Stories
Instagram is testing restricting users from sharing posts from their feed to Stories. This means you can share tweets and IGTV previews to your stories, but not feed posts. Aiming to make it a more creative and original platform, Instagram is looking to prompt users to create new content than share an existing one. This is, in an attempt to establish more original content in each section of the app.
3. YouTube Tests a Beta Version of its New Video-Sharing Feature Clips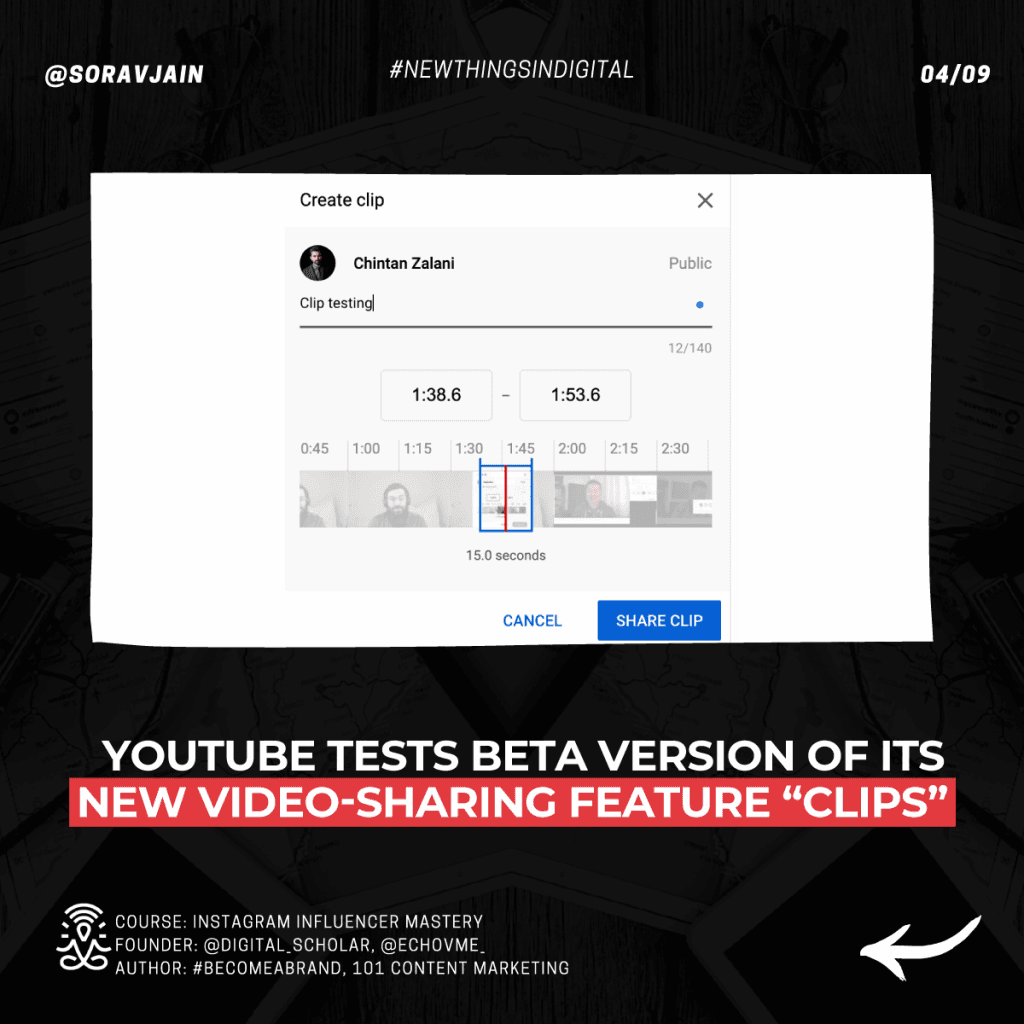 Post the launch of its short-video format feature "Shorts", YouTube has been pushing users to make the most out of it. The platform is now testing "Clips", a feature that lets users and creators share specific segments from videos and live streams. Currently, it is only available to limited gaming channels in beta testing mode and only on desktop and Android devices. The platform is working on tweaks through feedback received from users. With Clips, users will be able to share a part of a video or live stream (between 5-60 seconds) with their own attribution. Until now, viewers had to use its watch page URL, and it was only possible to start a video at a specific time by adding specific parameters.
4. Microsoft Advertising Now Offers Filter Link Extensions
Microsoft Advertising announced an addition to their ad extension offerings today: Filter Link Extensions. According to the announcement, Filter Link Extensions mean "Advertisers can present many different features under categorised headers so that users can quickly navigate to their key products and offerings." With Filter Link Extensions, your ads will include one header with between 3 and 10 clickable text values.
5. Google May Not Display Web Stories That are Teasers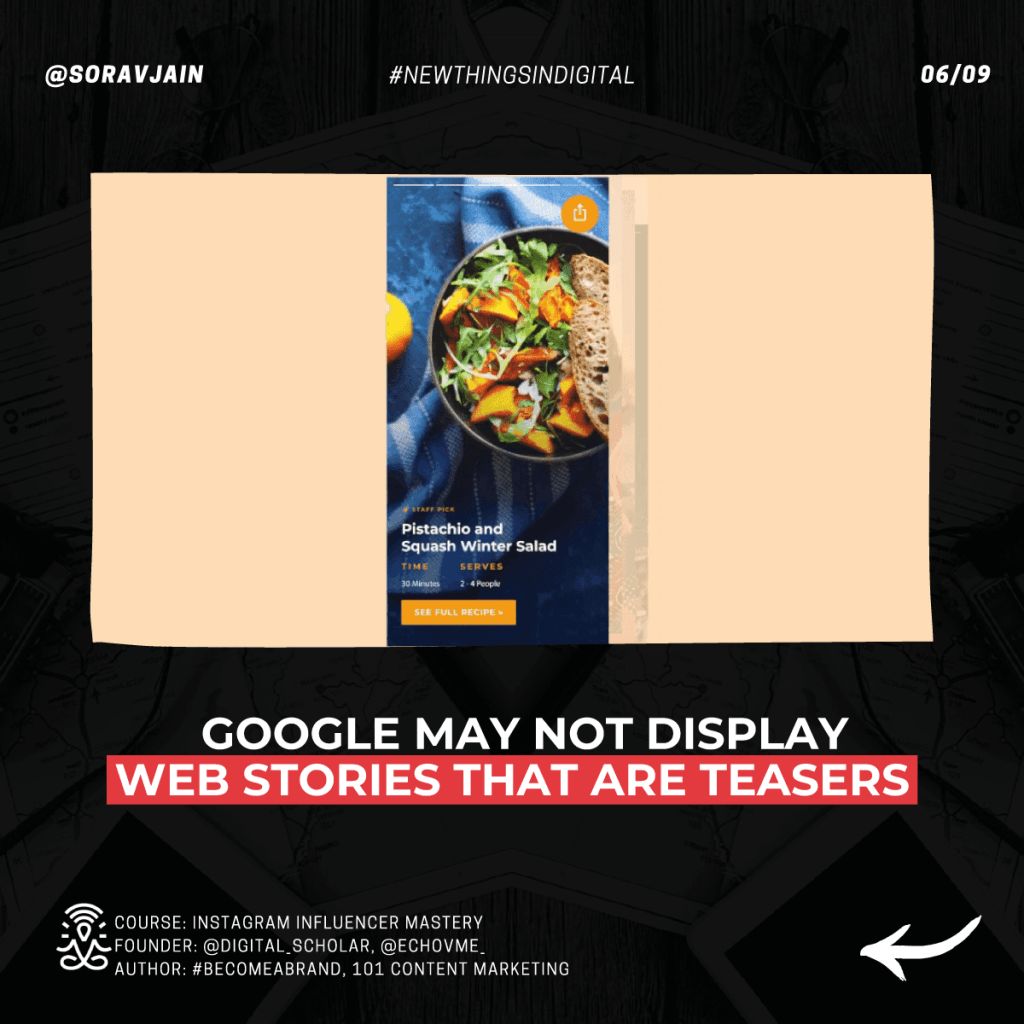 Google announced that it would try not to show "teaser" based Web Stories in Google Search and Google Discover. The company said the publishing ecosystem has been experimenting with new ways of creating rich Web Stories, but based on what it has seen, users do not want teasers where they're being asked to click through to get the full story.
6. Google Rolls Out New Mobile Search Design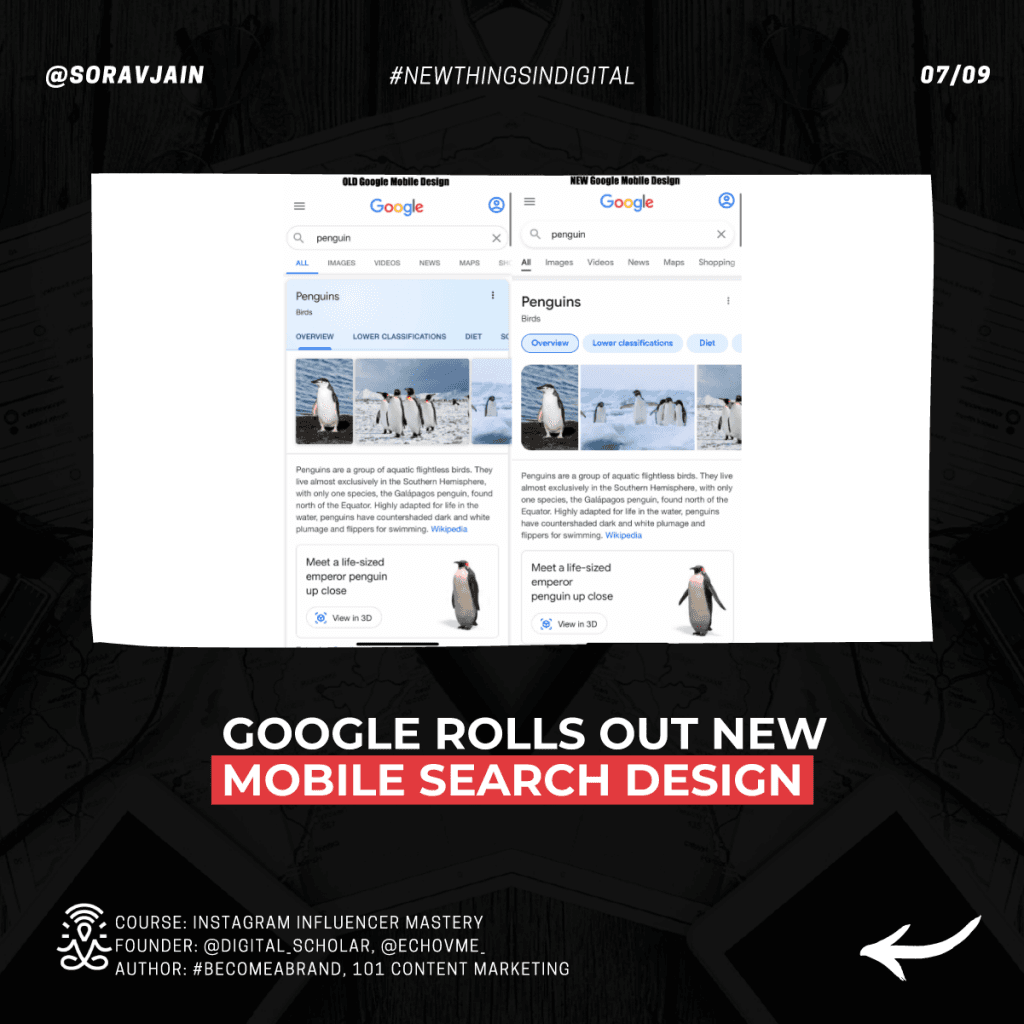 Google has announced the rollout of its new mobile search results design. According to Google, the design makes the Search results easier for users to read, the results are cleaner and simpler, and it has a more modern experience. Compared to the old design, the new one is more classified, easy on the eyes, and easier to navigate.
7. Google Tests Red & White Hotel Pricing Pins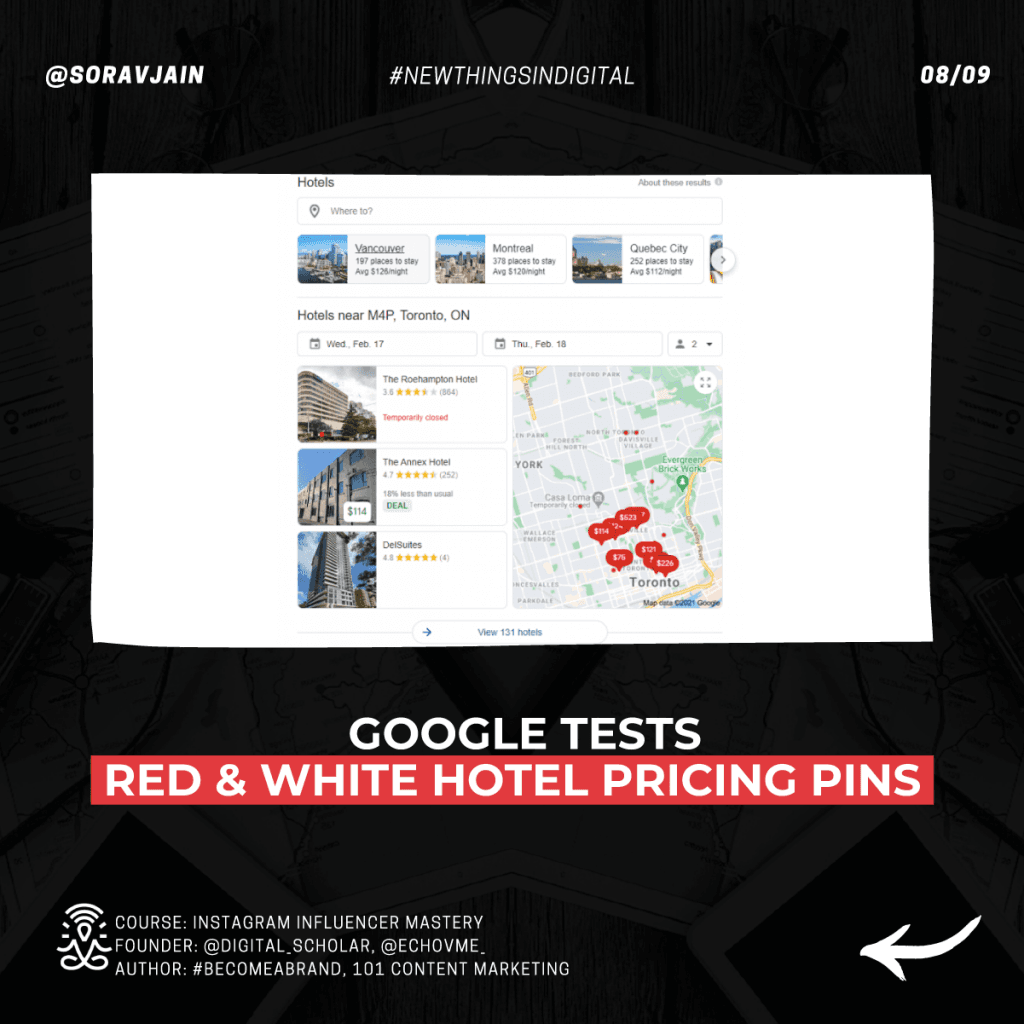 When hotels are searched for, on Google, in specific locations, the results will show a hotel search box with pricing pins in a blue background color. Google is now testing variations for the display of the same, with more colours for the pins – both red and white background colours.
8. Instagram Adds "Recently Deleted" Folder To Save Posts Deleted by Mistake
The most useful update is here from Instagram! The platform has now added a "Recently Deleted" folder, which will have deleted posts saved for 30 days. If users have deleted a post by mistake, they can always go to the recently deleted folder and restore the post. This feature applies to all forms of content including photos, videos, Reels, IGTV videos and Stories. Stories alone will stay for 24 hours since that's how long they are present on Instagram. The rest of the content format will stay in the folder for 30 days, before getting permanently deleted.
9. Facebook May Enable Users to Share Instagram Reels to Facebook Watch
Facebook has constantly been looking for ways to expand the usage for Instagram Reels as TikTok's popularity only seems to grow. In a move to retain its user-base, and to prevent them from not moving away from its Apps, the social media platform is looking to enable users to share their Reels to Facebook Watch. Facebook is not exactly known for being a fun platform, unlike TikTok, and even Instagram. Still, the platform is trying to integrate cross-platform content sharing to retain its users.
10. Facebook Tests New Prompts To Push Users To Allow Data Tracking in The Wake of Apple's IDFA Changes
Apple's IDFA update is expected to have major changes in Facebook's targeting for its advertisements as the policy limits data tracking from little to almost none. In a move to provide users with the option of choosing to let Facebook track their activities however limited they may be, the platform has now announced that it is testing new in-app prompts to push users to allow it to track data.
11. Facebook Tests Topic Exclusions For Advertisers Within News Feeds
Facebook is looking to introduce advanced advertiser topic exclusion controls on the platform. This will enable businesses to stop their ads from appearing next to certain topics on the feed. They can choose topics based on brand-suitability preferences. This opens up possibilities for targeting the right and a more refined audience. The platform currently lets businesses exclude topics including 'news', 'politics', 'gaming', and 'religious and spiritual' content for video campaigns.
12. Instagram is Developing a TikTok-Style Vertical Feed for Stories
Facebook's continual efforts to make TikTok-based tweaks on Instagram only goes on to prove how major an impact TikTok still has on other social media platforms. After the introduction of Reels, a direct competition to TikTok's short video format, the platform is looking to make tweaks to Stories and is all set to test vertical format for the same. This means, instead of tapping left or right to go to the previous and next stories, respectively, users will have to swipe up and down to navigate between stories.
13. Google Will Suspend Merchant Sites That Show Higher Prices at Checkout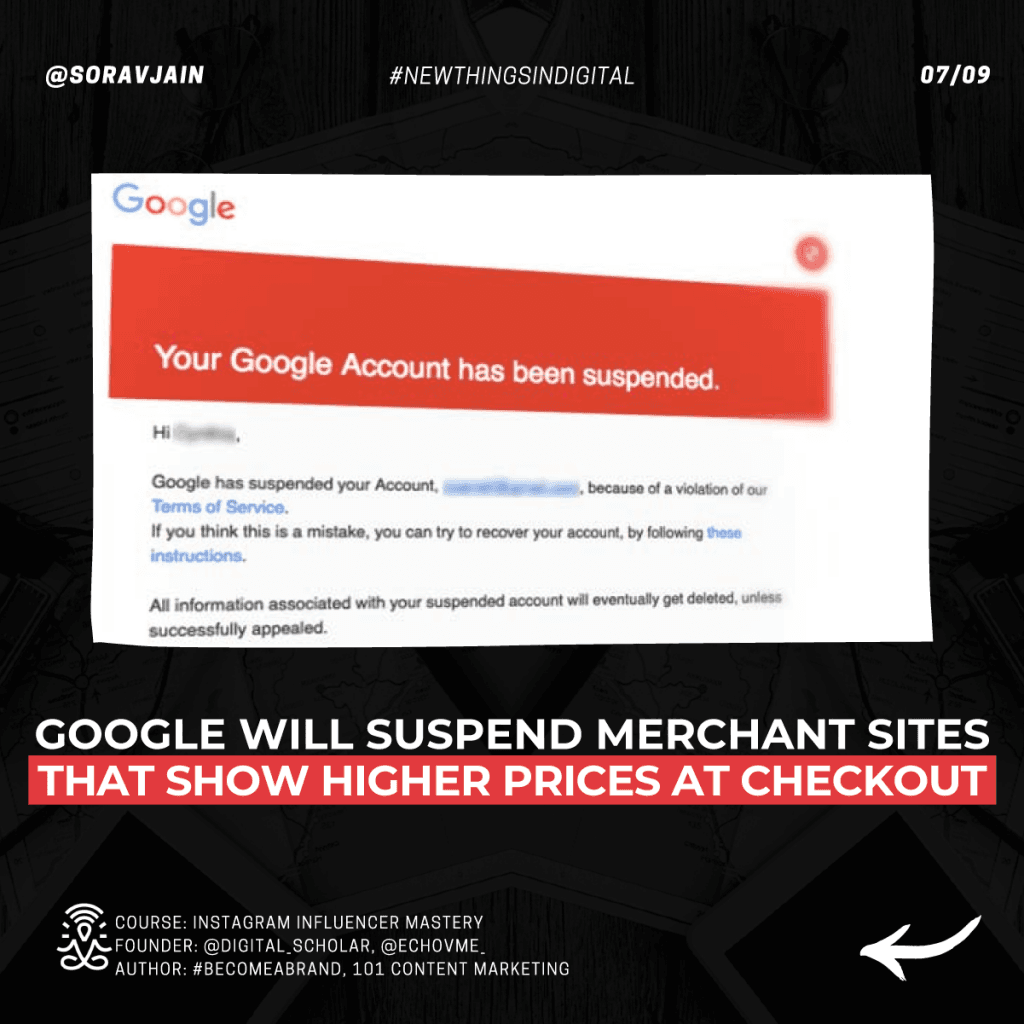 Google announced that beginning on April 6, it will start enforcing its longstanding policy of requiring merchants to show the price of an item from their Google Merchant feed on their e-commerce page, all the way through the checkout process. If you show a higher price than what is on your landing page, Google can suspend your account.
14. Google Expands Phrase Match to Include Broad Match Modifier Traffic
Changes are coming to Google's phrase match and broad match modifier keyword match types, the company announced on Thursday. Phrase match will expand to include additional broad match modifier traffic and support for broad match modifier will end. The changes will start rolling out in two weeks.
15. Instagram to Limit The Reach of Reposts From TikTok Within The Reels
A few weeks back, Instagram posted a set of guidelines highlighting tips on how to create great content via Reels. In one of the points, the platform had pushed creators to share original and authentic content, 'created with the Reels camera', hinting that it doesn't appreciate content from outside of the app. Following that, Instagram has now issued some more Reels advice, where it requests people to refrain from sharing Reels that are of low resolution, and 'visibly recycled from other apps' – pointing out at watermarks and logos within the videos. Instagram has updated its algorithm to downrank such posts within the Reels tab and Explore.
16. Google Adds New Video Editing Features to Google Photos
Google has added new video editing features to Google Photos, and this could be helpful for those looking to enhance their videos. The new features include options for cropping, the capacity to 'change perspective', apply added filters and enhance specific video elements like brightness, contrast, etc. According to Google, if the video's exposure is poor, we can now increase the brightness and fix the issue.
17. Instagram Plans to Launch Multi-Participant Live-Streams Later This Month
Instagram had launched the multi-participant live-stream test in India back in December, after seeing an increased interest in the live-stream feature in the Indian market. On Lily Singh's show, Instagram's chief Adam Mosseri has revealed that the platform is looking to officially launch the multi-participant live video chat feature within the next few weeks.
18. Instagram Announces New Steps to Manage Bullying and Abuse via DMs
Instagram is stepping up and putting in efforts to protect users from being subjected to bullying and abuse over DMs, with tougher enforcement for those violating platforms rules. Instagram has said that DMs, being a place for private conversation, do not provide them with the liberty to detect messages and hate speech and abusive behaviour in them. However, it has also said that there are more steps to detect this kind of behaviour on the app, thereby announcing a range of new measures – (a) Instagram will disable accounts of those who send abusive messages; (b) Instagram is also looking to provide personal accounts with the option to switch off DMs from people they don't follow. This is currently available for creator and business accounts.
19. Google Tests Infinite Scroll on Mobile Search Again
Google is now testing infinite scroll on mobile Search again, even after having numerous tests on the desktop version as well. The mobile Search results right now have a 'More Results' button to load more results, but with infinite scroll, that won't be necessary.
20. Google My Business Adds Messaging To Desktop Interface
Messaging on Google My Business (GMB) was available only via the mobile application. The business management platform has now made messaging available on its desktop version. This makes conversing with customers easier and seamless for businesses.
21. Google Ads Lead Form Now Triggers on Headline Click
Google launched lead forms extension as a beta in 2019 and over the years, expanded the version. They also tested a beta lead form in 2011, via Google ads. The search engine platform has now updated the lead forms to trigger when the headline of the Google Ad is clicked, as opposed to the sublink or the extension. Now, you'll be taken to the form directly when you click on the Ad's headline.
22. LinkedIn is Developing a New Freelance Marketplace Platform to Facilitate New Opportunities
LinkedIn is reportedly developing a new Freelance Marketplace to enable businesses to find, connect with and pay freelancers – all on the platform. The process will involve a digital wallet that will facilitate payment directly on the platform.
23. WhatsApp is Launching a Second, Cautious Attempt to Update Its Terms of Service
WhatsApp, after facing heavy backlash from users across the globe, with even damage control doing little to no help, is now attempting to better explain its upcoming Terms of Services with regards to data sharing changes. According to the communication platform, "We previously encountered a great deal of misinformation about this update and we continue to work hard to clear up any confusion.[…] We've reflected on what we could have done better here. We want everyone to know our history of defending end-to-end encryption and trust we're committed to protecting people's privacy and security. We're now using our Status feature to share our values and updates directly within WhatsApp. We'll be doing much more to make our voice clear going forward."
This will include direct and detailed prompts within business chats as well as detailed in-app banners explaining the changes, along with quick explainers in multiple languages.
24. LinkedIn is Developing a New Program to Support Content Creators
LinkedIn's Editor-in-Chief Dan Roth posted a new job for a 'Head of Community", with a focus on supporting creators around the world, on the platform. With that, LinkedIn has also launched the first stage of the development of a new support framework exclusively for creators, which will also lead to new advertising and promotional opportunities through the most influential users of the platform. This new initiative will facilitate further growth for creators, resulting in establishing a revenue-sharing eco-system for the platform.
25. Twitter Continues to Evolve 'Spaces'
Twitter is working on evolving its audio social wing 'Spaces', to tackle its rapidly growing competitor Clubhouse. The platform is gradually rolling the feature Spaces out to more users, with added features in-line. Hosts will now be able to view the full guest list – with access to a 'guest management' button and get a full overview of the people attending a session on Spaces. This will be separated into tabs – speakers, listeners and requests. This will aid in easy management of the guests and the session itself. Apart from this, Twitter also has a string of changes/updates to its UI appearance.
26. Google Lets Users Swipe Through Products and Style Ideas on SERP
When you search for a product on Google and find the organic 'Popular Products' section, you will be able to click on it and swipe to view the product listing. There is also a new section, "style ideas", originally launched in 2017 as Google Lens.
27. Google Maps' Removes 55 Million Reviews & 3 Million Business Profiles as Part of Spam Management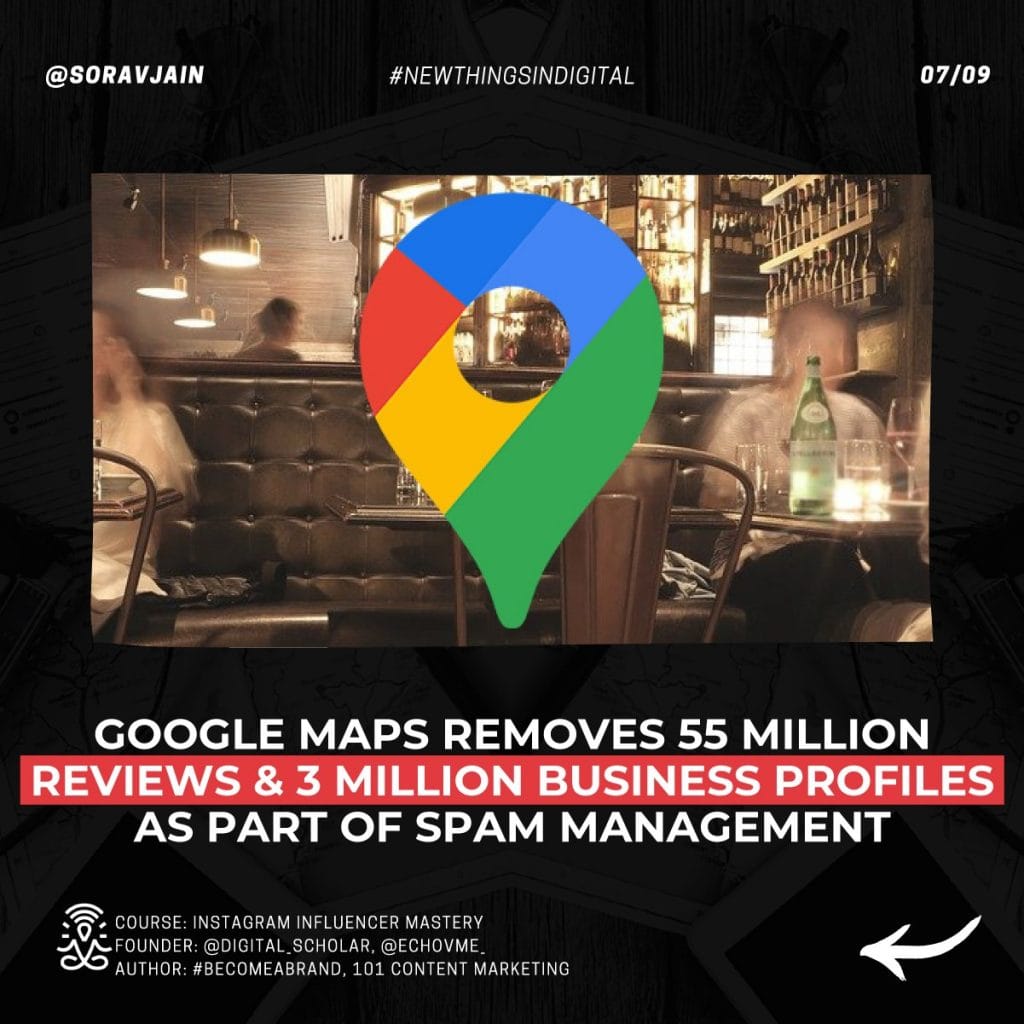 Google recently provided a report on its Spam Management process on Google Maps, with regards to the number of profiles and reviews that seemed fraudulent, were removed. The numbers are huge – Google Maps has reportedly removed 55 million reviews and 3 million business profiles that came across as fraudulent and fake content. Google said it was "20 million fewer reviews than we removed in 2019 as we saw a drop in the overall number of reviews due to fewer people being out and about during COVID-19."
28. Google Local Has Enabled Filters For Restaurant Search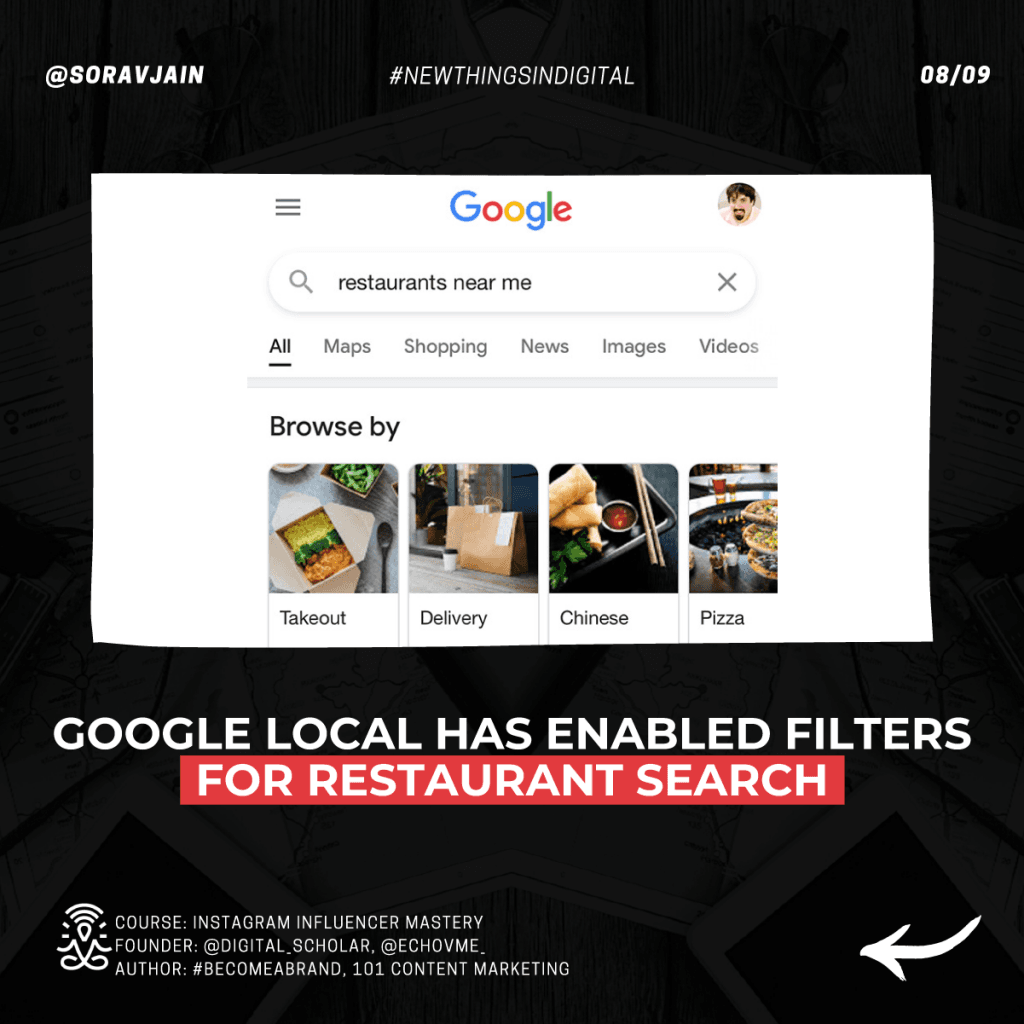 Google has added a filter option to its Google Local, which will enable users to further refine their search. For example, upon searching for 'restaurants near me', the Google SERP page displays a series of filters including 'takeout', 'delivery', 'Chinese', 'Pizza', etc.