The digital marketing industry saw a boom in 2020, as more businesses moved towards digital, courtesy – the global pandemic – COVID 19.
As 2020 came to a grand closure after seeing through a lot of innovative and competitive trends, it left digital aficionados with a lot of things to look forward to in 2021.
Right from the expansion of the short video format, the resurgence of Twitter's verification process and the steady growth of Instagram's Reels, to the effects of the changes in both Apple's and WhatsApp Privacy Policy, the digital world has these and a lot more in store for us, in 2021!
In case you missed last month's list of #NewThingsInDigital click here to read. Here are the new things in digital from the month of January.
List of The Top 34 Latest Digital Marketing Updates in January 2021
1. Google Short Video Displays TikTok and Instagram Videos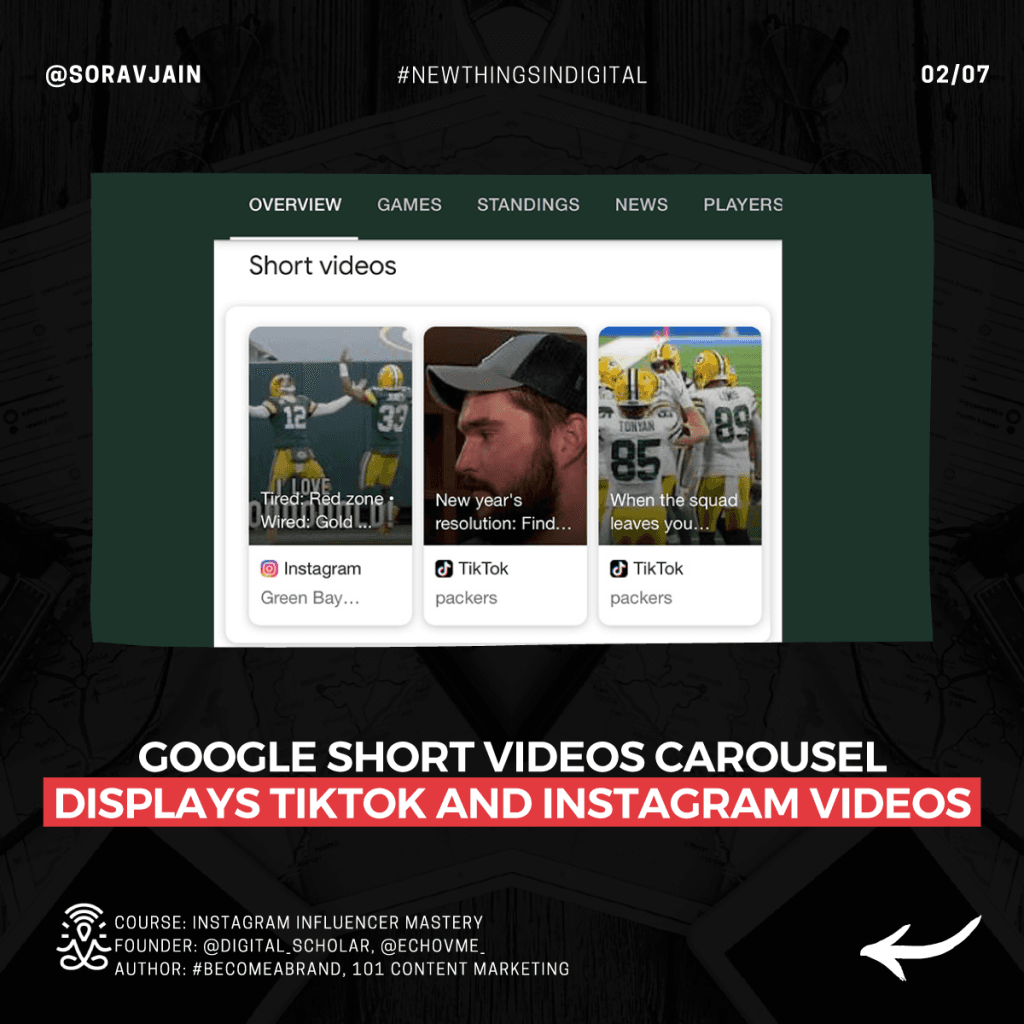 Google began testing showing short videos in a carousel on mobile search, back in April 2020. Initially, the carousel only showed videos from YouTube. The latest update is that the short video carousel now displays TikTok and Instagram videos.
2. Bing Image Search Tests Related Content Feature and Icon
Microsoft Bing is testing a new feature on the images it displays within the Search results. The test results show a related content icon and pop up when you hover images displayed in the Microsoft Bing search results. It shows not only just related content but also related products and other significant information about the image.
3. Google Tests Question Mark Icons for 'People Also Ask' Section
The latest addition to Google's tweak-spree is the question mark icons in the 'People Also Ask' section. Initially dismissed as a bug due to the icon style, it has now been confirmed that it is a Google test indeed, after secondary notifications.
4. Google Search Results show Practice Problems
Google is also testing the addition of the 'Practice Problems' feature, which enables students to study directly from the Search Results. When you search for a subject-based query, the results not only show a new category called Practice Problems but also adds a problem directly in the Results.
5 Google Tests Displaying Services in the Local Pack
Google, in its local pack, is now showcasing services provided by businesses. Google defines this service 'justification' as the additional labels in the local pack results. Until now, we saw website mentions and other items, but now, we also see businesses' service offerings. Now, there's even more reason why it is ideal for businesses to add their service offerings on Google My Business.
6. WhatsApp Updates Privacy Policy, Paves The Way For The Integration of Facebook's Messaging Apps
Facebook has brought WhatsApp into its move towards the integration of its messaging apps. This will eventually enable users to cross-message from Instagram to Messenger to WhatsApp, without having to download the respective apps, individually. Users received a pop-up on their WhatsApp, stating the update of its terms and privacy policy, which has done away with the option of 'not having your WhatsApp account information shared with Facebook'. Users will have to accept the new terms to continue using the messaging platform. The update will be effective from February 8th, 2021.
7. Facebook Adds New Alert Options, Expands Engagement Alerts For Groups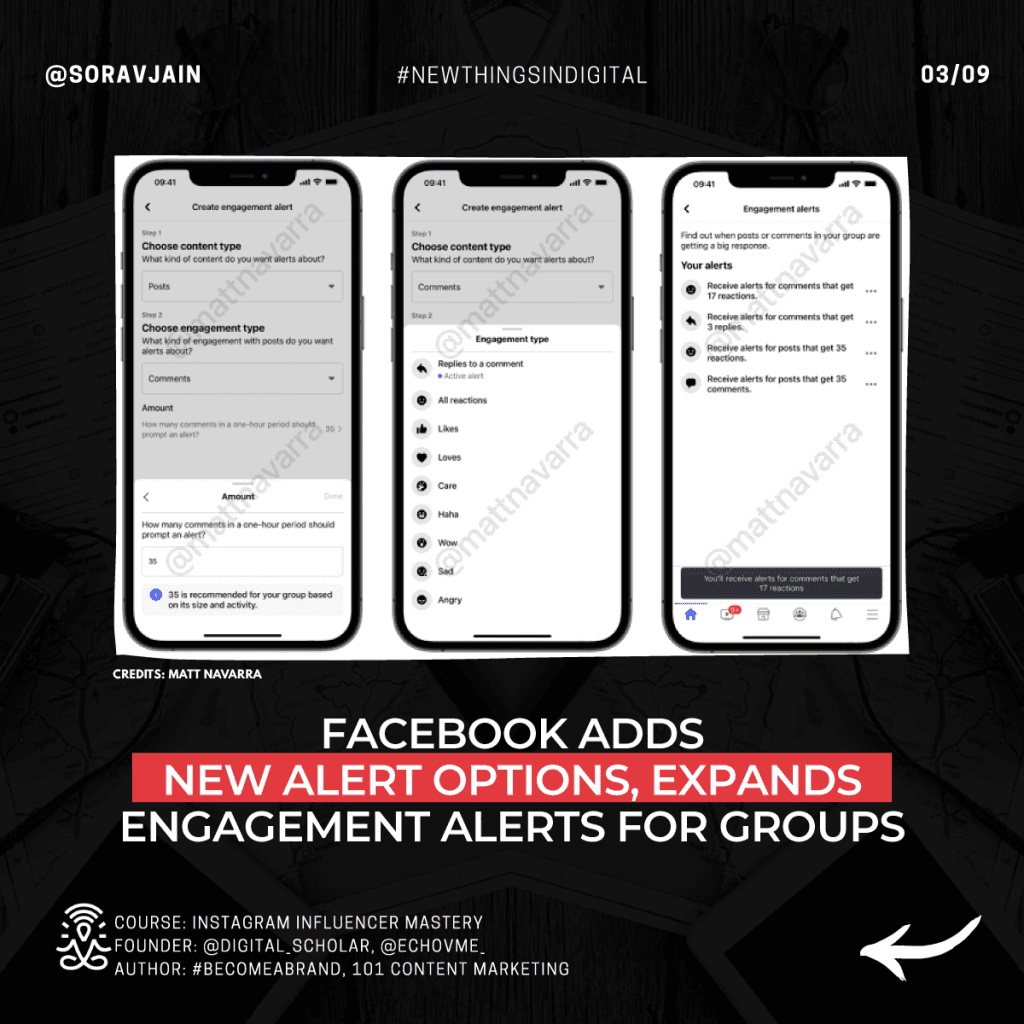 After launching the 'Engagement Alerts' feature for groups last year, Facebook is now expanding this option to more group admins with added elements that will enable group managers and admins to stay on top of relevant discussions/engagements. Engagement alerts bring to the notice of admins, the posts and comments that are getting higher traction. The alerts can be switched on within the Group settings. The new set of updates include new tools, which enable admins/managers to set parameters to the alerts. This will make it easier to ensure they stay on top of specific types of interactions in groups, with alerts that help them keep track of key trends.
8. Instagram Tests New Stories Layout on Desktop
Instagram is testing a new layout for Stories on desktop. The layout is designed to make it easier to scroll through the various stories on the bigger screen. The new format presents the stories in a carousel, as opposed to the stories from a single profile, which took up the entire frame.
9. Facebook Tests new Post Composer, Simplifies the Addition of Photos
Facebook is testing a new post composer, which is more visual-centric, making it easier to add photos to your post. This updated composer puts the latest images from your Camera Roll in a panel display just below the composer frame. This means that users will no longer see the 'Choose Photos' panel below the composer window, aiding them to add their recent images to the post directly.
10. Google Launched Subtopics Ranking in Mid-November
Google subtopics ranking helps deliver search results with a greater diversity of content when you search for something broad. Danny Sullivan of Google confirmed over the weekend that one new ranking change went live in mid-November that was from the slew of announcements at Google's Search On event last October. Google launched the subtopics ranking feature in mid-November, Sullivan said.
11. Google My Business launches New Performance Reporting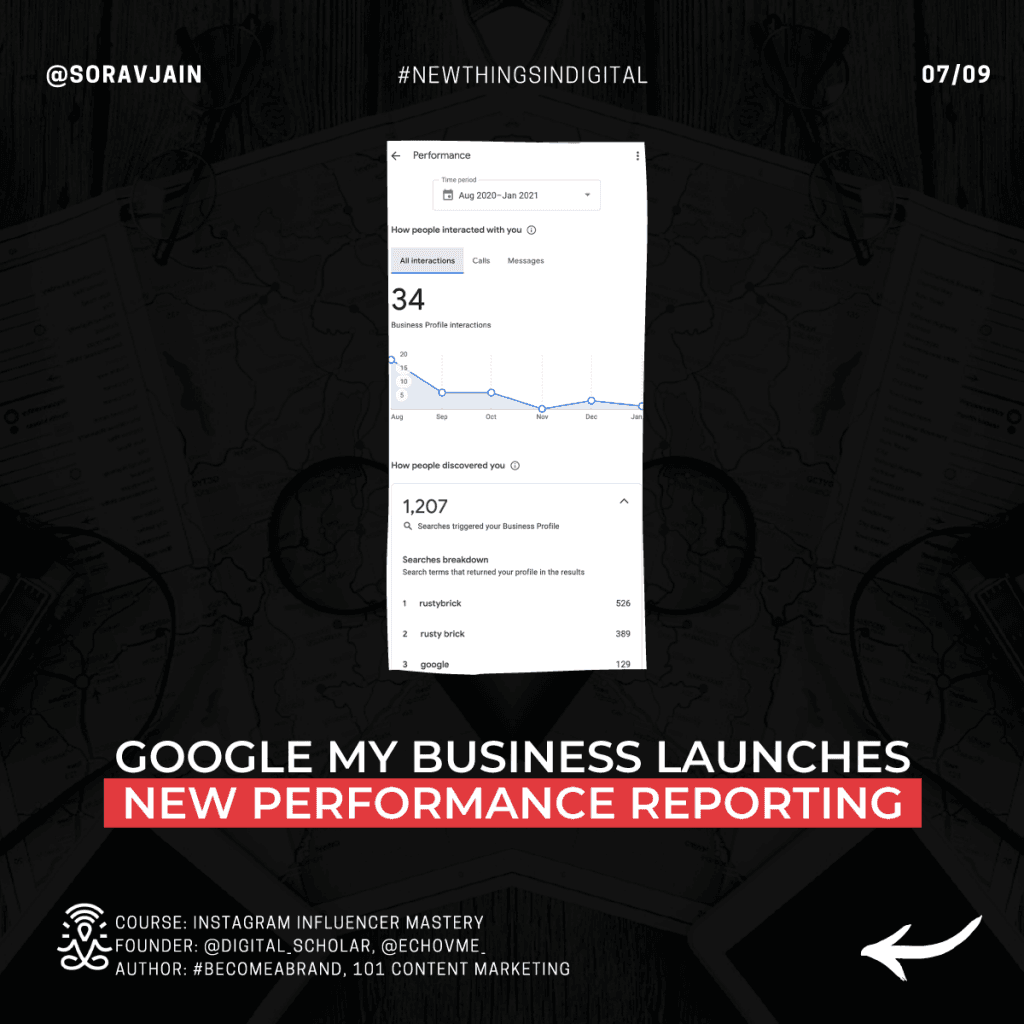 Google is now rolling out new performance reports within the Google My Business Insights section. These new reports have been long-time coming, with hints of it back in August and then again last month. But now, these reports are live for you to access and test out.
12. Facebook Updates Page Layout For Public Figures, Which de-emphasises the Page Likes
After testing it back in July, Facebook has launched its new page layout, which places more emphasis on the page following over page likes. The new layout has completely removed the 'Like' button from the main page with the 'Follow' button made more prominent, along with the follower count. In addition to this, the new page layout also brings in more management options and engagement insights.
13. Instagram Tests Option to Hide/Unhide Total Likes Count on Posts
Instagram had removed the display of total like counts for most users back in 2019 as part of an initiative for audience well-being. The social media platform is now testing an option that would enable users to hide and unhide the total likes count on their posts. The removal of likes was to reduce competition, which would, in turn, bring down the social comparison and other negative impacts, which were high, given that Instagram is a visually-focussed platform. The new option leaves it up to the users to decide whether the number of likes should be displayed on their posts.
14. LinkedIn Officially Rolls Out Swipe-up Links Option to Stories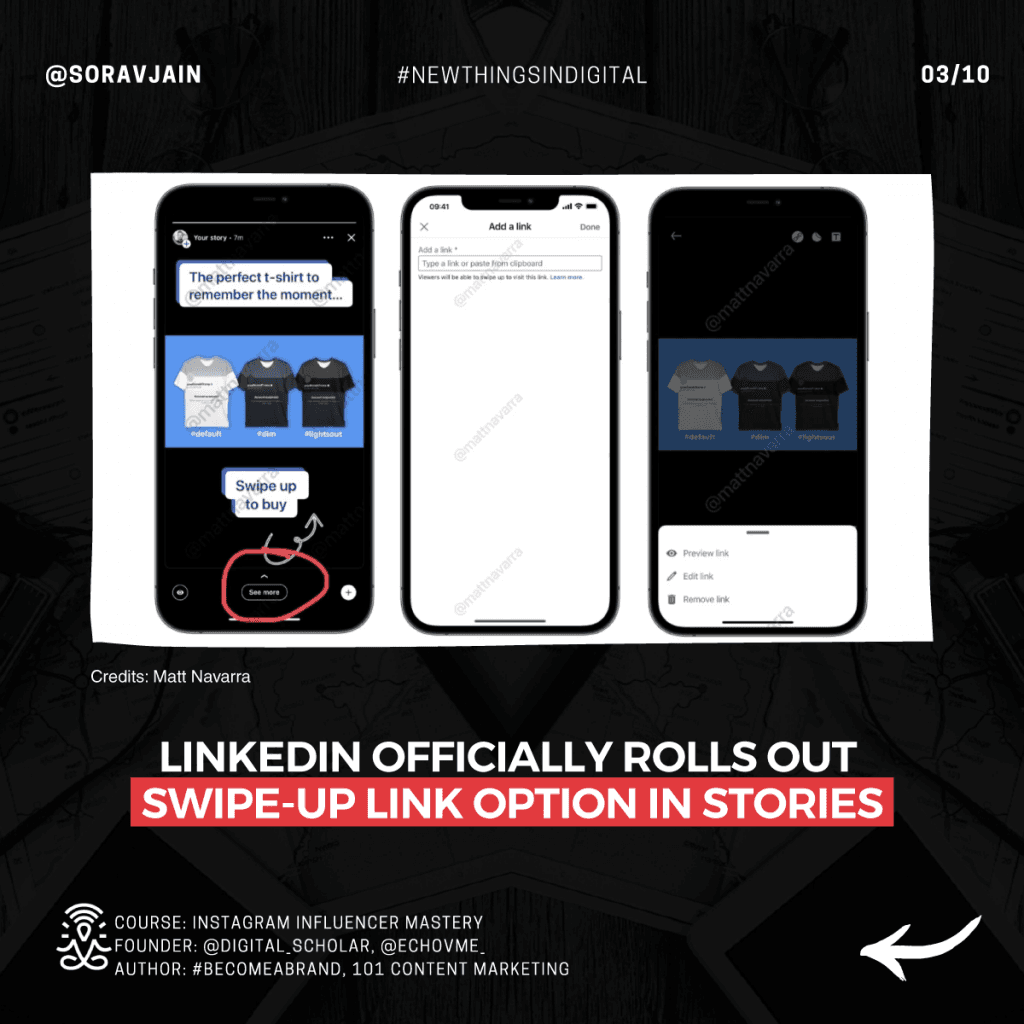 LinkedIn has officially rolled-out the swipe-up option to Stories, after being first-spotted back in September last year. The option that is not available for all users yet works the same way as it does in the Stories tools of other social media platforms. While posting a story, users can find the 'add link' option in the form of a link icon on the top right of the composer screen. The viewers can access the link by swiping up on the Story. Stories with a swipe-up link will have a 'see more' prompt in them. As per LinkedIn, the swipe-up feature for LinkedIn Stories is only currently available to:
LinkedIn Pages.
Individual members who have at least 5,000 connections or followers and the Follow button as the primary action on their profile (instead of Connect).
15. YouTube adds New Hashtag Showcase Pages to Assist in Content discovery
YouTube has launched a new option on its Search – the all-new hashtag search option. The hashtag search provides a full-page display of YouTube videos that include the hashtag search for, along with usage insights. The display page provides a full listing of every video that has used the hashtag, while on top of the screen, it shows the overall insights into how many videos and channels have used the tag. This option broadens the scope of content discovery within the app.
16. YouTube Launches Live Test of Product Tagging Option Within Video Clips
YouTube announced last October that it has begun working on a new option which would enable creators to add product tags within video clips. The option would provide direct shopping options, further broadening eCommerce opportunities within the app. According to YouTube, "Viewers can then see a list of featured products by clicking the shopping bag icon on the bottom left corner of the video. From there, viewers can explore each product's page to see more information, related videos, and purchase options for that product." The platform is currently testing this with a limited set of creators.
17. WhatsApp Delays Privacy Policy Update to Address User Concerns
After widespread criticism and user-concerns from across the globe, Facebook has announced that it will delay a planned update to both the Privacy Policy and Terms of Use for WhatsApp. Upon WhatsApp's announcement of the new Privacy Policy, users expressed their concern over the point which talked about WhatsApp's partnership with Facebook to offer integrations across Facebook-owned products. Many users mistook this to mean that WhatsApp will begin sharing all of its user data with Facebook. Despite Facebook's attempt to clarify that this Privacy Policy will affect only business accounts and not private ones, a major chunk of users have shifted to alternative messaging apps like Signal, Telegram, Viber, etc. WhatsApp has now delayed the planned Policy update by three months as opposed to the previously set date – 8th February. The new date for the updated Policy as of now is May 15th. According to WhatsApp, the new date will allow the users to review the update at their own pace.
18. LinkedIn launches LinkedIn Marketing Labs on-demand Courses for Advertisers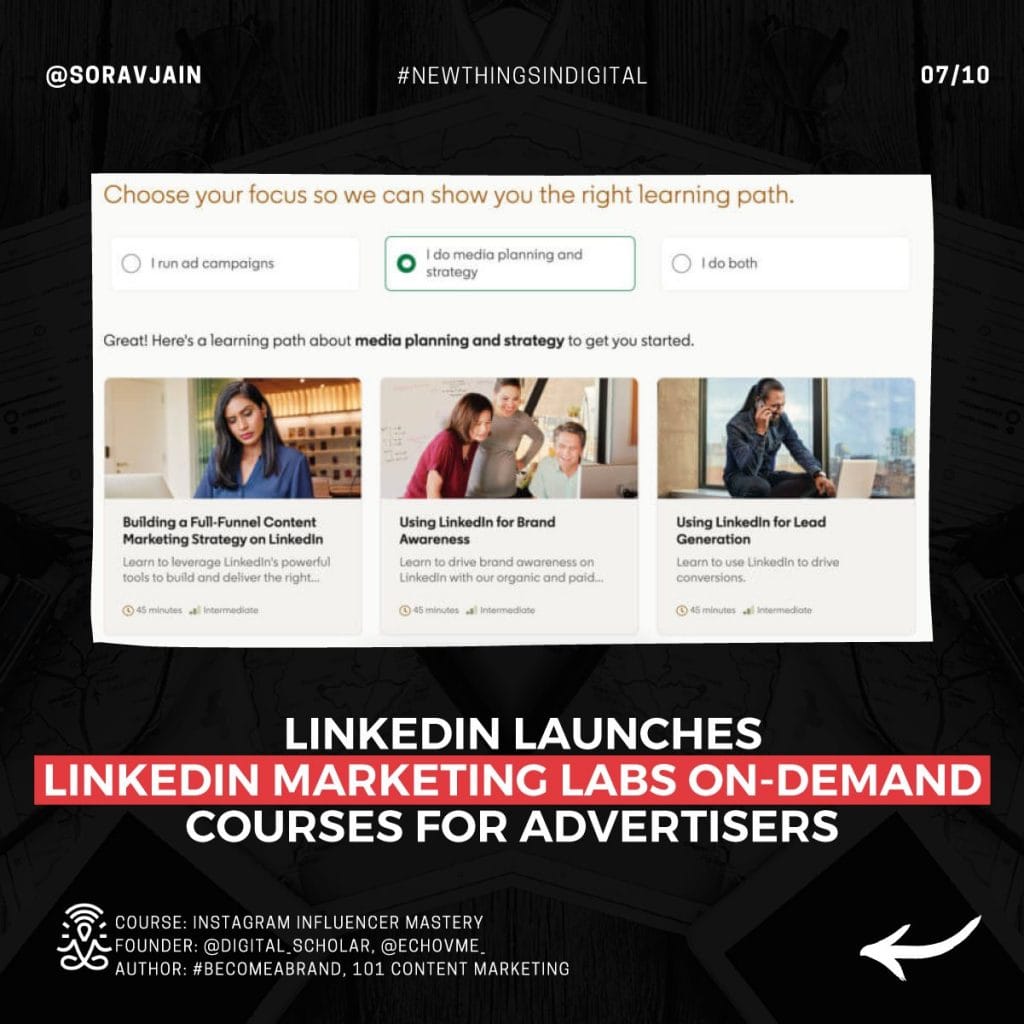 LinkedIn launched Marketing Labs video course to teach advertisers how to succeed on the platform. Courses cover the basics, including an introduction to LinkedIn Ads, how to use LinkedIn ad targeting, and reporting and analytics for LinkedIn ads. Advertisers differ on their opinions of LinkedIn ads' effectiveness, saying success is often achievable for niche industries.
19. Google News Performance Report added to Google Search Console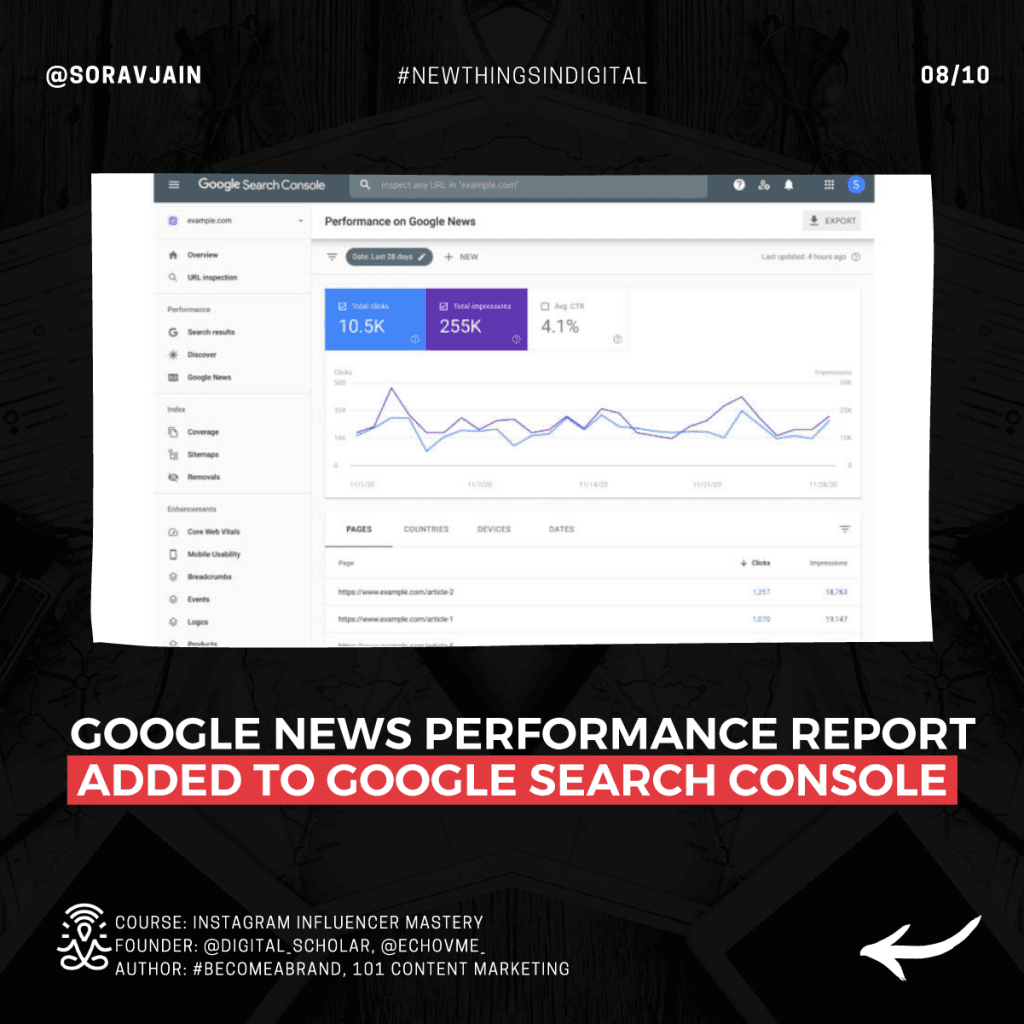 Google launched a new dedicated performance report within Google Search Console for Google News publishers. This report will show on the left sidebar under the "Performance" section for any site that appears in Google News.
20. Google Pauses all Political ads Until The Inauguration
Amidst the volatile US political climate, Google has banned all ads mentioning political topics until after the inauguration. Google has temporarily disabled political ads for at least a week beginning January 14. They say they plan to monitor and reassess the decision continually. Ads mentioning politics, impeachment, the inauguration, and the insurrection at the US Capitol will all be halted. The ban includes ads run by news organizations and merchandisers.
21. Facebook Updates its Automated Alt Text process to Identify More Objects Within Posted Images
Facebook has announced an important update to its Automated Alt Text (ATT) process. Launched back in 2016, the process enables automated identification of objects within posted images through the machine learning process, in the absence of manual alt-text descriptions. Facebook has been working to improve the initially limited iteration. The social networking site has now expanded the number of concepts that ATT can detect, which means fewer pictures with no descriptions. The descriptions have also been made more detailed and will now be able to identify and describe activities, landmarks, types of animals, etc.
22. Facebook Announces New App Login Parameters To Ease The Transition to Apple's IDFA update
To align with Apple's IDFA update and to prevent app developers from being completely shut out, Facebook has added a new app login mode. This mode enables them to continue collecting user data to a certain degree. With the new IDFA policy's announcement, analysts have predicted that Facebook would be hugely impacted, due to the amount of data it collects, and its poor privacy management. Facebook now is providing app developers with a 'Limited Login Mode', which will give app makers the option to limit the amount of data their apps collect via Facebook's software development kit (SDK).
23. LinkedIn Adds New Post Visibility and Reply Controls to Manage Discussions on The Platform
LinkedIn has added new controls/options to posts and comments to better manage the platform's discussions. In this new update, the largest professional networking platform has now added options that let users choose who can view and comment on their posts. Though the 'who can view your post' settings have been present for quite some time, the reply settings are ones that are newly added.
24. YouTube Outlines How 'Shorts' Views are Counted and Their Impact on Channel Analytics
Currently, only users in India have complete access to YouTube's 'Shorts', including the Shorts Camera. However, all users are now able to share 60-seconds long videos to Shorts in the vertical format. Creators have been wondering about the metrics and their effect on the channel's analytics. YouTube has come up with specific insights for Shorts, in a new video, outlining how Shorts' views are measured, and some noteworthy points in the new process. About views, YouTube has said that Shorts' views are included in the regular view count data in the analytics. Regarding how the views impact other stats, the video-search engine says that people see shifts in their data, according to how active they are with Shorts, but it doesn't necessarily cause any performance issues.
25. Google Search Launches Updated Mobile Design and Interface
Google is rolling out a new design for its mobile search results. The updated interface aims to make the search interface easier to read for searchers while providing a cleaner and more modern experience, the company said. The new-look has begun rolling out and will continue to roll out over the coming days.
26. Google My Business Updates Flag Review Feature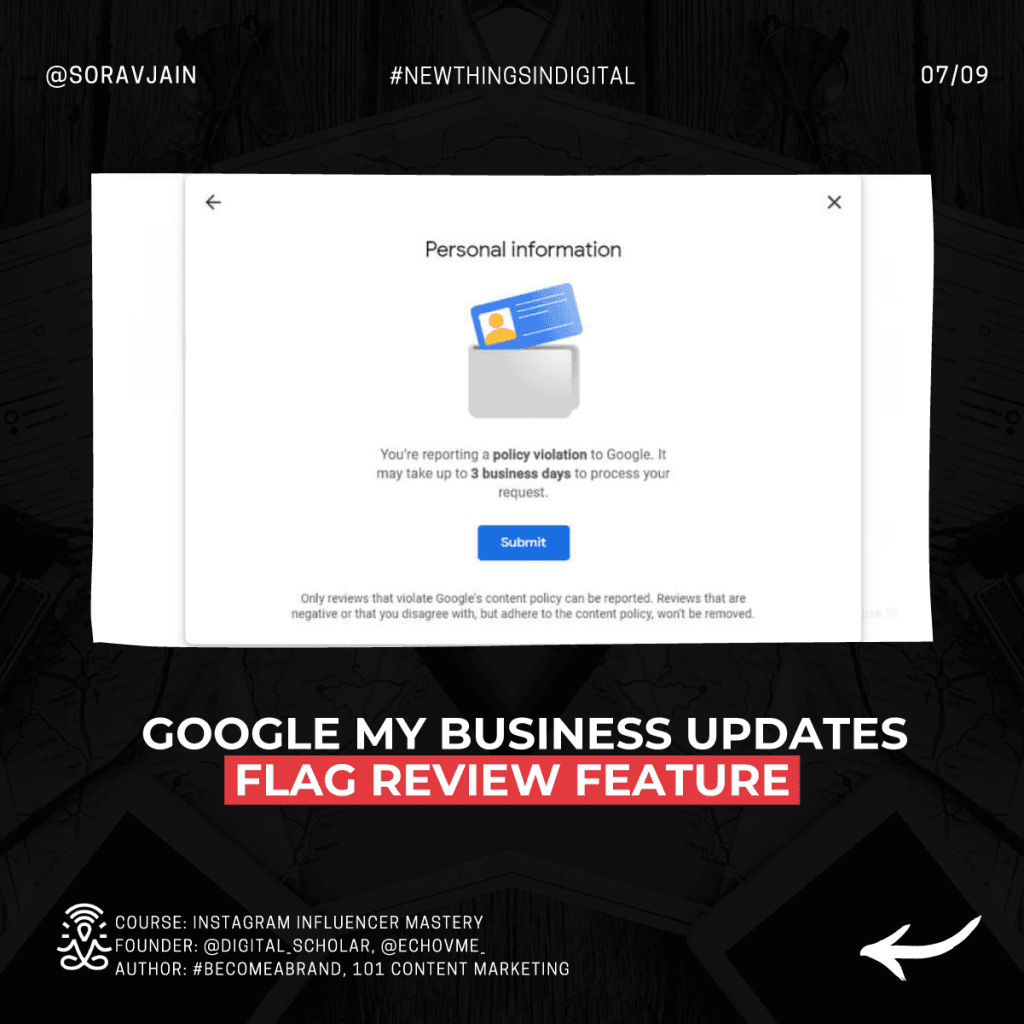 Local SEO, Joy Hawkins, posted that Google has updated the form businesses use to "flag a review" within Google My Business as being inappropriate. The new form seems to offer additional options and a slightly updated workflow.
27. Google Introduces Price Drop Rich Result
Google has updated its Product Structured Data page to add a new form of rich results called the Price Drop Appearance. The price drop appearance will display price drop information in the search rich results. Becoming eligible for the same is easy.
28. Instagram Launches New Professional Dashboard to Support Creators
Instagram serves as a platform of expression for a plethora of creators from different fields of expression. While some may create content with ease, some may not. And for this reason, Instagram has now launched the all-new Professional Dashboard, to support creators in social media management and marketing. The dashboard helps bring in all information from resources and tools that exist on Instagram, together in a centralised "home" location. The platform helps in tracking and performance and growing one's business on Instagram. It also assists creators by giving out tips on everything that's new on Instagram. The platform only requires one to have an account on Instagram. This will be beneficial for both marketers and creators alike.
29. Instagram Tests to Stop People From Sharing Feed Posts to Stories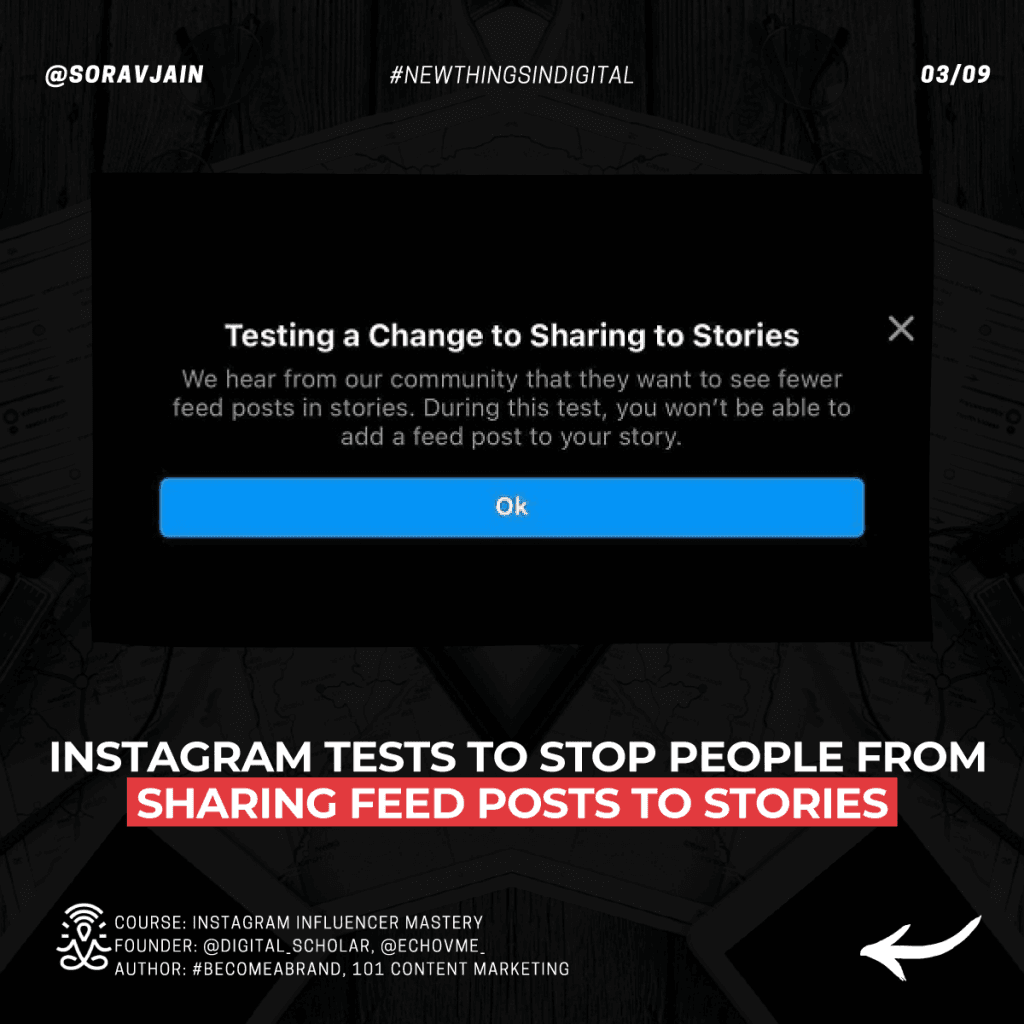 Instagram is testing restricting users from sharing posts from their feed to Stories. This means you can share tweets and IGTV previews to your stories, but not feed posts. Aiming to make it a more creative and original platform, Instagram is looking to prompt users to create new content than share an existing one. This is, in an attempt to establish more original content in each section of the app.
30. YouTube Tests a Beta Version of its New Video-Sharing Feature Clips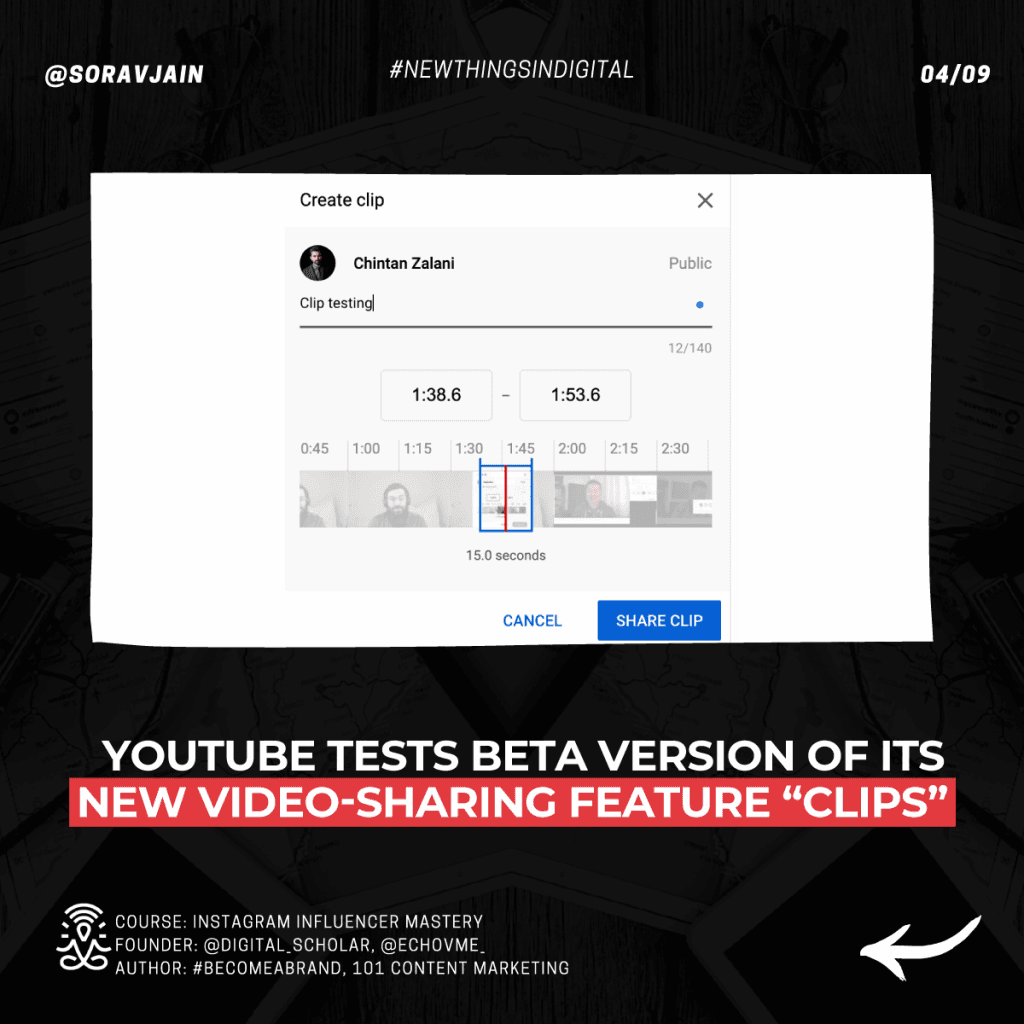 Post the launch of its short-video format feature "Shorts", YouTube has been pushing users to make the most out of it. The platform is now testing "Clips", a feature that lets users and creators share specific segments from videos and live streams. Currently, it is only available to limited gaming channels in beta testing mode and only on desktop and Android devices. The platform is working on tweaks through feedback received from users. With Clips, users will be able to share a part of a video or live stream (between 5-60 seconds) with their own attribution. Until now, viewers had to use its watch page URL, and it was only possible to start a video at a specific time by adding specific parameters.
31. Microsoft Advertising Now Offers Filter Link Extensions
Microsoft Advertising announced an addition to their ad extension offerings today: Filter Link Extensions. According to the announcement, Filter Link Extensions mean "Advertisers can present many different features under categorised headers so that users can quickly navigate to their key products and offerings." With Filter Link Extensions, your ads will include one header with between 3 and 10 clickable text values.
32. Google May Not Display Web Stories That are Teasers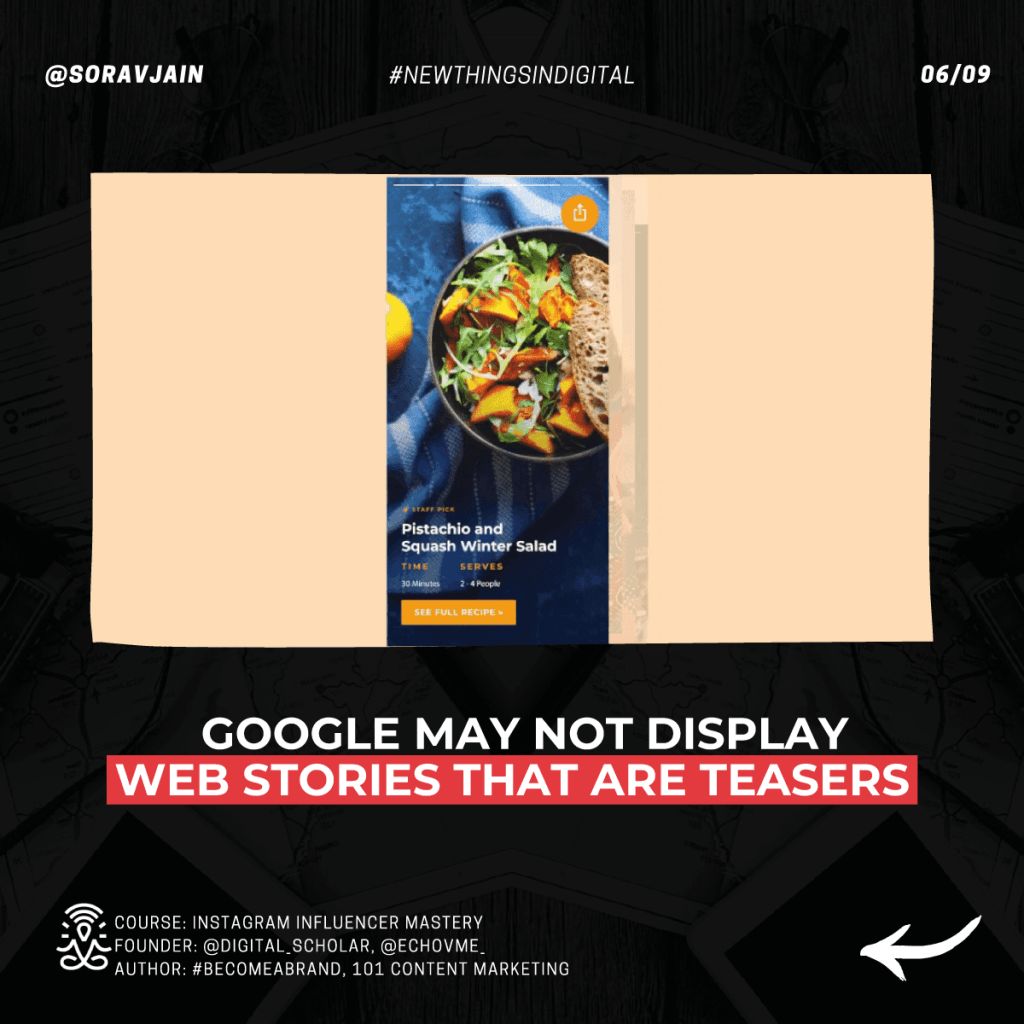 Google announced that it would try not to show "teaser" based Web Stories in Google Search and Google Discover. The company said the publishing ecosystem has been experimenting with new ways of creating rich Web Stories, but based on what it has seen, users do not want teasers where they're being asked to click through to get the full story.
33. Google Rolls Out New Mobile Search Design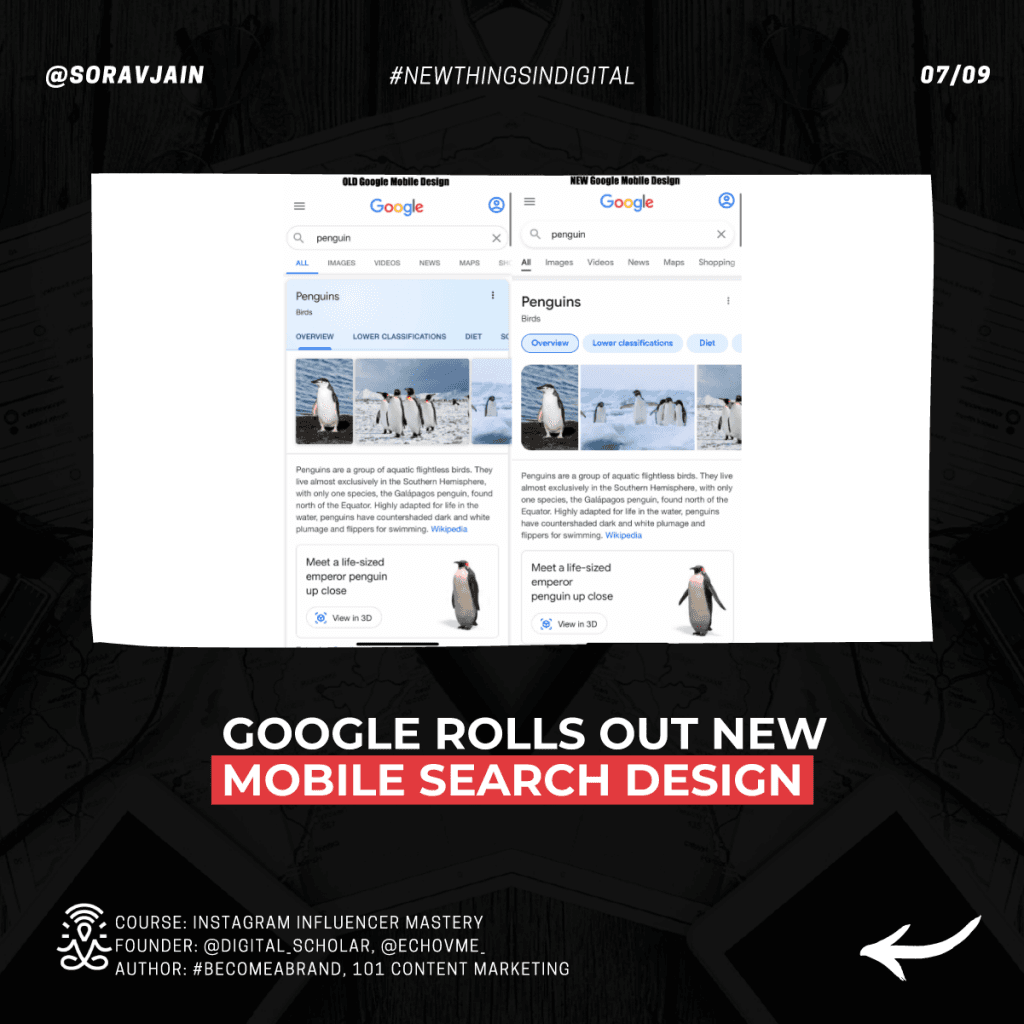 Google has announced the rollout of its new mobile search results design. According to Google, the design makes the Search results easier for users to read, the results are cleaner and simpler, and it has a more modern experience. Compared to the old design, the new one is more classified, easy on the eyes, and easier to navigate.
34. Google Tests Red & White Hotel Pricing Pins
When hotels are searched for, on Google, in specific locations, the results will show a hotel search box with pricing pins in a blue background color. Google is now testing variations for the display of the same, with more colours for the pins – both red and white background colours.