2022 started just as the name sounds. 2 many updates 2 look for! The platforms laid the foundation and started testing some huge changes they have envisioned for themselves and the first month's updates were a testament to just that! From Instagram's multiple feed options, Twitter's advanced search option to LinkedIn's audio rooms, there were many interesting features to look at. Here's the entire list of #NewThingsInDigital
In case you missed last month's list of digital marketing updates click here to read. Here are the new things in digital from the month of January.
Top 27 Latest Digital Marketing Updates in January 2021
1. Instagram begins testing algorithm-free, reverse-chronological feed option within the app
After announcing last year, Instagram has finally begun testing its algorithm-free, reverse-chronological feed option within the app. Adam Mosseri, head, of Instagram, posted a video highlighting the options that will be available in this kind of algorithm-free feed.
According to Mosseri, the options will help people have more control over what they see on their Instagram feed. This update will give you three different 'views' for your feed, two of those being in chronological order. The three different views include:
> Home: The usual feed by Instagram, with post, content, and profile recommendations according to your current content consumption.
> Favourites: This view will show you content based on the profiles you have added to your 'Favourites' list.
> Following: This view will display content purely from the accounts you follow, with no additional content or profile recommendations from Instagram.
Mosseri has also said that the recommendations will only increase on the 'Home' feed over time, with the platform looking to enhance content discovery and bring people to spend more time and money on the app.
So, these home page view options will be a welcome change, allowing users to choose what they want to see on their Instagram feed.
2. Twitter is testing advanced search tools for direct messages and full-screen, visual reactions for Tweets
Twitter is on a feature-testing spree, with a couple of tests lined up for the year! Two of the most important possible updates include the advanced search tools for direct messages and the full-screen, visual reactions for Tweets.
Advanced search tools for direct messages
Twitter is now testing out advanced search tools for its messaging feature. Back in 2019, the microblogging site rolled out a search update wherein users could search for groups and people based on the usernames. This will allow users to search for DMs, using specific keywords or even mentions, thereby streamlining and enhancing the search process in direct messages even further.
Full screen, visual reactions for Tweets
In addition to the DM advanced search options, Twitter is also testing the option to react to Tweets using full-screen visuals. This involves using full-screen video or image to respond or react to Tweets. Currently being tested live on iOS, the option will allow users to choose the 'Quote Tweet With Reaction' option and engage with a tweet. This option gives users another way to engage with, respond to and customise tweets.
In addition to these updates, the microblogging platform is also testing an updated text editor, allowing users to make their comments more vibrant.
3. LinkedIn is testing Audio Rooms; states new format for Live events
The past year has been a happening one for LinkedIn, with the addition of an array of new features and updates to enhance the user experience on the platform.
With the audio social seeing rapid growth (since 2021, actually), more and more social media platforms have been hopping on to the audio, social bandwagon. With that established, LinkedIn continues its efforts to offer more for its users on the platform. The first initiative on this front is the test of audio rooms. LinkedIn has launched the test of its audio, social feature on the platform. The format looks a lot like Twitter's Spaces and Clubhouse's audio rooms – the speakers appear on the top section, while those tuning in and listening appear below.
According to the platform, "We have the professional context to recommend the most relevant events that can help you learn, network and be successful, and we're investing more in surfacing these events to you. Whether an event by a creator or page you follow or a topic you're passionate about, we will surface the events that will help you reach your career goals."
Live social platform events have seen a steep rise, with the pandemic still playing a speed bump in freely hosting physical events. On this front, the platform seems to be updating the format of live video events to one that is similar to its audio rooms.
4. Facebook adds Story highlights and timeline view for posts on Creator Studio
Facebook has added two new features for posts to its Creator Studio platform – Story highlights and timelines view. First off, the Story highlights feature allows you to a small portion of your video content to your Story. This will help you drive more people to tap and watch your full video. Creator Studio will automatically show a portion of a video you can highlight on your Stories. You can, of course, edit this and choose to highlight any portion of the video on your Stories. You can also have a 'See More' CTA to your Story.
In addition to this, Creator Studio has also added a new timeline view for the posts you have published in the app. This will provide you with a transparent view of how your posts will look in users' feeds.
5. Twitter runs new tests for Topics bar and Tweet composer on main feed, tests options to limit Spaces access to select groups
Twitter has been making a couple of major tweaks to its app to align with the latest trends running across the most popular social media platforms. Furthering this, the microblogging site is testing out more updates and features it can offer users.
Here are a few tests that Twitter is currently running:
> Topics bar above the main timeline: Twitter is testing a topics bar above the main timeline that will display an array of topics that might interest you. This will help in enhancing the general discovery of tweets across the platform.
> New placement for Tweet composer: Twitter is also testing out a new placement for the Tweet composer on the main feed. This will see the tweet composer right at the bottom of the main feed, which you can directly tap and start composing your tweet. This will replace the current blur '+' compose button that appears in the bottom right corner of the main feed, making tweet composition more straightforward.
> Limitation of Spaces access: The platform is testing out an option on Spaces, where you will be able to limit the access of your Spaces sessions to a specific audience of your choice. This will provide you with 3 options, including 'anyone can join', 'people you invite', and 'tweeps only' – tweeps here being your followers.
6. Google is testing a new format for Visual Stories
If social media platforms have been trying to offer more to their users and make their platform more user-friendly. Google is also not very far behind! The search engine has been keen on offering users more on the platform, with Google discover, Google Stories, and more.
With that established, the search engine platform is testing out new layouts for Visual Stories on Search. As opposed to the original two-pack layout, Google has now updated the format to a four-pack and three-pack layouts, along with a carousel format.
7. Google tests new look for Trending Searches on Discover and Home Page on mobile
Google is looking to make the search engine more visually appealing. In a move furthering this, the search engine is testing a new format or a look and feel for the 'Trending Searches' section on Google Discover and Google's Home Page on mobile.
The new format includes the search phrases fit into bubbles with a 'trending' icon next to each bubble. Some users are seeing both this updated design as well as the trending searches listings on their devices.
8. Google is testing a 'Read Full Answer' button in the People Also Ask section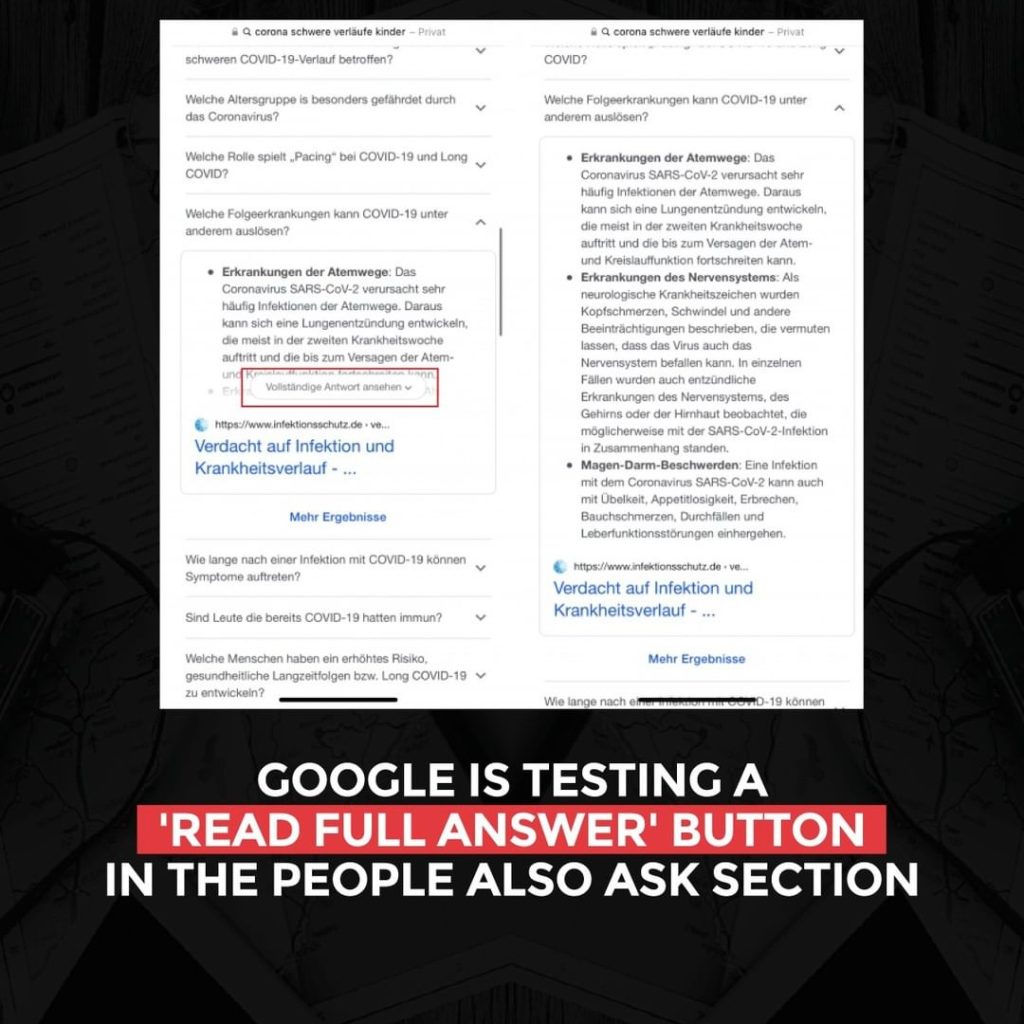 This is a test that was spotted on German Google's Search Engine Results Page (SERP). Google seems to be testing a 'Read Full Answer' button in the People Also Ask section on the SERP, which, when clicked on, unfolds the full answer within the section itself. This can be an interesting development and update (if and) once it is rolled out!
New things in Digital From 10th Jan – 16th Jan
New things in Digital From 17th Jan – 24th Jan