Looking for latest digital marketing updatesin June 2021? You are in the right place, read this blog to know more about some of the amazing and most valuable digital marketing updates, digital marketing insights and trends for the month of June 2021
With the first half of 2021 gone by, I can already see many exciting updates for all the major platforms and promising tests for updates that can change the whole Digital Marketing game. From Instagram testing Desktop uploads, Google's new spam algorithm to Twitter's new mention controls, and Facebook's public display of Story comments, the month was filled with valuable updates. Here's a list of June's #NewThingsInDigital.
In case you missed last month's list of #NewThingsInDigital click here to read.
List of the top 31 latest digital marketing updates in June 2021
1. Twitter announces primary test of ads within Fleets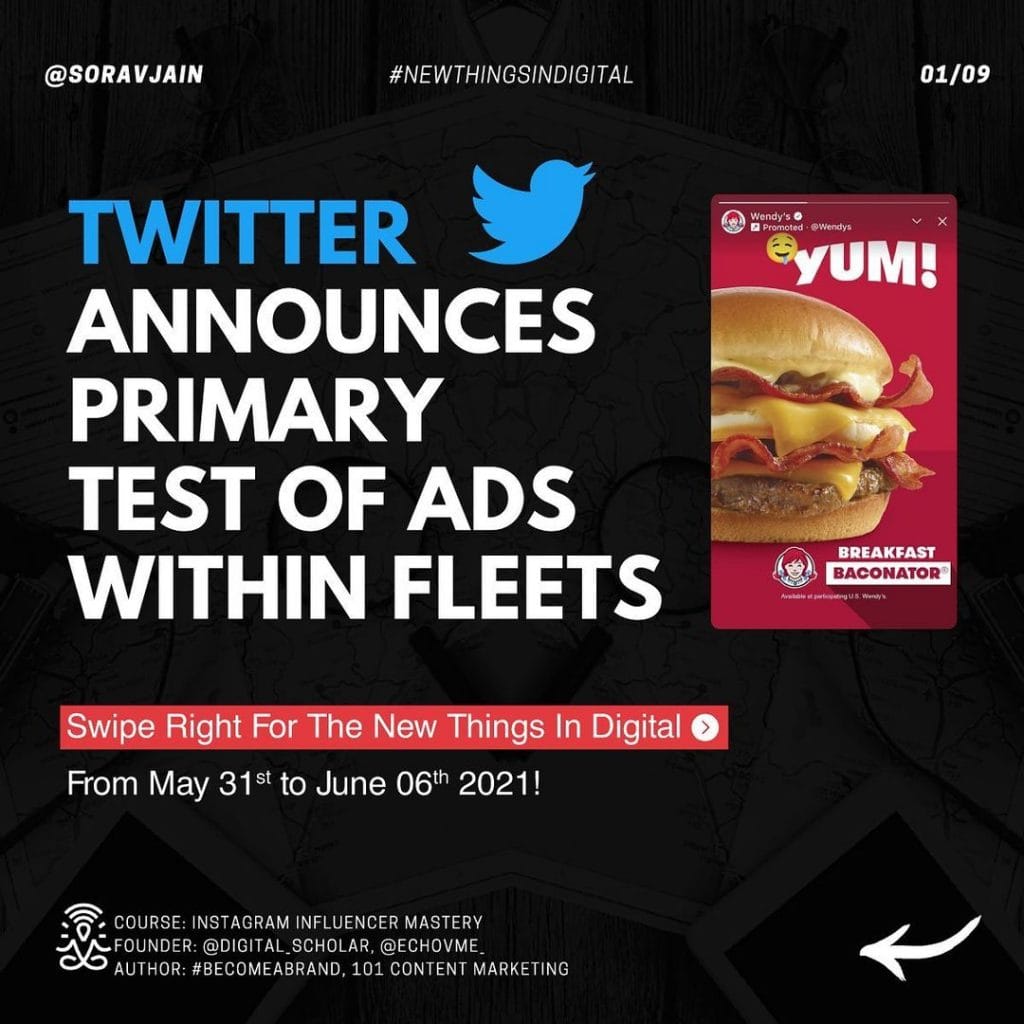 Twitter has announced an initial test of ads in its Story-like feature Fleets. This will see ads inserted between Fleets when users tap through them. Fleets ads are very much similar to Instagram and TikTok Story ads formats, with a full-frame size and learn more button at the bottom. The Fleets ads will also carry a 'Promoted' tag below the brand's profile name on the top left corner of the frame for users to identify that it is promotional content.
2. LinkedIn tests 'Dark Mode' on its desktop version
LinkedIn is testing a dark mode display option for its desktop version. According to LinkedIn, the option that is part of the new LinkedIn experience makes the display predominantly black/dark and is in testing to make the platform "easy, inclusive, and enjoyable". With many other social media platforms providing users with the dark mode option, this display mode has a dedicated fanbase. LinkedIn has confirmed that the dark mode will be available for all members in the coming months. This would definitely be a fresh look for the platform.
3. Twitter officially launches new paid subscription 'Twitter Blue'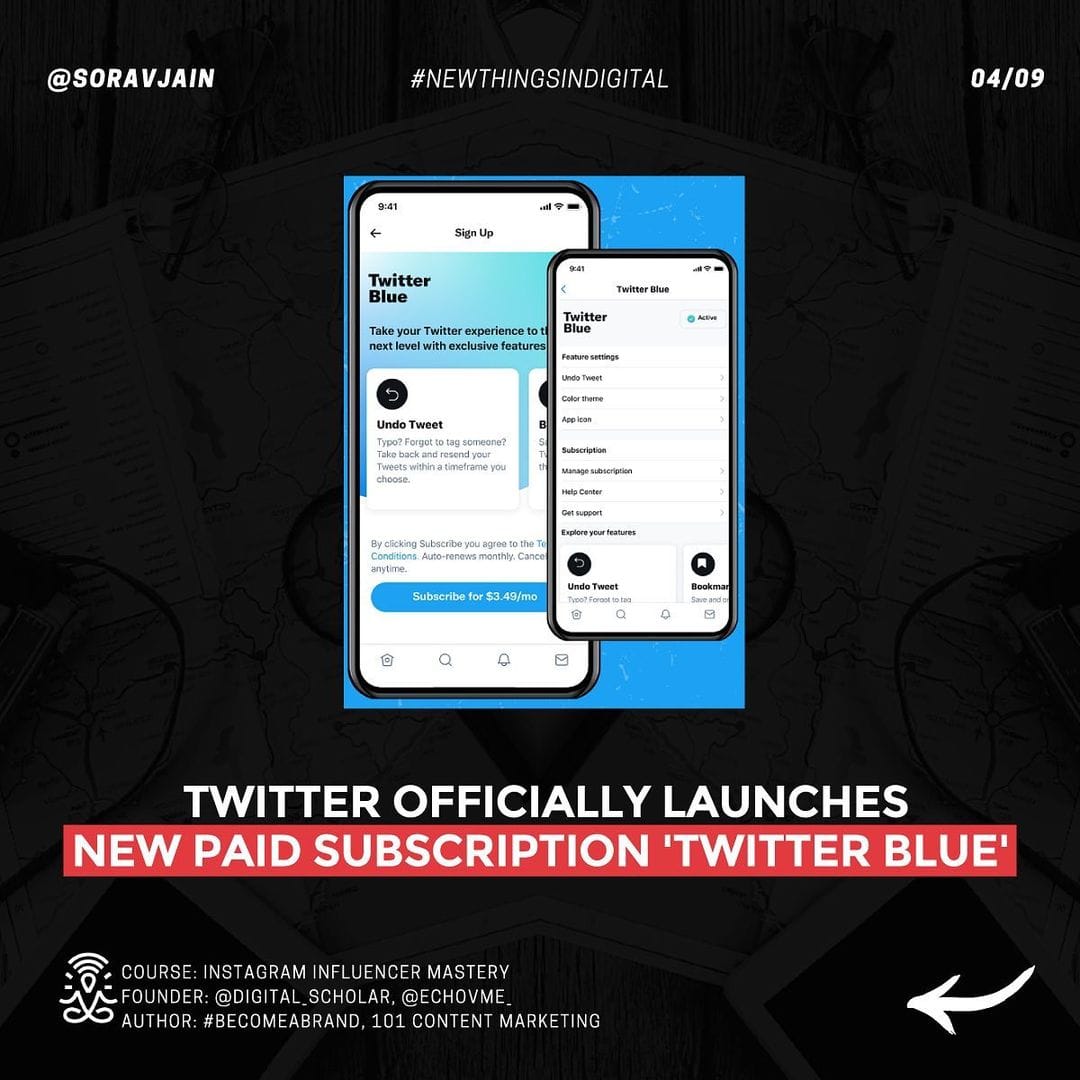 Twitter's new paid subscription offering, 'Twitter Blue', has been officially launched. This service will enable users to gain access to a number of additional features by paying a monthly subscription fee.
According to Twitter, users who have subscribed to Twitter Blue will have access to the following add-ons:
Undo tweets – Twitter Blue subscribers will get access to a 'customizable timer of up to 30 seconds' to click 'Undo' before the Tweet, reply, or thread gets posted to their timeline – so you can make it 10 seconds, 20 seconds, etc. It is not tweet editing, but this is likely the closest you will ever get to an editing feature based on what we know.
Bookmark Folders – This element enables users to categorize their saved tweets into topic-based folders, providing more ways to manage saved content in the app. This could be particularly handy for eCommerce listings in Tweets, which Twitter is also currently developing.
Reader Mode – Reader Mode enables you to turn tweet threads into clutter-free, easy-to-read text so that you can read all the tweeted content in a single stream.
Color theme – Twitter Blue subscribers will also be able to select from a range of color options for their UX display. These options are already available on desktop, but this will provide alternative color settings within the Twitter app.
App icon – Twitter Blue subscribers will also get a new selection of custom app icons to use on their devices.
Dedicated Support – And finally, Blue users will also get access to dedicated subscription customer support.
4. Instagram adds Multi-brand listings to branded content tools
In an announcement of updates to its branded content tools, Instagram has introduced multi-brand listings to branded content-based posts. Branded content tools are designed to provide users with more transparency while also making it easier for businesses and creators alike to manage brand content requests and approvals on the platform. As part of the set of updates announced, Instagram will now allow creators to tag up to two brands in a single piece of branded content, thereby expanding the scope for tie-in promotions. Instagram also made it clear that each brand will able to see the other before approving any kind of integrated message.
5. Twitter launches test of new Spaces tab in the lower function bar
Twitter has launched the initial roll-out of a new 'Spaces' tab in the lower function bar of the App. It is currently testing within a limited user group (500 users) on iOS. The dedicated Spaces tab will take center stage and appear right in the middle of the bar. This is done to put increased focus on Spaces. According to Twitter, the tab will showcase Spaces hosted by people you follow.
6. WhatsApp adds 'speed-up' feature to voice messages
WhatsApp has added a new audio speed control feature for voice notes. This could be useful for people who extensively use the feature and share long voice messages. Users can speed up the voice notes up to 2X the regular speed. It is notable that Telegram has already rolled out this feature on its app back in 2018. The playback speed control update was first rolled out on WhatsApp's desktop version and later made available in the mobile version of the messaging app on iOS and Android.
7. Google adds 'New on Google' label on SERP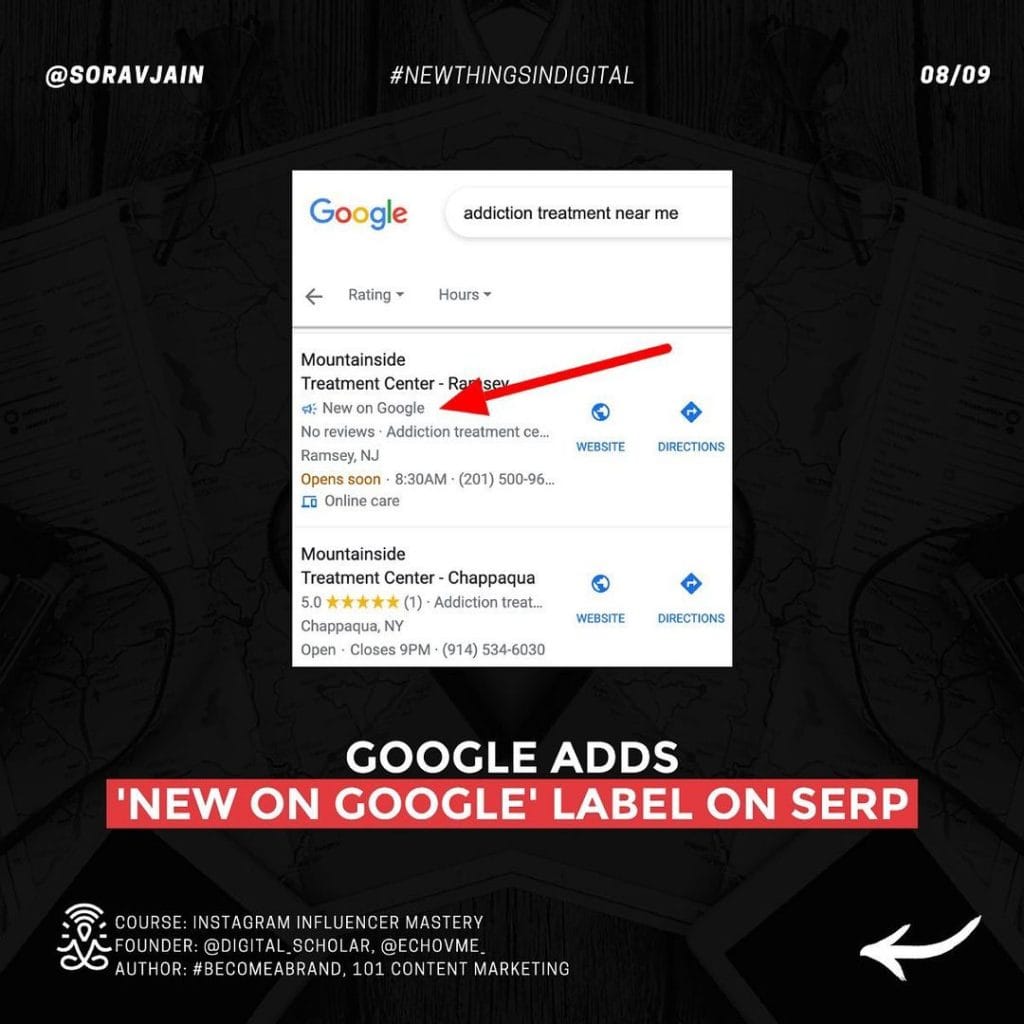 Google has added a 'New on Google' label on both its local search results and the local results on Google Maps. The label is accompanied by a blue speaker icon and is used to highlight anything new on Google. This feature can be helpful for businesses to keep an eye on their competition as Google will highlight the same with the 'New on Google' label.
8. MobileMonkey adds three key automation features for Instagram!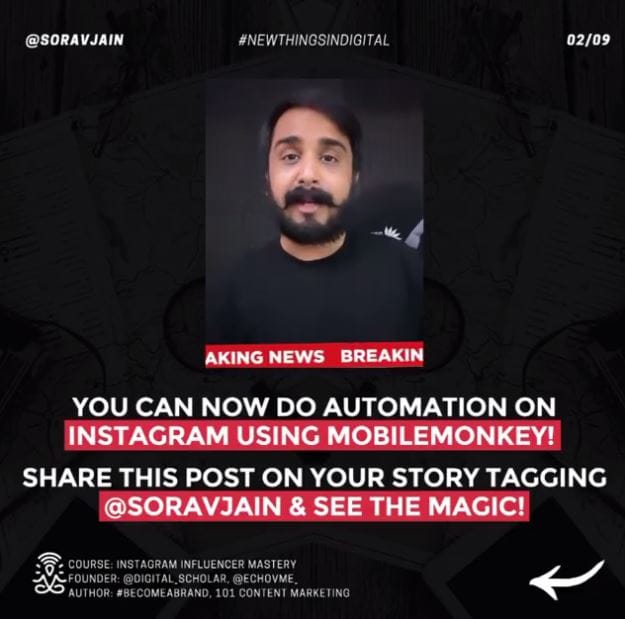 MobileMonkey, a third-party integration platform, has partnered with Instagram and introduced three key automation features for the social media platform! The following are the features introduced:
1. Automated chatbots
2. Automated replies on DM to people who have commented on your posts
3. When tagged by people on Stories, you can send them automated gifts too!
To Check the video Click here
9. Instagram announces affiliate program that provides Creators with revenue options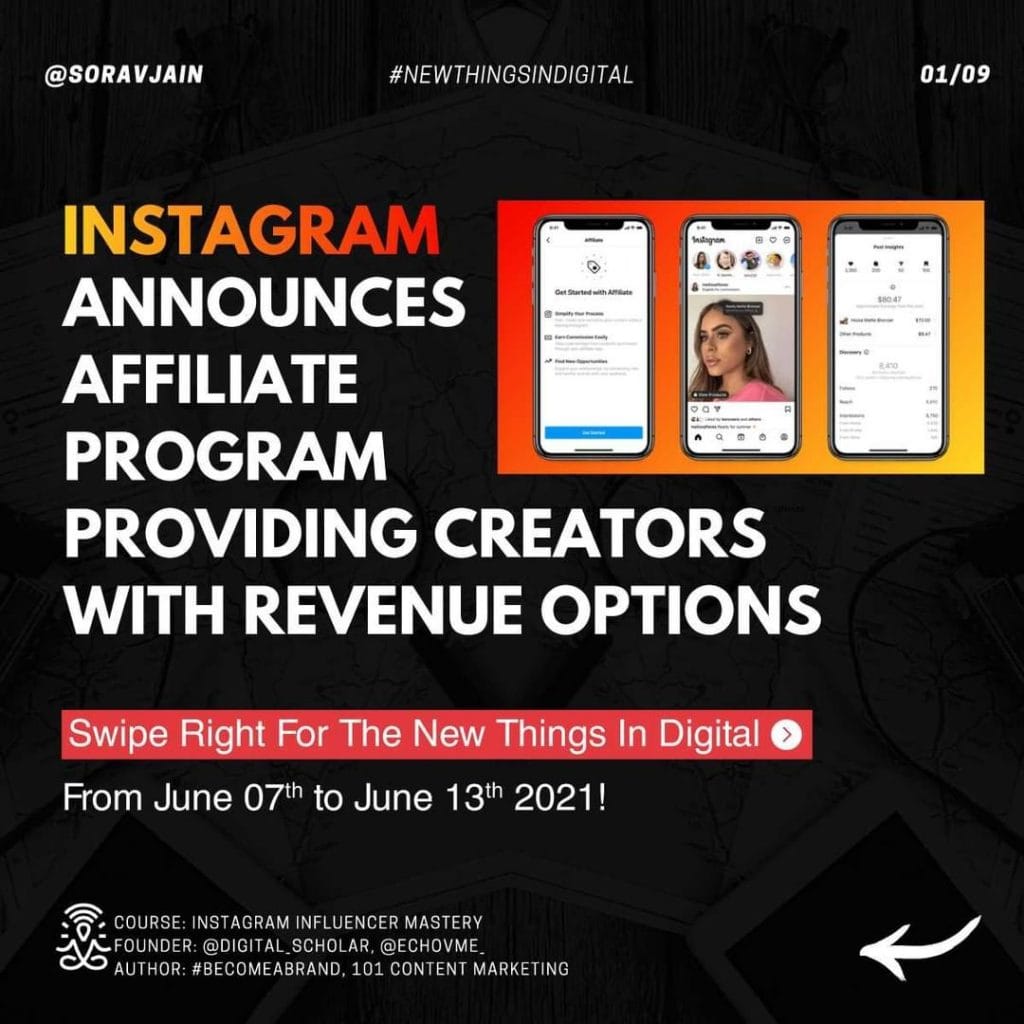 Instagram has announced a new affiliate program that will enable Creators to discover new products sold on the app, share them with their followers, and earn commissions for the sales they drive. Creators willing to take this up can sign up for the said affiliate program, browse through the available products and choose what they want to promote. They can add the products they have chosen to their posts. They will be paid a commission for the sales they drive through their promotion of the products. This will be a limited test with select US-based creators and businesses.
10. YouTube looks to expand Shorts to more regions, adds music options
YouTube has announced that it is expanding the accessibility of Shorts to more regions, with users in UK, Canada, and Latin America being able to access the full set of Shorts tools. While YouTube is expanding its music options, the Shorts feed and camera tools will be available for more users to access and use.
11. Twitter's upcoming "Super Follow" Subscription option will require 10K Followers:
Twitter recently announced its "Super Follow" subscription plan to help creators monetise their presence through a series of paid features. In its latest update, Twitter has also announced that having 10K followers is a prerequisite for profiles/users to access the Super Follow option. The users willing to take up the subscription must have also Tweeted at least 25 times in the last 30 days. The Super Follow subscription will charge a monthly fee for exclusive features that are member-only. These features could include newsletters, special content, discount codes, etc.
12. YouTube will let creators add midrolls, end screens, and captions to their video under processing
YouTube has rolled out a new update with a set of options that will help creators add midroll ad breaks, end screen cards, and even captions to their video that is being processed. This is a huge time saver for creators as they can do all this while the video is uploading instead of waiting for the video to be uploaded fully to add these extra elements. Users can otherwise forget to add these elements when they have to wait for the video to be uploaded to get occupied with other work. The new option is now live in the YouTube Studio process.
13. Twitter adds new "Subscribe" button to newsletter-based Creator profiles
Twitter is now looking to further the monetisation process by adding a new prominent "Subscribe" button to newsletter-based Creator profiles. The button will appear below the main profile information panel and will let users subscribe to newsletters directly through the app. When tapped, users will be given the option to read a sample issue, and upon skipping it, they will be taken to the confirmation stage, where they will receive a confirmation e-mail to the ID linked to their Twitter profile.
14. Facebook rolls out sponsored chat themes, quick replies, and payment QR codes for Messenger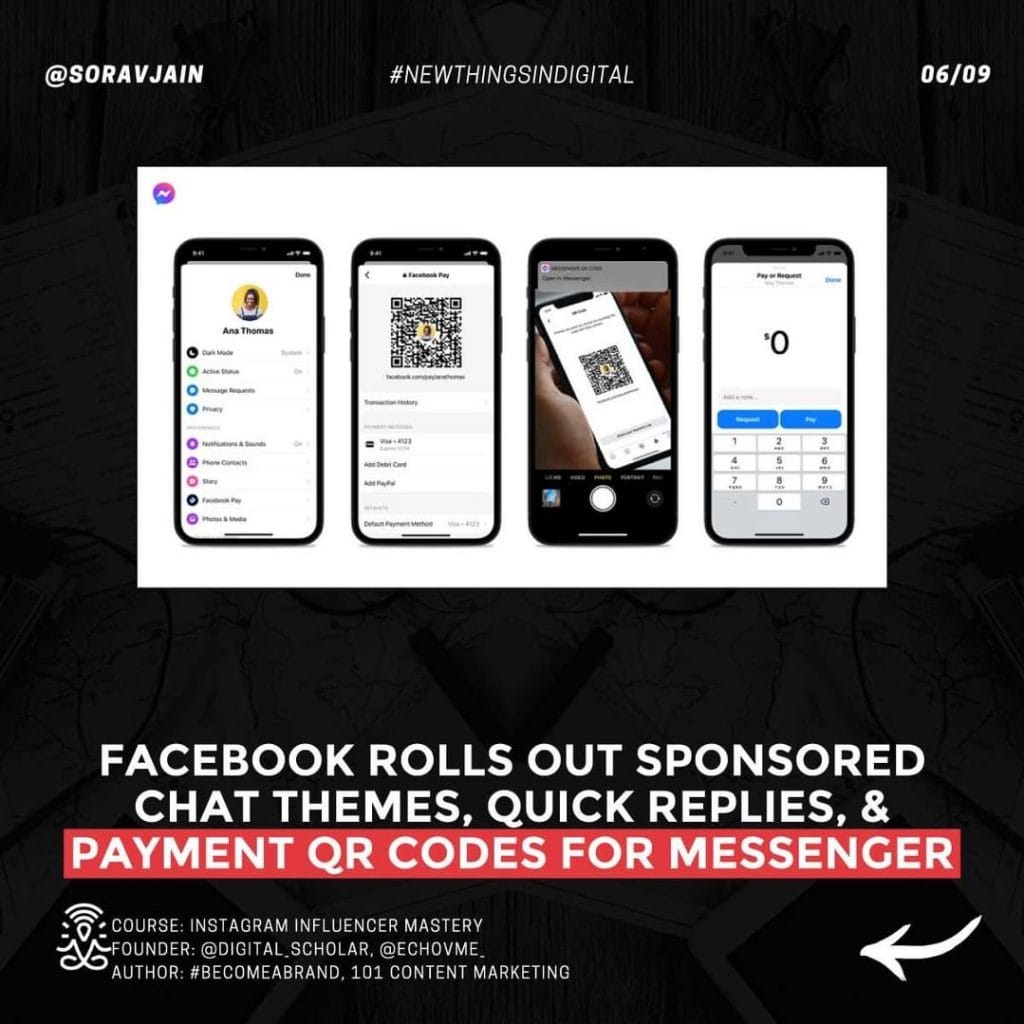 Facebook has rolled out a series of updates for Messenger, including sponsored Chat themes, quick replies options, and payment QR codes. First off, the chat themes available this week are aligned with the promotion of the new Fast and Furious movie and additional themes by Olivia Rodrigo to celebrate the launch of her new album Sour, as well as a 'World Oceans Day' theme. Apart from this, the social media giant has also rolled out a quick reply option while viewing media in a message thread. And lastly, Facebook has also added QR codes and payment link options to enable the transfer of funds within the Messenger app. This eliminates the need for users to download third-party payment apps to facilitate fund transfers.
15. Google tests new "Trending Searches" carousel on Search
Google is now testing out a new carousel called "Trending Searches" in the Search results. This carousel shows a series of image results based on your original query, showing the trending searches related to your query.
16. Google announced Core updates for June and July
Google has begun rolling out its Core update for the months of June and July 2021. The last core update happened back in December 2020. What can we expect out of these core updates? Change in rankings – rankings may go up for some, down for some, and might even remain stable. According to Google, SEOs who handle several sites together might see a difference with the updates. This is a global update and will impact all languages.
17. Instagram rolls out Reels Ads across all regions
After testing in select countries, Instagram has gone ahead and officially launched Reels Ads across all regions. The new format is now available across the world. Reels has become THE most recent favourite, with creators and brands pushing to make the most out of the feature as the organic reach is excellent. With that being said, it is only about time that the Reels ads feature is rolled out. The Reels Ads will be displayed in between other Reels, in the same format, along with a 'Sponsored' tag. According to Instagram, the ads will loop and can be up to 30 seconds. People can like, comment, view, save, and share Reels ads.
18. Twitter will let hosts download their Spaces sessions as an audio file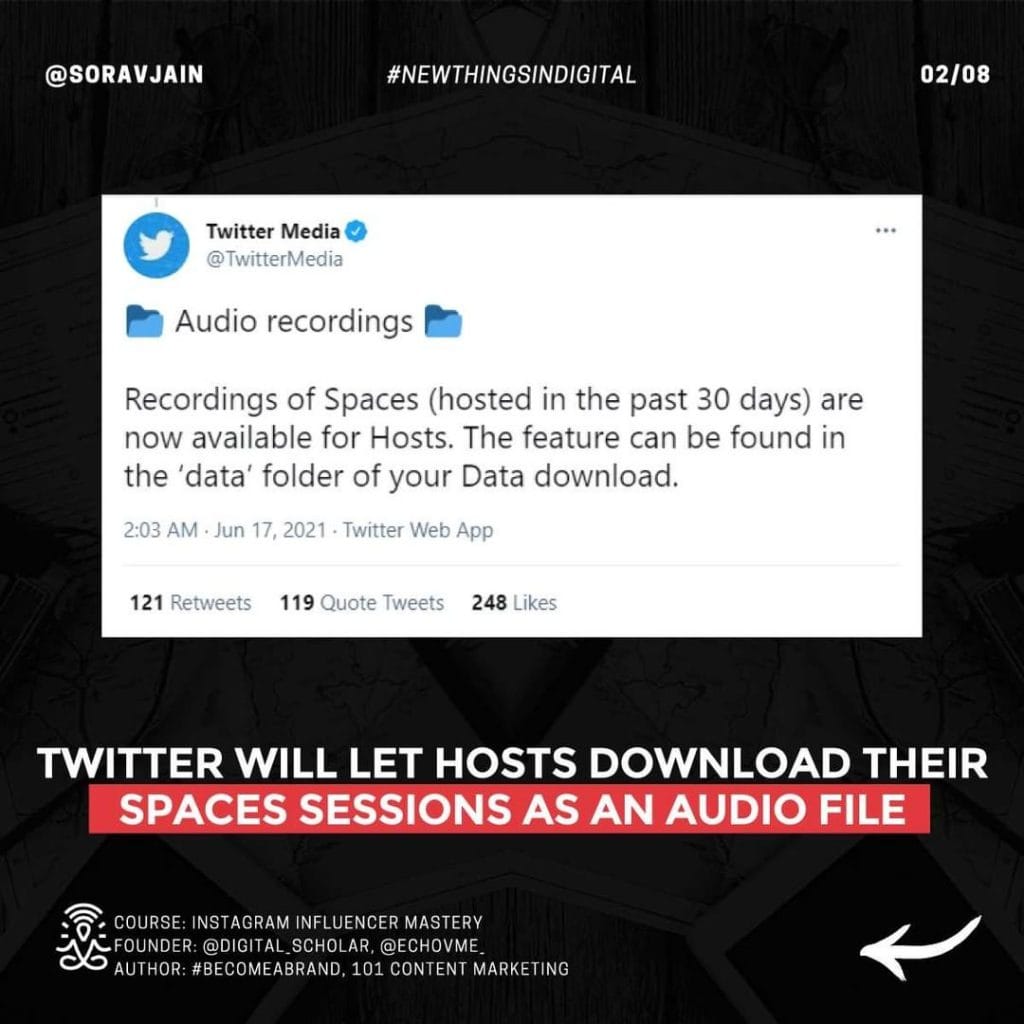 In a recent advancement in the world of Twitter Spaces, Twitter announced that the users who have hosted Spaces would be able to download their sessions in the format of an audio file. Spaces sessions will be available for hosts to download for up to 30 days from the date of hosting. Users will have to download their personal data files for this, which Twitter will provide upon request. You can go to the 'Download and archive of your data' section and tap on 'Request Archive'. A zip folder will be downloaded, and this will include the audio files of your Spaces section.
19. Twitter is experimenting with new controls over who can mention you in Tweets
We have all been there – being mentioned by someone we don't want to be mentioned by. Adding to its recent addition of the option of controlling who can reply to your Tweets, Twitter is now experimenting with new controls over who can mention you in Tweets. This could help users eliminate having negative experiences in the App. The micro-blogging site is working on different variations for the mention controls, with one being the 'Unmention Yourself'. This will enable you to remove your mention in the Tweet/Tweet chain. The new process will also provide an 'Unmention yourself from this conversation option available on the Tweet's drop-down menu. When you choose this, you will be able to remove yourself from mentioned tweets, and users won't be able to mention you in other upcoming Tweets in the thread.
20. Facebook is testing public display of comments on Stories
Facebook is testing a new option – displaying replies to Stories within the Stories' frame itself. The new Story format will present two options for you – either to 'Comment' or 'Reply'. When you choose to leave a comment on the Story, it will be displayed publicly. The current format has only one – to 'Reply', which goes as a private Story reply. This option will open a whole new way to engage with Story content on the platform. In addition, the display of other users' responses could trigger more users to engage and comment on your Stories, increasing the traction for the same.
21. Google's 'Browse More Ideas' feature on mobile search is here
Google mobile search is displaying a new 'Browse More Ideas' section, with refined query options. This will enable users to choose from a set of more specific queries than the users' original query. For example, if you have looked up 'beach ideas' on Google, the 'Browse More Ideas' section will give you more specific options related to the query like – 'beach date ideas', 'ideas for beach trips', and more.
22. Google is testing refinement bubbles in 'People Also Ask' section
Google is testing search refinements, and selectors in the 'People Also Ask' section on the SERP. The 'People Also Ask' section will be displayed along with refinement bubbles for you to choose from. This would make the section more specific to what you want answers for. This update will be helpful for SEP/SEM specialists while creating content.
24. You can now manage your GMB's posts, service listings, and delivery in Search.
Google has been working on making the Google My Business management more straightforward. On that front, the search engine has announced that along with other aspects, business owners will now be able to manage their GMB's posts, service listing, and take-out & deliveries directly through Search.
Services: You can update information about the services you provide directly through the 'Edit Profile' menu. You can also enable online booking through your business profile directly from Search.
Google Posts: Google will also enable you to add Google posts directly from Search. Log in to the e-mail linked to your company, and type 'My Business' on Search. You can also tap on the profile picture followed by 'Your Business Profile' on Google Maps to get this done.
Take-out & Delivery: In the coming weeks, you will be able to add and update online ordering options for your business directly from Search via the 'Edit Profile' menu.
This update makes it simpler to run and manage Google My Business.
25. Instagram launches test of video and image uploads in the desktop version
After developing for a few months, Instagram has now launched the live test of its video and image upload options via the platform's desktop version. The option is currently available for a small group of people who have access to the entire publishing suite. The desktop version of uploading images and videos also gives you edit options, including formatting tools and filters, before going ahead and taking the post live. This update will streamline the publishing process for brand/social media managers, making it easier for them to take posts live directly from their systems.
26. Instagram is testing content recommendations within the main feed
Last year, Instagram added a "suggested posts" listing at the end of a long scroll on your Instagram feed. After testing this for quite some time, the platform, based on the response and engagement with the recommended content, is now looking to highlight and display more accounts, topics, and posts of interest. According to The Verge, "Suggested posts will be mixed throughout your primary feed, sometimes ahead of photos and videos from people you follow." Along with this, Instagram is also adding new control options with which users can add or remove topics of interest. This is very similar to that of Twitter's Topics options, where users see more of the topics they follow. In addition to this, Instagram is also adding the capacity to snooze recommendations of individual topics for up to 30 days.
27. Facebook rolls out live audio rooms and in-stream podcast playback in the US
Both Live Audio Rooms and Podcasts have been in testing on Facebook for a while, and now, the social media platform has officially rolled out Live Audio Rooms and in-stream Podcast discovery and playback within the app. After testing audio rooms with users in Taiwan, the platform is now bringing the feature to top public figures and Facebook groups across the United States. Facebook's Audio Room's UI is very similar to that of Clubhouse's and Spaces' on Twitter. Rooms can have up to 50 speakers, with no limit on the number of listeners. Apart from this, Facebook is also launching its new podcast options, which will let users discover and stream podcasts within the app.
27. Twitter announces launch of the option of sharing Tweets to Instagram Stories for iOS
After initially testing the option last year, Twitter has now announced that it is providing iOS users with the option of sharing Tweets directly to their Instagram Stories via the Twitter app. This offers another way to boost engagement and interact with Tweet content. On clicking the "share" option on a Tweet, you will find an option that will let you share the Tweet to Instagram Story. Once you tap on that option, you can do the usual editing and take the Story live on Instagram. However, the Tweets you share on your Stories are not tappable and do no redirect users to your Twitter or the Tweet you have shared.
28. Facebook tests Reels and Rooms display within the Facebook app
Facebook is looking to boost accessibility to Reels and Rooms, and in the wake of this, the platform is testing the display of Reels and Rooms within the Facebook app. Facebook is currently testing the display of Reels and Rooms right above its Stories panel, where users would be given two options – Reels and Rooms – they can tap on and explore. On clicking each option, the users will be taken to alternate screens where they can view Reels and in-progress audio Rooms sessions.
29. Google rolls out new "Spam Algorithm" update
Google confirms the rollout of a spam-related algorithm update on June 23rd 2021. Google's Danny Sullivan confirms an algorithm update targeted at fighting spam is rolling out to search results. Exact details were not provided about this specific update. Though Google regularly rolls out spam updates to maintain the quality of its search results.
30. Google Web Stories reaches the 100K per day milestone
Google reports 100,000 new Web Stories are added to the search index on a daily basis. In a report on Web Stories usage, Google says 100,000 new stories are now being added to the search index every day. In addition, Google's report includes data on how Web Stories is growing as a content format, along with five insights into what type of content is performing the strongest.
31. Google is now showing "Reliable Sources" prompt on Trending Searches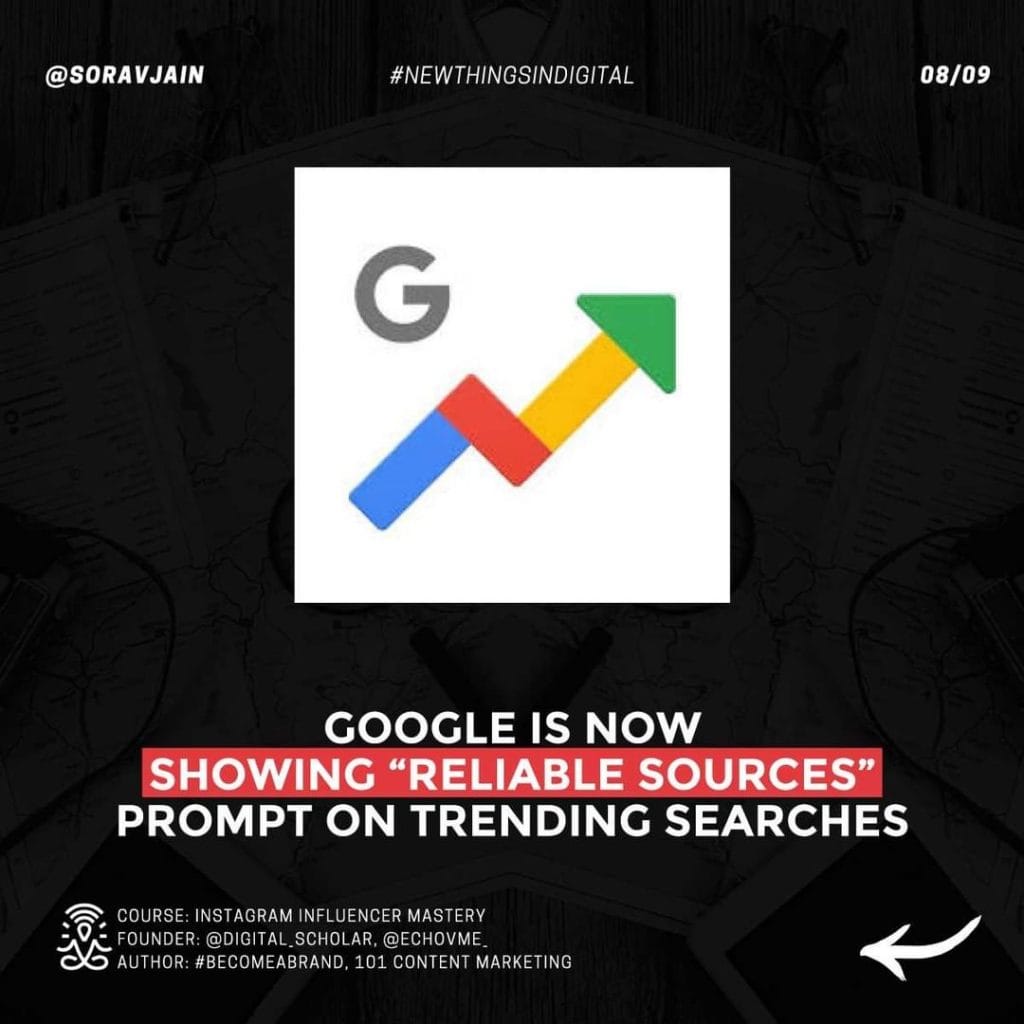 Google is showing a new prompt on trending searches when there aren't enough reliable sources. Google is testing a new prompt on trending searches that do not have enough reliable sources. The new prompt may be meant to help make users more discerning about the information they are seeing.