May has come to an end, and this may be one of the most significant months in terms of social media updates, especially for Instagram and Twitter. From Instagram finally rolling out the option to hide Likes, Twitter bringing Spaces to its desktop version, to Facebook's warning prompt for unread articles, and WhatsApp's relaunching their privacy update, the month saw many interesting updates. Here's the entire list of #NewThingsInDigital from the month of May 2021.
Here is the entire list of #NewThingsInDigital for the month of May.
In case you missed last month's list of #NewThingsInDigital then you can read it here. Digital Marketing Updates of April.
List of the top 27 latest digital marketing updates in May 2021
1. Facebook is looking to enable businesses to create Facebook Ads within WhatsApp's Business
Facebook is looking to make WhatsApp more business-friendly by providing more promotional tools for brands on the messaging platform. However, ads within the app have proved to be an unpopular option. This is where Facebook comes to play. The social media giant is looking to enable businesses to create Facebook ads within WhatsApp's business tools. These ads will link back to WhatsApp, allowing businesses to tap into both platforms combined.
Until now, brands have been able to create Facebook ads that link back to WhatsApp only through Facebook Ads Manager. But Facebook has made this process possible via WhatsApp itself.
2. You can now switch off your audio or video during an IG live broadcast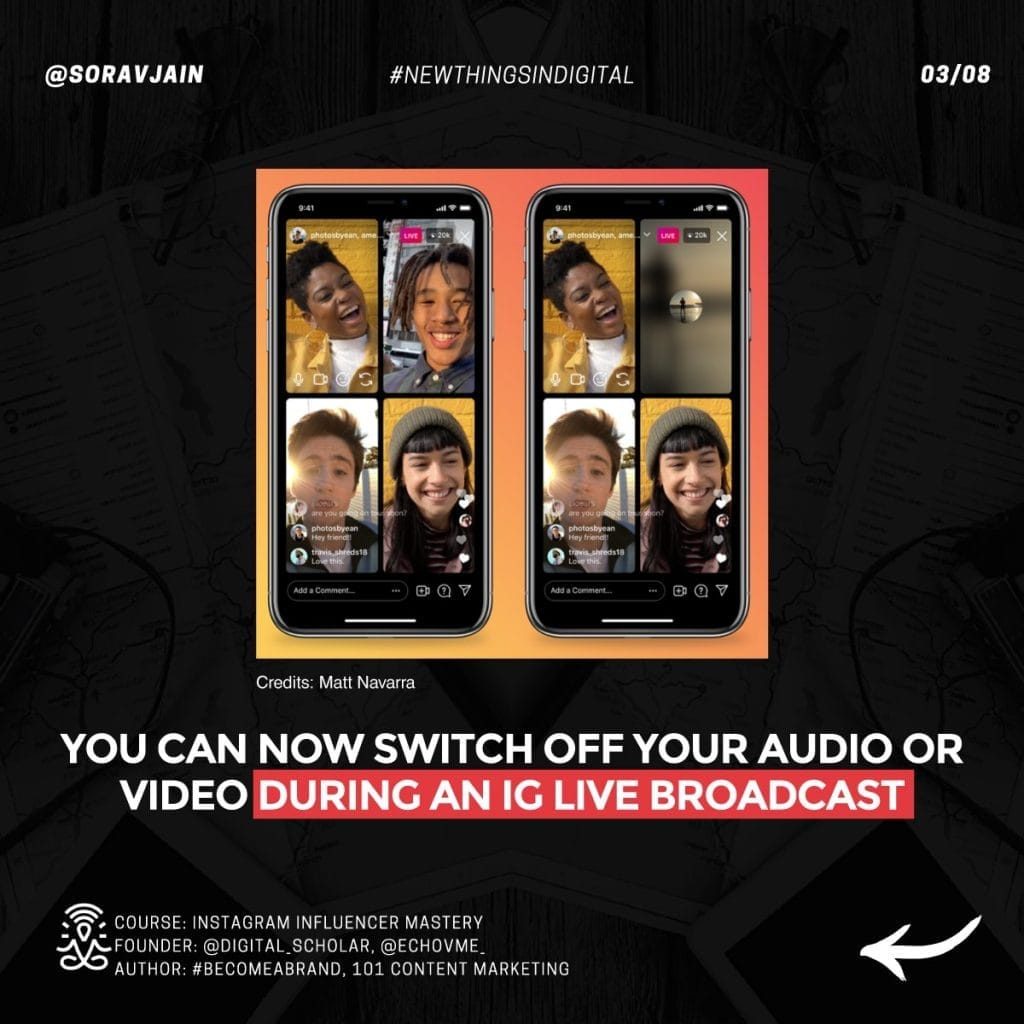 Instagram has rolled out two new options for its Live feature. Users can now switch off their video and mute their audio during a Live broadcast on Instagram. The new controls that have been added will be visible at the bottom of your video's window. When the camera is switched off, their portion of the screen will display their account's profile picture. According to Instagram, the addition of these functionalities will "decrease pressure to look or sound a certain way while broadcasting live."
3. WhatsApp has rolled out expanded image display within chats
WhatsApp, in an update, has rolled out the expanded image display feature within message threads. This is with regard to how images and videos are displayed within the chats. As opposed to cropping videos and images in message threads, it is now showing more of the images inline. Co-incidentally, Twitter is also testing something very similar – displaying a fuller version of the image rather than cropping it out!
4. YouTube is testing 'Timed Comments' in video playback for more context and engagement
YouTube is looking to provide more context to users while also increasing engagement on videos via comments. The video-streaming platform is now testing a 'Timed Comments' option in video playback, where people can comment at a specific time of the video, helping them give more context to their comments. This also has the potential to spark more meaningful conversations, thereby increasing the scope for engagement. The feature is currently being tested with a small group of users, and YouTube will officially roll it out to all users based on feedbacks and improvements.
5. Google is testing "More Specific Searches" box on Google Search
Google is testing a feature where users will be asked to be more specific in their searches. Google is testing out a "More Specific Searches" box, where it will give refined samples that are more specific to what you have already searched for. It looks like the search engine is pushing out more searches from users.
6. Google has announced new travel-related features on Search for post-pandemic world
Google is preparing itself to give out better and more helpful information to users looking to travel to places, with more specific information relevant to post-pandemic travel. The search engine has announced a set of new COVID travel-related advisories, which provide users with more than just information about hotels and things to do around the place. To help users be fully prepared to travel with COVID still lurking around, the search engine has added information about the quarantine period of the places, and the requirement of proof of test results, and more. This information is country-specific while making it state-specific for the US alone.
7. Instagram launches Caption Stickers for Stories
Instagram has officially rolled out caption stickers for Stories. Caption stickers are stickers that display what you speak in textual form on your Stories. This update improves the accessibility of your stories, helping more people understand the full context of the content you share. The sticker is an auto-generated caption sticker, which won't be 100% accurate, but you will be able to edit the text, color, positions, and font. Instagram has also announced that the option is coming soon to Reels. The Caption stickers are currently available in select countries, with Instagram looking to expand the availability further soon.
8. Facebook adds new Chat themes and Read Receipts on Instagram
Facebook has rolled out a few features to Messenger, especially Messenger for Kids, with new stickers celebrating Asian and Pacific Islanders Heritage Month. Apart from this, the social media giant has also rolled out major updates to Instagram DMs. Facebook has added 'read receipts' on Instagram chats, which will let you know if the recipient has received and seen the message and also when they have read your message. Along with this, Facebook has also launched a set of chat backgrounds/themes, with additional new themes for 'Selena: The Series'. This lets you customize your chat screen on both Instagram and Messenger.
9. Twitter launches Larger Image Display to all Android and iOS users
After WhatsApp, Twitter has now officially launched the Larger Image Display to all Android and iOS users. Twitter Support's official handle tweeted a reply saying. "Images with 2:1 and 3:4 aspect ratios will show in full." This means that full-sized images of tweets will be shown within the Tweet's timeline, and as a user, you don't have to tap on it to expand. This also means that content creators on Twitter don't have to worry and calculate the size of the creative they will be posting on the platform! With this, creators will want to spend more time planning and crafting images and creatives, which will attract users and more engagement on the platform.
10. Twitter rolls out 'Spaces' to all users with 600+ followers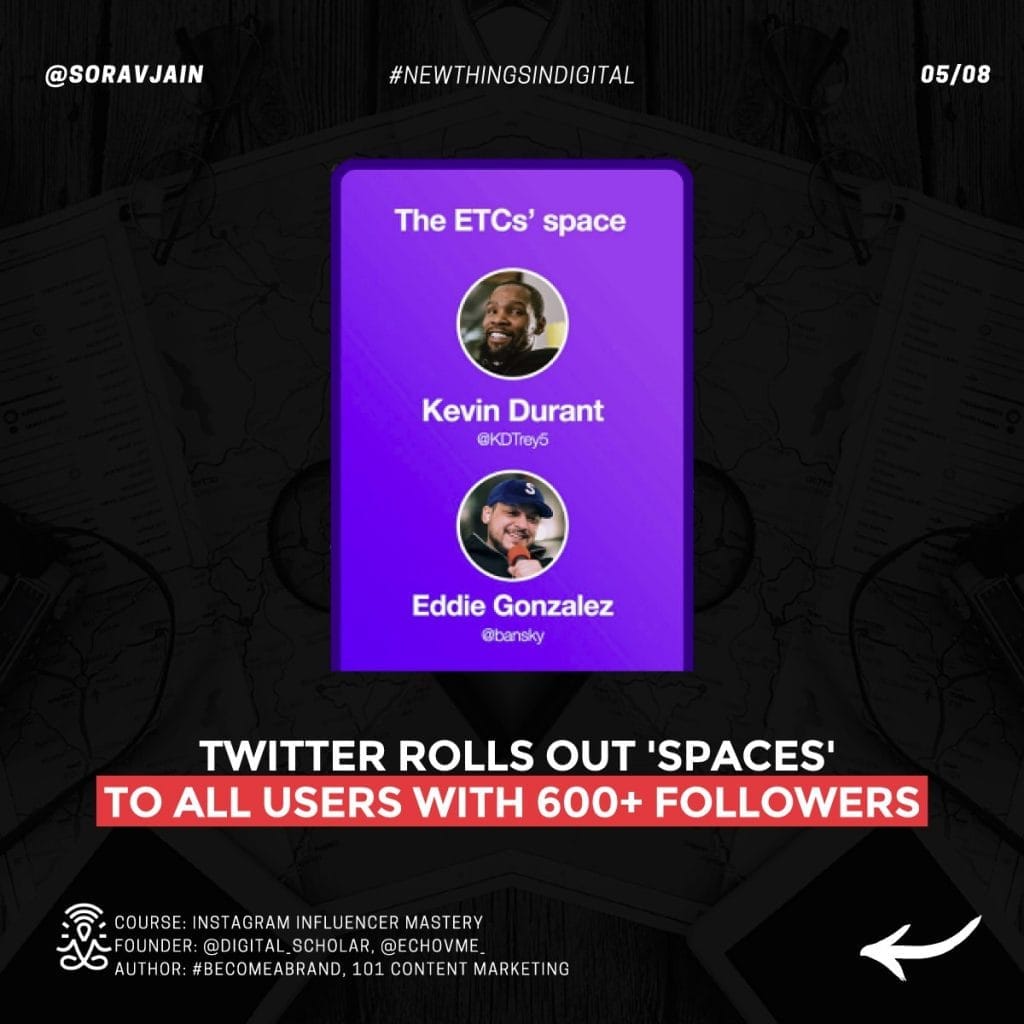 This is a major update from Twitter! The micro-blogging site is finally making substantial expands to its audio-social feature – Spaces. Twitter has opened up Spaces for millions of users who have over 600 followers on the platform. Such users can now host a Spaces session on the platform, keeping it open for followers and non-followers alike to participate. While there are no technical limitations in opening up the access to Spaces to all users, Twitter is doing this to instill a sense of FOMO and curiosity before opening up the audio-social platform/feature to all.
11. Instagram tests 'Re-share' sticker to highlight posts being shared to Stories
Instagram does not want people to re-share Instagram's posts/videos/reels to Stories, especially by the creators themselves, to gain an extra push on the traction. The platform tried to scrap the option to share posts to Stories, which its users did not receive well. To tackle this, Instagram has been testing prompts that will let people know that the content being shared is an already existing post. The recent update in the test is – Instagram is testing a 'Re-share' sticker that you can use on your stories when you are re-sharing content. This, Instagram is hoping, would lessen the number of posts being re-shared to Stories.
12. Google makes 'What to watch' carousel expandable
Google has made the 'What to watch' section's carousel expandable. As you hover over each image, that particular image you have your cursor on expands, showing more information about the image. This update makes the interface more interactive and movie-like.
13. Facebook is testing prompts to warn users of sharing articles they haven't read
Initially done by Twitter, Facebook is now testing warning prompts that stop users from sharing articles they have not read. These prompts pop up when users try sharing links and articles they haven't opened in the first place. This is a step towards keeping the content that is shared on the platform more authentic and informed. With the prompts, Facebook is also looking to encourage users to open, give the content a read and then go ahead and share it on their feed/profile/Wall.
14. WhatsApp is gradually re-launching its Privacy Policy Update
After putting it on hold for months following the initial backlash, WhatsApp is re-launching its Privacy Policy. This update will involve WhatsApp sharing more business-specific data with parent company Facebook. WhatsApp is sending out alerts within the app to users, explaining the updated privacy policy and how the app will not share any of the users' personal data with Facebook. Not accepting the terms and policy will lead to limited functionality of the app for the users, including:
Inability to access your chat list
Removal of the ability to receive incoming calls or notifications
Eventually, WhatsApp will stop sending messages and calls to your phone.
This follows an explicit clarification that the app would only track business-specific activities when users converse with business accounts.
15. Instagram adds "Pronoun" option to user profiles
Instagram is looking to expand inclusion within the app, and the latest addition to it is the addition of the 'Pronoun' option to user profiles. The update provides users with 4 pronouns, which will help alert users and followers of which one to use in interactions. The new option is editable under the 'Edit Profile' tab in the Profile settings, where users can add their preferred pronoun. You can edit these pronouns any number of times via settings. This is a move towards maximisation of inclusion.
16. YouTube is expanding user access to the 'Clips' option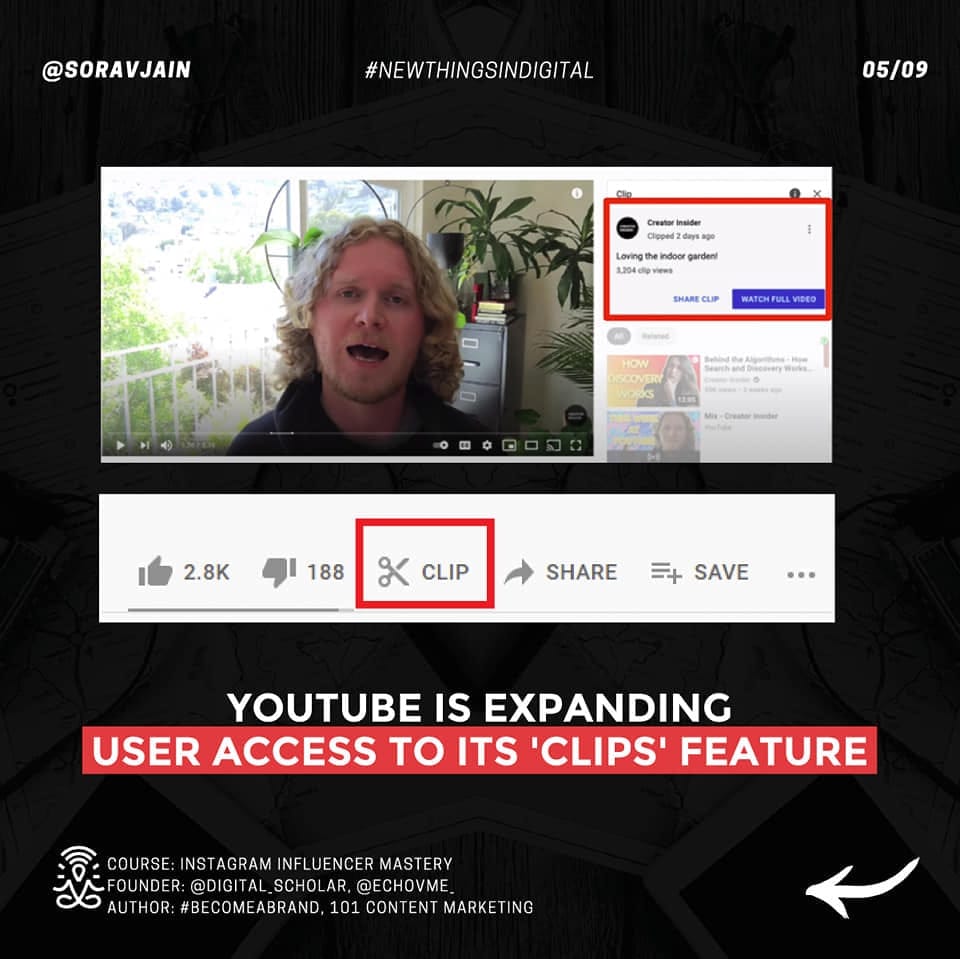 YouTube is now looking to expand the accessibility of its 'Clips' feature, which is another way people can interact and share videos within the app. The video streaming platform is rolling out the option to 10X more channels, and users with this option can share specific segments of the video with fellow users. This clip will play on loop on the video's watch page. Once a Clip is created, you can share it on social media and other messaging platforms with the new YouTube link you received.
17. Twitter is working on new folders within Bookmarks for better organisation of saved Tweets
This update can come as a breather to Twitteratis who regularly bookmark Tweets on the app. The micro-blogging platform is coming up with the provision of new folders for bookmarks which will help users keep their saved Tweets organised. All bookmarked Tweets are currently being saved one after the other, and it is a tedious task to look for old bookmarked Tweets. The folder feature will make it easier for users to organise, save, and find the saved Tweets as and when required, seamlessly. Twitter is also hoping this would improve the e-Commerce behaviour of the users within the app, as it is easier to keep tabs on interested products and more.
18. Google My Business' 'Call History' feature now displays call data
Google My Business has been having a 'Call history' section for months now, and finally, the platform has started displaying call-related data to some local businesses. The section on Google My Business shows information about calls attended and missed, along with the called ID details. Businesses can access this on the 'Preview Call History' section when they log into their GMB account.
19. Google My Business now shows 'Bookings' data on the Insights tab
Google My Business has introduced a new 'Bookings' section. When you click on 'Insights', the analytics platform will show you a 'Bookings' section that displays information about customers and reservations, appointments that have been booked via Google Maps or Google Search Local. This is a pretty great update, which will help you optimise your presence.
20. Instagram is testing an upload option on the platform's desktop version
This is a great update that would simplify the process of uploading posts and videos on Instagram. Instagram is testing an upload option on the platform's desktop version. This would help social media marketers centralise their social posting process and make uploading the creatives saved on the desktop easier. The update, currently being tested, will have a 'plus' icon on the top right corner of the platform's desktop version, which, when clicked, would enable you to drag and drop videos and pictures you want to upload. Currently, the test only involves adding posts to the feed and does not involve options to upload Stories or Reels.
21. Twitter is testing an 'About' tab on user profiles for more context
Twitter is making tweaks to users' profiles to provide more context on the user's likes, preferences, and more. The platform seems to be testing an 'About' tab, enabling users to provide more information about them and an overview of the person they are. The tab involves pronouns, what they do for a living, their date of birth, place of residence, and whether the account is confirmed or not. The tab that is being tested would later have more fields that highlight links to works, interests, and more.
22. Twitter ads scheduling and reminder options for Spaces
Twitter is looking to make more improvements to Spaces and its user experience. In a move towards this, Twitter has added a set of options to Spaces, including options to Schedule and send out reminders to listeners, speakers, and hosts alike. This gives broadcasters and hosts enough time to build hype around their Spaces session and keep more followers and users informed. With this option, hosts will receive a reminder 30 minutes prior to the Spaces session and one more when the session is about to start. Users can also opt to receive reminders about the session by tapping on the 'Set Reminder' option on the Space announcement Tweet.
23. Instagram is working on a 'Bonuses' option for Reels creators
Instagram is looking to add a payment program for Reels creators. Calling this 'Bonuses', it will focus on Reels promotion. This will enable users to earn bonuses from Instagram when a new Reels is shared. There are certain bonus thresholds that the creators need to meet in order to claim earnings from the program. The explainer pointers don't mention if the earnings/bonus will be in terms of cash, but creators will be provided with a set of variable bonuses.
24. Twitter is bringing Paid Spaces sessions to help creators monetise the feature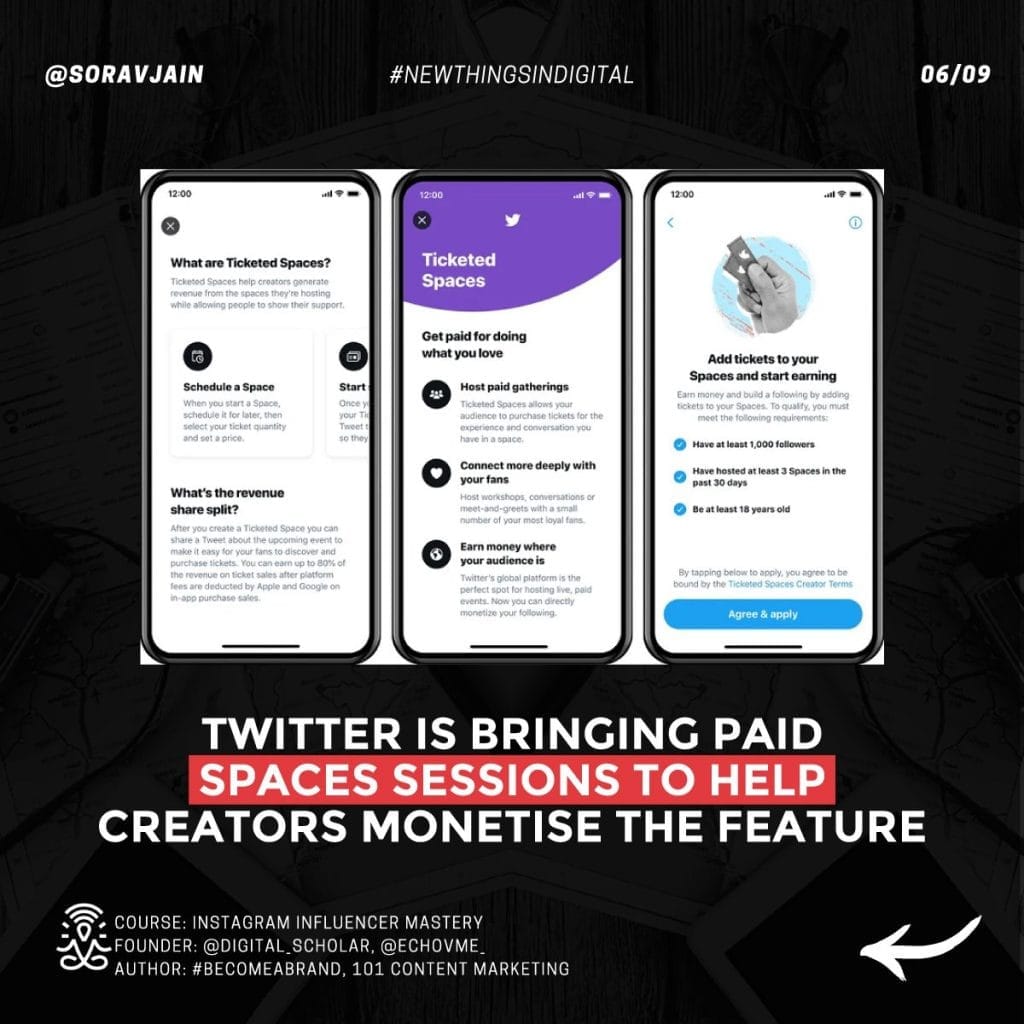 Paid Spaces are coming to Twitter, and this paves the way for creators to monetise through the feature. Users will be able to conduct ticketed Spaces sessions that will be made accessible to only those who pay to participate in the same. This is another means to earn through conducting Spaces of quality. The process involves applying for the same by signing up to Twitter's rules for conducting paid events. According to The Verge, the requirement for users to hold paid Spaces is that the user must have 1000+ followers, have hosted at least 3 Spaces sessions in the last 30 days, and must be at least 18 years old. Creators will take home 80% of the earnings through ticket sales, after app store fees. This feature is currently available for users in the US.
25. Google expands 'About This Result' feature worldwide for English queries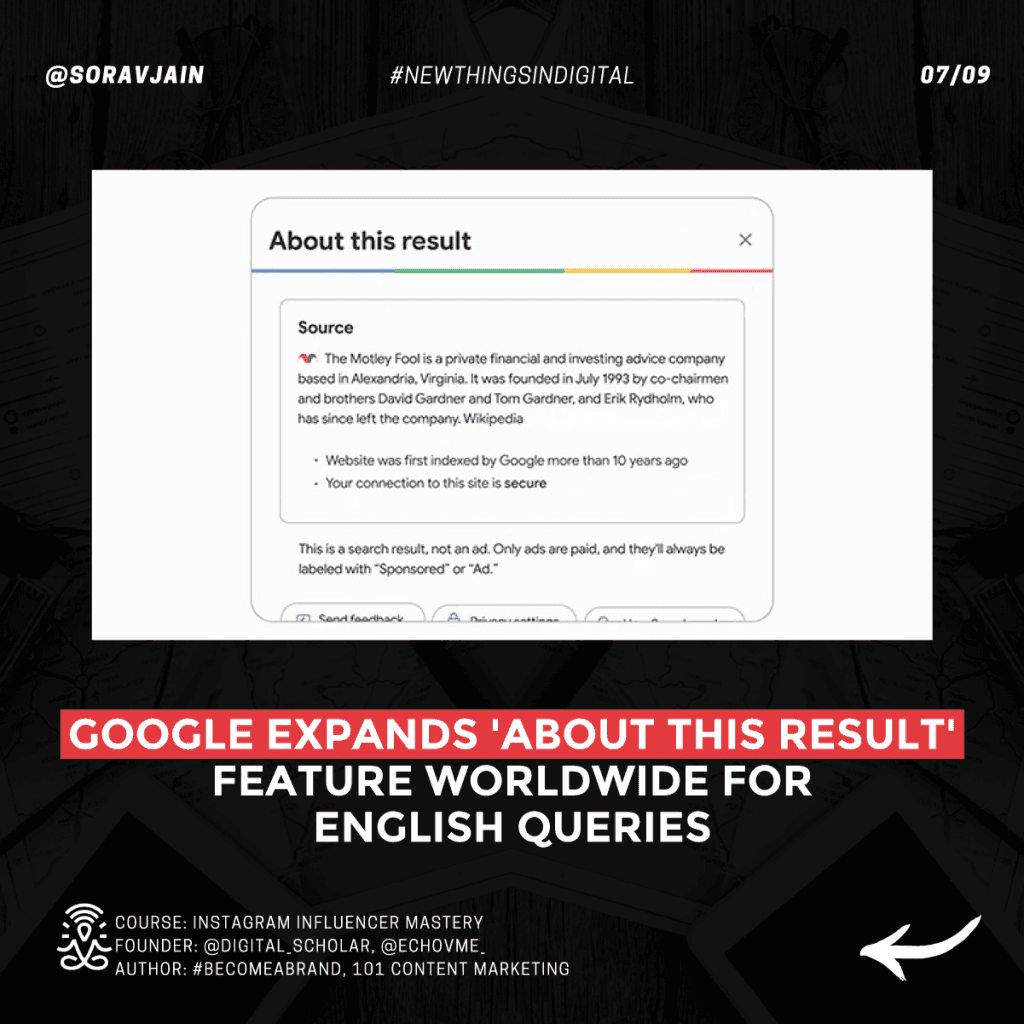 Google had launched the 'About This Result' feature in the US last February. The Search Engine giant has now expanded the feature worldwide for English-related queries. According to Google, this feature provides information about the source of the results, when it was first indexed, and more.
26. Google displays video results on the right-hand side of the SERP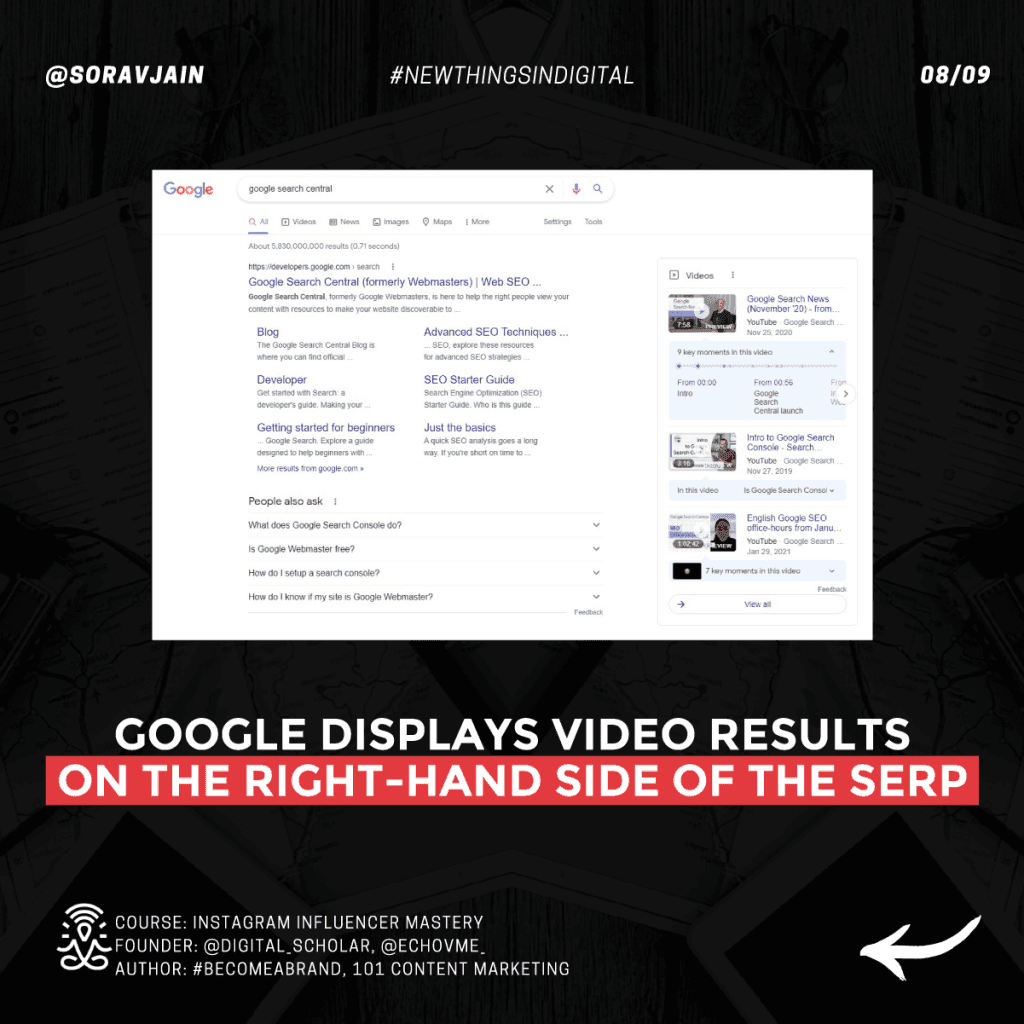 Google is testing displaying video results/key moments interface on the right-hand side of the Search Engine Results Page. Up until now, it was shown along with the Search results in the row format.
27. Instagram finally rolls out the option to hide Likes count on posts
After months of testing, Instagram has finally rolled out the option to hide Likes count on posts within the platform. Users will be able to choose whether or not to display Likes on each of their updates/posts. What's more? The same option is being rolled out on Facebook as well. On Facebook, users can hide reactions to both their posts and posts from others as well. The aim here is to depressurise users' experience on these platforms and provide them with a more optimal user experience.
28. Instagram tests 'Audio' tab on Explore for easier music discovery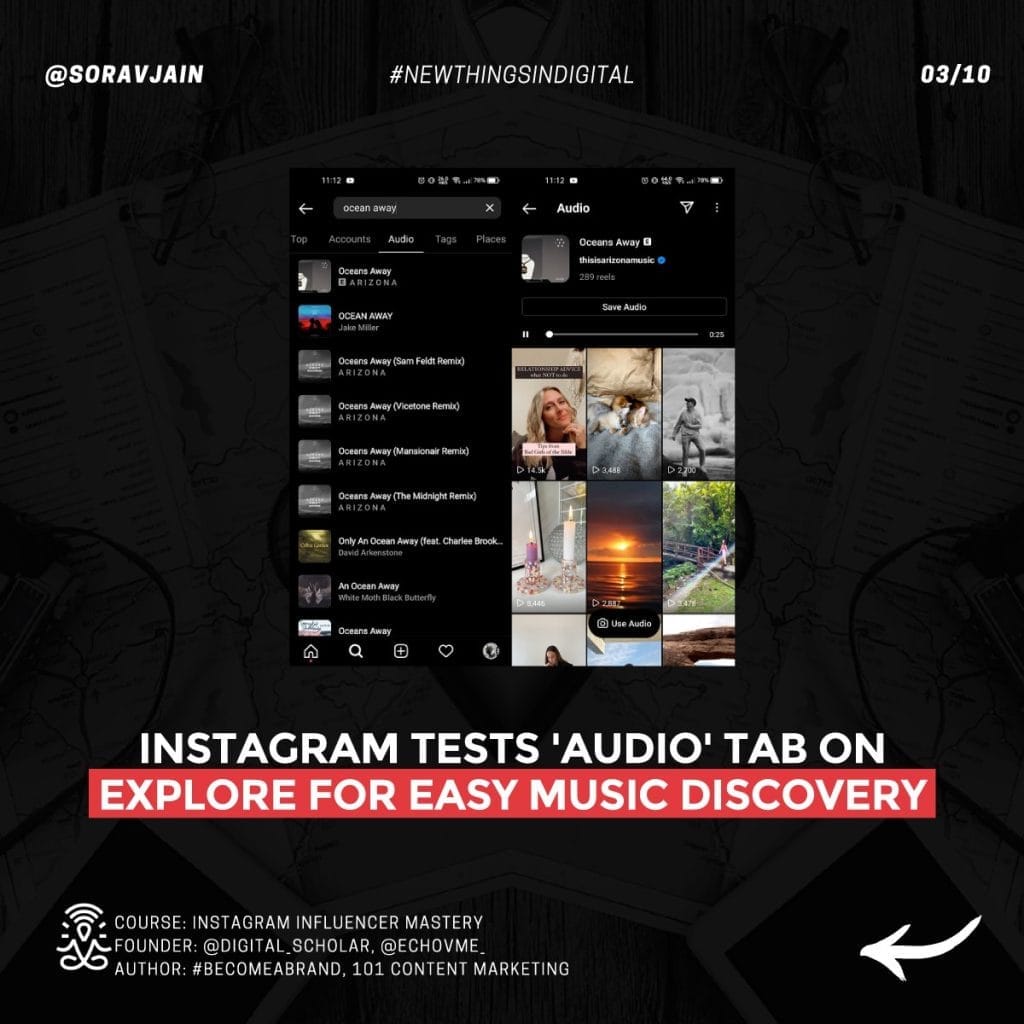 Instagram is testing a standalone 'Audio' tab in the Explore section. This is with the aim of making music discovery on the platform easier. Until now, one had to access the audio section via existing Reels or through the Reels camera. With a dedicated tab on Explore, music discovery is simplified. This new option will enable users to search for songs using keywords and will provide a list of registered songs on Instagram. Tapping on a song in the results will take them through to the song's independent page, with options to save or use audio, while also displaying Reels clips that have featured the song/audio.
29. Twitter brings Spaces to the desktop version of the platform
Twitter is working to make its audio-social platform Spaces bigger and better. In a move towards the same, Twitter has enabled the web version of Spaces. This means users can now access the platform through the desktop version of Twitter. It is still in the development stage, but nevertheless, being able to access Spaces through the desktop/web is a significant development itself. Not only does it have the scope to attract more listeners/followers, but hosts can also use a better audio setup, thereby providing participants and speakers with an enhanced Spaces session and experience.
30. Instagram adds new engagement insights for Reels and Instagram Live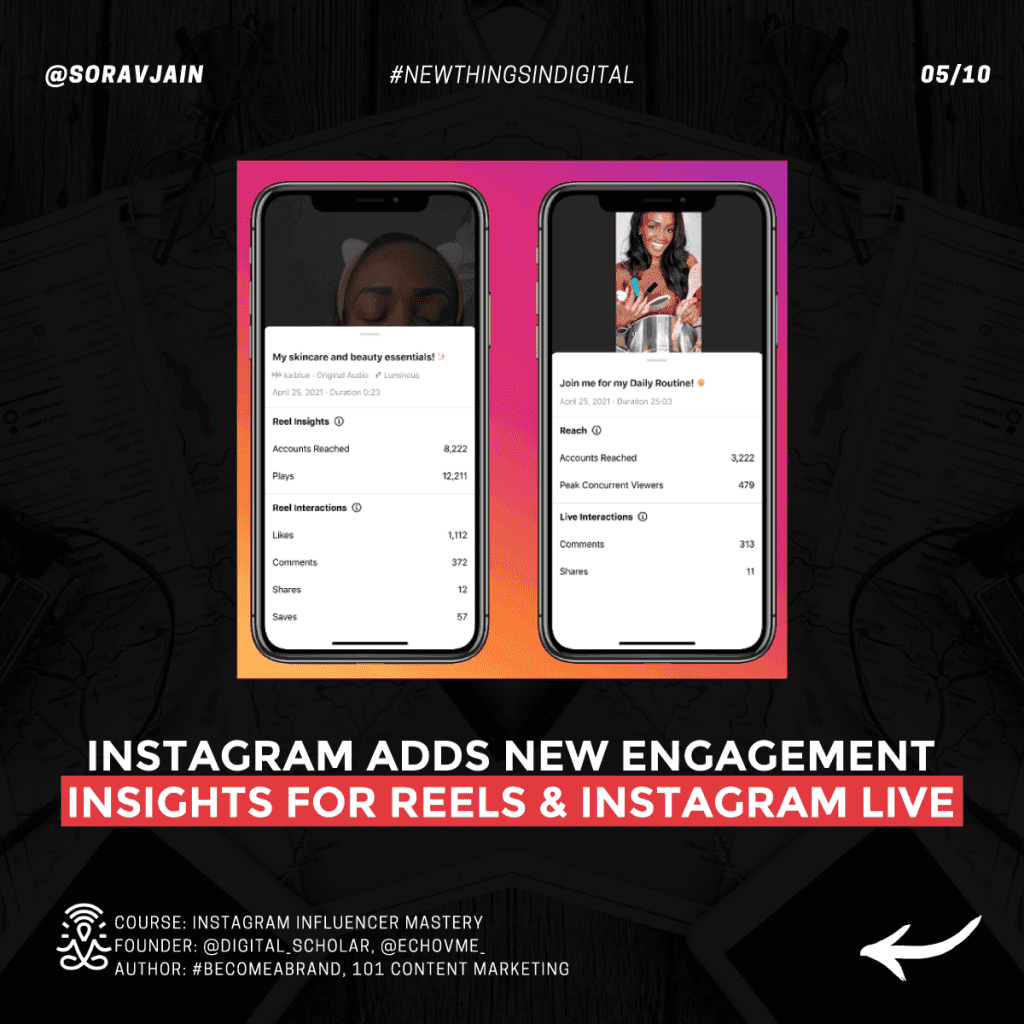 Instagram is now providing new data insights within the app for Reels and Instagram Live sessions to help creators make the most of their opportunities. For Reels, the platform will provide insights on Total Plays, Accounts Reached, Likes, Comments, Saves, and Shares. For Instagram Live, users will have access to the total Accounts Reached, Peak Concurrent Viewers, Comments, and Shares. Instagram is adding these new insights to its Accounts Insights Overview to paint a better picture for creators and businesses alike, enabling them to read, understand, and optimise their content accordingly.
31. Instagram expands test of ads in Reels to more regions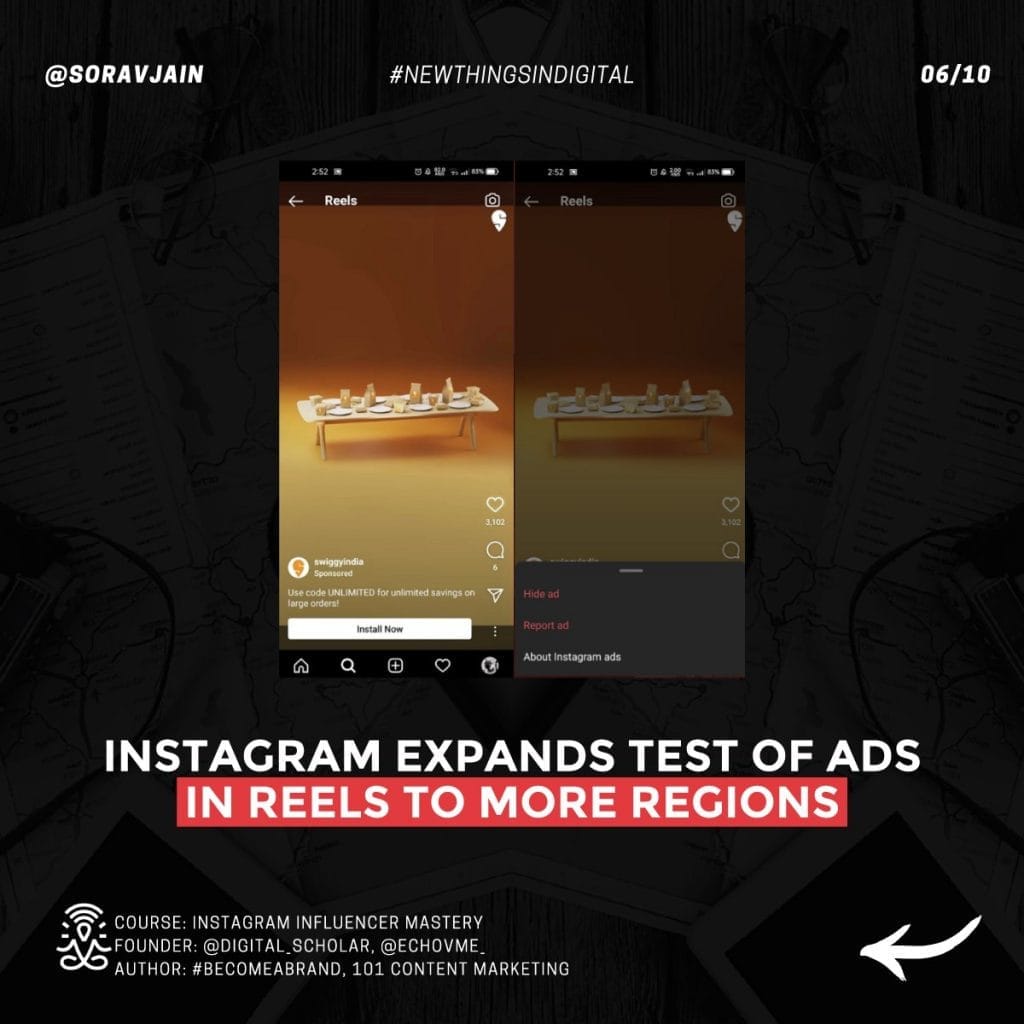 Instagram has been doing a limited test of advertisements in Reels for a while now. In advancement of the same, the platform has expanded the test to more nations to quickly tap into the potential of paid ads on the Reels. Reels ads will appear between other Reels clips as you scroll through and watch them and will include a 'Sponsored' tag to indicate that they are Reels ads and are part of a paid promotion. With the organic reach of the TikTok clone being high already, paid ads will catapult the reach of the content, thereby ensuring steady growth in engagement for users on the platform, amongst other advantages.
32. Google is dropping Rich Result filter from Search Console Performance Report
Google has announced that it is dropping the Rich Result filter from the Google Search Console Performance Report. You will no longer be able to check the performance of rich results on your site. You will have to individually drill into each rich result to see how they are doing. So instead of using the Rich Results filter, you will filter using the Search Appearance filter. The drop of the Rich Result filter on both the interface and API will be effective starting August 1st, 2021.
33. Google is testing the 'Hear this out loud' feature
Google is testing the new 'Hear this out loud' button in the Search Engine Results Page for its featured snippets and knowledge panels to read to you the content of that snippet. For some, Google is displaying a button called 'Hear this out loud' with a speaker icon next to it in the featured snippet box on Google Search.
34. Google tests 'Also covered on this page' feature on its featured snippets section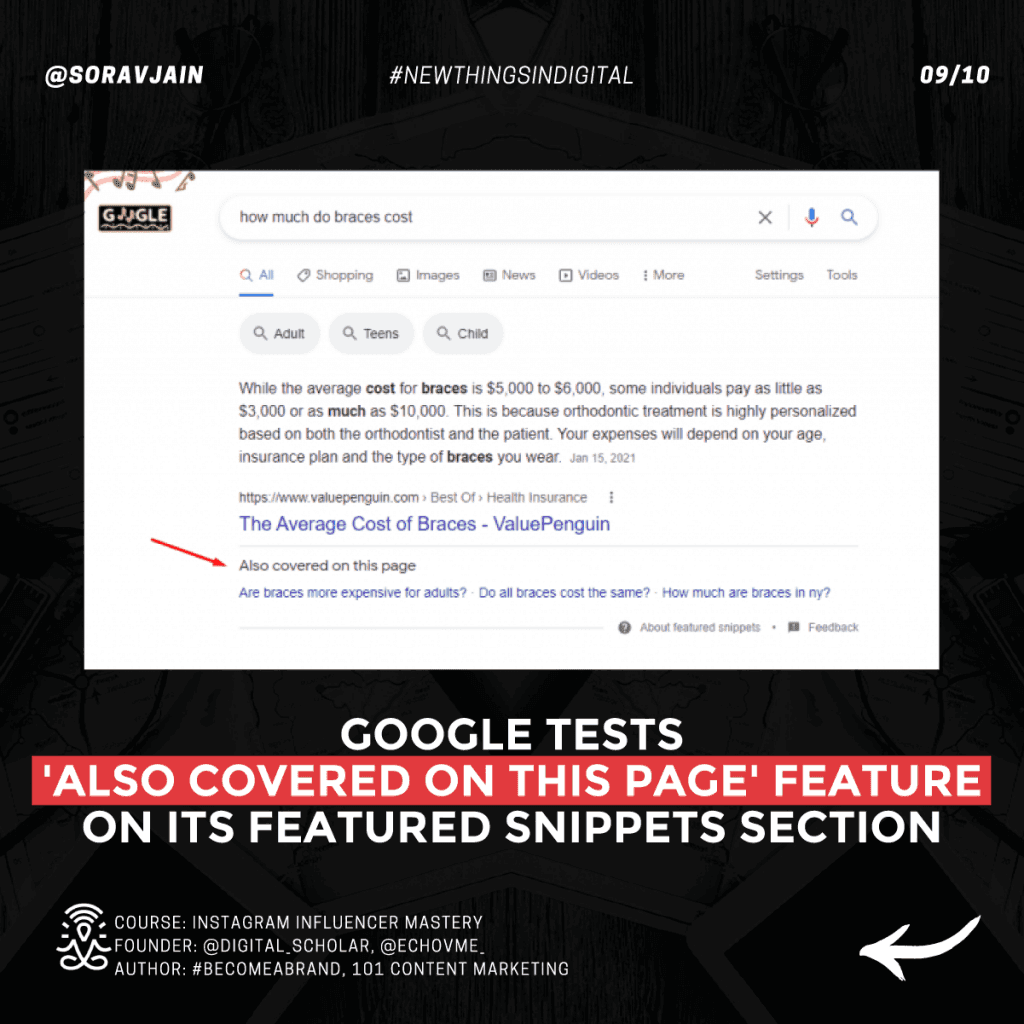 Google is testing a new feature called 'Also Covered on this Page' in the snippets section. With this feature, Google will display below the main featured snippet, other topics the page covers, the hyperlink, anchor you down, and then highlight that content. While the rest are not new, 'Also Covered on this Page' is new.