Looking for all latest digital marketing updates in October 2021 in one place? Then you are in the right place, in this blog we have curated all the latest digital marketing updates, trends, techniques and published in one place. Do check this.
Like any other month, October has been a dynamic one for the world of social media and digital marketing. With social media giant Facebook taking up a complete corporate rebrand and adopting a new corporate name, 'Meta', to Instagram becoming desktop-friendlier and making significant tweaks to its video formats with the IGTV merge, October has been a happening month! Here's the entire list of #NewThingsInDigital from the month of October.
In case you missed last month's digital marketing updates then click here to read. 
Top 30 Latest Digital Marketing Updates in October 2021
1. Instagram facilitates cross-app connection with 'Click to WhatsApp Message' ads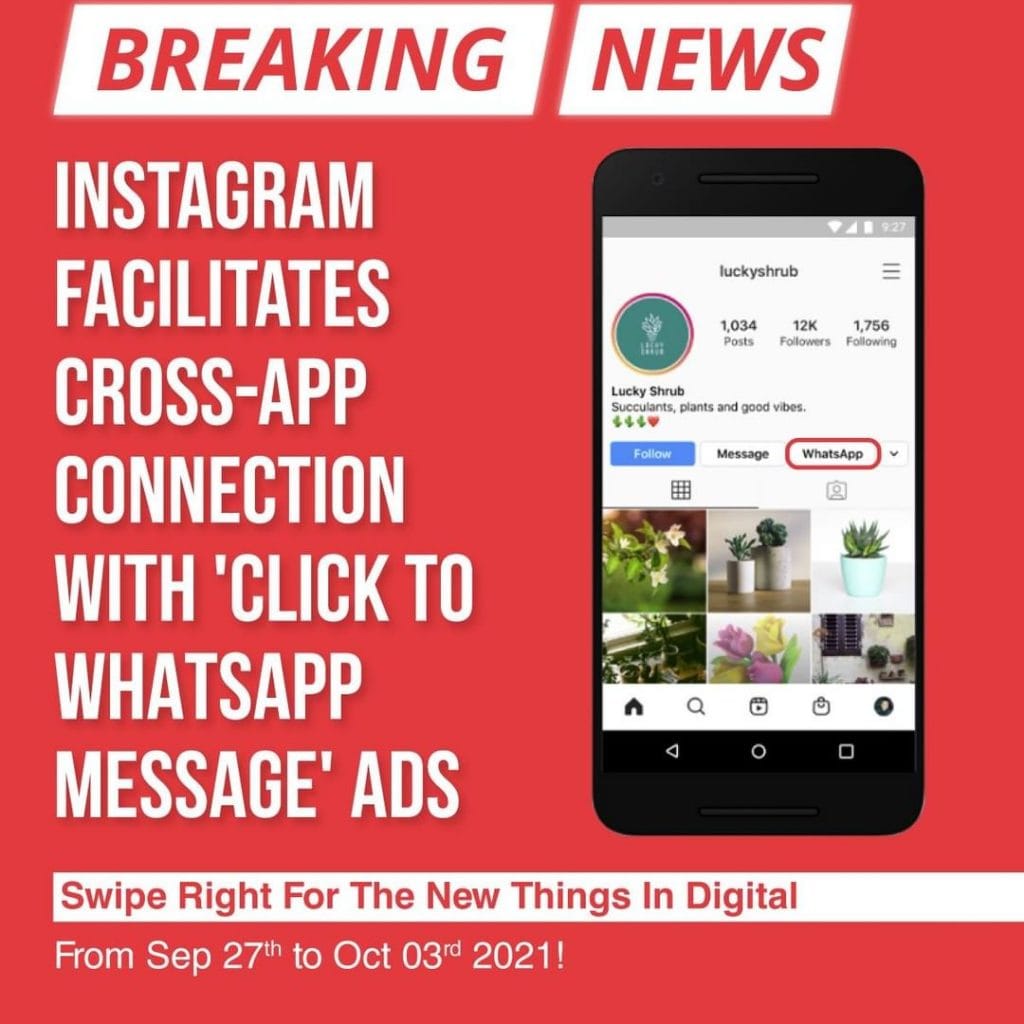 Back in September, Instagram previewed the option of integrating WhatsApp into business profiles on the platform. Instagram has now officially rolled out the option. All businesses on the platform can now connect their WhatsApp Business account to their Instagram profile. With this, the platform is paving the way for cross-platform communication and connection opportunities.
Business owners on Instagram, upon WhatsApp integration, will be able to add a dedicated tab for WhatsApp on their profile. Through this, users and profile visitors can tap on the tab to directly connect with the brand via WhatsApp.
As most customers prefer messaging brands to get their queries clarified, this WhatsApp integration comes as a breakthrough feature for brands. In addition to this, with WhatsApp integration, businesses can also boost posts on the platform that will push customers to get in touch with you via the app.
2. Facebook rolls out cross-app group chat functionality on Messenger and Instagram Direct
Facebook has added the much-awaited cross-app group chat functionality on Messenger and Instagram Direct. Users, with this feature, will be able to initiate group chats with their contacts on both Facebook Messenger and Instagram Direct.
As explained by Facebook, "Last year, we announced cross-app messaging between Messenger and Instagram. With this update, you'll be able to start group chats between your Instagram and Messenger contacts."
There is not much change functionally as the platform has already made cross-platform messaging possible between individual accounts since September 2020. The rolling out of this group chat functionality allows for more communication and engagement within these platforms and paves the way for a possible WhatsApp integration.
In addition to this, the platform is also adding new chat tools, including new chat themes, the possibility of viewing multiple friends typing simultaneously in the group chat window, and more.
3. Applications for Professional Profiles on Twitter are now open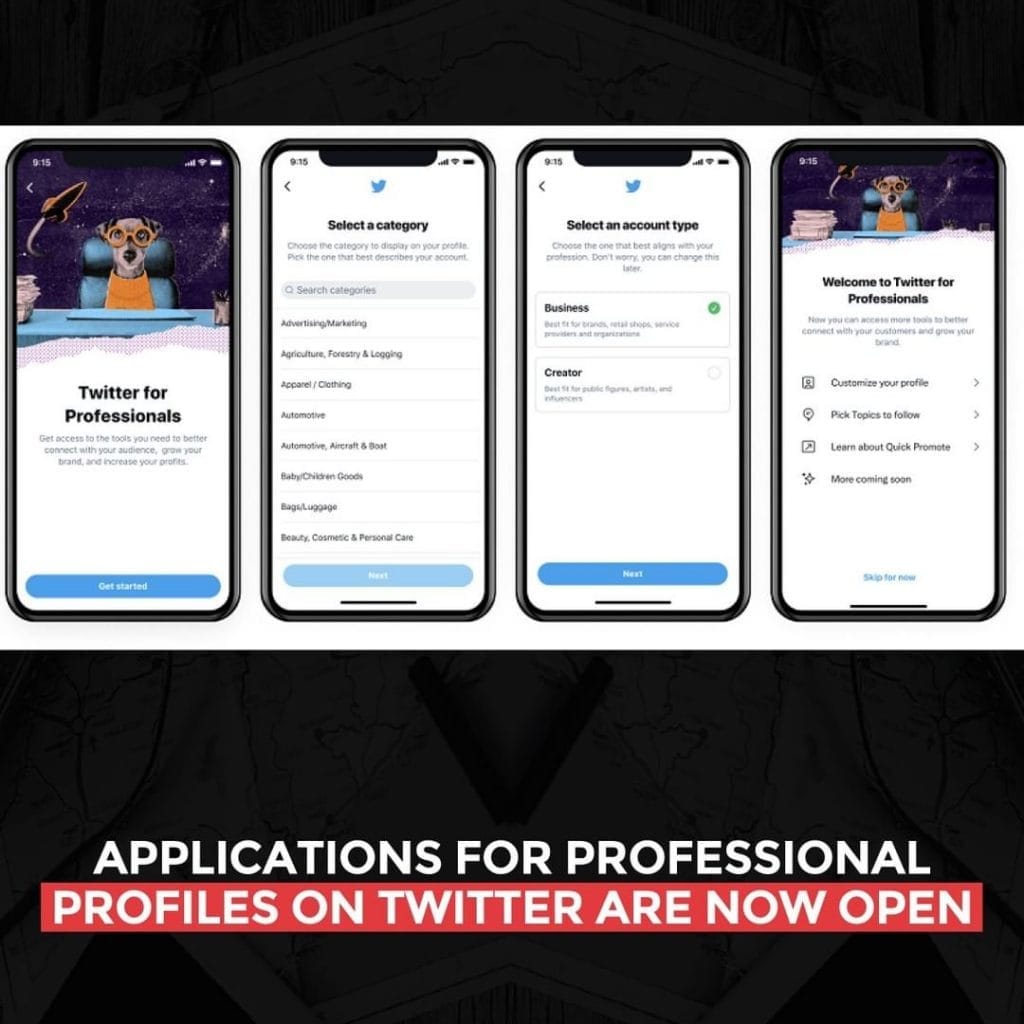 Twitter has been working on the 'Professional Profiles' option on the platform for quite some time now. This feature will allow brands and creators to do more while also being able to monetise on the platform.
According to Twitter, Professional Profiles, "…a gateway to a wide range of professional tools not available to non-professionals, including our Twitter Ads, Quick Promote, Advanced Profile features, and our future efforts around shopping."
Professional Profiles will get access to an array of tools that other users on the platform will not. The microblogging site has now officially opened up applications inviting brands and creators on Twitter to apply to become a Professional Profile. Upon becoming a Professional Profile on Twitter, businesses and creators can display more about their business on their profile, have a separate button for 'Shops' and also a 'Newsletter' if they have one.
The option has been in limited testing since April. Businesses can now apply to become a Professional Profile on the platform.
4. Instagram is testing the 'Selected People' option on Instagram Stories
Instagram is looking to provide users with more privacy options on the platform. The latest addition to this move is the launch of the test of a 'Selected People' option for Instagram Stories. In what looks likes an extension of the 'Close Friends' option, where users could form an independent group of people and post Stories that only people on the group can view, the 'Selected People' option will allow users to post Stories to select people.
Simply put, you can manually choose the people you want your Stories to be seen. Currently being tested in Brazil, the 'Selected People' option gives users more control over their Stories audience.
5. Facebook tests adding additional business context elements in Ads display
Facebook is constantly looking to make the advertising experience better for brands and businesses looking to promote their creations on the platform. Stressing on this, the social media giant is working towards providing more context on paid promotions with a horizontal scroll-through display of additional information below the image display of the advertisement.
A few users are seeing a scrollable information bar below Facebook ads. The information that this bar highlights include business location, user check-ins, and page followers. This will help in negating scammers who intend to misuse Facebook ads and its features. The platform has been testing additional context business elements on Facebook since 2016 after it was found that Russian groups had tried to influence US voters through targeted Facebook ads. Since this fiasco, Facebook has made the ads process more stringent, especially around political and issue-based ads to avoid any kind of misuse.
This is a small step in furthering Facebook's efforts to make the process more transparent and sensitive.
6. Chrome is testing Google side search bar in the browser
Chrome is testing a Google side search option in the browser. This allows you to compare search results easily on one browser page. The feature will work on Chrome OS Dev channel as well as your main browser.
According to Google's statement on the Chromium Blog, "We're experimenting with a new side panel in the Chrome OS Dev channel, so you can view a page and the search results at the same time." Google also said that the main aim of this experiment is to see how Chrome can help better facilitate easy comparison of results among users.
7. Google tests sellers' product rating box interface on the SERP
Google is running a new Google Search user interface test – the product rating box interface on the Search Engine Results Page. These review boxes show up on the top right corner of the result snipper. However, these seller ratings are not from structured data and are not displayed in the 'About this result' section.
8. Instagram drops IGTV brand and merges video feed posts into a single format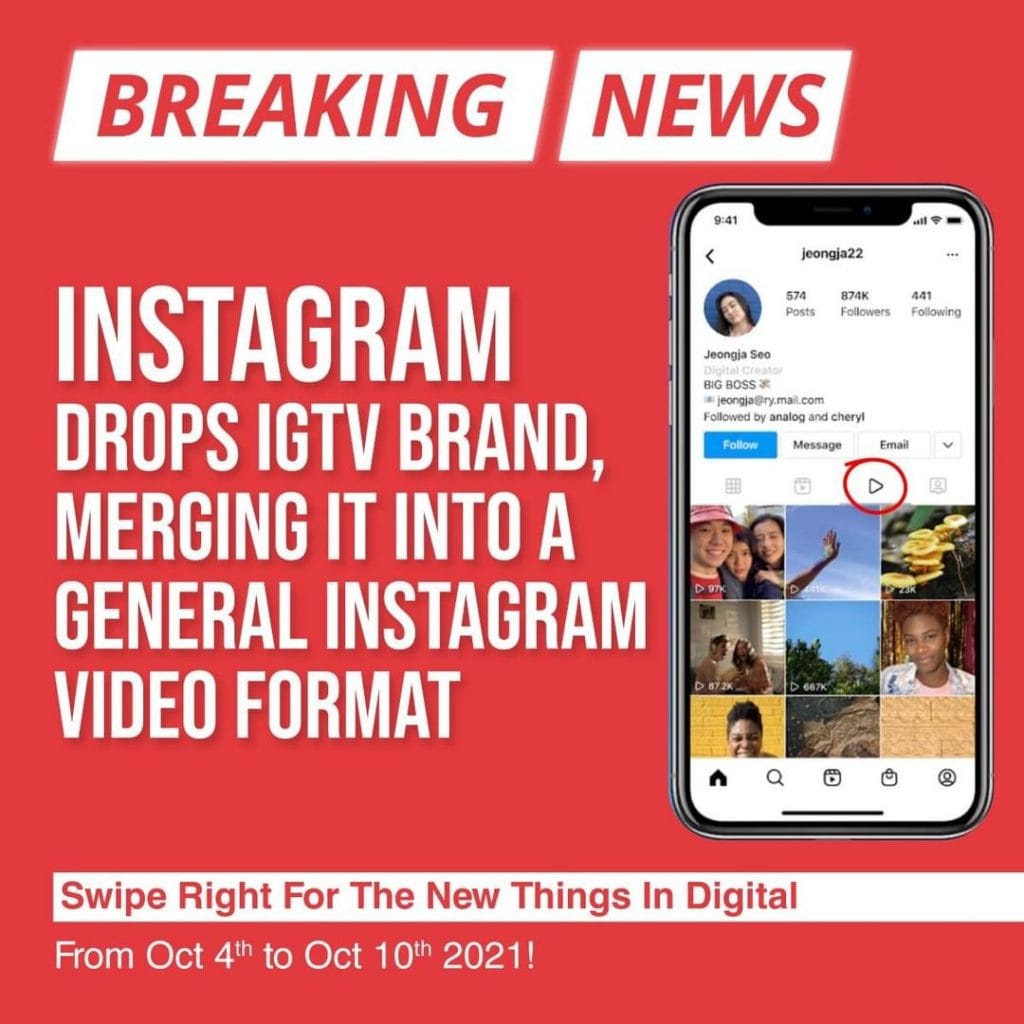 Instagram is officially merging its IGTV video format into one single, more general 'Instagram video' format. This offers a more streamlined video viewing experience on the platform, putting an end to the famous IGTV brand altogether.
Instagram explains, "Starting today, we're combining IGTV and feed videos into one format – Instagram Video. We're also introducing a new Video tab on your profile, where this combined video format will live, to make it easier for people to discover new video content."
The merge has given rise to a new tab on the app, denoted by a play button. Users will be able to scroll through to discover more videos and tap to enter full-screen. In-feed previews are also changing along with this update. Instagram says, "Video previews in feed will now be 60 seconds long, unless the video is eligible for ads – in which case, the preview will still be 15 seconds."
IGTV video ads are now known as in-stream video ads.
9. Snapchat announces creator monetisation tools to maximise in-app engagement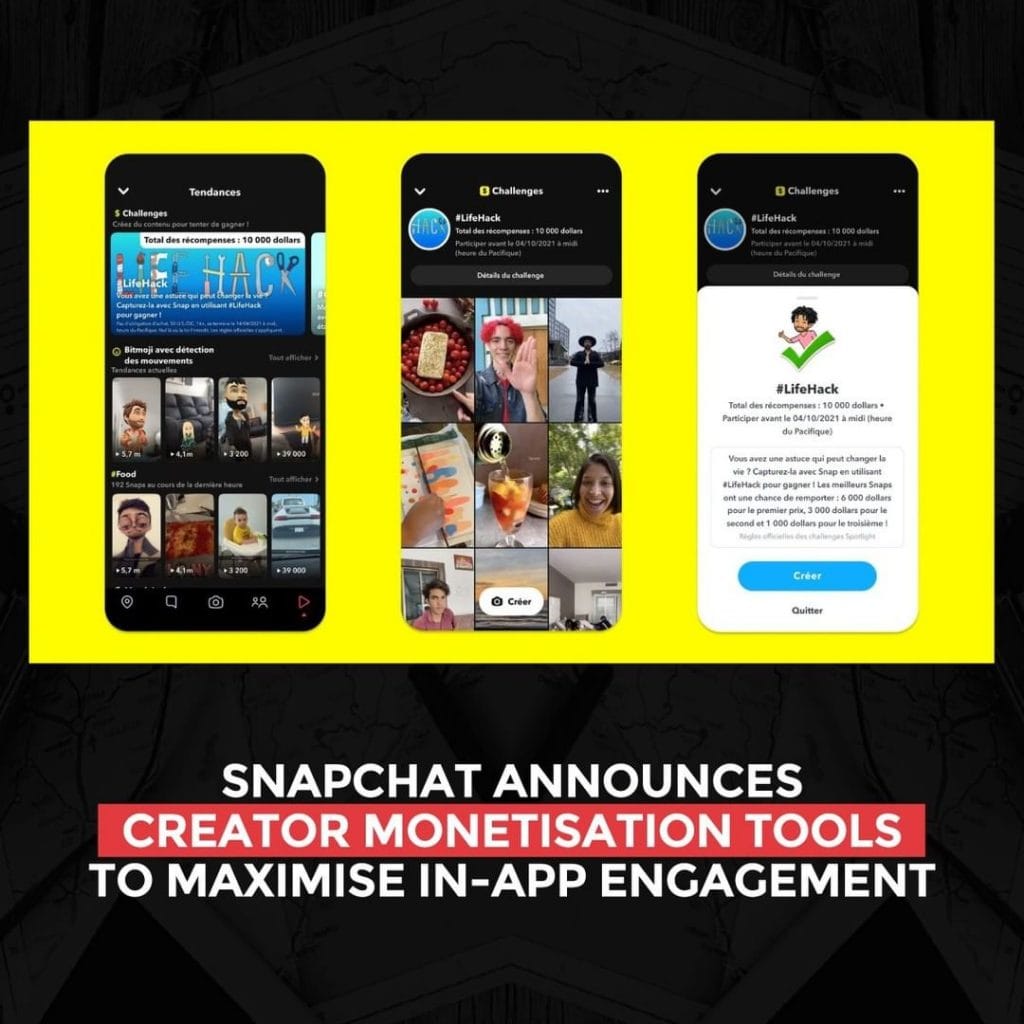 Snapchat has announced that it is adding a few creator monetisation tools as it looks to maximise in-app engagement.
a. Spotlight Challenges: This offers cash prizes for creators who take up challenges and post videos on specific themes.
As explained by Snapchat, "Spotlight Challenges will be available on the Trending Page, accessed via the trending up symbol on the top right corner of Spotlight within Snapchat. Select the Challenge you want to participate in to see that specific Challenge's page, which will feature the Challenge description and entries submitted by the community."
b. Virtual gifting: The platform is expanding its virtual gifting option to all Snap Stars around the world. When the feature was announced back in May, only verified Snap Stars were able to receive digital gifts. Right now, the gifting option is open for all Snap Stars around the world.
c. Creator Marketplace: The platform is also updating its marketplace. Businesses will now be able to get in touch with Snap Stars in the app. This will help enhance their entrepreneurial presence on the platform.
10. Google tests new label attribute called for 'Offers'
Google is currently testing a new label attribute in the local pack for 'Offers'. It displays any offer listed by businesses on their Google My Business listing. The label's display has a price tag icon and the word 'Offer', along with information about the offer that is being highlighted in the section.
11. Google tests full-width Featured Snippets section
Google is testing an updated interface for its Featured Snippets section. The layout being tested here is a full-width one, which extends sideways towards the rightward end of the Search Engine Results Page. Usually, the Featured Snippets section ends wherever the search box ends. This is a completely unusual test.
12. Google tests search refinement bubbles in autocomplete on Search
In yet another test run by Google, it is trying out the placement of search refinement bubbles in the autocomplete section on Search. This refinement bubbles section is in a carousel format, which you can swipe through, choose one, and complete your search query.
13. Instagram adds Reels ads placements in its marketing API
The expansion of Reels has been Facebook's primary focus for the past year. The social media giant has added Reels ads placement to its marketing API in a move furthering the same. This move will allow third-party platforms approved by Instagram to create Reels ads within their digital ads flow.
Facebook explains, "We now allow for Reels Ads placements on Instagram via the Instagram Marketing API. This will be available on all current Marketing API versions, and does not require an upgrade."
This makes it easier for more brands and businesses to make use of Reels campaign in their digital marketing strategy. Given that Reels is currently the fastest growing video format, and also since Facebook is looking to garner more focus on short video clips, this could offer newer opportunities for creators and advertisers to experiment with.
This API update from Instagram will facilitate the following:
> Ads creation: You will now be able to use "INTAGRAM_REELS" as one of the targeting positions while creating ads.
> Ads insights: Placement level insights will show how ads perform through Instagram Reels placement.
> Ad preview: You can view the preview of your ads in the Instagram Reels format.
14. Facebook expands access to Live Audio Rooms; aims to improve audio discovery
Audio social might have lost the hype it primarily enjoyed earlier, with the debut of Clubhouse, but this format of social media still presents ample engagement and opportunities to connect. On that note, Facebook has announced the expansion of access to Live Audio rooms. The social media giant is making its Live Audio Rooms feature available for all public figures around the world, along with a dedicated space within the Watch tab which will enable users to connect to its various audio options.
According to Facebook, "From today, all verified public figures and creators will have the ability to host Live Audio Rooms. We've seen it become a great tool for lightweight connection and conversion among various types of communities."
The expansion allows a wider range of audiences to access Facebook audio broadcasts.
Facebook is also looking to improve audio discovery by adding a dedicated audio section within the Watch tab that will display Spaces, podcasts, audio creators, and more. In addition to this, the platform will also allow all groups to host live audio rooms.
15. Twitter adds custom headlines and landing page options to its carousel ad format
Twitter has made a few additions to its carousel ad format, which includes the addition of custom headlines and landing page options. You can now add customised headlines and integrate landing pages in each frame of the carousel ad on the platform. This provides you with more options to build ads for different audiences within one single campaign.
As explained by Twitter, "With Multi-Destination Carousels, advertisers can now customize headlines and landing pages to help drive the right actions for their audiences. Advertisers will have greater flexibility to diversify their message with unique headlines and URLs per Carousel Card. With just a swipe, people can engage with multiple images or videos and click through to land on different destinations."
This enables advertisers to utilise different ad creatives within one campaign, which will broaden the reach of the ad altogether.
16. Twitter is currently testing ads within Tweet replies
With Twitter looking to expand the reach and use of its advertising options, it is now testing the display of ads within Tweet replies. The microblogging site is testing displaying ads between the first few replies in a Tweet thread, which is where the conversations are likely to be the most happening. This will help the ads garner more visibility and, subsequently, more reach.
The option is currently in testing. Therefore, only a select audience will come across ads in Tweet threads.
17. Twitter rolls out Ticketed Spaces on Android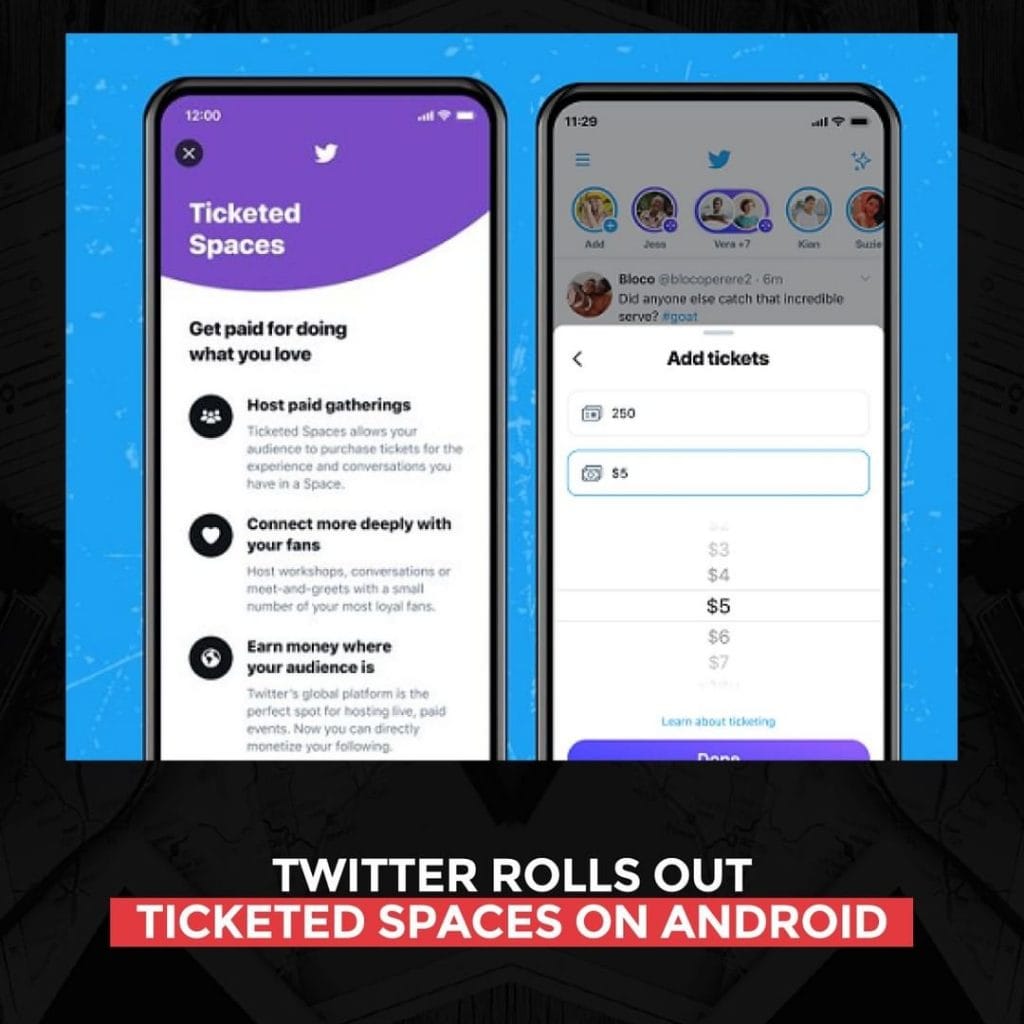 After having the option is testing and initially making it available to only select iOS users, Twitter is now rolling out Ticketed Spaces to all iOS users in the US while also launching the Android version of the same.
Ticketed Spaces allows hosts of Spaces sessions to charge money for their sessions. 97% of the revenue will go back to the creator, while the same will drop to 80% once the creator's earnings through Ticketed Spaces reach a total of $50k.
The potential and scope of Ticketed Spaces' growth only increase with the rollout of the feature's Android version.
18. Google rolls out new knowledge panel format
After months of testing different display formats for the knowledge panel design, Google has officially rolled out a new knowledge panel format. This new design will have buttons on the top of the search results. This design has been active on the mobile version of Search for some time, but it is also fully available on the desktop version now. The older design had the knowledge panel appear on the right corner of the Search page, right above the About section, and currently, it is displayed on top of the Search Engine Results Page.
19. Google is testing expandable video previews on Search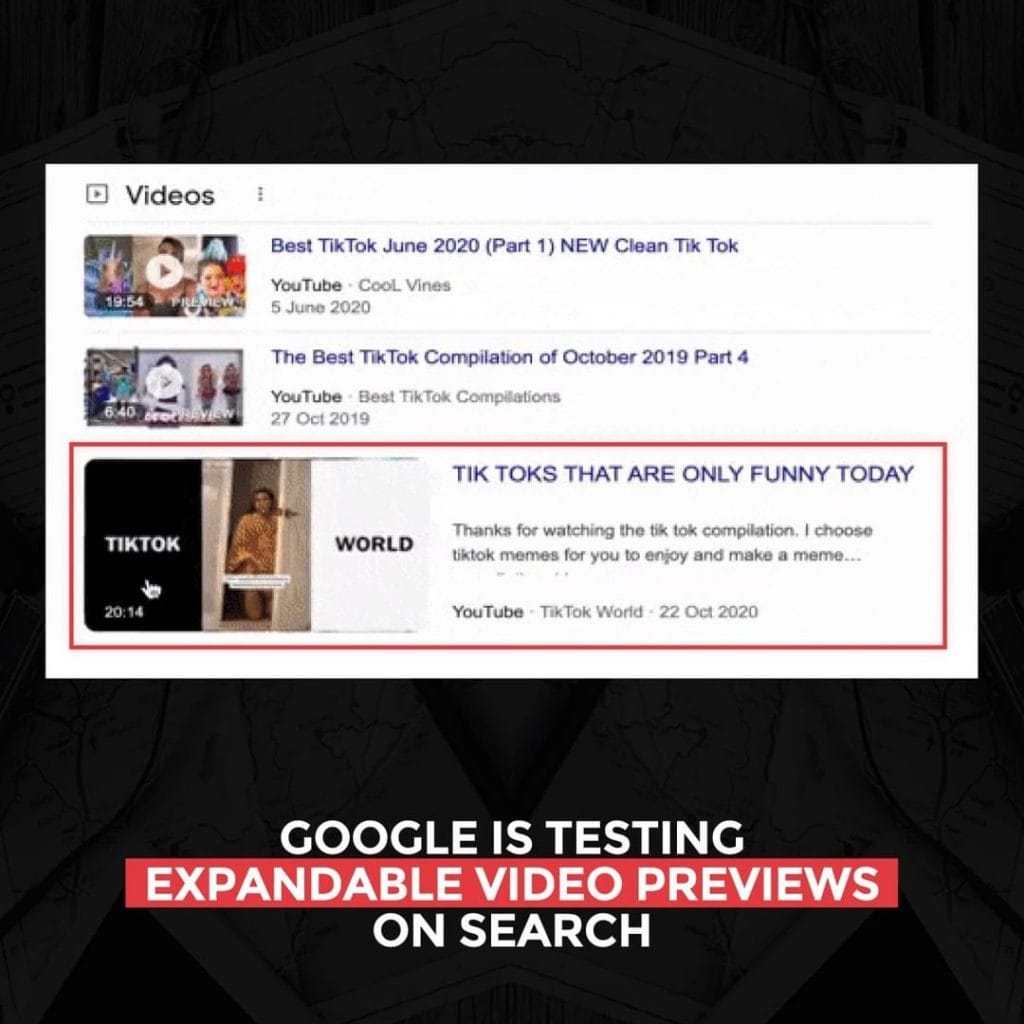 Google is testing the display of expandable video previews on Search results. When you hover your mouse over the video results on the SERP, that particular video thumbnail you are on will expand and start playing a silent preview. Given that Google has been gradually trying to establish video results on Search, this test is probably to expand the effectiveness of video results further.
20. Google Search Results now displays rotating product images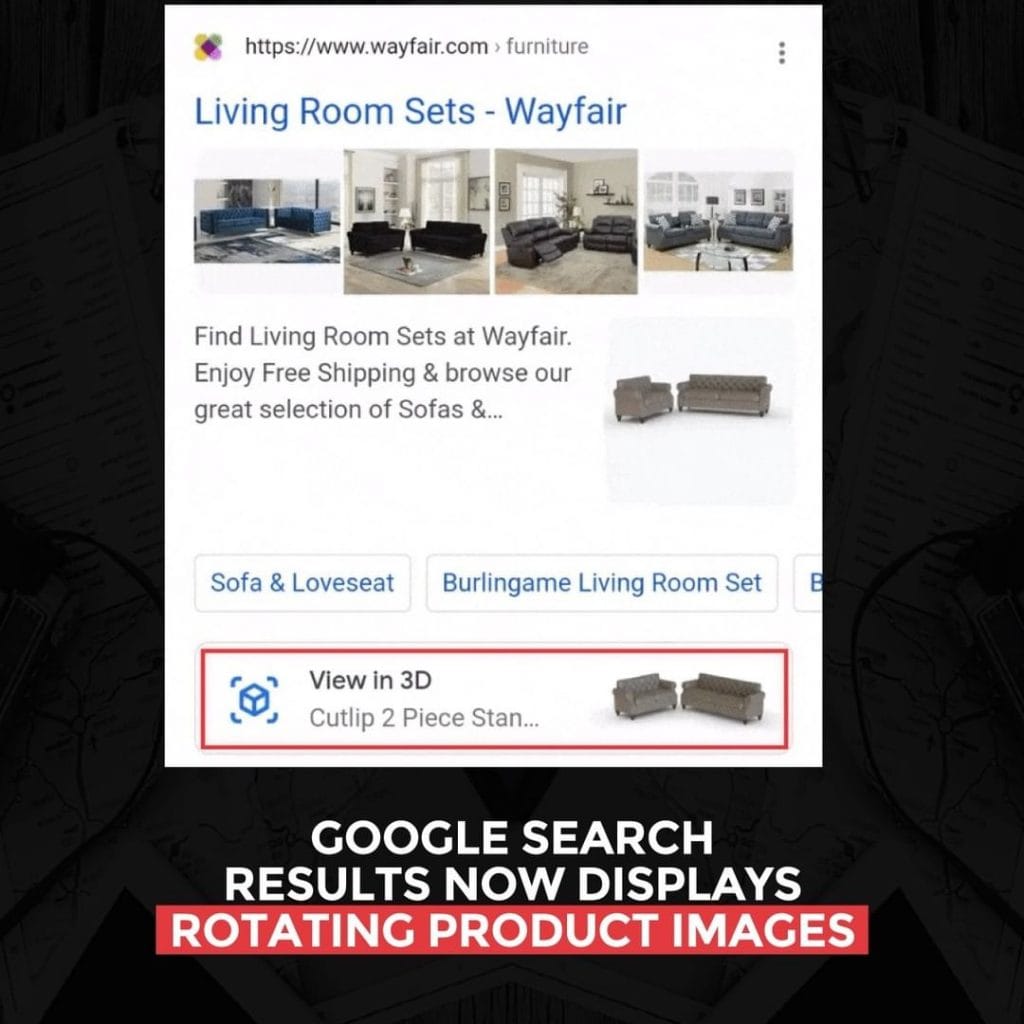 Google Search Results is now displaying rotating 3D product images in the search result snippet. This is probably part of the 3D/AR images Google Search feature that was discussed back in 2020 and 2019. The option of rotating images directly within the search result snipper seems to be the latest update on this front.
21. Google is testing short videos in Search results on Desktop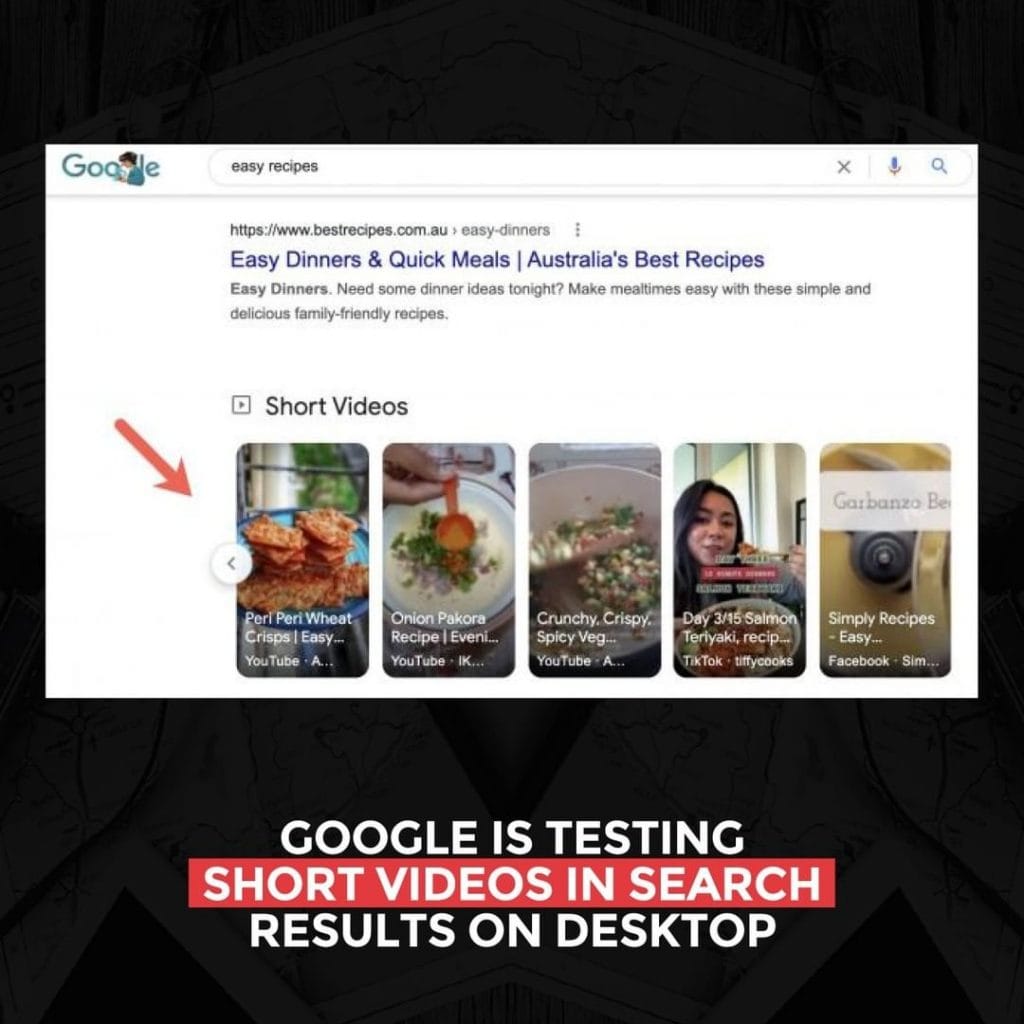 Google began displaying short videos on the mobile version of Search results almost a year ago. Now, the Search engine has started displaying short videos on its desktop version as well. This format displays short videos from across various platforms, including TikTok, Facebook, YouTube, and more.
22. You can now upload photos and videos on Instagram via desktop
The long wait is finally over! Instagram will enable you to upload photos and videos to the platform directly via the desktop version of the app. The functionality that has been effective from October 21st provides a more centralised way for social media managers to upkeep their Instagram presence.
This update is currently limited to photos and videos under 1 minute and will not include Stories and Reels at this point. However, this functionality definitely makes it easier for social media managers to upload media from one place, i.e., their laptops, instead of going back and forth, saving posts on various devices.
Instagram has been testing the desktop posting for quite some time, with select users having access to the feature. Now with the official roll-out, all users have the option to upload photos and videos via desktop.
23. Facebook announces new tools for small & medium businesses ahead of the holiday season
With the arrival of the upcoming holiday season, Facebook has announced a set of tools that help enable small and medium businesses (SMBs) to enhance their business on the platform.
These new tools include new calling options and expanded appointment bookings.
With the new calling options, the platform is testing an option that will allow businesses to place audio and video calls via Messenger's Business Inbox. This streamlines the entire communication process between the business and its customers, facilitating the possibility of immediate connection. Additionally, the platform is also expanding its live audio rooms to selected SMBs.
Apart from this, Facebook is also rolling out its business appointment option to SMBs. It is also adding a new tool to WhatsApp with catalogue collections, and SMBs can organise their products according to different categories.
These tools help SMBs conduct business across Facebook's different platforms seamlessly.
24. Instagram adds new tools that will enable creators to maximise branded content partnerships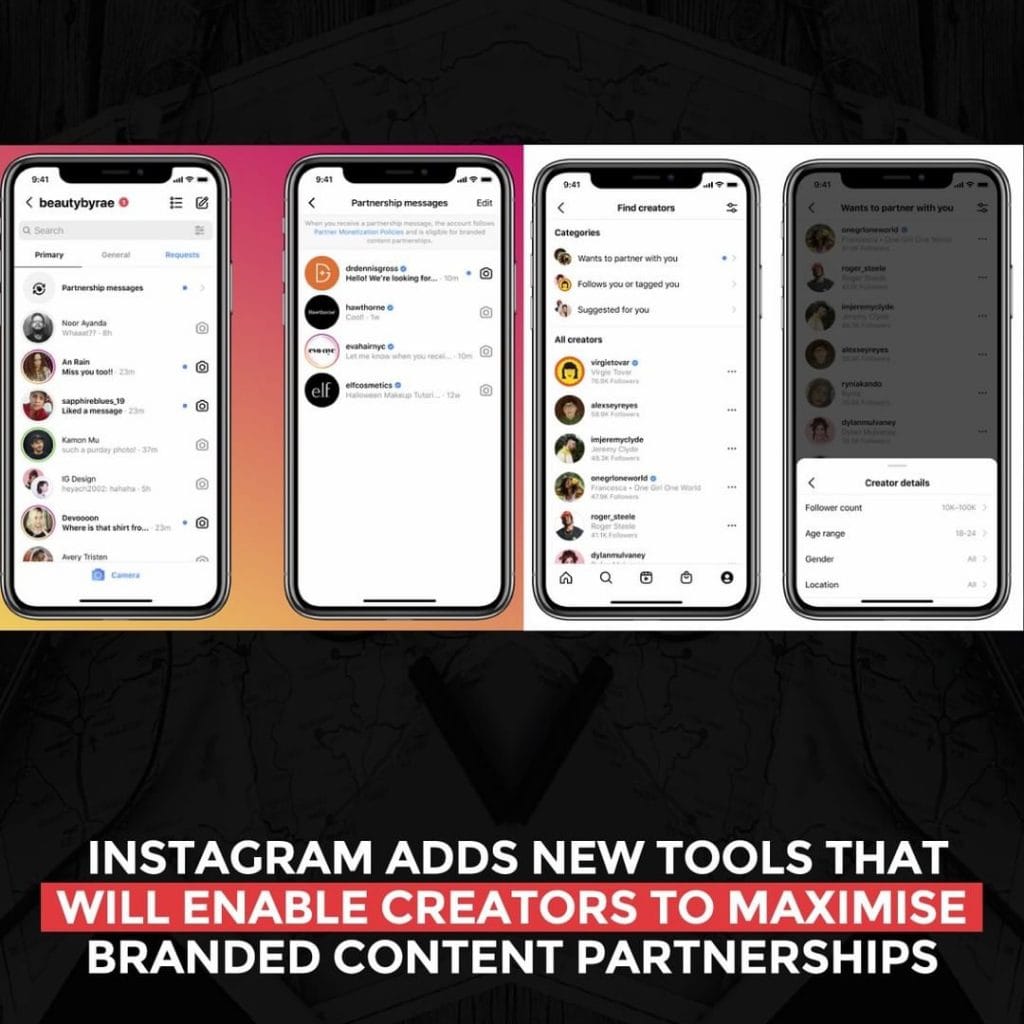 With the holiday season fast approaching, Instagram has announced the addition of new tools that will help creators maximise their earnings on the platform.
Firstly, Instagram is testing out a 'Partnership' folder on its inbox – this will help creators keep track of sponsored content and collaborative opportunities in a dedicated space. The app, along with Primary and General folders, will also provide a 'Partnership Messages' folder for creators to keep tabs on branded content opportunities.
In addition to this, Instagram is also trying out a new digital storefront option. With this, creators taking part in its affiliate program, as well as individual creators, can create their own shop displaying the products they endorse, thereby opening up new opportunities for brands to become more visible.
Apart from this, Instagram has already announced the possibility of posting sponsored content within Reels. These are aimed to help creators maximise their monetisation potential via branded content.
25. Twitter adds Revue Newsletter subscription cards directly to Tweets
Good news for Revue Newsletter creators! Twitter has added Revue Newsletter subscription card to Tweets. This means, as a Revue creator, you can share your newsletter on your Tweet, with an option for users to directly subscribe to your newsletter via the Tweet itself. This provides more options to drive subscribers via the micro-blogging platform.
As explained by Revue, "We already made it possible for followers to subscribe to your newsletter directly from your Twitter profile. And now they can from Tweets as well, some with just one click."
This move aligns well with Twitter's aim to provide more monetisation avenues for its creators on the platform.
26. Canva launches Canva virtual games on the platform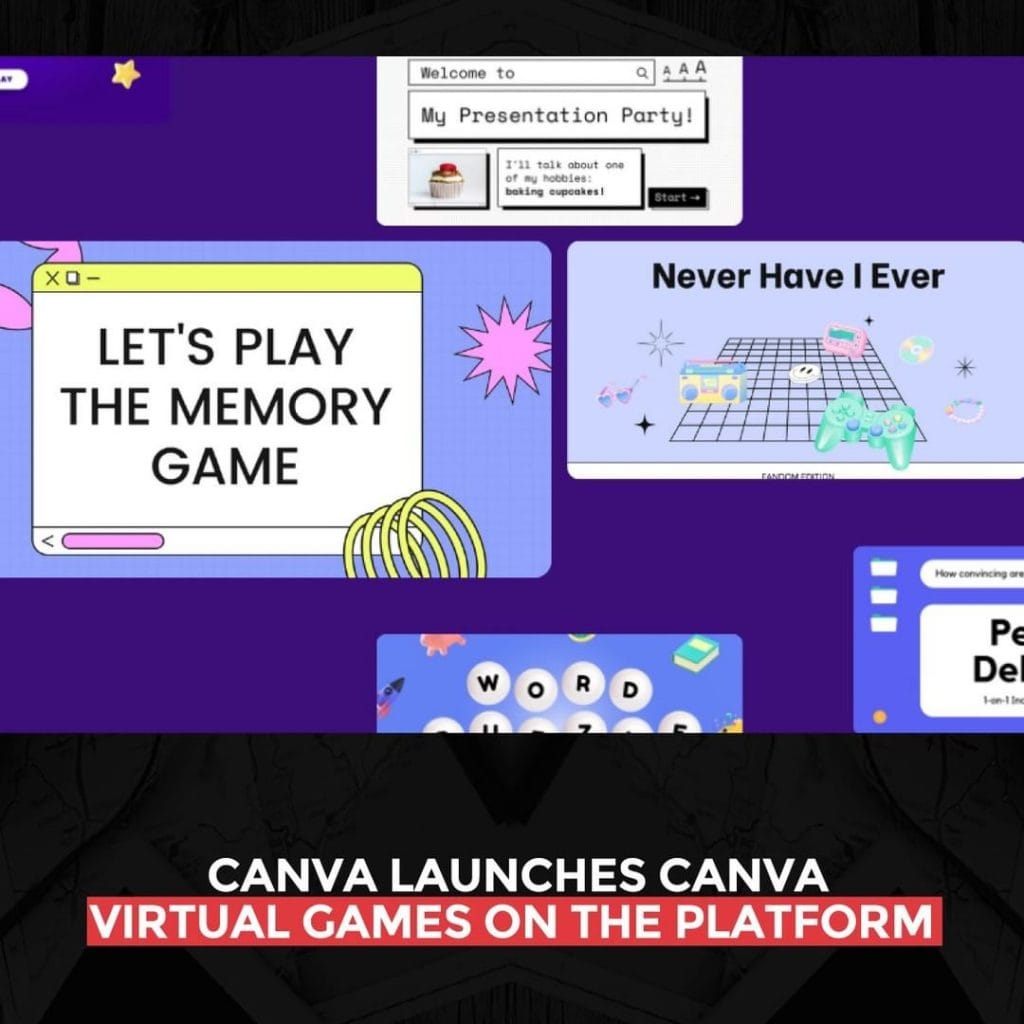 In this week's new things on Canva, the designing platform has officially launched Canva games, a set of virtual games on the platform. These include a set of virtual games that you can play with friends, colleagues, and other loved ones. There are multiplayer games, and you can also go solo and play single-player games that Canva offers. Apart from this, you can also set up quizzes and quirky games like 'two truths and a lie' and more.
27. Google is testing larger font and Search bar on mobile search
Google is testing a larger font as well as a larger search bar in the mobile Search interface. As duly noted by Twitter user Brodie Clark, over the past year, Google has been focussing on a series of tests on its mobile version of Search, especially the Search bar.
28. Google adds a new business attribute named 'Crowd'
Google has added a new business attribute called 'Crowd'. This attribute provides business owners with the options of marking their business as 'LGBTQ+ friendly' and a 'Transgender safe space'. The options of marking your business were already available to many business owners, but now, they are organised under a dedicated attribute named 'Crowd'.
29. Google may roll out Things to Consider, Refine This Search & Broaden This Search features
Google might be looking to roll out three new features, including Things To Consider, Refine This Search, and Broaden This Search.
These options provide users with a better search experience, offering them more ways to make their search more specific and detailed while also potentially broadening their search's scope.
30. Google is testing out a purple heart label for women-led businesses on Google Local
Back in 2018, Google officially launched the 'women-led business' label in the local search results. Currently, the search engine seems to be testing out an exclusive purple heart label to highlight women-led businesses on Google local.