With the end of September, we are entering the final quarter of the year, and the updates were as interesting as ever. All the platforms stepped up to their game to plan a great end to the year. From Instagram adding a few more protection aspects, LinkedIn discontinuing Stories, to Twitter launching the Super Follow option and WhatsApp's backup encryptions, there were a diverse set of updates. Here's the entire list of #NewThingsInDigital for the month of September.
In case you missed last month's digital marketing updates then click here to read.
Top 35 Latest Digital Marketing Updates in September 2021
1. Users will have to enter their birth date on Instagram as new protection for youngsters
In its effort to protect young users, Instagram is asking all users who have not done so previously to enter their date of birth in the app. The platform is looking to make it safer for younger users, for which they need to know how the age of all users on the platform. The platform has added a prompt that will ask the users to enter their date of birth. Instagram said that it would prompt users to update their date of birth a 'handful of times' before it goes ahead and restricts the profiles of users who don't comply.
2. Instagram launches '10 Days of Live Shopping' event to display its eCommerce Tools
Instagram has launched its '10 Days of Live Shopping' event to further its eCommerce push within the app. The event will feature a range of celebrities partnering with major brands and live-streaming product launches in the app.
As explained by Instagram, "Fashion, beauty, music, and lifestyle are coming together like never before with Instagram's 10+ Days of Live Shopping. People can tune in starting September 1st for intimate events with Selena Gomez, Kacey Musgraves, Lil Yachty, and more surprise guests. The events give you access to fresh releases, offers, and exclusive merch only on Instagram."
Users can tune into the event by clicking on the 'Live' option on the Shop tab. The opportunity to witness top brands and interact with celebrities is definitely a crowd-puller, providing Instagram with the perfect chance to display its evolving eCommerce tools online.
3. LinkedIn is removing LinkedIn Stories from next month
LinkedIn is bidding farewell to its Stories experiment. The team said that they launched it as an experiment and have learned a lot over the past year through LinkedIn Stories. The platform is also looking to evolve the Stories format into a video experience that is richer as well as more conversational.
The platform highlighted the following two learnings from LinkedIn Stories:
· Users want their Stories-like content to live on beyond the 24-hour window and be available on their profile.
· Users want more creative tools to make engaging videos across the platform.
This is exactly what LinkedIn is looking to incorporate in its upcoming video project.
4. Twitter officially launches the 'Super Follow' option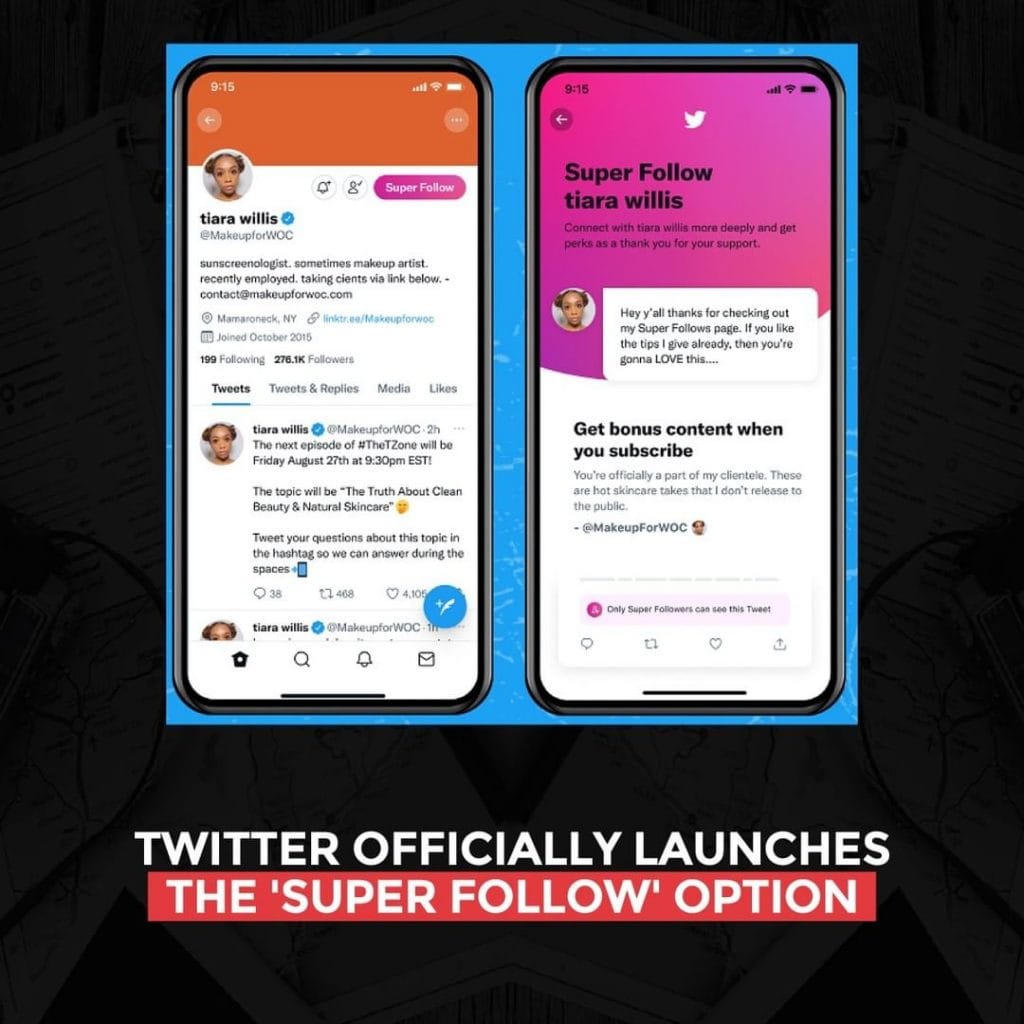 After testing this for the past few months, Twitter has officially launched the 'Super Follow' option that helps creators monetize their content. The option has currently been rolled out to select creators in the US who will be able to charge a monthly fee for exclusive tweet content for their biggest fans. The option is available in the US and Canada and only on iOS for now.
As explained by Twitter, "Through Super Follows, people can set a monthly subscription of $2.99, $4.99, or $9.99 a month to monetize bonus, "behind-the-scenes" content for their most engaged followers on Twitter. And followers get extra special access to their unfiltered thoughts, early previews, and subscriber-only conversations from their favorite accounts."
The option comes as an incentive for creators to be more active on the platform while also helping build a stronger community on Twitter.
5. Twitter launches 'Safety Mode' to tackle unwelcome interactions on the platform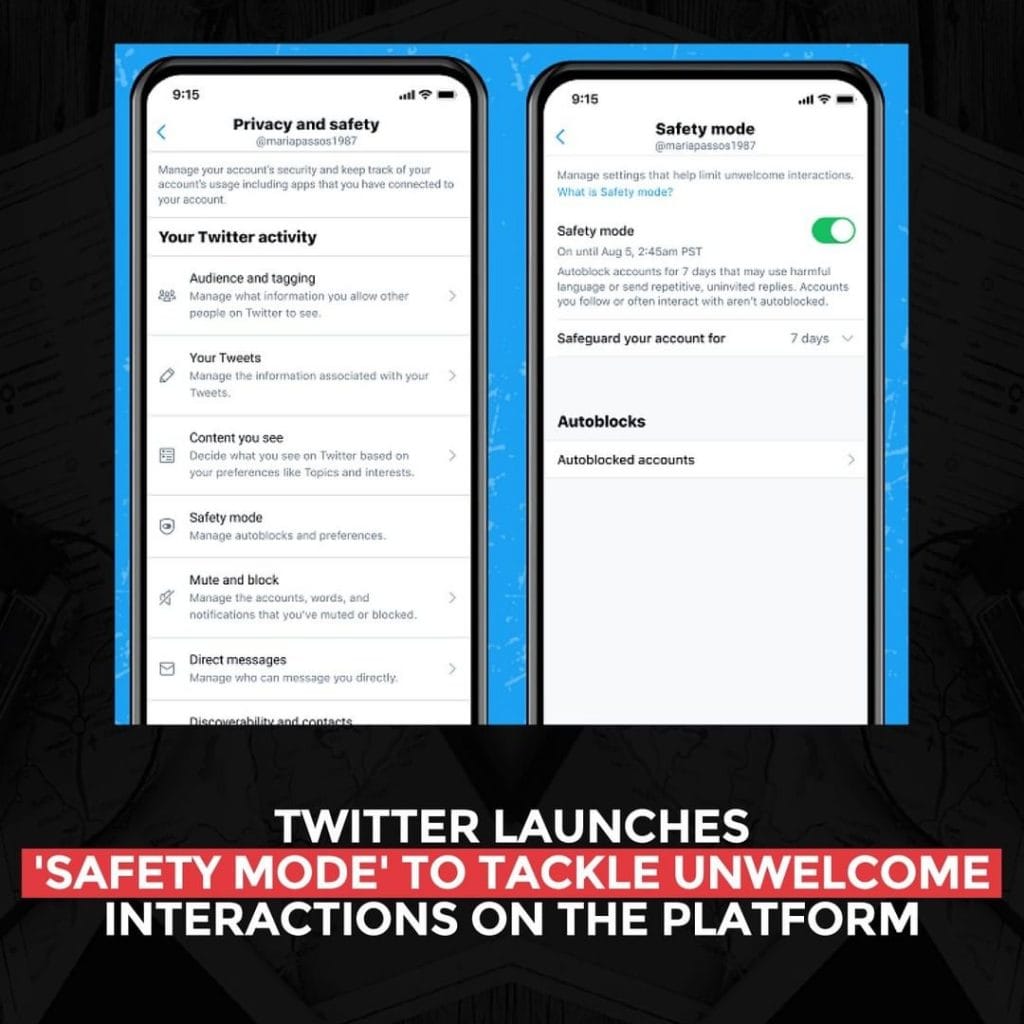 Twitter is testing out a new 'Safety Mode' that will help users avoid unwelcome interactions on the platform by automatically blocking accounts tweeting offensive content. When you activate Safety Mode, Twitter will temporarily block those accounts using language that is potentially harmful and disrespectful. This will help users avoid negative impacts from conversations and alleviate the psychological stress that offensive conversations and accounts can cause.
The platform is now testing Safety Mode with a small group of iOS, Android, and web users. It has planned an expanded beta test in the upcoming months.
6. Twitter tests a range of control options to provide users with more on-platform control and protection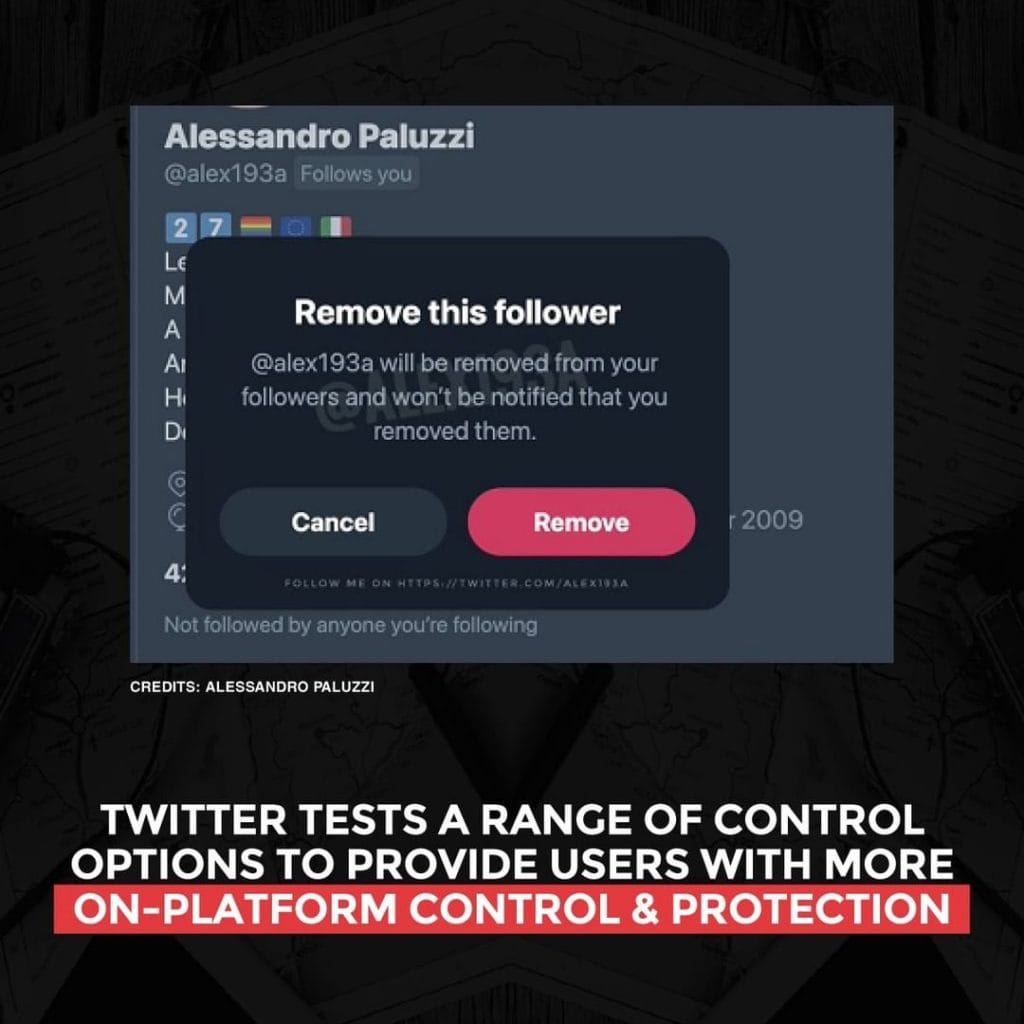 Twitter is testing a range of control options to increase on-platform control and protection for users. The platform has announced a trail of features, including auto-archiving old tweets and the option to remove followers.
The features include:
a. Archive old Tweets: This would enable users to archive their old tweets after a particular point in time so that others can't see them. To archive Tweets, users can manually set a time for the archive to kick in.
b. Remove followers: Twitter has been openly working on this option for quite a while now. This option will let users remove individual accounts from their list of followers without having to block and unblock them.
c. Removing one's self from a conversation: This option would allow users to remove themselves from any potentially offensive or harmful conversation they do not want to be a part of.
d. Hide liked Tweets: Likes are sometimes seen as endorsements or just another way to bookmark content. Hiding liked Tweets will help users get rid of this confusion while also letting them feel free in what they like on the platform.
7. Google adds new 'Shipping and Return Annotations' to its Shopping & Search Results
Google has announced that it has added new 'Shipping and Return Annotations' on its Shopping and Search Results. This will work on both paid and free listings. Google says that shoppers can see when their orders will arrive through these annotations.
8. Google is testing an expandable Search Snippet Carousel
Google is currently testing expandable Search Snippet carousels on its Search Engine Results Page. These Search Snippet carousels will expand with detailed information of the points being highlighted.
9. Instagram tests new 'Favourites' option to help organise your feed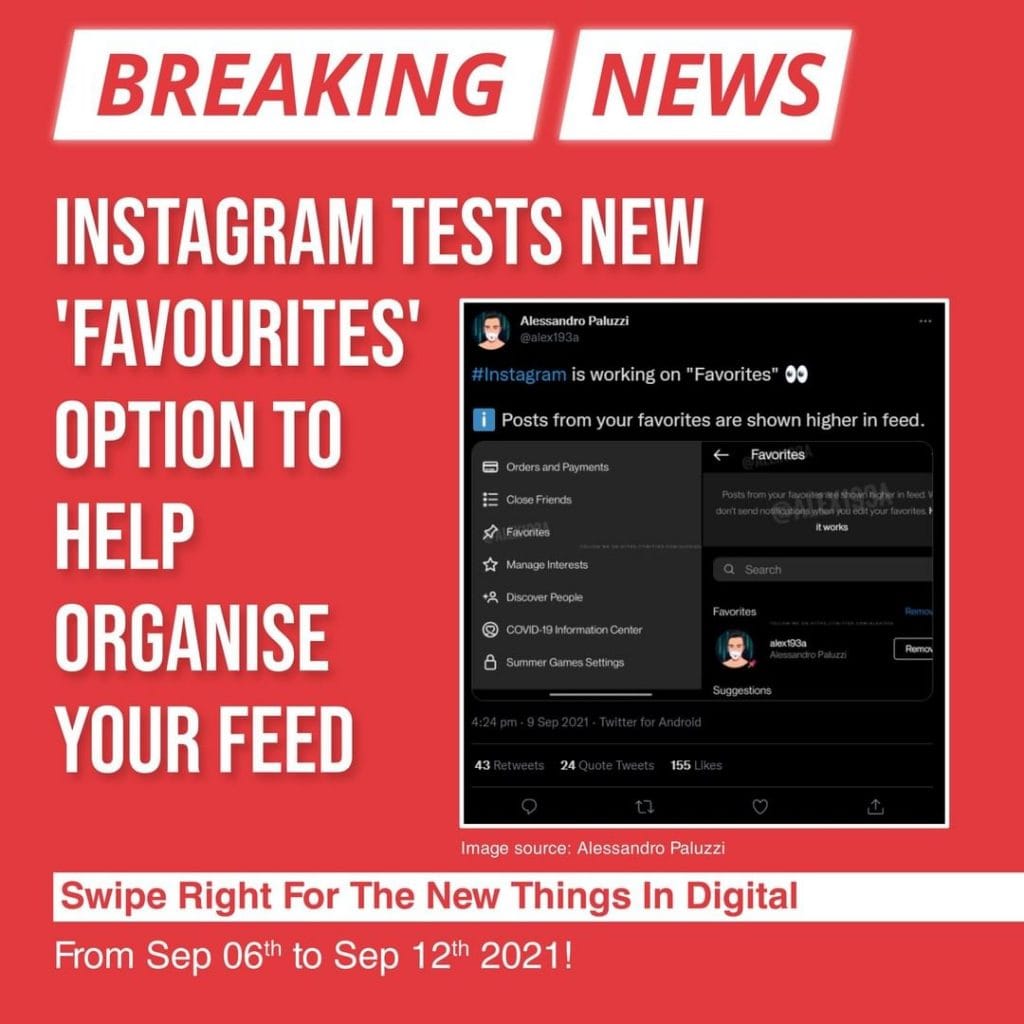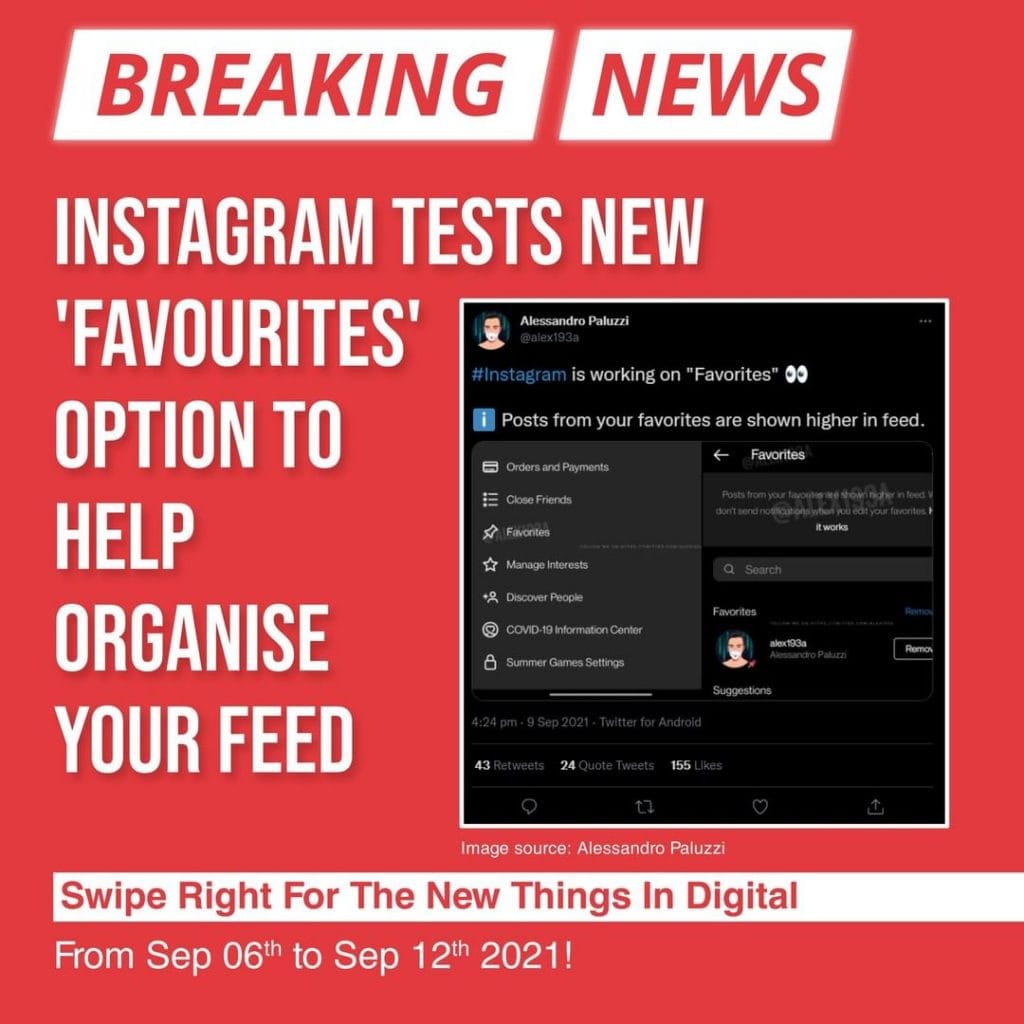 Instagram is looking to make your feed more interesting by working around the relevancy factor with the test of a new 'Favourites' option. Right now, Instagram is all about an endless scroll, and the chances are high that posts you care lesser about might pop up first, and by the time you are through with a few scrolls, you either forget to check your favourite profiles' updates or are bored.
To tackle this, Instagram is working on a new option – Favourites. With this option, you can categorise the Instagram accounts you follow in order of importance so that they pop up first on your feed.
This will be a very useful option for users, making the platform more relevant and interesting to use.
10. Twitter officially tests full-width images and videos on iOS
After testing the option for a few months now, Twitter has launched an official live test of full-width images and videos for iOS. This will let tweeted images, GIFs, and videos take up more space, removing the rounded corners of the current display.
This new visual format that is being tested will have visual tweets taking up the whole horizontal space on the feed.
As explained by Twitter, "By reducing the margins on Tweets, we can better use the space in a Tweet, so the focus is on your message and what you have to say while bringing the timeline to life with larger photos and videos. This test explores how we might support conversations in all their different forms by giving Tweets with photos, videos, and text more room to shine."
11. Twitter launches test of new labels for bot accounts
With automation taking over digital marketing, bots are no stranger on Twitter. To better manage and help users differentiate between good bots and spammy ones, Twitter is testing new labels for bot-based accounts. The new bot labels will carry a bot icon, highlighting the human-run account that manages the bot. This move also includes the display of the automation marker in-stream.
Twitter believes that high-quality bots can enhance user experience on the platform. Bot labels are currently only working for profiles that have opted into this test.
12. WhatsApp adds encryption for chat back-ups
It is not news that WhatsApp's chats are encrypted, providing users' conversations on the app with the security they need. But now, Facebook is looking to expand the messaging platform's privacy option by encrypting their message back-ups as well. This provides conversations with an added layer of security. Right now, WhatsApp's chats are end-to-end encrypted by default, which is beneficial for the platform amidst the ongoing concerns about their privacy policy. Soon, the encryption will be extended to users' data history as well.
As explained by WhatsApp, "People can already back up their WhatsApp message history via cloud-based services like Google Drive and iCloud. WhatsApp does not have access to these backups, and they are secured by the individual cloud-based storage services. But now, if people choose to enable end-to-end encrypted (E2EE) backups, neither WhatsApp nor the backup service provider will be able to access their backup or their backup encryption key."
This provides users with an assurance of privacy and comes as a relief, especially considering the hit that WhatsApp took earlier this year due to their privacy policy changes.
13. Twitter tests new option to remove specific followers
In a move to make the platform safer and provide more control options to users, Twitter has launched a live test of the option to remove specific followers from your Twitter profile without having to block them and unblock them later.
The new test will allow users to select specific followers from the list and choose to 'remove' directly. With this option, the follower that is being removed will not be notified about it. They will also be able to follow you again if they want to do so. This is a less intrusive way of removing a follower, especially with the need to block and unblock being removed.
Apart from this, the platform is also adding many other options that improve privacy and control for users, including a safety mode, the option of archiving old tweets automatically, and removing oneself from a conversation.
14. Google will now let you add Google posts directly from Google Search
Back in June, Google had announced that you will be able to add posts directly from the Search Engine Results Page. Business owners will find an 'Add Update' button above the Google Posts section in the Knowledge Panel. On clicking this, you will be taken to the page where you can add your creative, description, preview, and post.
15. Google My Business bids farewell to the role of Site Manager User
Google has removed the role of Site Manager User role from Google My Business. Right now, there are only three levels of users, including the primary owner, owner, and manager. Google has sent out an e-mail announcing that the role of Site Manager User will not be available, effective from October 24th 2021.
16. Instagram is building a new 'Montage' feature that will convert Stories to Reels
Instagram is pushing users to make use of Reels as much as possible. In a new move towards the same, the social media platform is introducing a new feature called Montages. Still, in the development stages, Montages is a feature that will help convert a series of Stories to Reels from directly within the app. The first step will display all Stories in a sequence. Post this, Instagram will be able to formulate the sequence into a video automatically. Finally, the app will make audio suggestions for you to choose from for the Reels created.
It is noteworthy that Instagram is trying to merge two functionalities, and this can also be seen as a new way to archive your Stories.
17. LinkedIn launches mobile and desktop versions of 'Dark Mode'
Dark mode is finally here on LinkedIn, and it is here to stay. The professional job-seeking platform has launched the ever-popular dark mode on both mobile and desktop, ending users' long wait. With the key aim of dark mode being to go easy on the user's eyes, LinkedIn's dark mode does exactly the same – it is easy on the eyes, especially in low-light situations. Many are fans of the dark mode as they see it as a new skin for the app. However, the mode originally aims to limit the users' exposure to blue light.
The platform focuses on two key elements through its dark mode, namely, accessibility and inclusivity.
According to LinkedIn,
Accessibility – Dark mode meets accessibility standards, with color and contrast elements that help reduce eye strain and keep in mind light sensitivities. We adjusted certain colors within the dark mode design to meet or exceed color contrast ratios for better text legibility and user interface controls to accommodate the overall light to dark background contrast.
Inclusivity – We also took this opportunity to introduce dark mode versions of our illustrations that complement the dark mode experience. These illustrations capture a wide variety of industries and fields beyond tech and represent professionals of all abilities of backgrounds, bringing to life our vibrant and diverse LinkedIn community.
18. Instagram's begins live testing of the 'Map Search' tool to help maximize business discovery
Instagram has now launched a live test of an option called 'Map Search,' enabling users to discover businesses and other locations through the in-built map. Currently being tested in New Zealand and Australia, the Map Search tool also provides information about the business that users look up and displays public posts tagged in that particular location. The Map Search options can be accessed from the Discover tab – people who fall under the test can see a map icon on the top right corner of the Discover tab. The Map Search option primarily highlights cafes and restaurants and also displays shops, places of entertainment, and more.
This option will be instrumental in enabling users to discover more businesses around them on Instagram.
19. LinkedIn launches long-form posts for company pages and adds new ad optimization options
LinkedIn is looking to provide more ways for businesses and brands to maximize their content efforts on the platform, with a new feature called 'Articles for Pages.' This feature is exclusively offered for Company Pages and tap into the engagement levels that are on the rise.
Articles for Pages is an option that seems like an extension of the long-form blogging feature that has been available for personal profiles since 2014. The platform is now offering the same as Articles for Pages for company profiles. This is yet another option for brands to engage with their audience better, keeping them on the app.
In addition to this, LinkedIn has also added two new ad optimization options, including:
a. Brand lift testing: The option, available on Campaign Manager, will enable brands to measure the impact of their promotional initiatives by "taking a baseline of your brand's perception, and then testing the brand impact of those ads against key metrics."
b. Reach Optimisation: LinkedIn will enable advertisers to optimize their reach for different member accounts. This will provide them with more scope to reach new and broader audiences with their promotions.
20. Twitter rolls out ticketed Spaces and access to professional profiles to more users
Twitter has been working on ticketed Spaces and Promotional Profiles in order to be able to provide more creative and engagement avenues for brands and creators within the app.
In a move towards accelerating the same, Twitter has now rolled out ticketed Spaces and access to its professional profiles to more users and profiles.
First off, the microblogging site is now inviting more business profiles to apply for its Professional Profiles test. This will enable brands to display additional information about their business in a more organized manner. The information will be displayed in a dedicated space in the profile section.
Second and lastly, Twitter is expanding the access to ticketed Spaces to more users. The platform opened up public applications for this back in June.
Ticketed Spaces will enable approved hosts to plan and organize Spaces sessions for which they can charge attendees. The ticketed Spaces option will allow hosts to set ticket prices and set the size of the audience for the session.
If you are an approved host, you will receive a notification from Twitter saying that you can access the option. This option helps creators and users generate revenue from the app directly.
21. WhatsApp tests in-app business directory to facilitate new discovery opportunities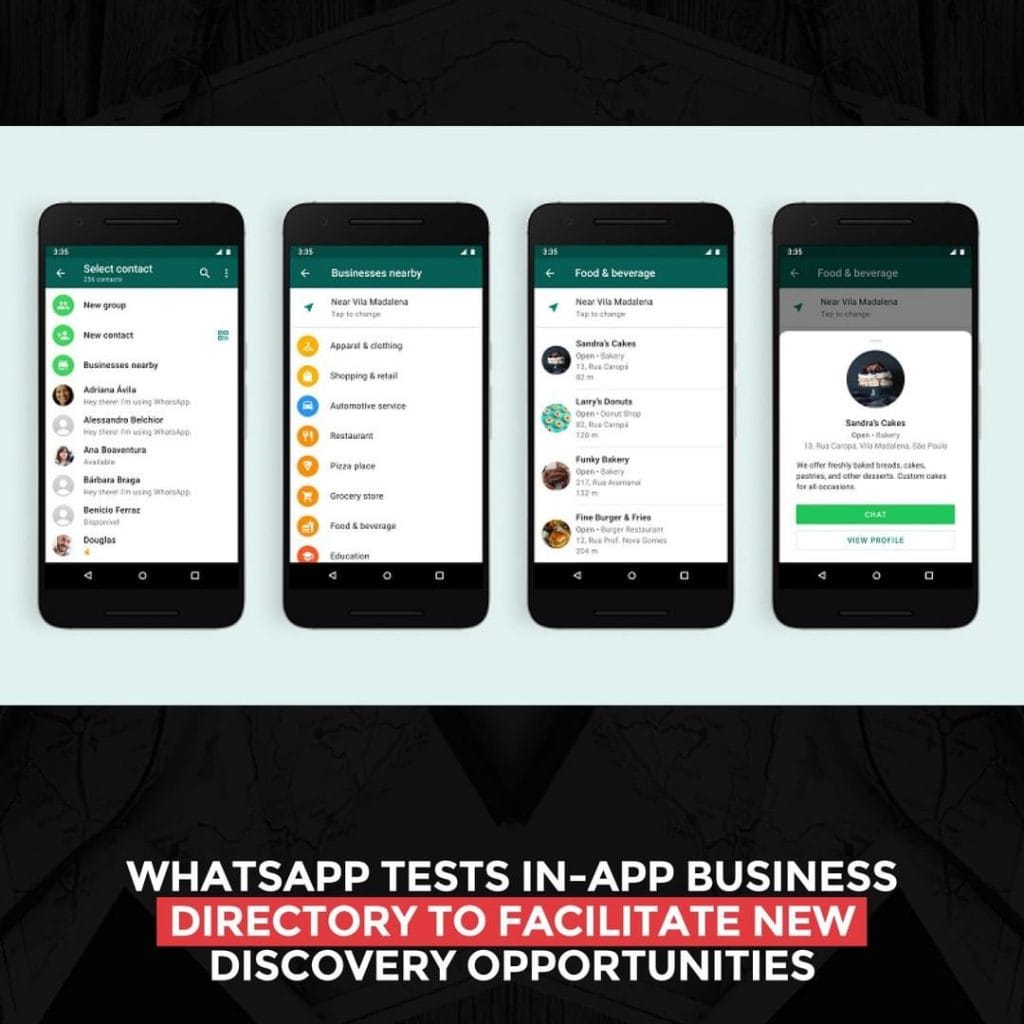 Facebook is looking to quickly turning WhatsApp into a major link for more functions. WhatsApp is now testing an in-app business directory that enables better discovery of businesses. WhatsApp users will be able to tap on 'Businesses Nearby' in their contact listing within the app. This will take them to a listing of active local businesses that are there on the app. Users will then be able to tap on the listing to view expanded information about the information.
In this section, businesses and brands can showcase their products and services, along with the option to be contacted directly by potential customers. With WhatsApp being a significant messaging platform, Facebook can convert the platform to a powerful business force in the near future with this new in-app business directory.
22. Facebook announces the launch of new business connection tools, including expansion of the click-to-message option
Facebook has announced new business connection tools to enhance businesses and brands to establish a more direct and solid connection with their customers. These updates are meant to push Facebook Business further, including Facebook Shops.
a. Click-to-message ad options: Businesses already have access to the option of buying ads that push people to message them either on Messenger, Instagram, or WhatsApp. With this update, businesses can choose all three platforms, and Facebook will make one platform default in your ad based on the one that is most used.
b. WhatsApp click-to-chat: Businesses will now be able to integrate a WhatsApp click-to-chat button into their Instagram profile. This will encourage users/potential customers to directly get in touch with the business via WhatsApp.
In addition to these main click-to-chat options, Facebook has made Login Connect With Messenger option available. The platform is also testing a new option that would allow businesses to ask customers up to 5 questions before starting a messaging chat. There is some major streamlining happening on Facebook's business front.
23. Google is testing larger site links block design layout
Over the years, Google has tested several site link layouts/formats, and now, it is repeating the test of a larger block design layout for site links on the Search Engine Results Page. The site links are larger and are displayed as single-row links in this test. With this format being tested repeatedly, SEO professionals are wondering if the Search Engine will roll this out officially soon.
24. Facebook tests removing data on individual Story viewers
Facebook is testing a new option on Facebook Stories that would limit your Story views insights to only those who have reacted and replied to it. Users have started to receive pop-up alerts on Facebook saying that the platform is trying something new. The prompt says, 'Now when you see someone's story, they will only see that you have viewed the story when you react or comment.' With this update, users will never get a complete viewer listing of who has viewed their stories.
It looks like Facebook is trying to avoid potential episodes of anxiety that can be caused by giving out the complete list of who has viewed your stories. That is the only way to see this move by Facebook.
25. Twitter launches live test of Topics to enhance discovery
After being in the development phase for the past few months, Twitter previewed Topics in Spaces last month. The micro-blogging site has now launched the live test of the Topics tag in Spaces. The platform is looking to highlight relevant Spaces sessions to users based on their topics of interest.
This is a streamlined way of enhancing Spaces discovery. Moreover, when people are given customised Spaces suggestions, the Spaces sessions will tend to get increased traction. Spaces hosts can add up to three topic tags when they create and schedule a Spaces session. The session will then be suggested to users based on the topics the hosts have tagged.
As explained by Twitter, "When creating or scheduling a Space, some of you on Android can choose up to 3 Topics to tag it with from a list of our top 10 Topics. But it's only 10 Topics for now, and we'll expand as we build together."
Twitter will show you Spaces that are in progress on the top of the application, where Fleets used to be displayed.
26. Twitter rolls out Tips, a monetisation option to all users
Twitter has been looking to push creators' ability to monetise on the platform through different tools, including ticketed Spaces, Blue Twitter, and the Super Follow option. After running an initial test with select users on the platform, the micro-blogging site is now rolling out its monetising option, Tips, to all users.
Tipping allows users to activate a tip jar on their profiles, using which fellow users, profile visitors, and followers will be able to send direct donations to that creator/user.
Explained by Twitter:
"Whether you want to tip your favorite account because you adore their commentary, send some love to an emerging comedy creator for their hilarious Tweets, help a small business owner through a difficult time, give to an important cause – whatever you want to support (and we know you already have some ideas), Tips is here to help you do it."
The platform has partnered with payment gateways like Razorpay, Bandcamp, Cash App, and Patreon, providing users with a range of options to make the payment.
27. LinkedIn rolls out updated lead gen forms integration for Zapier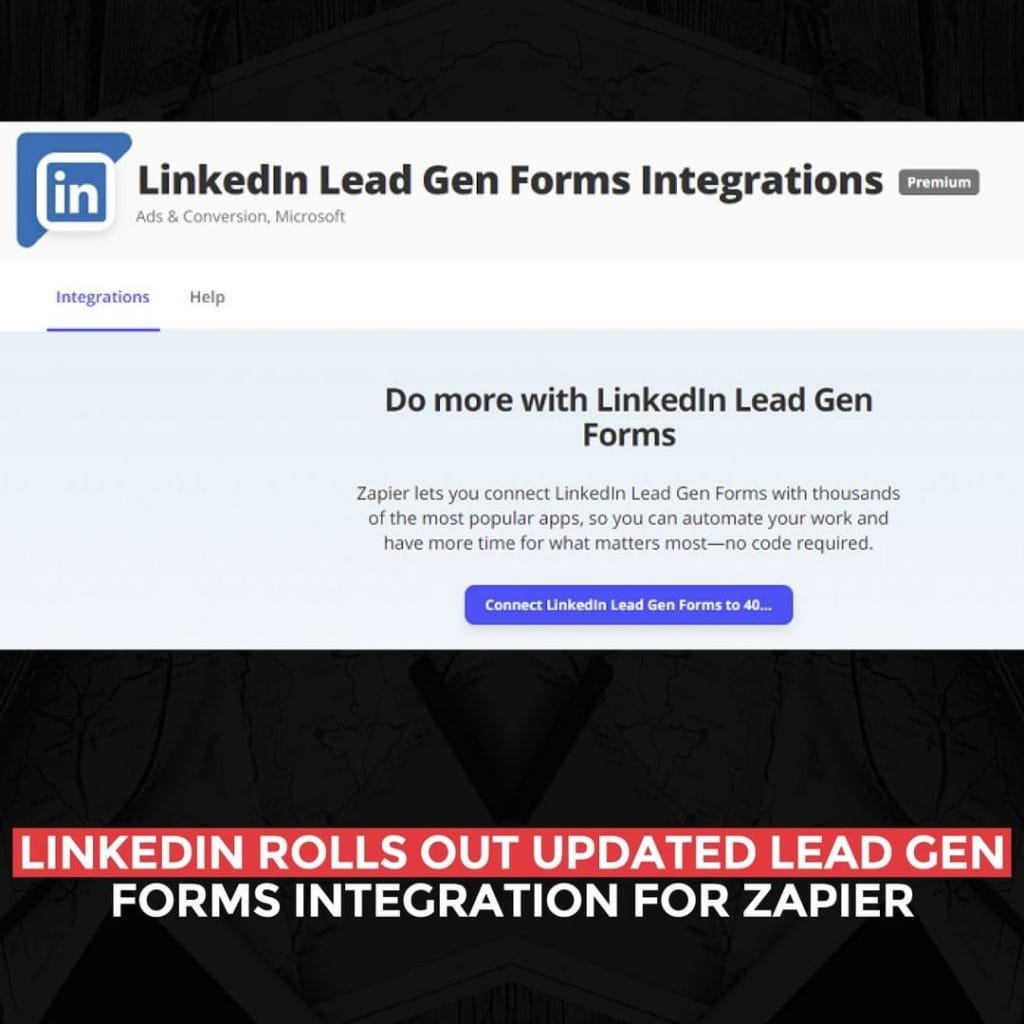 LinkedIn has made the collection of audience data a tad bit easier with the launch of an updated lead gen forms integration for Zapier. The update is a new event registration trigger, which will enable you to connect your gathered lead gen forms information with the help of third-party tools and apps.
Zapier is an automation tool that streamlines different app functionalities. According to LinkedIn, "Automation can make it significantly easier (and faster!) to add registrants from LinkedIn to an event or to a list in another app, like your web conferencing tool or a CRM."
LinkedIn's lead generation forms help you capture important information about the user, including their name, company name, contact details, seniority, job title, and location. These details are automatically filled into your form, making it an easy way to gather and expand your audience database on the platform.
28. Twitter shares a sneak peek of the Spaces recording option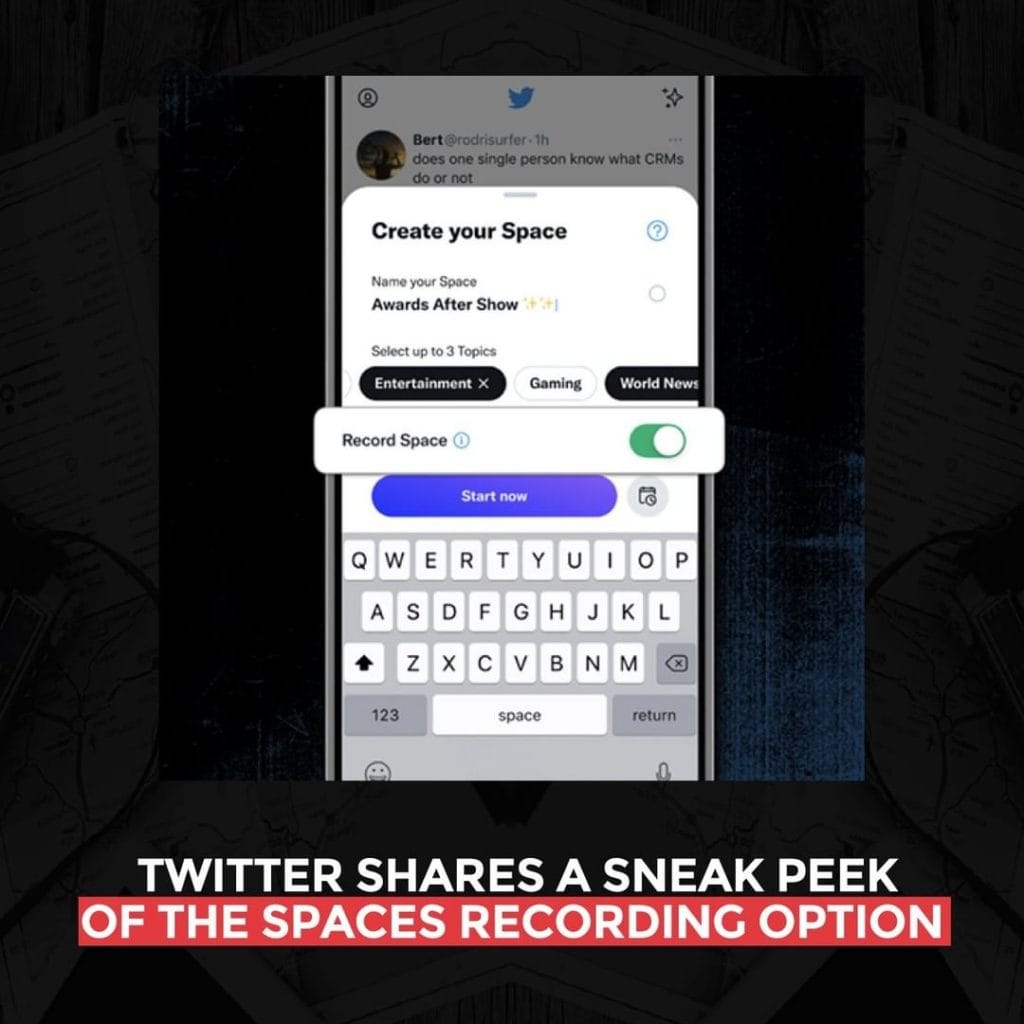 The Spaces recording option has been in the making and testing for quite some time now. Twitter has now provided a preview of the option that is still being developed. This option, when launched officially, will add an entirely new level of functionality to the feature.
Being able to record and playback your Spaces session is definitely an exciting feature which most hosts would opt for. Therefore, this option will enhance the usage of Twitter's audio-social tool. According to a tweet by Spaces' official Twitter account, the option is shown to be a simple toggle that will record your Spaces session when enabled.
Hosts will later have the option of downloading the recorded Spaces session as an audio file which can be edited and re-used later.
29. Twitter updates video playback to enhance the viewing experience
Twitter has announced that it has worked on improving its video display process to enhance video playback performance. This means, according to Twitter, they have made tweaks to the video quality, and videos will appear less pixelated on the platform. Sometimes, videos on Twitter tend to get pixelated back to Commodore 64. This update probably means that this will not happen or will happen a lot lesser.
Twitter also commented on video ads, "1200 x 1200 pixels is recommended for 1:1 aspect ratio. 1920 x 1080 pixels is recommended for a 16:9 aspect ratio. Larger videos will be better optimized for when users click to expand videos."
30. Google adds booking links and information for points of interest
Google has announced that it is adding booking links and information for points of interest. The search engine will soon start showing additional information and booking links for searches revolving around experiences in a destination. For example, 'wine tasting in Paris', 'Art workshops in Los Angeles', etc. Google is calling this – Things To Do on Google.