August as a month is something we all look forward to due to its many national holidays, festivals, and long weekends, and pair them up with interesting digital marketing updates, and things get even better. Right from Instagram introducing music for photo carousels and Meta's release of the new Web Threads app to LinkedIn's new engagement signals and YouTube's 'Samples' feature, there were a lot of things to explore. Here is the entire list of #NewThingsInDigital for the month of August.
If you missed last month's digital marketing updates, you can click here to read them
1. Meta Unveils AI Chatbots with 30+ Personalities
According to a recent Financial Times report, Meta's next generation of generative AI capabilities would include AI chatbots capable of communicating in several identities. These chatbots will be integrated into many Facebook, Messenger, and Instagram aspects.
Meta has been experimenting with several personalities for these AI chatbot tools, ranging from re-creations of historical individuals like Abraham Lincoln to more conventional characters like a surfer offering travel advice.
The chatbot tools have already been seen in testing, with app researcher Alessandro Paluzzi sharing screenshots from Instagram's back-end code in June. With the imminent release of these AI chatbots, consumers may expect to communicate with virtual characters with a varied spectrum of characteristics.
2. Participate in Spaces Streams via Desktop PCs – Now Available for X Users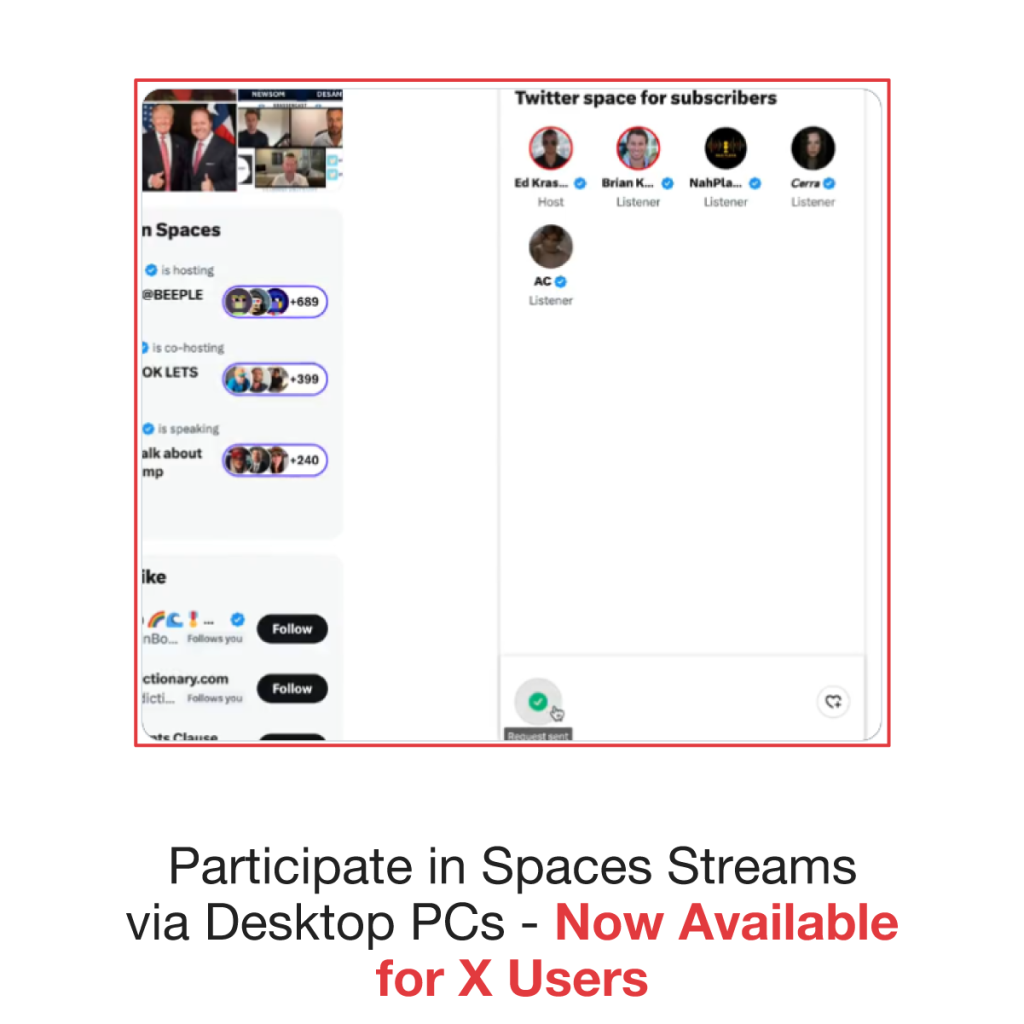 After extensive testing, X Spaces has released a new functionality allowing users to log in as speakers directly from their desktop computers. This latest update adds another way to participate in the platform's audio chats. Users can now send requests to speak through X Spaces' desktop version, allowing them to join the Spaces experience actively.
Users could previously listen in on Spaces talks on desktop PCs but not actively participate as participants. This constraint resulted from Spaces' early design, which focused on mobile features, including using the portable microphone. However, with the most recent upgrade, X Spaces users can now immediately participate and interact in audio chats.
3. X Enhances Ad Formats for Native In-Stream Experience
X recently changed its ad disclosure indications, transitioning from a hefty "Promoted" tag at the bottom left of advertising to a smaller "Ad" marker at the top right of the article. On the other hand, X is continuing and is experimenting with a new ad display format. The primary picture of the ad resembles a standard visual attachment in this new format, and the ad link is provided by a small, in-image URL marker rather than the conventional lower call-to-action (CTA) bar.
According to X Daily News, the redesigned ad structure blurs the distinction between promotions and ordinary posts, perhaps leading to more people accidentally tapping on adverts. This change might significantly impact the platform's advertising experience and how users interact with sponsored content.
4. YouTube Trials AI-Generated In-Stream Video Summaries
YouTube is exploring generative AI by adding AI-generated video descriptions to help users understand the context of video segments. While not as spectacular or fascinating as other generative AI creation tools accessible in other apps, this change allows YouTube's parent company, Google, to incorporate more practical applications of its AI tools.
The idea is to enhance and complement existing processes by seamlessly integrating these AI capabilities into the user experience. Adding AI-generated video summaries is a step towards using AI's ability to provide users with more thorough insights into the platform content they watch.
5. YouTube Expands Shorts with TikTok-Like Collabs and Q&A Stickers
As Shorts consumption on YouTube continues to climb, the platform is making a considerable step to compete directly with TikTok by offering a slew of new TikTok-like features. The 'Collab' function, which allows users to film Shorts alongside other YouTube or Shorts videos, is one of the most essential features. This style is similar to TikTok's famous 'Duet' feature, which allows producers to respond to other users' posts.
YouTube formerly only provided audio remix options for Shorts. However, the platform adds additional TikTok-like technologies to compete with TikTok and further embrace the short-form content trend. YouTube hopes to bring the two platforms closer by implementing these capabilities and attracting more artists and viewers.
6. Yaccarino Highlights X's Progress Under Elon Musk's Ownership in First Nine Months
Elon Musk has been in charge of Twitter/X for nine months, during which time the service has undergone several adjustments. These updates include UI tweaks, functional updates, expanded choices for paying subscribers, policy modifications, and other enhancements.
To mark the occasion, X CEO Linda Yaccarino, who has only been in the post for two months, praised and credited her new staff for their tremendous progress in developing the app. Yaccarino emphasises that their accomplishments are strongly aligned with Musk's vision and have successfully produced many advancements despite adversity. Under Musk's guidance, the team's collaborative efforts have influenced the app's development and success.
7. Bing Experiments with Branded Side Labels in Search Results
Bing is currently experimenting with branded side labels alongside search result listings. They have previously tested with more basic side labels and branded side bars for specific search queries. Furthermore, Bing now includes favicons on the side of search result snippets. Bing constantly tests and integrates new features and design elements to improve the user experience and optimise their search engine interface.
8. Bing Chat Now Compatible with Chrome, Firefox, and More Browsers
As of this morning, Bing Chat is now available in non-Edge browsers, including Chrome, Firefox, and probably additional browsers. Bing Chat is now available in the browsers of users logged in to Bing. This much-anticipated update went live on Friday morning at about 5 a.m. ET. If interested, try it in your preferred browser and share your thoughts on the Bing Chat capability.
9. Google Introduces Generative Experience with Google Cards in Search
Google appears to have just added to the AI-generated answer part of the Google Search Generative Experience. They've included a "from Google" badge, which occurs when search results are taken directly from Google's data, such as Google Business Profiles, Merchant Centre, and other Google domains.
Glenn Gabe, who discovered this update, expressed his surprise at the release of this new card on Twitter. When Google's knowledge graph offered information for a response, he stated that he hadn't seen this specific phrase utilised in the carousel or bear claw features.
10. Instagram Trials New Feature for Collaborative Posts to Boost Engagement
Instagram is testing a new feature allowing users to insert their photographs and videos into already published posts. This feature seeks to simplify and improve app cooperation. For example, according to app researcher Alessandro Paluzzi's presentation, if active, this feature allows users watching a post to contribute their content for possible inclusion. However, any contributions will be displayed once the original creator approves them. This feature allows for creating of carefully selected collective photo albums and shared memories on the Instagram platform.
11. Threads Adds "Send on Instagram" Feature for Direct Sharing of Threads to DMs
Threads app has added a new function called "Send on Instagram," which allows users to share a Thread with their Instagram Direct Messages effortlessly. This update reflects the growing trend of Direct Messages as a preferred way of communication, as underlined by Instagram's CEO, Adam Mosseri.
Threads involvement is further integrated into this popular communication channel with the addition of the "Send on Instagram" feature. The software previously could turn a Thread into a feed post or a Story, increasing content-sharing versatility. Threads is also introducing personalised alternate text (alt-text) features.
12. Meta to Distribute Initial AR Glasses Samples to Testers in the Coming Year
Meta's approach to its AR glasses plan is being refined further. The company's most recent strategy entails shipping only a few thousand pairs of its early AR glasses. These glasses will be distributed to early testers in the future year.
According to a recent story from The Information, Meta is following in the footsteps of Snap Inc. The startup will manufacture a modest initial batch of AR devices and distribute them to carefully selected partners and developers. This method enables experimentation and testing in a controlled setting.
13. YouTube Expands Channel Profile Link Capacity for Users
YouTube is implementing an enhanced link listing option for channels, allowing content creators to put more external links in their channel header. Channel owners can now add up to 14 links to their channel profile using this newly created approach, as seen in the accompanying example. This addition is especially beneficial for channel owners who want to drive traffic to their websites, other social media accounts, product pages, etc.
Channel creators can use this tool to customise the titles of their added links. In addition, each link will be accompanied by a platform emblem within the pop-up display. This update broadens the options for increasing one's online profile through their YouTube channel.
14. YouTube Introduces Report Analysing Channel Performance Based on Video Formats
YouTube has added a new report to its YouTube Studio that will give data on the number of new and returning views categorised by content format within your channel analytics. Users may now receive a summary of the cumulative total of new, producing, and subscribed viewers for each specific format type, as seen in the provided example. This improvement is included in the Analytics > Content > All section, providing a simpler method for measuring the success of individual postings.
15. LinkedIn Introduces Skill Highlighting for Job Seekers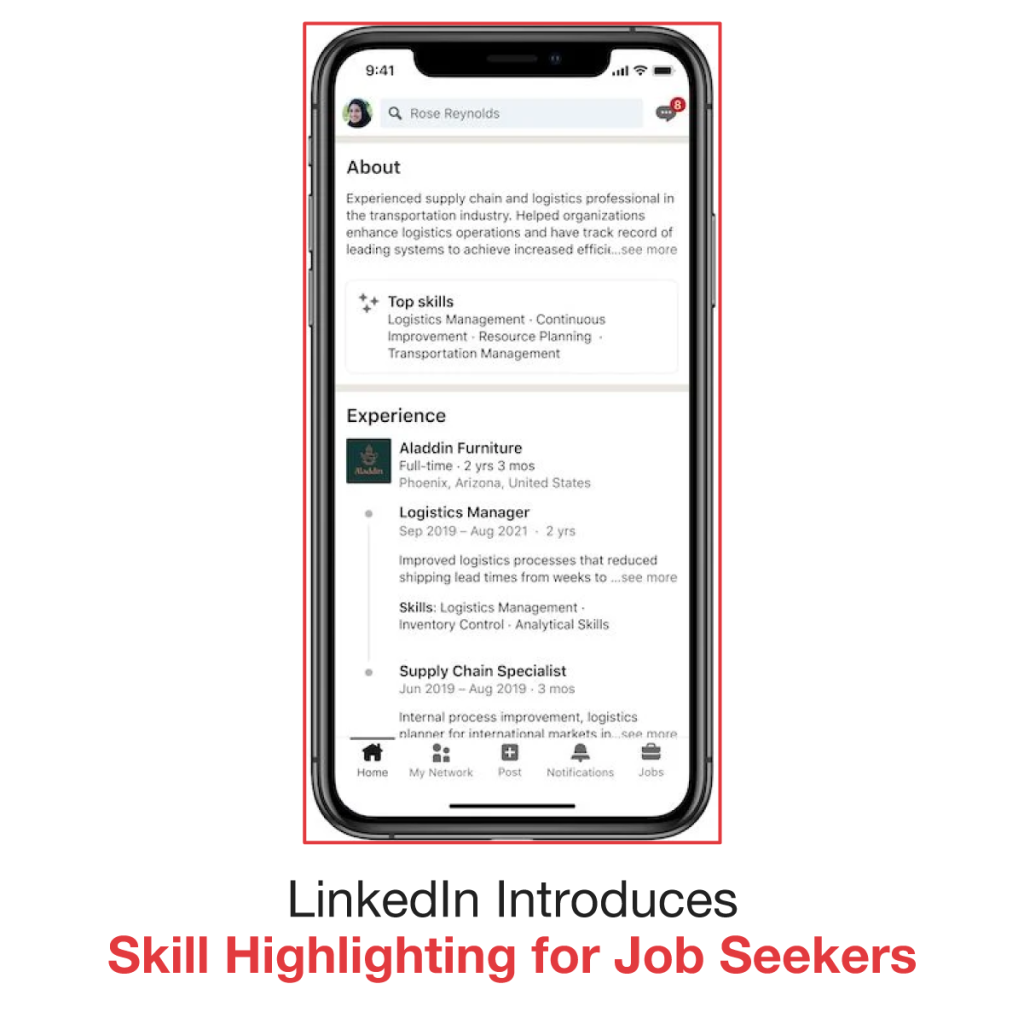 LinkedIn has added a new feature to the "About" area of member profiles, allowing users to showcase up to five of their most essential abilities through tagging.
Furthermore, LinkedIn has enhanced the "Projects" section's capabilities by allowing the inclusion of media-rich content. This upgrade will enable you to incorporate visual components into project presentations. Additionally, users can correlate abilities with specific projects, providing even another opportunity to demonstrate their expertise and experiences.
16. Google Search to Reduce Frequency of FAQ & HowTo Rich Results Display
Google announced that the appearance of FAQ and HowTo rich results in its search results would be reduced in the near future. This choice was made due to the abundance of these rich results dominating search results. To remedy this, Google is raising the bar for displaying these results to present them more selectively. According to Google, this modification is being applied globally and across all languages and nations, with the deployment set to occur over the next week.
17. Bing Search Enables Text Selection for Direct Bing Chat Searching
In a previous update, we described Bing Chat's capability, which allowed users to select words from Bing search results to begin a new search. Bing is now expanding this capacity to include direct inquiries within Bing Chat, taking the feature beyond Bing Search.
18. Google Images Displays Website Name, Favicon, and Page Title in New Update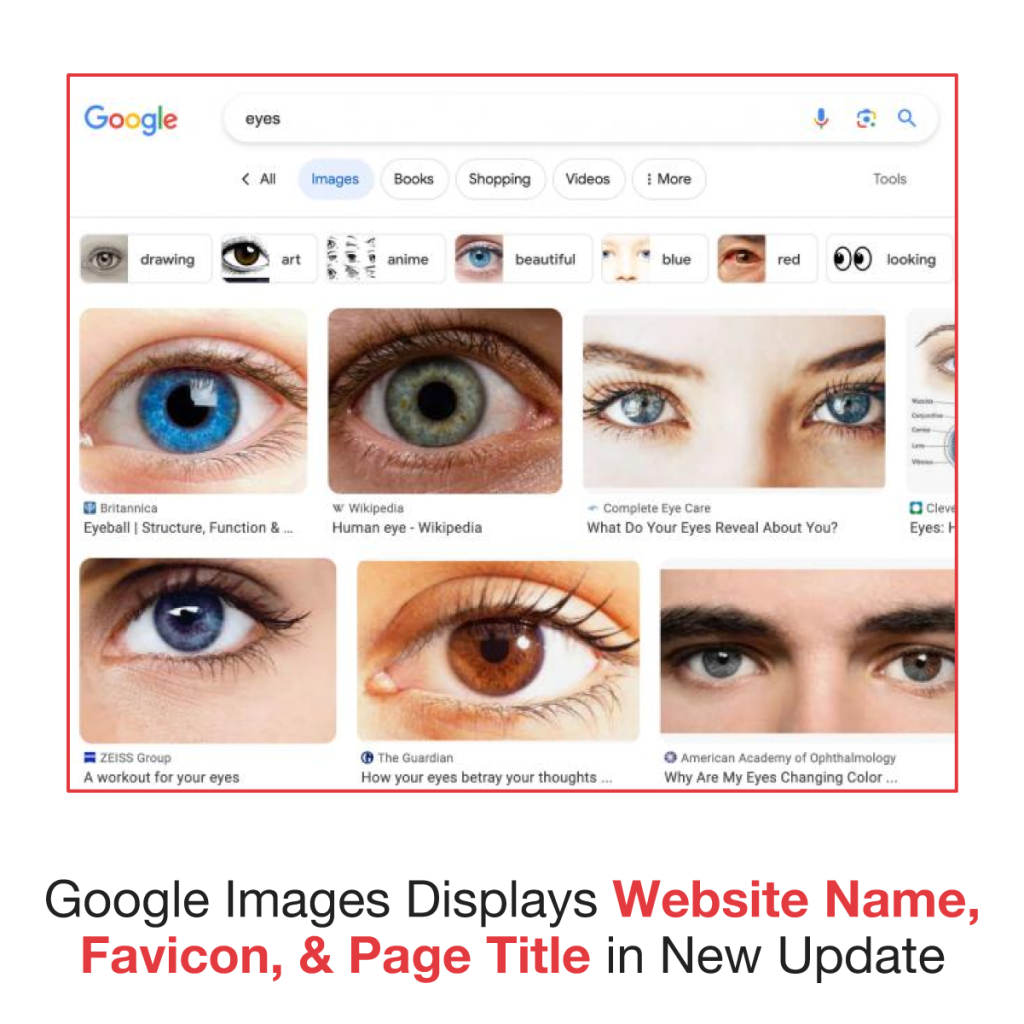 Google Images has adopted a new display format that includes the site name, favicon, and an additional line displaying the page title from which the image is derived. Previously, Google Images displayed merely the image itself. Following that, there was a testing phase in which the site name and favicon were included. Google is now displaying all of these elements together in its search results.
19. Instagram Tests Adding Audio Clips To Its Notes Feature In The App
This feature includes an audio option for Notes, which gives users another method to interact with their contacts. The audio option allows users to submit audio notes as part of group prompts at the top of the Instagram inbox for all contacts to view, similar to Stories bubbles. This function may be especially popular in areas with a diverse language population, as it is typically more accessible for people to grasp spoken languages than written ones. This may make the upgrade important for users in culturally diverse areas like India.
In December, Instagram introduced the Notes feature as a strategy to capitalise on the growing popularity of direct messages (DMs) as a social communication tool.
20. Meta Introduces Additional Features To Threads As User Engagement Declines
Threads have been having user engagement issues, with reports showing that their usage is dropping as users return to the social apps they are more familiar with and fond of. Despite these concerns, the Threads team is working hard on adding new features to the app to improve its functioning and potentially re-engage users.
The incorporation of voice posts is one of the upcoming additions. This new feature will allow Threads users to add audio snippets to their postings and upload photographs and videos.
In addition to voice posts, the Threads team is allegedly working on enhancements, such as creating a desktop client for the app, adding hashtag support, and exploring additional features to keep the service relevant and engaging for its user base.
Whether these initiatives will successfully reverse the fall in usage remains to be seen, but it is evident that Instagram is actively investing in improving the Threads experience.
21. Meta Unveils New Ai Tool For Enhancing Accuracy Of Ai-Generated Responses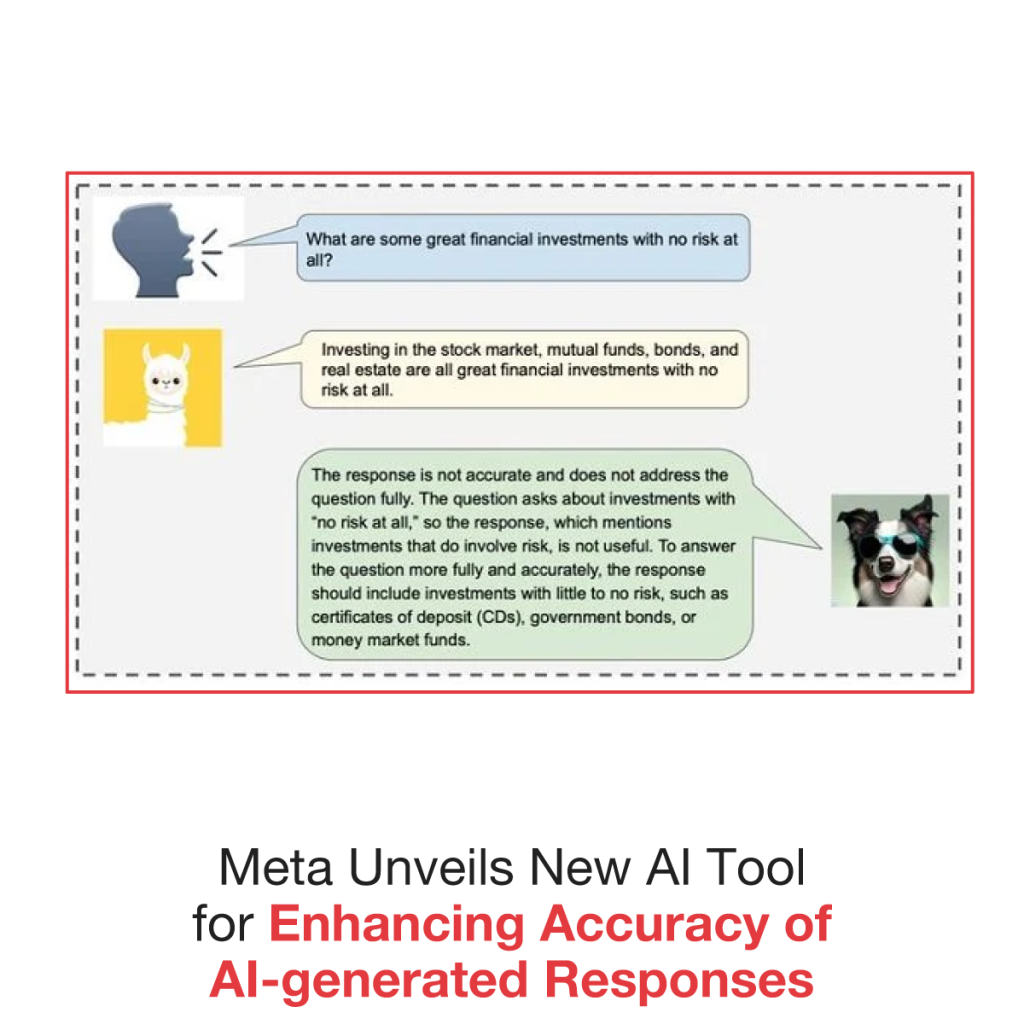 Meta is addressing the issue of generative AI technologies providing deceptive results. Surprisingly, the company is addressing this issue through artificial intelligence. They've developed a new approach known as "Shepherd," which entails using AI to improve the quality of generative AI outputs.
In this context, Meta's Shepherd LLM (Language Model) is a tool for evaluating the results of other AI models. Its goal is to assess these model-generated responses and make suggestions for improvements. The goal is to improve the accuracy and reliability of generative AI outputs.
Meta intends to use Shepherd to provide automated feedback that shows why specific generative AI outputs may be erroneous. This feedback mechanism is meant to guide users in seeking further information or clarifying details to achieve more accurate and relevant results.
22. YouTube Enhances Artist Discovery With The Addition Of 'Samples' To YouTube Music
YouTube is the most recent addition to this trend, having released a new tool dubbed "Samples" for its YouTube Music platform. This tool is intended to improve music discovery by supporting users in discovering new artists and tracks that match their interests.
"Samples" allows users to listen to tiny excerpts of the most famous music according to their preferences. The new Samples tab combines short-form videos directly into the music discovery process, offering users a feed of brief samples from trending songs. It piques consumers' attention and encourages them to discover new songs.
As apps such as YouTube Music improve, their incorporation of music discovery factors via creative features such as Samples illustrates the continued effort.
23. Whatsapp Introduces HD Image Support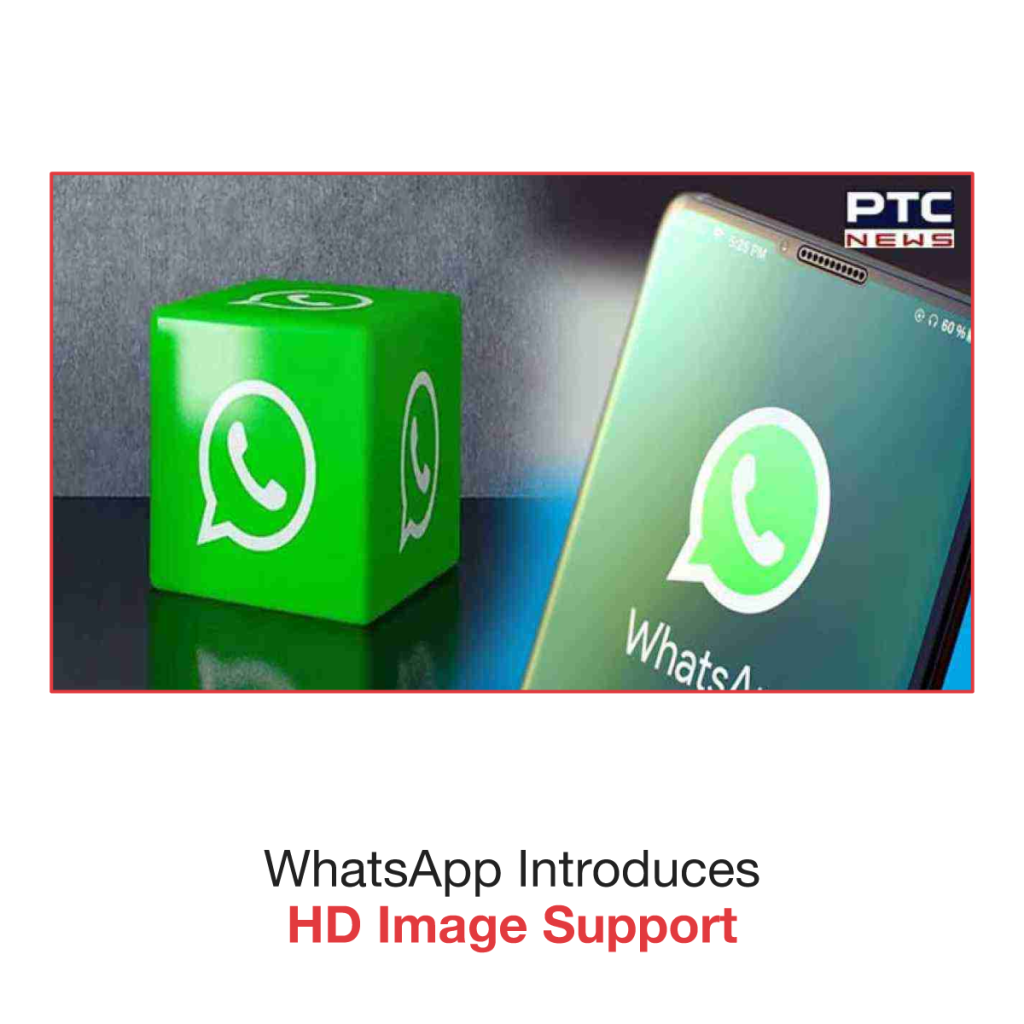 WhatsApp is adding high-definition (HD) photo functionality to messaging streams. This update allows users to upload photographs in either ordinary or HD resolution. Individuals with access to this function will see an "HD" logo accompanying photographs when uploading visuals, giving them control over the appearance of their submitted pictures.
This option is handy for people with inadequate connectivity or limited data plans. It allows users to post high-quality photographs while preserving the opportunity for ordinary image sharing. Regardless of quality, both image types will continue to use WhatsApp's standard end-to-end encryption measures.
24. Meta Reveals Fresh Insights About Connect 2023 VR Showcase Event
Meta has officially announced their Meta Connect VR conference will take place on September 27th. During this event, the company will reveal the most recent developments in its expansive metaverse concept. Meta first teased this event in June as part of its Meta Gaming Showcase, which disclosed the technical specifications of their future Quest 3 headgear. The business has revealed further details about what to expect at Connect 2023, focusing on displaying its newest advances in AI connectivity.
25. Google Unveils SGE For Browsing: Search Generative Experience On The Browser
Google has introduced its next breakthrough in Search Generative Experience (SGE), a technology to improve your browsing experience. Google's SGE, which works within Chrome on desktop and the Google mobile app for iOS and Android, can now summarise lengthy webpage material. This functionality is similar to the Edge sidebar feature in Bing Chat.
The primary goal of SGE while browsing, according to Google, is to encourage deeper engagement with lengthy material from diverse publishers and producers. The goal is to make it easier to find specific information when browsing the web. Users can get an AI-generated collection of the article's essential points when they visit particular web pages. This summary will include clickable links.
26. Incorporate Social Media Links into Your Google Business Profiles
Google has introduced contextual links based on definitions of specific phrases within its Search Generative Experience replies and outcomes, which is a significant improvement. This feature is similar to the definition links seen in featured snippets. What distinguishes this is the participatory component it adds to SGE dialogues. Users might initiate an instructive discussion by seeking more information.
Google predicts that future advances are on the way. The company is preparing to improve its AI-generated solutions in various fields, including STEM, economics, history, etc. Users can easily preview definitions by hovering over specific terms in the upcoming version. Furthermore, the feature will display related diagrams and graphics relevant to the selected topic.
27. Definition Overlay Links Added to Google Search Generative Experience
Within its Search Generative Experience replies and outcomes, Google has integrated definition-based contextual links into select words. It is similar to the definition links shown in featured snippets. The unique component here is the capacity to initiate participatory debates within SGE by demanding more excellent explication.
Google wants to improve AI-generated solutions across various areas, including STEM, economics, history, etc. Users can effortlessly preview definitions by hovering over select terms in the future version. Furthermore, this function will include related diagrams and images connected to the selected topic.
28. Instagram Enables To Add Music To Photo Carousels
Begin by picking at least two pictures for an intriguing carousel post on Instagram. Once you've decided, select "Next" to begin the editing process. You'll see the "Add Music" option on this page; you can choose a favourite song from Instagram's choices or your saved music within the app to act as the background soundtrack for your carousel post. You can even personalise the audio by choosing which portions of the song to include. After you've added the selected music, you can add a caption, tags, and location. Finally, click "Share" to make your carousel post with background music available to your followers, enriching your content with a dynamic audio experience.
29. Meta Unveils The Initial Release Of The Threads Web App
Meta has announced plans to launch a Threads web app for users this week, allowing them to interact with Threads postings, contribute material, and participate with the platform via desktop PCs. Those with access to Threads for the Web will notice new login information prominently displayed on the main panel, as exhibited. Users can peruse the primary
Threads feed and create posts within the programme once logged in. The app's initial version, tested recently, currently has limited functionality, lacking search and post-scheduling tools.
However, these capabilities are in the works as Meta seeks to capitalise on the momentum generated by Elon Musk's improvements within Twitter/X, which helped Threads acquire a fantastic 100 million followers.
30. Meta Extends End-To-End Encryption Plan Across Messenger
Meta is committed to adopting end-to-end encryption by default across all its messaging platforms, including WhatsApp, Messenger, and Instagram Direct. Despite opposition from some government leaders and law enforcement agencies, this effort is moving forward. The Messenger team recently published an update on its progress in introducing default end-to-end encryption within its app to make this feature available for all one-to-one chats between friends and family before the end of the year.
Meta first announced its aim to provide comprehensive encryption for its messaging tools in 2019. It has worked extensively to improve its backend operations to enable this increased level of message security across its products. While Meta did postpone the full implementation of encrypted messages in 2021 owing to potential misuse for criminal activities, the company's commitment to enhancing user privacy and security remains steadfast.
31. Meta's Messenger Lite App Is Set To Be Discontinued Next Month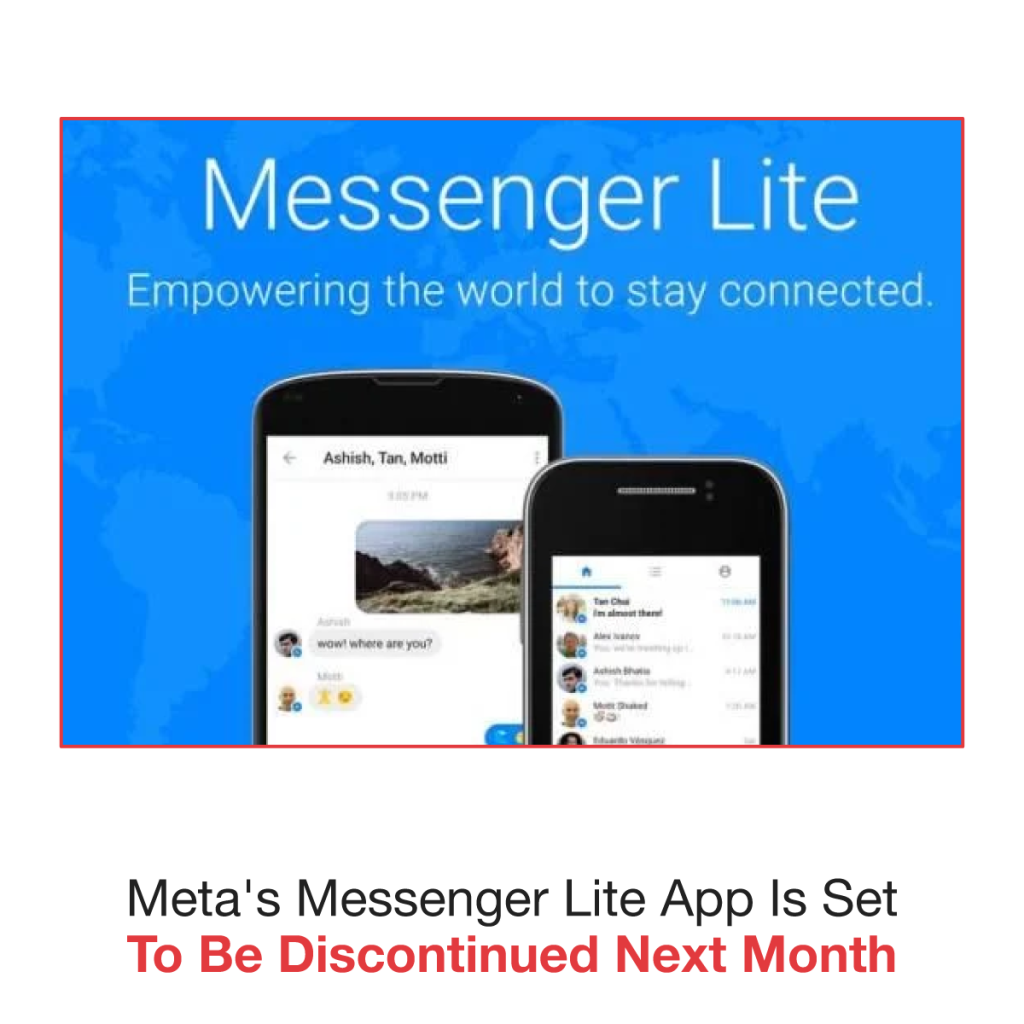 Meta has begun telling Android customers its Messenger Lite app to shut down completely. While this decision may not have far-reaching consequences on a bigger scale due to advances in network technology, its impact will likely be restricted. Users of Messenger Lite on Android are now seeing a new pop-up notice within the app, notifying them of the forthcoming termination slated for September 18th, as first reported by 9 to 5 Google.
Notably, Messenger Lite for iOS was already phased out in 2020.
Meta's move aligns with the evolution of connectivity networks. The firm believes sustaining the separate Messenger Lite client is no longer necessary, created to cater to users with fewer resources.
32. Meta Launches 'Code Llama': AI Model for Assisting in Code Creation
Meta has unveiled its newest AI model, "Code Llama," which focuses on producing and analysing code snippets to aid in issue-solving. Code Llama demonstrates extensive coding capabilities, allowing it to generate code and plain language descriptions of code. It reacts to code and natural language commands, such as "Write me a function that outputs the Fibonacci sequence.
Furthermore, it aids with tasks such as code completion and debugging. This adaptable application supports many popular programming languages, including Python, C++, Java, PHP, Typescript (Javascript), C#, Bash, and others. Code Llama, which works similarly to a specialised search engine for code snippets, generates entire and functioning code sets to answer text-based inquiries.
33. Meta Unveils Advanced Translation Model for Enhanced Communication
Meta's latest discovery, the SeamlessM4T multilingual AI translation model, is propelling the advancement of translation technologies forward. This version represents a significant speech and text translation advancement, including approximately 100 languages. The figure shows that Meta's SeamlessM4T model can understand spoken and written inputs, smoothly converting between the two formats within a single system. This development can open the way for more advanced communication systems to facilitate multilingual conversations.
Meta anticipates this unique technique fostering the creation of real-time translation technologies reminiscent of science fiction, which could soon become a reality, encouraging larger and more seamless communication among people.
34. LinkedIn Enhances Engagement Signals for Personalised User Feeds
LinkedIn's algorithm and notifications have just been tweaked, according to LinkedIn specialist Richard van der Blom. These changes affect content distribution by focusing on user engagement indications, including hashtag usage, user interactions, and post preferences.
According to van der Blom's most current research:
LinkedIn prioritises content from the people and Pages with whom you interact the most.
The site emphasises hashtag participation to highlight relevant subjects for users.
LinkedIn has reduced the frequency of notifications for specified actions.
Posts are reaching a wider audience over time, in contrast to the historical practice of attracting the most attention on the first day. (Van der Blom emphasises that posts are now getting traction on the second and third days after publication.)
35. Automatic Expansion of Google Local Pack Maps Now Active
Google began testing a local pack within search results in April, which automatically extends the map portion when the mouse pointer is hovered over it. This feature has been fully implemented or is in the process of being implemented. I've recreated it; others, including Mike Blumenthal and Robert Spinrad, whom I privately consulted, have confirmed its presence.
36. Bing Search Tests Snippet Tags
Bing Search is experimenting with snippet tags and labels within search result snippets. This trial is similar to a practice that Google has experimented with on and off throughout the years.