We are about to embark on the year's final quarter, and with this ends yet another month filled with amazing Digital Marketing updates and features. Like the trend this year, we saw a lot of AI-based updates and platforms working with AI in every aspect to enhance user experience. We saw many interesting updates from Meta's 'Universe of AI' and X's 'Verified only replies' to Google's new crawler and YouTube's enhanced content planning tool. Here is the entire list of this month's #NewThingsInDigital

If you missed last month's digital marketing updates, you can click here to read them
1. X Unveils Effortless DM Replies, Audio and Video Call Features
X has included a new direct message (DM) interaction feature that allows users to swipe right on any statement within a chat thread to reply directly to it. This new reply mechanism makes it easier for users to respond to messages in a conversation. It expands on an earlier feature announced in May, which allowed users to respond directly to a single message within a DM thread. The new swipe-to-reply user interface improves this capability even more.
Users can still make a general comment by putting their response into the text bubble at the bottom of the screen. It implies you don't have to respond to a specific message by swiping it. It adds another option for streamlining your talks.
It is yet another enhancement to X's DMs. X recently changed the default settings to allow DMs to only accept messages from verified users who are not followers. Additionally, confirmed users can now send encrypted direct messages (DMs), but non-paying users cannot.
2. Threads Begins Testing Keyword Search Feature
Meta's Threads app, like Twitter, introduces a critical feature this week as the Threads team tests keyword search capability with users in Australia and New Zealand. As shown in the example, this new feature allows users to search for specific phrases, and it will display all posts that use those terms, in addition to the current search results, which only show relevant usernames.
This update addresses a fundamental need to match Threads' user interface with the functionality offered in most other social apps. However, it's worth noting that the Threads team published the app ahead of schedule to address the demand for a Twitter alternative, particularly in response to Elon Musk's changes at Twitter.
3. Meta Explores Subscription Option to Remove In-Stream Ads for EU Users
According to a recent New York Times report, Meta is actively investigating the introduction of commercial versions of both Facebook and Instagram. These premium solutions would allow European Union (E.U.) customers to use these apps without seeing adverts or using their personal data for various purposes. This strategic decision corresponds with the European Union's upcoming Digital Services Act (D.S.A.), intended to provide users with more explicit choices over how their data is used.
Users can opt out of personalised feeds based on their in-app actions and algorithmic evaluations of their preferences under the D.S.A. They will also have greater direct control over the types of information they offer for ad targeting. If many users opt to withhold their data, this could significantly impact Meta's advertising business within the E.U. region.
4. Meta Enhances WhatsApp for Mac with Better Video Calls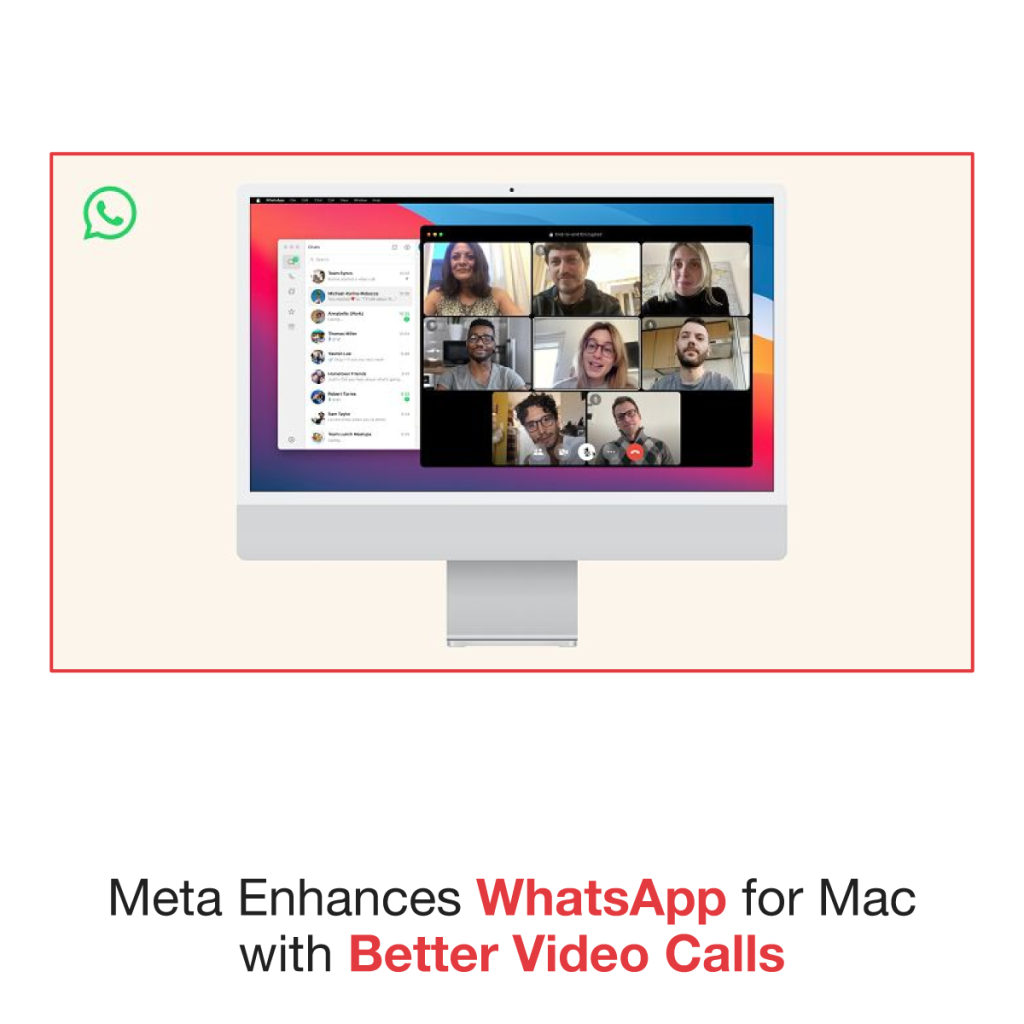 The extension of group video calling capabilities is a notable feature of the WhatsApp for Mac program. Users can initiate video conferences with up to eight participants, while voice chats can handle up to 32. WhatsApp has continuously improved its video features to keep up with changing user tastes and provide a more exciting and connected experience. Screen-sharing during video calls and including video messages are recent innovations that expand the main messaging capability.
Furthermore, the new Mac software includes enhanced file-sharing features via drag-and-drop, an updated chat history display, and various other improvements. WhatsApp's standard end-to-end encryption protects most of these features, ensuring user privacy and security.
5. Meta Initiates Live Testing of VR Avatar Legs
Meta has significantly improved the release notes for Quest v57: its VR avatars are now undergoing public testing with the inclusion of legs. Meta's VR characters now have legs, as shown in a photograph supplied by UploadVR, which eliminates the prior appearance of floating digital avatars in the virtual environment.
Meta has experienced criticism for its VR avatars lacking legs, as this omission frequently disturbed consumers' immersive experiences. However, because Meta's VR headsets lack sensors to measure leg movement, replicating portions in VR is a hurdle. Despite this technical constraint, Meta is working to address this long-standing issue and improve the overall VR experience.
6. YouTube Unveils Thematic Logo Redesign in Honor of GRWM Creators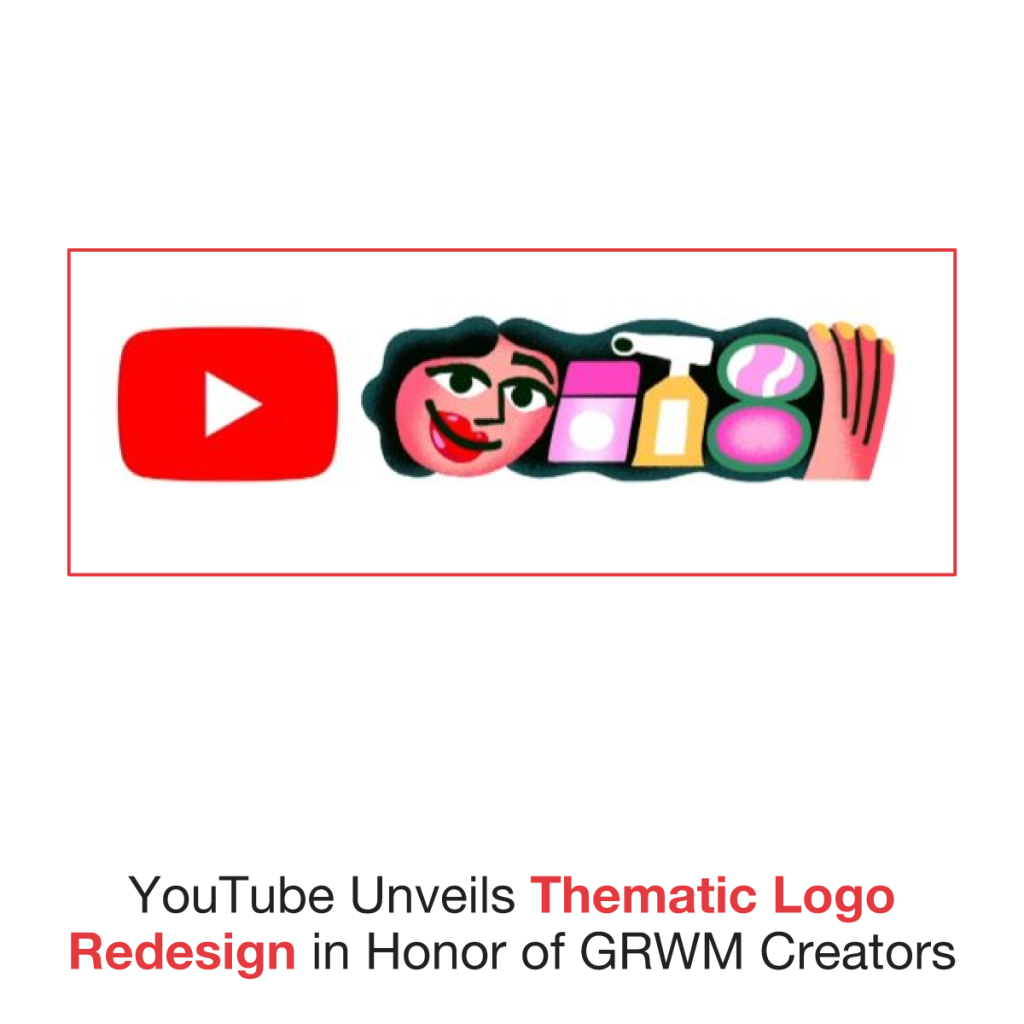 YouTube is honouring its many "Get Ready With Me" (GRWM) creators with a themed logo that honours the incredible growth of GRWM content. YouTube recognises that GRWM videos have converted a formerly solitary pastime into one that enables people to band together and participate.
YouTube has engaged creator Bailey Sarian to develop a brief genre history and demonstrate how people worldwide use it to highlight its astonishing rise. This illustrates the platform's evolving and inclusive nature of GRWM content.
7. YouTube Adopts New Educational Strategy for Policy Violations
YouTube is launching a new strategy for dealing with rules infractions by producers on its site. Instead of suspending their channels, YouTube will soon provide training sessions to artists who breach particular platform policies. This strategy shift prioritises education and collaboration above punitive measures, establishing a more understanding and cooperative environment between the platform and its producers.
8. Google Business Profiles Now Feature An Address Autocomplete Function
On the Google Business Profile screen, Google has added a new process called "add address autocomplete." While not a normal search feature, it promotes using the Google Maps Cloud Platform. When making purchases on e-commerce websites or filling out forms, this function helps consumers ensure they have the correct address.
9. Google Launches Tool To Spot AI-Generated Images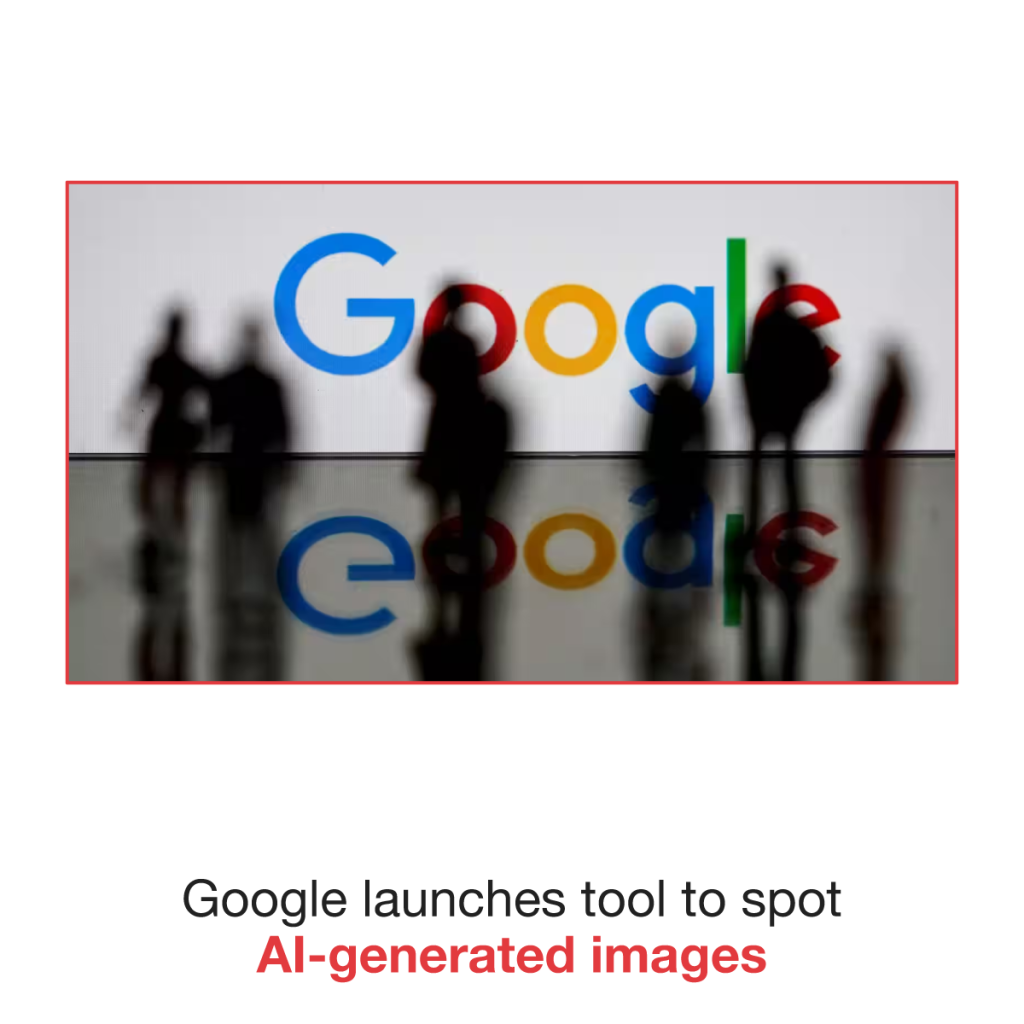 Google has released SynthID, a tool for identifying AI-generated photos. SynthID embeds nearly imperceptible watermarks into photographs to identify them as synthetic. This tool is designed to properly encourage applying AI image creation technology.
10. Instagram May Soon Enable Users To Share Posts With Their Close Friends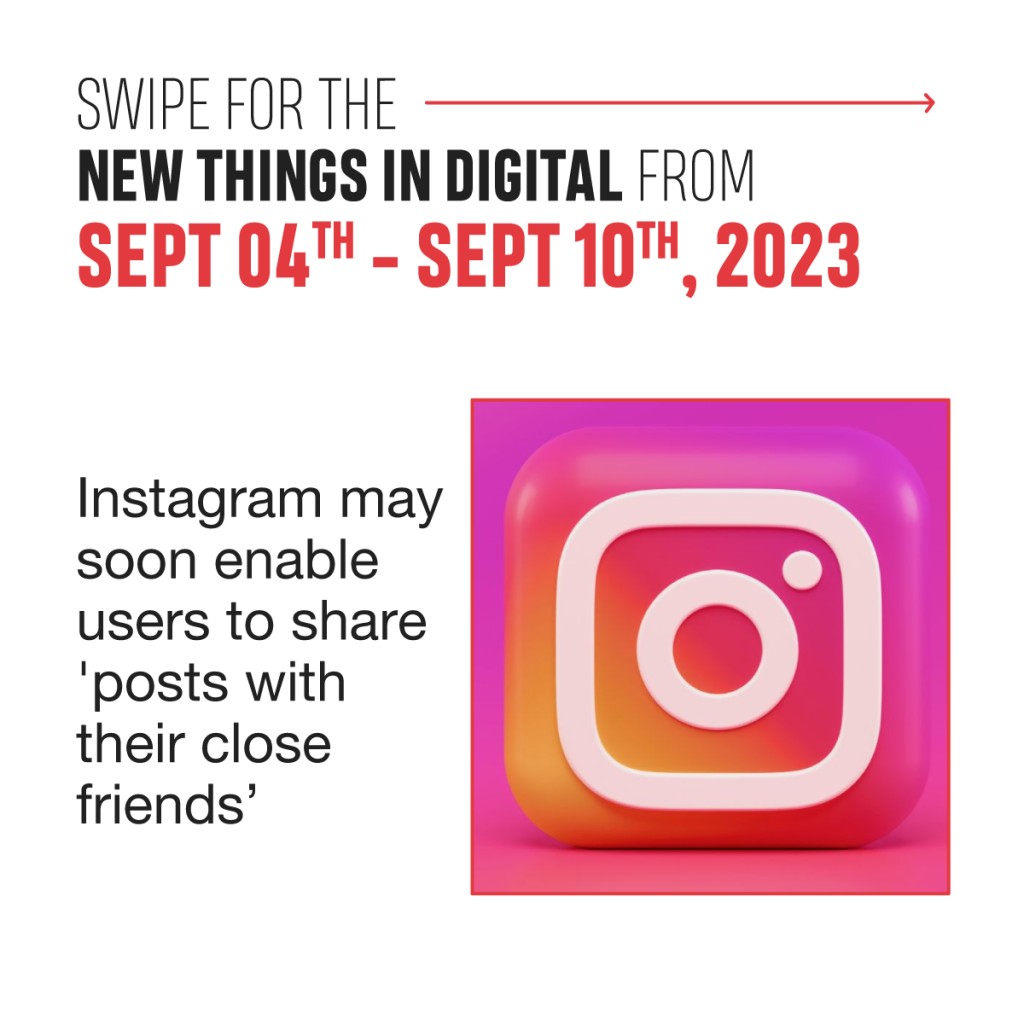 Instagram is currently testing a new feature allowing users to share their feed posts with their 'Close Friends' group. This feature is currently being tested in a few nations, with exact testing locations remaining unknown. If Instagram adopts this new feature, it will be able to provide a more concentrated and intimate user experience, creating greater connections inside the site.
11. X Experiments Enhancing Video Live-Stream Discovery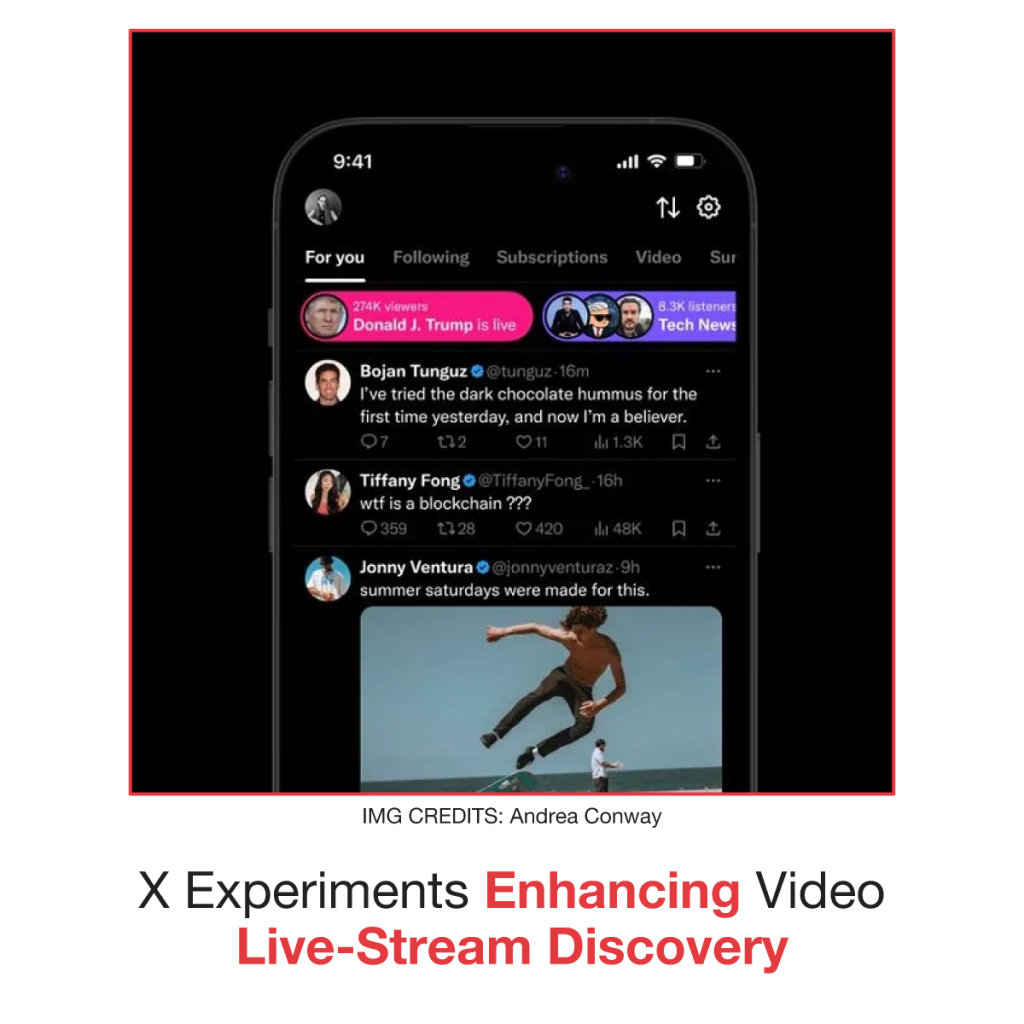 X recognises the need to improve video discovery, particularly for live broadcasts, to prioritise video content to drive engagement. Users may miss out on live streaming even after being notified via a tweet-like post. There is no ongoing notification mechanism to keep users updated on live broadcasts.
X is now investigating potential alternatives, including using Spaces as alerts for live video streaming. According to an example supplied by X designer Andrea Conway, live video broadcasts may soon display at the top of user timelines, similar to Spaces. This change has the potential to draw more attention to ongoing broadcasts.
Although this is not a substantial technological change and may require some explanation for consumers who assume they are still audio-only broadcasts, it is a handy option to emphasise live video material. With X's increasing emphasis on live streaming, this addition might be significant and beneficial.
12. Threads Broadens Keyword Search Availability to Additional Regions
Meta is expanding the Threads keyword search feature, first available to users in Australia, New Zealand, other markets, and Spanish. This functionality will be available soon to users in Argentina, India, Mexico, the United Kingdom, and the United States. Adding keyword search to the Threads app significantly improves its Twitter-like experience by allowing users to search for more than just user handles.
This update solves a highly requested feature, as Meta took a minimalistic approach to the app's first release, which may have hampered its initial uptake. Threads quickly surpassed 100 million sign-ups, demonstrating strong interest in the programme and potential demand for a Twitter replacement. With Elon Musk's transformation of Twitter into a comprehensive
"everything app," more people are flocking to the platform.
13. UK Government Removes Barrier to Meta's Full Messaging Encryption Plan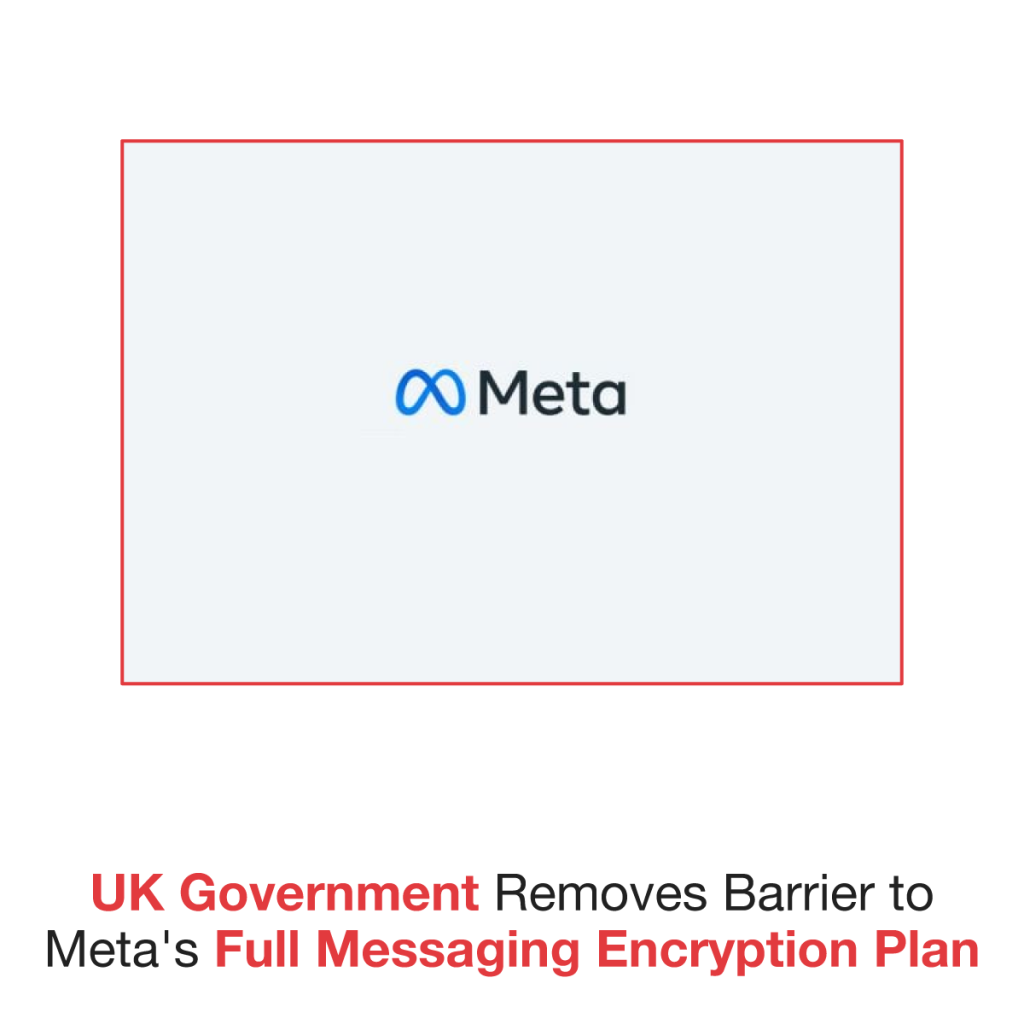 The United Kingdom Government has removed a problematic provision from its proposed Online Safety Bill, allowing Meta to proceed with its complete communications encryption plan. This section, also known as the "spy clause," sought to require online platforms to enable "client-side scanning" for detecting child sexual abuse material (CSAM) in large amounts of online communication. With full message encryption in place, however, this criterion becomes impossible because even the hosting platform cannot read encrypted content.
14. YouTube Unveils Enhanced Ad Placement Controls and Tests Fresh Ad Formats for CTV
YouTube will introduce new ad control tools for producers later this year. It also introduces display formats for CTV commercials optimised for larger displays.
Regarding ad settings, YouTube will streamline the process for creators to allow advertisements in YouTube Studio beginning in November. This adjustment will impact how advertisements are positioned within their videos. Instead of enabling video creators to select certain ad types, YouTube's technology will provide relevant advertising based on audience matching.
15.YouTube Expands into Mobile Gaming with 'Playables'
YouTube is making a massive step into gaming with a new feature called "Playables," which is presently being tested within the YouTube app. This novel feature lets viewers actively play basic games immediately in the video stream, taking the experience beyond passive viewing.
In YouTube's own words:
"Playables are games that can be accessed directly from YouTube on desktop and mobile devices." If you participate in this trial, you will see a new area on YouTube called "Playables" that will show alongside other videos on the home feed. To begin, we're testing this with a small group of users."
This initiative has been in the works for several months, with The Wall Street Journal reporting as early as June revealing YouTube's tests with artificial intelligence.
16. OpenAI Boosts Competitive Edge with ChatGPT Integration into Canva
OpenAI has released a Canva plugin for ChatGPT Plus customers, providing a more streamlined approach to graphic design for businesses and entrepreneurs in the ever-changing social marketing world. The following are the steps to utilising this integration:
Obtain ChatGPT Plus: To begin, launch ChatGPT Plus on your browser.
Go to the Plugin Store: Locate the 'Plugin Store' in the plugin section of the ChatGPT interface.
Install Canva Plugin: Easily install the Canva plugin from the Plugin Store.
After installing, go to the main ChatGPT window and select 'Canva' from the plugin area.
Describe Your Visual: In the chat prompt box, describe the graphic you wish to make.
Generate Visual Options: ChatGPT will provide a list of visual choices based on your description.
Edit and Download: Choose your preferred visual choice, make any necessary changes using Canvas tools, and then instantly download the finished design.
17. Bing Search Tests Explore Collections Overlay

Bing Search by Microsoft is currently testing a new feature called "Explore Collections." This feature seeks to improve the search experience by making it easier for consumers to explore products. "Explore Collections" displays various products in an overlay manner, most likely taken from Bing Shopping results. It allows customers to search and delve into numerous products more effectively, making finding what they are looking for easier.
18. Google SGE Removes Local Results (5 Local Pack)
Indeed, when compared to the content previously displayed just below the AI-powered answer, this local pack appeared superfluous. Google usually offered a "three pack" of standard search results, and the content frequently overlapped with what was already provided in the AI-SGE response.
19. Instagram Experiments Hidden Like Activity Option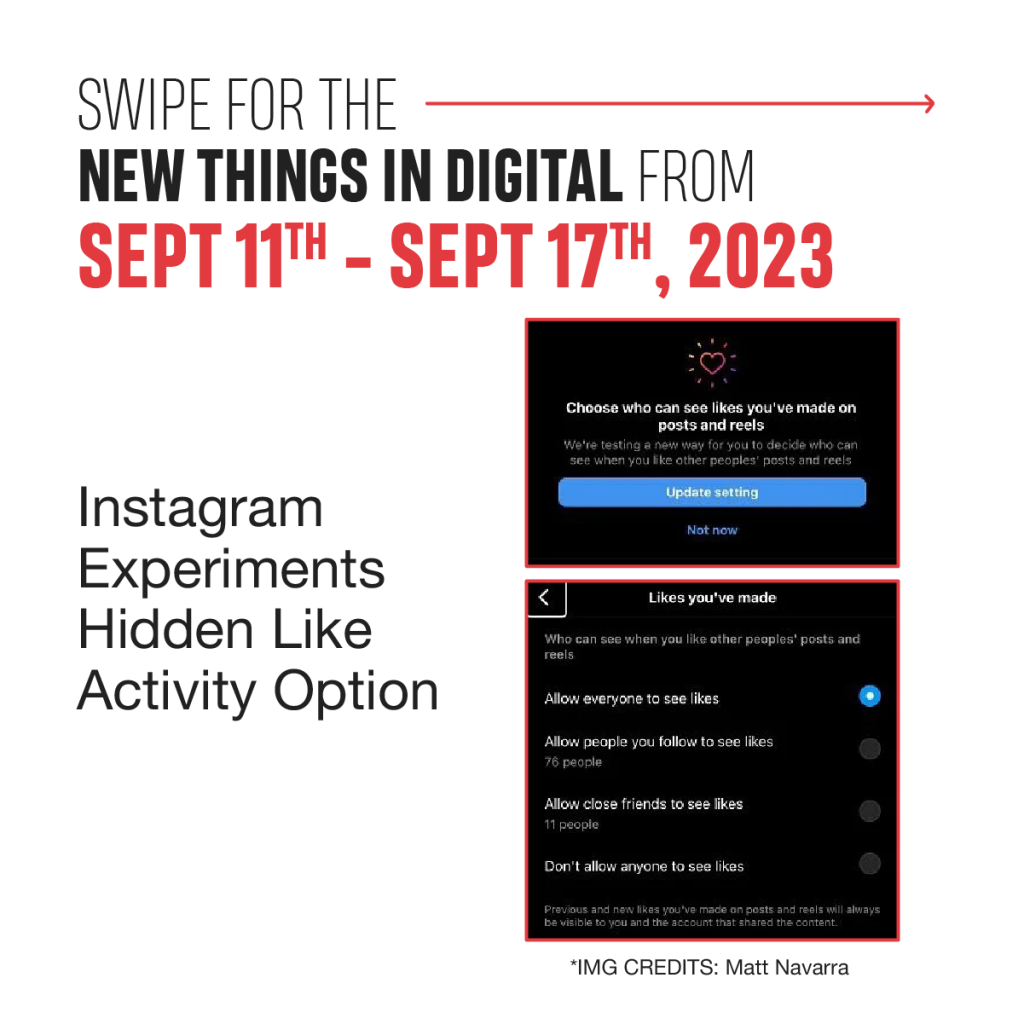 Instagram is developing a new privacy tool allowing users to hide their like behaviour from others. Users can use this feature to hide their likes from non-followers or to limit visibility to close friends. Users can also hide their likes from everyone to keep their interests more private. This approach attempts to reassure consumers and is consistent with a broader trend of improving privacy on social media sites. Other networks, such as X (previously Twitter Blue), provide similar features, allowing paid subscribers to hide their checkmarks and likes to support creators without fear of stigma. Notably, X's owner, Elon Musk, has gone further by offering to pay for anyone's legal fees.
20. X Introduces ID Verification For Premium Users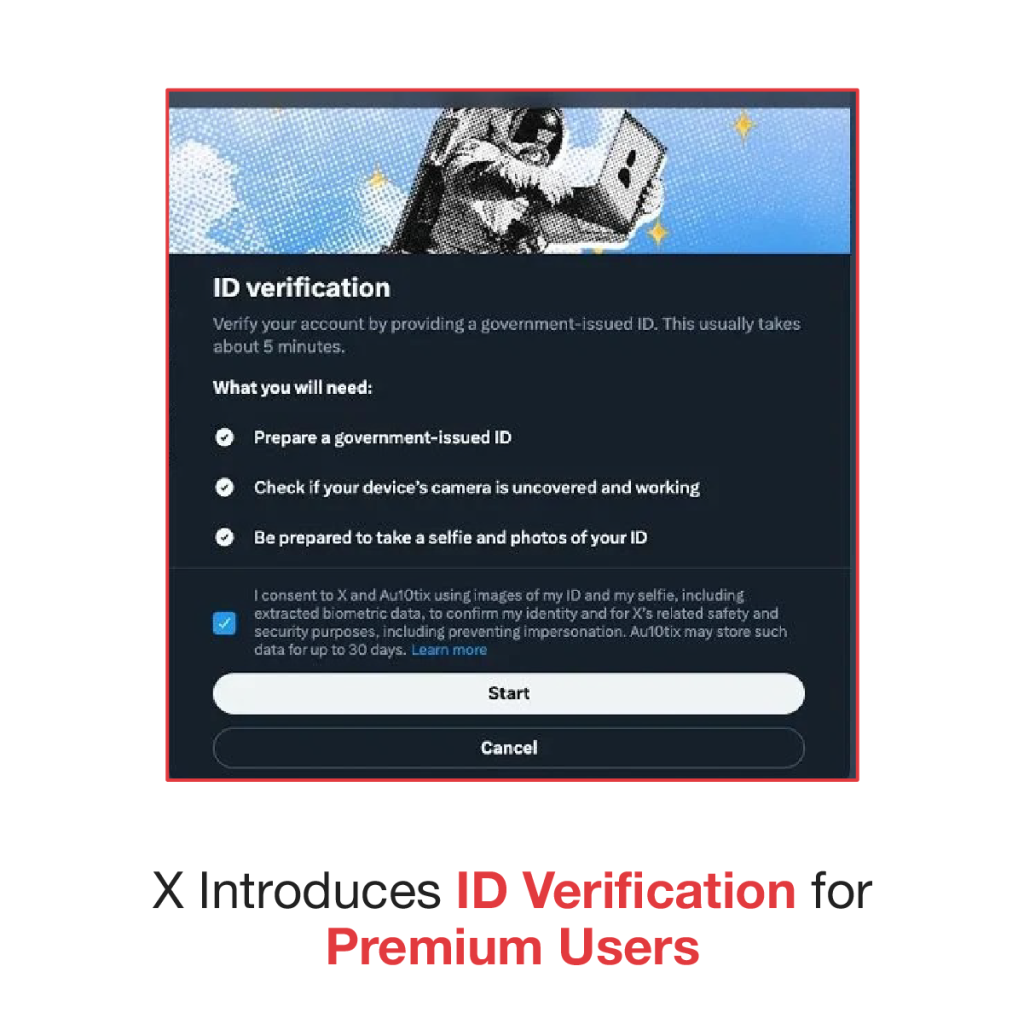 Following months of testing, X has officially launched a new identity verification function for its X Premium users. This feature allows paying customers to authenticate their identification by presenting a government-issued ID, which displays an additional identifier on their X profile.
Users authenticate their identity during the verification process by matching their driver's licence or comparable identification with a selfie taken during the verification process. Twitter has teamed with au10tix, a "forensic identity intelligence" startup, to implement this process. While this agreement will save Twitter's manual labour, it will require X users to share their data with Twitter and au10tix as part of the verification process.
21. Instagram Expands Reels Gifts To More Regions For Creators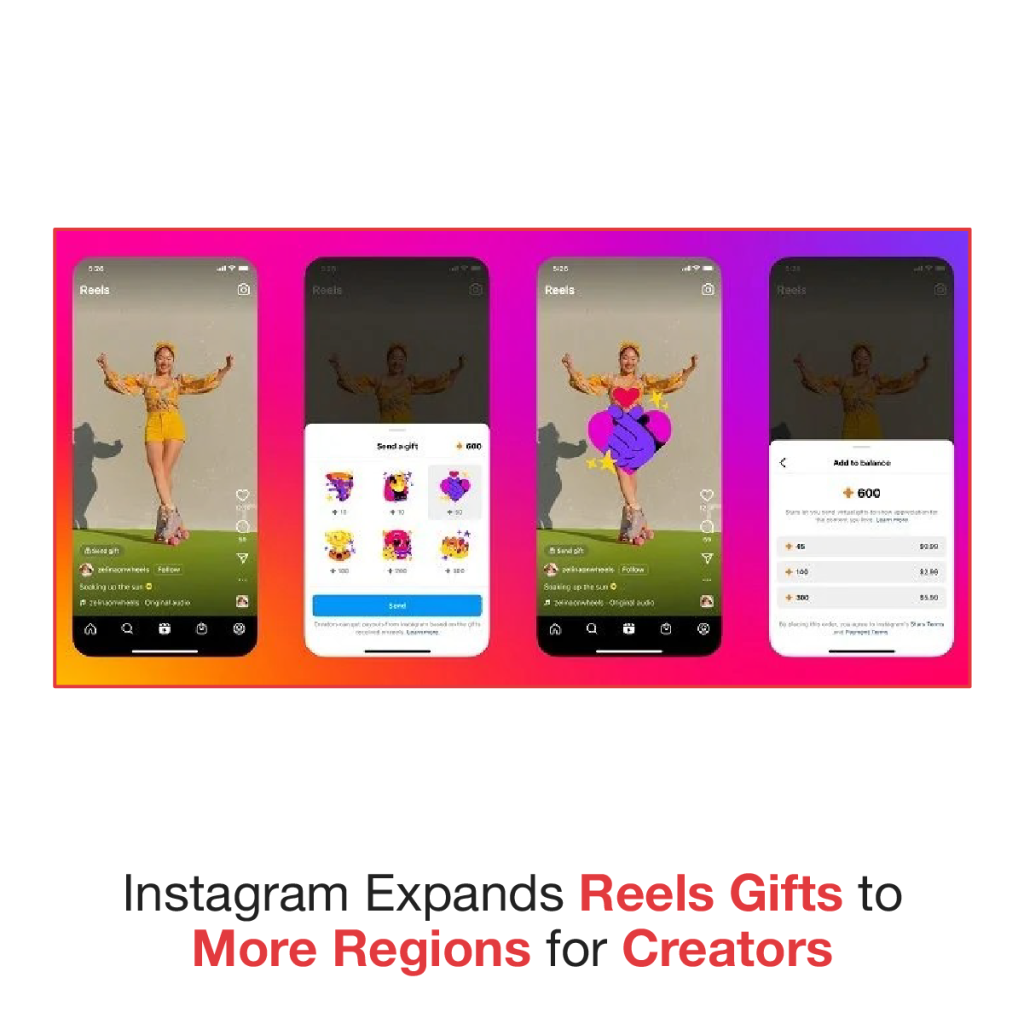 Following the February launch of virtual gifts for reel producers in the United States, Instagram has expanded this option to Reels creators in several other areas. Creators in these territories can now receive gifts within the app, thanks to a dedicated button on their Reels clips.
These virtual presents, which take the form of sticker-style gifts with numerous purchasing possibilities, provide a new source of cash for Reels producers. This feature will be expanded to more areas in the following weeks.
Viewers can send these presents using Meta's in-app currency, "Stars." Users can purchase presents ranging in value from $0.99 to $5.99. This increase in the
22. Instagram Introduces Reels Tab, Following Filter
Instagram's Reels feature has received a modest tweak, bringing it closer in line with TikTok's functionality. A "Following" feed within the Reels tab has been added, allowing users only to see Reels content from accounts they follow in the app.
Previously, Instagram offered a single Reels feed that mixed postings from account users followed by recommended videos. Users can now view only the most recent videos from their desired accounts, similar to TikTok's "For You" and "Following" streams. This modification gives users a greater choice over their Reels content consumption, emphasising content from their preferred accounts.
23. Meta Extends Horizon Worlds Access To Mobile Devices And Home PCs
After a successful beta test on mobile devices with a small group of users last month, Meta has increased access to its social VR experience, Horizon Worlds. More customers can now enjoy this VR experience on their smartphones and desktop computers. The development of a collaborative shooting game by Meta will serve as an entrance point for additional users to explore the Horizon Worlds experience.
24. Whatsapp Expands Availability Of Topic-Based Channels In Additional Region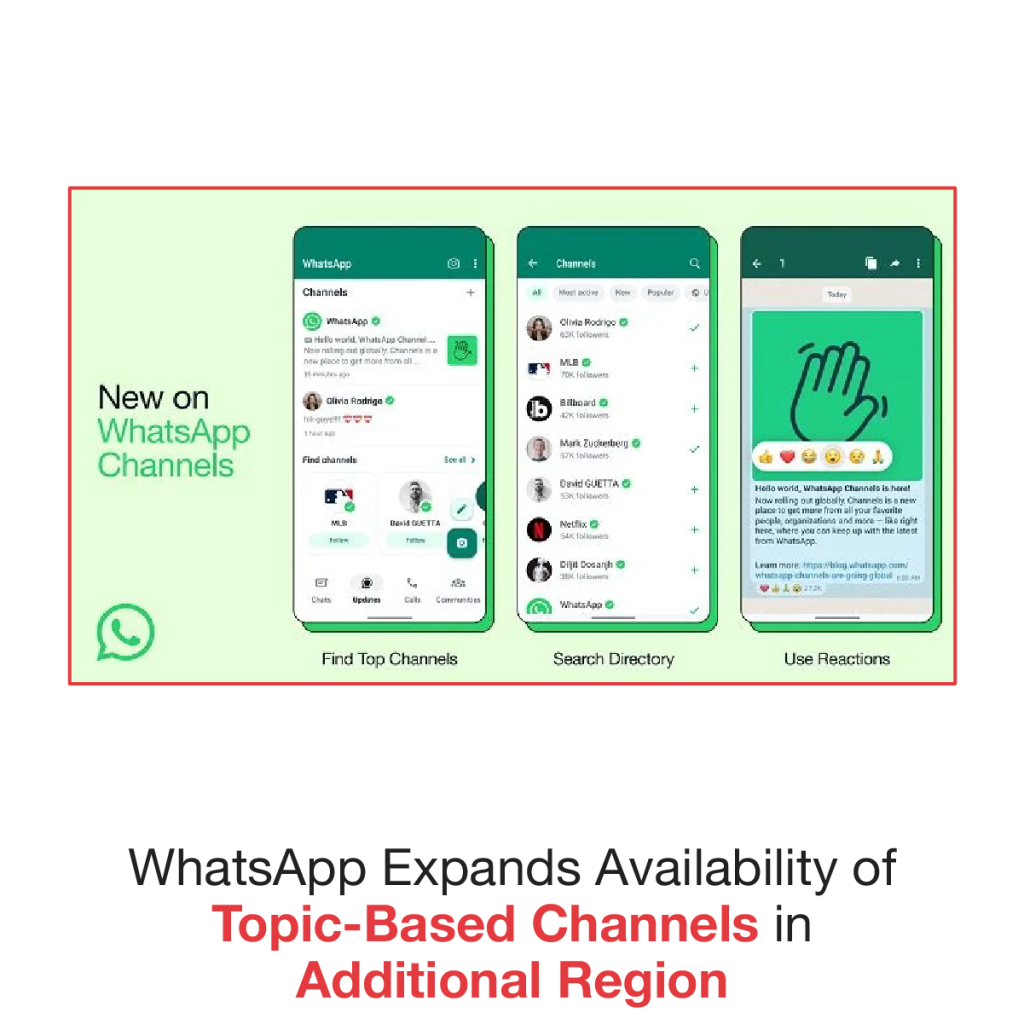 WhatsApp is expanding the availability of its WhatsApp Channels function, which was first introduced in June in Colombia and Singapore. Channels will now be available to customers in 150 different markets via the app. Channels provide a one-way broadcast service that allows WhatsApp users to stay updated on topics of interest. These Channels, located in a separate tab from your regular chats, enable users to use WhatsApp as a real-time news and information service, focusing on the essential issues that are important to them.
25. Google Introduces Streamlined Reinstatement Process For Business Profiles
Google plans to bring the EU version of the Google Business Profile reinstatement process to the US. Local SEOs are excited about the new approach because it turns the reinstatement procedure into a step-by-step wizard, simplifying the experience. The significant difference is that firms will only have one chance to be reinstated and must produce business documentation within a 60-minute limit. This time constraint might be challenging for small firms that may need all the essential papers for their initial reinstatement attempt.
26. Google Simplifies Business Profile Reinstatement Process
According to the company, Google Search Console will now display Google Merchant Centre visibility issues and updates in new reports. There are two recent reports: the first displays when products stop appearing on the Shopping tab due to difficulties, and the second reveals changes in clicks and product position on Google Search.
This update comes nearly a year after Google added shopping data to Search Console reporting in November last year.
27. Google Eliminates How-To Rich Results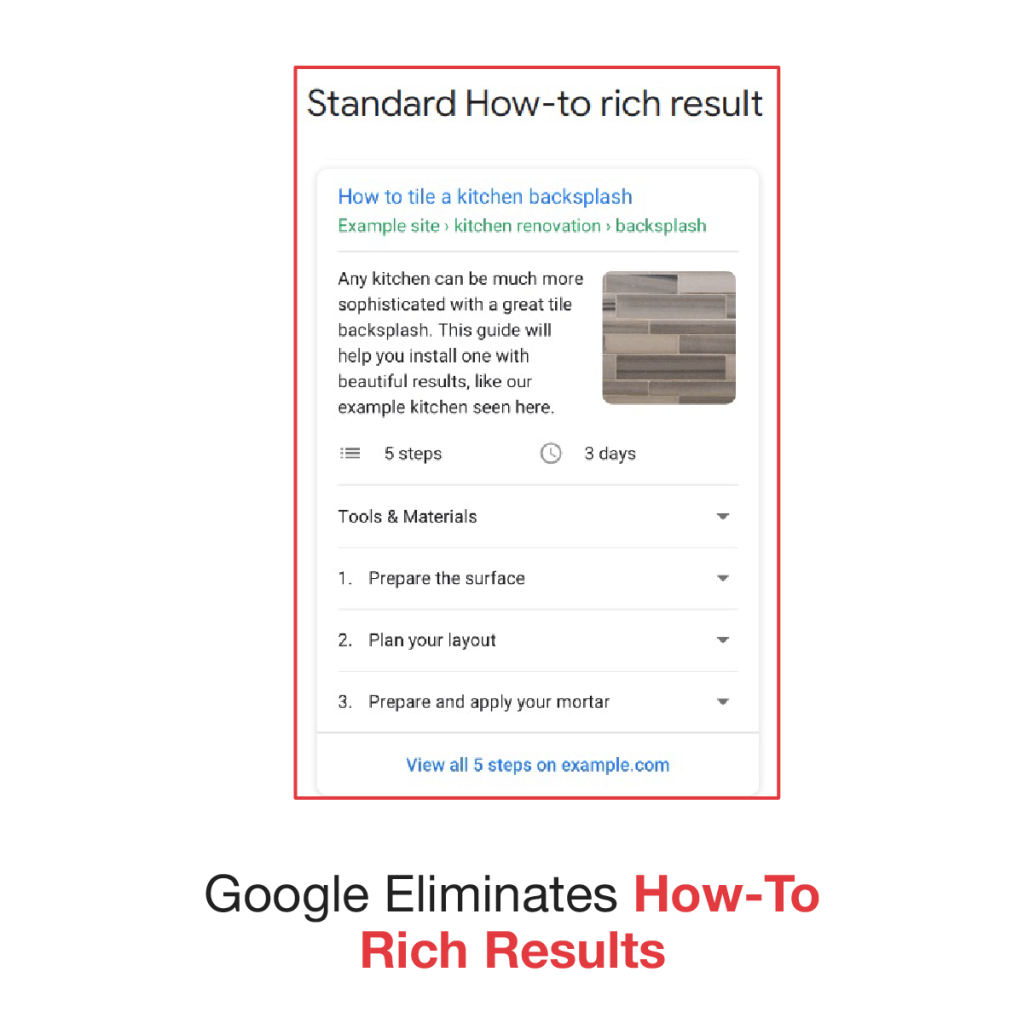 How-To Rich Results have been officially removed from Google's search results. Although the How-To schema can still be used, it will no longer provide any benefits in search results.
This change is part of Google's larger plan to simplify its search results pages.
28. Elon Musk Intends To Implement A Slight Monthly Fee For X Users Soon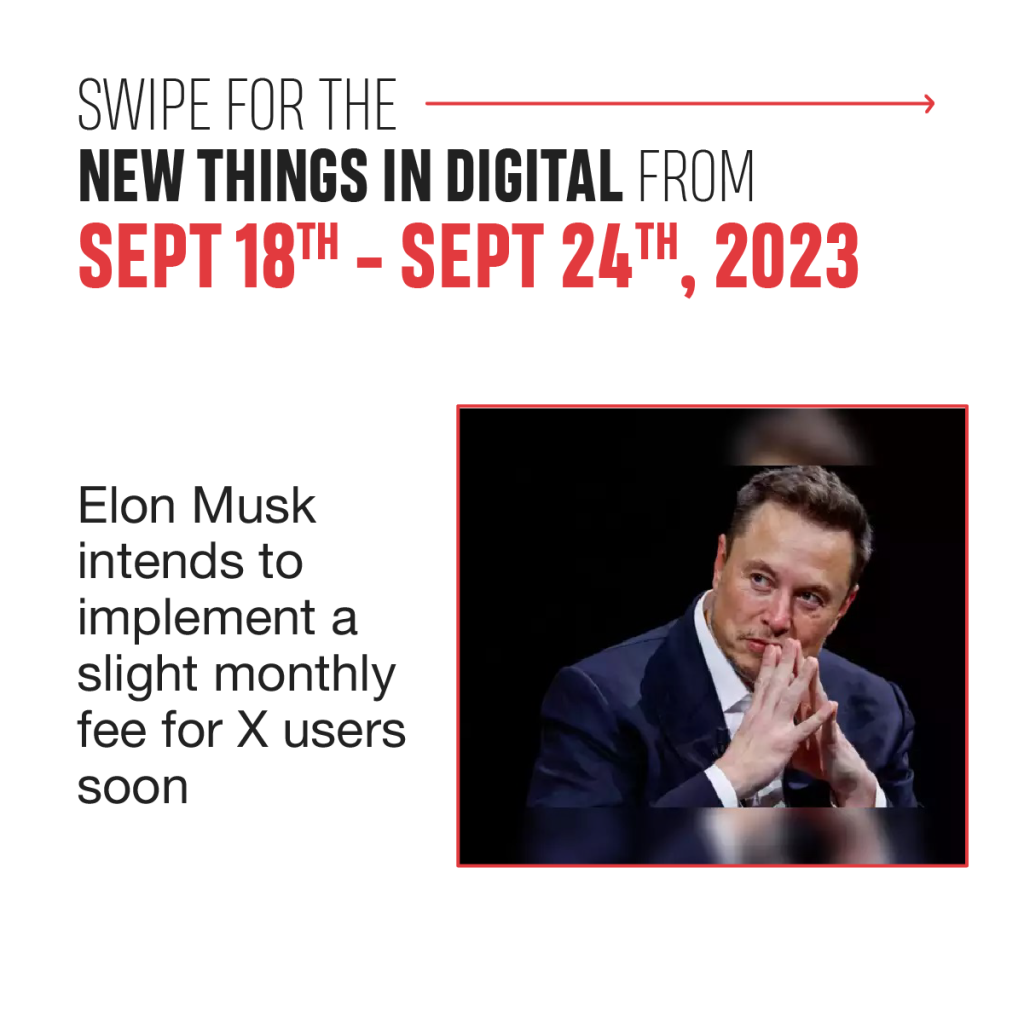 Elon Musk, the owner of microblogging site X (previously Twitter), addressed the prospect of instituting a monthly fee for all users to combat the problem of bots.
Bots are automated accounts driven by computer programs frequently used to amplify messages with harmful implications for users artificially.
Musk claimed that the corporation is considering implementing a "small monthly payment for use of the X system" as a solution. Implementing such a payment mechanism is the most effective method to combat the widespread bot presence.
Musk emphasised that bots are inexpensive to operate, costing only a fraction of a penny. However, if users have to pay even a small amount, the cost of using bots becomes prohibitive.
29. Threads Tests Editing, Account Switching And Profile Deletion Options
Threads are tackling post-editing, something X/Twitter fought for years before introducing it to premium customers last October. Threads follows a similar strategy, allowing modifications within a specific time limit after publishing. Users currently have a 5-minute window for revisions instead of X/Twitter's initial 30-minute window (recently raised to an hour, but only available to X Premium subscribers). Time-limited modifications, particularly for short-form content, may help to streamline management within Threads' database.
Prior Twitter worries centred on the potential of changing the meaning of viral messages through limitless editing, which was especially troublesome for short tweets where even tiny changes may significantly impact their message.
30. Meta Reveals An Updated Facebook Logo Design And In-App Colour Palette
The rebranding of Facebook as Meta is supported by a thorough narrative detailing the reasons for these minor changes. Meta explains the three main reasons for its new look:
Enhance our brand's distinctive components to create a distinct and revitalised Facebook identity.
Ensure that the Facebook brand is presented consistently across product-to-marketing interactions.
Develop a vast and vibrant colour palette with a foundation in our core blue while prioritising accessibility for all persons.
31. Facebook Is Now Permitting Users To Create Multiple Profiles
After more than a year of testing, Meta has officially launched its new multi-profile capability. It enables users to create several Facebook profiles suited to their interests and audience segments. You can now create personalised profiles depending on your interests by using the "Create another profile" option, allowing you to engage in a more extensive range of topics while retaining separate friend lists and feeds. Within the app, you can establish up to four extra personal profiles, each with its login and feed. It improves privacy and encourages people to learn more about their interests.
32. Meta Introduces Animated Avatar Stickers Within WhatsApp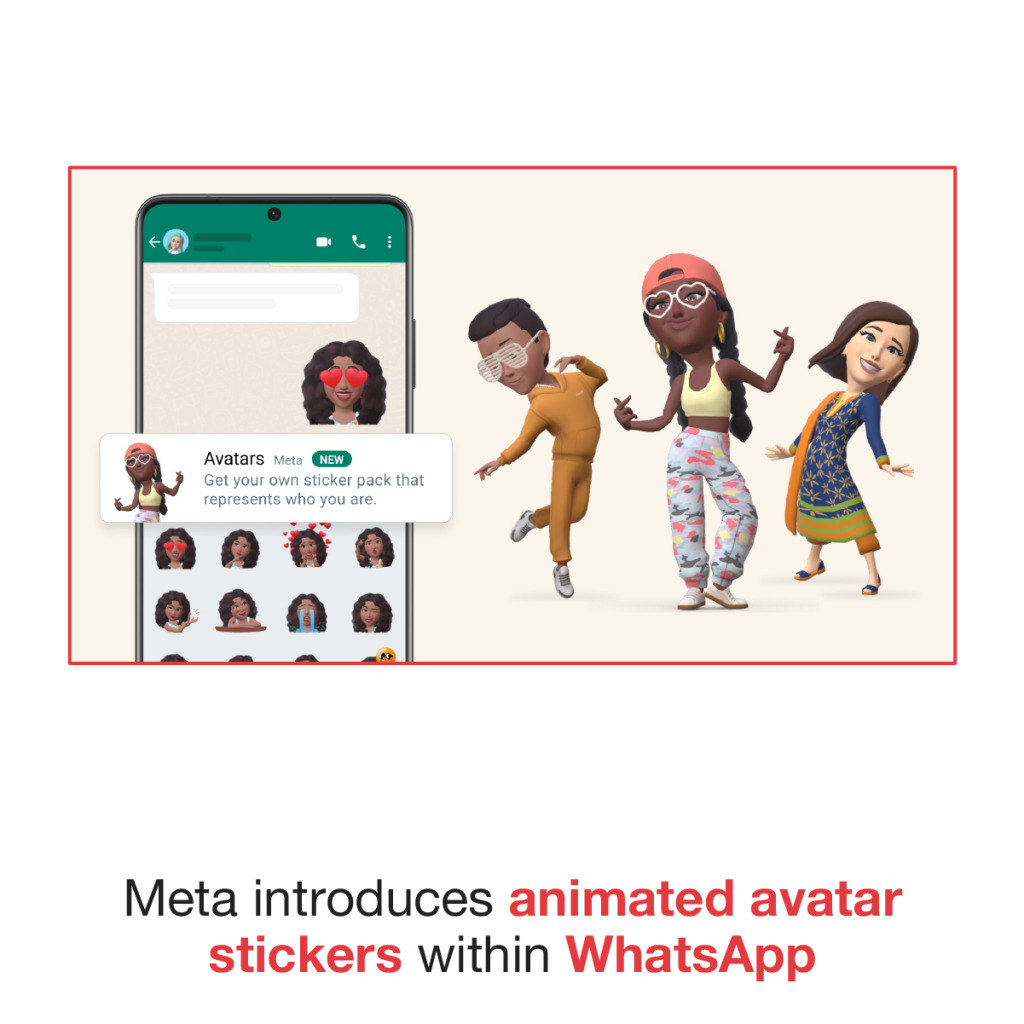 Meta continues to incorporate digital avatars into its platforms to direct people to the metaverse, where virtual interactions are expected to become the norm.
Meta's most recent step in this area is the addition of animated avatar stickers to WhatsApp, significantly increasing WhatsApp's potential. These animated avatar stickers enable you to incorporate dynamic, responsive representations of your digital persona in WhatsApp discussions, giving you more ways to use your avatar throughout Meta's suite of services.
This addition is part of Meta's overall avatar promotion plan, including features like avatar profile images, simulated profile backgrounds, avatars in video conversations, and more across its platforms.
33. Whatsapp Launches New Feature "Flows"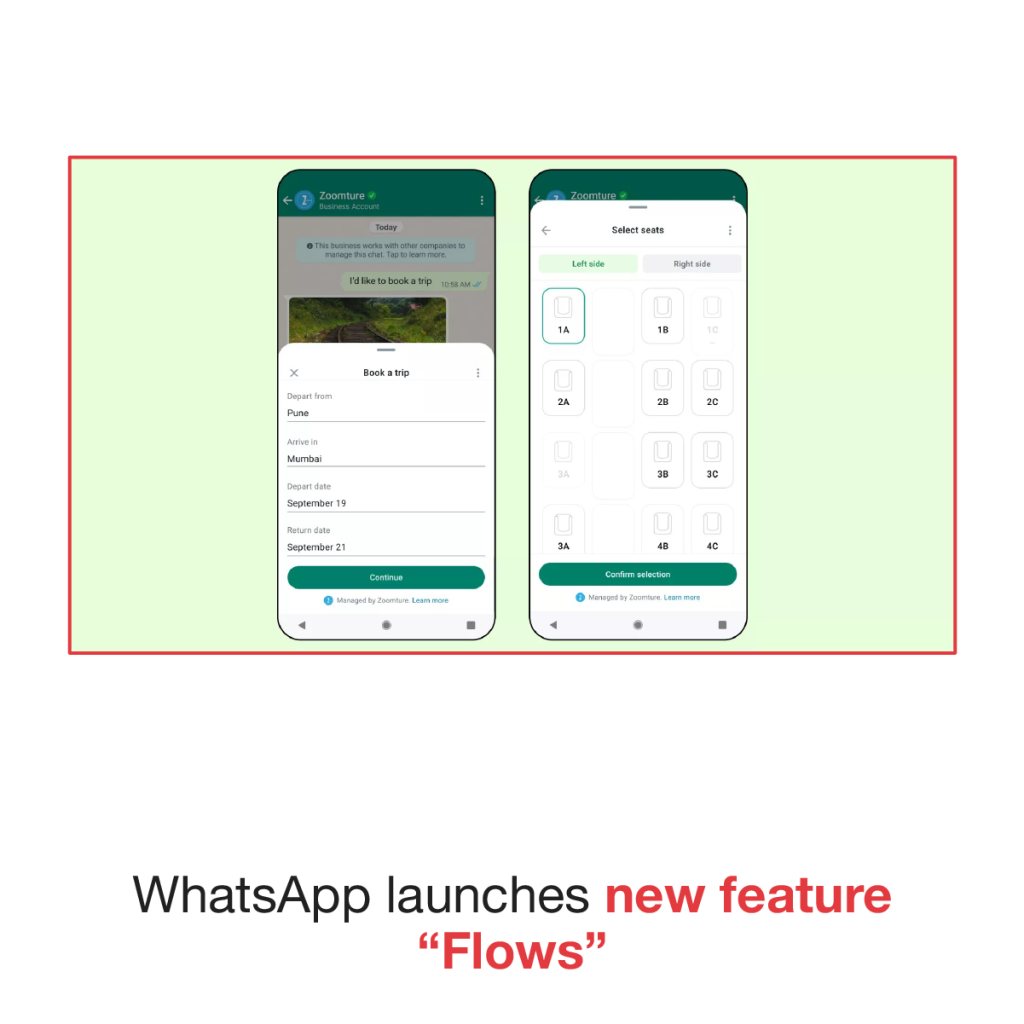 WhatsApp is improving the buying experience for both merchants and consumers by introducing a new feature called "Flows." This feature allows users to select flight seats and booking appointments without leaving the app.
To create these seamless experiences, merchants can access building elements such as text boxes, calendars, and seat selections. WhatsApp intends to make these technologies available to businesses in the coming months. Potential use cases for Flows are highlighted on the support website, which includes appointment scheduling, product customisation, account login, form submission, and event registration.
34. Youtube Introduces New Creator Tools, Including Generative Ai Options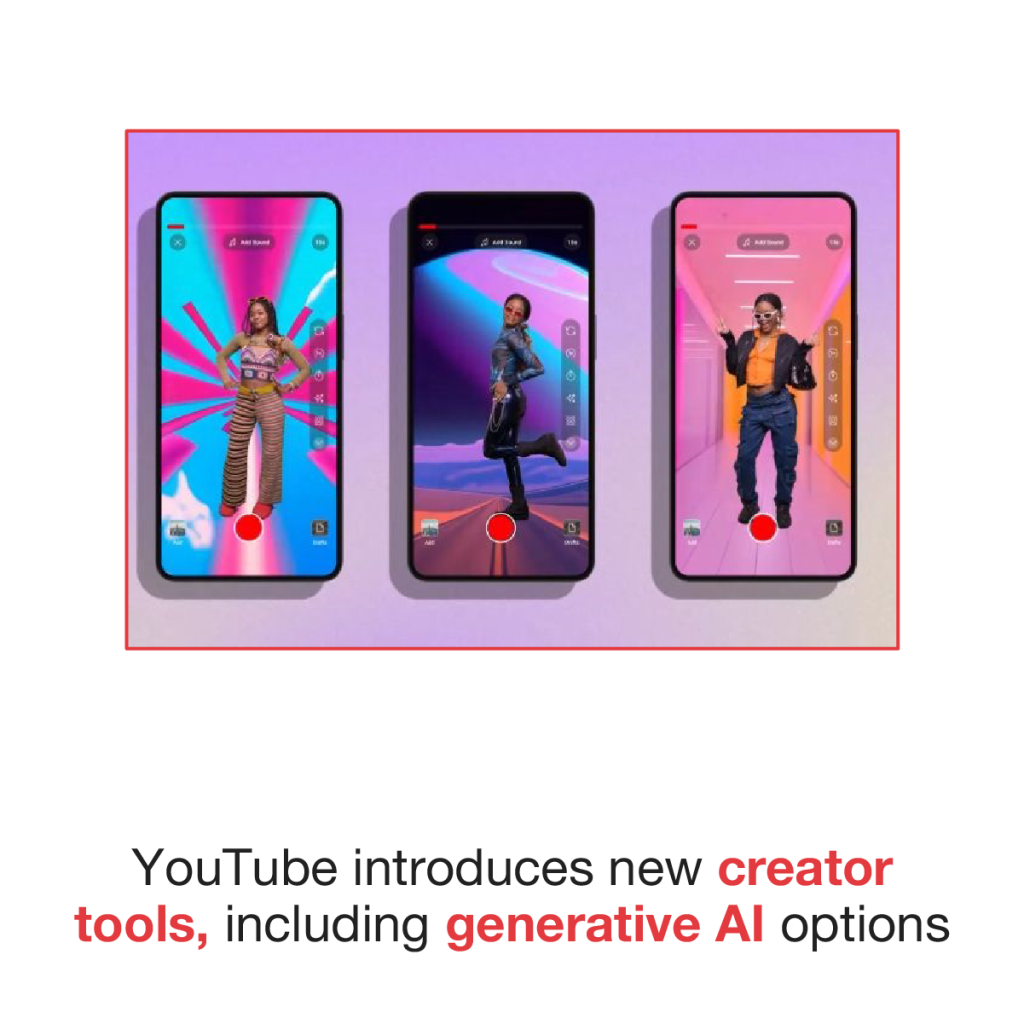 YouTube has announced various new tools and capabilities, signalling the company's entry into current trends and creative utility.
These announcements were made at YouTube's "Made On" showcase event when the site showcased its latest endeavours to creators and industry officials.
YouTube's "Dream Screen," a generative AI function, is a particularly intriguing addition. Creators can use this tool to include AI-generated pictures or video backgrounds in their YouTube Shorts material.
35. Google Search Can Now Verify Answers From The Bard
Google Bard connects with Google Search more closely, allowing users to cross-reference its delivered responses. You may double-check Bard's replies by clicking the "Google it" option within its reply. Google has improved this feature with the help of Google Research and Google DeepMind. When you click the "G" icon, Bard will examine its response to see if any web content supports or contradicts it. Users can obtain this information by clicking on the highlighted sentences, which provide extra context. This functionality is currently only accessible for English answers.
36. Bing Search Displays Recent Bing Chat Topics
For users who have recently used Bing Chat, Bing Search has included a new area titled "recent chat topics" at the top of the search results page. Along with the corresponding query, this component includes a Bing emblem wrapped in a bubble.