Looking for all the latest digital marketing updates in november 2021? Then you are in the right place. Here below you can find the list of all the best digital marketing updates, trends, techniques and news.
While we move on to the last month of the year, social media platforms are already showing a glimpse of their big plans for the upcoming year. The biggest takeaway has to be the Metaverse reveal taking the next big step in Social Media. From Instagram resting longer videos to Google's new video carousels, this month's updates were diverse and interesting. Here is this month's #NewThingsInDigital
In case you missed last month's list of #NewThingsInDigital click here to read. Here are the new things in digital from the month of November.
Top 35 Latest Digital Marketing Updates in November 2021
1. Instagram rolls out 'Links in Stories' for all accounts
Links in Stories is one of the lastest digital marketing updates in November 2021. Links in Stories is an option that Instagram recently rolled out for verified accounts and accounts with over 10k followers in order to replace the 'swipe up' option. The platform has now announced that it is making the Links in Stories option available for all users, which is a welcome change. 
As explained by Instagram, "When we first introduced Stories links, the feature was limited to verified accounts or those with a certain number of followers. We've heard from the rest of our community that they also want to share things that matter with their friends and family. Whatever you're into, from cooking to volunteering or shopping, you now have a space to share in Stories – regardless of your account size."
With this official roll-out, all users will be able to share clickable links on their Stories. This expands the scope of Stories and also gives users more scope for creative control over how they want to place links within their Stories. This also improves the scope of audience engagement on Stories.
2. Facebook adopts new corporate title 'Meta', as part of its corporate rebranding efforts
In a major rebranding move, Facebook has renamed the parent company to Meta and has adopted a new logo. This is to align with the next stage of Digital connection. However, it is retaining its original name of the Facebook app as well as other apps that fall under the parent company that is newly rebranded 'Meta'. All of Facebook's existing and upcoming projects will fall under the 'Meta' banner.
As Facebook explains, "The metaverse will feel like a hybrid of today's online social experiences, sometimes expanded into three dimensions or projected into the physical world. It will let you share immersive experiences with other people even when you can't be together – and do things together you couldn't do in the physical world. It's the next evolution in a long line of social technologies, and it's ushering in a new chapter for our company."
The company is organising its operations into two major streams – 'Family of Apps', which will include all Facebook-owned and developed social media applications, and 'Reality Labs', which will cover its VR and AR technologies and other evolving technologies.
3. Clubhouse adds pinned links feature in Rooms
The hottest audio-social app Clubhouse is looking to provide more context to in-app discussions by adding a pinned link feature. This feature will allow users to attach URL links to the top of the room's display. Any moderator can change or remove the link at any point in time during the session.
According to Clubhouse, "We suspect that people will use Pinned Links in all sorts of fun ways — like playing games, running polls, and sharing links to YouTube videos. Just as importantly, we're excited to see Pinned Links help room creators drive people to subscribe to their Substack, download their podcast, read their book, go see them at The Laugh Factory, discover their new single, buy their product, and support their Patreon or GoFundMe page…"
This increases the scope for engagement and building a stronger community.
4. LinkedIn adds new Freelancer connection tools
Professional platform LinkedIn is looking to make itself a better and more useful space for freelancers to grow professionally. It is focussing on expanding its Services Marketplace, which offers 'Services' listings for profiles, and this is designed to help brands and freelancers connect better.
Initially launched as a Beta test, the platform will now roll out the Services Marketplace, potentially improving freelancer discovery and connection, and maximising opportunity. Users can add a list of services they offer and can have access to advanced discovery with new recommendation tools, search filters, and more. All these will help business owners identify what they need from freelancers.
5. Twitter shares a preview of its upcoming NFT display options for profile images
After sharing an initial preview last month, Twitter has further previewed the upcoming NFT display options for profile images on the platform. The option is currently under development and will enable users to connect their NFT details within their profile feed. Profile visitors can then access information on the NFTs you own and use. This feature heavily leans into the NFT movement that is on the rise.
6. Facebook is testing a new 'Spotlight' conversation option to host more focussed in-app chats
Facebook is testing a new feature called 'Spotlight' conversation in order to host more focussed in-app chats. When this option is enabled, it separates replies from specific users into an independent chat thread.
Spotlight conversations enable you to invite select people to respond to a post. When they respond, they get redirected into an independent, dedicated space without interruptions. Other users can see your post and comment on the chat, but the replies are placed in another tab within the reply stream named 'other comments'.
7. Google introduces new 'Deals' features for the Shopping tab and Merchant Center
The company announced Thursday that Google is introducing a new "Deals" feed in the Shopping tab along with additional Merchant Center features to support retailers running promotions, sales, and price drops. It is also expanding its integrations with Shopify and WooCommerce to enable merchants to showcase their deals across Google surfaces.
8. Instagram launches 'Add Yours' sticker to increase engagement in Stories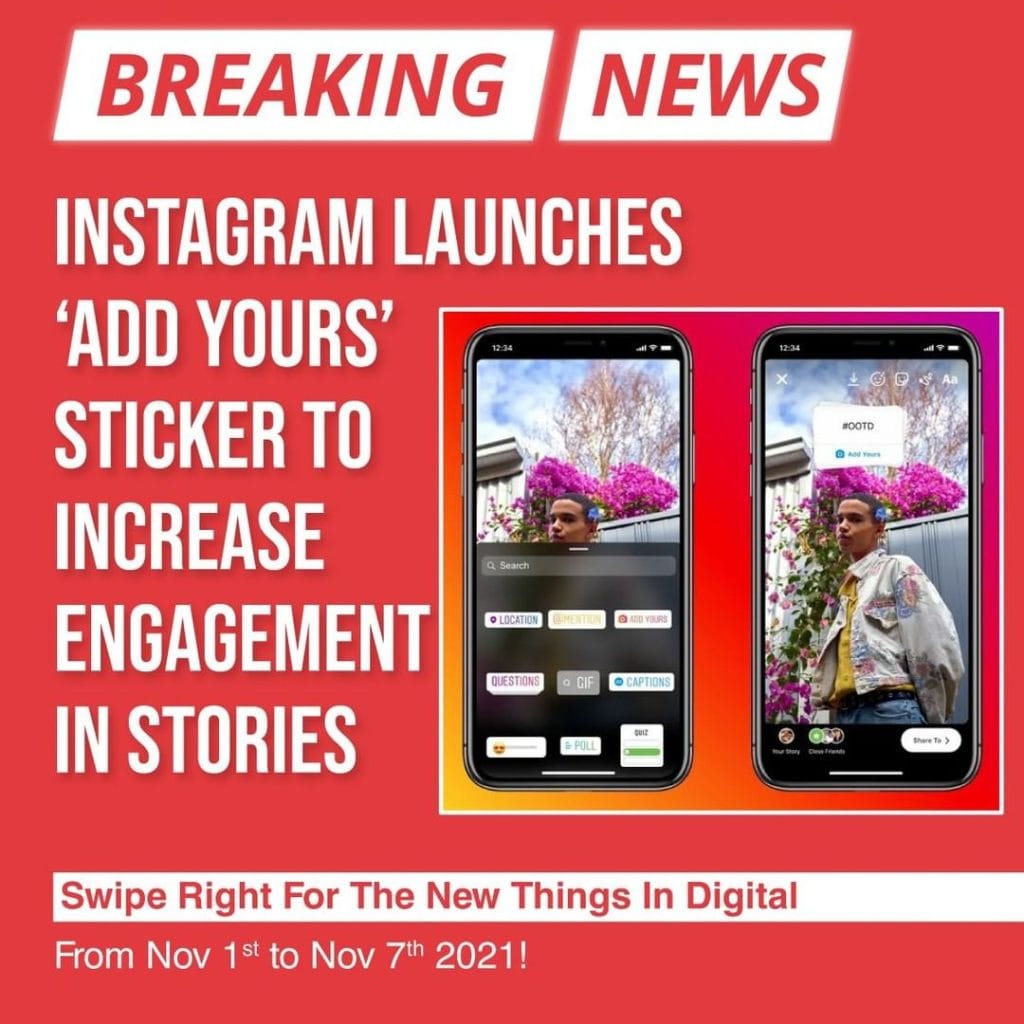 In order to create strings of engaging reply threads to Stories, Instagram has launched an 'Add Yours' sticker option in its Stories. This option will enable users to post a Story asking others to respond with a similar post via their Stories. Users can respond just by clicking on the sticker. When users respond to this sticker, their response is added to the bubble listing, and on tapping the sticker, they can go through other similar responses as well. This builds a chain of responses, thereby prompting more engagement to Stories.
This resembles TikTok's famous 'Duet' feature, which is basically a chain of responses with content based on an original/initial theme. However, Instagram 'Add Yours' sticker option inspired by TikTok's duet option only makes room for increased engagement, which serves the purpose of this option at the end of the day.
9. Twitter launches on-profile search option to more users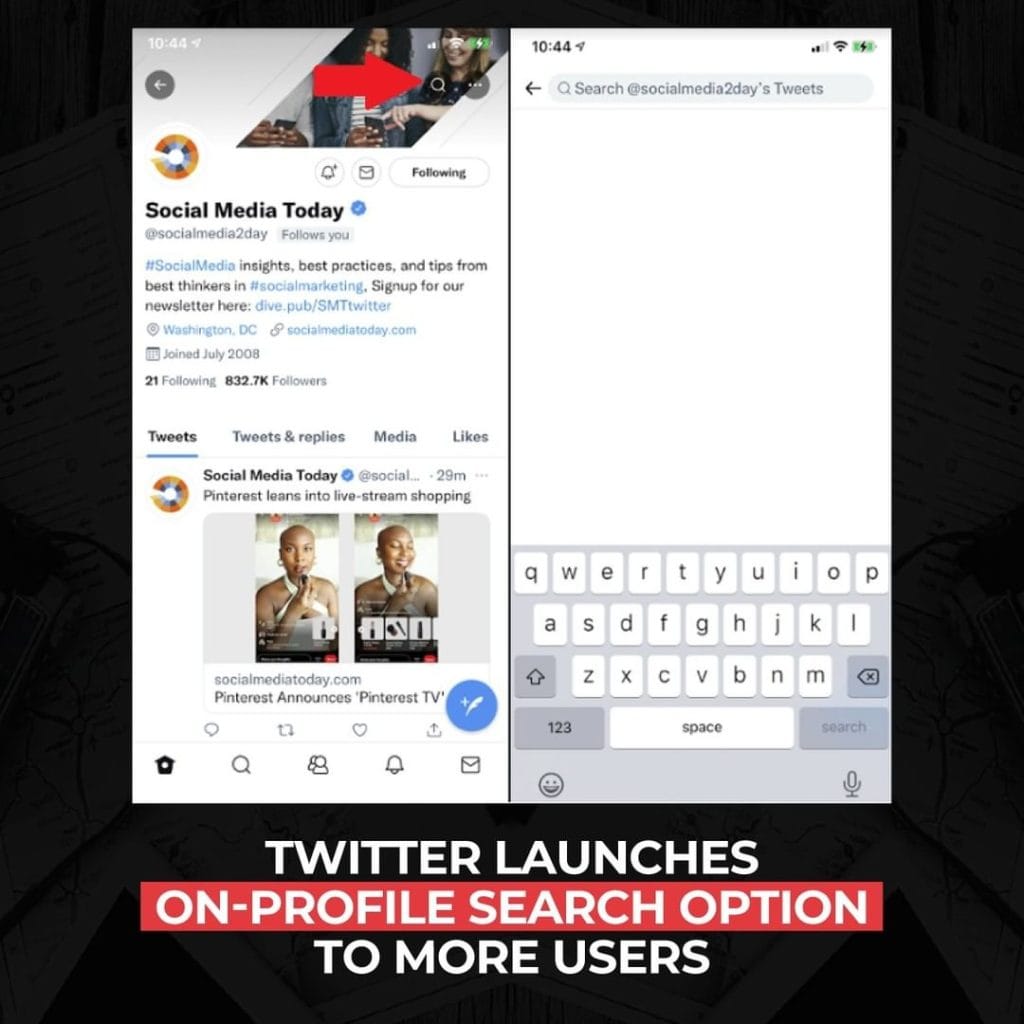 Twitter has rolled out the on-profile search option to more users. This will help users search for specific tweets directly from users' profiles. With this option, you can conduct a keyword specific search on a person's profile which will end up showing you all of their tweets related to the keyword you had originally looked up. Of course, Twitter's advanced search is always a great search option, but this on-profile search option makes it easier to go user-specific with your search.
The microblogging site has been testing this option for the past few months with a limited audience, and now, the roll-out is broader.
10. YouTube tests opening to Shorts directly for users who engage more with the Shorts option
With the advent of TikTok, reels, and the short video format, various social media platforms have been pushing the short video format to users, expecting them to engage with the format more. YouTube is no exception – the platform has been promoting its own short video format called Shorts for quite a while now. The platform is now all set to give more focus to the short video format with a new test.
The video-streaming platform is testing the app directly opening to a full-screen, never-ending feed of Short clips, especially for users who engage with shorts regularly.
According to YouTube, "We're currently testing out a new Shorts experience – if you're in the experiment and you close the YouTube app while watching Shorts, you will be dropped into the Shorts player when you reopen the app (so you have direct access.) If you exit the YouTube app while watching any content other than Shorts, we won't direct you right into Shorts next time you open the app."
This can be a welcoming option for people who enjoy the short video format – being able t open the YouTube app directly to continuous streaming of Shorts video clips. This is currently a limited test.
11. Non-Twitter users can now tune into Twitter's Spaces sessions
This option has been long pending. The micro-blogging site Twitter has rolled out the option of tuning into Spaces sessions for people who don't have a registered Twitter profile.
Twitter explains that non-Twitter users will also be able to tune into a Spaces session with the link you provide to them. This opens up opportunities for hosts to reach out to a wider set of audiences. However, non-Twitter users cannot participate or react to the Spaces session in progress, but they can be listeners, which still offers access to a wider group of audiences for hosts. Hosts can share their Spaces session's link to all their contacts and invite them to listen to the same. This must be exciting for users who actively host Spaces sessions.
12. Facebook rolls out new monetisation tools for creators amidst battle with Apple over fees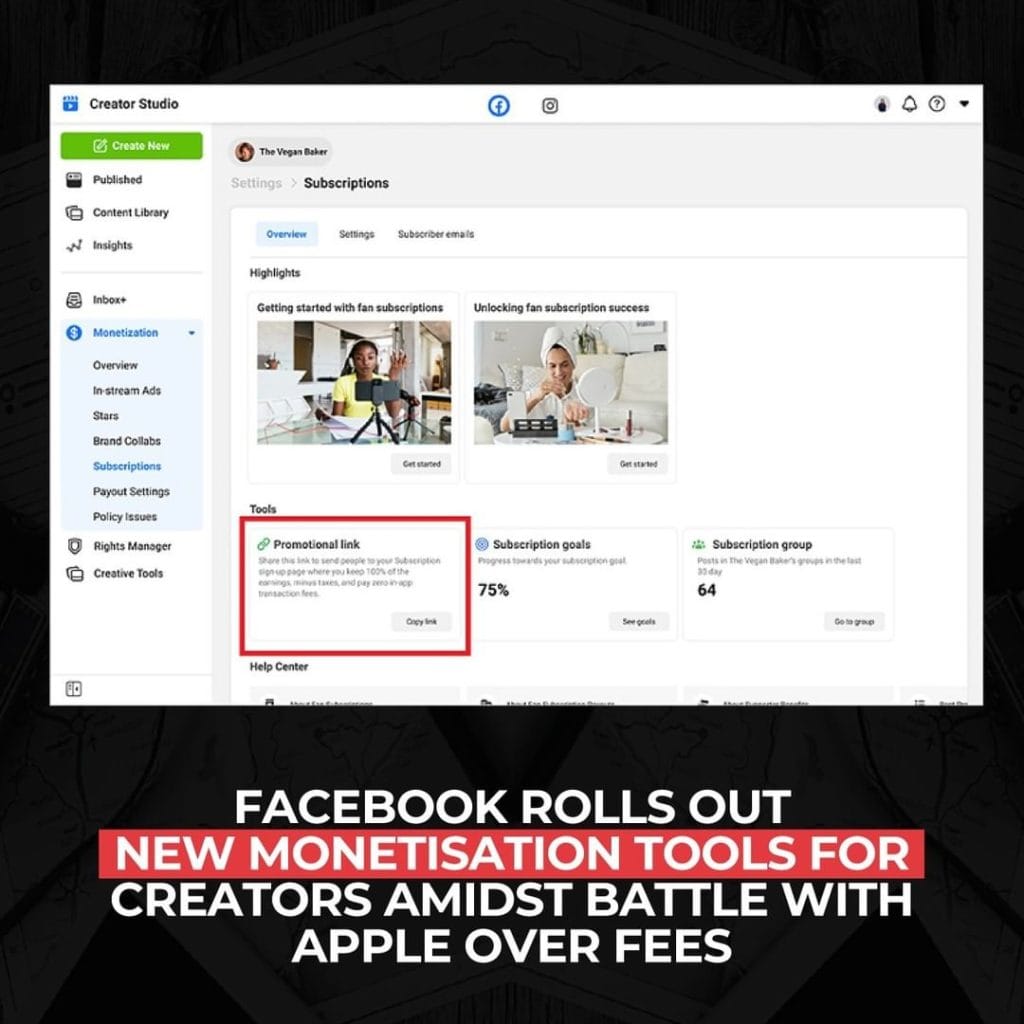 Facebook has been silently battling Apple's insistence on taking a 30% cut of fan subscriptions, along with any other in-app purchase. The platform is gradually finding ways to help users subvert Apple's transaction fee. In a move furthering this, the social media platform has rolled out new monetisation tools for creators that ensure they get paid their due share of their fan money – yes, this involves fan subscriptions and more.
Meta CEO Mark Zuckerberg explains, "As we build for the metaverse, we're focused on unlocking opportunities for creators to make money from their work. The 30% fees that Apple takes on transactions make it harder to do that, so we're updating our Subscriptions product so now creators can earn more."
The newest addition here is an exclusive 'redirect process' that will help creators guide their potential subscribers to sign-up outside the Facebook app, thereby waiving Apple's 30% cut. As explained by Facebook,
"Starting today, we're offering creators the ability to direct people to a website to complete their Subscriptions purchase using Facebook Pay. When people purchase Subscriptions from this website on web or mobile, creators will be able to keep 100% of the money they earn, excluding taxes."
This comes along with a few changes in the Fan Subscription tools, including a bonus program in which creators will get paid between $5-$20 for every new subscriber they garner up until the end of 2021.
13. Google changes Google My Business's name to Google Business Profile
Google is changing Google My Business's name to Google Business Profile. This is probably the 6th time the search engine is changing the name of the local business management product.
Before this, it was Google My Business (2014), Google+ Local (2012), Google Places (2010), and Google Local Business Center (2007 and earlier).
14. Google tests new format for Google snippet tags/labels
Google is testing another format for Google snippet tags/labels for the second time in 2021. The search engine previously changed the format back in 2019 and 2017. The new format involves clearer and more visible tags that are bolded and placed under the images and links on the Search Engine Results Page (SERP).
15. Google shows a 'Recent Queries' card on Search App
The Google Search App is now drawing points from your Search history and displaying them in a 'Recent Queries' card. They can also show up with your Google Discover personalised stories. These 'Recent Queries' card appears with an option to hide them from Google's Discover Stories.
16. Instagram adds text-to-speech and voice effects options in Reels
Instagram is continuing its streak of making Reels more engaging, and most importantly, more TikTok-like with two new and interesting additions – text-to-speech and the voice effect options.
The text-to-speech option is nothing but a feature that is basically an artificial voice that can read out the text you add to your Reel. This option will give you two voices you can choose from for your text overlay. The auto-voice you select will then read out the text you add to your Reels clip.
Secondly, the social media platform has also added voice effects that can help modify your vocal tones in your Reels' voiceover as well as any other audio you may add to your clip. A few of the effects currently available include helium, robot, giant, and more.
Both these features are definitely interesting updates in Reels, which will potentially increase engagement and usage. Want to know more about how to use this feature? Click here.
17. YouTube makes dislike count private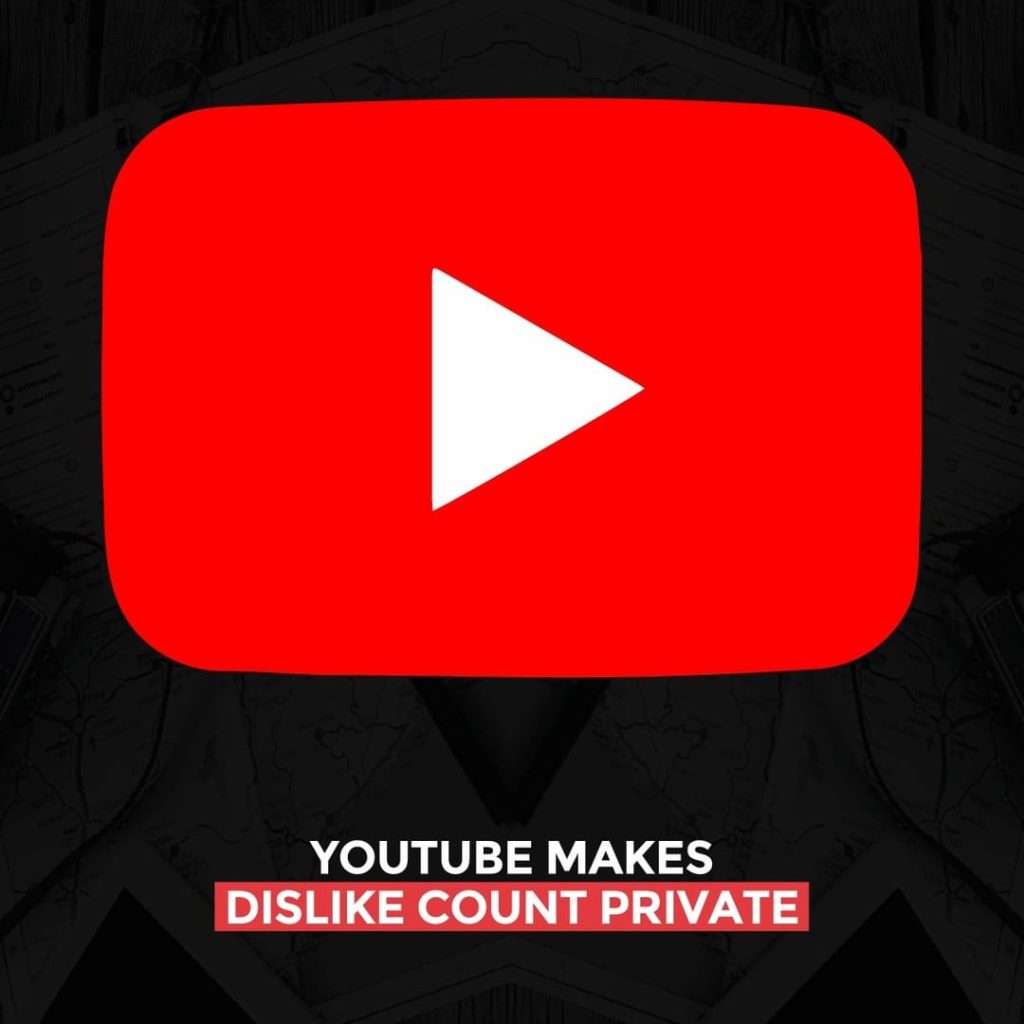 YouTube has announced that it is removing the public display of likes to limit the whole dislike brigade and misuse of the option. The video streaming platform ran a test of this option earlier this year to check if it had a positive impact on how a video is received, and it seems to have had an effect. Therefore, the platform has now rolled out this update.
According to YouTube's Creator Liaison Matt Koval, "Groups of viewers are targeting a video's dislike button to drive up the count, turning it into something like a game with a visible scoreboard, and it's usually just because they don't like the creator or what they stand for. That's a big problem when half of YouTube's mission is to give everyone a voice."
This is a huge step from YpuTube, considering how other social media platforms have tested dislike or downvote buttons in the past. With this move, the platform seems to be looking to help users and creators feel less attacked and encourage more users to engage on the platform.
18. Instagram is testing a 'Take A Break' feature to help users limit their in-app time
Keeping users' well-being in mind, Instagram is now testing a new option called 'Take A Break'. This feature will allow users to set reminders – either 10, 20, or 30 minutes – within the app that will prompt them to take a break after an extended period of activity. The reminder prompt will also suggest other activities you can take up when you take a break.
This option looks like a healthy move from the platform to make users more mindful about the time they spend endlessly scrolling through the app, getting sucked into the content it provides.
Adam Mosseri from Instagram has said, "Supporting people's well-being is a priority for us – and giving people ways to manage their time in a way that is intentional and meaningful is one way we are thinking about that. I'm excited to dig into the test results, make improvements and hopefully launch this sometime in December."
19. Twitter rolls out visual customisation and editing tools for images and clips
Twitter has been testing this option for quite some time now and has finally rolled out its visual customisation and editing tools for images and clips to more users. These visual tools will allow users to add stickers, texts, crops, and more elements to the videos and images they want to upload to their tweets. Twitter tested his option back in September, and now users are seeing edit and customisation options appearing within the Twitter app.
The update brings in a new UI for visuals and looks more streamlined and aligned to the visual editing tools in other social media platforms. In addition to this, the micro-blogging site is also looking to update its Twitter camera and gallery – "We're testing some new updates to the Twitter Camera and Twitter Gallery that will give our customers more ways to creatively express themselves in their Tweets."
20. Facebook adds Shops and product recommendations in Groups
As part of its e-Commerce push, Facebook has added Shops and product recommendations to Groups on the platform. This is a huge update as part of its e-Commerce venture. As part of its addition of a range of shopping and product discovery options within groups, the addition of Shops stands out. This update involves a dedicated Shops button in your Facebook Group display.
When a Shop is available in a group, there will be a dedicated button and a list of products featured in a separate panel within the feed. Apart from this, the platform is also adding product recommendations to groups to help members of the group find relevant products that align with their interests. The products will also be displayed in a new 'Top Product Mentions' section in users' main news feed – this will be displayed mainly to users who are also members of related groups.
21. Facebook rolls out the 'Creative App Platform' for Facebook Stories
Facebook is back to targeting young users in order to increase engagement on the platform. The social media site has announced a new 'Creative App Platform' which will allow creators and developers to build and promote Story-related apps within Stories itself.
App developers, through this initiative, can get their tools listed directly within the Stories composer flow. This will offer users access to a wide range of Stories creation apps without having to browse third-party platforms and stores.
According to Facebook, "We worked to understand how Sharing to Stories could further support the unique needs of our creative app partners. We found that app discovery is a key issue – in a competitive and rapidly expanding market, it is expensive and difficult for our partners to reach the people that continue to find joy from their apps. In response, we've built the Creative App Platform – a new concept that allows people to discover creative apps directly in Facebook Stories."
22. Google adds scroll-to-text feature for sitelinks on Google Search
Google launched the scroll-to-text feature with featured snippets back in 2020 after testing it in 2018. The search engine giant has now added the feature for sitelinks on Google Search. Scroll-to-text parameters are now available for standard listings and are not just limited to Featured Snippets.
23. Instagram rolls out option to delete individual posts from carousels
Instagram has finally rolled out the most requested option on the platform – deletion of individual posts from a carousel that has already been posted. You can delete specific/select posts from a carousel of images or videos that have been taken live. You will be able to do this by clicking on the three dots on that carousel post, selecting "Menu", and tapping on the trash icon on the top left corner of the particular image you want to remove.
This option is very beneficial for social media managers, as it negates the need to take down the entire carousel and re-upload the revised version, just for an error associated with one image. Since carousels have become one of Instagram's most successful formats, this kind of edit option makes it easier to manage these posts.
24. Twitter updates its analytics card; provides detailed performance insights
Twitter is rolling out an updated analytics ard for every tweet, providing more insights into that particular tweet's performance. The new analytics card is more detailed with regards to the provision of engagement data.
The old analytics card was brief and showed only details that highlighted insights about Impressions, Total Engagement, and more. But now, with the updated card, for every tweet, the microblogging site shows details about replies, retweets, and likes, along with more details about where your tweet impressions came from and detailed notes on link clicks and engagement.
This is a welcome change, considering Twitter is one platform that is behind many other social channels with regards to providing post/tweet insights/analytics.
25. Twitter launches improved labels to prevent the spread of misinformation
Twitter has been testing and rolling out prompts that focus on preventing the potential spread of misinformation within tweets. The platform is looking to provide different message prompts to suit the kind of information that can be spread. These new labels will be displayed within tweets with different messaging and alert colours as well to highlight why the tweet has been flagged.
According to Twitter, "In our tests, the new design increased the clickthrough rate on labels by 17%, from 3% to 3.5%. This number might sound low, but in many contexts, a 2% clickthrough rate is considered exceptionally good. The new label design also decreased shares by 10% and decreased likes by 15%. Reducing sharing and engagement helps keep misleading content from propagating across Twitter."
25. Instagram adds new "Rage Shake" feature to report an issue
Instagram has rolled out a new Rage Shake feature, which helps you report an issue by simply shaking your phone. This feature will activate a new issue report prompt when you shake your phone when Instagram is active.
Other social media platforms like Facebook already have this feature, and now, the same is available on Instagram as well. This is a good additional feature that makes it easier for users to report technical glitches or other issues.
26. Google is testing a new video carousel "Found In Videos" on Search
Google is currently testing a new video carousel format within the Search Engine Results Page (SERP) called "Found In Video". This carousel will highlight videos that answer your queries if it has indexed them. This broadens the search capacity on Google in a sense, increasing the probability of finding answers to their queries.
27. Google is now promoting Local News in Search Results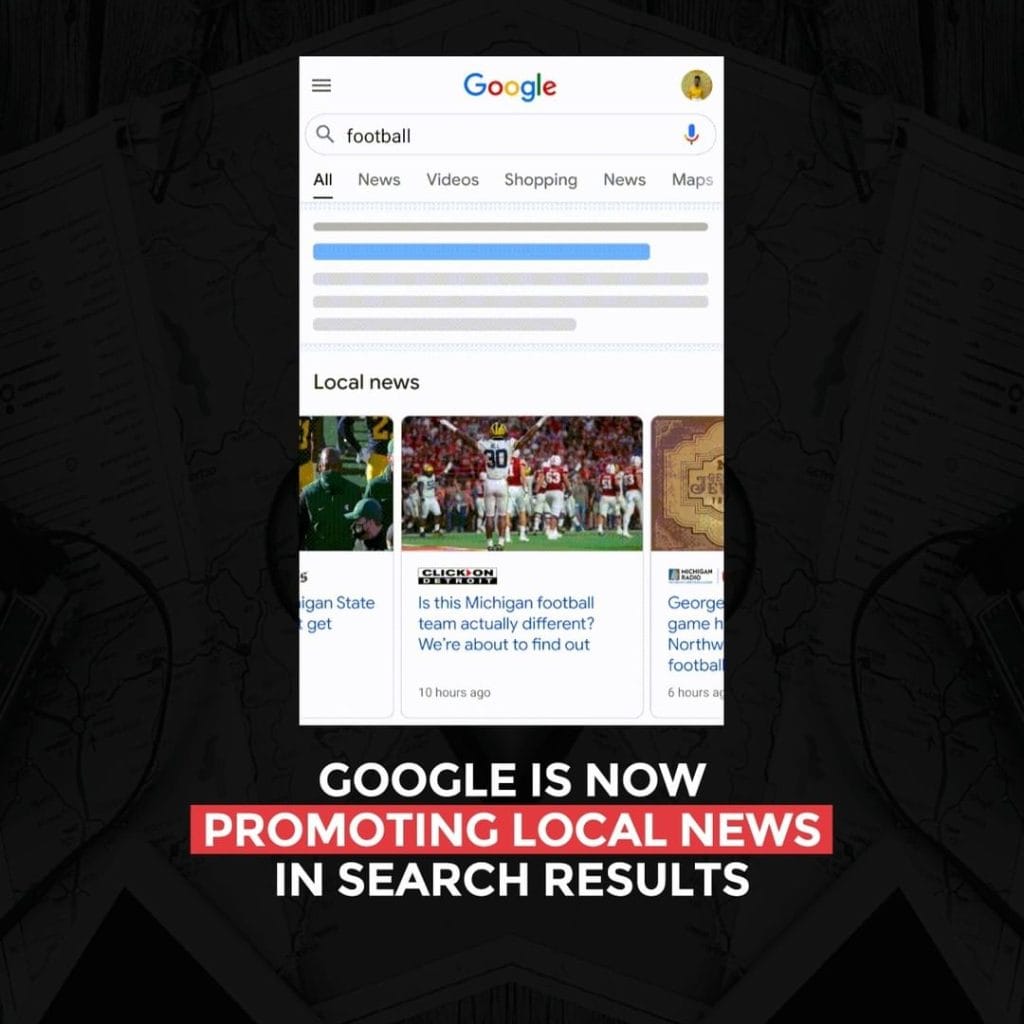 Google has announced that it is promoting Local News in Search Results, including top stories. According to Danny Sullivan, the Search Engine is looking to improve its Local News in three primary ways:
He wrote:
"1. Google will "soon see a carousel of local news stories when Google finds local news coverage relevant to their query.
2. Google also been working on improving our systems so authoritative local news sources appear more often alongside national publications, when relevant, in our general news features such as Top Stories.
3. Google has improved the local news experience by refining our ability to understand topics beyond just broad areas, like sports, to narrower subtopics, such as football and high school football."
28. Google rolls out November 2021 Core update
Google is rolling out the November 2021 Core update, typically taking 1-2 weeks to roll out completely. As usual, the effects will include drops or spikes in search rankings. Google also notes that drops in page ranking do not mean they are being penalised, but they simply mean that Google is assessing their content against other web content published since the last update.
29. Instagram begins live test of longer videos on Stories
Instagram has officially launched a live test of longer videos on Stories. By longer videos, the platform means 60-second videos that will not be broken down as 15-second videos on Stories. The pop up on the app explains the same to the user. It says, "Videos up to 60 seconds long will no longer be broken up into segments. Now you can add music and effects to the full video."
This was spotted by a few users a month ago, but now, Instagram has officially launched the test, displaying the pop up to some users live on the app. According to Instagram, "The ability to create longer Stories posts comes highly requested by our community. We're excited to be testing 60-second Stories so that people can create and view Stories with fewer interruptions."
The option is currently being tested with a small group of users.
30. Twitter tests live-stream shopping broadcasts
With all major social media platforms hopping on to the live-stream shopping bandwagon, Twitter has done it too! The microblogging site has launched an initial test of live-stream shopping broadcasts intending to boost e-commerce activities on the platform. Live shopping on Twitter will have the live-stream happening, along with a display of the products being discussed below the stream screen. Users can either join the live tweet discussion or check out a 'Shop' tab that will showcase all products involved in the live broadcast.
This live-stream feature will enhance the scope of e-commerce on the platform and improve its overall engagement. Twitter has been working to make shopping and online commerce a more integral part of the platform over the past year. Earlier this year, it even added the 'Shop' feature to business profiles where companies and brands on Twitter with business profiles could add a display of their products and facilitate in-app buying and selling.
The live-stream shopping broadcast option is just another move furthering the push of e-commerce activities on the platform.
31. YouTube is testing a new 'Search Insights' tool to help guide content efforts
YouTube is developing a new 'Search Insights', a tool for YouTube Studio, with the aim of providing creators with information about what people are searching for on the platform with regard to channels, and specifically, content. In addition to this, the new insights tool will provide general information as well. Currently in testing, the Search Insights feature will be of immense help in your content planning and creation process. You can find it in the Analytics/Research tab, and it has two separate tabs for information on query research.
a) Your viewers' searches – This is the first tab. It will provide detailed information on what viewers who regularly consume your content are searching for on the video streaming platform. This tab will provide information about key topics of interest along with the overall search volume and traffic your channel has garnered through each query.
b) Searches across YouTube – The second tab will provide you with information about the most common search queries based on any keyword. This will be helpful in understanding what type of content is driving more traffic on YouTube, based on which you can optimise your content and work around it.
This tool is great for your content creation process as you can use these insights to create better content for your channel.
32. Instagram looks to streamline video content on the main feed to win back young users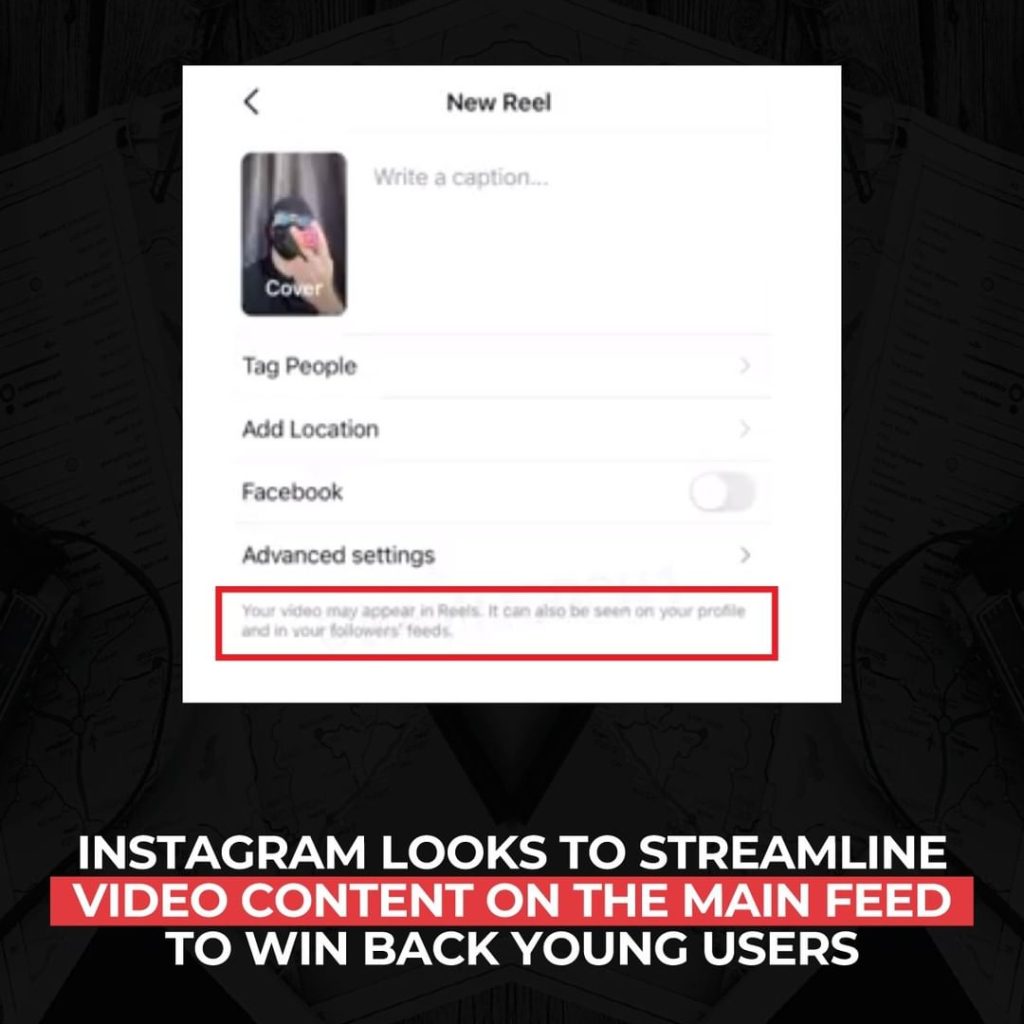 Instagram has been immersing itself in the process of winning its young users back. In a move furthering the same, we will see video become the central focus of the main feed. The platform has not officially confirmed this yet. However, it looks like that's exactly where it is heading anyway – a streamlined main feed focusing only on relevant posts, videos and reels, and Stories.
The platform is currently testing a longer video format for Stories – with a capacity spanning across 60 seconds at one go, without breaking them down into 15-second segments. With this being brought in place, the app's main feed is all set to be more streamlined and organised, with video being the central focal point of it all.
This seems like a move to win back young users, with a futuristic aim in mind – the success of Metaverse. With the parent company Meta's plan for the new age digital space Metaverse in the making, the platform cannot afford to lose its young users. A streamlined Instagram feed will make the platform more engaging and interesting, thereby retaining its database of young users.
33. Google Search Console rolls out new design interface
Google Search has rolled out a new interface and a facelift design for GoogleSearch Console. The new design is much cleaner, according to Google's Daniel Waisberg. Google says that the roll-out of this new design interface aims to improve "accessibility and user experience." Here's what Google wrote about the launch – "We're starting a journey to refresh the look and feel of Search Console. Over the next few months, you'll see small changes in the product with a goal to improve accessibility and user experience in general. We hope you like it!"
34. Google tests new 'Related Images' carousel on Google Image Search
Google has been making tweaks on its Search Engine Results Page (SERP), with the introduction of the various carousels that support search queries. Google is testing a new 'Related Images' carousel on Google Image Search in a further move. The carousel will be displayed on image previews on Google Image Search.
35. Google expands automobile search by adding sliders and comparison ranges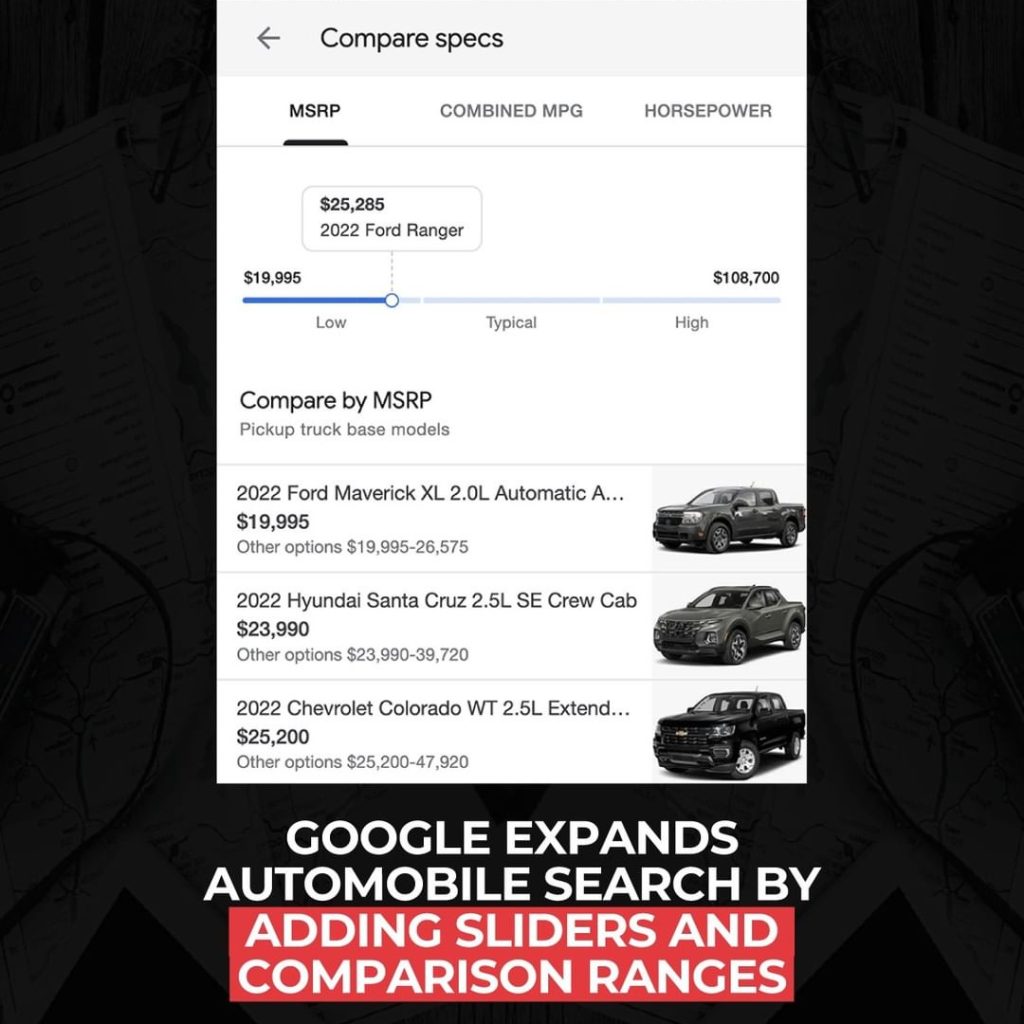 Google has worked on an improved automobile search with the addition of sliders and comparison ranges that help users look up and compare different automobile options. Users can now look up vehicles of their choice and compare their prices and specifications before zeroing in on one option.