April has just come to an end, and it has been a great summer for Digital Marketers. Many interesting updates and features were rolled out that gave them all the more reasons to experiment and evolve. From Instagram enabling 5 links in the bio and Twitter taking away the legacy checkmarks, to Google experimenting with color swatches and Meta's click-to-messenger ads, it has been an interesting month for sure. Here is the entire list of this week's #NewThingsInDigital
If you missed last month's digital marketing updates, you could click here to read them. Here is a list of #NewThingsInDigital for the month of March 2023.
36 Latest Digital Marketing Updates in April 2023
1. Instagram Rolls Out A New Info Page To Make The Best Use Of Dms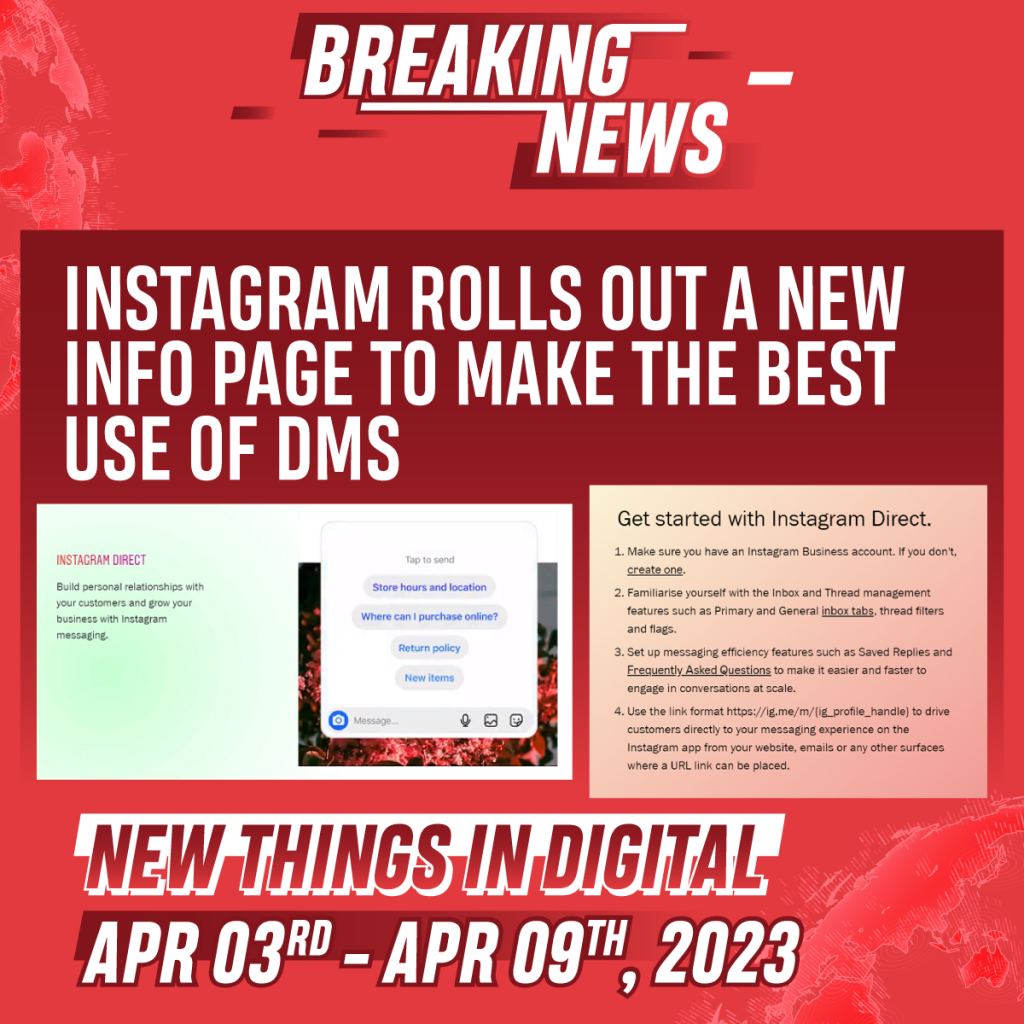 Instagram has recently introduced a new information page aimed at assisting businesses in optimizing their direct message (DM) communication process. The page offers a variety of tips and guidance on how to use DMs to maintain contact with your audience effectively. The overview provides general insights into how DMs can benefit brands in fostering community engagement and where to seek out connections. Additionally, the information page features case studies, links to crucial Help section resources, and explanations of the basics of using DMs on Instagram.
2. Facebook Removes Its Code Generator Element
Meta has decided to discontinue its Facebook Code Generator feature, which allows users to log in on a different device using a code generated from their phone to authenticate their secondary session. Facebook is now informing users who still rely on Code Generator that it will be phased out soon and advises them to switch to an alternative form of two-factor authentication.
3. Elon Musk Reinstates The Twitter Bird Logo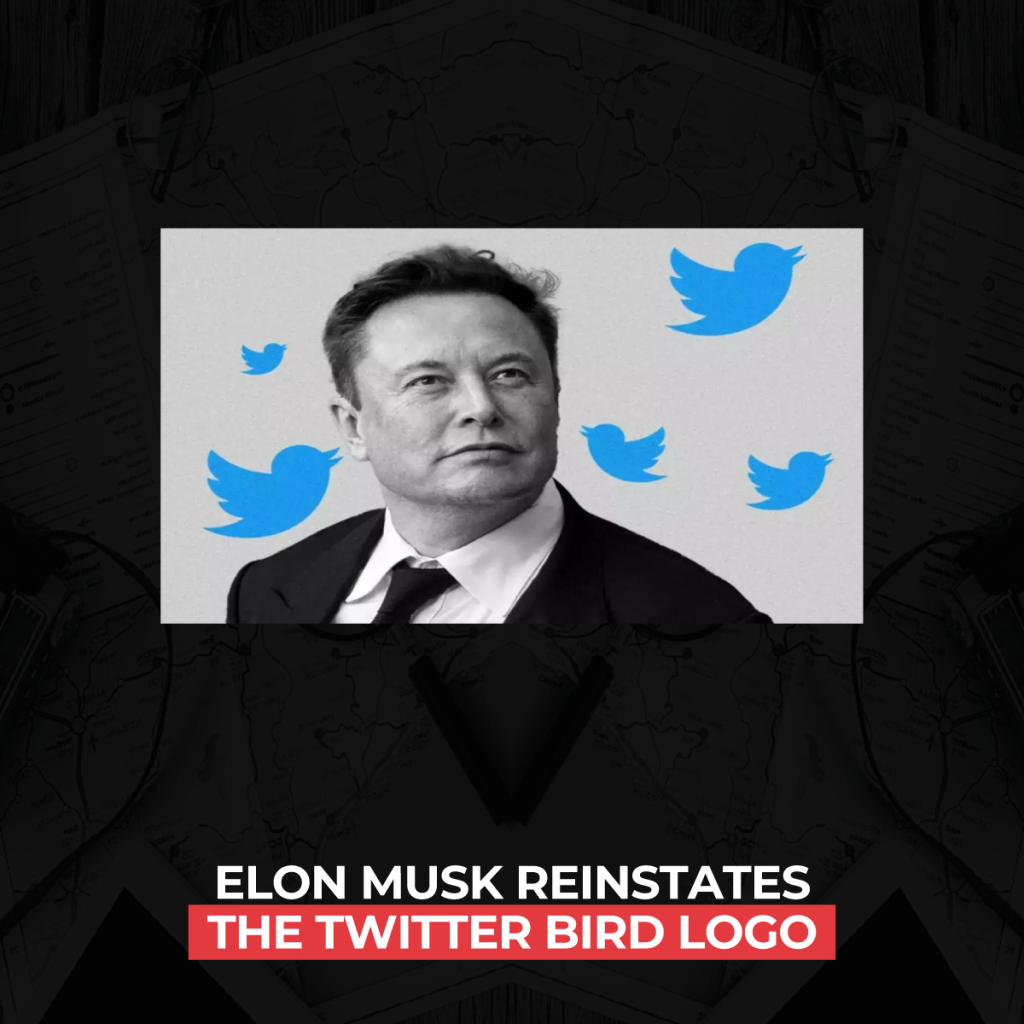 Elon Musk, the billionaire owner of the microblogging site, caused a stir a few days ago when he replaced the Twitter bird logo with the Dogecoin logo. However, he has now reverted to the original blue bird logo. Therefore, the iconic blue Twitter bird is again present on the platform.
4. Twitter's Verified Accounts Update Blurs The Distinction Between Paying Profiles
Twitter has modified the language of the pop-up notification that displays when you click on a checkmark within the app. This update has made it difficult to discern whether an account is a legacy-verified one or is paying for a Twitter Blue subscription.
Twitter's pop-up notification distinguished between accounts verified under the previous system and those who subscribed to Twitter Blue. However, the new language used in the pop-up combines the two categories. This is good news for Twitter Blue subscribers, who pay $8 per month for a sense of exclusivity and status. Previously verified accounts, on the other hand, may now be at risk of losing the same thing.
5. Twitter Blue Subscribers To Enjoy A 50% Reduction In Ads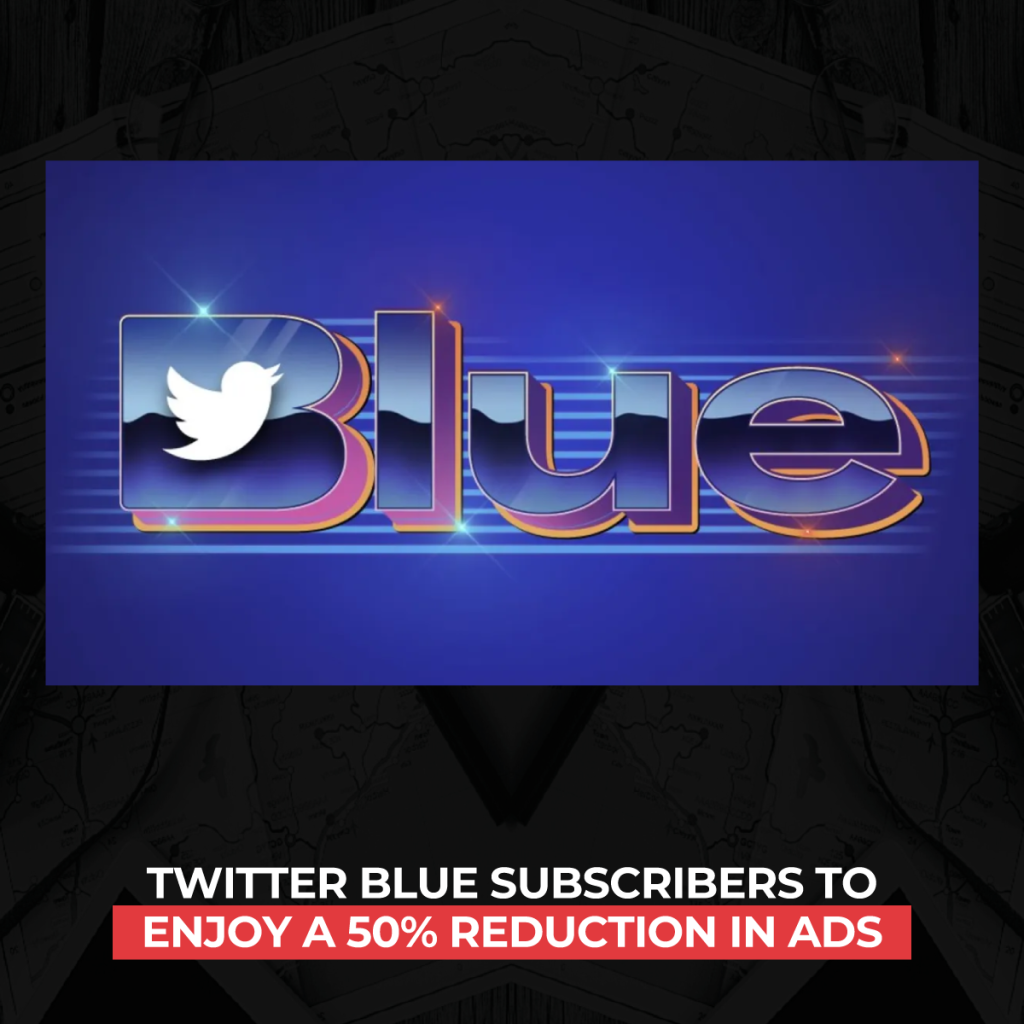 This week, Twitter introduced a new feature to Twitter Blue. The company has kept its long-standing promise to reduce the number of advertisements Twitter Blue subscribers see in the app. However, the implementation needs to include more comprehensive measures initially proposed by Twitter in its communications.
6. Twitter Rolls Out Revised Promotional Feature: Hashmojis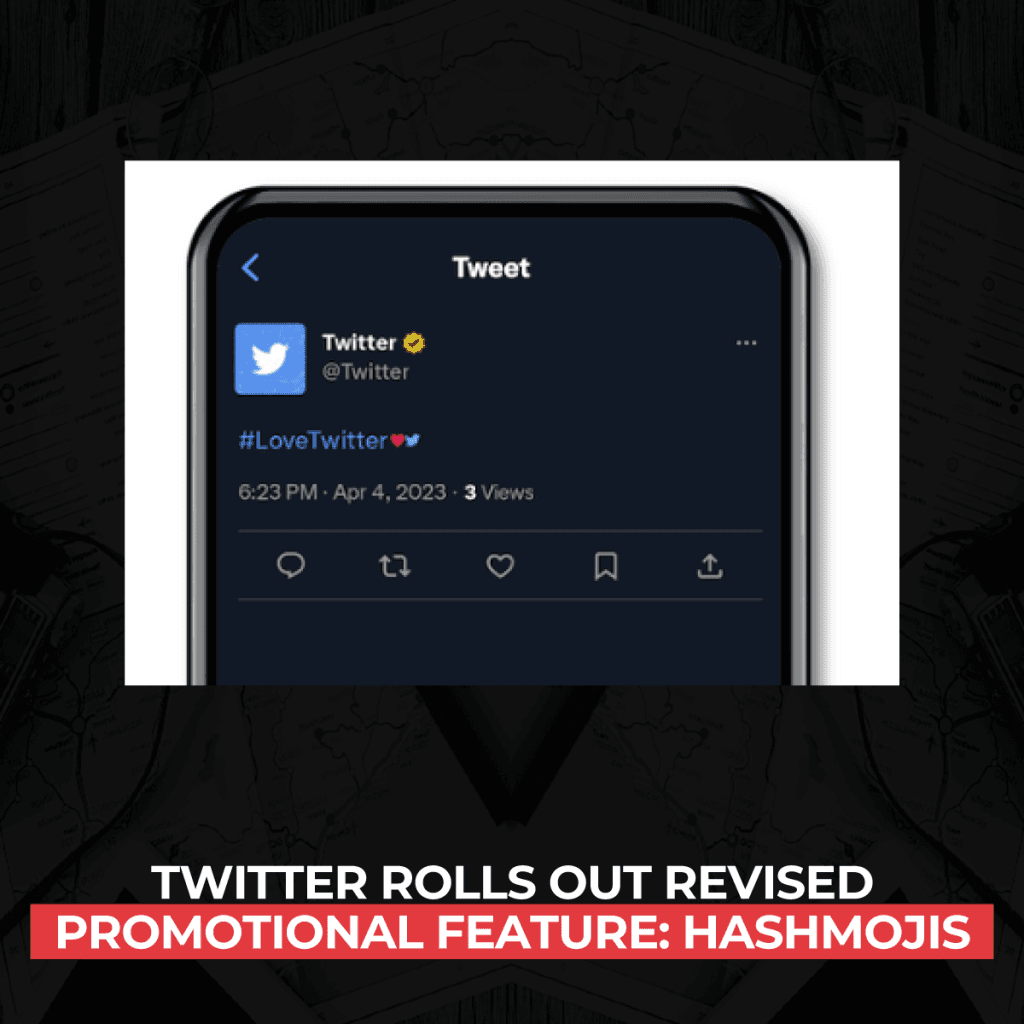 Twitter recently added new promotional features that brands could use in their campaigns. The first is Hashmojis, a redesigned version of Twitter's Branded Hashtags. Branded Hashtags are hashtags that include a small graphic. A partner can use Hashmojis to create a new customised emoji on Twitter whenever a user tweets a specific hashtag.
7. Meta's 'channels Broadcast' Chat Initiative To Expand To Whatsapp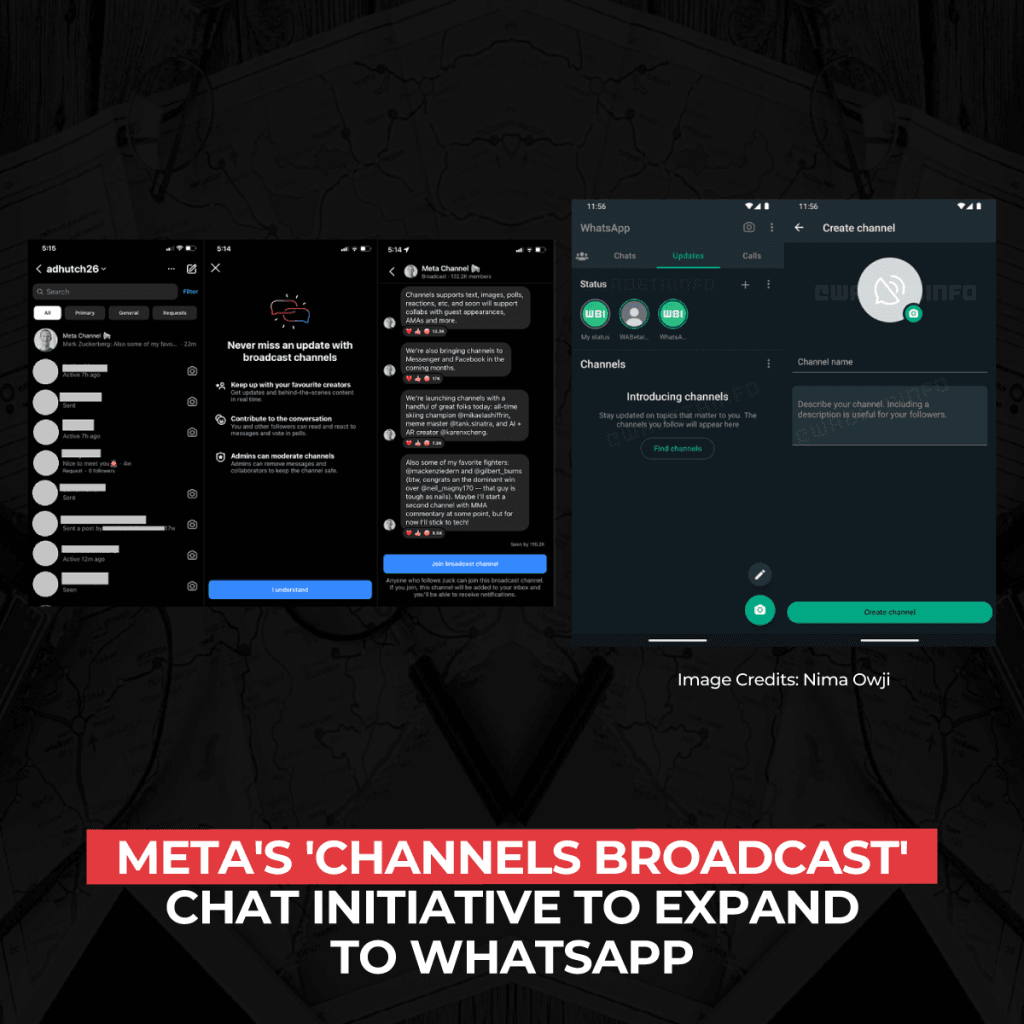 The WhatsApp Channels feature, currently in development, is strikingly similar to the Instagram functionality introduced in February. WhatsApp Channels will enable users to receive direct messages on specific topics or to follow particular creators within the app. Account administrators can use this new feature to broadcast updates to a larger audience.
8. Google Trials Slider Buttons For Product Thumbnail Images In Search Results
When you search for a product on Google, images of that product will appear in the search results. If there are multiple images, they may rotate automatically when you hover your mouse over them. Google is currently testing a new way for you to view those images. Instead of having them move independently, you can view the next image by clicking a button.
9. Google's Local Pack Now Shows Booked Reservations
Google has long allowed users to book reservations through its local pack and Google Assistant. However, in the local pack, Google may now display whether you have previously made a reservation using the "reserve with Google" feature.
10. Meta Plans To Expand Reels Monetization Program For Creators
Meta plans to expand its incentives for Reels creators in the coming months by providing broader access to Reels monetization through ads. While Meta has not yet provided all the details, it encouraged participants to use Professional Mode to access the upcoming creator features during a recent Creator Conversations session. Furthermore, Meta intends to introduce new tools to assist creators in building their online communities, such as providing additional insights into their most engaged fans and offering templated posts to express gratitude for their support.
11. Instagram Rolls Out New Discover Elements & Creative Tools For Reels
Instagram has unveiled several Reels updates aimed at assisting Reels creators in capitalizing on the latest trends and shifts to increase viewer engagement and foster a community around their content. One of the most significant changes is a discovery feature that lets creators quickly discover the most recent trending audio and hashtags within Reels. Instagram is also integrating its creative tools directly into the video composer screen, making creating unique and captivating Reels clips easier.
12. Twitter Announces Removal Of Blue Checkmarks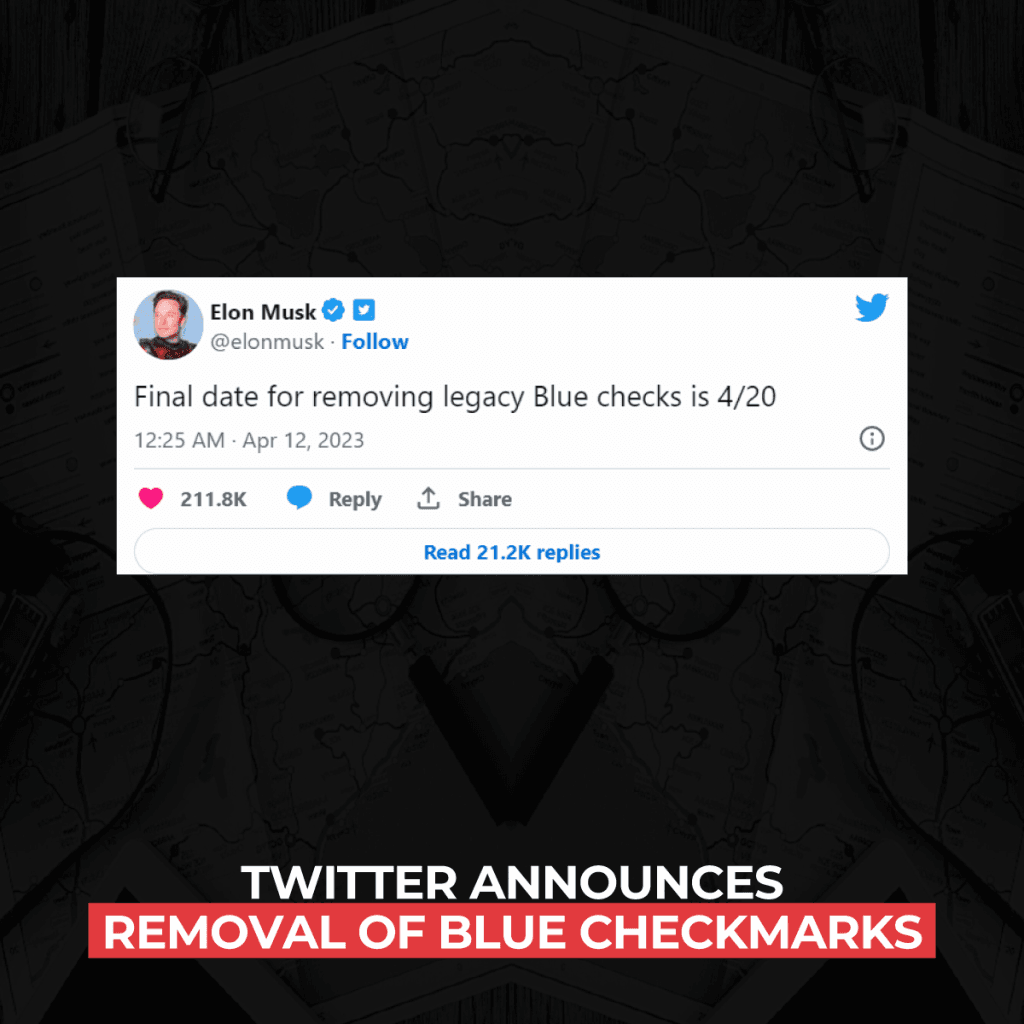 Twitter CEO Elon Musk has announced that the removal of 'legacy' blue checkmarks from the app will now take place on April 20th, rather than the previously announced date of April 1st. This update corresponds with Musk's penchant for mentioning 4/20 in public actions, adding a playful twist to the timeline for removing legacy checkmarks.
13. Twitter Blue Subscribers Can Tweet Upto 10k Characters
Twitter has added a new Twitter Blue subscription package, allowing Blue members to write tweets with up to 10,000 characters. In addition, subscribers can now use text formatting options, such as bold and italics, to add more creativity to their tweets. This update complements another feature of Twitter Blue, which enables subscribers to post videos up to 60 minutes long.
14. Elon Musk Plans To Re-Launch The Creator Subscription Program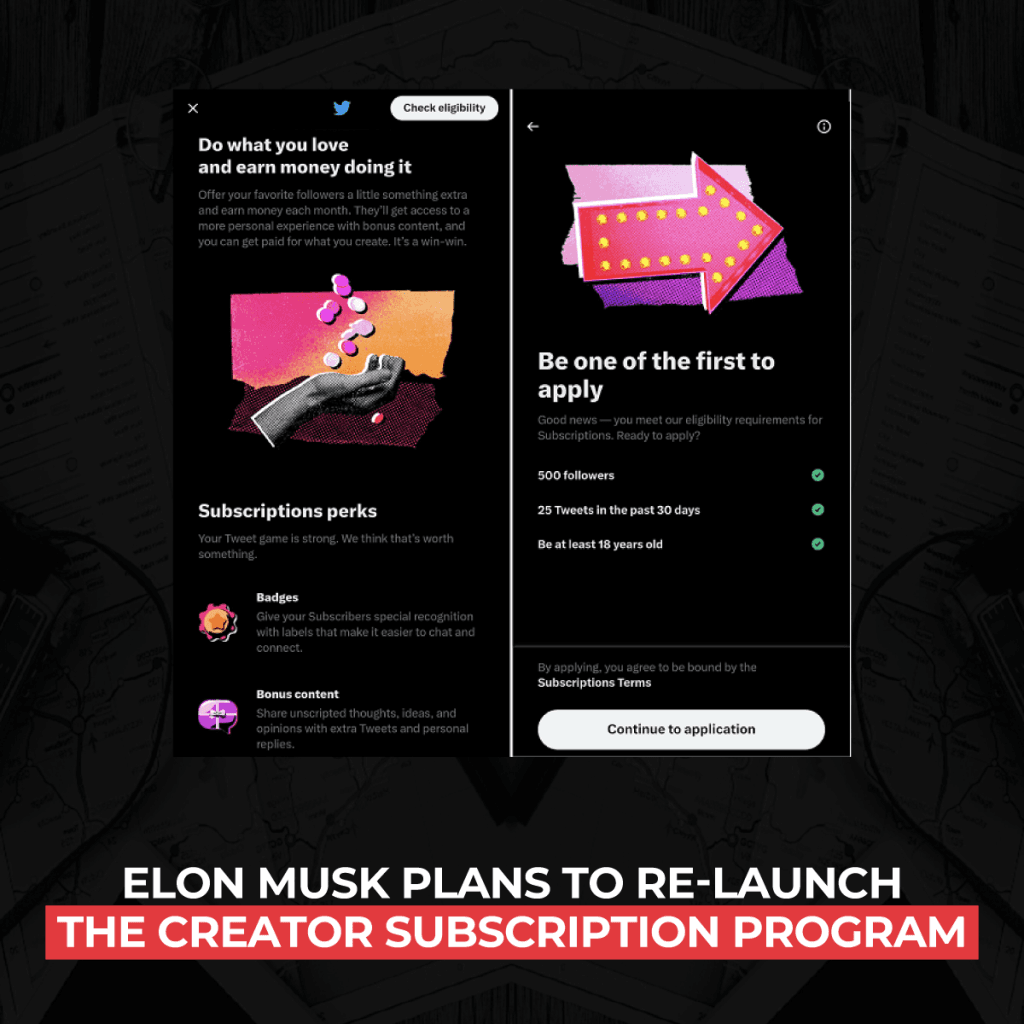 As part of Elon Musk's Twitter 2.0 strategy, the social media platform is re-launching its creator subscription programme. This programme will allow users to monetize their tweets and build a business within the app. The initiative, now known as 'Subscriptions,' is a rebranding of Twitter's previous 'Super Follows' feature. The entry requirements for participation have been reduced, making it easier for a broader range of users to sign up and earn money from their content.
15. Twitter Shifts To A Full Dm Encryption Plan
Twitter is getting closer to implementing entire direct message (DM) encryption. The image depicts a slider that users will soon be able to enable within the app to enable DM encryption, providing enhanced privacy protection for their chats. Furthermore, users will have access to the cryptographic key unique to that conversation within each encrypted chat, providing greater transparency into the security coding and an additional safeguard to ensure that conversations between the sender and recipient remain private.
16. Facebook Tests AI-Generated Stories With Images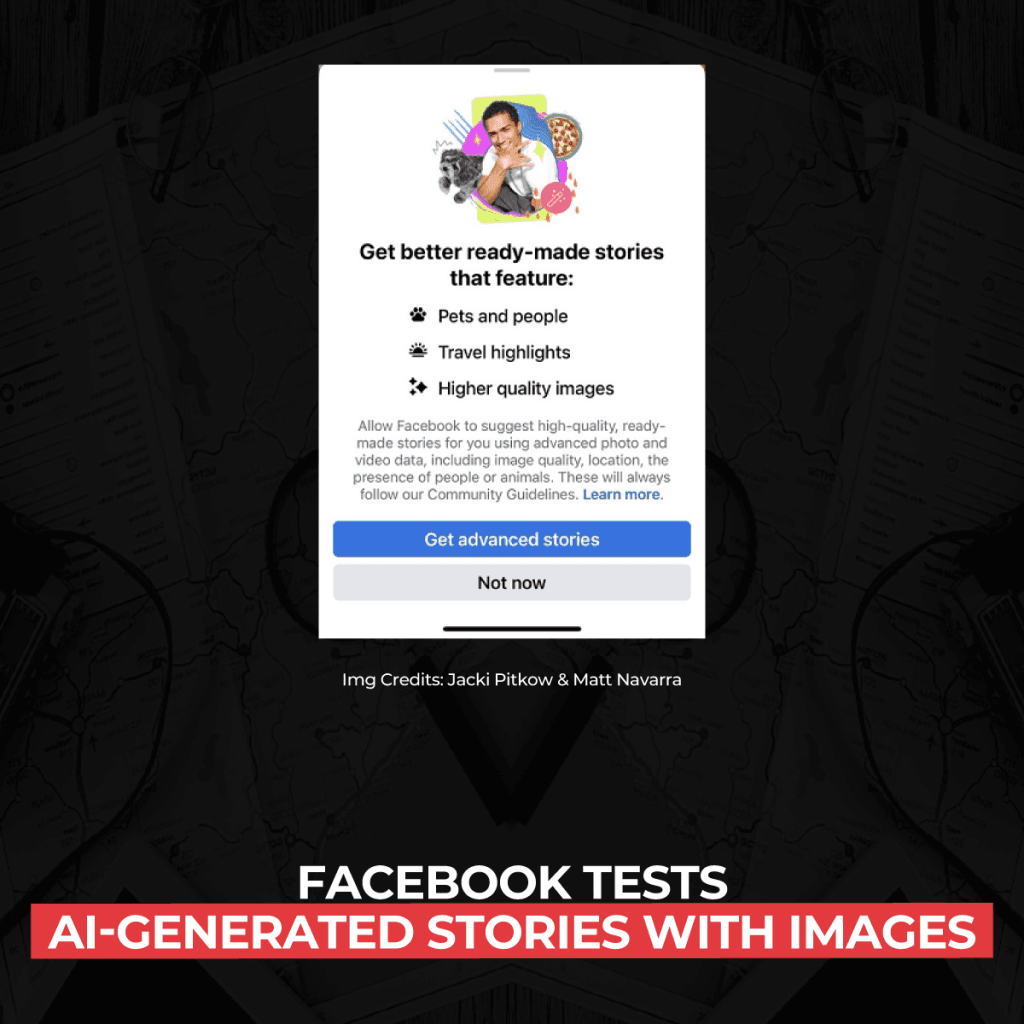 Facebook is currently encouraging some users to test out a new feature called "Advanced Stories." This new feature is part of Facebook's ongoing efforts to encourage more users to post Stories. The feature uses image recognition artificial intelligence (AI) to generate new Stories based on users' shared content. This automated Story generation process is designed to make it easier for users to create and share engaging Facebook Stories.
17. Google Tests Local Finder Images In Google Maps
There are indications that Google is testing a potential update that may display only images for ads in the local finder, the section of Google Maps that shows local search results. Only a map image may be displayed for non-ad listings without an image from the business profile. This change may impact the visibility and presentation of businesses in Google Maps local search results.
18. Google's Android App Tests New Search Buttons
Google is currently testing a new version of its Android app with additional search buttons, many of which have been available on the iOS app since last year. These buttons can solve homework, identify songs, shop for products, translate text, and more.
19. Instagram Enables To Add 5 Links To The Profile Bio
Instagram has granted one of its most popular feature requests by enabling users to include up to five links in their bio, increasing chances for traffic generation. This upgrade benefits both users and brands because it provides a range of options for them to use this feature to improve their online presence and send consumers to alternative URLs, increasing their brand reach.
20. Twitter Reinstates Free Blue Checkmarks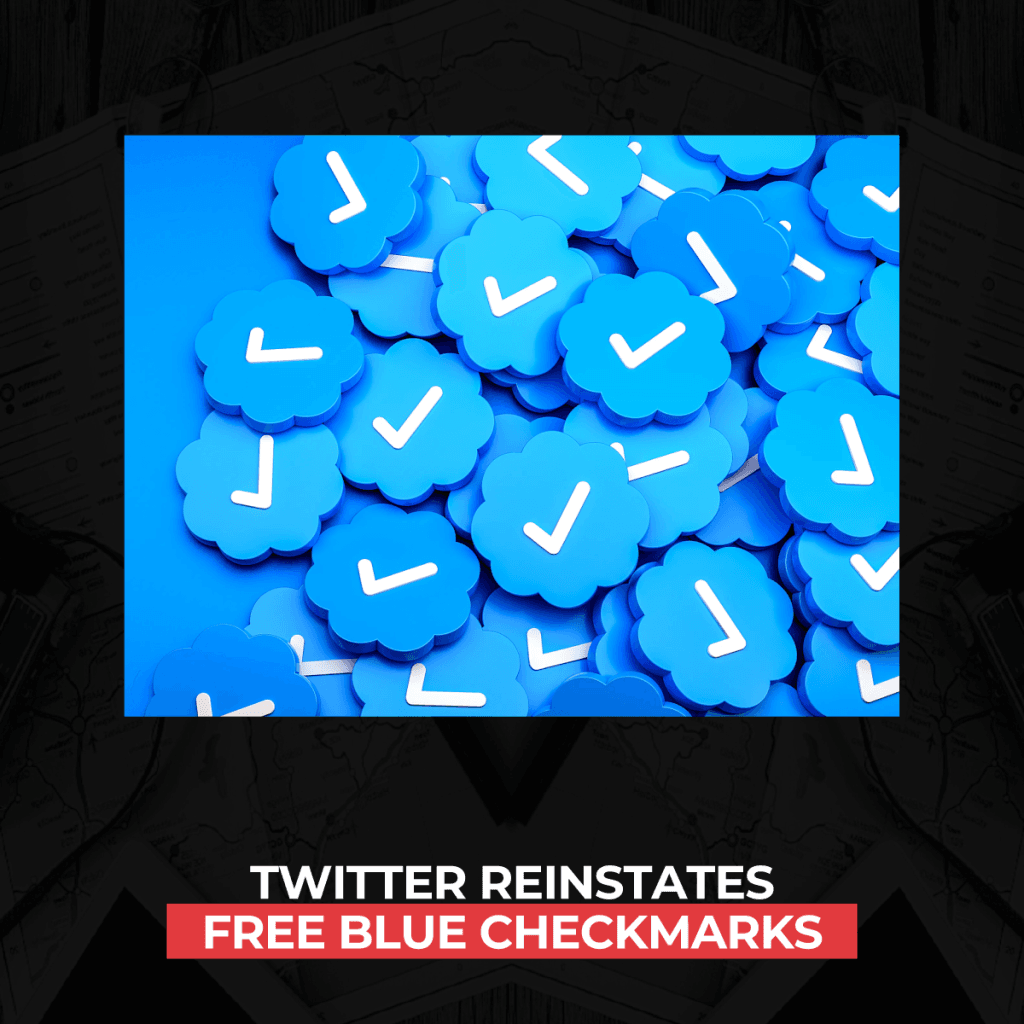 Elon Musk, the renowned entrepreneur and business magnate, alleged that the previous verification system on Twitter was plagued with corruption. Musk claimed that the process was manipulated through favouritism and misconduct, even to the extent of staff selling verification checkmarks. As a measure to address the bot problem on the social media platform, Musk previously announced the impending removal of the old checkmarks, which he subsequently carried out on Thursday last week.
21. Twitter Plans To Remove State-Affiliated & Govt Funded Labels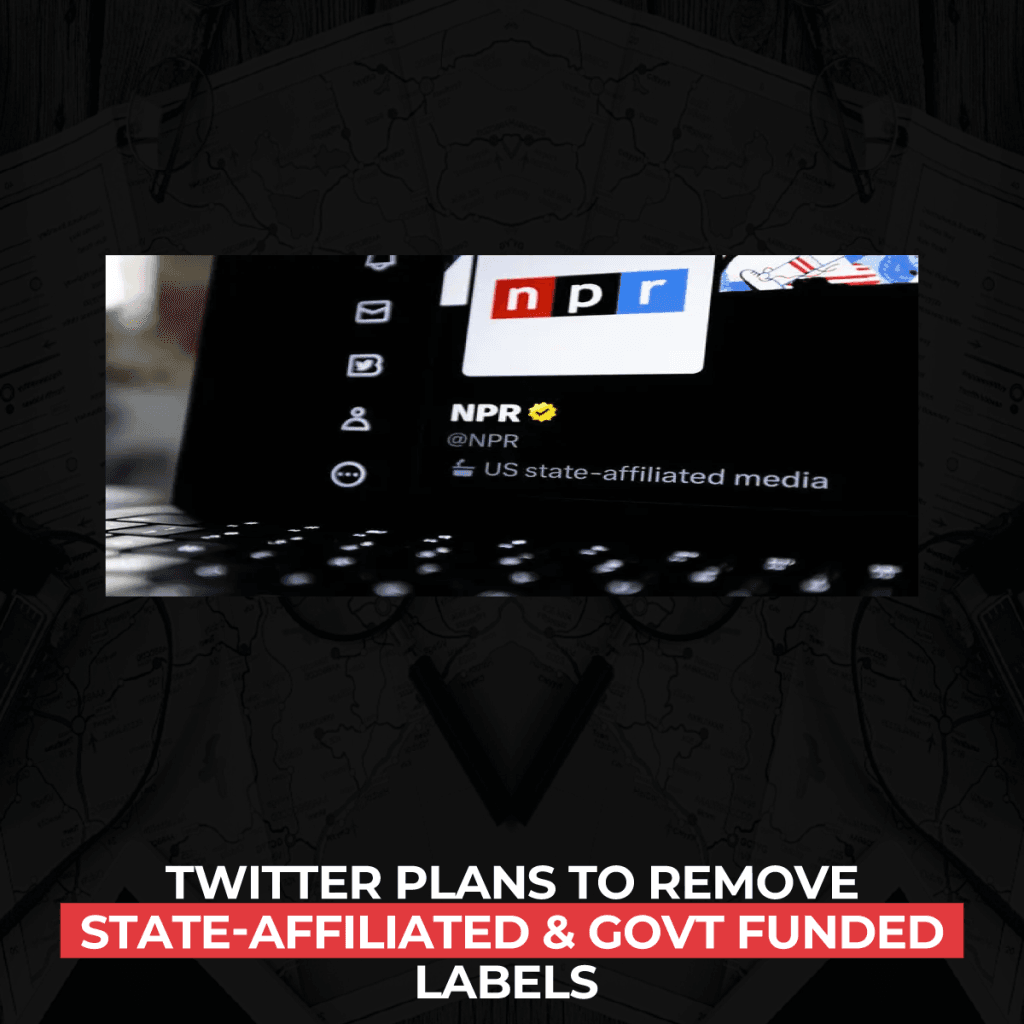 Twitter has removed all government and state-affiliated media account labels. This shift comes after the platform's prior labels generated a commotion, prompting media outlets such as NPR and PBS to proclaim that they would no longer utilise Twitter. This decision by Twitter is potentially dangerous since it may result in the spread of propaganda on the network in the absence of effective monitoring and notifications. According to sources, Elon Musk decided to delete all of these designations at the suggestion of his biographer.
22. Twitter Now Requires Advertisers To Pay For Verification To Run Ads On The App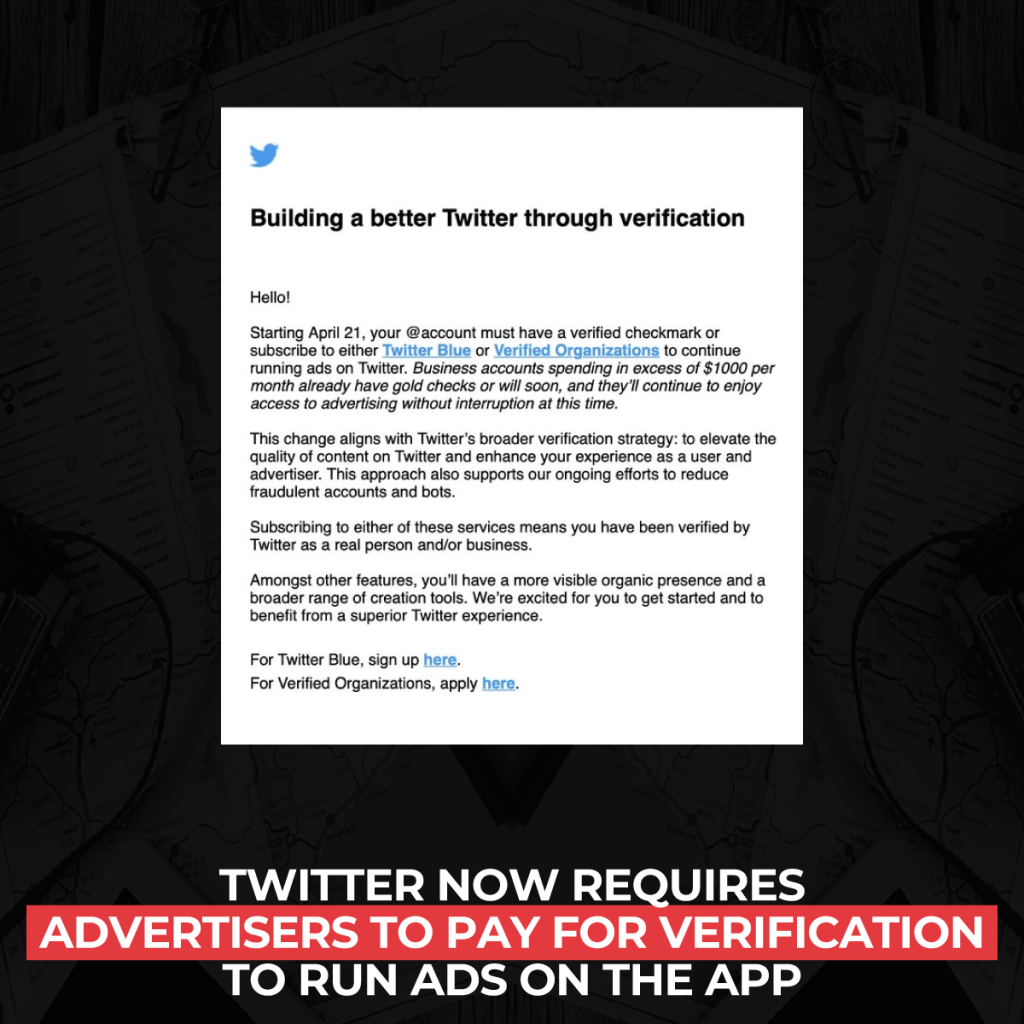 Elon Musk intends to adopt a tough stance to enhance Twitter's subscription revenue. Twitter is now telling all advertisers that they must subscribe to either Twitter Blue or Verification for Organisations to continue running advertising on the site. As a result, brands will be charged $8 per month for a blue tick or $1,000 per month for Twitter's Verification for Organisations service. However, firms that spend "in excess of $1,000 per month" will soon be automatically issued gold checkmarks.
23. Microsoft Removes Twitter From Its Social Media Management Platform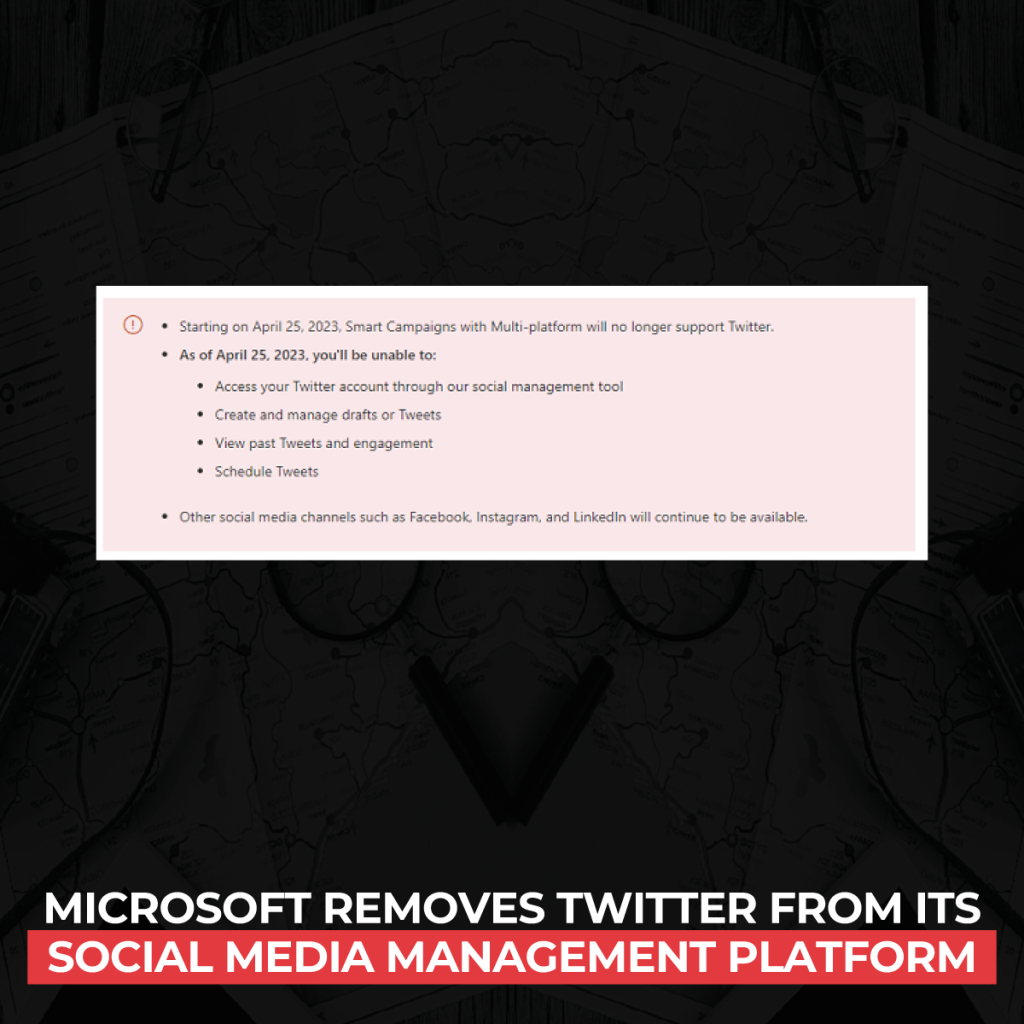 Twitter's advertising business has suffered yet another setback, as Microsoft has disclosed its plan to remove Twitter from its Digital Marketing Center management component. This change is set to take effect next week. Microsoft is releasing Twitter as an option from its digital management platform, a consolidated approach for companies to handle their social media presence.
24. Twitter Introduces Tweet-Level Alerts And Provides Details On Shadow Bans
Twitter has released a new set of tweet-level notifications that will be included with tweets hidden within the app. Any limits will be applied purely to tweets and will not affect a user's account. Twitter will initially focus on violations of its Hateful Conduct policy, with notifications later expanding to other policy domains.
25. Whatsapp Introduces An Option For Users To Keep Disappearing Messages
WhatsApp is introducing a new feature allowing users to retain disappearing messages in a chat thread with the sender's consent. Disappearing messages were added to WhatsApp in 2020, and the feature was initially prominent in Snapchat's early days.
26. Google Search Adds Product Image Thumbnails With Pricing Overlays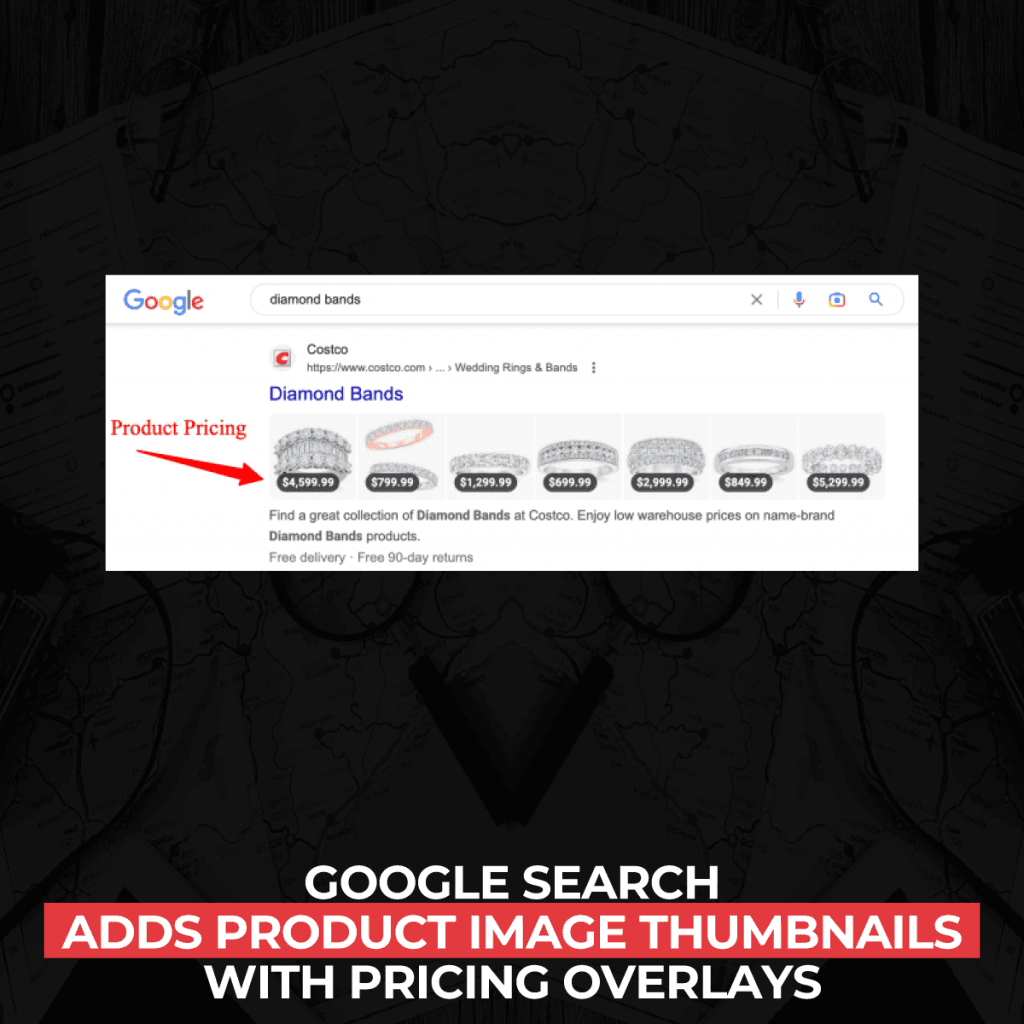 It appears that Google has implemented pricing overlays over specific product thumbnail images within search snippets. For instance, when searching for "diamond bands" and examining the Costco result, one can see these pricing overlays.
27. Google Search Experiments Colour Swatches For Product Grid Results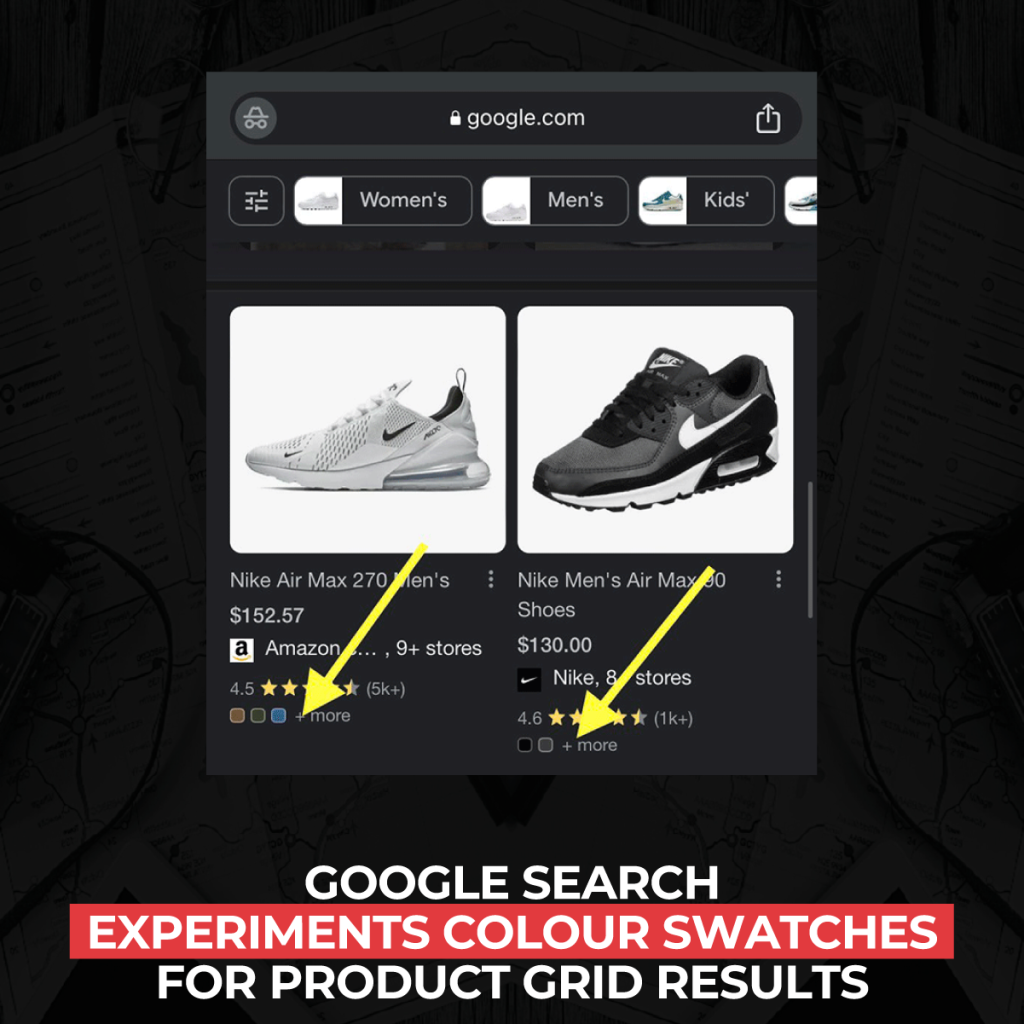 Google Search is currently experimenting with adding a colour swatch to their search results' product grid structure. Google displays colours in tiny boxes and uses a "+ more" tag if extra colours are available for that particular product.
28. Instagram Updates UGC Policy To Enhance Content Collaboration
Instagram is revising its affiliate marketing standards and renaming its Branded Content Ads to Partnership Ads. This change intends to improve the platform's affiliate marketing approach and give companies more opportunities to monetize user-generated content (UGC). At the same time, it hopes to offer additional options for creators to form commercial partnerships by expanding the pool of possible ad partners who can collaborate with them based on their posts.
29. Twitter Enables Publishers To Charge Per Article To Bypass Paywalls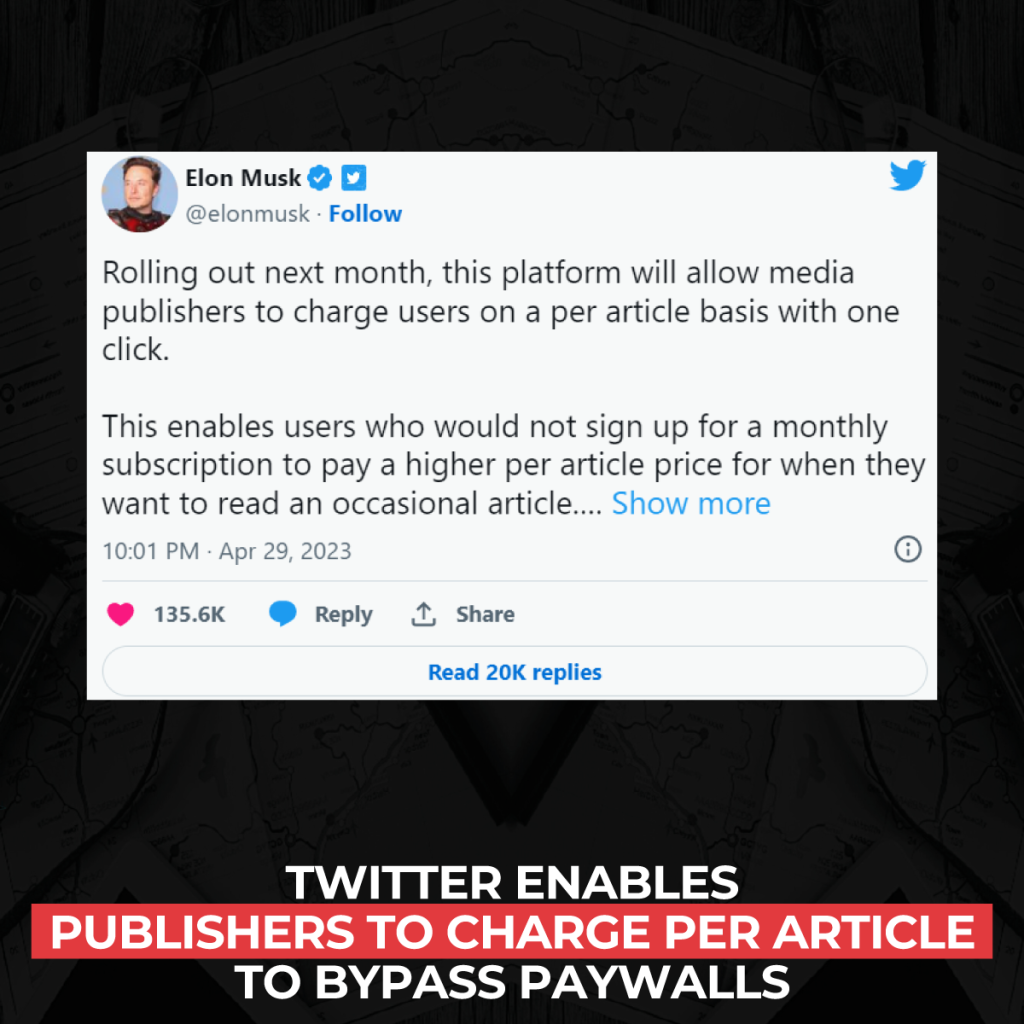 Elon Musk has proposed a new way for Twitter users to read the news without subscribing to multiple publications. Instead of committing to a subscription, users can pay for each article individually while still within the Twitter app. This new approach will give users additional freedom and choice, allowing them to obtain content from various sources without being restricted to a single publisher.
30. Creator Subscriptions On Twitter To Be Restricted To Paying Users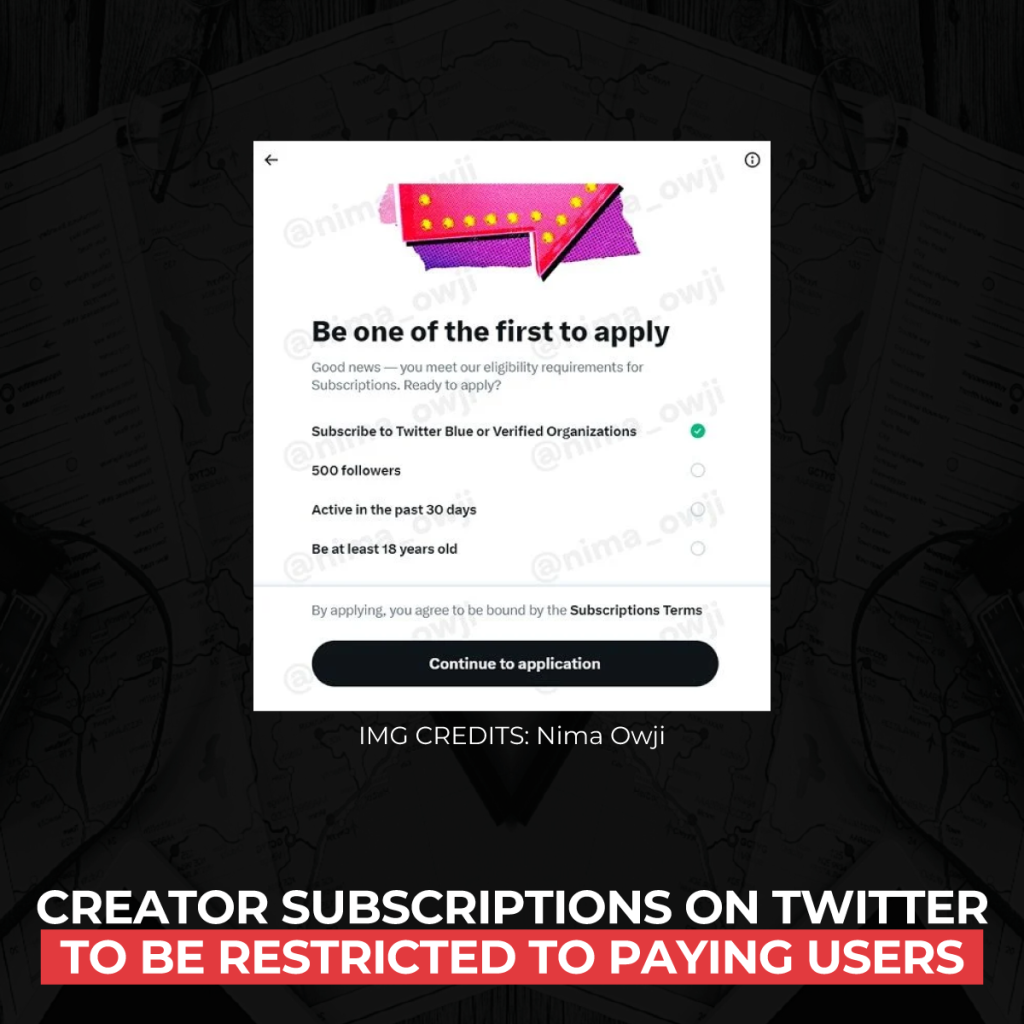 Twitter is adding another benefit for Twitter Blue members by making creator subscriptions available only to paying users. The platform has recently relaunched its creator subscriptions, which will eventually be limited to users who spend an $8 monthly price for the app. This change is intended to provide more significant benefits to Twitter Blue users while simultaneously providing authors with a more consistent income stream.
31. Meta's Text-Based App 'Barcelona' In Development
Meta is now working on a new social app named "Barcelona." The app is still in its early phases of development, but it has been described as an "Instagram for your thoughts" by internal sources. Barcelona, unlike Instagram, will prioritize text-based postings over visual ones. It is also expected to centre on private texting, gaining popularity among users.
32. Youtube Introduces New Shorts Ad Placement Options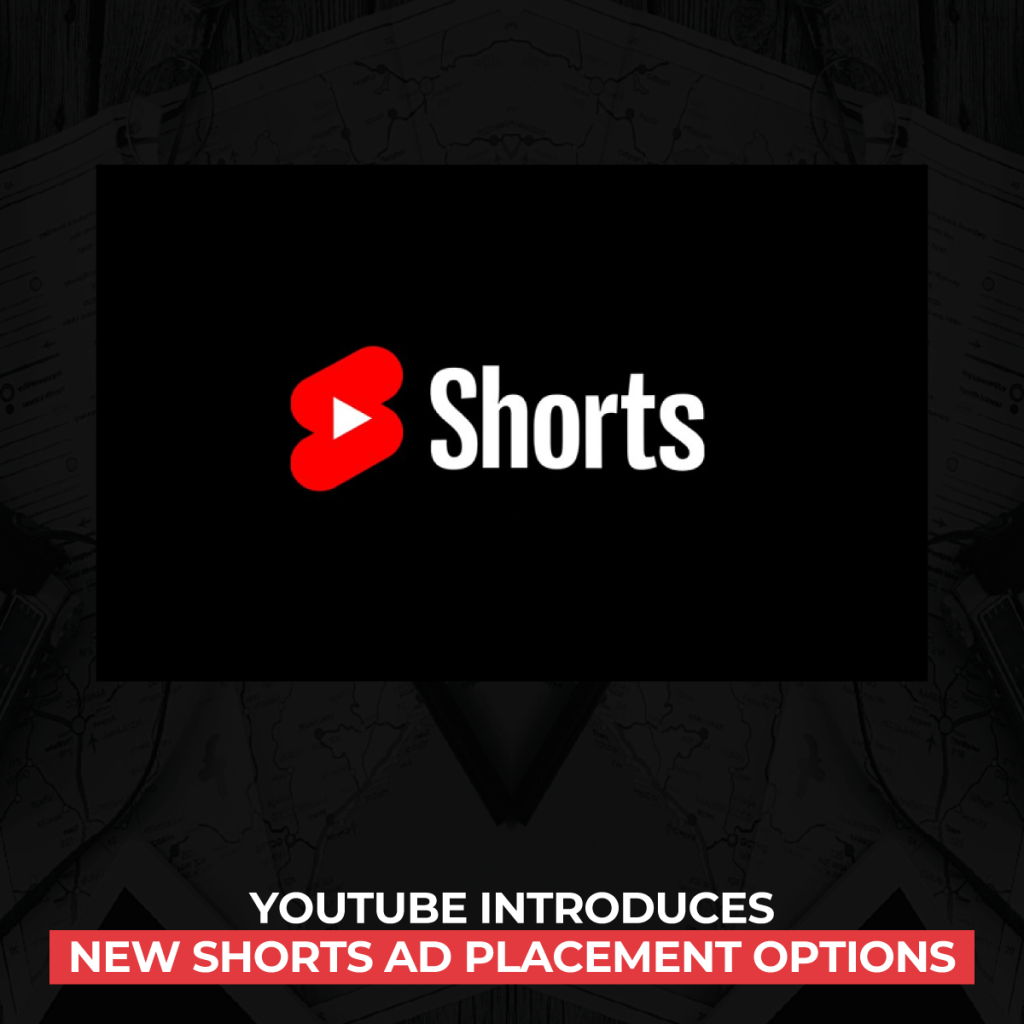 To capitalize on the surge of short-form content consumption, YouTube is expanding its advertising opportunities for marketers on YouTube Shorts. This action is intended to maximize branding opportunities within the app. One of the new features is the incorporation of Shorts into Video Reach campaigns, which use AI technology to arrange commercials better, increasing both reach and efficiency for advertisers.
33. Twitter Prioritizes Display Of Tweets From Twitter Blue Subscribers
Despite backlash for removing blue checkmarks from historically verified users on the app, Twitter is going forward with its subscription plans. In a recent change, the platform prioritizes tweets from paying profiles in the main "For You" feed and tweet replies. This means that Twitter Blue subscribers, who presently account for only 0.26% of the platform's user base, will have better exposure and reach with their tweets.
34. Google Testing Colored Backgrounds for Shopping Ads
Google is testing out several light-coloured backgrounds for the shopping advertisements carousel in mobile searches. Similar tests were carried out over a year earlier, with lighter varieties containing grey and slightly coloured tones. Recent testing, however, indicates that Google is currently experimenting with more brilliant colors for the carousel.
35. Google Tests Showing Follower Counts in Search Snippets
Google is now testing the display of social network account follower counts in mobile search results. While this information is usually included in the snippet, Google is experimenting with a new placement directly below the site name, where the URL would typically be. This upgrade aims to give users quick and easy access to information about the popularity and reach of social media profiles.
36. Google Tests Grid Format for Local Results in Mobile Search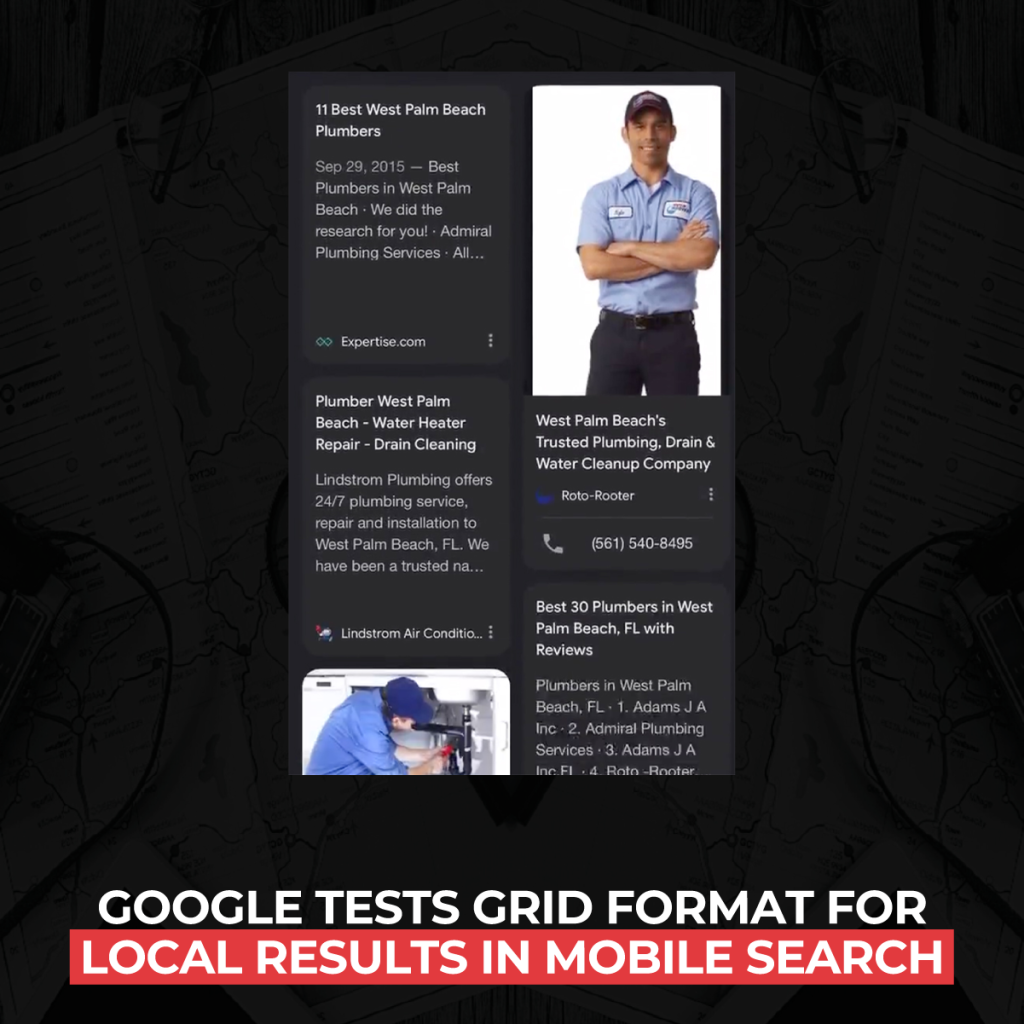 Google is now testing a grid-style approach for local results in mobile web searches. This layout is generally connected with product and shopping search results and allows consumers to view local search results more aesthetically. The grid style may incorporate photographs, ratings, and other pertinent information about the business or place, allowing users to evaluate their selections rapidly.